This Cinnamon Glazed Grilled Pineapple is the ultimate easy and healthy dessert, perfect for summertime. It's dairy free, gluten free, vegan, and paleo which makes it perfect to serve as a backyard bbq dessert. It's also super kid friendly, and everyone always loves this healthier option that doesn't have any refined sugar in it!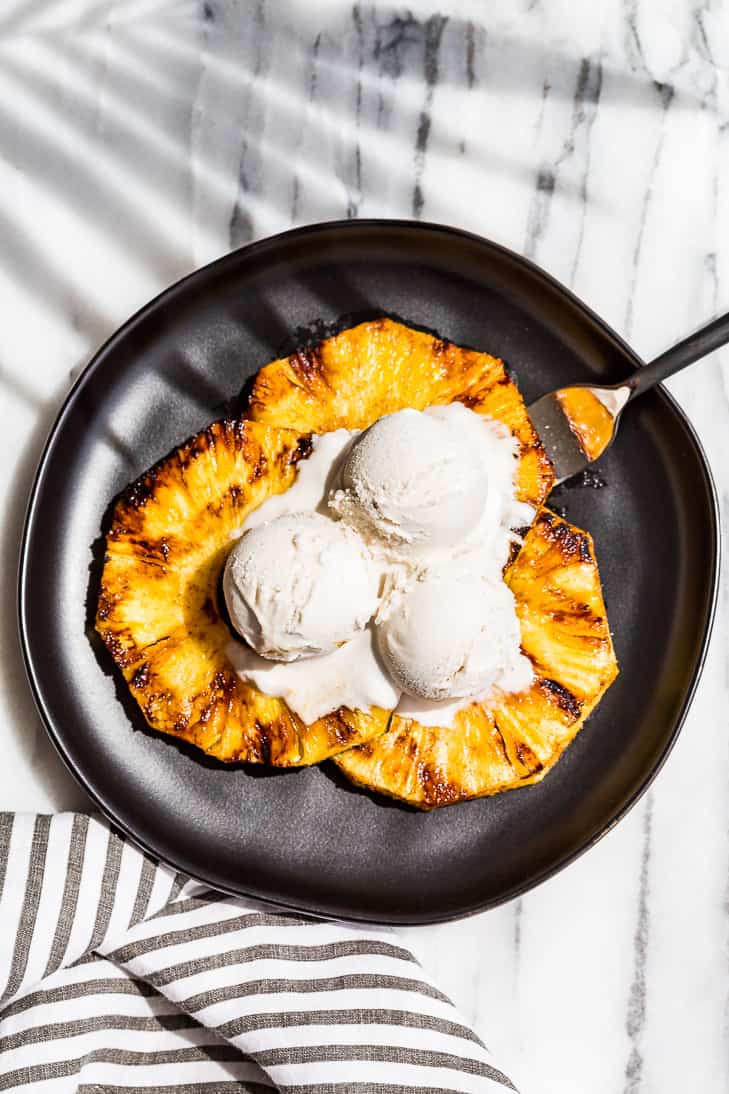 I can't be trusted around grilled pineapple. If you look away for a moment, you can bet I've devoured everything in sight! This is no exaggeration, you can check with my husband. He most definitely thinks I'm a little crazy in this department.
We used to go to a Brazilian BBQ restaurant in Calgary. And I would usually raise eyebrows by eating 2 platefuls of this deliciousness! Since Brazilian BBQ is now 5 hours away, I've started making some of my favorites at home. (We must pacify those cravings you know!)
I started with a Cilantro Chimichurri (a little un-orthodox I know). And now, we've moved on to my favorite part – the PINEAPPLE! So if you haven't tried grilled pineapple yet, I hope I've convinced you to give it a go.
There's something about the simplicity of this dessert that gets me every time, it's lightly spiced and perfectly caramelized. If you're in Calgary give Bolero's (Brazilian BBQ) a try, they have a great Key Lime Cheesecake but I always opt for the pineapple instead.
To cut up a pineapple, start by slicing off both ends.
Next, stand the pineapple up on it's base, and cut away the sides. Don't be afraid to take a little bit more with the skin, it's easier than cutting out all the little brown eyes by hand!
How to cut up pineapple to grill:
1) Cut around the core for the pineapple, and cut the pineapple into wedges around 2″ thick.
2) Or you can cut the pineapple into 1″ thick rounds leaving the core in the middle. If you have a round cookie cutter the right size, it works perfectly for cutting the core out. Otherwise it's fine to leave the core in for grilling, then just cut around it later.
Next up, mix together the cinnamon glaze. Then drizzle the cinnamon syrup over the prepared pineapple and toss it to thoroughly coat each piece.
It's important when you're grilling the pineapple that each side gets good and brown, it creates the caramel flavor that's essential to this dish (and it's also what makes it so addictive)!
How to grill pineapple tip: It's all about the right temperature! I've found that maintaining a temperature of around 450ºF is great for getting those caramel grill marks but not overcooking the pineapple.
How to serve this Cinnamon Glazed Grilled Pineapple:
While I'd never turn down good old fashioned Vanilla Bean Ice Cream, my favorite with grilled pineapple is my Homemade Coconut Ice Cream!
Time Saving Tips:
Buy already cut up pineapple from the store to save the prep time.
Check out the dairy free ice cream section at the store to find a good coconut ice cream if you're short on time. (Our favorite is Coconut Bliss.)
You can serve it on it's own, it's good enough you won't be missing anything. But… I really love this with a scoop of Homemade Coconut Ice Cream – fresh out of the ice cream machine it's like soft serve, and gets all melty around the warm pineapple.
If you get a chance to make this, I hope you'll leave me a comment/rating below. And I always love hearing from you here. Or over on Instagram where you can tag me at #getinspiredeveryday with your photos.
Print
Cinnamon Glazed Grilled Pineapple
---
1 pineapple, (mine was 5 pounds)
2 Tablespoons maple syrup
1/2 Teaspoon Vietnamese cinnamon, see notes
---
Instructions
Preheat the grill on high. Next prepare the pineapple by cutting off both ends. Stand the pineapple on it's base and slice off the sides.
Next, cut the pineapple away from the core by slicing from the top to the bottom and working your way around the core. You can also cut 1″ round slices to grill if you prefer. Or cut the pineapple into wedges about 2″ thick.
Combine the maple syrup and cinnamon, and drizzle the syrup over the pineapple, tossing to coat each wedge or slice completely.
Lower the grill heat to medium to medium high, maintaining a temperature around 450ºF.
Evenly space the pineapple across the grill and cook for 3-5 minutes per side.
The intention of the grilling is to make a caramelized surface on the pineapple without turning it to mush. You want nice brown grill marks on both sides, and if your grill is on the cooler side you might need to turn the heat up to medium-high.
To check if your level of heat is enough, lift up a piece of pineapple with tongs after 3 minutes. If it has a nice brown look, the heat is perfect. If it's not browning turn the heat up, but avoid turning it all the way to high because it will burn too easily!
Notes
If you love cinnamon consider trying this with 1 teaspoon of cinnamon. The 1/2 teaspoon called for gives a delicate cinnamon flavor well balanced with the pineapple. But we both love cinnamon and sometimes use a full teaspoon.
The nutritional information was calculated for 2.5 pound of pineapple fruit which is what was leftover after I cut up the 5 pound pineapple.
Prep Time:

10 mins

Cook Time:

10 mins

Category:

Dessert

Method:

Grilling

Cuisine:

Brazilian
Keywords: Grilled Pineapple, Recipe for Grilled Pineapple, Grilled Pineapple Recipe, Grilled Pineapple Slices, Healthy Grilled Pineapple