This Best Vanilla Ice Cream recipe is made from scratch with a custard base! It's an old-fashioned vanilla ice cream recipe that's incredibly creamy, and perfectly smooth, with that chewy texture that makes the best ice creams. This ice cream has both vanilla extract and vanilla bean for the absolute best vanilla flavor.
Vanilla ice cream may well be the best ice cream flavor in my opinion! It's just so versatile and goes with just about anything you can think of.
Of course you can eat vanilla ice cream on it's own and enjoy every single sublime bite. But it's also perfect with almost any other dessert, from pie and cakes, to crisps and cobblers.
Or make this ice cream into a sundae with my Berry Sauce, and melt some chocolate chips for a chocolate drizzle over the top.
Try this with my Coconut Caramel Sauce or anything else you love with vanilla ice cream. You'll find even more suggestions below, but there really are endless possibilities with vanilla ice cream.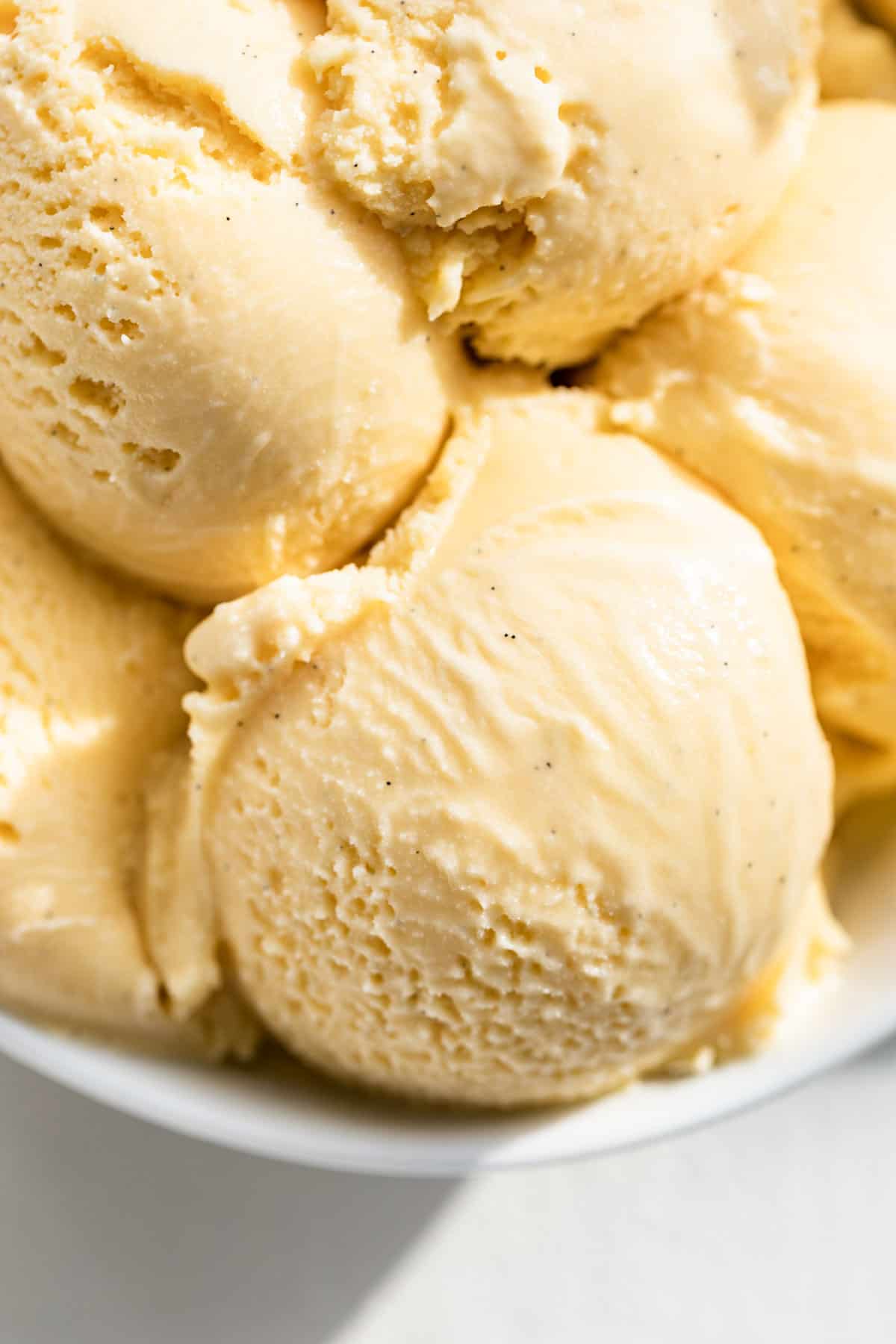 Ingredients & Substitutions
Egg yolks – for custard based ice creams you only use the egg yolks. The egg whites can be used to make an egg white scramble or even meringue cookies.
Half & half – you want to look for half and half that is between 11% – 18% milk fat. Anything else isn't half and half. Half and half is combined together with heavy cream to make the perfect amount of fat content for good texture. You don't want to sub in anything with lower fat content in this recipe. The fat ratio to sugar and egg yolks for binding is what makes the incredible texture.
Heavy cream – also called heavy whipping cream sometimes. What you're looking for is cream that is at least 36% milk fat.
Sugar – granulated cane sugar will give you the purest vanilla flavor. However we often make this recipe with Grade A amber maple syrup or honey. You'll find notes in the recipe card below for how to sub them in.
Vanilla – we're going to be using both vanilla extract and vanilla bean for this recipe. This makes for the most incredible deep vanilla flavor. You'll find out what to do with the vanilla bean pod in my tips below. Also you can make this with just vanilla extract according to the recipe notes.
Sea salt – just a touch of salt rounds out the flavor and adds depth to this ice cream, don't skip it or the ice cream will have a more 'flat' flavor. It's hard to explain in words, but salt is essential in a small amount.
How to make this recipe step by step
Step 1: Start by mixing the egg yolks and sugar together until smooth.
Use a thin bottomed medium saucepan if you're new to making ice cream. A thick saucepan can hold too much heat and overcook the custard.
Step 2: Add the half and half to the egg yolk mixture, and mix again until mostly smooth, than add the vanilla bean split in half.
Cook stirring constantly over medium to medium high heat until the custard barely thickens and small bubbles are beginning to appear around the edges. You don't want the custard to simmer and definitely don't bring it to a full boil.
Do not let you custard boil, it will scramble the eggs and the ice cream will taste eggy!
Step 3: When the custard has just barely thickened, remove it from the heat immediately and add the heavy cream to cool it down so it doesn't over cook. Mix in the sea salt and vanilla extract.
Step 4: Pour the ice cream custard through a fine-mesh sieve to remove any bits.
Put the vanilla bean halves back into the warm custard, then cover and refrigerate to chill completely. The texture of the custard will coat the back of a spoon but will be barely thickened.
Step 5: When the custard is thoroughly chilled, remove the vanilla bean and add the custard base to your ice cream maker.
Freeze the ice cream according to the manufacturers instructions. It should look like the above photo – soft serve texture. An ice cream machine is really important for great texture. The custard will churn in the machine which adds air and creates a smoother ice cream.
Remove the ice cream from the machine and serve. Or place it in a freezer safe container and freeze until firmer. 4-6 hours is usually enough to be firm.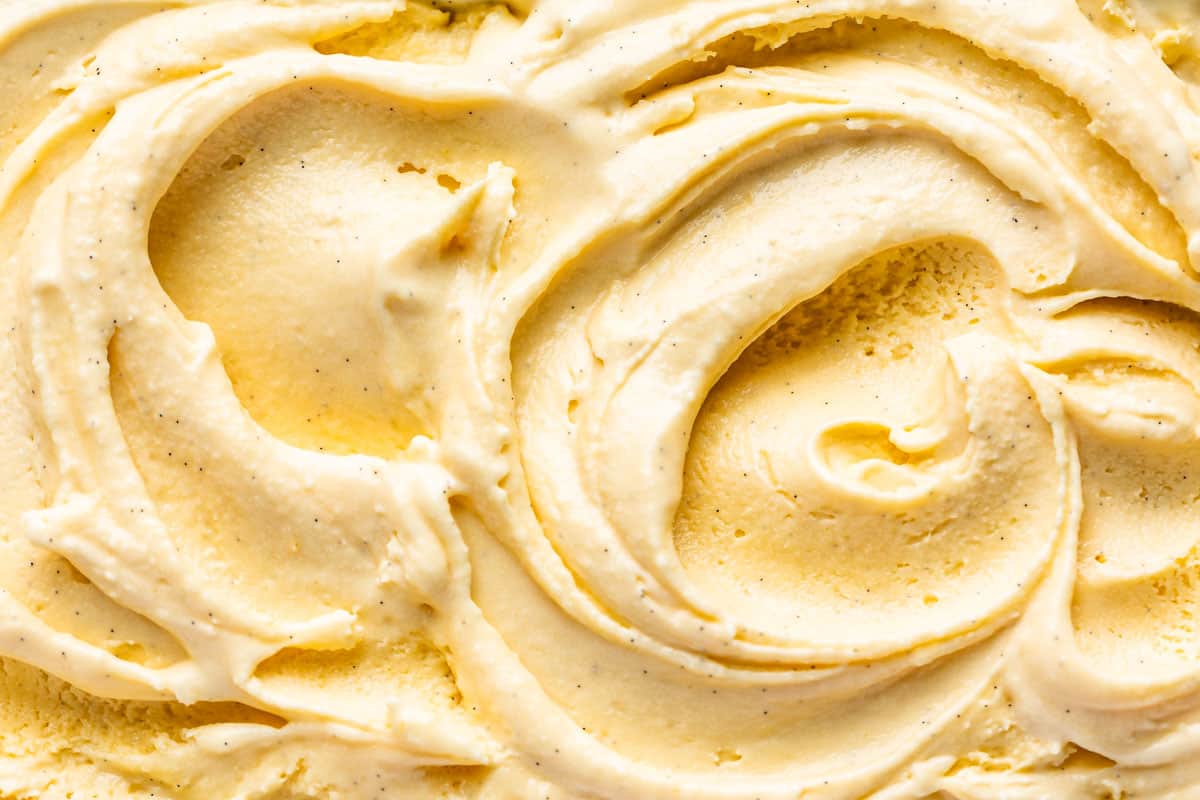 FAQ's
Why do you add eggs to ice cream?
A couple of reasons both having to do with texture. First up egg yolks emulsify the liquid to the fat in an ice cream custard base and secondly they prevent crystallization as it freezes so it has a smoother texture. Commercial ice cream often has stabilizers added to prevent the texture crystallizing. So while you can make vanilla ice cream without eggs, this custard based ice cream will have the best smoothest texture.
What is the secret to creamy ice cream?
The ratio of fat to sugar is very important for the creamiest and smoothest ice cream. Low fat store bought ice creams have a fairly smooth texture because of the additives and stabilizers. Homemade ice cream relies on full fat dairy with just the right amount of sugar to keep it soft when frozen. From there the egg yolks emulsify the fat with the liquid to keep homemade ice cream incredibly smooth.
What ingredients keep ice cream soft?
Both fat and sugar together is what keeps homemade ice cream soft. You can reduce the sugar in this recipe or use a lower fat dairy, but it will drastically affect the texture.
Storing leftovers
To store – place any leftovers into a freezer safe container or bowl, and store in the freezer for up to 1 month.
Make ahead – ice cream is the perfect make ahead dessert. It will keep a good texture in an airtight container for at least 1 month. After that the ice cream does start to get an icier texture the longer it's in the freezer. 1-2 weeks is the optimum amount of time to eat this ice cream up!
Tips & Tricks
Be careful not to let the custard come to a boil! It will scramble the eggs and affect both the flavor and texture. There's really no way to fix it either. So stir constantly and be attentive. It will thicken lightly just before boiling, so you have to watch to see it.
When you see a few bubbles around the edge, you know the custard is done. Immediately remove it from the heat and add the cold heavy cream to cool it down.
Use a thin saucepan, not enameled cast iron if you're not used to making ice cream. A thicker pan holds the heat and can cause the ice cream to overcook even after you remove it from the heat!
I don't want to make this sound complicated by any means, it just takes a couple of times making ice cream custard and you'll know exactly what to look for.
Dietary Options & Substitutions
More Ice Cream Recipe Inspiration
I really hope you enjoy this best ever Vanilla Ice Cream recipe! If you do get a chance to make this recipe, I'd love to hear from you in the comments.
The Best Vanilla Ice Cream
---
INGREDIENTS
7

egg yolks

3/4

cup

cane sugar

1.5

cups

half and half

1

vanilla bean

-

split in half lengthwise

1/4

tsp

sea salt

2

cups

heavy whipping cream

2

tsp

vanilla extract
INSTRUCTIONS
Whisk together the egg yolks and sugar until they're combined, then slowly whisk in the half and half.

Add the vanilla bean and sea salt and begin to cook your custard over medium heat, whisking constantly.

Once the custard thickens (but does not come to a boil, about 10 minutes on medium heat) remove it from the heat source and pour in the heavy cream along with the vanilla extract.

Whisk to combine and strain the mixture through a fine mesh sieve. At this point, you can add the vanilla beans back to the custard to steep while it cools in the refrigerator 6 hours or overnight.

When the custard is chilled, remove the vanilla beans being sure to scrape out any extra seeds, and freeze the ice cream according to your manufacturer's instructions.

I use a 2-quart Cuisinart ice cream maker and it takes around 15 minutes to freeze my ice cream. You'll know it's ready when it's frozen enough to stay on a spoon without sliding right off.

When the ice cream is frozen, it will be like soft serve. It will take an additional 6-8 hours in the freezer for a firm, fully frozen ice cream.

This ice cream is perfect right out of the freezer, and only needs 5 minutes on the counter for a softer texture.
Bonus Step
If you made this recipe, please leave a rating/comment. Ratings really help us continue to bring you high-quality free recipes. Rate This Recipe!
NOTES
I find custard ice creams easiest to make in a 2 day process, but if you started early in the morning you could have it the same day!
This recipe used to call for 8 egg yolks, but after many.. many batches I've found 7 egg yolks to be better with less chance of an 'egg' flavor in your finished ice cream. I also slightly changed the amount of sugar and half and half, but the final product is very similar just a little bit better!
It will take about 10 minutes for your custard to fully thicken over medium heat. I don't recommend turning up the burner, (until you're confident making custard) though because it's too easy to wreck a custard over high heat. Most ice cream recipes call for a double boiler system to cook the custard – I've done it both ways many times and I don't find the double boiler necessary at all. In fact it increases your cooking time and it's easier to get distracted.
nutrition facts
Calories:
389
kcal
|
Carbohydrates:
23
g
|
Protein:
6
g
|
Fat:
31
g
|
Saturated Fat:
18
g
|
Polyunsaturated Fat:
2
g
|
Monounsaturated Fat:
9
g
|
Cholesterol:
253
mg
|
Sodium:
124
mg
|
Potassium:
135
mg
|
Sugar:
23
g
|
Vitamin A:
1262
IU
|
Vitamin C:
1
mg
|
Calcium:
108
mg
|
Iron:
1
mg
This recipe was originally published in 2014 but has been updated with new photos, new information, and a small change to the recipe that makes it even creamier in 2022.