This No-Bake Coconut Lime Tart is the perfect make ahead dessert, especially in the summertime because there's no cooking involved! Picture a a lime scented coconut macadamia crust filled with a no bake super creamy coconut lime filling textured like mousse. And you'll see exactly why this is one of my most requested recipes. You'll also find guest ask for seconds when they were sure they didn't want dessert because this combination is both refreshing and addicting!
Ever since I made this Coconut Lime Ice Cream, my husband has been absolutely obsessed with it! He used to ask for more traditional sweets like Death By Chocolate or my Chocolate Tart, but ever since the invention of that ice cream, it's all he ever asks for! I can't really blame him because I'm a bit obsessed with it too, it's all sorts of creamy comforting yet refreshingly light at the same time. Even when I'm too full after a big dinner, there's always a smidgle (I think I made that word up) of room for a bit of Coconut Lime Ice Cream.
But… sometimes you really want to serve a dessert that looks a little fancier than a bowl of ice cream, and that's where this Coconut Lime Tart comes in. It has the same great flavor combination, and it's no-bake because that's my favorite kind of dessert – i.e. it's super quick to make and packs a punch in the flavor department.
I used raw macadamia nuts in the crust which is a bit of an indulgence, you can sub in raw cashews if you'd like, but I can assure you the macadamia are really worth it!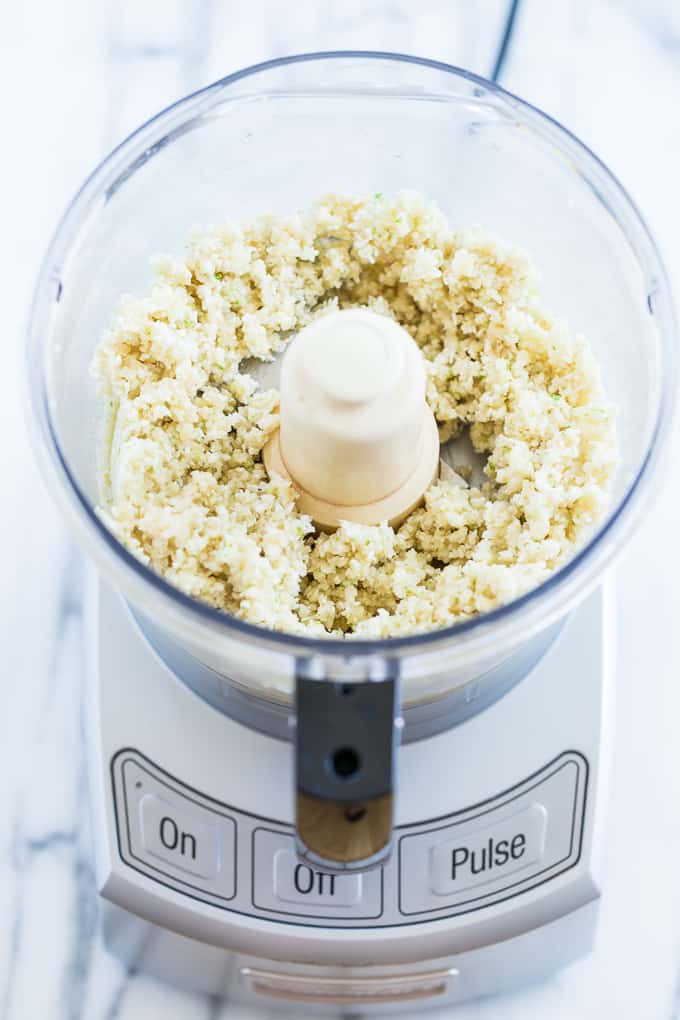 The crust comes together quickly in the food processor. I'm a big fan of nut crusts because they take just minutes to make, and add a cookie dough like element to the overall dessert.
I used a rectangular tart pan for these photos, but a regular 9″ tart pan with a removable bottom works well too (actually it works a little better fitting in all of the filling). If you do use a rectangular tart pan, you might have around an extra 1/2 cup filling that doesn't fit into the mold, simply gobble it up before anyone notices there's any extra!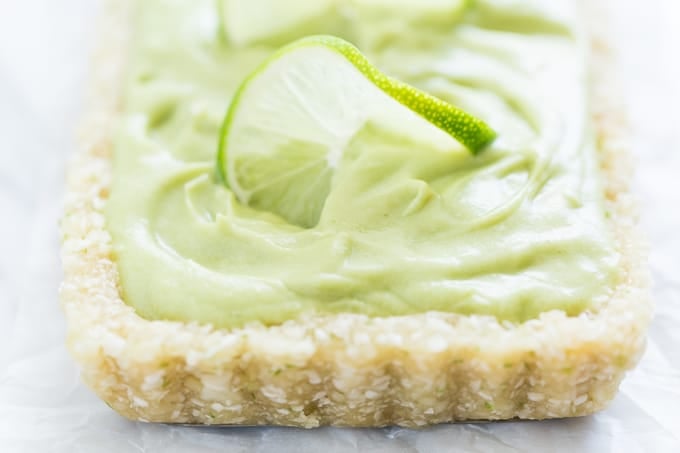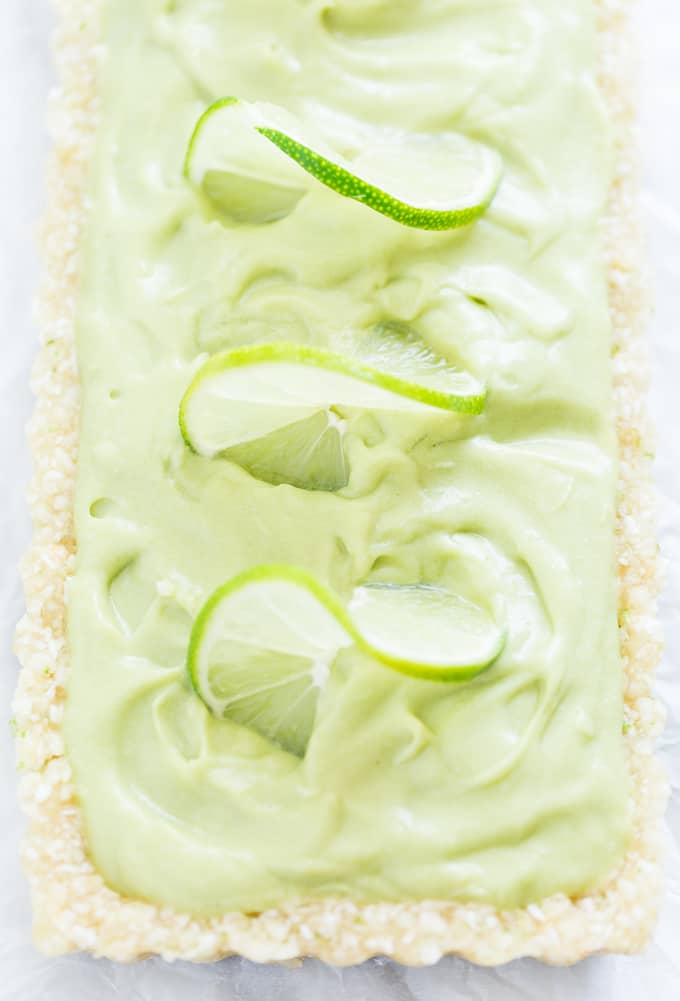 To make the lime slices that garnish the top, cut 3-6 super thin slices from 1 lime, 3 slices decorate just the middle, and 5 slices space evenly across the top. Then, starting in the center of each slice, make a slit to the outer edge, and finally give the lime slice a slight twist when you're placing it on top of the tart. I also think it looks nice to give the filling a bit of a swirl pattern when you're spreading the filling into the tart.
This tart has quickly become a favorite both for it's flavor and for the way it keeps so well in the fridge. It makes the perfect dessert for potlucks and barbeques with the light fresh flavor of summertime!
Print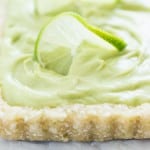 No-Bake Coconut Lime Tart
---
Description
A lime scented coconut macadamia crust filled with a no bake super creamy coconut lime filling textured like mousse. This tart is the perfect make ahead dessert, especially in the summertime with it's fresh flavor!
---
Coconut Macadamia Crust:
1 cup unsweetened shredded coconut, 2.5 ounces
2 cups raw macadamia nuts, 8 ounces
1 Tablespoon lime zest, from about 2 limes
3 Tablespoons Grade A maple syrup
pinch of sea salt

1 Tablespoon of water
Coconut Lime Filling:
1 1/2 Teaspoons of gelatin, or Vegan substitute
2 Tablespoons warm water
2 just ripe avocados, peeled and pitted – the resulting fruit weighs 10 ounces
1/2 cup freshly squeezed lime juice, from 3-4 limes
1 cup of coconut cream scraped from the top of a refrigerated can of coconut milk
1/2–2/3 cup cup Grade A maple syrup, to taste
Garnish:
1 lime
---
Instructions
For the tart crust, place all the ingredients for the crust but the water into a food processor, and process until the mixture is starting to clump but isn't becoming a paste. Add the 1 tablespoon of water if the mixture seems a bit crumbly and pulse together until the crust resembles a soft cookie dough.
Line a rectangular tart pan or 9″ round tart pan with a removable bottom with plastic wrap. Using a spatula and your hands, press the crust evenly into the tart pan. Refrigerate the crust while you make the filling.
Start by stirring the gelatin into the warm water, then set it aside to dissolve while you make the filling.
Place the avocados, lime juice, coconut cream, and maple syrup into the food processor. Start with a small amount of maple syrup and work up to your taste. Process the mixture until it's completely smooth, then add the dissolved gelatin and process again just to combine.
Spread the filling evenly into the tart pan, making a nice swirly pattern over the top. If there's extra filling, set it aside or eat it right away! Cover the tart loosely with plastic wrap and refrigerate for at least 4 hours or overnight to allow the gelatin time to set up.
To garnish the tart, slice 3-6 very thin slices from the lime. 3 slices works nicely for just a middle garnish, and 6 covers the whole rectangular tart.
Starting in the middle of each lime slice, make a slit from the middle to the outer edge. Then, twist the lime slice before placing it onto the tart. The filling will be just soft enough that the lime slices will stand up nicely.
This tart keeps well in the refrigerator for up to 3 days.
Prep Time:

30 mins

Category:

Dessert

Method:

Food Processor

Cuisine:

American
Keywords: Coconut Lime Tart, Coconut Lime Dessert, No Bake Dessert