These Double Chocolate Almond Butter Cookies are easy to stir together and perfectly fudgy. These flourless cookies are naturally gluten-free, dairy-free, and paleo as well. They're a huge hit with everyone, and make a perfect homemade gift!
We've been making these chocolate cookies for over 6 years now. And I have to say they're still just as big of a hit as they were the first time I made them. They've been my go-to when I need a super easy cookie in a hurry because you can mix them together in just minutes!
So whether I'm making them because we have a cookie craving, or I need some to give away, this recipe is my #1. It's also fairly predictable that everyone loves them… after all, they're a double chocolate situation. We both love them fresh out of the oven, with gooey centers and crispy edges.
These cookies are naturally gluten-free and dairy-free because they're a flourless cookie. The almond butter is what you use in place of flour, and it does double duty to provide what you would normally get from the flour and butter. This also means you don't even need a mixer to make these – you just need a few minutes, and you'll have cookies in the oven!
Ingredients & Substitutions
Almond Butter – this makes up the base of the cookies. It provides structure and allows these to be flourless as well. I've also made these with cashew butter and it works really well. Peanut butter is also an option, but it does have a slightly more crumbly texture. Make sure your nut butter of choice is unsweetened and unsalted.
Coconut Sugar – makes the perfect natural sweetener for cookies. It has similar properties to regular cane sugar and produces the right texture. I have had different people write to say they successfully decreased the sugar in this recipe. But just know that the amount called for is what will give you the texture you see in these photos. You can also use brown sugar or cane sugar as well. The texture will be slightly different with cane sugar, but still very good.
Cocoa Powder – works like flour together with almond butter to make the perfect flourless cookie.
Eggs – bring the almond butter and cocoa powder together and they help to make that chewy texture.
Vanilla Extract – I love adding just a touch because it enhances the chocolate flavor.
Chocolate Chips – this is what makes these cookies 'double chocolate' and I like to use the Enjoy Life brand because they're free of many common allergens. Use semi-sweet or dark chocolate chips for the deepest chocolate flavor.
Let's make this recipe step by step
Step 1: Start by preheating the oven. Then add all the ingredients except the chocolate chips to a medium-sized bowl and mix until smooth.
Step 2: Add the chocolate chips and mix to combine.
Step 3: Next portion the cookie dough out onto a parchment-lined baking sheet. You can use a cookie scoop or a pair of spoons for this. I like to keep mine around 2 tablespoons which yields a 3-4″ sized cookie.
Fo a fun variation, try sprinkling a little flaked sea salt over the cookie dough.
Step 4: Bake until the cookies are lightly puffed in the center with crispy edges and soft/fudgy center.
As with all cookie recipes (and baking recipes for that matter) start checking them before the baking time is up. Not everyone's oven is exactly same or perfectly calibrated, and you don't want overdone cookies.
Be sure to take them out when they're still soft and a bit fudgy in the middle!
I think these cookies are at their best on the first day because they're fudgy with crispy edges.
Ways to serve this
Serve these cookies warm out of the oven while the edges are crispy with a cold glass of milk.
These cookies are also great with my Coconut Ice Cream or Vanilla Ice Cream. You can also use them to make ice cream sandwiches.
Crumble up leftover cookies and mix them into ice cream for a 'cookies and cream' ice cream.
Storing leftovers
To store – place the leftover cookies into an airtight container and store them at room temperature for up to 3 days. All baked goods will get drier as they sit at room temperature so we freeze our leftovers right away for the best freshness.
Make ahead – these cookies are best eaten right away, but they will keep for up to 3 days or you can freeze them. The edges will lose their crispy texture within half a day or so.
To freeze – place any leftover cookies into an airtight sealed container and store them in the freezer for up to 1 month. Defrost on the counter and remember the cookies will be soft.
Tips & Tricks
Make sure to thoroughly stir your almond butter for this recipe. It's important that any oil that would separate is well mixed in. The texture of the cookies won't be right if the jar of nut butter isn't properly mixed when you open it up.
For allergy-friendly chocolate chips, try Enjoy Life. They're our favorite chocolate chips because they taste so good!
Be really careful not to overbake these cookies. They should be nice and fudgy in the middle, not dry.
I really hope you enjoy these Chocolate Almond Butter Cookies! If you do get a chance to make this recipe, I'd love to hear from you in the comments.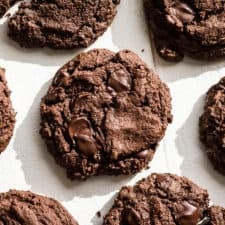 Chocolate Almond Butter Cookies
---
INGREDIENTS
1

cup

blonde coconut sugar

1/2

cup

cocoa powder

1

tsp

baking soda

1

cup

almond butter

-

well stirred, no salt or sugar

2

large

eggs

2

tsp

vanilla extract

1/3

cup

chocolate chips

-

I like the Enjoy Life brand
INSTRUCTIONS
Preheat the oven to 350ºF and line a baking sheet with parchment paper.

In a medium-sized bowl, whisk together the coconut sugar, cocoa powder, and baking soda until no more cocoa powder lumps remain.

Stir in the almond butter, eggs, vanilla extract, and chocolate chips until a stiff dough forms.

Using a spoon, scoop out a bit of cookie dough (2 Tablespoons) and roll it into a ball. Place the formed cookies on the prepared baking sheet. You can fit 12 cookies on a regular-sized cookie sheet.

Bake for 8-10 minutes or until crunchy on the edges, but still soft and fudgy in the middle. Bake the remaining cookie dough, and cool the cookies to room temperature before storing.

Enjoy immediately and freeze any leftover cookies for another day! You can store them in an airtight container on the counter for up to 3 days, but they will get drier with time.
Bonus Step
If you made this recipe, please leave a rating/comment. Ratings really help us continue to bring you high-quality free recipes. Rate This Recipe!
NOTES
To store – place the leftover cookies into an airtight container and store them at room temperature for up to 3 days. All baked goods will get drier as they sit at room temperature so we freeze our leftovers right away for the best freshness.
nutrition facts
Calories:
174
kcal
|
Carbohydrates:
17
g
|
Protein:
5
g
|
Fat:
11
g
|
Saturated Fat:
2
g
|
Polyunsaturated Fat:
2
g
|
Monounsaturated Fat:
6
g
|
Trans Fat:
0.002
g
|
Cholesterol:
22
mg
|
Sodium:
104
mg
|
Potassium:
189
mg
|
Fiber:
3
g
|
Sugar:
10
g
|
Vitamin A:
32
IU
|
Calcium:
68
mg
|
Iron:
1
mg