Classic old fashioned Molasses Ginger Cookies made gluten free. Perfectly crispy on the edges and chewy in the centers, these crinkly wonderfully spiced cookies are always a hit. This recipe has been in my family for decades and they're the best Molasses Ginger Cookies I've ever had. You can use regular all purpose flour in this recipe or you can use the gluten free flour brands recommended below in my recipe tips.
These are my go-to gluten free cookies for every occasion from the holidays to potlucks and for friends. No matter the occasion, these cookies are always a hit. They're also wonderful made gluten free because they don't loose any texture unlike so many gluten free baked good.
These cookies also freeze really well, so be sure to make a big batch to have some on hand. They're a classic old fashioned Molasses Ginger Cookie with crispy edges and chewy centers.
This recipe has been in my family for so many decades, we lost count of how old it is. But I do remember as a small child getting so excited every time my Grandpa would break out this recipe and start baking!
Ingredients & Substitutions
Butter – I don't recommend subbing anything in for butter for these particular cookies. However I have heard from readers that they're have success with vegan/dairy free butter and coconut oil.
Sugar – again I don't recommend subbing in different sweeteners. Cane sugar will give you the best chewy results with the sparkly outer coating. I have made these with coconut sugar before, they're still good but different.
Egg – provides the perfect amount of binding and helps to create the chewy texture.
Molasses – is essential in these cookies for flavor and texture. You want to look for unsulphered molasses, not backstrap molasses. Wholesome Sweeteners has a great organic molasses.
Spices – a combination of cinnamon, ginger, and cloves is what goes in this classic recipe. I've increased the amount of spices from the original family recipe, and my whole family 'approved' the change!
Gluten free flour – not all brands are created equal, so use what you know to be good in your baking. However I can't vouch for anything except Bob's Red Mill 1:1 – the blue bag. I've had wonderful success with that particular gluten free flour, and it's widely available at most grocery stores, or online.
How to make this recipe step by step
Step 1: Start by adding the softened butter to a mixing bowl along with the sugar and the spices.
Tip: I add the spices in when creaming the butter and sugar together because it's brings out a bit more flavor!
Step 2: Scrape down the sides as needed then add the egg and molasses to the mixing bowl. Beat again until completely combined.
Step 3: Scrape down the sides of the bowl again. Next whisk together the dry ingredients and beat just to combine.
For all purpose flour you want to use 2 cups of flour, but for Bob's Red Mill Gluten Free 1:1 (blue bag) these cookies are better with 1 3/4 cups + 2tbsp.
Step 4: Using a cookie scoop, portion out the cookie dough, then roll between your palms until smooth. Finally roll the cookie dough balls in the granulated sugar before placing on a parchment lined baking sheet.
Bake until lightly puffed in the center and crinkles beginning to appear, (they will crack more as they cool). You want the edges to be crispy with soft chewy centers.
Cool on a wire rack before storing.
Ways to serve this
These are so good with my Best Vanilla Ice Cream or Homemade Coconut Ice Cream. You can also make ice cream sandwiches with these.
For an 'over the top' version mix just enough orange juice into powdered sugar to create a glaze to drizzle over the top. Or you can also serve these with orange sherbet, the orange is incredible with these chewy Ginger Molasses Cookies.
These cookies freeze well and keep for a few days at room temperature without drying out, so they're great for holiday cookie boxes as well. They're pretty much the quintessential Christmas Cookies!
FAQ's
What's the difference between Ginger Cookies and Molasses Ginger Cookies?
Molasses ginger cookies are soft with crisp edges and chewy centers. Ginger cookies or Gingersnap Cookies are much crisper and crunchier.
What does molasses do in cookies?
First up it adds a lot of flavor, but it also adds a bit of sweetness along with chewy texture in these cookies because of the small amount of moisture it adds.
Why aren't my Molasses cookies cracking on top?
The answer is usually too much flour. Over packing the measuring cup can lead to too much flour and the cookies won't crack as much. With gluten free cookies it can also mean you used a different brand of flour which didn't work the same.
Storing leftovers
To store – place in an airtight container and store at room temperature for up to 4 days. I most of my batch right away to keep them as fresh as possible, it just depends on how fast they'll disappear in your house!
Make ahead – these can be made ahead and frozen 1 month ahead of time.
Reheating – if you want, you can serve these warm by reheating in the oven at 150ºF until warmed through.
To freeze – place the cookies in an airtight sealed container and freeze for 1 month. They may keep longer, but they never have lasted more than 1 month in our house because they 'disappear' for some reason!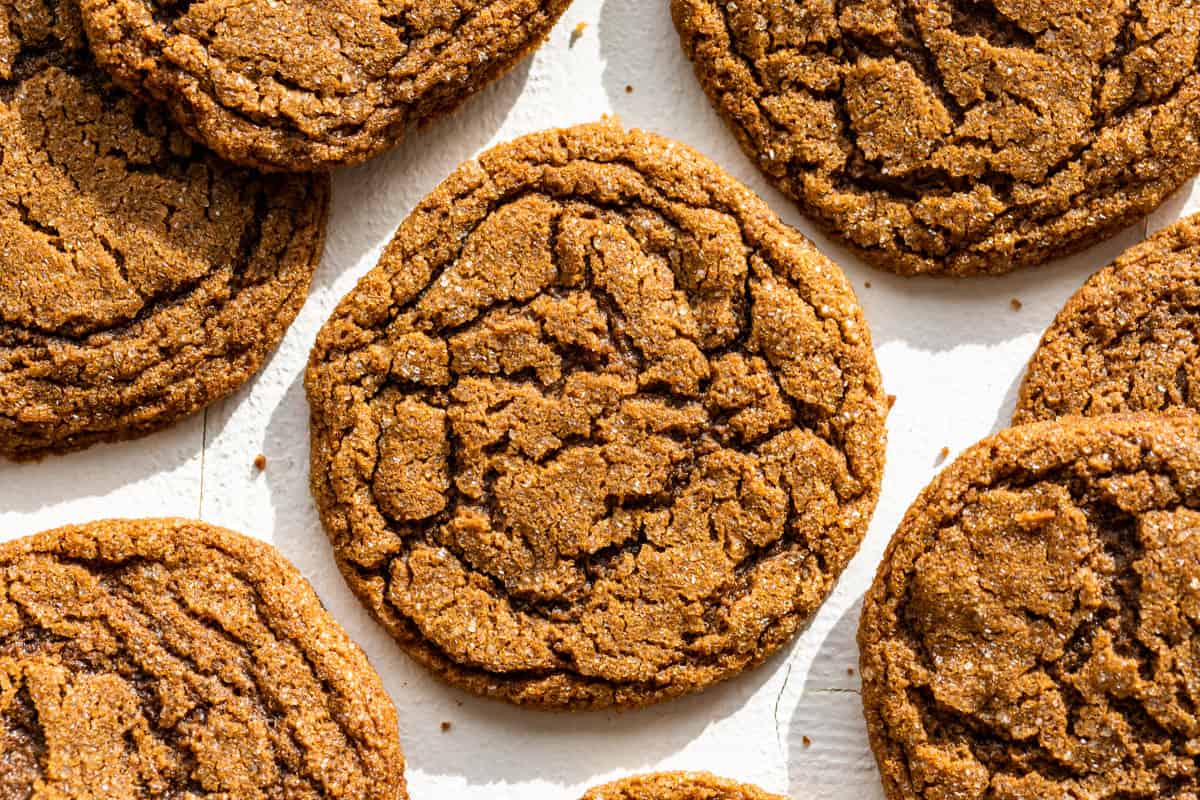 Tips & Tricks
Don't skip adding the spices in with the butter. Creaming them really does bring out more flavor.
For best results I wouldn't sub in much, they're the best just as they are. If you're looking for more treats with natural sweeteners, (no cane sugar) check out my dessert recipes where you'll find lots of options.
Use the dip and sweep method of measuring flour where you 'dip' the measuring cup into the flour, and 'sweep' it level on the top with the back of a butter knife. Too much flour ruins the texture of these cookies, so be careful not 'pack' your measuring cup.
Dietary Options & Substitutions
Dairy free – I haven't tried it myself, but I have heard that dairy free butter and coconut oil work well in these cookies.
Paleo – there isn't a good paleo substitute for these cookies, so I recommend making something entirely different like my Chocolate Almond Butter Cookies
Vegan or Vegetarian – you could use vegan butter and a flax or vegan egg substitute. Or you could also make my dairy free version of No Bake Cookies that are naturally egg free.
I really hope you enjoy these chewy Molasses Ginger Cookies! If you do get a chance to make this recipe, I'd love to hear from you in the comments.
P.S. I'll just warn you that these are so good, I've actually had house guests go searching through the cupboards in the middle of the night in search of another one – true story!
INGREDIENTS
3/4

cup

salted butter

3/4

cup

organic cane sugar

1 1/2

tsp

ground cinnamon

-

Vietnamese cinnamon if you have it

3/4

tsp

ground cloves

3/4

tsp

ground ginger

1/4

cup

unsulphured molasses

-

see notes

1

egg

1/4

tsp

sea salt

-

=

2

tsp

baking soda

1 3/4

cups

gluten free flour

-

+ 2 tbsp, see notes

1/4

cup

cane sugar

-

for rolling the cookies
INSTRUCTIONS
Preheat the oven to 375ºF and line a baking sheet with parchment paper.

Cream the butter, sugar, and spices together with an electric mixer until light and fluffy, 2-3 minutes, scraping down the sides 2-3 times.

Add the molasses and egg, and beat to combine, about 1 minute, scraping down the sides when needed.

In a separate bowl, combine the sea salt, baking soda, and flour 1 3/4 cup + 2 tbsp for gluten free.

Add the flour mixture to the butter mixture and beat with the paddle attachment until combined with no flour pockets remaining.

Use a #40 cookie scoop to portion out all the cookie dough. (See notes.) Roll the cookie dough between your palms until just smooth.

Then roll the cookie balls in the extra sugar before placing them on the parchment lined baking sheet.

Bake the cookies for 6-8 minutes or until they're lightly puffed up in the middles but are still moist in the center.

Remove the cookies from the oven and cool on a cooling rack. Repeat the shaping and baking process until all the cookie dough has been baked.

The cooled cookies can be stored at room temperature for 4 days, or frozen for up to 1 month.
Bonus Step
If you made this recipe, please leave a rating/comment. Ratings really help us continue to bring you high-quality free recipes. Rate This Recipe!
NOTES
My family recipe calls for 2 cups all purpose flour, and you can make them that way if you're not gluten free. But I've found when subbing in gluten free flour that 1 3/4 cups + 2 tbsp yields a better more crinkly and chewy cookie. Just a little bit less gluten free flour rather than a 1:1 sub definitely makes all the difference.
Bob's Red Mill 1:1 gluten free flour (blue bag) will yield the best results, but Cup4Cup is very good too, (contains milk powder).
You want to avoid blackstrap molasses which is made from the 3rd boiling and some brands are very bitter! Better to go with unsulphured molasses.
The cookie dough will be a touch sticky with gluten free flour. But if it's too sticky to quickly roll between your hands, try mixing in 1 tbsp flour before portioning out the rest of the cookie dough.
nutrition facts
Serving:
1
cookie
|
Calories:
105
kcal
|
Carbohydrates:
15
g
|
Protein:
1
g
|
Fat:
5
g
|
Saturated Fat:
3
g
|
Polyunsaturated Fat:
0.3
g
|
Monounsaturated Fat:
1
g
|
Trans Fat:
0.2
g
|
Cholesterol:
19
mg
|
Sodium:
142
mg
|
Potassium:
51
mg
|
Fiber:
1
g
|
Sugar:
10
g
|
Vitamin A:
161
IU
|
Vitamin C:
0.004
mg
|
Calcium:
15
mg
|
Iron:
0.5
mg
This recipe was originally published in 2015, but has been updated with new photos and new tips and tricks in 2022!