A couple weeks ago I put together a list of our 15 Easy and Affordable Date Night Ideas. One of our favorite go-to's from that list is #7 the cheese party, which can either be for 2, or also for epic entertaining.
We average a cheese party date every couple of months, and it simply never gets old. They're so easy to put together, there's virtually no clean-up, and they're just so much fun. Picture hours drifting past while you snack away trying different flavor combinations and catching up with your favorite person.
And while Valentine's Day is just around the corner, I think I just wanted to put this cheese board date together so we'd have all the leftovers! But in all seriousness I did put this particular board together with Valentine's Day in mind.
We've never been big on Valentine's Day or anything. But what we do know, is there's no way we're braving the crowds to go out and be crammed into one of many tiny tables for 2. Where the food is inevitably substandard, and the service is poor because the restaurants are over maxed.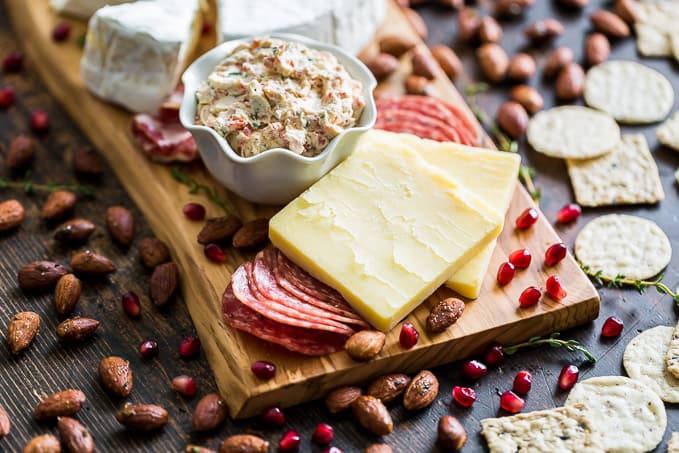 Maybe you've had a great experience going out on this particular day, but we've had so many bad experiences, we never go out on Valentine's Day now as a matter of principle. We'd both much rather stay home where we have plenty of elbow space, and enjoy this cheese board date instead.
As time goes on I've found myself leaning towards simplicity to the utmost, and cheese boards are just the thing. One thing that's still the same though is my 4 tips for having a great date at home, so I've included them in below.
Grocery shop ahead of time, especially when it's a holiday because things tend to disappear from the shelves!
Do some of the prep work ahead of time, although in the case of a cheese plate, there's not much to do. However, I sometimes like to include dessert which I always make ahead, and my latest favorite are these Chocolate Raspberry Cream Candy Cups.
Clean up the kitchen before hand, and then clean as you go. That way, you're not left with a total disaster the next day. We usually leave a little cleanup for the next day because we don't like to do dishes after dinner, but that doesn't mean it has to be a total disaster!
Make it a real date – dress up, play your favorite music, light candles, and turn off your phones!
Cheese boards are really filling, but if you find yourself wanting a bit more than just snacks for dinner, you can always make my Grilled Chicken Caesar Salad. Or another thing we like to do is roast a pound of veggies like asparagus or broccolini to make this a little more balanced.
For more cheese board inspiration, I've included our other 2 favorites below:
How to Make an Antipasto Platter
Gluten Free Summer Cheese Board
Print
Easy Cheese Board Date for 2
---
3 Types of Cheeses:
2

–

4

ounces aged white cheddar

1

round or wedge of brie, or other soft spreadable cheese, see notes

2

–

4

ounces soft cheese, like a goat cheese, see recipe below
3 Different Types of Salami:
4

slices of prosciutto

1

–

2

ounces thinly sliced genoa or sopressata salami

1

–

2

ounces thinly sliced coppa
To Round It Out:
Gluten free crackers, we use multi-seed crackers from the Blue Diamond brand
Roasted (smoked or flavored) nuts or seeds, we used my Rosemary Sea Salt Roasted Almonds.
Pomegranate arils
Herb sprigs for garnish if desired
Herbed Red Pepper Goat Cheese:
1/2 cup

soft goat cheese, 5-6 ounces

1/4 cup

minced red bell pepper

1 Tablespoon

chopped basil, or

1 Teaspoon

chopped fresh thyme

1/2 Teaspoon

each sea salt and freshly ground black pepper

1 Tablespoon

extra virgin olive oil
---
Instructions
If you're making the flavored goat cheese, make that first by mashing all the ingredients for the herbed red pepper goat cheese together with the back of a spoon. When it's done, place it in a small bowl, and refrigerate until needed. You can make this 1 day ahead if desired.
When you have all your ingredients assembled, start by arranging them on a large wooden board or serving platter.
Once everything is arranged, serve the cheese board/plate immediately.
Notes
This recipe is merely a guideline of exactly what we put on our cheese board, but feel free to pick anything you'd like.
Brie cheese tends to come in 1 pound wheels, so either get a slice if you have access to a cheese counter, or plan on having leftovers. I like to use some of my leftover brie cheese in an omelet the next morning with green onions or chives and some thinly sliced prosciutto.
The recipe for the red pepper goat cheese makes a bit more than you'll need for one cheese board for 2, but it makes great leftovers, and of course a dynamite omelet.