The quintessential Italian version of a cheese board, this Antipasto Platter is the ultimate 'no cook' appetizer or even a meal. It's all about assembling together a number of tasty ingredients and then it's all snacking. One thing I like to do is create my own olive oil marinade which makes all the veggies taste extra special.
It's no secret I'm obsessed with creating cheese boards. So it's only natural I'm also obsessed with the Italian version called 'Antipasto' as well. An antipasto platter is made up of all Italian ingredients. But I'm not telling if a few other things sneak onto your board as well!
The thing I love about this type of 'recipe' is that it's just a guideline really. You can make a giant board like the one pictured here. Or you can go simple like we do on a lot of weekends and just make a dinner plate size.
This easy to make platter or large board is perfect for entertaining. But we also love to scale this down and just arrange a few things on a platter to snack on. Tyler usually does this while I start cooking dinner.
Then we snack away while I cook ,and he helps out. This has been such a fun way to have a 'date night in' for us because he's not much for cooking. So this 'no cook' antipasto is perfect for him, and makes for a fun night in the kitchen.
During the warmer months we make this Summer Antipasto Platter for picnics. Sometimes I'll make it at home, but other times I just assemble it on the tailgate while he's fly fishing. Then we just enjoy a simple dinner by the river. No matter what way you go, antipasto makes a wonderfully easy and fun night!
Ingredients & Substitutions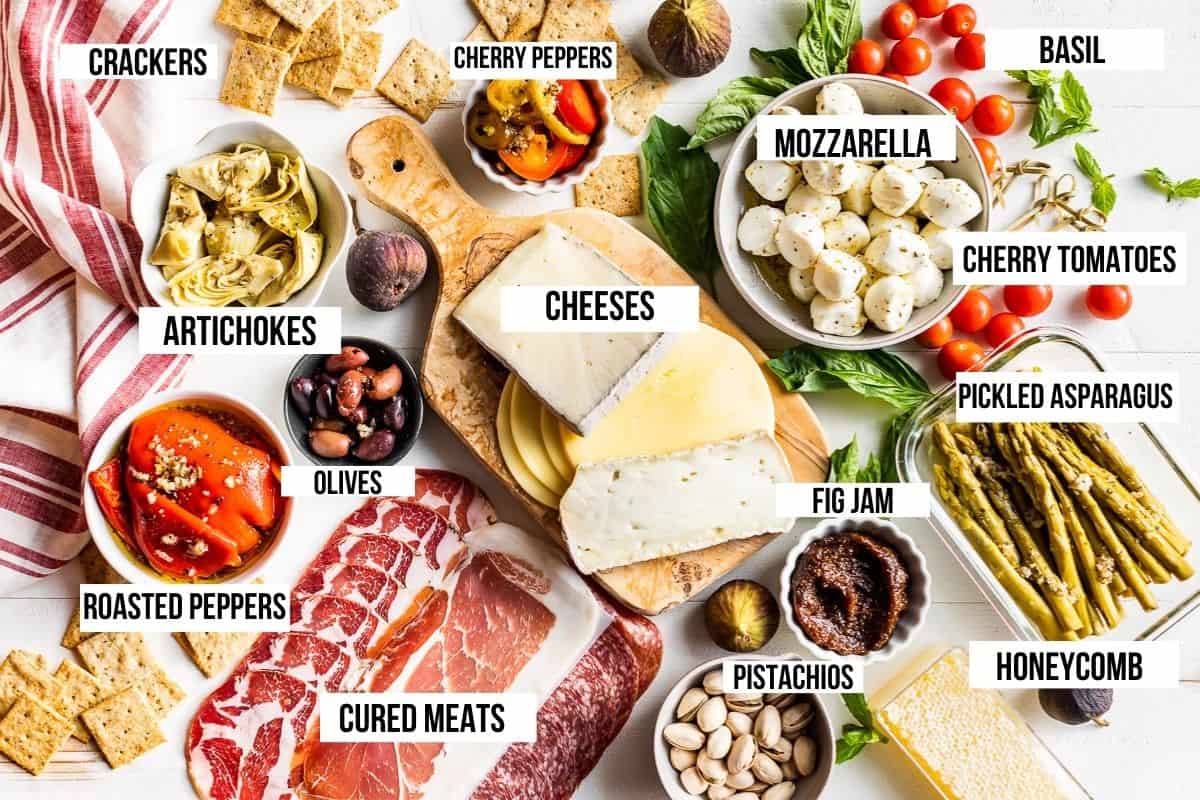 Cured sliced meats – I use prosciutto, genoa, sopressata, besaola, mortadella or capicolla. But you can use any salami you love the flavor of. To keep it authentic, try and use Italian salami. But I totally get it if you don't have a ton of selection in your area.
Cheeses – I used chunks of parmesan, sliced provolone cheese, a truffle cheese called Sottocenere al Trufula, Casatica di Buffula which is like a brie. You can use any Italian cheeses here, or what you have access to in your area.
Fruits or jams – I used a few fresh figs along with fig jam for this board. But the sky is the limit here, and you can use what's in season from peaches to melons. Berries are nice as well.
Veggies – Fresh veggies cooked and marinated, or jarred veggies with my marinade are both delicious here. I used all jarred veggies on this one since it's winter, but freshly cooked veggies are great when you have them. I used a mix of cherry peppers, pickled asparagus, artichokes, olives, and roasted red bell peppers. I did get some cherry tomatoes to make the Caprese skewers. But you could also use roasted peppers instead.
Extras – things like honeycomb, pistachios or almonds, and olives are all nice extras to have. Fresh sprigs of herbs like basil are great because you can eat the leaves. Or for decoration add some sprigs of rosemary.
How to make this recipe step by step
Step 1: Start by mixing together the olive oil, Italian seasoning, garlic, sea salt and pepper.
Step 2: Marinate the mozzarella balls, (bocconcini) roasted peppers, artichoke hearts, cherry peppers, olives, and asparagus.
Drizzle the oil mixture evenly over each one you choose to use then let sit until you've finished assembling. Or refrigerate for 1 day before and bring back to room temperature for 30+ minutes.
Step 3: Assemble the Caprese skewers (optional) by threading the tomatoes, basil leaves, and cherry tomatoes onto small skewers, (about 5″ long).
You can also use diced raw red pepper or roasted red pepper in place of the tomatoes during the winter months. I've even done roasted cubes of butternut squash which is so tasty too.
Step 4: Finally once everything is ready, it's time to arrange it on a large board. Or you can also use a large platter (or a mix of platters) to place everything on.
Ways to serve this
As an appetizer before a holiday or celebration meal like my Thanksgiving Menu.
Try having an Italian themed dinner party for your guests starting with this Antipasto Platter. Then keep it simple by moving on to a pasta dish and a salad like my Caesar Salad. Follow it all up by making espresso and pouring it over my Vanilla Bean Ice Cream for an easy 'affogato' dessert.
Take it along as a picnic for the outdoors. Any place that has a picnic table and view works great. We have a truck, so we often tailgate with this antipasto recipe or my Cheese Board.
FAQ's
What is in an Antipasto Platter?
Traditionally it's made up of all Italian ingredients. You will always find Italian cheeses and cured meats like salami. Then you'll often find olives and other preserved veggies like roasted peppers, marinated artichoke hearts etc..
What's the difference between antipasto and antipasti?
Antipasti is simply the plural version of antipasto in Italian!
Why is it called Antipasto?
Antipasto in translation means what comes before the meal. You can think of 'antipasto' much like the English word 'appetizer' in that way.
What is the difference between Charcuterie and Antipasto?
Charcuterie is French and Antipasto is Italian. Aside from that Charcuterie doesn't normally have veggies where Antipasto does. Charcuterie has cured meats, cheeses, olives and fruit and generally is made up of French ingredients.
Storing leftovers
To store – any leftover veggies and cheeses/meats can be stored separately in airtight containers for up to 3 days.
Make ahead – assemble your ingredients on 1+ platter(s) tightly cover and refrigerate for up to 4 hours ahead of time.
Tips & Tricks
Don't skip the marinating oil below in the recipe because it takes the veggies up a notch.
Try several kinds of crackers or breads if you're feeding more people. It's fun to mix things up with extra options!
Make the marinated veggies and mozzarella up to 1 day ahead to make assembling this even easier.
I really hope you enjoy this (recipe name)! If you do get a chance to make this recipe, I'd love to hear from you in the comments.
Print
Antipasto Platter
---
Author:

Kari Peters

Total Time:

30 minutes

Yield:

12

servings

1

x

Diet:

Gluten Free
Description
The quintessential Italian version of a cheese board, this Antipasto Platter is the ultimate 'no cook' appetizer or even a meal. It's all about assembling together a number of tasty ingredients and then it's all snacking. One thing I like to do is create my own olive oil marinade which makes all the veggies taste extra special.
---
1 pound assorted cured meats, prosciutto, genoa salami, capicolla, sopressatta etc.
1 pound assorted cheeses, I used Sottocenere al Trufula, Casatica di Buffala, gorgonzola, sliced provolone, and parmigiano reggiano chunks, and asiago
8 ounces fresh mozzarella balls, called bocconcini, 2 cups or 24 mozzarella balls
Marinade Oil:
1/3 cup olive oil
1 clove garlic, minced, or 1/2 teaspoon garlic powder
1 teaspoon Italian seasoning, no added salt or sugar
1/2 teaspoon sea salt + 1/4 teaspoon black pepper
Veggies:
12–16 cherry tomatoes, optional see notes
24 small leaves of basil, see notes
1 cup drained olives, 1 – 6-8 oz jar
1 – 12 ounce jar roasted red peppers, drained
1 cup drained artichoke hearts, from a 6 ounce jar
1 – 16 ounce jar pickled asparagus, drained, or 16 fresh spears roasted in the oven
1/2 cup sweet cherry peppers or pepperoncini, drained
Extras:
Sprigs of basil leaves and/or rosemary sprigs to decorate
1 – 6 ounce container honeycomb, use as much or little as desired
1 – 6 ounce jar fig jam or Sicilian orange marmalade, or fresh figs/sliced oranges
8 ounces assorted crackers, I use Simple Mills and Blue Diamond almond
Grissini, focaccia, or sourdough
Roasted pistachios or almonds
---
Instructions
Start by mixing together the ingredients for the oil marinade. Divide the marinade evenly between the mozzarella balls, and all of the drained veggies.
Toss each one to combine and allow to marinate for at least 30 minutes while you assemble. Or you can refrigerate them 1 day ahead of time and bring back to room temperature to 'melt' the olive oil.
If you're making the Caprese skewers pictured, alternate placing the marinated mozzarella, cherry tomatoes, and basil leaves onto small skewers, about 5″ long.
Next assemble everything as desired on a large platter(s) or very large board. I like to break things up by having the marinated veggies and jam in individual bowls.
Then place a few cheeses on their own small wooden boards. From there fold the salami slices and place them around the veggies etc.. Then arrange everything else around these bowls and fill in the gaps.
Serve with crackers and/or the grissini or (breadsticks), focaccia, or sourdough.
Notes
The cherry tomatoes and basil leaves are to make the Caprese skewers which are optional but fun when you're making a big board. You can omit them and just serve the marinated mozzarella. Or make skewers with some of the roasted peppers when tomatoes aren't in season.
Prep Time:

30

Category:

Appetizer

Method:

Assembling

Cuisine:

Italian
Keywords: Antipasto, Easy Antipasto Recipe, Antipasto Recipe, Italian Antipasto