I try and keep Tuesday night suppers extra simple because I always go to our local Farmer's Market, and there's not much time left to the evening after that. One of my favorite things to make is an ever changing salad based on what's in season at the time. I rarely write them down into a formal recipe, but I really loved this Basil Honey Mustard Dressing, so I got serious about measuring the ingredients instead of just winging it!
The dressing is tangier than a traditional honey mustard dressing because I love a bit of crisp acidity to brighten up my veggies, but do feel free to add as much honey as you'd like! You can also mix and match the veggies with your favorite combinations of whatever is in season. I can't think of anything that wouldn't taste good with a honey mustard dressing.
If you're using carrots in your salad, be sure to slice them as thinly as possible. Or when that's too much hassle, simply grate them to save time.
Any variety of pea that has an edible shell can be used here from Sugar Snap to Snow Pea.
I love a bit of minced red onion in my salad, but if you're looking for a milder alternative I'd go with some thinly sliced green onions.
I used spinach as my green of choice in this particular version, but any butterhead lettuce, romaine, or leaf lettuce will work too.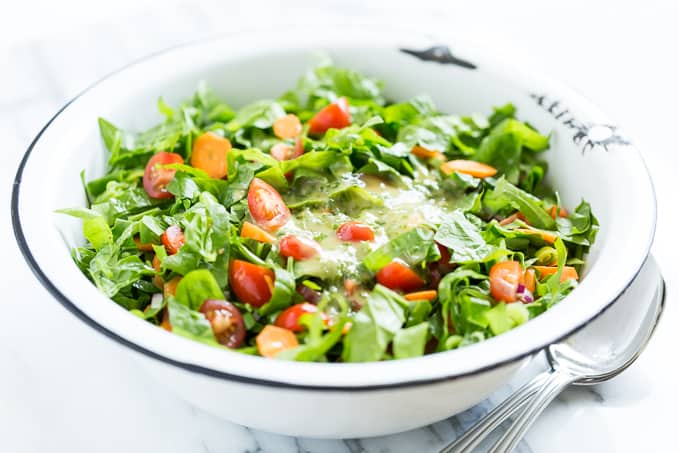 If you're looking some easy ways to bulk up your veggie based meal, here are a few of my favorite additions to this simple salad.
1. Roasted Sweet Potatoes – with butter (lots of butter) in my case
2. Cooked quinoa can be easily mixed into a salad for a boost of protein and carbs
3. Grilled chicken or sausage
Print
Farmer's Market Chopped Salad with Basil Honey Mustard Dressing
---
Basil Honey Mustard Dressing:
1 Tablespoon

honey

1 Tablespoon

Dijon mustard

2 Tablespoons

raw apple cider vinegar

1/2 Teaspoon

sea salt, more or less to taste

1/4 cup

packed basil leaves, 1/4 ounce

1/3 cup

avocado oil, or extra virgin olive oil
Salad:
1/2

pound sugar snap peas, or peas with an edible pod

1

small bunch of carrots, 12 ounces

12 ounces

cherry tomatoes

1/4 cup

minced red onion

6 cups

washed baby spinach, 6 ounces
---
Instructions
Add all the dressing ingredients to a blender and blend until completely smooth and emulsified. Set the dressing aside while you make the salad.
Thinly slice the peas and add them to a large serving bowl. Peel and thinly slice or grate the carrots. Halve or quarter the cherry tomatoes into bite sized pieces.
Toss all the prepared veggies together with the dressing, and serve immediately.