These Roasted Sweet Potatoes are great for a simple side dish to so many dinners! They're also tasty as a base for taco bowls or even sausage gravy. They're easy to make and the caramelized sliced edges are so good with a pat of butter and sea salt melting into it. Roasted sweet potatoes are our favorite gluten-free and dairy-free way to create all sorts of bowl meals and they're nutrient-dense as well.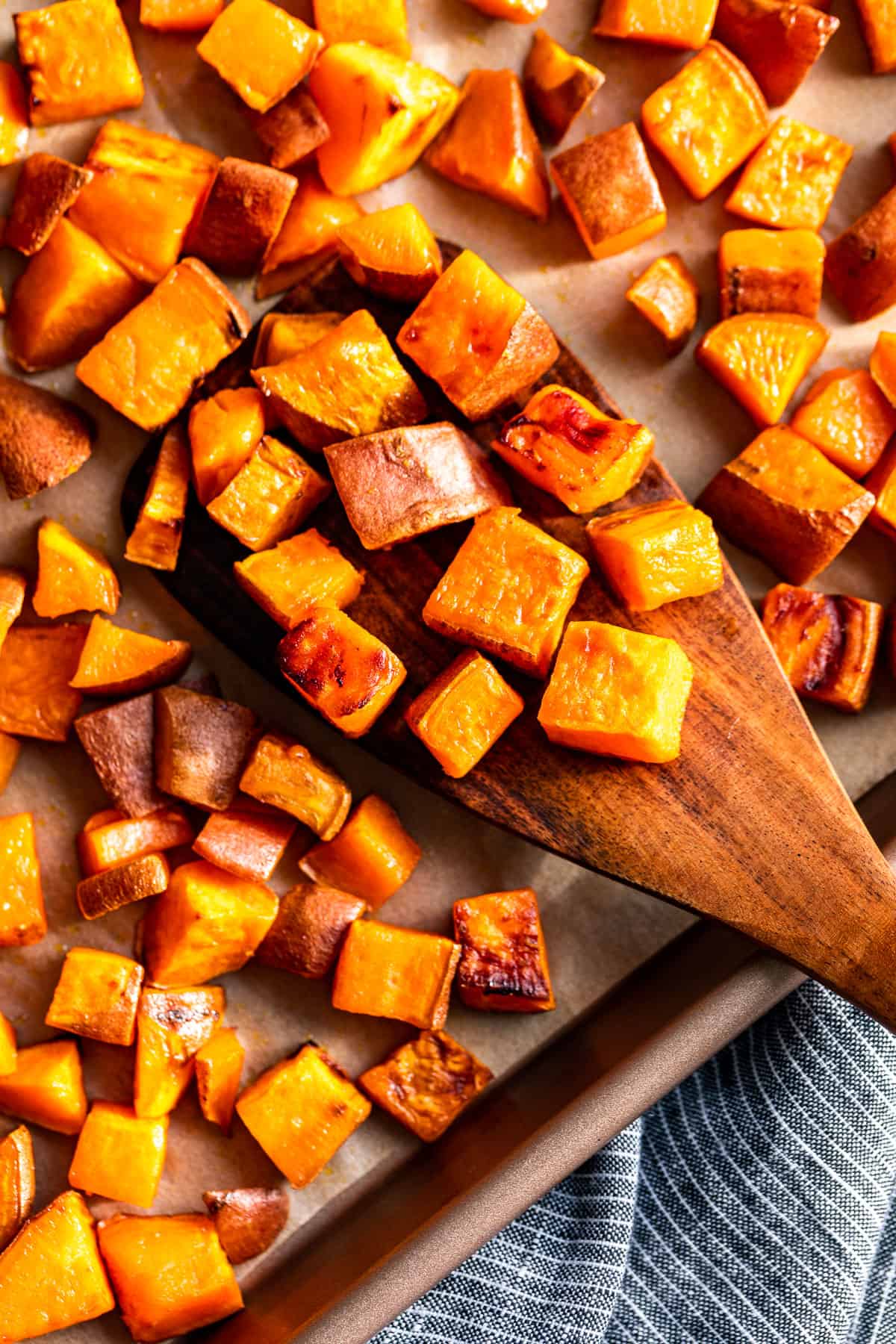 Roasted sweet potatoes are a classic side dish you can pair with so many different dinners. We love to roast them cubed up or halved as a base to make all sorts of yummy bowls or as a simple side dish.
They're just as good if you're serving them with my Easy Baked Chicken Breasts, or as a base for all your favorite taco toppings. No matter what way you go, this is one of those 'back pocket' recipes you'll want to always have on hand.
These are also great for meal prepping because they reheat so well. I love roasting a pan or 2 on the weekend to have in the refrigerator. Then from there, it's quick and easy to reheat them in a skillet and add over easy eggs for a healthy breakfast.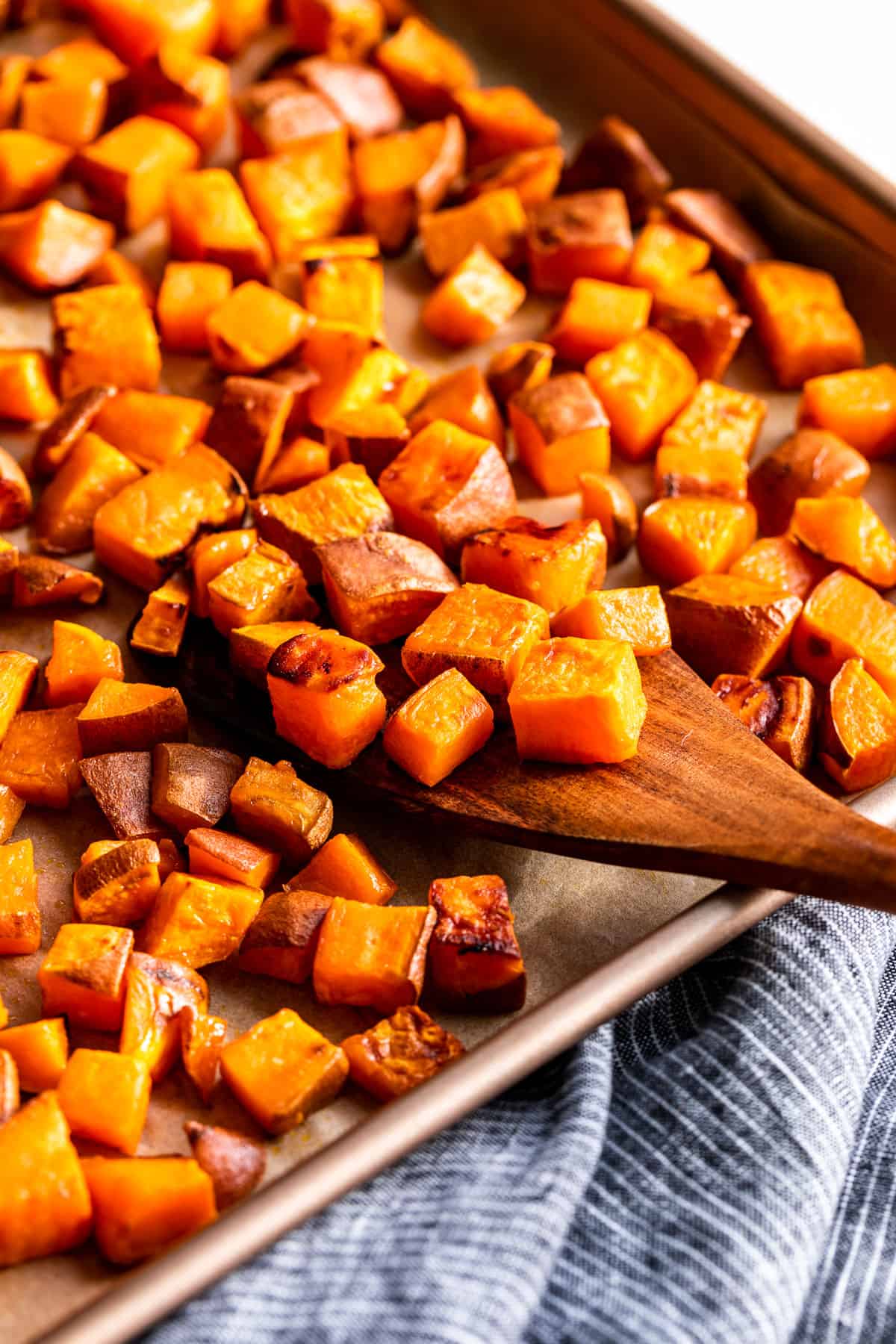 Ingredients & Substitutions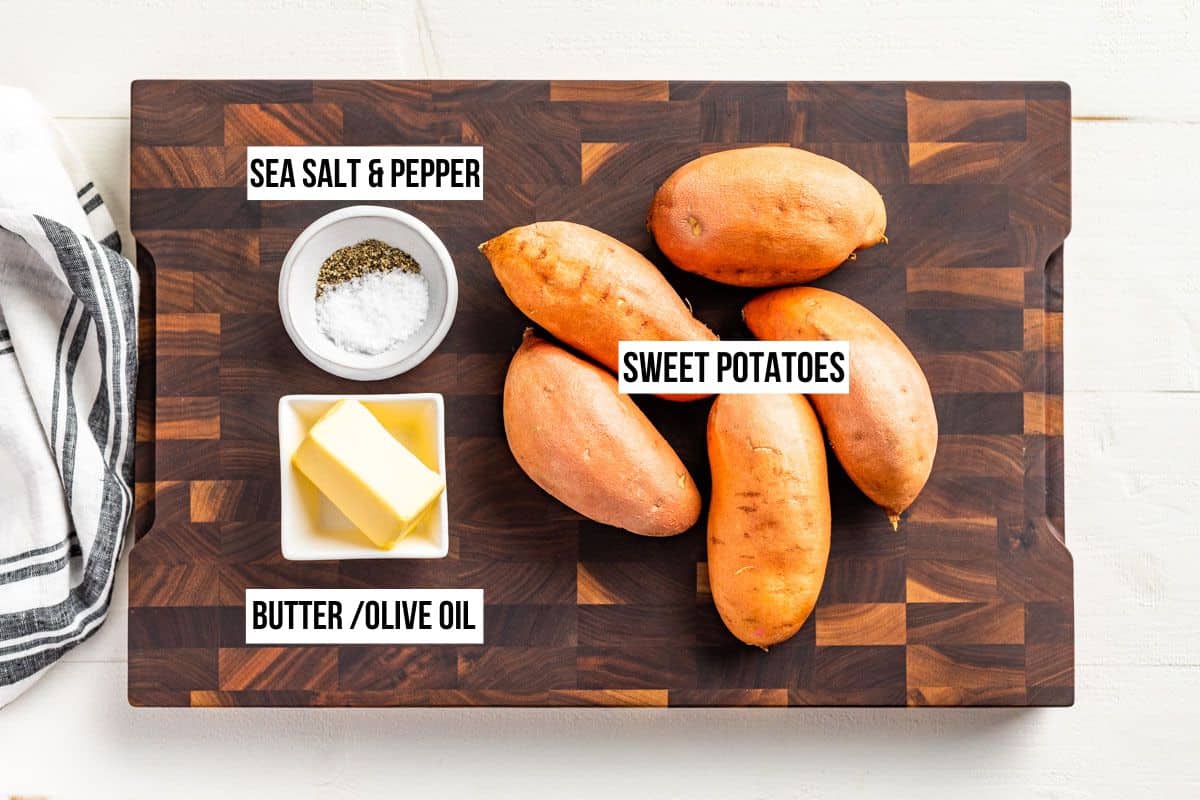 Sweet potatoes – any color of sweet potato works in this recipe. You'll find instructions below for how to roast them halved or cubed.
Butter or olive oil – If you go with the cubed sweet potatoes they roast much better with a bit of butter or olive oil. If you cut them in half, they can roast without anything with the flat side placed down on the parchment sheet.
Sea salt & pepper – I like to season the cubed sweet potatoes with a touch of salt and pepper before you roast them because it really brings out the flavor.
How to make this recipe step by step
Step 1: Start by thoroughly washing/scrubbing the sweet potatoes. Then cut them into halves or cube them up depending on your chosen route listed in the recipe.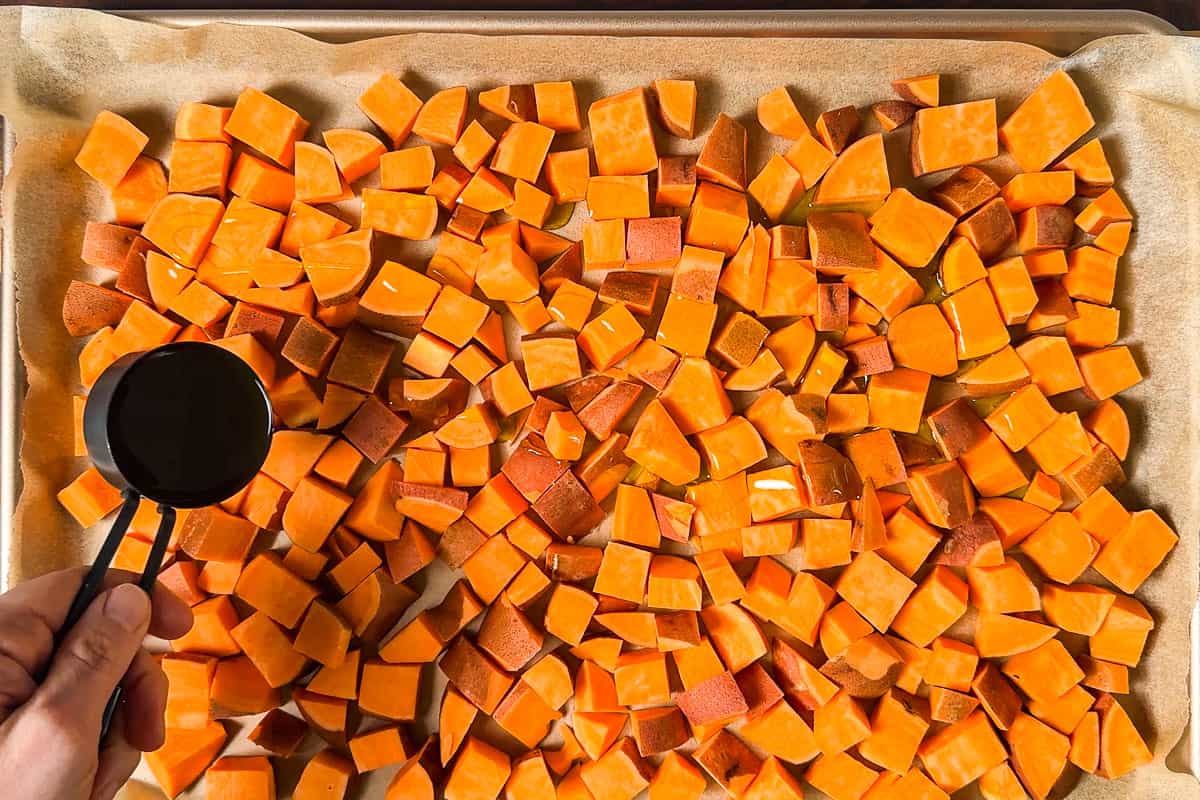 Step 2: Next spread them out evenly on a parchment-lined baking sheet and drizzle the olive oil or melted butter over the top.
Shortcut: if you use butter, you can eliminate one dish by dotting the butter over the top then melt it in the oven briefly before tossing the cubed sweet potatoes to evenly coat them.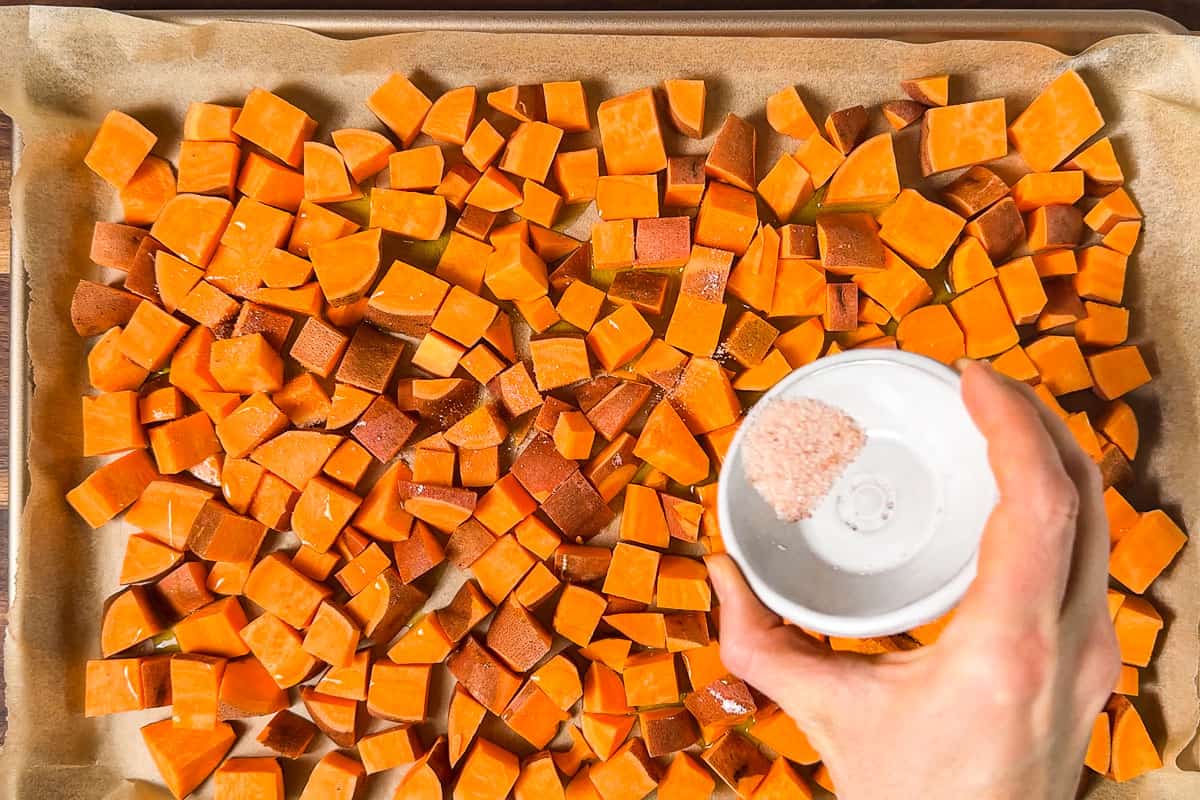 Step 3: Season the sweet potatoes with sea salt and pepper and toss them together to coat each cube completely.
Nutrition Powerhouse: sweet potatoes have a different nutritional profile then potatoes. They're a great source of Vitamin A, potassium, and fiber.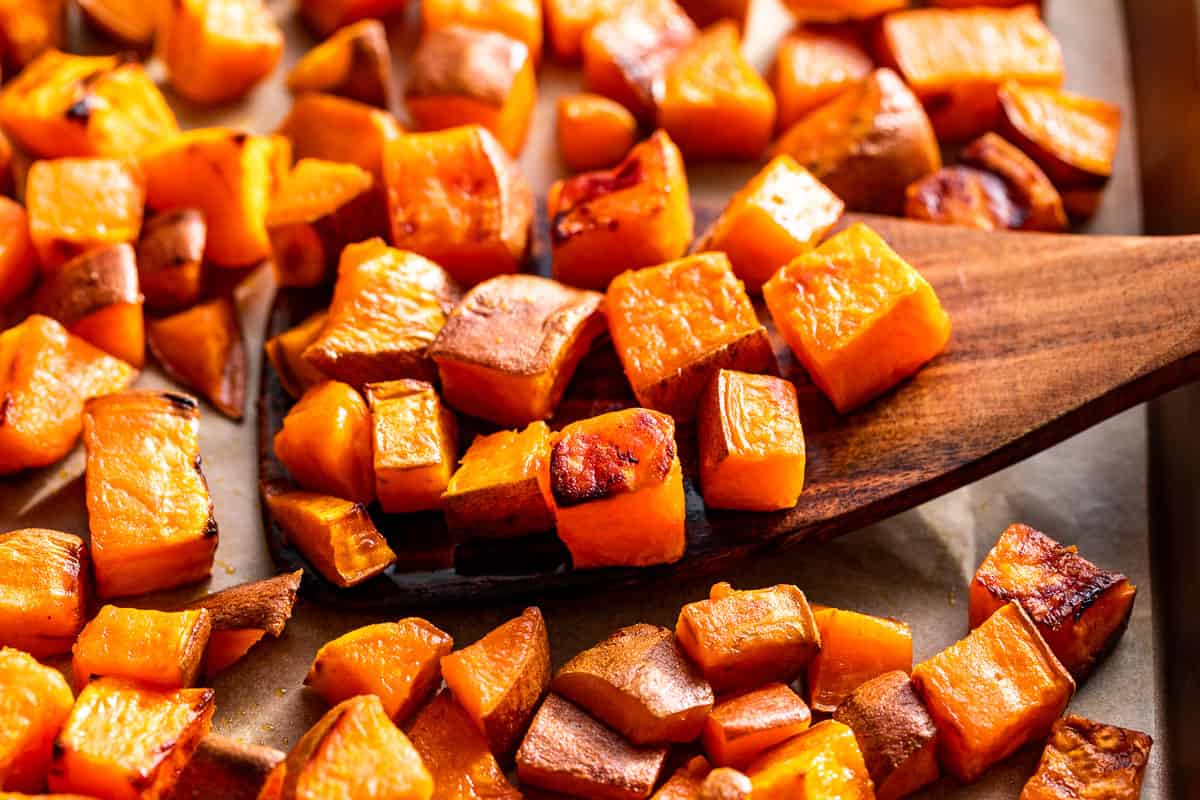 Step 4: Roast until tender with golden brown edges and serve.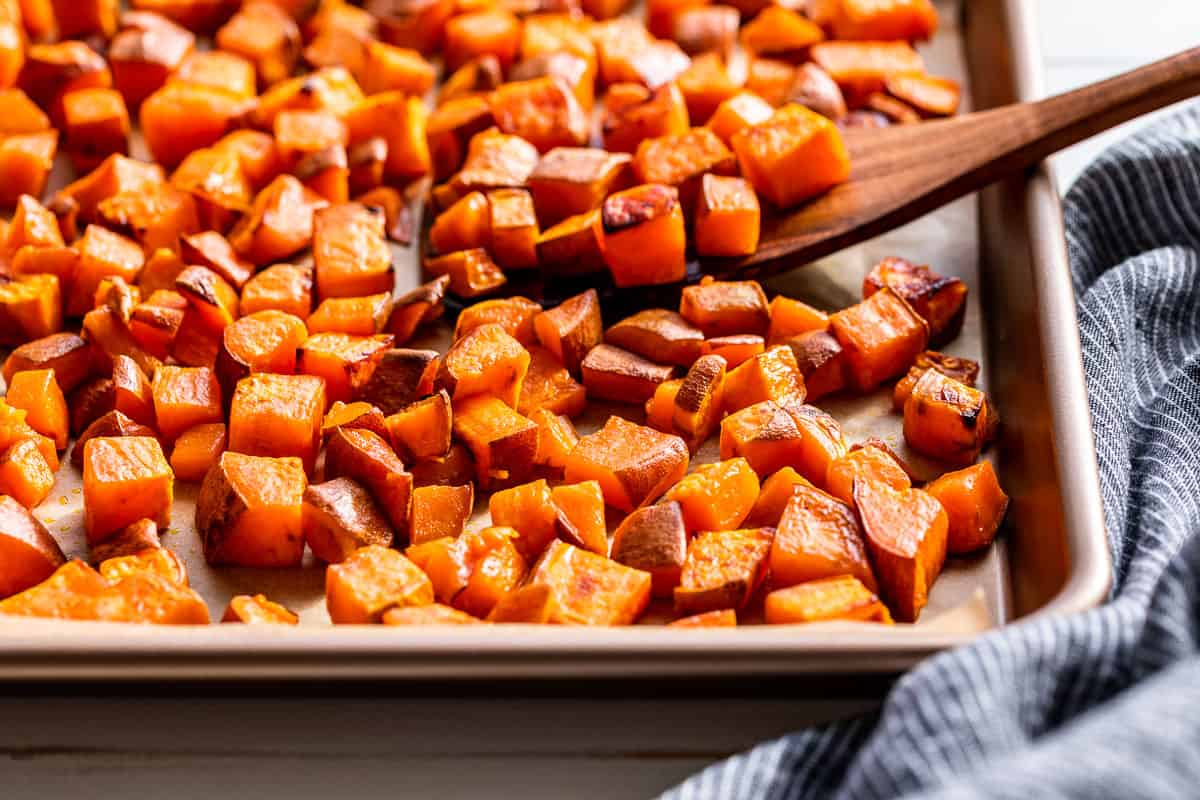 FAQ's
Do you need to boil sweet potatoes before roasting them?
No there's no need to boil them first, just like regular potatoes you can roast them in the oven starting with raw cubed-up potato. There's no need to par-boil sweet potatoes, the oven will caramelize them perfectly without the extra step.
What temperature is best to bake or roast sweet potatoes?
For cubed sweet potatoes, 450ºF will give you golden browned cubes. But to bake sweet potatoes whole you want to lower the temperature to 425ºF. You can find all my tips with my recipe for whole-roasted sweet potatoes.
Why are my roasted sweet potatoes soggy?
Overcrowding the baking sheet and not roasting at a high temperature will lead to soggy sweet potatoes. Also, sweet potatoes won't get crispy like regular potatoes. But by roasting at a high temperature you will get lovely browned sweet potato cubes as pictured in this recipe.
Storing leftovers
To store – place any leftovers into a sealed container and store them in the fridge for 4-5 days.
Make ahead – these reheat well so you can make them ahead. Remember that if you make them ahead, the leftovers won't keep as long.
Reheating – place the leftovers in an oven-proof dish and reheat at 350ºF until heated. Or for small amounts, you can heat them over low heat in a small covered skillet on the stovetop. You can also microwave these until heated through.
To freeze – cooked sweet potatoes freeze really well in an airtight container for up to 3 months. Defrost in the fridge overnight before reheating.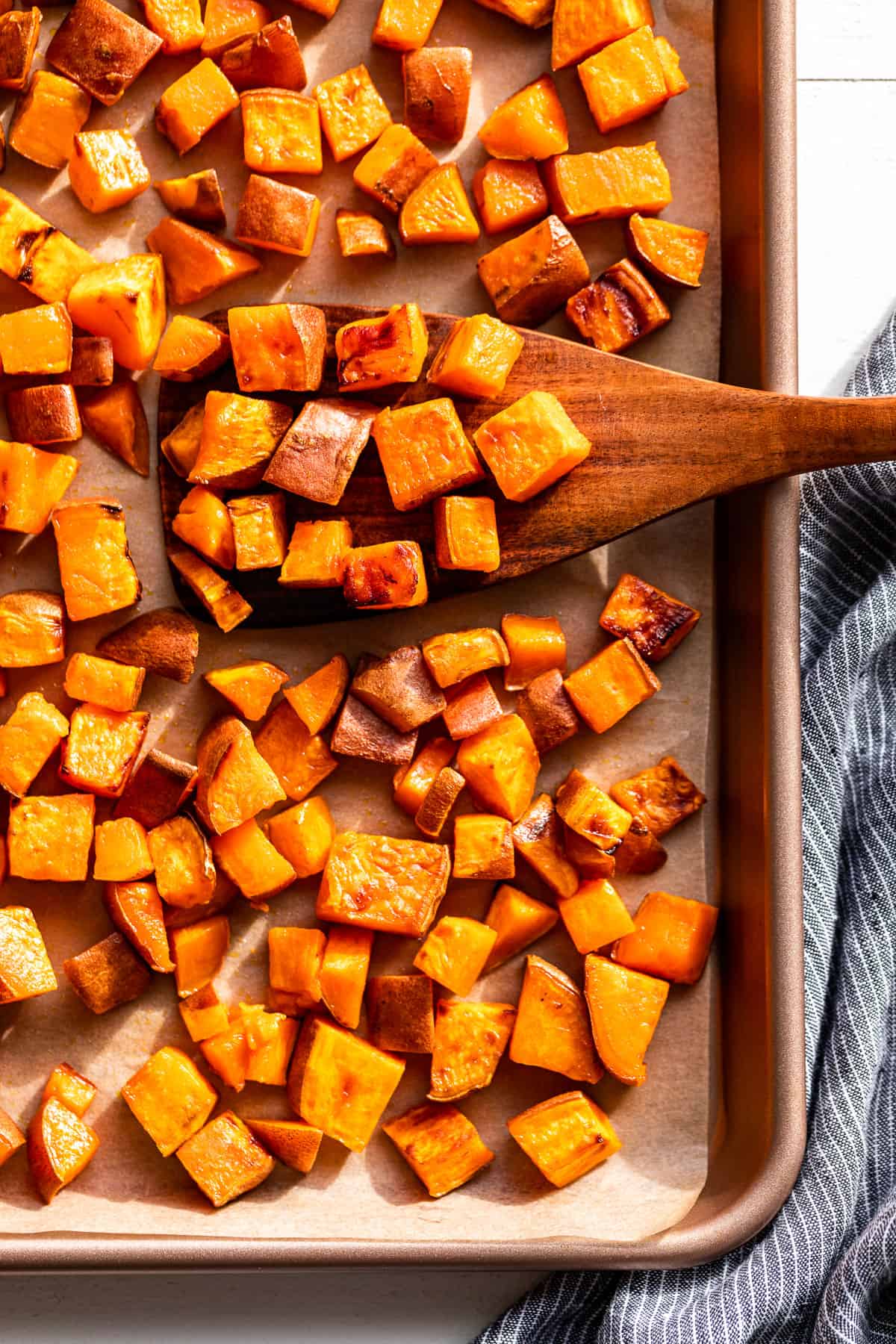 Tips & Tricks
Roast sweet potatoes cubed as pictured for the fastest cooking time. Or cut them in halves and use them as a base for taco bowls in place of the standard taco shells. They're also perfect in place of rice (or in addition to rice) in a burrito bowl.
Roasting the sweet potatoes as halves takes a little longer but it makes a nice change. You can also follow my recipe for Baked Sweet Potatoes for how to make them whole. This is perfect if you want to stuff them with your favorite toppings.
Dietary Options & Substitutions
Dairy-free – Roast the sweet potatoes with olive oil or dairy-free butter.
Paleo – use olive oil or ghee.
Vegan or Vegetarian – use olive oil or vegan butter.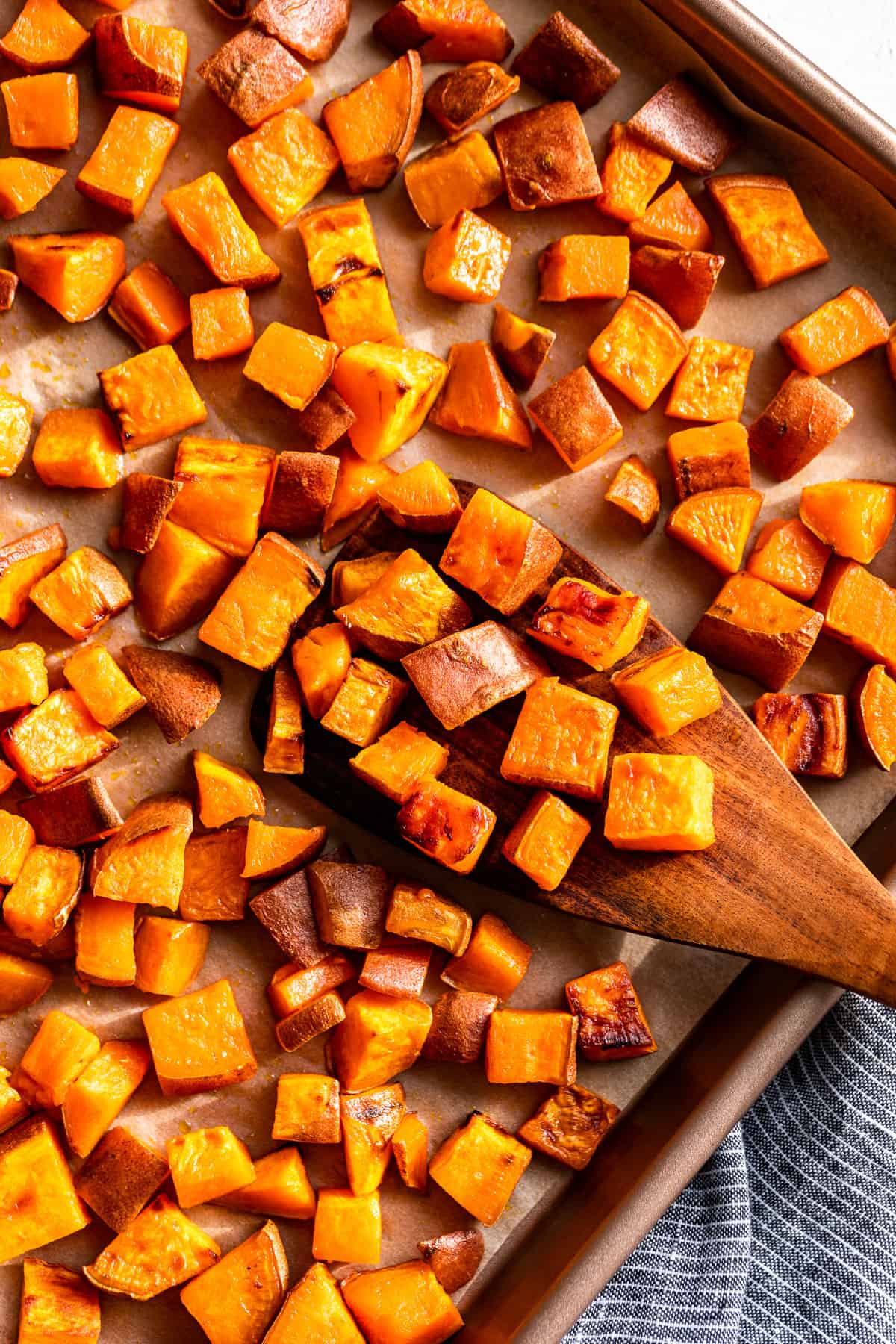 More Side Dish Recipe Inspiration
I really hope you enjoy these Roasted Sweet Potatoes! If you do get a chance to make this recipe, I'd love to hear from you in the comments.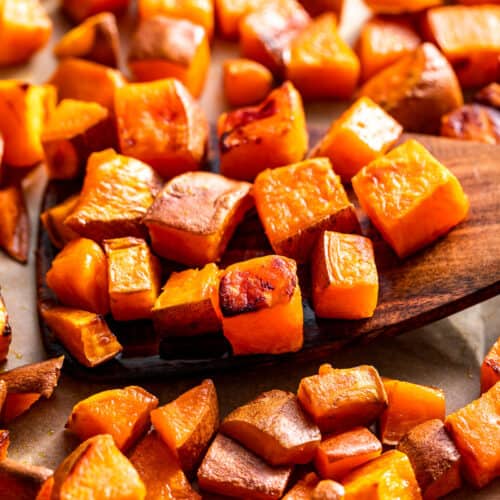 INGREDIENTS
2

pounds

sweet potatoes

-

cubed or halved

2

tbsp

butter

-

ghee, or olive oil, see notes

1/2

tsp

sea salt

1/4

tsp

pepper
INSTRUCTIONS
Preheat the oven to 450ºF. Line a baking sheet with parchment paper.

Wash the sweet potatoes. Cut in half crosswise, then split lengthwise in half again. Or cube them into 1/2-3/4" pieces. You can peel them before you cube them if desired.

Spread the cubes evenly over the parchment lined baking sheet, and toss together with the butter/oil, sea salt, and pepper. Or if you're cooking them havled, place them flat side down on the parchment paper.

Roast until tender, 20-25 minutes for cubed, and 30-35 minutes for halved. Serve as desired!
Bonus Step
If you made this recipe, please leave a rating/comment. Ratings really help us continue to bring you high-quality free recipes. Rate This Recipe!
NOTES
If you choose to cook the sweet potatoes halved, you don't need the butter/oil and sea salt/pepper. 
nutrition facts
Calories:
246
kcal
|
Carbohydrates:
46
g
|
Protein:
4
g
|
Fat:
6
g
|
Saturated Fat:
4
g
|
Polyunsaturated Fat:
0.2
g
|
Monounsaturated Fat:
1
g
|
Trans Fat:
0.2
g
|
Cholesterol:
15
mg
|
Sodium:
460
mg
|
Potassium:
768
mg
|
Fiber:
7
g
|
Sugar:
9
g
|
Vitamin A:
32351
IU
|
Vitamin C:
5
mg
|
Calcium:
70
mg
|
Iron:
1
mg
This post was originally published in 2013. It has been updated in 2023 with new photos, more tips & information as well as nutrition facts.