It all started with a package of halloumi cheese, there it was sitting on the shelf at the grocery store just begging to be taken home. So of course I bought it and started mulling over what on earth I was going to do with it.
I often end up with all sorts of impulse buys in my fridge. I've heard people struggle with impulse buys while shopping for clothing, but for me it's always been food. I'm instantly intrigued by something I see, and before you know it, I've hopped through the checkout line and then I have to figure out what to do with it! But unlike clothes shopping, I've never regretted any of my food impulse buys.
The only thing I knew about halloumi cheese is that it can be fried or grilled without completely melting like regular cheese, oh… and that it's Greek, so… that seemed like an obvious place to start. I really have no idea whether or not this dish is even remotely Greek, but it's inspired by local in season produce, and the flavors I've experienced in traditional Greek food.
So often grilling seems to revolve around copious amounts of meat, but veggies and now cheese are some of my favorite things to grill. I can't think of a vegetable that isn't made so much better by a little time on the grill.
My halloumi cheese came in a 1″ thick rectangle. I cut it into 2 triangles like you would for a sandwich, then standing both triangles up with the long flat side down cut them in half widthwise to create 4 – 1/2″ thick triangles. No matter what shape your cheese comes in, you're aiming for 1/2″ thick pieces to grill.
Can we take a moment to discuss grilled lemon, great… because it's magical! I got the idea from the restaurant Mercato in Calgary where the chef always had lemons grilling to accompany several dishes on the menu. I came home and recreated their Tuscan Steak with grilled lemon wedges, and I've been grilling lemon ever since.
When you grill a lemon, it takes the edge off the acidity and creates a caramelized flavor that's wonderful in dressings or simply squeezed over anything else you might grill.
For this recipe, I start with the lemon wedges and a clove of garlic on the grill. Once they're done they have a bit of time to cool while the grill platter cooks. While the veggies cook, you make a dressing with the grilled lemon and garlic.
The prep for this grill platter is pretty minimal, simply slice the bigger veggies in half and the onion into quarters, then you're ready to go.
Depending on how large your veggies are, you might want to put the cheese on halfway through because it only take 6-8 minutes to cook where the veggies usually take 15 or so.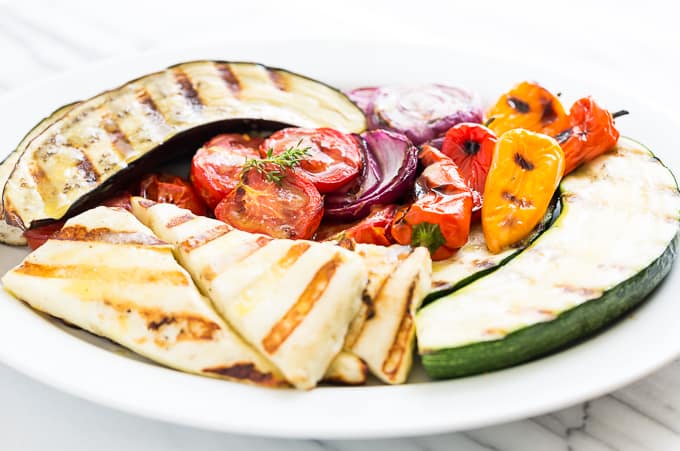 Once everything is grilled, you just arrange it on a platter and drizzle with the lemon garlic dressing. I tried the dressing with both oregano and thyme and they're both delicious, so feel free to pick your favorite. I'm going to try rosemary next because I really have a thing for rosemary, I just thought it was high time I branched out and used something else for a change!
Print
Greek Inspired Grill Platter
---
Grill Platter:
1

pkg halloumi cheese, 14 ounces

2

zucchini, 1 1/2 pounds

6

mini sweet peppers or bell peppers, 8 ounces

1

eggplant, I used a Japanese eggplant, 8 ounces

1

red onion, or other sweet onion, 8 ounces

4

tomatoes, 12 ounces
olive oil
Lemon Garlic Dressing:
1

large clove of garlic or

2

small cloves

1

lemon, sliced in half

1/2 Teaspoon

chopped fresh thyme, oregano, or rosemary (pick your favorite)

1/4 cup

olive oil
sea salt and freshly ground pepper to taste
---
Instructions
Preheat the grill over high until the temperature reaches 400ºF.
Place the garlic and lemon halves on the grill, and immediately lower the heat to medium. Cook for 2-3 minutes or until the garlic has browned on one side. Turn the garlic over and continue to cook for another 2-3 minutes. Remove the garlic and lemon when it turns brown and caramelized. Set them aside to cool.
Meanwhile start preparing the veggies and cheese. My cheese came in a 1″ thick rectangle and I cut it into 2 triangles, and then sliced the triangles widthwise into 4 – 1/2″ thick triangles. The main idea is to end up with 1/2″ thick pieces. Drizzle the cheese triangles with a small amount of olive oil, just to lightly coat them.
Cut the ends off the zucchini and eggplant, and slice them in half lengthwise. Cut both ends off the onion, and peel away the tough outer layer. Slice the onion from the top to the bottom into 1/2″ thick slices.
Slice the tomatoes in half and drizzle all the veggies with a small amount of olive oil, using your hands to toss and lightly coat each veggie. It's best to drizzle the tomatoes separate because they're delicate.
Keeping the grill heat on medium with a temperature between 350º – 400ºF, place all of the veggies on the grill. Cook for 6-8 minutes or until the veggies have just begun to soften, you may need to turn the onion slices and mini peppers sooner if they start browning.
Turn all the veggies over and place the cheese triangles on the grill as well. Grill the veggies for an additional 6-8 minutes or until they're just tender but not mushy. Grill the cheese for 3-4 minutes per side or until grill marks appear and the cheese has become soft.
While the veggies are grilling make the dressing by squeezing the grilled garlic through a garlic press to remove any of the tougher bits. Squeeze the juice from the grilled lemons, you should have 2 Tablespoons lemon juice.
Whisk together the squeezed garlic, lemon juice, and chopped fresh herb of choice. Slowly drizzle in the olive oil while whisking until the dressing is emulsified. Season to taste with salt and pepper. The dressing may separate a bit while it sits, simply whisk it back together.
When the veggies and cheese are done grilling arrange everything on a large platter. Drizzle with the lemon garlic dressing, and garnish with a sprig of the fresh herb of your choice.
Prep Time:

15 mins

Cook Time:

15 mins