This Healthy Greek Chicken Meal Prep is the perfect way to celebrate tomato season and have a healthy lunch option at the same time. It's packed with veggies, and all topped off with a homemade creamy dill dressing.
We're big into prepping our lunches ahead of time around here. Neither one of us is what you'd call a 'morning person', but our work schedule is such that we get up at 5am. And so having things ready the night before is an absolute must.
Mornings are just so hectic when I don't have our lunches and such prepped ahead of time. My brain isn't quite awake, and it's just too much to put things together. So if you can relate, meal prepping is most definitely for you too!
I like to put together at least 1 option each for breakfasts and lunches. Then to fill in we often pack up leftovers from dinner for lunches the next day. However it's really nice to have a couple of days a week where you have a nice colorful lunch to look forward to, rather than leftovers all the time.
This recipe also works as a veggie packed light dinner as well. You can just sauté up the ground meat or cook it in patties as shown. Then serve them with the salad and dressing.
The lettuce is piled with cucumbers, tomatoes, and peppers – all the best of summer. Then it's all topped with a creamy homemade dill dressing. It's definitely a combination of flavors we never get tired of.
Now let's jump in and make this Healthy Greek Chicken Meal Prep!
First up we're going to make the chicken patties. I added some grated zucchini which is great for both moisture and hidden veggies. Then there's some lemon zest and herbs to make sure these aren't boring chicken patties.
Once they're all golden brown and done in the centers, you want to set them aside to cool.
From there you're going to chop up your peppers, cucumbers, and tomatoes.
And finally we'regoing to make the creamy dill dressing which comes together quickly in the blender.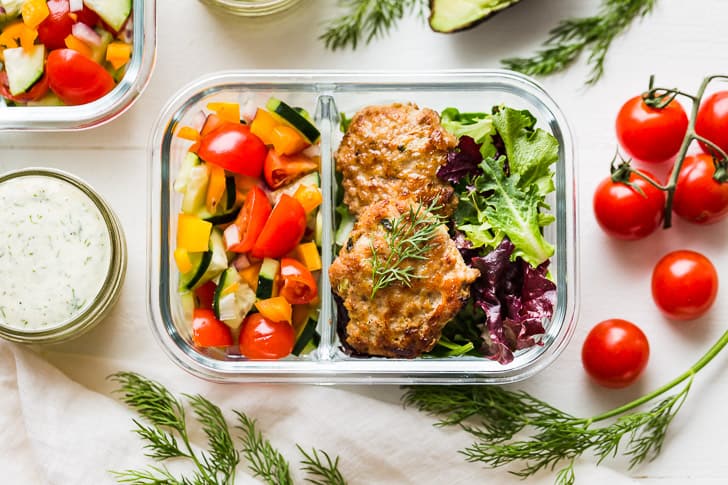 Then it's time to portion it all out into containers for the fridge. Or as I mentioned above you can serve this as a dinner salad too.
Now let's talk about containers:
I bought these 2 compartment containers at TJ Maxx and got a great deal on them. But you can also find similar ones on Amazon as well. The main idea is to keep the veggies mostly separate from the greens.

With that in mind, you can also use mason jars and assemble them like a mason jar salad. If you go that route, I would just sauté up the ground chicken and add it that way rather than in patty form.

For the dressing, I just use the 1/4 cup mason jars with the plastic lids. The metal lids are a better seal, but the plastic ones don't rust.
And my final tip is to mix up the herbs you use here. Basil or oregano are great flavor pairing in place of the dill with the rest of this recipe. If you get a chance to make this, I hope you'll leave me a comment/rating below. And I always love hearing from you here. Or over on Instagram where you can tag me at #getinspiredeveryday with your photos.
Healthy Greek Chicken Meal Prep
---
INGREDIENTS
Chicken Patties:
1

pound

ground chicken

-

turkey or pork work as well

1

cup

grated zucchini

1

Tablespoon

lemon zest

-

grated with a microplane

1/2

Teaspoon

each sea salt and ground black pepper

1

Teaspoon

dried oregano

1

clove

garlic

-

minced

1-2

Teaspoons

olive oil for pan frying
Veggies:
8

cups

washed mixed greens

2

cups

thinly sliced quartered cucumber

2

cups

halved or quartered cherry tomatoes

1/2

cup

minced red onion

-

or thinly sliced green onion

1

cup

diced bell peppers

-

1/4"
Creamy Dill Dressing:
1

farm fresh egg

-

room temperature, see notes

3

Tablespoon

lemon juice

-

to taste

1/2

Teaspoon

garlic powder

1/2

Teaspoon

ground black pepper

1

Teaspoon

sea salt

-

or to taste

3/4

cup

avocado oil

2

Tablespoons

chopped fresh dill

Optional: right before eating

-

add 1/2 diced avocado
INSTRUCTIONS
Preheat a large cast iron skillet over medium heat. While the skillet heats, mix together all the ingredients for the chicken patties.

Form into 8 small patties and pan fry in the olive oil until golden brown on each side and done in the centers, about 10 minutes. Set the patties aside to cool while you finish the recipe

Place the greens into the larger compartment of your containers, or tucked to the side of your container of choice. Combine the cucumber, cherry tomatoes, minced onion, and bell pepper and place them on the opposite side of the container. 

For the dressing add the egg to a blender along with the lemon juice, garlic powder, pepper, and sea salt. Blend until just combined on low. Then with the blender running add the avocado oil to the blender in a thin steady stream.

Make sure the oil is being emulsified as you add it before adding more. As you add the oil, increase the blender speed to 4-5 on a Vitamix. When the oil is incorporated, add the dill and blend just to combine.

Portion out the dressing into 1/4 cup containers. Top the greens with the cooled chicken patties, then put lids on all of your containers. Refrigerate and eat within 4 days.
Bonus Step
If you made this recipe, please leave a rating/comment. Ratings really help us continue to bring you high-quality free recipes. Rate This Recipe!
NOTES
In place of the raw egg and avocado oil which creates a creamy mayo like dressing, you can sub in 1 cup of mayo mixed with the lemon juice, seasonings, and fresh dill.
The nutritional information is calculated without the optional avocado.
To assemble these in mason jars, pan fry the meat like you would taco meat. Then portion it out into the bottoms of 4 quart sized mason jars. Then layer on the veggies, and top with greens.