Mason Jar Salads have completely changed the way we eat because it's finally convenient to get more veggies in every single day! I'll have to say, I'm really grateful for my husband who rarely forgets to eat a meal. I've been terrible over the last few years often forgetting to eat (which weirdly is easy to do when you're really busy and your stomach doesn't always send hunger signals). I always eat a gigantic meal at dinner time, but that really doesn't make up for the rest of the day.
First I discovered that Food Prep can change your life, and from there I was off and running into Salad Jar territory! I thought I would be bored eating some of the same things on rotation throughout the week, but it turns out we both love having healthy pre-made food just begging to be eaten! My mornings have never been easier than simply pulling both breakfast and lunch out of the fridge and heading straight to work.
So before we get into a full breakdown of salad jars, I want to tell you exactly what these pre-made meals look like! I always make a full blender container of green smoothie which gives us 32 ounces or 1 quart each. Next, I pack a chia pudding (currently loving this Sweet Cherry Almond Chia Pudding) and an energy bar like these Peanut Butter Cookie Energy Bars. And last of all, I pack a salad jar which I always make in the 1 quart glass jars.
It usually takes me around 2 hours (give or take depending on what I'm making) on a Sunday to prep the food we take for breakfasts and lunches. I like to make the smoothies fresh every day because they taste so much better that way. We've been eating like this for about a year now and absolutely loving it. In fact, I'm just finishing up on an e-book with all the recipes we've been using so far!
Mason Jar Salads have been huge for awhile so you might be familiar with the traditional way to assemble one, but I've come up with a couple of different methods for salad jars that we love!
1. Traditional Method – in this method, you assemble your jars starting with the dressing first, if you're adding cooked meat or cooked grain that goes in next (roasted veggies are also nice). Next, layer in the heaviest veggies or fruits to the lightest. This really helps the jars keep better because you don't want everything getting squashed. And finally top the remaining space in the jar with washed and thoroughly dried greens.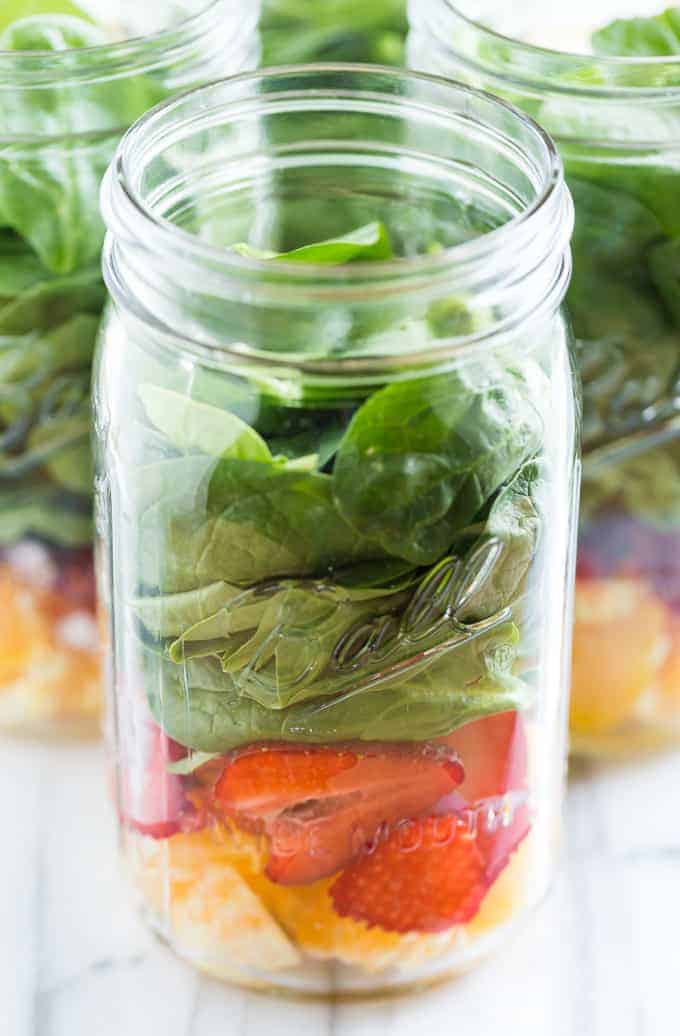 For ratios I usually assemble my jars along this line – 1/4 cup dressing, there's no need to measure this – just pour the dressing halfway up to the first mark on the side of the jar which is 1/4 cup. Next I add meat/grain/veggies/fruits up to the 2 cup line. And finally I add 2 cups of greens which weigh around 2 ounces per jar if you're trying to get an idea of how much to buy when you're at the grocery store.
When I'm using very juicy fruits like the oranges and strawberries pictured above, I like to keep the dressing in a separate container. Ball now makes these great little jars that are about 1/4 cup that work great for dressing.
2. Unconventional Salad Jars (or should I say noodle jars) – By far my biggest discovery in the salad jar department was spiralized salad jars. This really is more life changing than I can properly explain, but here it goes! You can spiralize several pounds of zucchini and carrots in just a couple of minutes giving you a gigantic bowl of veggie noodle that will fill your salad jars quicker than any other recipe I've ever made. This is the method I use when I'm pressed for time, which is pretty much every week!
If you're new to spiralizing you can watch this great Zucchini Noodle Tutorial, and it'll really give you an idea of how fast it is to make veggie noodles.
You can use any dressing to go with your veggie noodles, but I'm really partial to this Creamy Ginger Dressing. It's completely addicting, and even after eating it regularly for years neither one of us is tired of it yet. If you wanted to adapt the Mango Veggie Noodle Bowl part of that recipe to be a salad jar, you will need to put the cucumber into the jar first, then the bell pepper, and finally the zucchini noodles. For the mango you would have to add it in daily because mango has a tendency to turn brown once it's cut. You could also sub it out for pineapple which keeps well, and I would keep the dressing separate because these particular veggies have a high water content.
Here's a few other dressing inspirations for your noodle jars:
1. Creamy Lemon Garlic Dressing
4. 2-Ingredient Balsamic Vinaigrette
5. Orange Ginger Miso Dressing
The first picture in this post is a salad jar of my Banh Mi Slaw with Creamy Sriracha Dressing. It's been a new favorite of ours because it keeps so well, you pour the dressing into the jar first (about 1/4 cup) then pile in the slaw mix on top – and that's it. It's super simple and I haven't gotten even the least bit tired of it, even after 3 weeks of eating it 4 times a week!
Most weeks I like to mix and match the types of salad jars I make. For instance today, Tyler has a Curry Roasted Sweet Potato Salad Jar with Creamy Lime Dressing (recipe coming in my book), and I'm eating a Zucchini Noodle Jar with Creamy Ginger Dressing (as mentioned above). With an influence of flavors from India right through to China in just 1 day, you'll never get bored!
And finally for even more healthy make-ahead options:
Make Your Own Freezer Smoothie Packs