This Homemade Chicken Zucchini Noodle Soup tastes like childhood, but made a little healthier with no processed ingredients. And by adding zucchini noodles, you get extra helpings of veggies as well.
My mom used to make homemade chicken soup often when I was growing up. She always made it from scratch starting with homemade chicken stock. And on extra special occasions, she'd even make homemade noodles and roll them out by hand for the soup. (And yes… I grew up just a wee bit spoiled with good old fashioned home cooking!)
The only thing I've changed from my mom's original method is the noodles, I've replace the old version with zucchini noodles or zoodles if you will. I like to make my noodles with a bigger blade sometimes so the noodles come out thick like the ones my mom made. But I've also been spiralizing them about the size of spaghetti too because I think the texture is just right with the rest of the soup.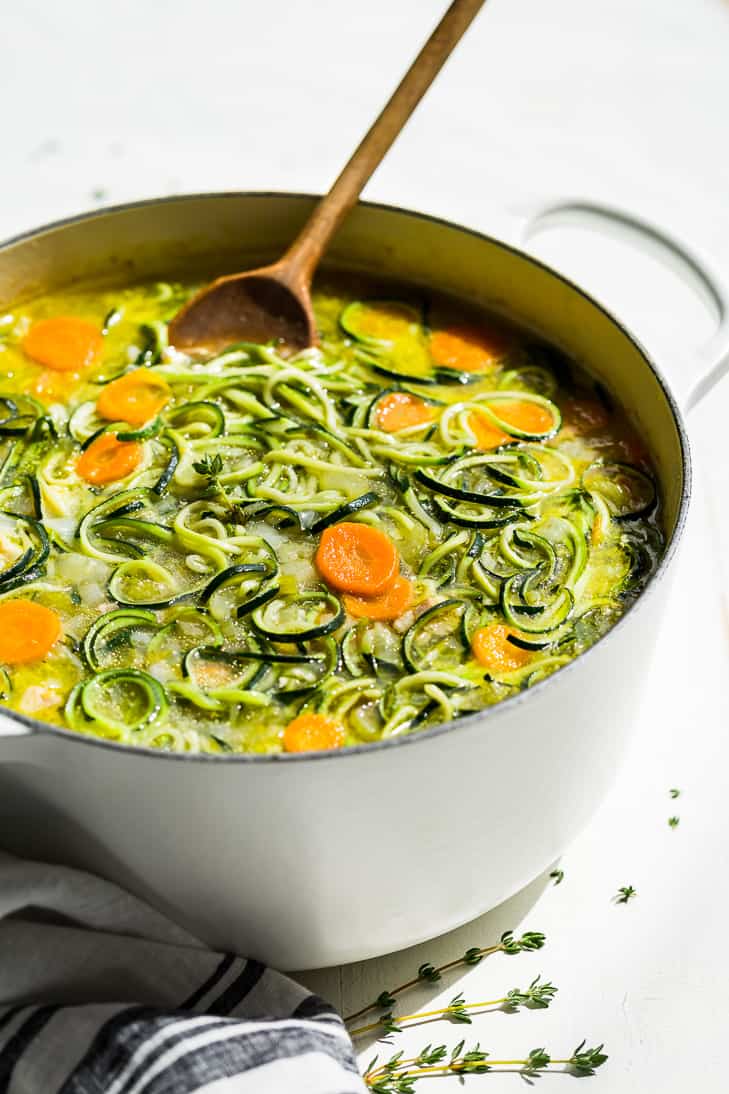 Now let's talk about the ingredients:
Chicken Stock/Broth – homemade chicken stock always makes the best soup, there's no 2 ways about it. However… 1 really great solution is a quality bone broth from the freezer section. I've tried some of the boxed chicken stocks/broth and they're ok, but they don't make a great soup.
Mirepoix – which is just the fancy cooking term for onions, carrots, and celery. This mixture is perfect as the base of any soup, but most definitely for chicken soup.
Chicken – you can add any leftover bits you have from a roast chicken, (which can also be turned into stock). Or you can sauté some cubed chicken thigh or breast meat to add to your soup as well.
Zucchini Noodles – I like to use the Paderno 3-blade spiralizer for zucchini noodles. But if you don't have a spiralizer you can just chop up the zucchini to add to the soup.
Now let's get started making this Homemade Chicken Zucchini Noodle Soup!
For homemade soups, you want to chop your veggies relatively small because they'll only be simmering for 20-30 minutes. For the onion, celery, and carrots, I diced them into 1/4″ dice and or slices.
My Mom's Tip: Don't be afraid of celery leaves, chop them right up and put them into your soup or stock as well because they add a lot of flavor.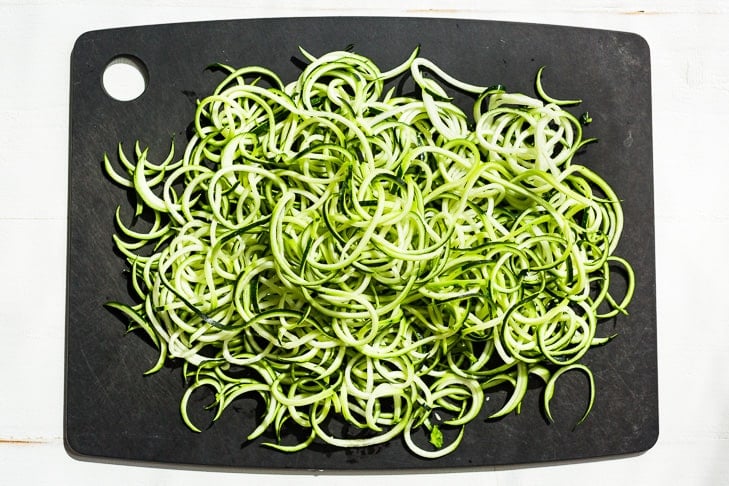 Once the soup has simmered and the veggies are tender, you can add the zucchini noodles as is, or you can thicken it a bit first.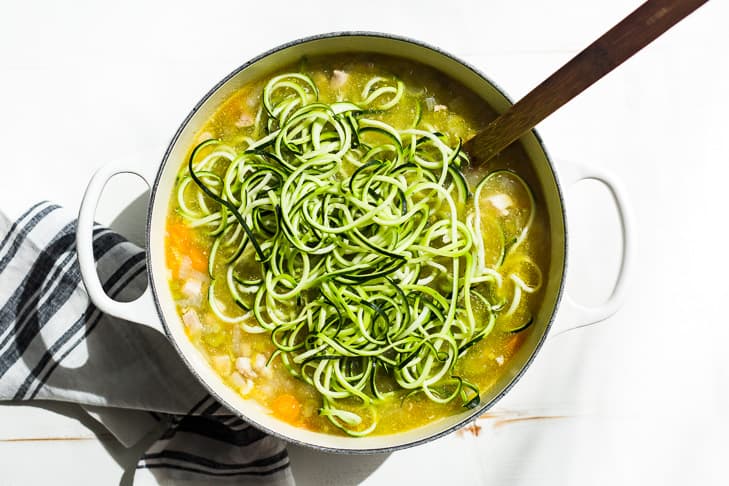 I like to thicken it to give it some body, otherwise it will be really thin without any of the usual starches like noodles or rice to thicken it.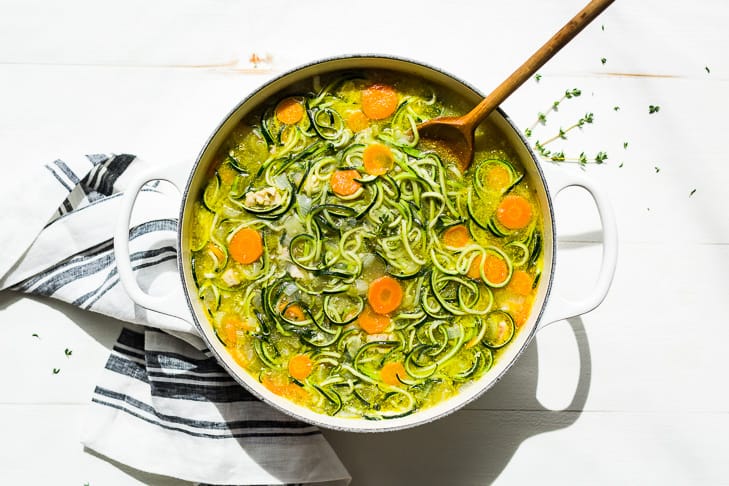 I've found it's best to add the zucchini noodles and then immediately remove the pan from the heat. The zucchini noodles will cook perfectly with the residual heat of the soup.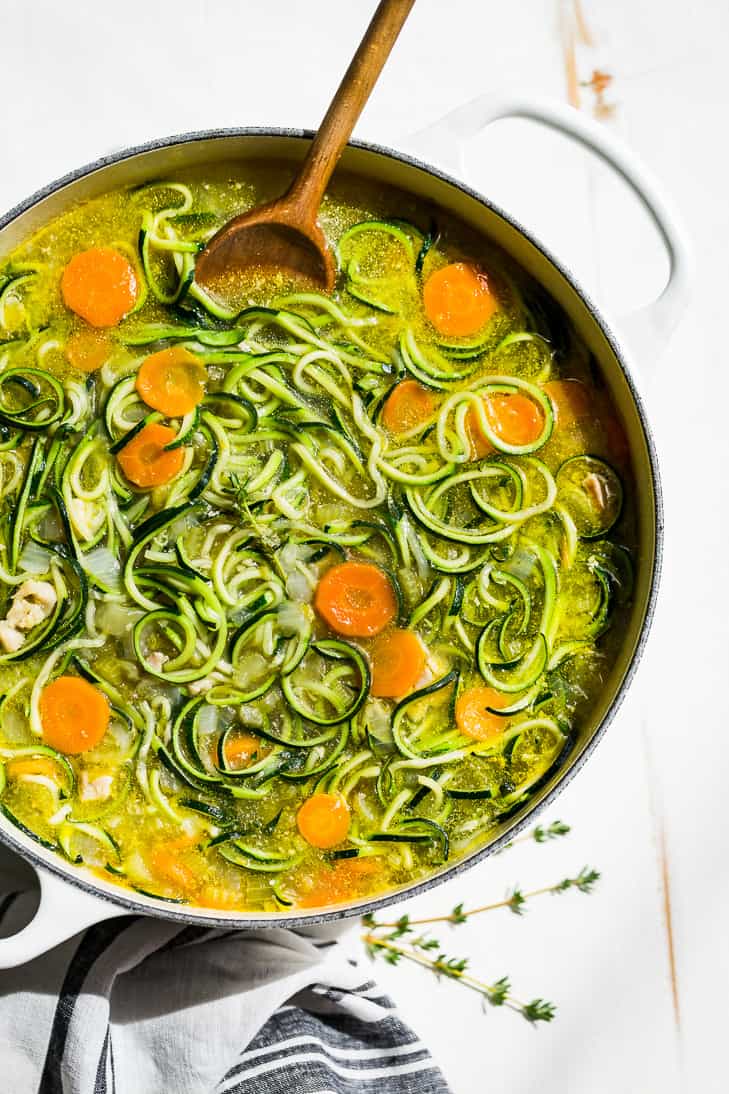 Sometimes I make chicken soup with leftover chicken chunks, and sometimes if I don't have anything leftover from my roast, I just make the soup without any meat at all.
Either way, if you make your own chicken stock the soup will have a deep chicken flavor that's really the ultimate comfort food for all the cold days we're about to have!
Final Note: This whole recipe can be made with a leftover roast turkey, but you'll end up with about 3x as much because turkey's are so much bigger!
More Soup Recipe Inspiration
I really hope you enjoy this childhood classic and best of comfort foods. If you do make this soup, I hope you'll leave me a comment/rating below. I always love hearing from you here. And over on Instagram where you can tag me at #getinspiredeveryday with your photos.
Print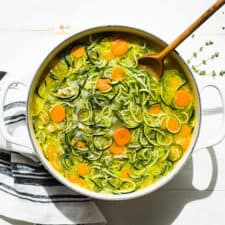 Homemade Chicken Zucchini Noodle Soup
---
2 Tablespoons olive oil
1 small yellow or white onion, diced 1/4″, 12 ounces
2 cups celery, sliced 1/4″, 6 ounces
4 carrots, peeled and sliced 1/4″, 6 ounces
4 cups chicken stock
Sea salt to taste
2 cups chopped cooked chicken (leftover from a roast chicken), 1 pound
4 Tablespoons tapioca starch
2 medium zucchini, 1 pound
---
Instructions
Place a large pot over medium-high heat, when the pan is preheated add the olive oil, onion, celery, and carrots. Sauté the veggies for 3-4 minutes until they're just starting to soften.
Add the chicken stock and simmer over low heat until the veggies are completely tender, about 20 minutes.
While the soup simmers, spiralize the zucchini using the bigger blade on the Paderno machine to make really thick noodles.
When the veggies are tender, season the soup to taste with sea salt, and add the optional cooked chicken.
Mix the tapioca starch together with just enough water to completely dissolve it, about 6 Tablespoons.
Slowly drizzle the tapioca mixture into the simmering soup stirring continuously until all the tapioca is added and the soup has thickened.
Add the zucchini noodles to the pot and remove it from the heat, the zucchini noodles will cook perfectly with the residual heat of the soup.
Serve immediately.
If you have any leftovers they reheat really well over the next couple of days.
Prep Time:

20 mins

Cook Time:

25 mins

Category:

Soup

Method:

Stove Top

Cuisine:

American
Keywords: Chicken Zucchini Noodle Soup, Chicken Vegetable Noodle Soup Recipe, Homemade Chicken Soup, Homemade Chicken Soup Recipe from scratch