Easy to make and creamy, this Chicken Broccoli Soup is a one-pot comfort food meal. It's naturally gluten-free with 2 dairy-free options as well. It's quick to put together with cozy simple flavors that will keep you coming back for more. So try this healthy dinner option the whole family will love. The leftovers reheat perfectly for lunches, and we even love it for breakfast as well.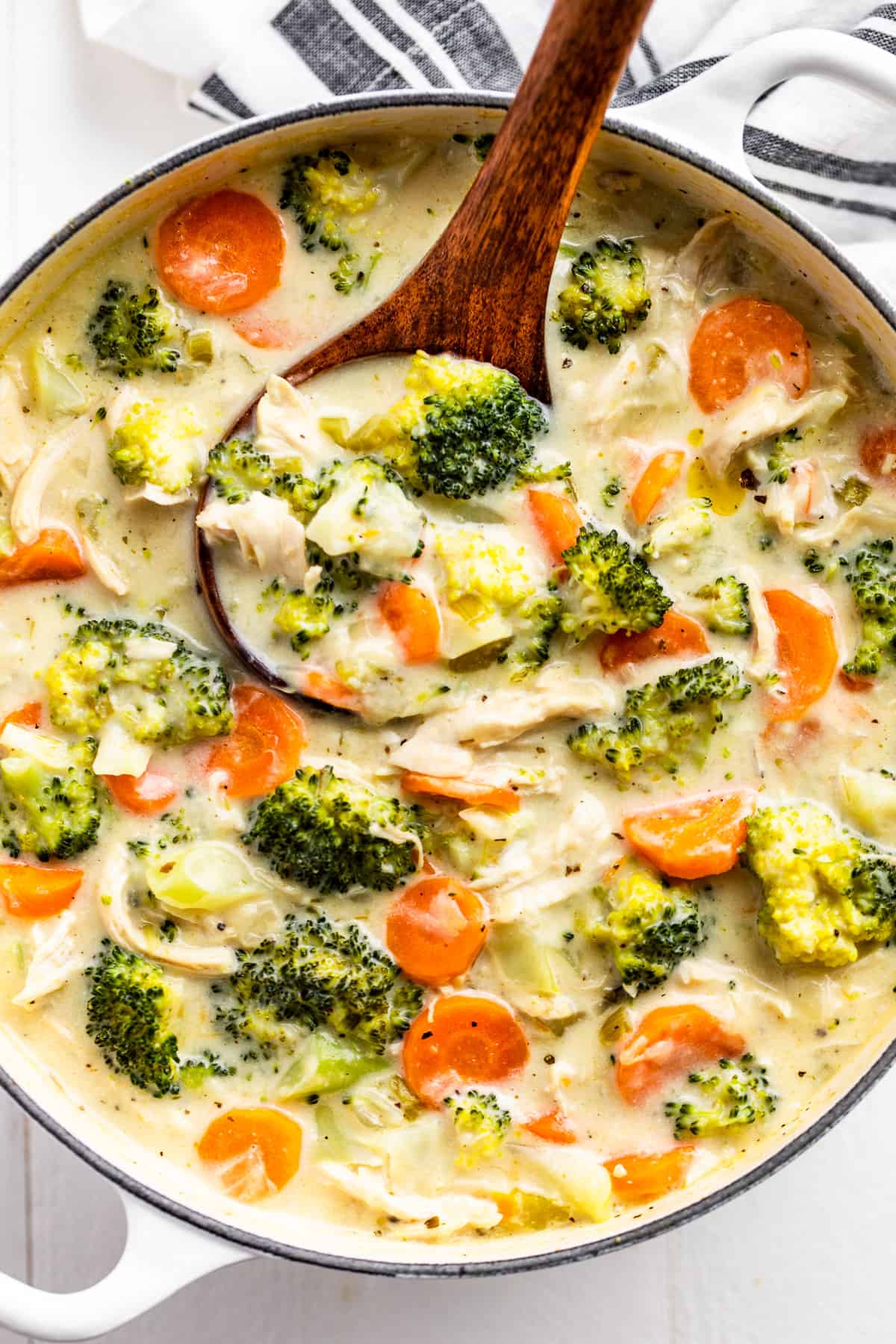 I'm back with another soup by popular request! I love getting all your recipe suggestions, and this Chicken Broccoli Soup is now a favorite in our household. I know you will enjoy it too, it's so simple and satisfying.
It's creamy, easy to make, and a one-pot comfort food meal. It's packed with protein and veggies all in a flavorful creamy broth lightly seasoned with herbs.
Ingredients & Substitutions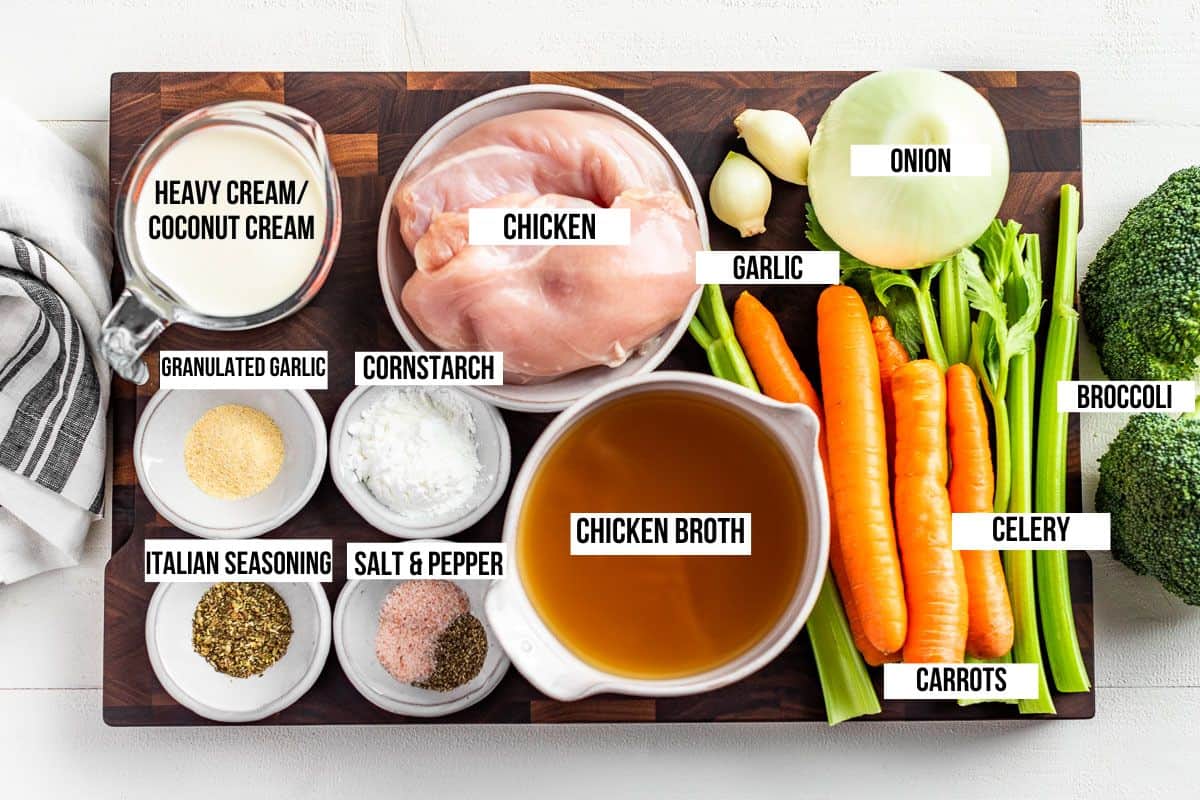 Onions & garlic – provide a lot of flavor to the base of this soup. You can use a food processor to chop up the onion and a garlic press to mince the garlic.
Seasonings – a little Italian seasoning and granulated garlic add great flavor to this soup.
Carrots & celery – both add flavor and they're also 2 extra veggies added to the mix.
Chicken broth – you want to look for a low-sodium broth or use your own Homemade Chicken Stock.
Chicken – I used chicken breasts here because they shred well, but you can use chicken thighs as well. You can also dice up the chicken, sauté and remove it from the pot, then add it back in toward the end of the cooking time. This soup also works perfectly with leftover rotisserie chicken.
Cream – heavy cream is perfect for this soup, but unsweetened coconut cream is really good here too. You can also use 1 cup of my Vegan Cashew Cream to add a creamy element to this soup. If you don't want a creamy soup, simply leave it out.
Thickener – you can use cornstarch or tapioca starch to lightly thicken the soup, or leave it out for a thin broth.
How to make this recipe step by step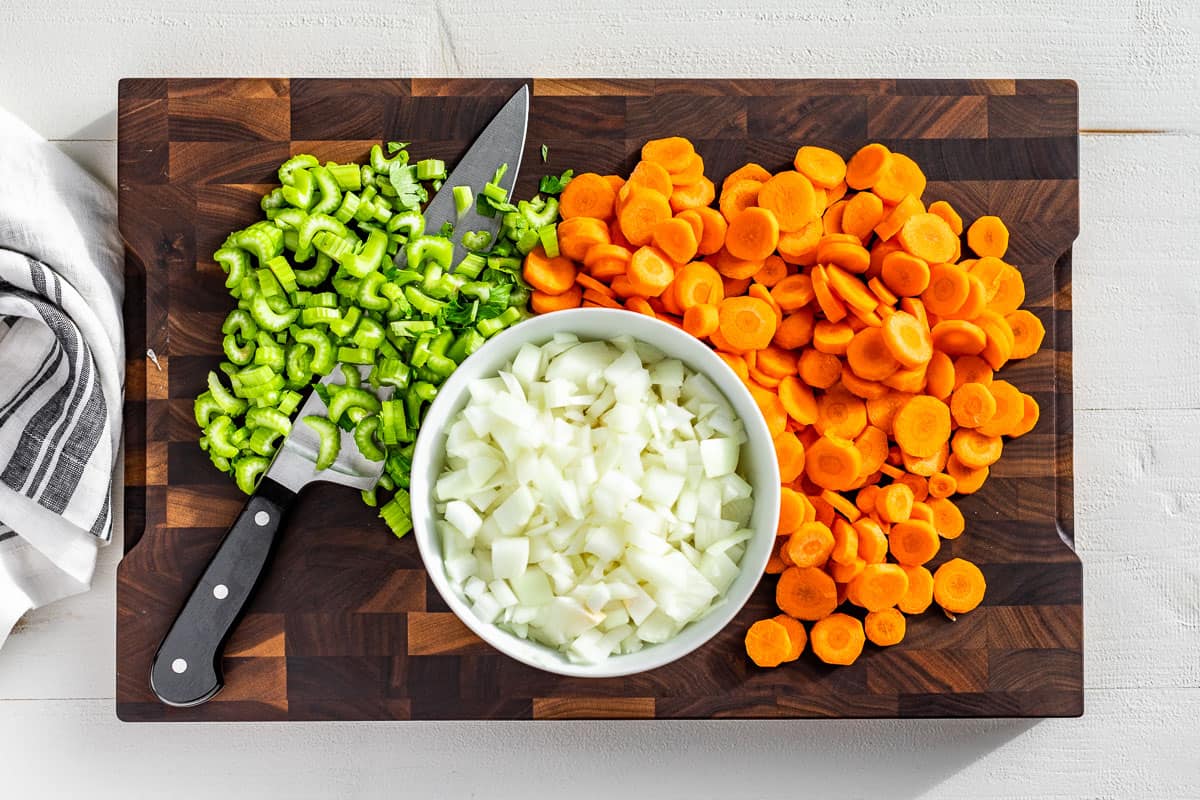 Step 1: Start by dicing the onion, then slice the carrots and celery.
Step 2: Cut the broccoli up into bite-sized pieces then set it aside.
Make sure your broccoli florets are small enough to fit on a soup spoon so it's easy to eat.
Step 3: Start the soup by cooking the onions and garlic over medium to medium-high heat in a large soup pot until softened.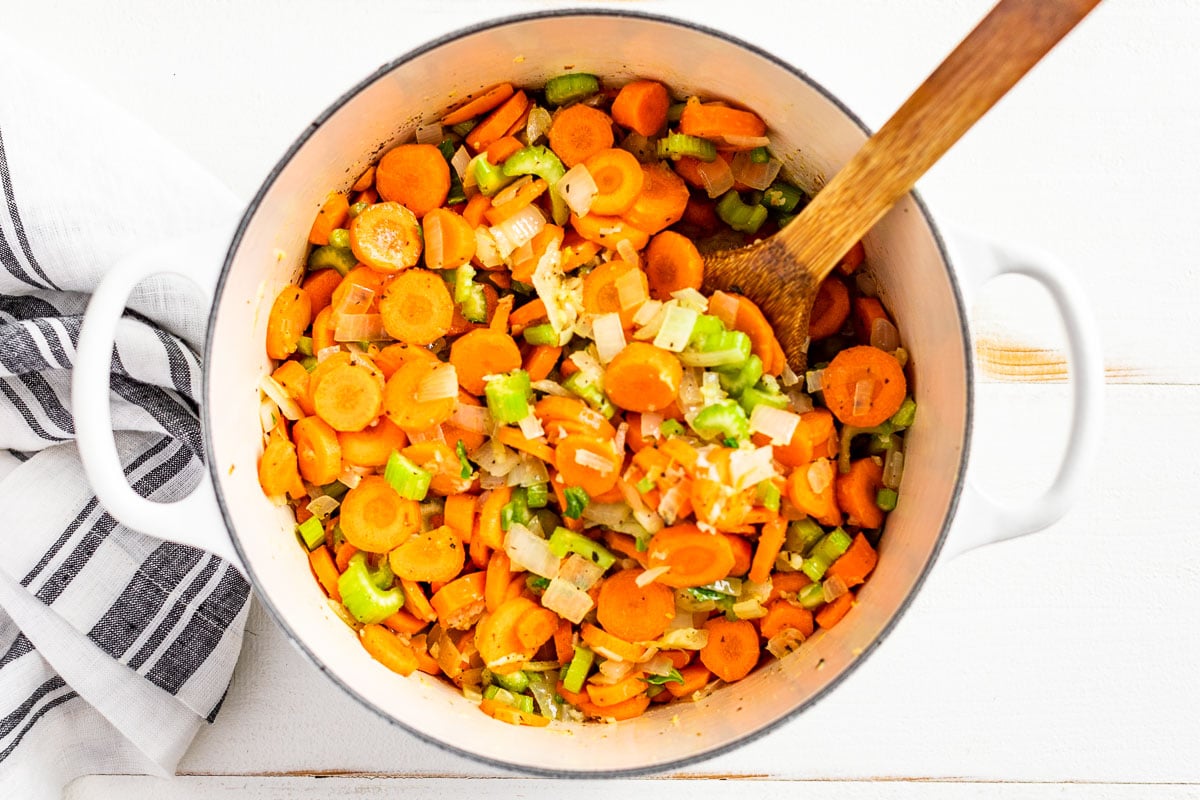 Step 4: Add the seasonings, celery, and carrots, and stir to combine.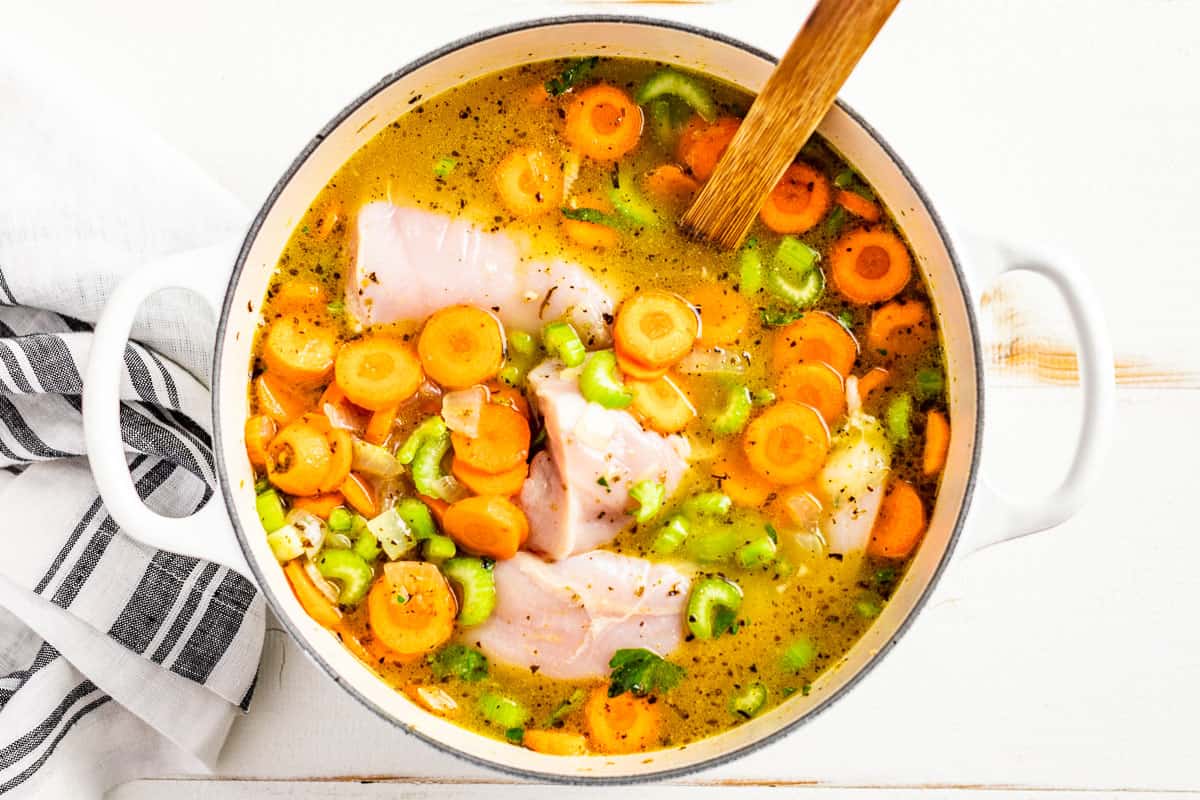 Step 5: Add the chicken stock along with the chicken breasts.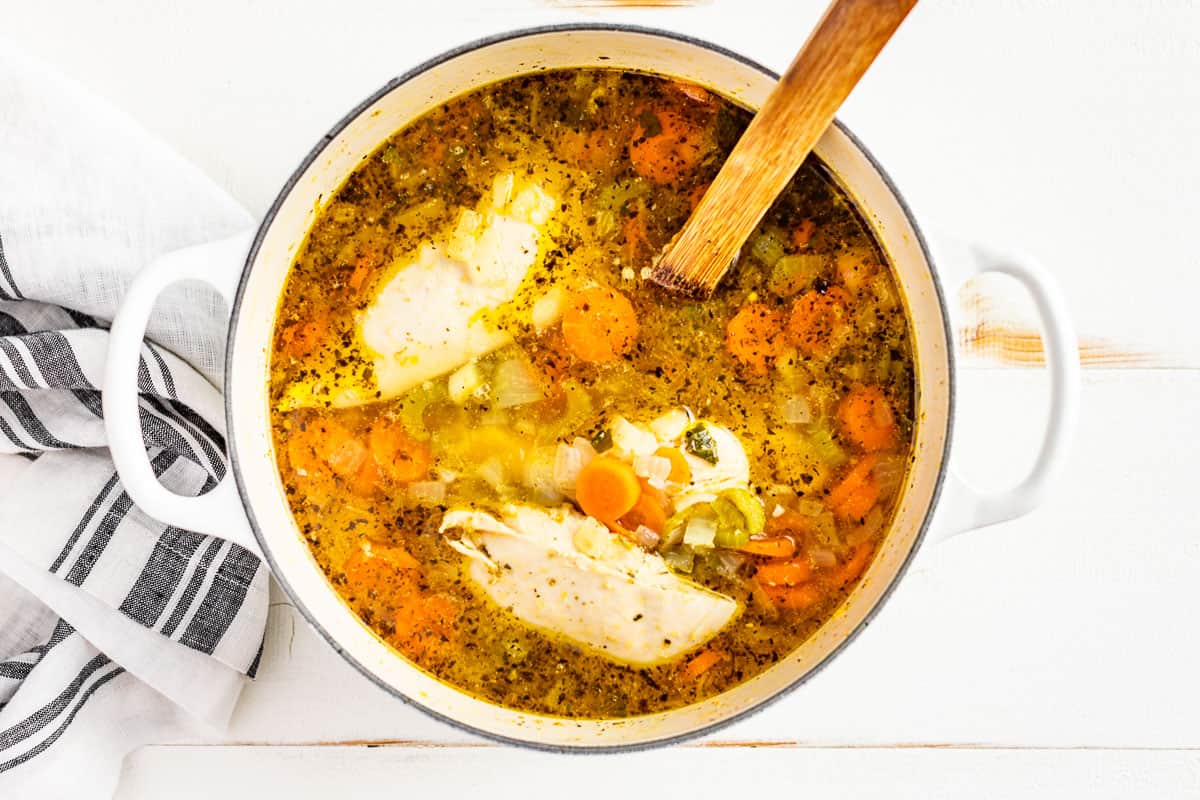 Step 6: Bring the soup to a boil, then lower the heat to a simmer and cook until the chicken is ready to shred about 20-25 minutes.
Remove the chicken from the soup pot and place it on a cutting board to cool a bit.
Step 7: While the chicken cools, add the cream or coconut cream to the soup along with the broccoli.
Bring the soup back to a simmer and thicken to your liking.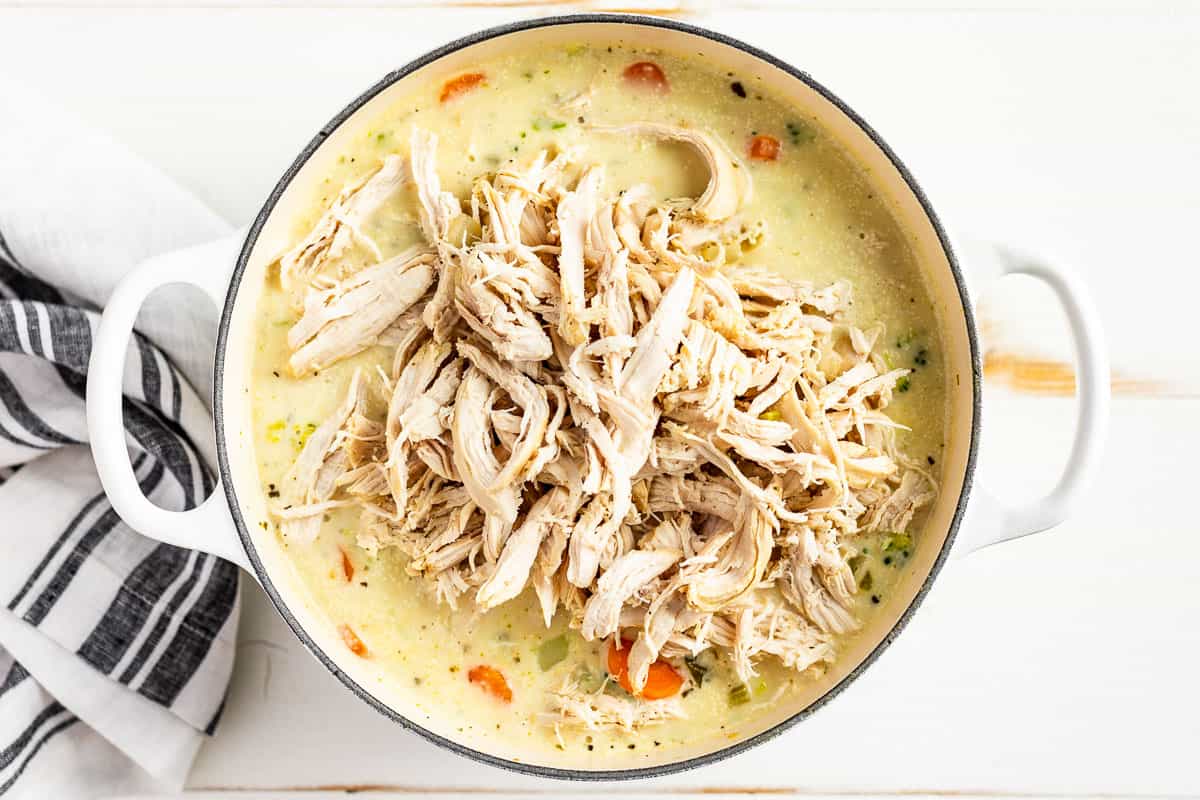 Step 8: Using 2 forks, shred the chicken and add it back to the soup. Stir to combine and season to taste with sea salt and pepper.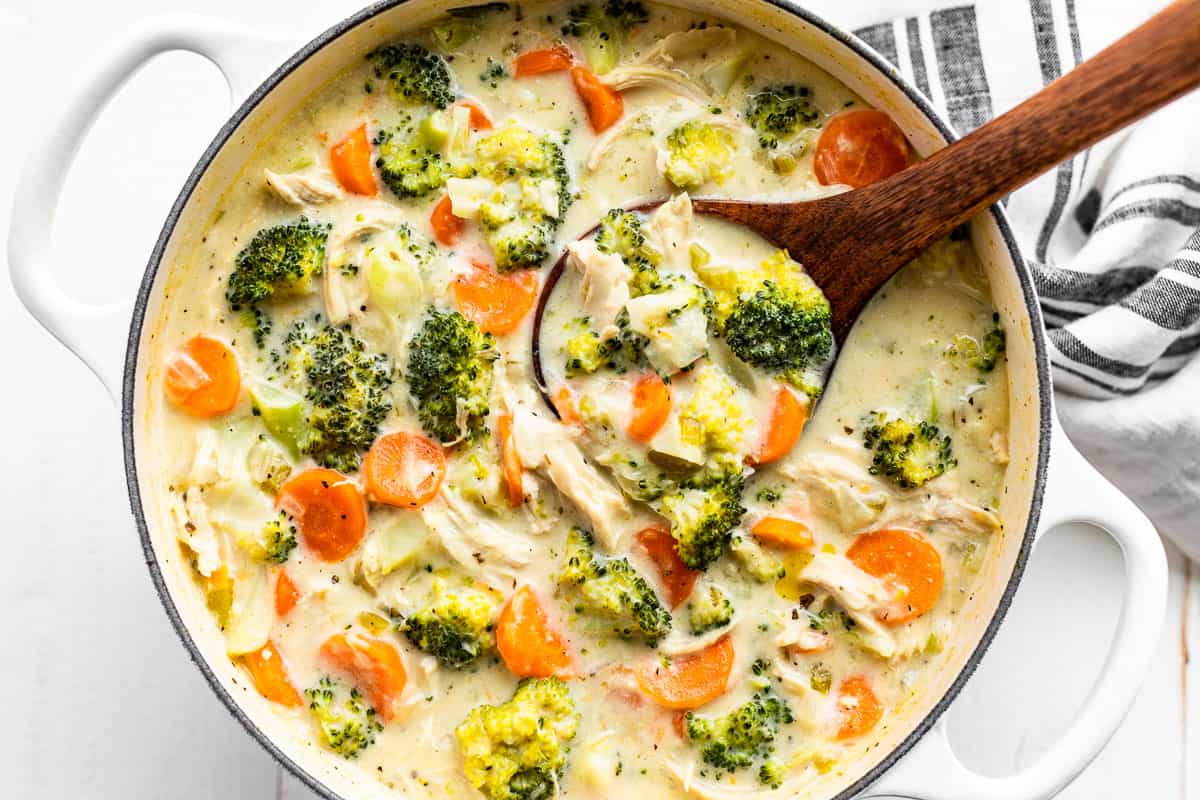 FAQ's
How do I know if the chicken is done?
If you lift it out with a spoon and place it on a cutting board, it will shred with 2 forks when it's done.
What can I use instead of chicken?
Ground pork or ground turkey both work in this soup. Sauté them as you would for ground beef, remove it from the pot, and add it back in towards the end of the cooking time. You can also cube up any tender cut of pork as well.
Storing leftovers
To store – place any leftover soup into an airtight container and refrigerate for up to 5 days.
Make ahead – this soup can be made ahead and reheated. I suggest undercooking the broccoli because it will continue to cook as the soup cools. Also, be sure to remember that the leftovers won't keep as long if you make this soup ahead.
Reheating – add any leftovers to a saucepan/pot and reheat over medium heat on the stove top, stirring until heated through. Or you can reheat it in the microwave.
To freeze – I don't recommend freezing this soup because the veggies are soggy.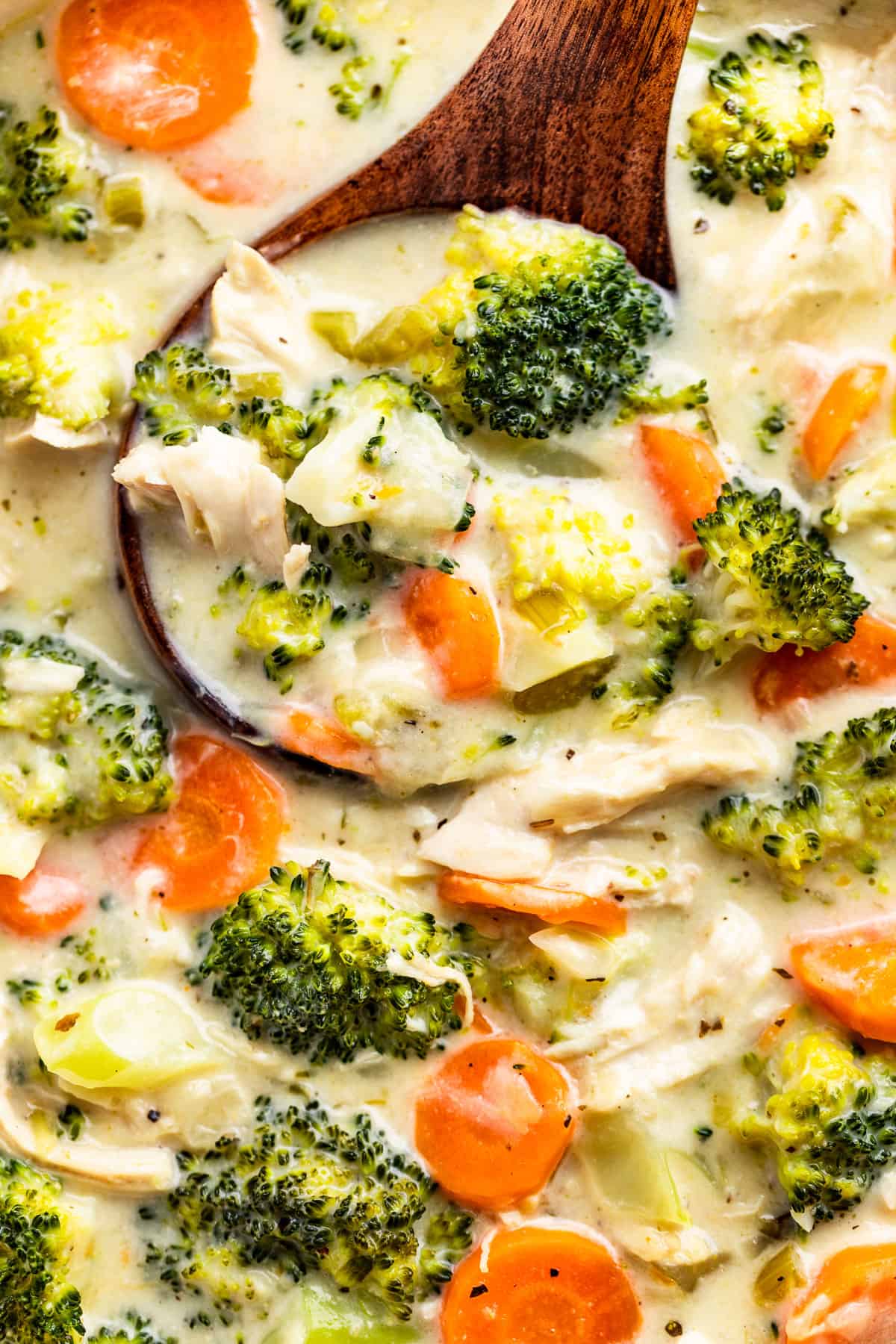 Tips & Tricks
Try making this a 'cheesy' Chicken Broccoli Soup by adding grated cheddar cheese to taste, 1-2 cups.
This soup is perfect for using up leftover meat. If you have leftover Roast Chicken, rotisserie chicken, or leftover pork roast, they all work here as well as leftover turkey after a holiday meal. Just be sure you cut up your leftover meat into bite-sized pieces and add them to the soup with the broccoli at the end.
If you don't like shredding chicken, cube it up and sauté it at the beginning before the onions. Then remove it from the pan while the soup cooks and add it back in at the end with the broccoli.
You'll see granulated garlic in the ingredients list which is like garlic powder, but I think its toasty flavor tastes even better. It's worth adding it to your spice drawer, but you can also use unsalted garlic powder.
Dietary Options & Substitutions
Dairy-free – Use your favorite unsweetened dairy-free creamer, cashew cream, or unsweetened coconut cream.
Paleo – make this soup with cashew cream or unsweetened coconut cream, and thicken it with tapioca starch.
More Soup Recipe Inspiration
I really hope you enjoy this Chicken Broccoli Soup! If you do get a chance to make this recipe, I'd love to hear from you in the comments.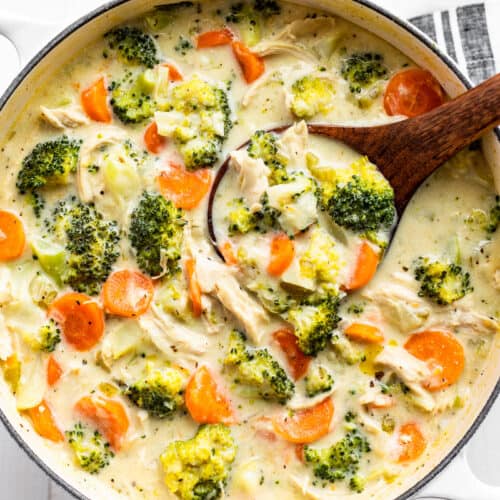 INGREDIENTS
1

onion

-

diced 1/4"

2

cloves

garlic

-

minced

2

tbsp

butter

-

ghee, or olive oil

1

tsp

Italian seasoning

-

see notes

1

tsp

granulated garlic

-

no salt

4

stalks

celery

-

thinly sliced, 1 1/4 cups

6

carrots

-

thinly sliced, 1 pound, 3 1/2 cups

4

cups

chicken broth

-

low sodium

1

pound

chicken breasts

-

boneless, skinless, 2

1

pound

broccoli

-

cut into bite sized florets, 6 cups

1

cup

heavy cream

-

unsweetened coconut cream, see notes

2

tbsp

cornstarch

-

or tapioca starch, use more or less to create the thickness you desire.

sea salt and black pepper to taste
INSTRUCTIONS
Place a large pot over medium heat. While the pot heats, dice the onion and mince the garlic.

When the pan is hot but not smoking, add the butter along with the onion and garlic. Cook over medium heat until the onion begins to turn from white to translucent, 3-4 minutes.

While the onion cooks, prep the rest of your veggies. Then add the Italian seasoning, granulated garlic, celery, and carrots to the pot.

Add the chicken broth and stir to combine before adding the chicken breasts. Submerge the chicken breasts in the liquid and bring the soup to a boil.

When the soup comes to a boil, lower the heat to maintain a simmer and cook until the chicken is done and will shred easily, 20-25 minutes.

When the chicken is done remove it from the soup pot to cool on a plate or cutting board.

Add the broccoli to the soup along with the cream or dairy free option. Stir to combine and bring the soup back to a simmer.

Shred the chicken with 2 forks, then add it to the soup and season the soup to taste with sea salt and pepper.

Finally mix the cornstarch together with enough water that it dissolves. Slowly add it to the soup while stirring constantly to prevent lumps. Add the cornstarch mixture only until your desired texture is reached, you may need more or less than the 2 tbsp.

Serve the soup immediately!
Bonus Step
If you made this recipe, please leave a rating/comment. Ratings really help us continue to bring you high-quality free recipes. Rate This Recipe!
NOTES
Be sure to look for Italian seasoning with no additives like sugar, salt, or dairy if you have allergies.
For dairy free, refrigerate a can of full fat coconut milk and scoop the hardened cream from the top. There is about 1 cup per can of coconut milk. You can also use 1 cup of my Cashew Cream as well.
This soup reheats really well, and you can make it ahead of time if desired. When I make it ahead, I like to add the broccoli after I've thickened the soup and turn the soup off immediately. You can also add the cream along with the broccoli, both will help the soup to cool down faster so the broccoli doesn't get too soggy.
This soup will make 6 servings if you're serving other things. If it's a one pot meal, I would figure on 4 servings, it's about 600 calories per serving for 4.
nutrition facts
Calories:
399
kcal
|
Carbohydrates:
20
g
|
Protein:
23
g
|
Fat:
27
g
|
Saturated Fat:
14
g
|
Polyunsaturated Fat:
3
g
|
Monounsaturated Fat:
8
g
|
Trans Fat:
0.2
g
|
Cholesterol:
103
mg
|
Sodium:
225
mg
|
Potassium:
885
mg
|
Fiber:
5
g
|
Sugar:
7
g
|
Vitamin A:
11550
IU
|
Vitamin C:
74
mg
|
Calcium:
120
mg
|
Iron:
2
mg