I can't think of a time when I'm not craving Mexican food, it seems to suit every mood and every season effortlessly! Soon we'll be diving headfirst into tomato season with homemade salsa, but right now there's another star on the market – Champagne mangos.
They're the kind of mangos you see with yellow skin, and they taste like no mango you've ever had before. They're sweeter with subtle flavors I can't really describe, and the best part is they're not fibrous and stringy like the usual mangos. With their superb texture, they make an awesome salsa/snack/smoothie – well… you get the idea, they're delicious in everything!
When mangos go out of season, feel free to substitute pineapple which is generally more available and doesn't really seem to have a season. I have a Grilled Pineapple Salsa that adds that hint of sweetness that pairs so well with the spice from the chipotle.
As I mentioned in my Paleo Pineapple Fried Rice post, I've been more than a little skeptical about cauliflower rice. Neither my husband nor I are particularly enthralled with cauliflower, so using it as rice seemed like we were setting ourselves up for disappointment. However, we both liked it in combination with all the other flavors of this dish. It really doesn't taste anything like rice, instead it tastes like what it is, which is steamed cauliflower. But… you know what, cauliflower rice is a great base for highly flavored dishes, even when you're not thrilled with cauliflower on it's own!
I think the key to subbing veggies in like cauliflower for rice or zucchini noodles for pasta, is not to expect them to taste like the original. Instead I try to make up my mind whether or not I like them just as they are, and not think of them as a substitute. And… I think you'll also find that some things you'll like more than others – for example, I love zucchini noodles but the faux cream sauce made from cauliflower… not so much (but I think that's due in part to the fact that I'm not crazy about cauliflower). So to each their own, anyway to add more veggies in that you actually like, is a major win!
For the onion in this recipe, I start by cutting off both ends off and peeling away the tough outer layer. Next cut the onion in half from the top to the bottom. Lay each half flat side down and slice across the rounded top into 1/4″ thick half moon slices.
I use this technique over and over again because it's a really easy way to cut up onions for all things Mexican, any pasta dish I make, and for pretty much every stir fry I've ever done.
For the bell pepper, cut the stem out first by slicing it in half and cutting around the core to remove it. Next clean out the seeds, and slice the bell pepper lengthwise into 1/4″ strips.
I use a grill basket, (pictured below) to cook my stir fries and mexican veggies on the grill all summer long! If you don't have a grill pan, sauté the veggies in a pan on the stove with a touch of oil and sea salt.
Most of this meal comes together on the grill, with the exception of the cauliflower rice which only takes a couple minutes on the stove top, (making this perfect for the hot summer days when you don't want to cook).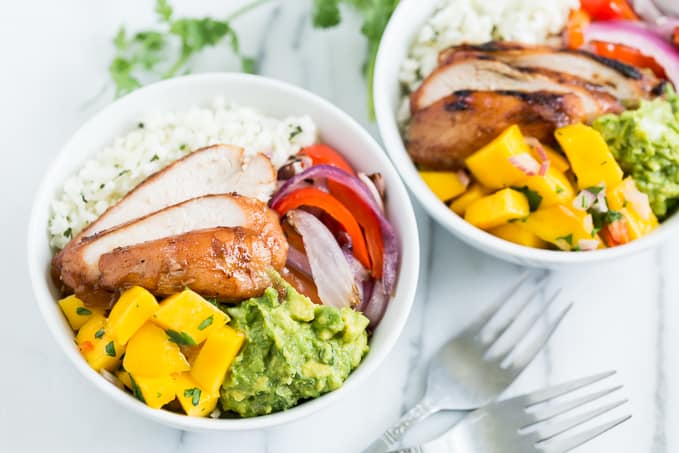 Oh… and 1 last thing, I forgot to mention that this is really good with roasted sweet potatoes in place of the cauliflower rice as well!
Print
Paleo Burrito Bowls with Mango Salsa
---
Description
All the savory flavors of a chicken burrito bowl but with extra veggies with the cilantro lime cauliflower rice. This paleo version of a burrito bowl is a sweet and savory combo that everyone loves, rounded out with fajita veggies and a dollop of guacamole.
---
Chipotle Chicken:
1 pkg boneless skinless chicken breasts, weighing 1 pound
1/2 Teaspoon ground chipotle powder
1/2 Teaspoon ground cumin
1 Tablespoon coconut aminos, or gluten free soy sauce
1 Tablespoon maple syrup
1/2 Teaspoon sea salt
Grilled Veggies:
1 red bell pepper, 8 ounces
1 large sweet onion, 1 pound
avocado oil or olive oil for drizzling and sea salt
Cilantro Lime Cauliflower Rice:
1 head of cauliflower, weighing 2 1/2 pounds
1 Teaspoon sea salt, or to taste
3/4 cup water, for steaming
1/4 cup chopped cilantro
2 Tablespoons freshly squeezed lime juice
Mango Salsa:
2 Champagne mangos (1 1/2 pounds), peeled and diced
1/3 cup minced sweet or red onion
1/3 cup chopped fresh cilantro
2 Tablespoons freshly squeezed lime juice
1/2 Teaspoon sea salt, or to taste
1 recipe of The Best Guacamole, omit the tomatoes
---
Instructions
Combine the chicken breasts with the marinade ingredients, and set it aside in the refrigerator to marinate for 1 hour. You can also do this the day before and refrigerate overnight for a little deeper flavor.
Next, prepare the veggies. Slice the bell pepper in half, cut out the core and remove the seeds. Slice each pepper half into 1/4″ thick strips. Cut both ends off the onion and remove the tough outer layer. Cut the onion in half from the top to the bottom. Lay both halves flat side down on the cutting board, and slice across the rounded top to create 1/4″ thick half moon slices. Toss the veggies together with a drizzle of avocado oil (around 1-2 teaspoons) and sprinkle with sea salt.
Preheat the grill over medium high heat while you're working on the rest of the recipe.
Prep the cauliflower rice by trimming the leaves from the cauliflower head, and then grating it into 'rice' with a box grater. Place the grated cauliflower into a large pan with a lid. Add the water and sea salt to the pan and set it aside.
Prepare the mango salsa by mixing together all the prepped ingredients, and set it aside until serving.
Prepare 1 batch of The Best Guacamole, leaving out the tomatoes, and set it aside until serving.
Once everything is prepped, you're ready to grill!
Start by turning the grill heat down to medium, you want the temperature to be between the range of 350ºF – 400º F. Place the grill basket on the grill and add the prepared veggies to it. Place the chicken on the grill and grill for 6-8 minutes per side for 1/2 pound chicken breasts. The time may vary a bit, just be sure to cook the chicken until it's no long pink in the center. While the chicken is cooking toss the veggies in their grill basket every 5 minutes or so allowing them to brown in between.
When you turn the chicken over, start cooking the cauliflower rice by placing the pan over medium high heat. Once the rice begins to steam, turn the heat down to medium, and cook for a total of 8-10 minutes, or until the 'rice' is just tender. Turn the heat off and set the rice aside if needed to wait until the chicken and veggies have finished cooking. Right before serving, add the fresh lime juice and chopped cilantro to the 'rice'.
Once the chicken and veggies are cooked, serve them together with the cauliflower rice, mango salsa, and guacamole.
Notes
Both the Chipotle Chicken and Mango Salsa are adapted from other recipes on my blog!
Prep Time:

30 mins

Cook Time:

15 mins

Category:

Dinner

Method:

Stove Top

Cuisine:

Mexican
Keywords: Paleo Burrito Bowls, Healthy Burrito Bowls, Cauliflower Rice Burrito Bowl