This Paleo Pineapple Fried Rice is the perfect solution for takeout cravings! It's a healthy remake of the Thai dish, but it's absolutely loaded with veggies. There's no sugar added so it's Whole30 as well. And we love the leftovers for easy packed lunches during the week.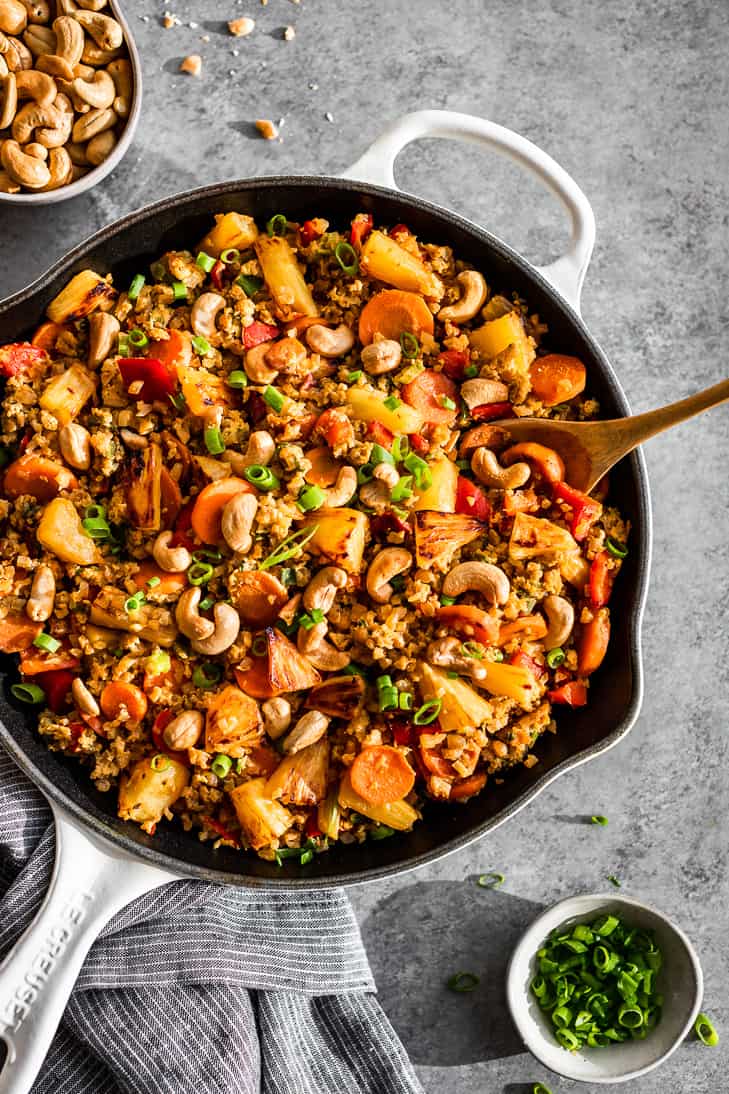 Do you ever make something out to be a big deal in your head, only to discover it was really nothing at all? I do this all the time from the usual things people dread to the smallest of tasks. So… my latest mountain out of a mole-hill was grating cauliflower.
I've made cauliflower rice in the food processor but I heard grating it was the way to go. Right away my mind geared up into overdrive picturing little bits of cauliflower flinging about my kitchen creating an epic mess as I grated away. I think you can probably see why my family thinks I have an active imagination!
Anyways I'm here to put your mind at ease, grating cauliflower really is the way to go. It's super easy, doesn't make a huge mess like I thought, and it makes for the best evenly textured 'rice'. But I'm also here to tell you, frozen cauliflower rice works great too. And even better, it takes out most of the prep time too.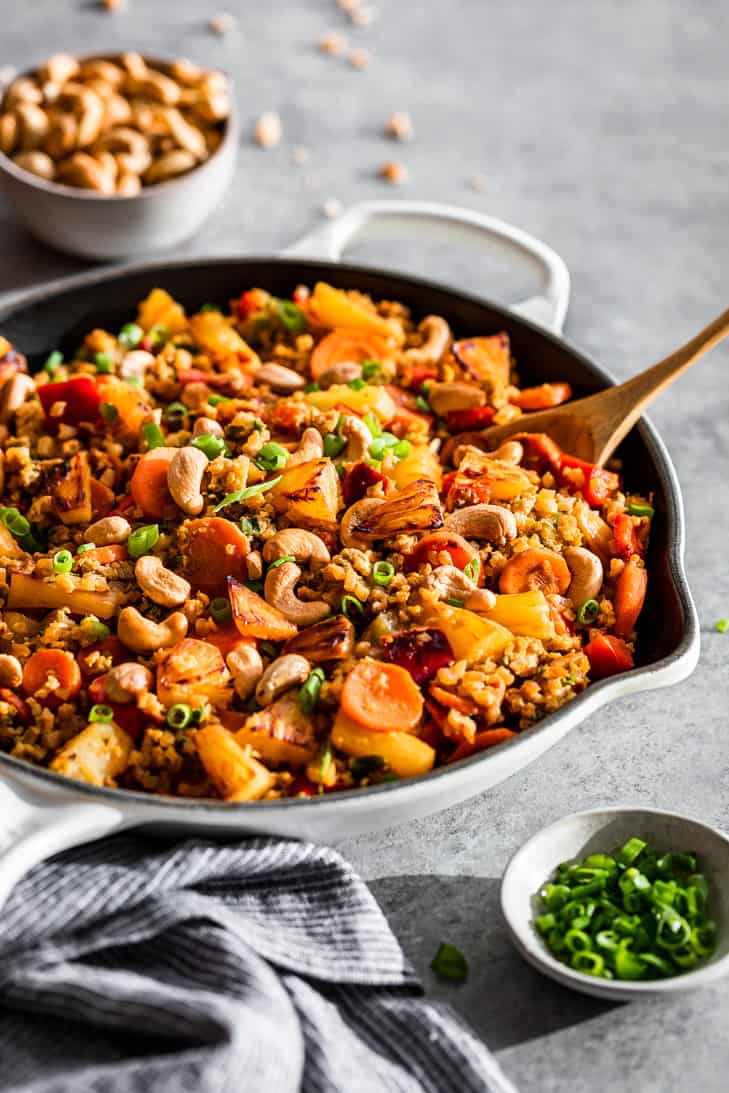 Recipe inspiration:
The inspiration for this recipe started last fall when a friend and I were meeting up for Thai food. But we arrived to find the place unexpectedly closed for maintenance. Now I had been expecting to order Pineapple Fried Rice and my brain just wouldn't let it go.
Fast forward to a few months later when we met up again for lunch again. Thankfully this time they were open and I got my fried rice fix. But when my brain was still obsessing about it, I knew it was time for a homemade version!
So let's get started by talking about the ingredients!
Avocado oil – I love using this oil as a healthy fat in my stir fries because it has a high heat tolerance. But feel free to use any kind of stir frying oil you prefer.
Chicken – This is optional, but a great way to pack in a bit more protein and flavor. My original version of this recipe was vegetarian. But many of you have written to say you love this with chicken, (or shrimp) and we do too. So you'll find it listed below in the ingredients.
Pineapple – Fresh pineapple sliced up into tidbit size is definitely the best here. Canned pineapple just can't compete with the fresh flavor. I've used frozen, thawed and drained pineapple before which is good. But it's not quite as good as fresh.
Red bell pepper & carrots – make up the veggies in this recipe that add flavor to the cauliflower rice. These 2 ingredients have also been a staple in every Thai pineapple fried rice I've ever ordered out to eat.
Garlic – is definitely most essential for the perfect fried rice flavor.
Green onions – and the green onions are much like the garlic, they're essential for the best fried rice flavor.
Cauliflower Rice – Why does everything have to be cauliflower these days? Just sort of kidding! But if you're not the biggest fan, rest assured this is no ordinary cauliflower rice. Fresh grated cauliflower rice is so good here. But more often than not I opt for the convenience and time saving aspect of frozen cauliflower rice. Also frozen cauliflower rice is very budget friendly where we live. One week fresh cauliflower is around $4 a head which is pretty reasonable. But the next week it will be $4/pound making it super expensive!
Eggs – are a traditional ingredient in any fried rice, but they're extra important in this recipe. Cauliflower rice is much more granular in nature than actual rice. But as the eggs scramble around it, the texture softens and is much more similar to fried rice.
Coconut Aminos – or tamari/soy sauce of choice is the perfect way to season this 'fried rice'.
Chili – My original recipe called for chili paste. But since that has been problematic for some, I retested this for red pepper flakes. The other problem I've found with chili paste is they often have undesirable ingredients as well. So we have a new solution with the red pepper flakes. But you could use a fresh red chili as well.
Cashews – or any toasted nut you love for some added crunch!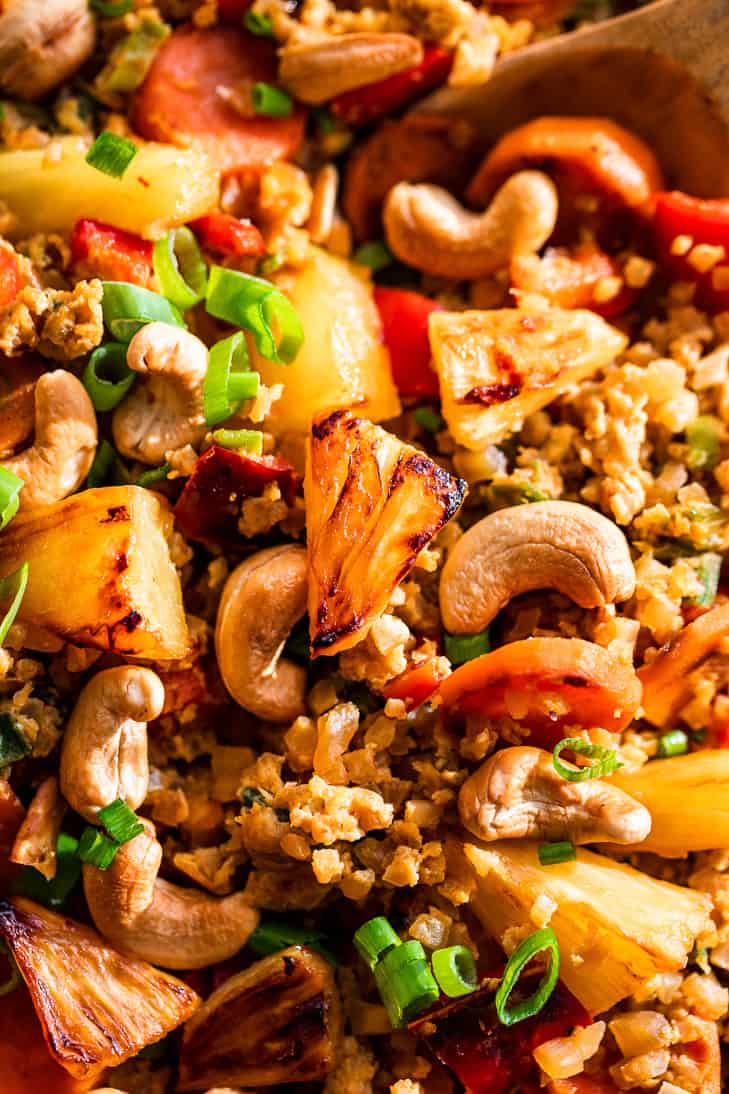 Let's start making this Paleo Pineapple Fried Rice step by step: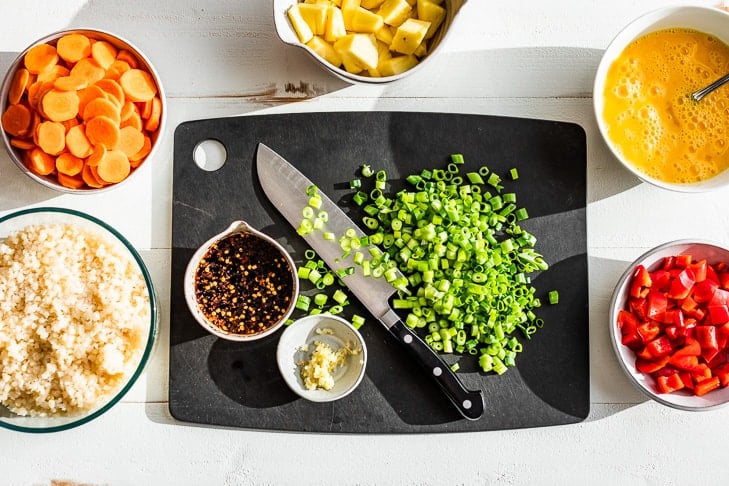 Step 1:
We'll kick things off by prepping all of the ingredients first. Once you start cooking, it comes together quickly. So it's best to have everything ready to go!
Tip: To make your green onions look the way they do when you go to a restaurant, you'll want to slice them on the bias.

This is a simple trick that makes them look a little better, and the only thing you change is the angle of your knife.

When you're slicing them just make sure your knife is at a 45º angle to the green onions. That's all it takes to create those beautiful oblong slices!
Steps 2 & 3:
Next sauté the chicken if you're using it and then set it aside.
Repeat this process with the pineapple. I like to sauté the pineapple separately like this because you end up with really tasty caramelized edges. This definitely makes it worth a couple more minutes!
Step 4:
Then we'll stir fry the bell pepper, carrots, and garlic until the veggies are crisp tender.
Step 5:
Next we'll add in the cauliflower rice and green onions. Cook just until the cauliflower is tender.
Note: Don't worry about this tasting too much like cauliflower. I'm not the biggest cauliflower fan, and I ate this for breakfast, lunch, and dinner two days in a row!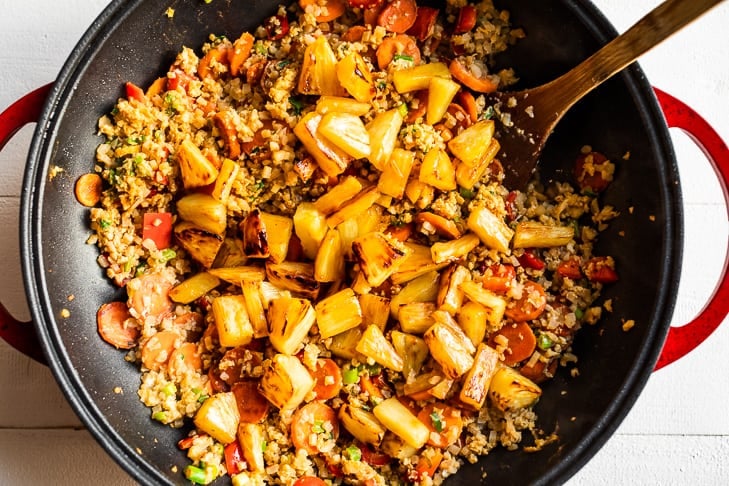 Steps 6 & 7:
Then we'll add the whisked eggs to the pan, and cook until the eggs have scrambled around the cauliflower rice.
Finally it's time to add the sauce, chicken, pineapple, and cashews to the pan. Cook just until the sauce absorbs, season to taste, and serve right away!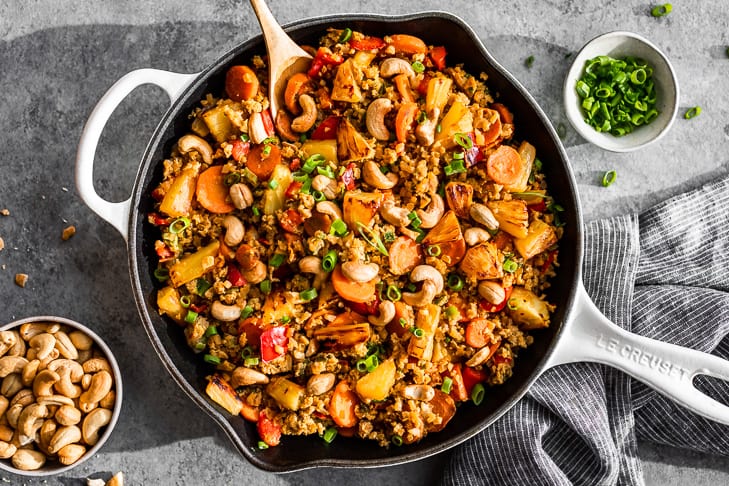 And for even more Paleo 'Fried Rice' Recipe Inspiration:
I sure hope you enjoy this healthy remake of Pineapple Fried Rice! If you do make it, I hope you'll leave me a comment/rating below. I always love hearing from you here!
Print
Paleo Pineapple Fried Rice
---
Description
This 'fried rice' is a veggie packed version of one of my favorite Thai dishes!
---
1/4 cup avocado oil
1/2 pound boneless skinless chicken thighs, cut into bite sized pieces, see notes
2 cups small chunks fresh pineapple, weighing 8 ounces
1 red bell pepper, cut into 1/2" pieces, 1 1/2 cups
4 small carrots, weighing 8 ounces, thinly sliced, 2 cups
2 cloves garlic, minced
1 bunch of green onions, thinly sliced
1 head of cauliflower, 1 lb 11 oz, or 5 cups frozen cauliflower rice, see notes
4 eggs
Sauce:
1/4 cup coconut aminos, tamari, or soy sauce
1/2 teaspoon red pepper flakes, or 2 teaspoons chili paste
To finish:
1 cup roasted cashew pieces
Sea salt to taste if needed
---
Instructions
Start by prepping all your ingredients before you begin cooking because this dish comes together quickly.
Grate the cauliflower using a box grater, and set it aside. Or skip this step if using frozen cauliflower rice.
Crack the eggs into a bowl and lightly whisk them together with a fork.
Mix together the coconut aminos and red pepper flakes or chili paste together in a small bowl and set it aside.
Preheat a very large non-stick skillet, (15″) over medium-high heat for a few minutes until it's hot but not smoking.
Add 1 Tablespoon of the avocado oil to the pan and brown the chicken pieces. Remove them from the pan and set aside.
Next carefully add the pineapple, then 1 more tablespoon of oil to the pan, (adding the oil after the pineapple helps to keep the oil from splattering).
Sear the pineapple chunks to create caramelized edges, 2-3 minutes. Remove the pineapple from the pan and set it aside while you finish the fried rice.
Add the remaining 2 tablespoons of avocado oil to the pan and sauté the bell pepper, carrots, and garlic until the veggies are crisp tender. Then add the green onions, and cauliflower rice to the pan.
Cook 1-2 minutes, or until the cauliflower has softened. Add the eggs and cook stirring until the egg scrambles around the stir-fry, 1-2 minutes.
Add the sauce to the pan and cook for another 1-2 minutes until the sauce is absorbed and thoroughly mixed in.
Remove the fried rice from the heat and stir in the cashews, chicken, and caramelized pineapple. Taste test to see if you'd like to add some sea salt and serve immediately!
This stir-fry tastes best hot, but it's really good at room temperature and cold right out of the refrigerator.
Notes
The chicken is optional in this recipe. It adds a bit more flavor and protein, but my original version of this dish was vegetarian. Over time we made it with just a bit of chicken so often I updated the recipe. Also the nutritional information is calculated with the chicken added.
I love using frozen cauliflower rice in place of the fresh cauliflower for a super quick dinner. I do recommend defrosting it first just in case you need to drain off any liquid. But so far every brand I've used has been fine to add straight to the pan from the freezer.
Prep Time:

30 mins

Cook Time:

10 mins

Category:

Fried Rice

Method:

Stove Top

Cuisine:

Thai
Keywords: Cauliflower Fried Rice, Whole30 Pineapple Cauliflower Rice, Pineapple Chicken Cauliflower Fried Rice
This Paleo Pineapple Fried Rice recipe was originally published in 2015. It's been updated in 2021 to included more information, tips, and new photos.