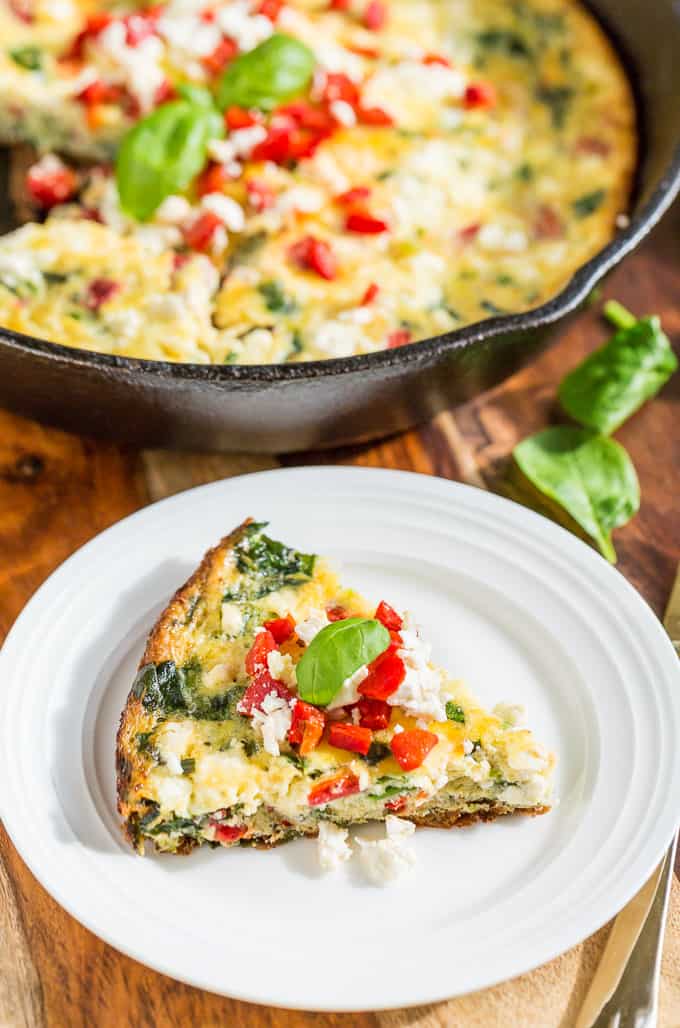 As I took my first bite of this frittata, the flavors of roasted red pepper and feta cheese exploded in my mouth, and my first thought was 'frittata where have you been my whole life'!?! The obsession is real and not going away anytime soon, even as I was trying to take pictures of this deliciousness, I kept cutting little bites because I just couldn't stay out of it.
I don't know how it is that I've never made a frittata up until now, but they're now a weekly feature on our meal plan. I guess I've just been in a rut of always making veggie scrambled eggs, (which are great) but a frittata is even more hands off which is a major win, especially on a weekday.
They're great as is for breakfast or dinner, but if I'm serving it for dinner I like to add a salad. I keep it simple by tossing pre-washed greens with my 2-Ingredient Balsamic Vinaigrette which only take a couple of minutes. From start to finish you can have dinner on the table in 20-30 minutes depending on what ingredients you use. This particular frittata only takes 25 minutes, and you can assemble a side salad while it bakes in the oven.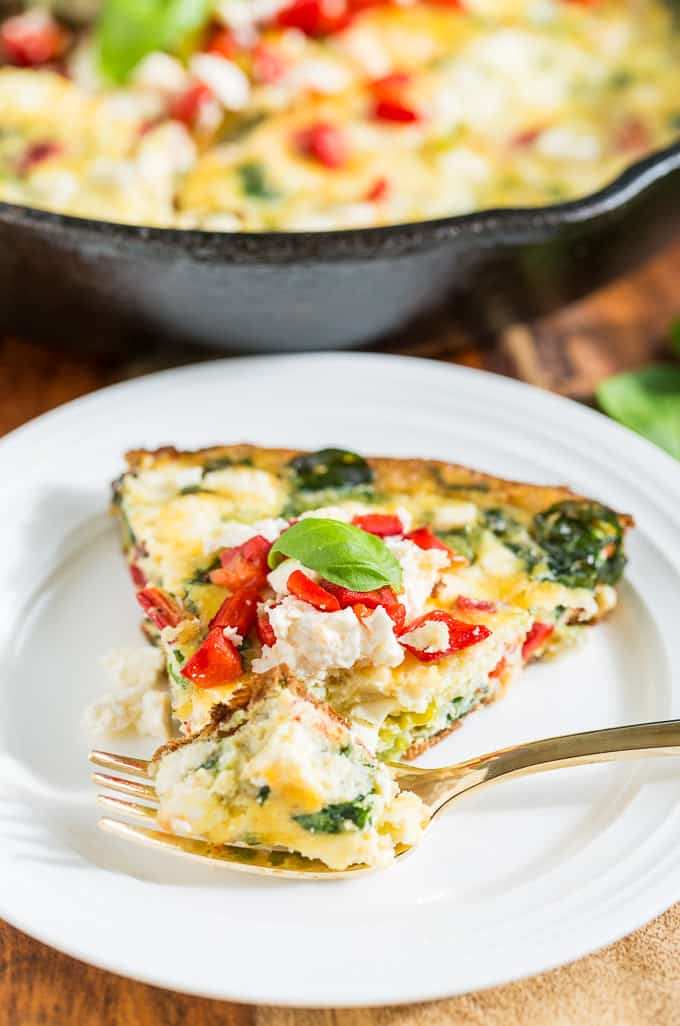 A few weeks ago on a Monday I got it into my head that I just had to have a homemade yellow Thai curry made from scratch – right… what was I thinking? Thai curry from scratch is a beautiful thing, but it's more of a weekend labor of love type of dish. I was running super late that day, but not to be deterred I bought some ingredients and headed home to make some curry.
Over an hour later my curry was simmering away on the stove and I was apologizing to my ever patient husband that dinner was going to be pretty late that night. The curry was fantastic, (I'm still working on the curry paste but there will be a recipe) but I felt like I really needed my head checked for attempting something like that on a busy weeknight!
The next day, I made this frittata and it was like a breath of fresh air – just 25 minutes from start to finish and no cleanup to speak of. I was so inspired by how easy it was that I've been brainstorming more 20-30 minute recipes. Even though I love to cook, there's nothing like the stress of time constraints to leave me completely uninspired and not feeling like cooking at all. I think we all need more simple dinners that take the stress out of life leaving us content and well fed. (If you have any weekday cooking secrets, I'd love to hear them!)
The basic principle for a frittata is to sauté a few ingredients of your choice, then add eggs to the pan and cook for a few minutes on the stove top before completing the cooking time in the oven. With such a simple preparation and endless variations, I think you can see why we're making something along these lines every single week!
Part of what keeps this recipe super simple is to use jarred roasted peppers and pre-washed baby spinach. I don't worry too much about perfectly chopping any of the ingredients, just a rough chop into bite sized pieces is more than sufficient.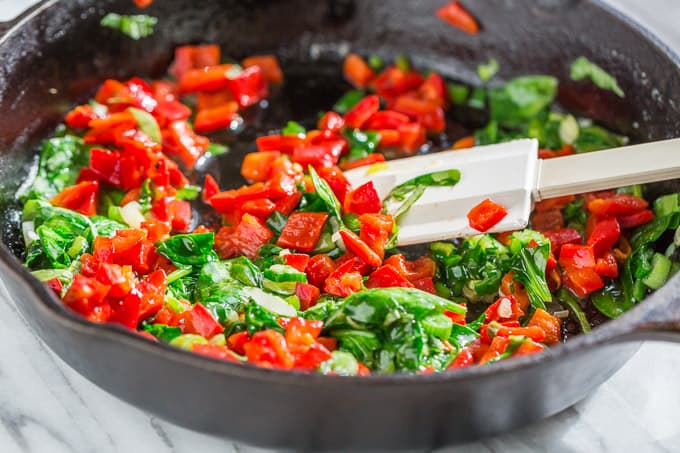 The roasted peppers, spinach, and green onions get a quick sauté, just enough that the spinach barely wilts which only takes about 1 minute. The egg mixture gets poured on top, cooked for a few minutes on the stove top, and then it finishes in the oven giving you time to toss a quick salad and clean up the kitchen.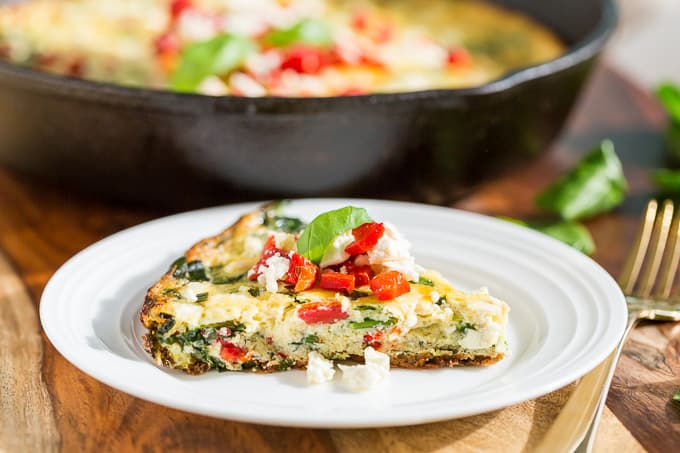 And just look at the fluffy texture, studded with all sorts of goodies. I love the flavor of the slightly browned edges, it's almost like a quiche but better in my opinion. For a little extra presentation, (which is prefect for easy entertaining) chop a little extra roasted red peppers and crumble some feta for a topping.
The feta cheese can easily be left out if you're dairy free because the roasted red peppers add so much flavor. But if dairy is part of the equation, you're in for a real treat because feta adds a wonderful salty tang that's so addicting. And I mean addicting, I'm around food all the time and I'm slowly starting to build up some will power to not devour everything in sight, but I really couldn't stop eating this. It's almost embarrassing, but I downed 3 pieces in record time!
Print
Roasted Red Pepper Frittata with Feta and Spinach
---
6

eggs, cracked into a bowl

1/2 Teaspoon

sea salt, or to taste

1/4 Teaspoon

freshly ground black pepper

2 Tablespoons

chopped basil, optional

2 Tablespoons

butter or avocado oil

3

green onions, both the white and green part thinly sliced

1 cup

washed baby spinach, 1 ounce, roughly chopped

1

large roasted red bell pepper, (jarred is perfect) roughly chopped, 1/2 cup

1/4 cup

crumbled feta cheese, 1.5 ounces, optional
---
Instructions
Preheat a 9″ cast iron pan over medium-high heat, and preheat the oven to 350ºF.
Whisk the eggs, sea salt, pepper, and basil together in a medium sized bowl until combined. Set the egg mixture aside.
Add the butter or avocado oil to the heated skillet along with the green onions, spinach, and bell pepper. Sauté just until the spinach turns bright green and begins to wilt, this will take less than 1 minute.
Reduce the heat to medium and pour the egg mixture over the sautéed spinach, Stir to thoroughly combine the sautéed ingredients into the egg mixture, and sprinkle the feta cheese over the top.
Let the egg mixture cook untouched over medium heat for 5-6 minutes. When the egg mixture is starting to set around the edges, transfer it to the oven and bake until the frittata is completely done, about 10-12 minutes.
Serve immediately or at room temperature. You can also refrigerate this for 3-4 days and reheat pieces as needed.
Notes
The basil is optional, either way it's delicious, I just love the added touch of fresh herbs. I buy the live basil plants, (which is much more cost effective for me) at the grocery store which last for 1-2 months, you can check out the details in my post about How to Maintain Living Herbs.
Prep Time:

10 mins

Cook Time:

15 mins