Easy to make and perfect for any special occasion or holiday, this Mushroom Cream Sauce is my go-to recipe. It pairs well with anything from pasta or mashed potatoes to beef, chicken, and pork. It really is a creamy mushroom sauce for everything, and it always gets rave reviews at holiday gatherings!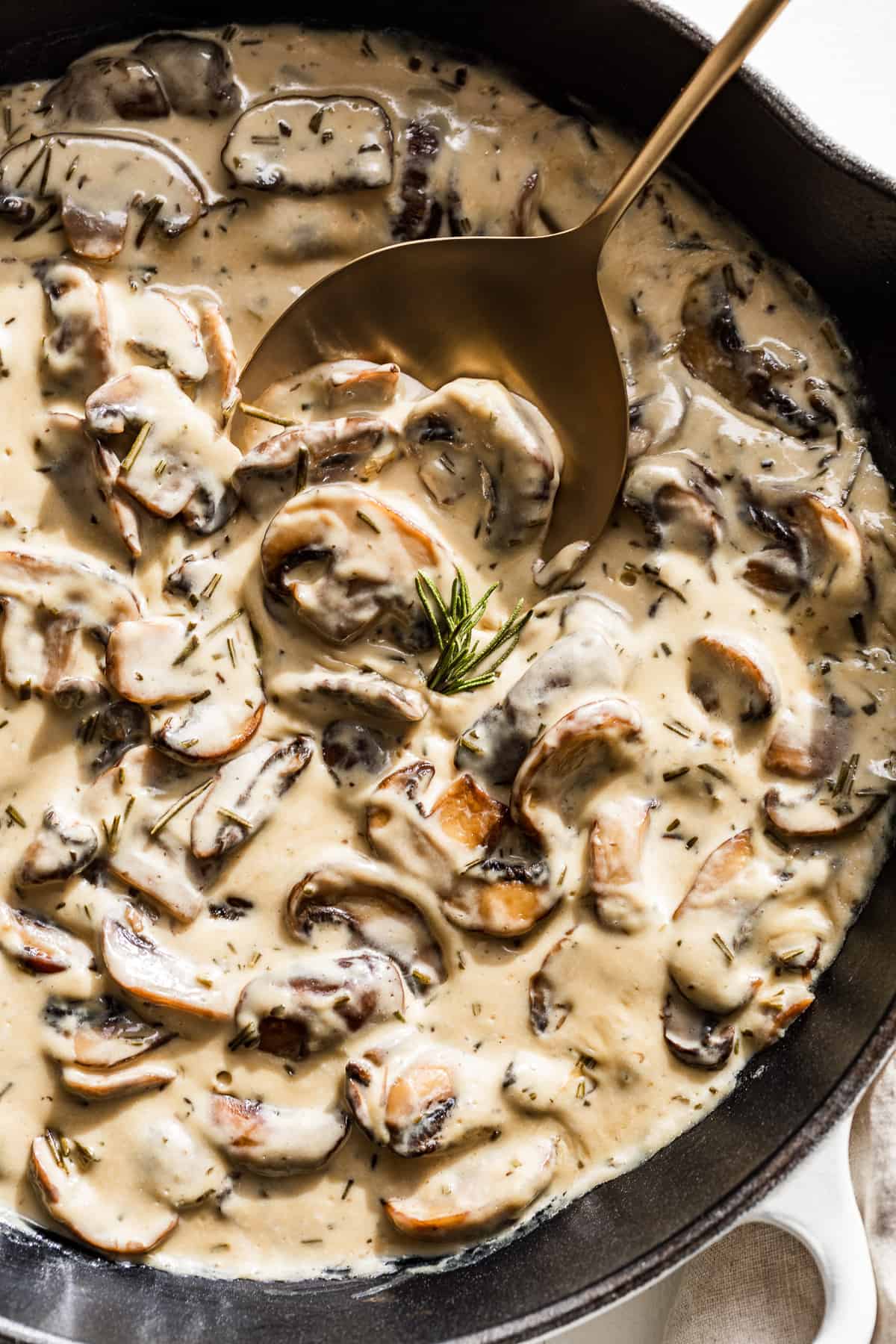 This sauce is going to come into your life and envelop you in its incredibly creamy embrace. It's quite simply the #1 recipe we make at family holidays, birthdays, and pretty much all occasions. We've been making it for almost 20 years now, and yet everyone in my family still requests it!
For the sake of simplicity I called this Mushroom Cream Sauce. But it's true title is 'Life Changing Rosemary Mushroom Cream Sauce' because this sauce really is 'life changing'. Or I suppose we could go with 'Mushroom Sauce to put on everything'!
I know that seems like a little over the top, but I do save the truly outrageous claims for my family's all time favorite recipes. I mean the kind of recipes that stand the test of time, and never go out of style. It also helps this sauce has classic flavors that pairs well with so many dishes.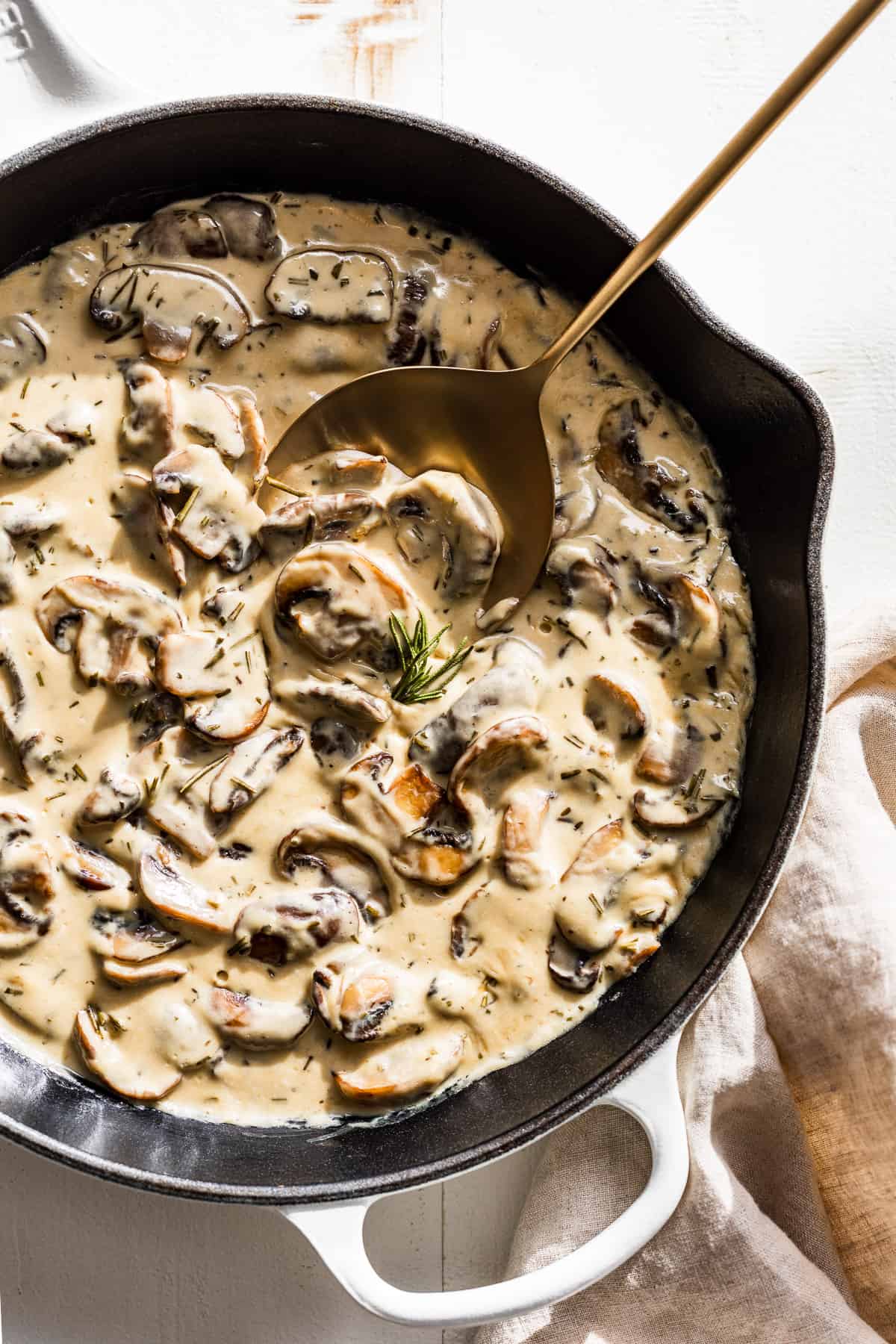 Watch how to make Mushroom Cream Sauce
I recently took it to an early holiday dinner with family. And over dinner we were debating on whether this sauce should be called 'life changing' or 'life altering'. Since we never came to a final decision, I'll leave it to you to decide after you've made it!
Ingredients & Substitutions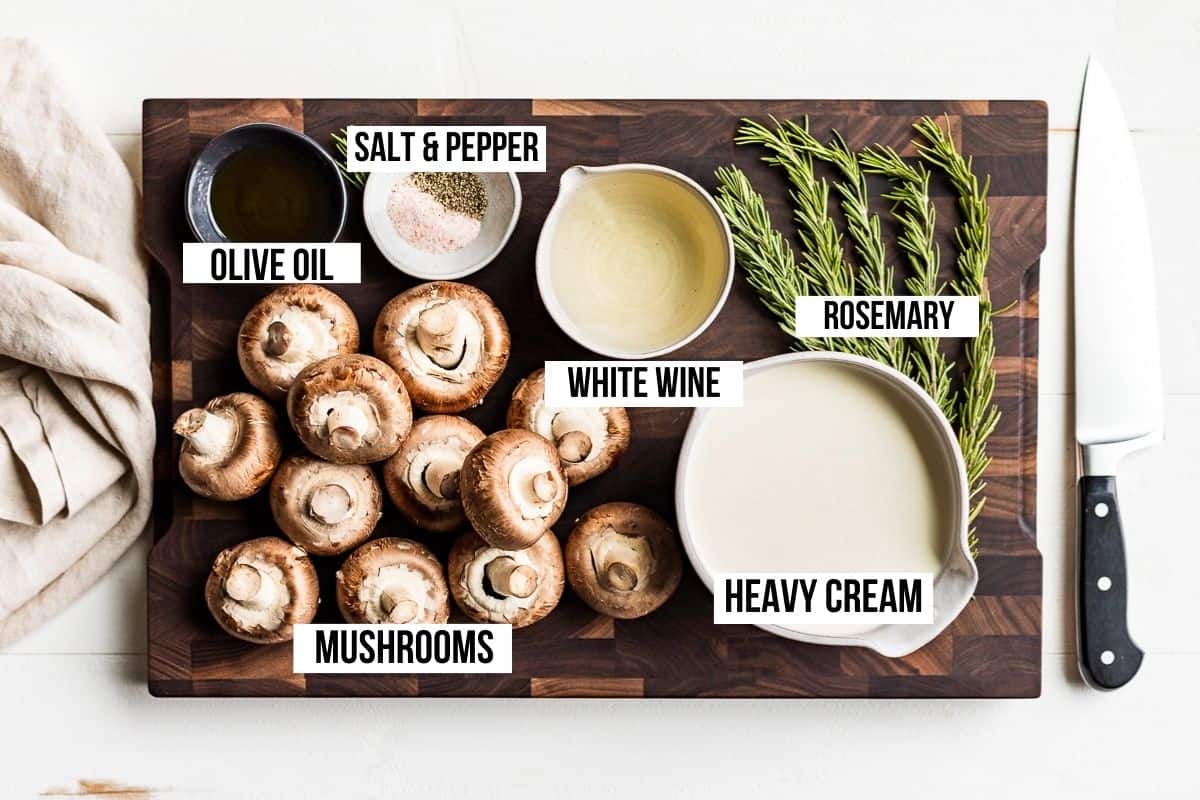 Mushrooms – I always use crimini mushrooms here because I think they have more flavor than regular white button mushrooms. But you can use your favorite mushrooms here, just make sure they're sliced/cut into bite sized pieces.
Olive oil – is to sauté the mushrooms, so you could also use any neutral sautéing oil of your choice like avocado oil etc. Butter can be used here but be careful to keep the heat down so it doesn't burn! Overall, oil is the best for sautéing.
Rosemary – is what makes the most sublime pairing here with the mushrooms and cream. You can use other fresh herbs like thyme, but rosemary really is over the top delish!
Heavy cream – makes for the perfect silky smooth sauce and I wouldn't make substitutions here if you can. However if you're dairy free, try subbing in some of my Cashew Cream Sauce instead of the cream and simmer for a minute or two. Nut, coconut, or oat milks don't work well here because they're too thin. You can thicken them with your choice of starch but it's definitely not the same.
White wine – is optional here, you can add broth. But I do recommend it because it adds a depth of flavor unlike anything else. Try using something fruity like a Sauvignon Blanc or Pinot Grigio, or anything you like the taste of. Cheap white wines are often loaded with sugar and not great in a cream sauce. So try to stick to something dry, nothing sweet like moscato etc..
How to make this recipe step by step!
Step 1: Start by cleaning the mushrooms and slicing them.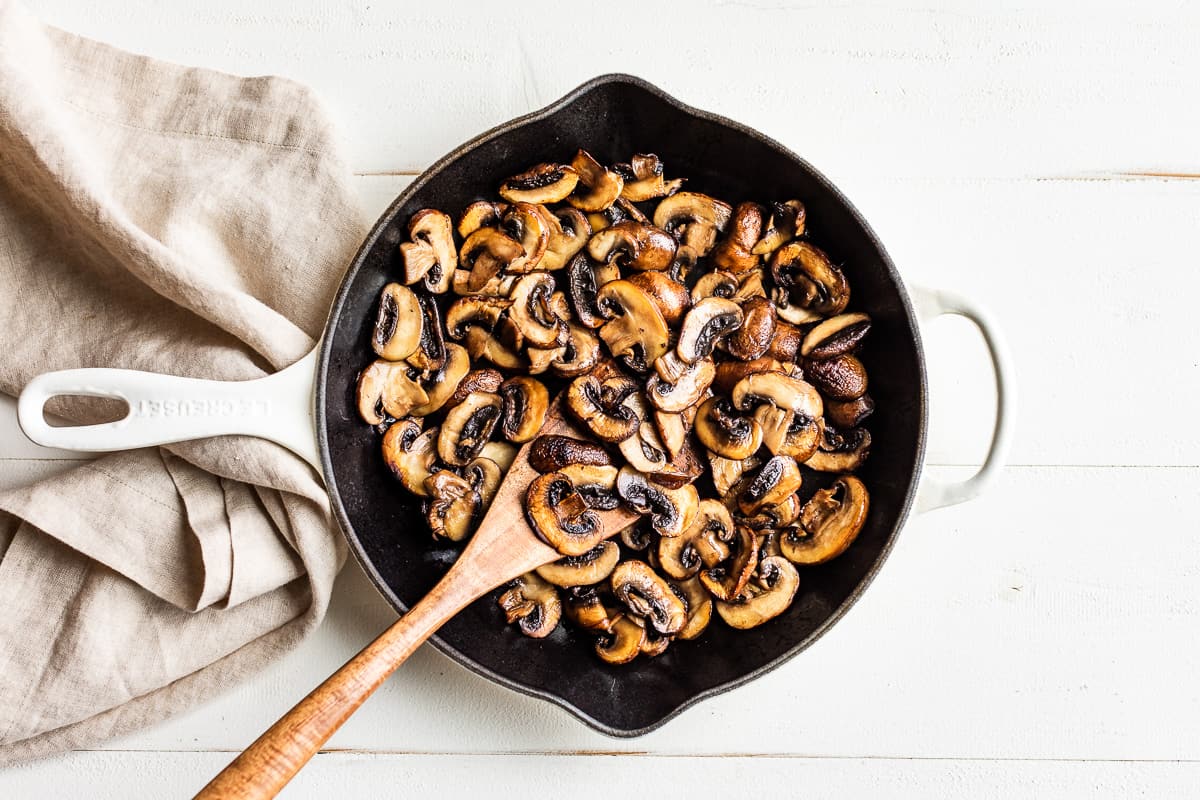 Step 2: Next sauté the mushrooms in a skillet over medium high to high heat, stirring only as they brown. Higher heat helps the mushrooms brown nicely rather than steam in the skillet.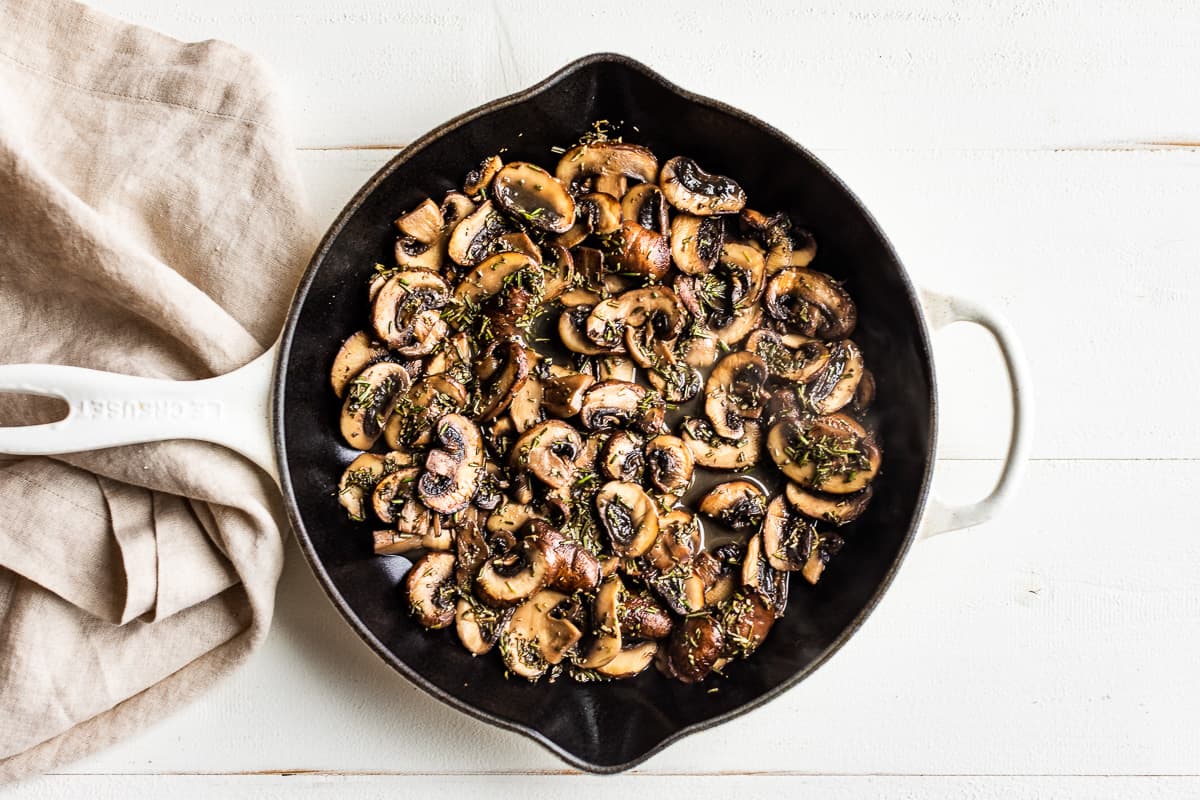 Step 3: Next add the rosemary and white wine to the pan and reduce until the wine is reduced by half.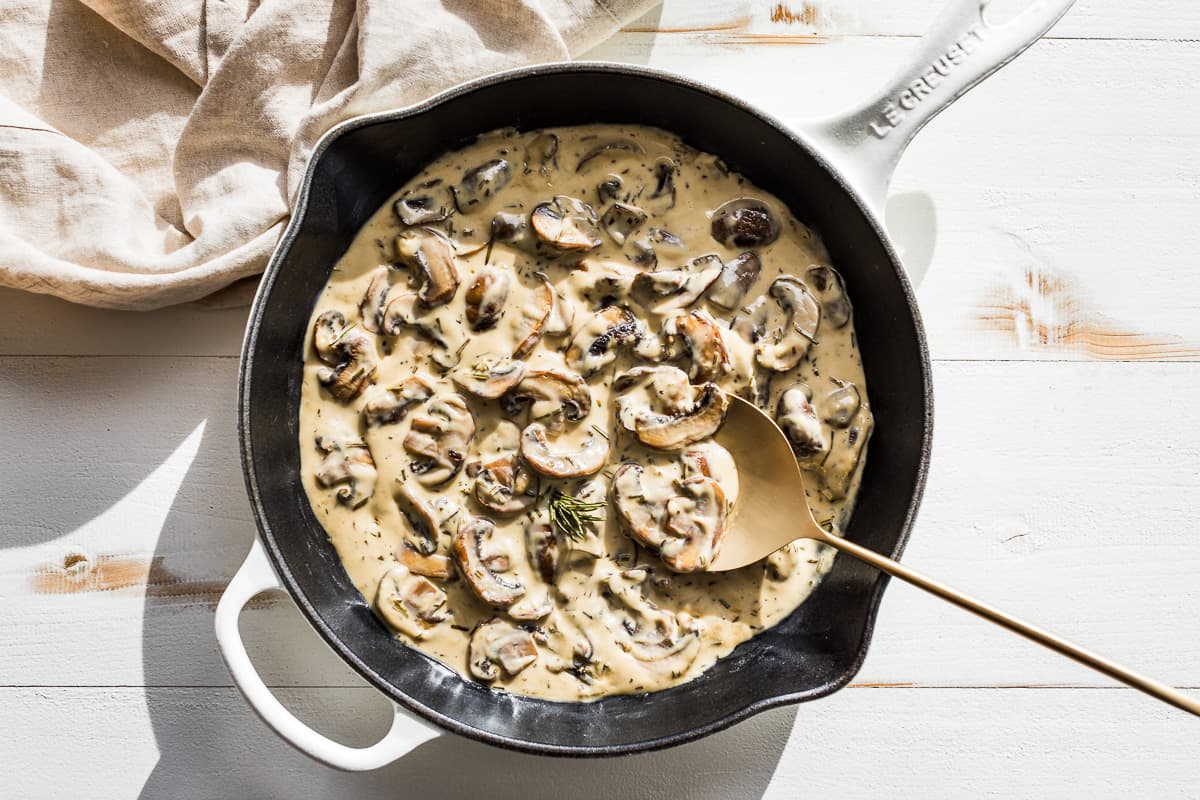 Step 4: Finally add the heavy cream and simmer 5-10 or until it's the thickness you prefer. Season to taste with salt and pepper and serve!
Ways to serve this
Pasta – toss this creamy sauce together with freshly cooked pasta. You can't go wrong with any shape, we love penne, fettuccine, pappardelle, and tagliatelle. My favorite is to toss this sauce with 1 pound of pasta, 1/2 pound sautéed chicken, and serve with 1 pound of asparagus or broccolini. Another variation is to add 1/2 pound browned sausage mild or spicy, and some sautéed spinach or baby kale.
Beef – any tender cut of steak works well with this sauce. Also tender roasts like ribeye roast, tenderloin roast, or prime rib are all perfect with this sauce for special occasions.
Chicken & Pork – chicken breasts/thighs or a whole roast chicken all are good with this sauce. For pork any tender roast like a pork loin or tenderloin and pork chops all work perfectly here.
FAQ's
Why is my cream sauce not thickening?
It needs more time to reduce if it isn't thick enough. As the sauce simmers it reduces water content and becomes thicker with time. The timing for this varies based on how much is in your pot/pan and how high the heat is. Also the wider the pan/pot the faster it reduces.
What can I use to thicken creamy mushroom sauce?
It's best to let cream sauce reduce on it's own until it thickens without any cornstarch or flour. This also gives you the best and smoothest texture. But you can also dissolve 1-2 teaspoons cornstarch in 1 tablespoon of water to add to the sauce. If you want to use flour, make a roux by adding 2 teaspoons flour to 1 tablespoon melted butter to dissolve, then add some of the sauce to temper it before adding it little by little into the pan.
Can I add onions or garlic to Mushroom Cream Sauce?
Yes, even though I don't call for them in my recipe they can be added. Make sure to sauté them until softened before adding any of the liquid. I like to keep this sauce simple for the purest flavor pairing. But a clove of garlic or 1/2 a chopped onion are both tasty variations.
Storing leftovers
To store – place any leftovers into an airtight container and refrigerate for up to 4 days.
Reheat – warm over low to medium heat stirring until warmed through. Cream sauces will 'break' over high heat and the oil will separate. Keep the heat low, and add a little bit of water to the sauce if necessary. The water will help the sauce come back together if it separates.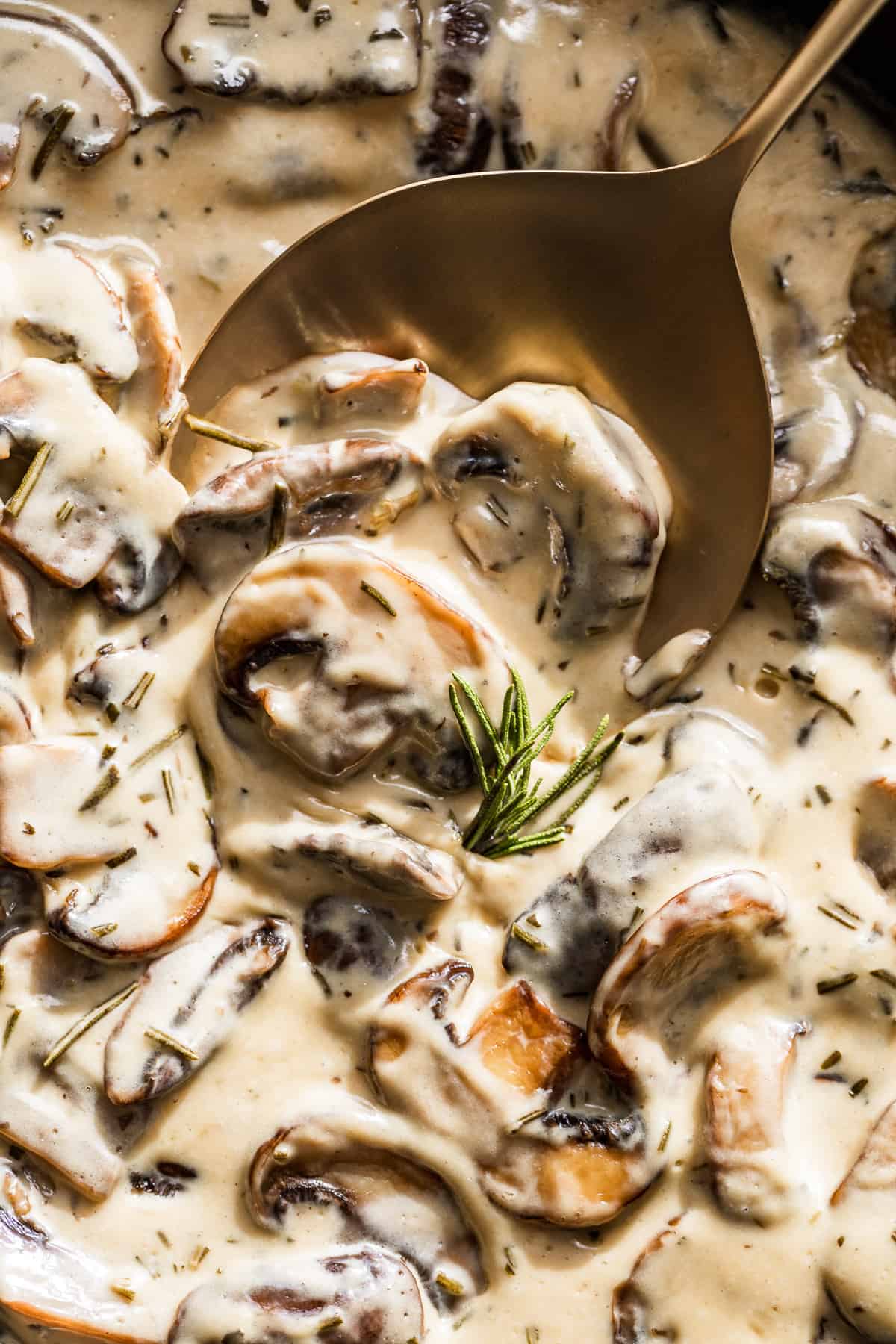 Tips & Tricks
Try adding some grated parmesan cheese as another variation. This is especially good tossed together with freshly cooked pasta.
Don't overcook the mushrooms, they should still have a meaty texture. When you sauté them, you're looking to brown them quickly. Then they will cook the rest of the way in the sauce.
Make this sauce ahead of time when you're entertaining. I like to reduce the cooking time by 1/2, then finish reducing the sauce right before serving it.
Holiday tip: try using this creamy mushroom sauce paired with turkey instead of or alongside your gravy. This little piece of gold came from a reader recently, and it's my new favorite!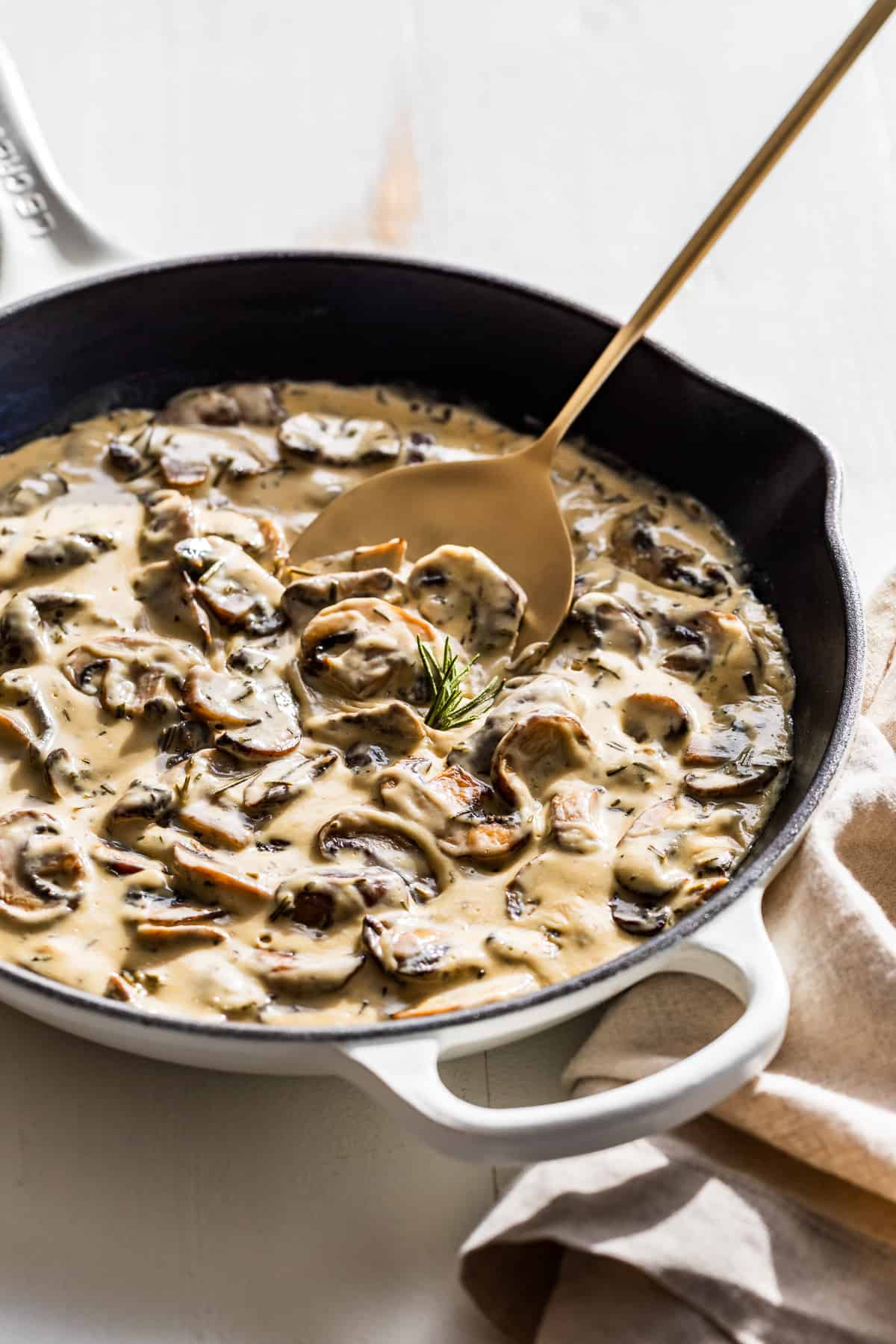 I really hope you enjoy this Mushroom Cream Sauce. If you do get a chance to make this recipe, I'd love to hear from you in the comments. Let me know how it goes and what you serve this with!
Print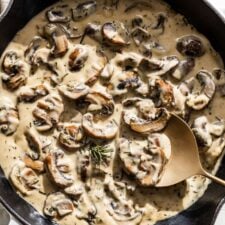 Mushroom Cream Sauce
---
Author:

Kari Peters

Total Time:

30 minutes

Yield:

2

–

3

cups sauce for

4

steaks or

1

pound of pasta

1

x

Diet:

Gluten Free
2 tablespoons olive oil, or avocado oil
12 ounces crimini mushrooms, about 18 or 6 cups sliced
2 tablespoons chopped fresh rosemary
1 cup white wine, optional see notes
2 cups heavy cream
sea salt and freshly ground black pepper to taste
---
Instructions
Clean the mushrooms thoroughly and pat them dry. Thinly slice them about 1/4″ thick.
Preheat a 9″ cast iron skillet over medium high heat. When the pan is hot but not smoking, add the olive or avocado oil and the sliced mushrooms.
Sauté the mushrooms until browned and just tender, be sure not to stir them too often because they won't brown properly. Increase the heat to high if the mushrooms aren't browning.
When the mushrooms just tender but still meaty, add the rosemary and the white wine. Simmer until the wine is reduced by half.
Then add the heavy cream. Bring the sauce to a simmer being careful not to let it boil over. Then lower the heat and maintain a simmer until the sauce has thickened, about 10-15 minutes.
Season the sauce to taste with sea salt and pepper, and serve immediately. You can also place this sauce on the back of the stove while you finish up dinner, then reheat just before serving.
Notes
Just a note about the wine, it adds a beautifully complex flavor to the final sauce, but it's definitely not mandatory. I've made this sauce without it plenty of times, and everyone still loves it. That being said, if you do go with some wine, I recommend a Pinot Grigio which has a crisp acidity to it which compliments the richness of the sauce.
The nutritional information is calculated for 6 servings.
Prep Time:

10

Cook Time:

20

Category:

Dinner

Method:

Stove Top

Cuisine:

American – Italian
Keywords: Cream Sauce, Rosemary Mushroom Cream Sauce, Mushroom Cream Sauce