Snickerdoodle energy bars are only available seasonally, but since I love making my own bars, I decided that we needed them year round! We bought an entire box of snickerdoodle Lara bars for our trip to Utah late last fall. Store bought energy bars are nice from a convenience standpoint (especially on a road trip) but homemade always taste 1,000x better, and they're also a lot cheaper!
I used a combination of almond and pecans for this recipe but you can use other nuts like walnuts or cashews if you have an allergy. Another thing I've started doing more often is putting a bit of coconut in my energy bars. I like how it adds a softer texture and an extra dimension of flavor to the overall picture.
While Tyler loved the amount of cinnamon in the store bought bars, I found it to be a little overwhelming, but nothing a cup of strong coffee couldn't fix. For my homemade version I toned down the cinnamon, but I left you a note in the recipe to be sure and taste to see if you want to add more!
These energy bars are some of the simplest I've ever made. Just a few ingredients into the food processor, and a couple minutes later you have 30 energy bars just waiting to be snacked on.
You can process your bars to be as smooth or chunky as you'd like, I like mine to be soft like a cookie dough but with a few good sized chunks to crunch on.
To shape them into bars, line a cookie sheet with plastic wrap, and using a spatula spread the energy bar dough about 1/2″ thick. This recipe only takes up about 3/4 of a regular sized baking sheet.
Next taking a large chef's knife, cut the bars into portions. I cut mine into approximately 1 ounce bars which is a smaller serving size than the store bought versions, but on your average day I don't need that much for a snack. When I make bars to take hiking or traveling, I tend to make them in a 2-3 ounce size because we often use them as a small meal replacement.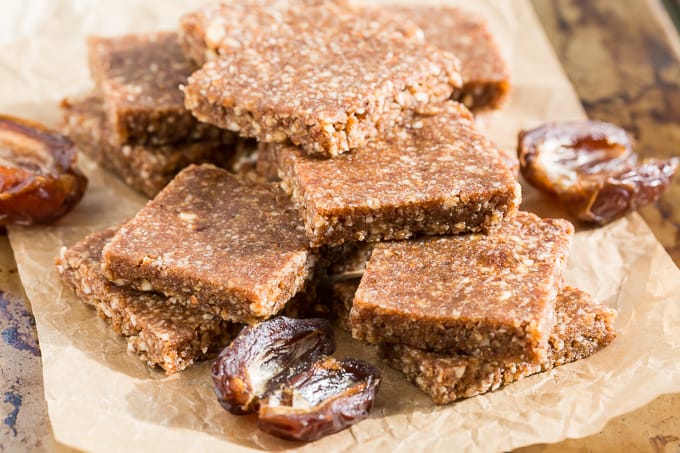 I also love these bars because they remind me of my Mom's Snickerdoodle Cookies she made during the holidays when we were growing up, except these are healthy enough to eat everyday!
Print
Snickerdoodle Energy Bars
---
1 cup

unsweetened big flake coconut, 2 ounces

2 cup

almonds, 9 ounces

2 cups

pecans, 8 ounces

1 Tablespoon

Vietnamese cinnamon

12

Medjool dates, pitted and quartered

1 Tablespoon

vanilla extract

1/2 Teaspoon

sea salt

2 Tablespoons

maple syrup

1

–

2

Tablespoons water
---
Instructions
Place the coconut, almonds, pecans, cinnamon, and dates in a 12 cup food processor. Process for 30-45 seconds, or until your desired consistency is reached.
Add the vanilla, sea salt, and maple syrup. Process again until combined, about 20 seconds.
Taste the mixture and see if it's sweet enough, if not you can add a bit more maple syrup in place of the water. You can also add more cinnamon if desired.
After you've taste tested, add 1 Tablespoon of water and then another if needed to create a soft cookie dough like texture.
Line a baking sheet with plastic wrap, and using a spatula spread the 'dough' about 1/2″ thick. This will take up about 3/4 of the pan. Using a chef's knife cut it into 30 bars.
From here you can either wrap them individually or freeze them spread out on a couple of cookie sheets before putting them together into a container and placing them back in the freezer. These bars keep for 4-5 days in the refrigerator, and 1 month in the freezer.