This creamy Coconut Chia Pudding is easy to make, and a healthy snack as well! This pudding is vegan, paleo, dairy-free, and gluten-free and packed with nutrition thanks to the chia seeds. The creamy coconut pairs so well with the fruit you'll think you're eating dessert instead of a healthy option. The coconut pairs really well with tropical fruit, berries, or my Berry Sauce.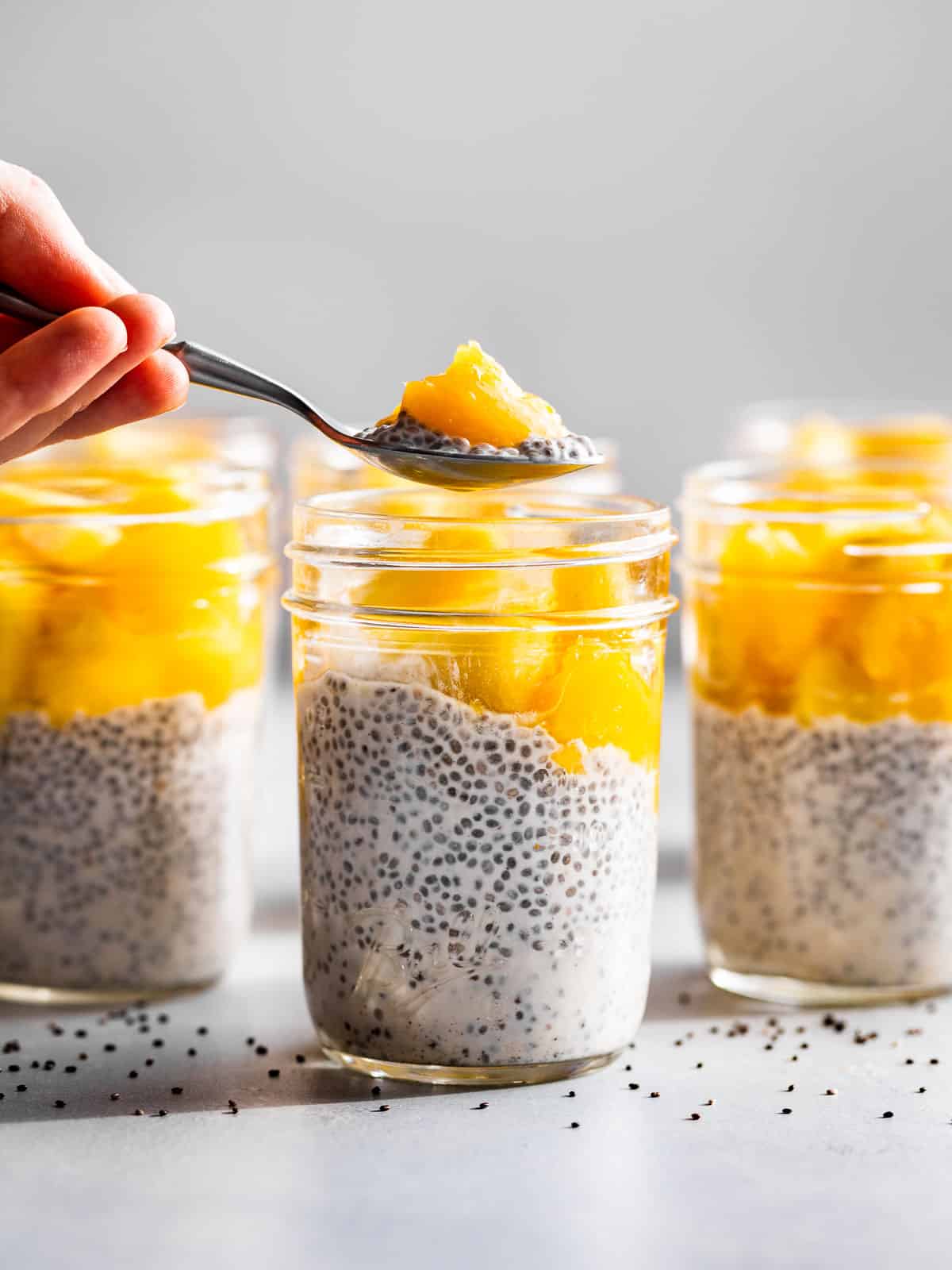 We've been meal-prepping this Creamy Coconut Chia Pudding for over 8 years now, and it simply never gets old. The creamy coconut is so tasty with tropical fruits in the winter. And in the summer months, I love to add chopped peaches or berries! It's a healthy, easy-to-make snack that's really popular with kids as well.
I used to make this recipe mostly for make-ahead breakfasts, but these days more often than not I eat it as a snack. It does make a great breakfast though, especially if you're short on time in the mornings. I've found I do better with protein-packed savory breakfasts. But you could easily add your favorite protein powder or collagen powder to this recipe.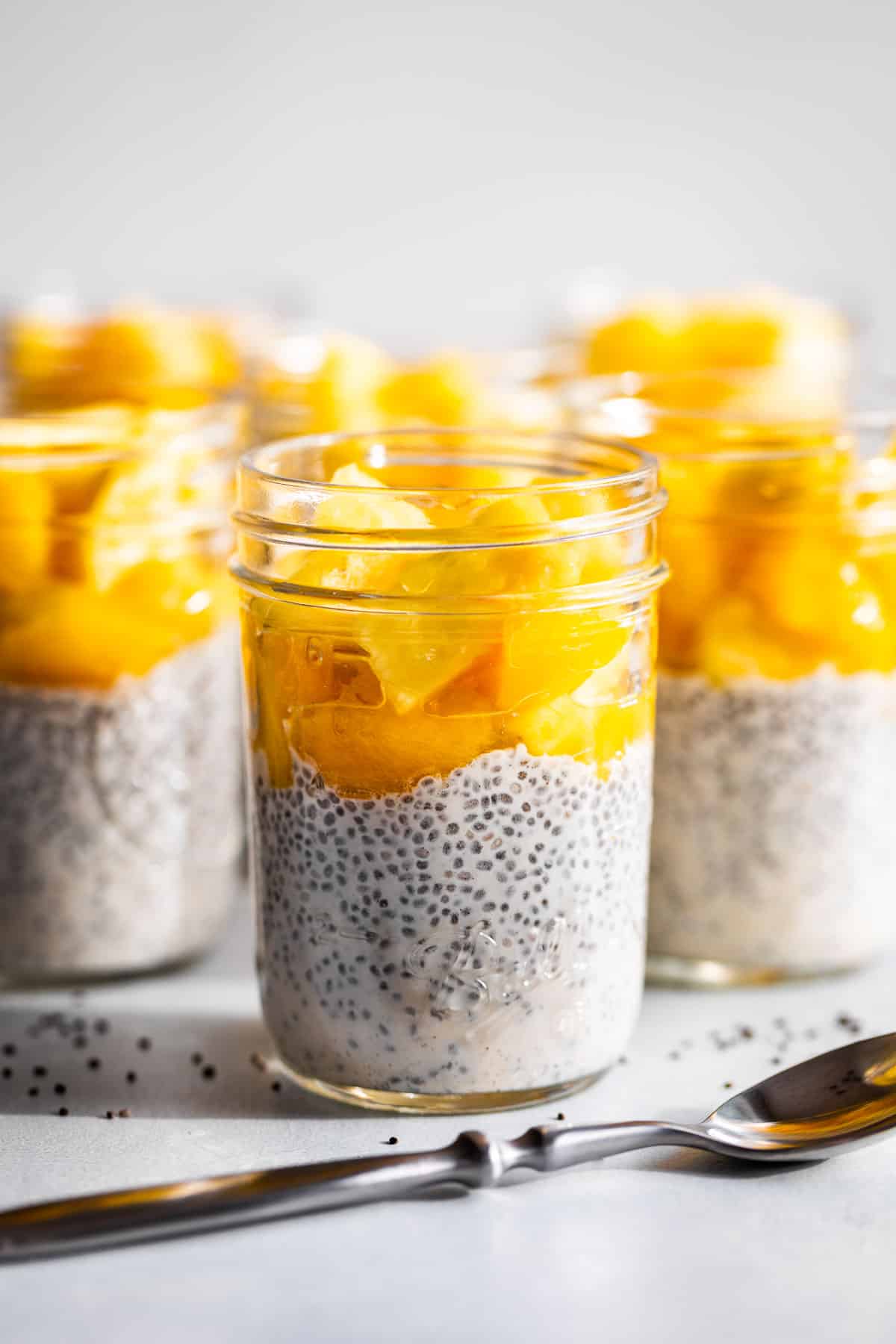 The 1 simple ingredient that makes this chia pudding so addictive is the ground cardamom. It's such an underrated spice, and when you combine it with coconut, magic happens. That combo also happens to be perfectly paired with tropical fruits which is a bonus in the middle of the winter!
Ingredients & Substitutions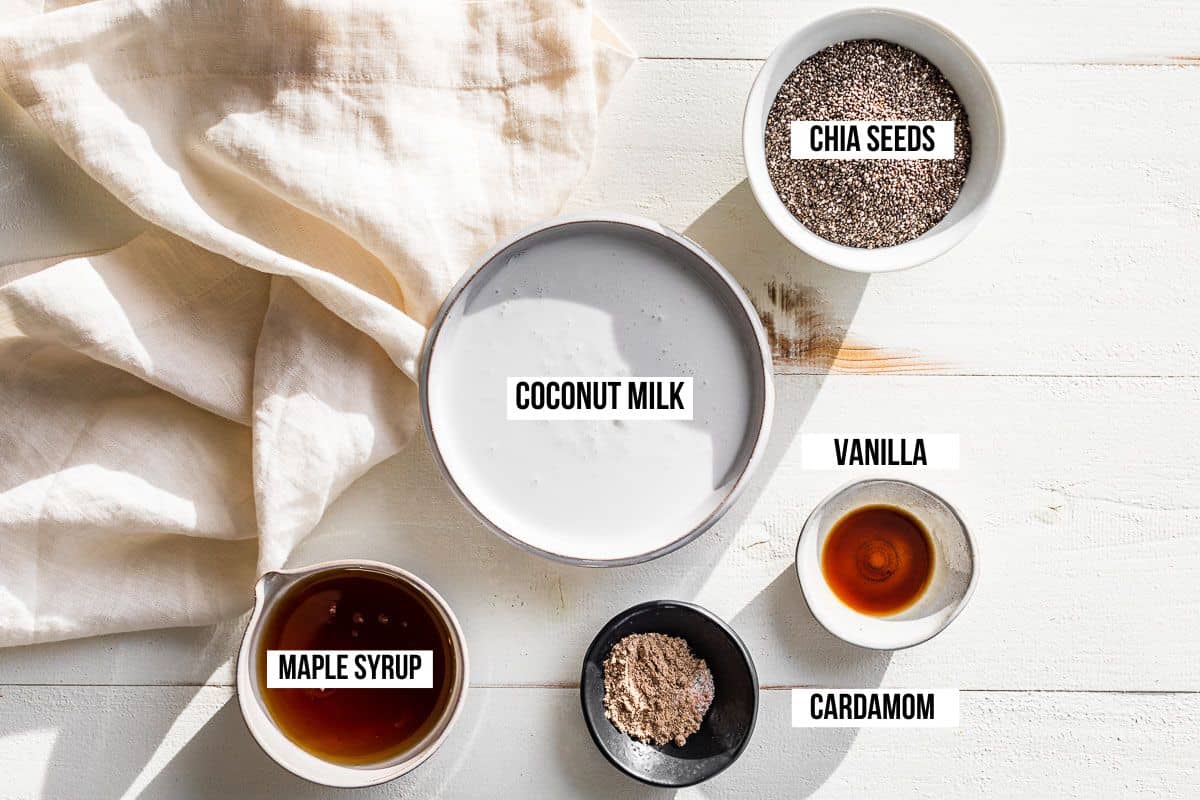 Coconut milk – You definitely want to use full-fat coconut milk, from the can in this recipe. Coconut milk from a carton is really watery and lacks coconut flavor compared to canned. I don't recommend light coconut milk because the pudding isn't as rich, but it does work.
Maple syrup – This is my sweetener of choice because it easily mixes into the coconut mixture. Also, it doesn't compete for flavor as much as honey would. But if you're looking to eliminate sugar you can use any powdered sweetener you like, or simply leave the sweetener out altogether and just let the fruit shine through.
Vanilla – A touch of vanilla extract rounds out the flavors and works together with the cardamom to create a super tasty pudding.
Cardamom – Like I mentioned cardamom has a magic effect combined with coconut milk. But this chia pudding is super tasty and made with cinnamon as well.
Chia seeds – These are definitely essential because they're what thickens the pudding, and they also provide quite a bit of fiber as well!
Fruit – I topped this chia pudding with fresh pineapple and frozen mango chunks. I don't recommend fresh mango unless you're cutting up the mango right before you serve these. Fresh mango turns brown overnight in the fridge, but I've had good luck with frozen. Also, berries and frozen berries are really tasty here. And when fresh peaches are in season, definitely try slicing one up right before piling it onto this pudding.
How to make this recipe step by step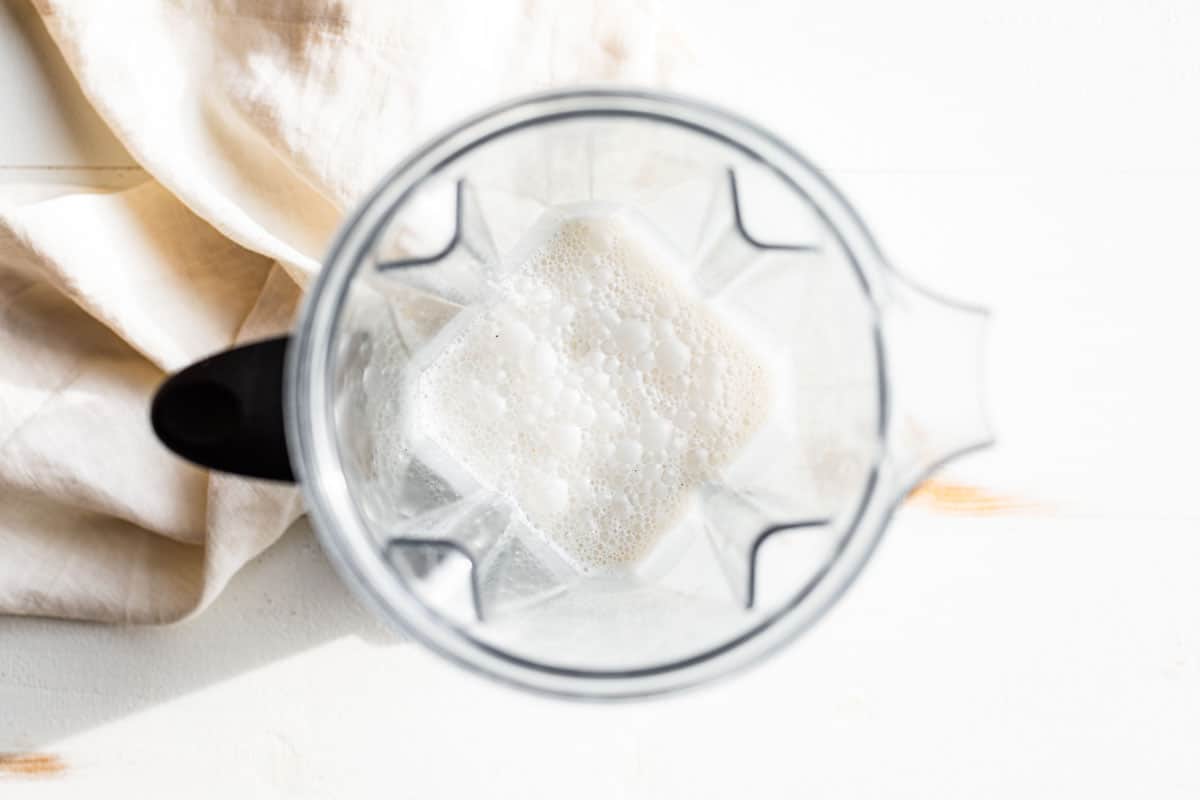 Step 1: We'll start by blending the coconut milk, maple syrup, cardamom, vanilla, and water together with a pinch of salt until smooth. You can also whisk or stir everything together in a bowl.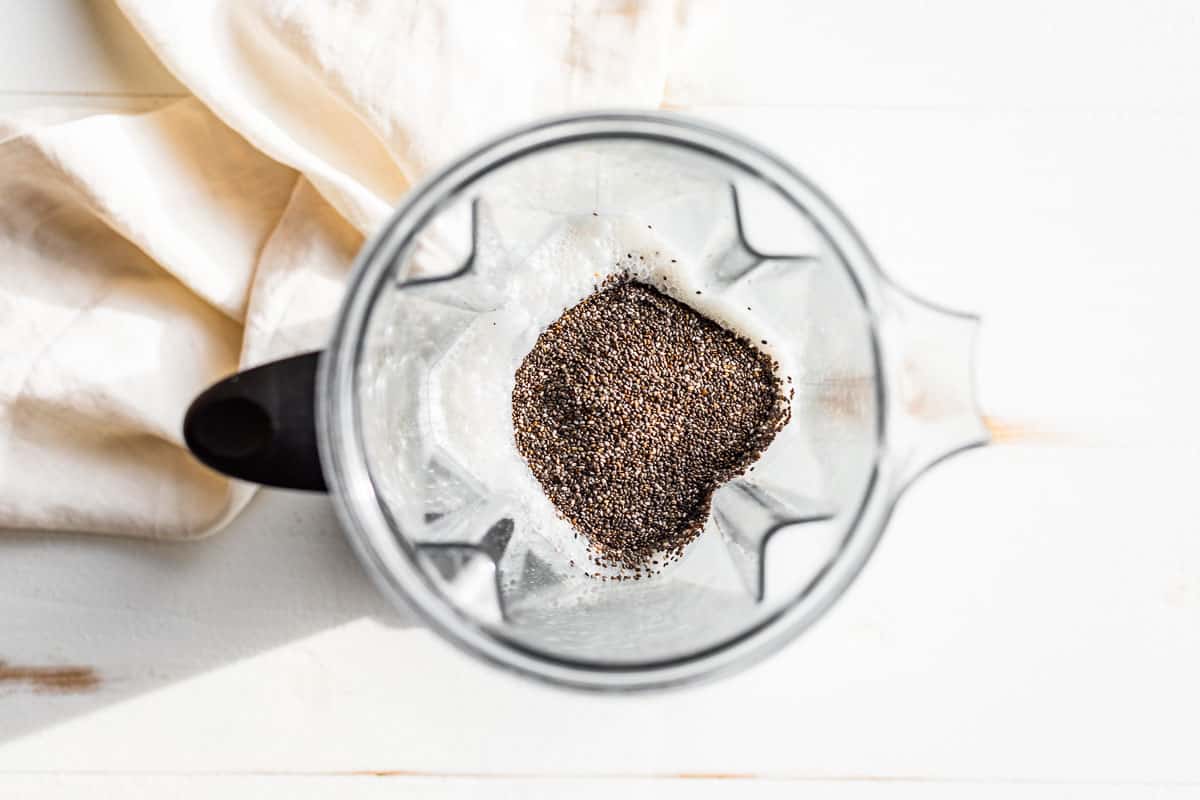 Step 2: Add the chia seeds to the coconut mixture and blend on low just to combine.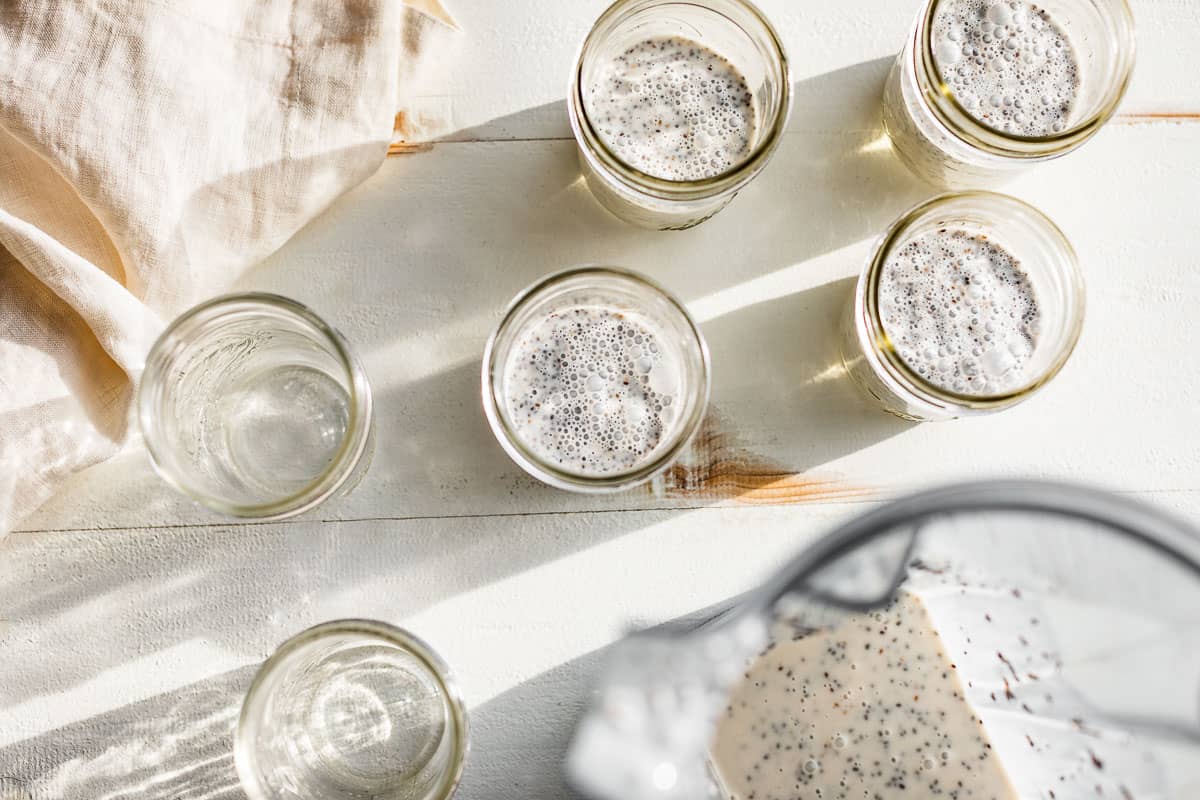 Step 3: Pour the chia pudding mixture evenly into your containers. I like to use 1 cup mason jars for a total of 6 puddings.
Tip: Be sure to pour the chia pudding from the blender right after adding the chia seeds. The chia seeds will begin to thicken right away and stick in the bottom of the blender if you let it sit!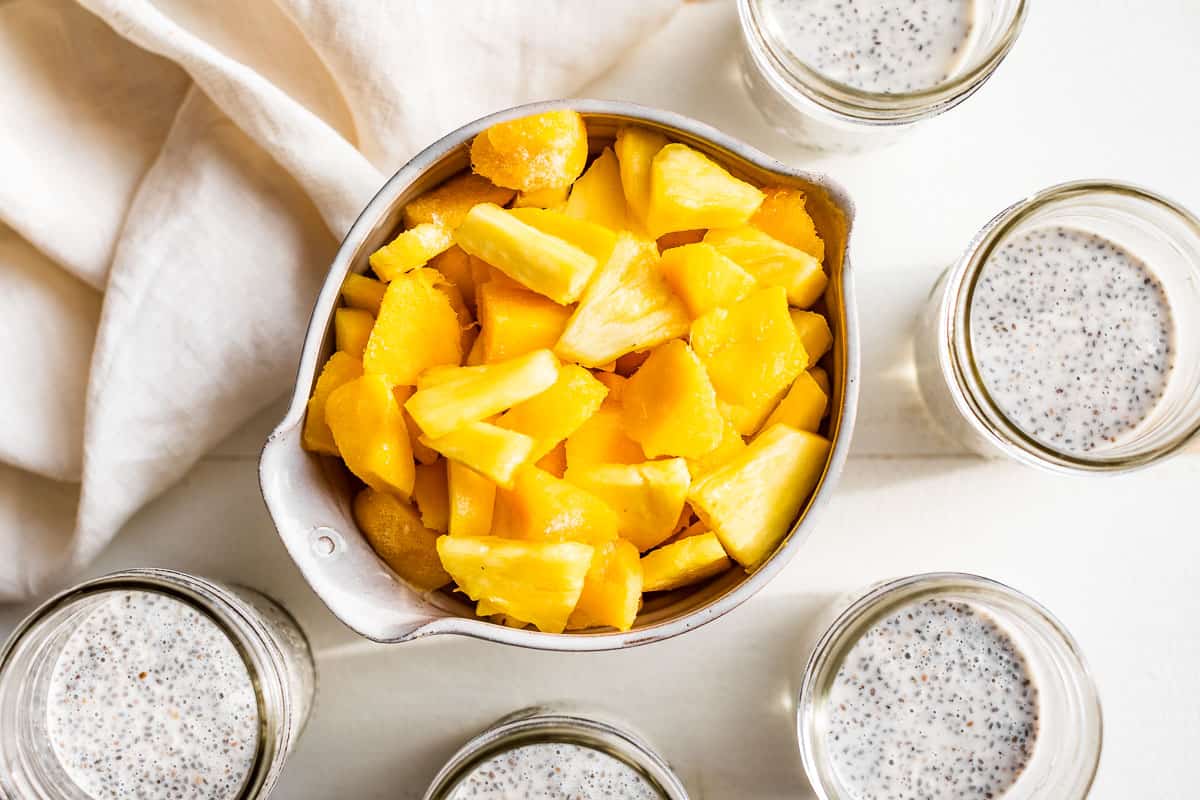 Step 4: Next refrigerate the chia pudding until thickened, 2-3 hours. And finally, top each chia pudding with the fruit of your choice and store it in the fridge for 4-5 days. You can also top the chia pudding with fruit before it's thickened but the fruit will sink a bit.
Note: If you're using the fresh pineapple and frozen mango called for, this pudding will keep for 4-5 days. If you top it with fresh berries, I would eat it within 2-3 days because berries spoil so quickly. Rasberries, blueberries, strawberries, and blackberries are all tasty.
Storing leftovers
To store – These chia puddings keep well in the refrigerator for up to 5 days. This of course depends on the fruit you use as I mentioned above.
Make ahead – these puddings are the perfect meal prep because they will keep for up to 5 days.
To freeze – freeze the puddings in a freezer-safe container for up to 3 months. Defrost and top with fresh fruit. You can also freeze the fruit with the puddings. Defrost the puddings in the fridge overnight before stirring the fruit into the pudding and enjoy!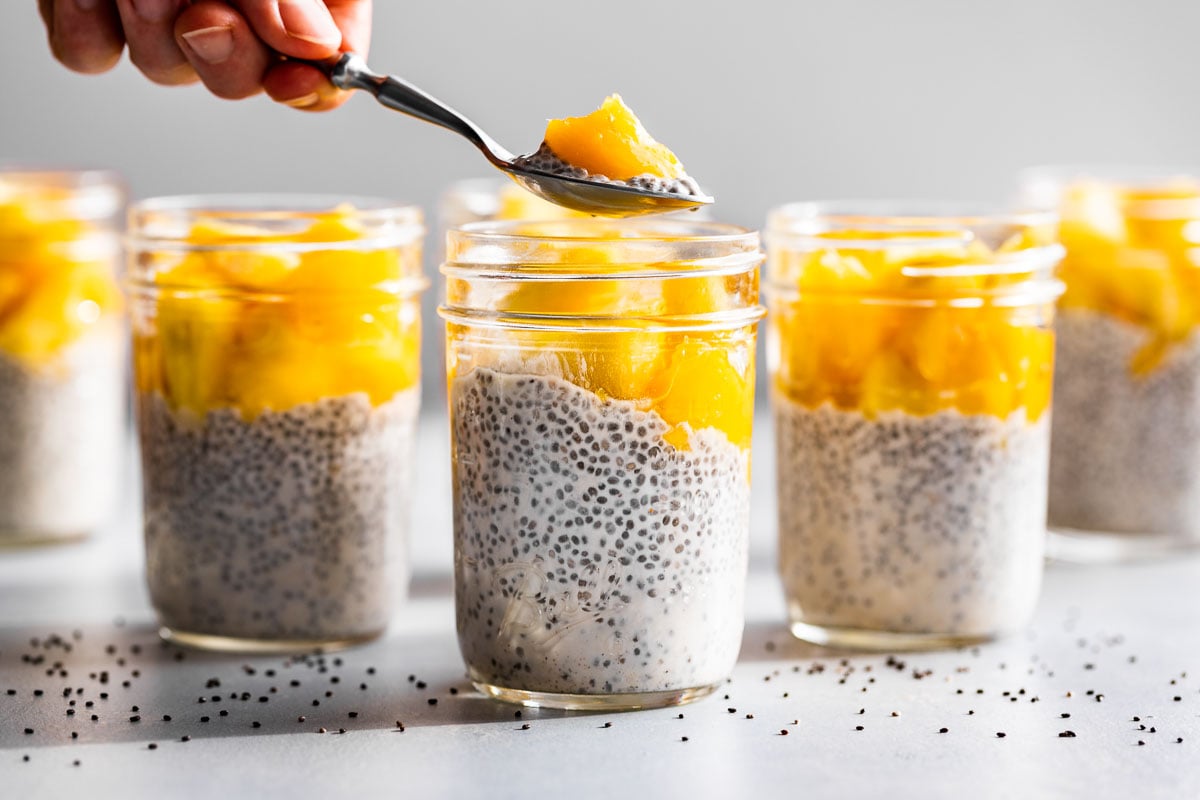 Tips & Tricks
These puddings are very tasty with tropical fruit or berries. But whenever peaches and other stonefruits are in season give them a try as well. Cherries are so good with coconut chia pudding!
I love the cardamom in this recipe, but cinnamon is really good too, so try both.
FAQ's
Why is chia pudding good for you?
Chia pudding has a good amount of fiber in it along with being rich in minerals, Omega-3s fatty acids, and antioxidants. Combine that with the healthy fats from coconut milk and a serving of fruit making this a healthy snack.
What can I use instead of coconut milk?
You can use any kind of milk you'd like here in place of coconut milk. Dairy-free milk like almond milk is thinner than canned coconut milk and the chia pudding won't be as rich or thick. If you're using something besides canned coconut milk, I would omit the water, then add it only if the pudding ends up being too thick.
Do I use black or white chia seeds for chia pudding?
Both black and white chia seeds work for chia pudding. I normally use black chia seeds for this pudding because they're readily available.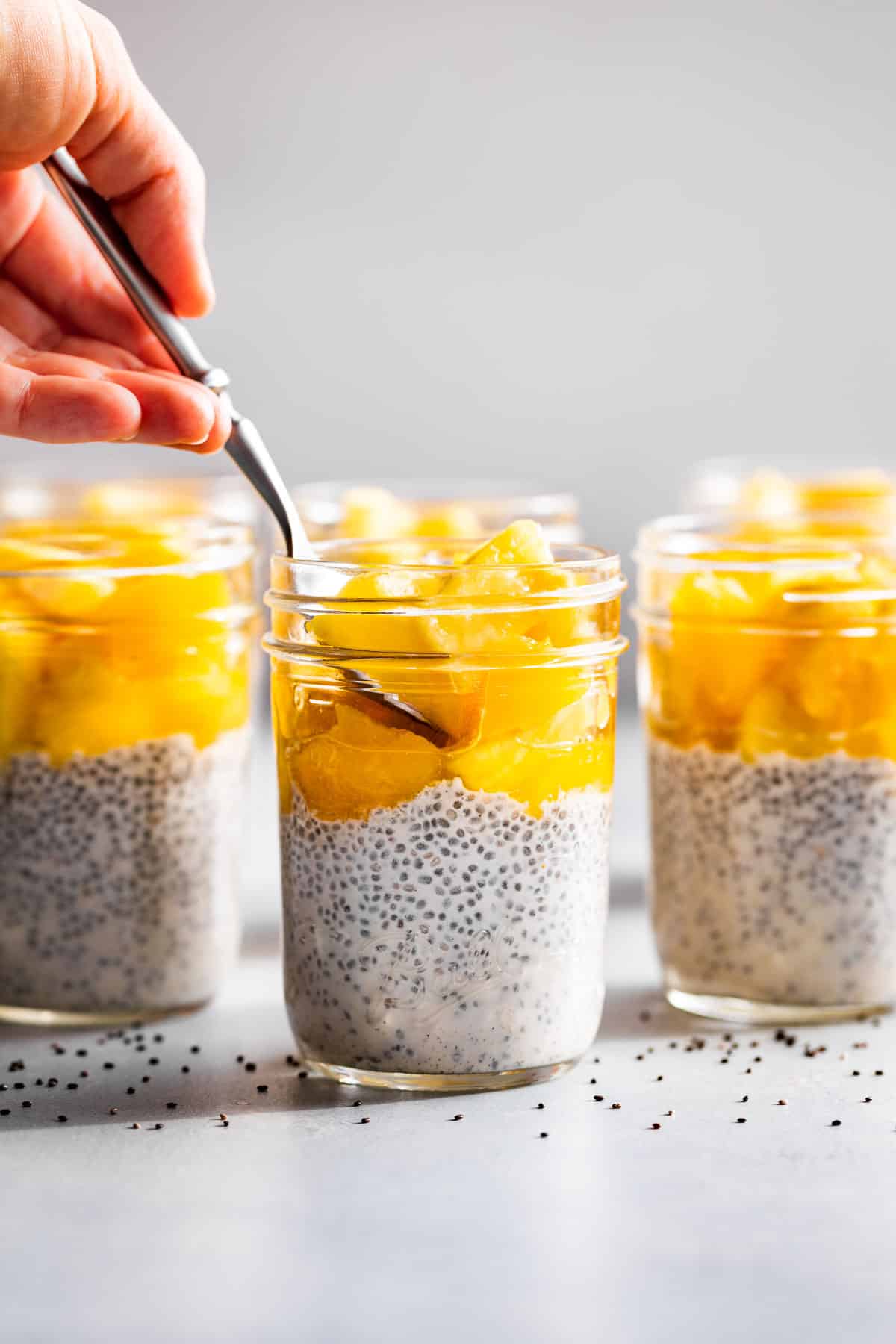 I sure hope you enjoy this Creamy Coconut Chia Pudding. If you do make it, I hope you'll leave me a comment/rating below. I always love hearing from you here!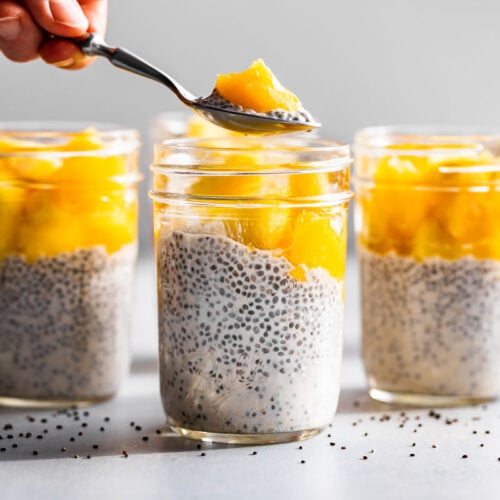 INGREDIENTS
1

can

coconut milk -

13.66 ounces

1/4

cup

maple syrup -

Grade A, adjust the sweetness to your taste

1

tsp

vanilla extract

1

tsp

ground cardamom

pinch

of sea salt

1/2

cup

water

1/2

cup

chia seeds

1 1/2

cups

chopped pineapple

-

or 3 cups fresh berries, see notes

1 1/2

cups

frozen mango chunks
INSTRUCTIONS
Mix together the coconut milk, maple syrup, vanilla, cardamom, and water until fully combined, I used a blender for mine.

Add the chia seeds to the coconut mixture and mix just to combine.

Pour the chia pudding into 6 – 1 cup mason jars, 1/2 cup of pudding per jar.

Refrigerate for 2-3 hours to allow the pudding to thicken. Then top each pudding evenly with the fruit and refrigerate again.

This chia pudding will keep 4-5 days. If you top it with another fruit the time it keeps will vary. Berries tend to keep 2-3 days, and you can also top the pudding with fresh fruit right before serving as another option too.
Bonus Step
If you made this recipe, please leave a rating/comment. Ratings really help us continue to bring you high-quality free recipes. Rate This Recipe!
NOTES
If you don't have or can't find cardamom, cinnamon is really good too!
Instead of the tropical fruit, you can use fresh berries, or make my Berry Sauce with frozen berries.
The serving size is 1/2 cup chia pudding with 1/2 cup fruit.
nutrition facts
Serving:
0.5
cup
|
Calories:
279
kcal
|
Carbohydrates:
29
g
|
Protein:
4
g
|
Fat:
18
g
|
Saturated Fat:
13
g
|
Polyunsaturated Fat:
4
g
|
Monounsaturated Fat:
1
g
|
Trans Fat:
0.02
g
|
Sodium:
14
mg
|
Potassium:
347
mg
|
Fiber:
6
g
|
Sugar:
18
g
|
Vitamin A:
478
IU
|
Vitamin C:
36
mg
|
Calcium:
127
mg
|
Iron:
3
mg
This recipe was originally published in 2013, but has been updated in 2023 with more tips, information, nutritional facts, and new photos.