This Grapefruit Ginger Body Wash is a super easy DIY that you can make in just a few minutes. It's 4 ingredients and you simple whisk them together, pour into a bottle, and you're ready to go. Plus it smells so good!
Do you ever look at the label on the back of your bathroom products? I feel like my strategy used to be along the lines of 'if is says natural or organic, I'm probably alright'!
But we're beginning to find out, that's really not the case. As it would happen, there's this thing happening called 'green washing'. This is where some companies use buzzwords like 'natural' to make their product more appealing, even though they're anything but natural.
I mean… if your body wash says 99.3% natural – how bad can it be? The answer to that question will likely go unanswered for the foreseable future. But I do know that my skin is super sensitive, and seems to react to pretty much every product I've ever bought.
And that's where this Grapefruit Ginger Body Wash recipe comes in. It's super simple to make, and it truly fits the definition of all natural.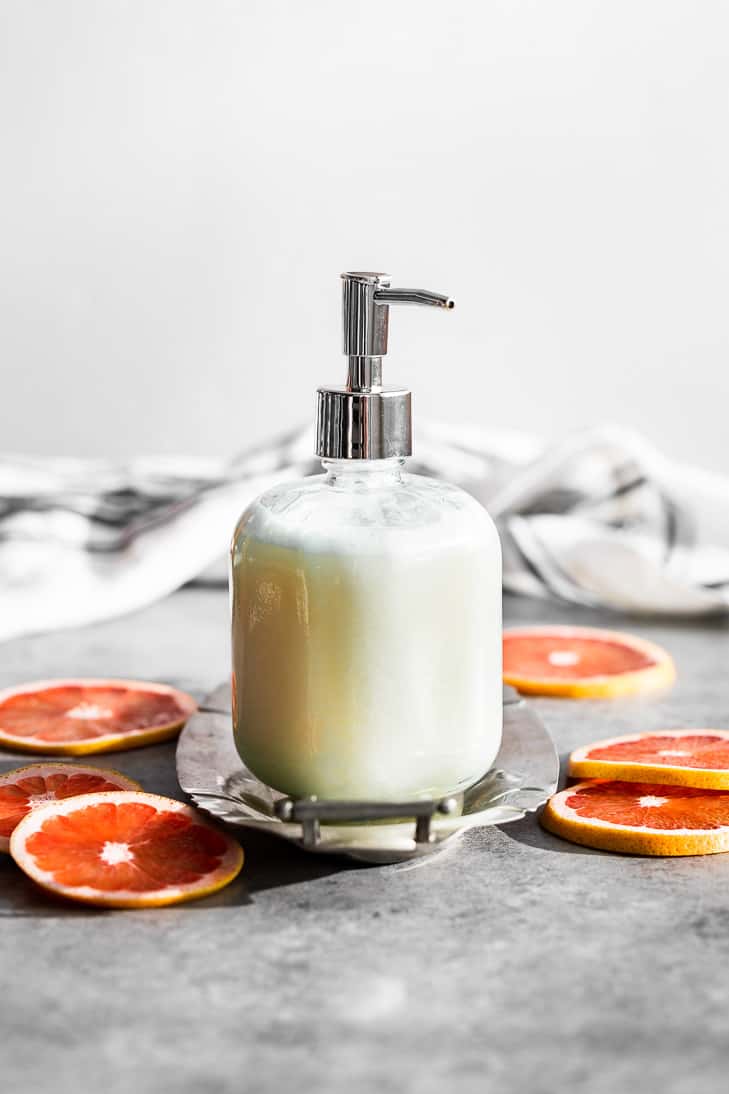 So let's just take a minute to talk about the ingredients
Castile Soap – I use Dr. Bronners unscented mild baby castile soap for all my body wash recipes. I like how gentle it is, and unscented means we get to add whatever essential oils we're in the mood for!
Aloe Vera Gel – Castile soap is on the concentrated side, so I like to dilute it in this recipe with aloe vera gel. This also means you get a moisturizing boost which is welcome. Also if you're looking for even more moisturizing, check out my Moisturizing Mint Body Wash. You can just change up the essential oils in that recipe for grapefruit and ginger if you'd like!
Water – Again this ingredient is just to dilute down the castile soap, but you can leave it out for a thicker and more concentrated body wash. My husband works construction, and so a more concentrated version works better for him. You can always mix up this recipe leaving the water out, then add later it if you would like.
Essential Oils – The sky's the limit here, and you can use whatever essential oils you love, even though this recipe is for a grapefruit ginger combo. I just love citrus essential oils in my body wash, but mint, lavender, eucalyptus etc. are all delicious smelling too!
Ok now let's jump in and make this Grapefruit Ginger Body Wash step by step!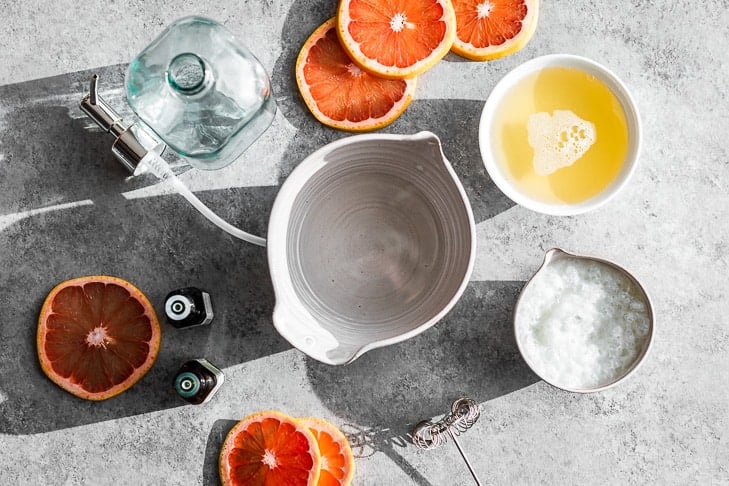 Step 1:
First up we're going to measure out all of the ingredients.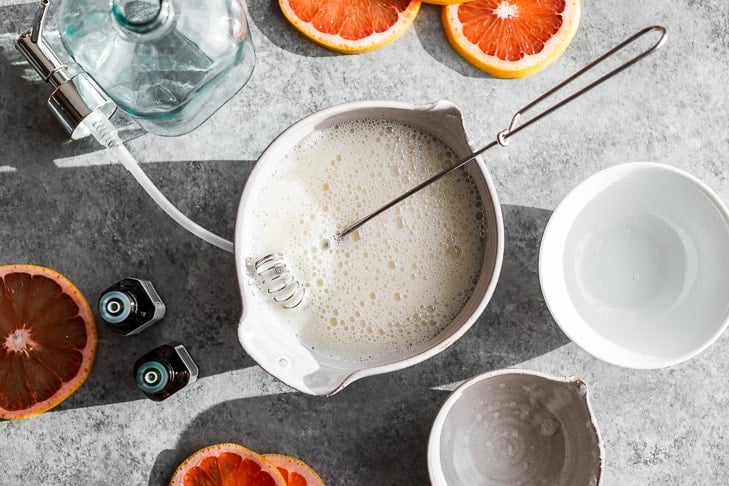 Step 2:
Then whisk together all of the ingredients until smooth.
Step 3:
Use a funnel to pour the body wash into a pump dispenser bottle and use within 3 months.
Note: If you've never used castile soap before, you might be surprised that it doesn't feel like what we think of as 'normal' soap. It doesn't have any of the usual chemicals in it that causes film to be left behind on our skin making it feel like it's moisturized, (hair products do the same thing).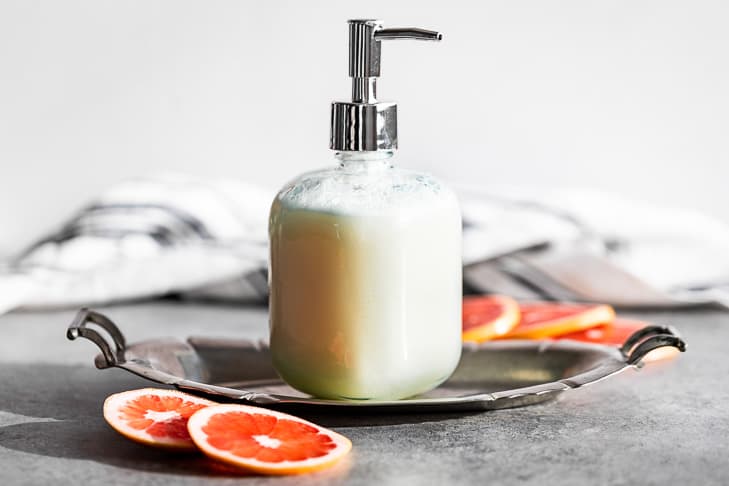 With castile soap, you get that squeaky clean feeling on your skin. But it doesn't seem to leave my skin dry like other soaps do. Even so, I always use a moisturizer after using soap.
We do live in a dry climate that's extra harsh on the skin during the winter months. So it's been wonderful having a homemade and gentle body wash combined with my favorite Easy Buttercream Lotion!
And for even more homemade DIY recipes, head over to our DIY section where you'll find lots of inspiration! I sure hope you get a chance to make this body wash soon. If you enjoy this homemade recipe, you may also like my Moisturizing Mint Body Wash.
And if you do, I hope you'll leave me a comment/rating below. I always love hearing from you here in the comments. And also over on Instagram where you can tag me at #getinspiredeveryday with your photos!
Print
Grapefruit Ginger Body Wash
---
1/2 cup castile soap, I used Dr. Bronners mild, unscented baby soap
1/2 cup aloe vera gel
1/2 cup water, optional
1 Teaspoon grapefruit essential oil
1–2 drops of ginger essential oil
---
Instructions
Whisk together all the ingredients in a bowl, or lightly shake them together in a glass jar with a lid.
Using a funnel, pour the body wash into a clean container with a pump spout.
This body wash does separate as it sits, simply shake it back together before using.
I've found this body wash keeps for at least 3 months, but this may vary depending on your location and the temperature. 
You can split it into 2 containers and refrigerate 1 until you've used up the first one to extend it's shelf life
Prep Time:

10 mins

Category:

DIY

Method:

Mixing
Keywords: Homemade Body Wash, DIY Body Wash, Body Wash Recipe
This body wash recipe was originally published in 2015, but has been updated in 2021 with more tips and photos.