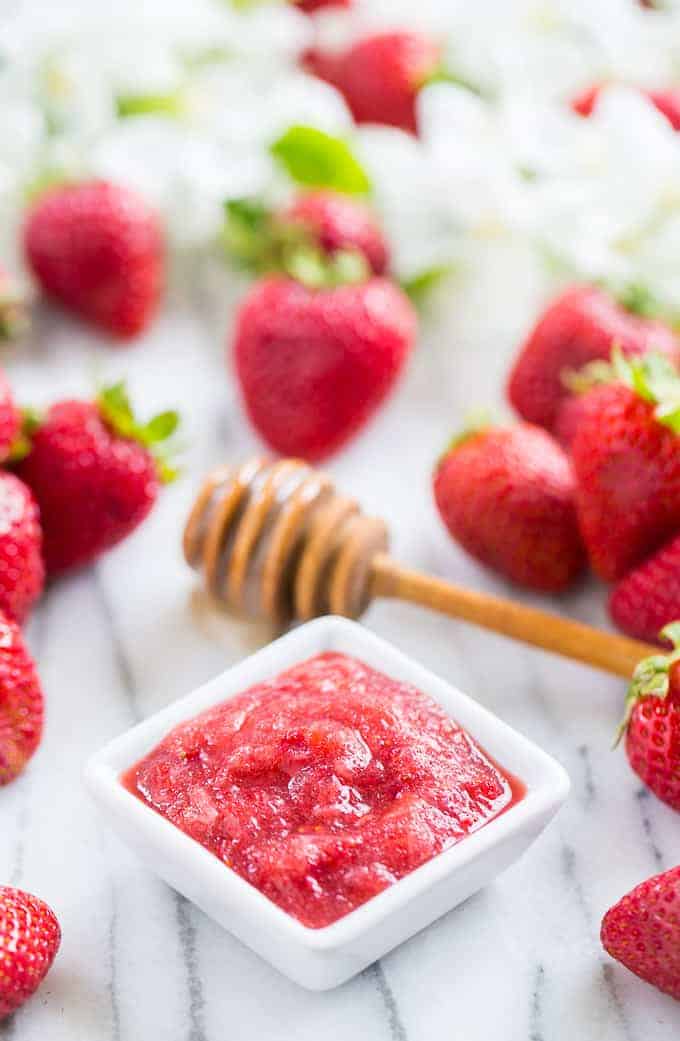 Strawberries and honey together make an amazing and easy facial treatment! Strawberries contain multiple acids that help to get rid of dead skin cells and tighten your pores, while honey is antibacterial, cleanses, and helps your skin stay properly moisturized. And if that wasn't enough already, there's a little gelatin in there which also helps to tighten and smooth your skin as well.
Most weeks I use a single ingredient facial treatment like my Pineapple Facial or this Honey Massage Facial, but every once in a while I like to mix it up with something seasonal. The thing I notice the most about this mask is it's ability to even out my skin tone.
My skin is super sensitive and it doesn't take much for me to get a rash, a little dirt swiped across my face while gardening, or my husband's whiskers are definitely enough to make a red splotchy patch that takes hours or a day to disappear. I had just such a red patch next to my right eye after working several days in the garden, and after using this mask, my skin was smooth and even toned with no visible rash left!
What to do: Take a small strawberry and mash it up as smooth as possible with a fork, then stir in 1 Teaspoon of honey and 1/4 Teaspoon of gelatin. The mask should sit for about 10 minutes to thicken before applying it to your face.

Keep the mask on your face until it starts to dry and becomes slightly itchy before washing it off. Proceed with your normal beauty routine after a thoroughly rinsing. I like to apply an astringent like Humfrey's Witch Hazel and follow it up with a moisturizer – either this Easy Buttercream Lotion or coconut oil.
This might be a strange tradition, but every spring I'm always filled with a sudden desire to cleanup my life, and get back to square 1 so to speak. I like to start with a Spring Decluttering, followed by a mini 'spa day' or I should say 'spa hour' where I do a sugar scrub, followed by my Lemon Cream Body Butter while sipping my favorite Strawberry Spa Water, and finish it all up with this strawberry facial mask.
To complete the day, I like to make something on the lighter side like my Strawberry Mango Spinach Salad with Creamy Basil Dressing for dinner. There's just something about the combination of diving into tasks that I've been avoiding for awhile, and taking time for a little extra TLC, that both revives me and helps me stay motivated in the days to come!
Print
Strawberry Honey Facial Treatment
---
Description
Fresh strawberry combined with honey makes a wonderfully mild and soothing facial treatment that's hydrating as well.
---
1 small fresh strawberry, or 1/2 of a large berry
1 Teaspoon honey
1/4 Teaspoon gelatin
---
Instructions
Thoroughly mash the strawberry with a fork before stirring in the honey and gelatin.
Let the mask sit to thicken for about 10 minutes.
Apply the mask to your face, you may not need it all depending on the size of your berry, and you can refrigerate the extra, and use it again the next day. Let the mask dry on your face until it becomes slightly itchy, about 10 minutes.
Rinse the mask off, and pat your face dry. Proceed with your usual skin care routine, I use Humfrey's Witch Hazel and a moisturizer to follow.
Keywords: Fruit Facial Treatment, Strawberry Facial Mask, Strawberry Honey Mask