This DIY Homemade Pineapple Facial is naturally exfoliating without abrasion, which makes it wonderful for sensitive skin!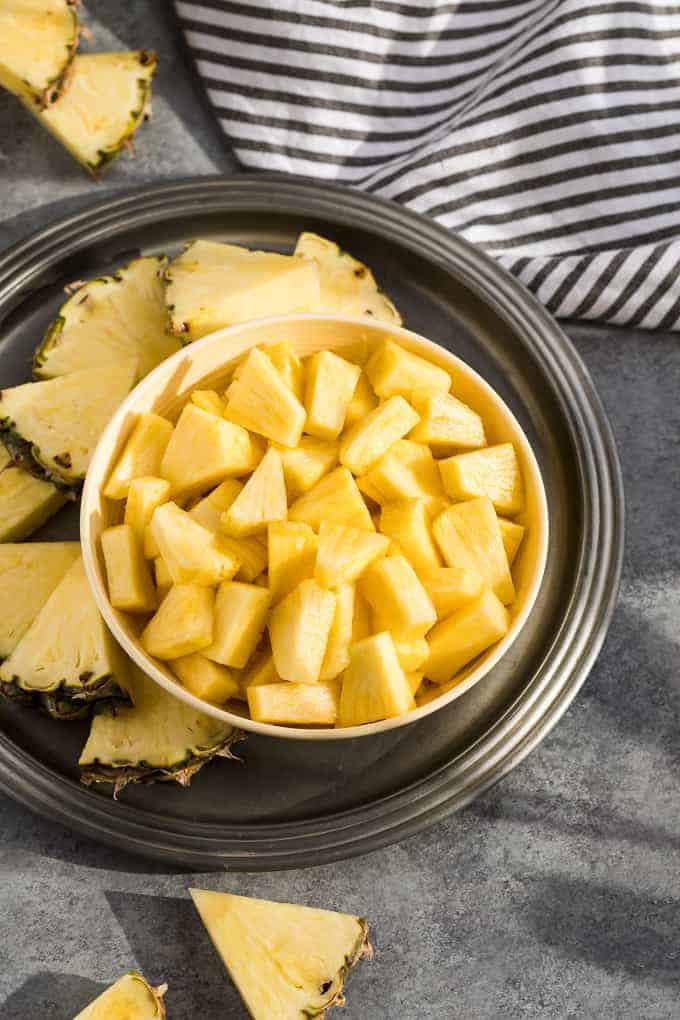 This is the quickest and easiest facial treatment I've ever tried with the most dramatic results. Normally, a full spa style facial takes a good 45 minutes between the scrub, mask, steam, toner, and finally moisturizing.
For that reason, I can't remember the last time that I did a full facial, maybe last fall sometime. But if you do have a bit of time, you can try out this post about How to do a DIY At-Homemade Facial for gorgeous glowing skin.
Between full scale facials I have been relying on this pineapple facial and my baking soda treatment for exfoliation a couple times a week. By combining these two treatments I have been able to keep my skin clean and exfoliated without soap for several years now. In between exfoliation treatments, I use this Facial Oil Cleansing Method for day to day cleansing.
Ever since I have started using this pineapple treatment a couple of times per week, my skin has become smoother, more even toned, and my pores have visibly shrunk. This treatment even makes discernible progress on fine lines.
I was worried at first this treatment might irritate my skin because pineapple juice is acidic but it's actually anti-inflammatory. However each person is different, so I would recommend, as with all treatments, to do a spot test if you have troublesome skin. My skin is really sensitive to any store bought products, and I've never had a problem with this pineapple mask, but this is a highly individual thing.
So why does this work?
The answer is bromelain, an enzyme found in pineapple that is similar in characteristics to the papain enzyme found in papaya. These enzymes break down protein, this means that the mask exfoliates the dead skin from the surface of your face without the use of abrasive ingredients, leaving your face fresh and glowing. This treatment hinges on the live enzymes so the pineapple has to be fresh, canned pineapple won't work.
Interesting Note: There are recent studies emerging about the potential anti-inflammatory effects of pineapple and I have found this to be the case with my skin. It has proved to be a gentle all around treatment from cleansing to exfoliation.
DIY Homemade Pineapple Facial
What to do:

Take a small piece of pineapple, 1″ by 1″, and rub all over your face, taking care around the eye area. Wait 5-10 minutes until the mask dries. Next, jump in the shower to rinse, and for a quick mini face steam. When you get out of the shower, follow with your choice of moisturizer.

All in all this treatment requires no more than one minute to put on your face, making it the perfect easy solution to more time consuming treatments.
I hope you'll enjoy this extra easy facial treatment as much as I do, and be sure and let me know in the comments what your favorite facial is!