Like buttercream frosting for the skin, this Whipped Body Butter is so easy to make! It's just 3 ingredients and you can customize it to your preference using your favorite essential oil. The shea butter combined with the shea oil makes the perfect deep moisturizer, nourishing to keep your skin super smooth.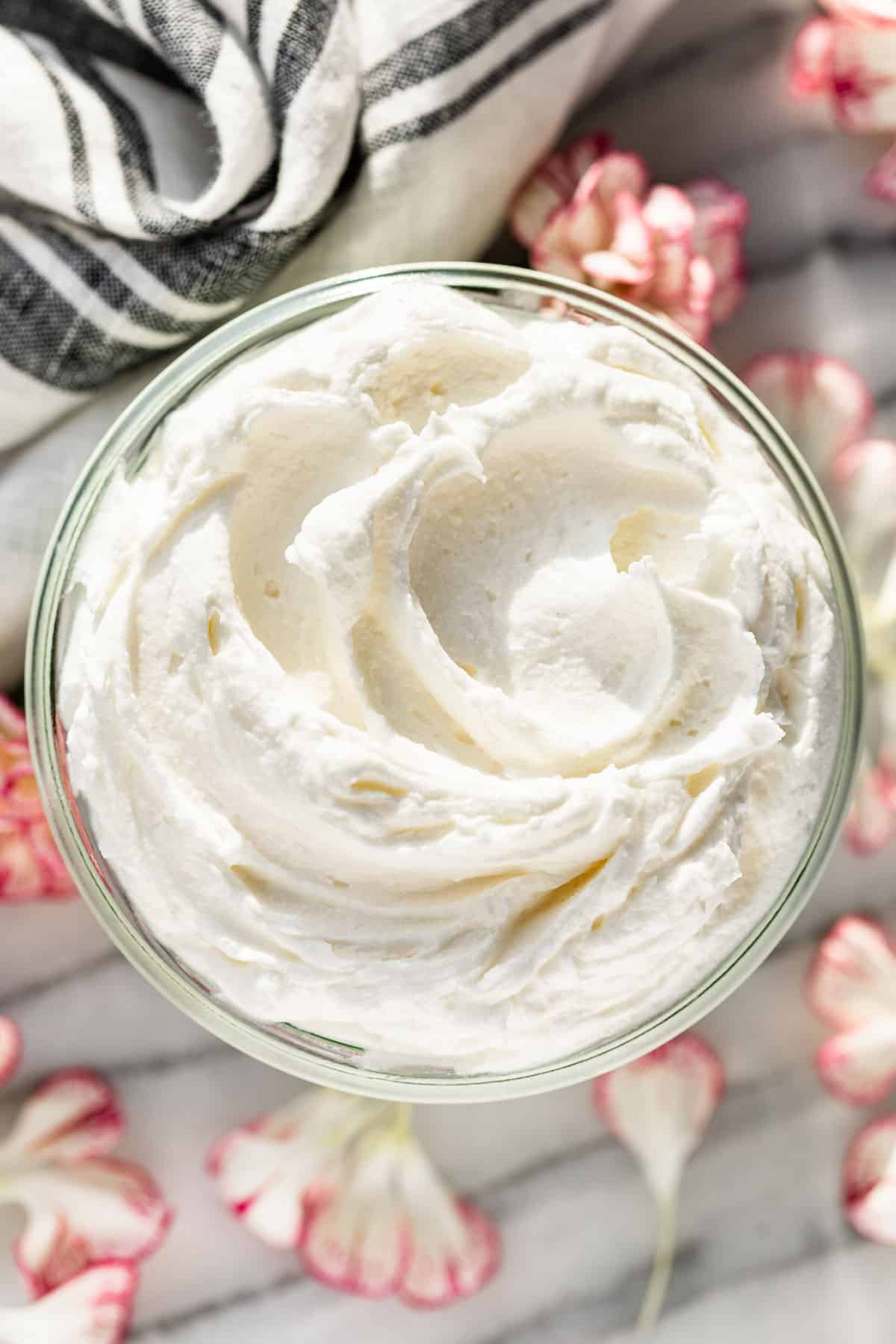 This basic homemade Whipped Body Butter is one of those recipes you need on hand at all times. It's the best thing I've ever used to keep my skin super smooth, even during the dry winter months.
I also kept this recipe super simple with just 3 ingredients. However you can add your favorite essential oil to customize the scent however you'd like. Also be sure to check out the option to make this with just 2 ingredients below in the recipe.
Shea butter combined together with shea oil make the best textured body butter. I truly wasn't exaggerating above when I said it's like buttercream frosting for the skin.
This body butter whips up to be fluffy and light and goes onto your skin like a dream. It also makes an incredible homemade gift! It's made without arrowroot powder, cornstarch, or tapioca starch, so it's just pure moisturizing for you skin and a little goes a long ways.
Whipped Body Butter Recipe Ingredients
Shea butter – combined with shea oil makes the best textured whipped body butter. I have tried cacao butter but the texture isn't nearly as fluffy. I haven't tried mango butter in this recipe, so I'm not sure if it would work. Don't sub in coconut oil because it doesn't have the right texture.
Shea oil – adds just the right amount of smoothness to the more solid shea butter. The two together create a silky smooth body butter.
Jojoba oil – I love to use vanilla jojoba oil which is vanilla essential oil in jojoba oil as a carrier oil. You can also use regular jojoba oil or substitute with shea oil. You can also use any carrier oil you'd like such as sweet almond oil. Avocado oil also works and is a nice source of Vitamin A and Vitamin E.
Step 1: Start by melting the shea butter together with the shea oil over low heat in a small saucepan. You can also do this in a double boiler, but if you use low heat and don't walk away, it isn't necessary.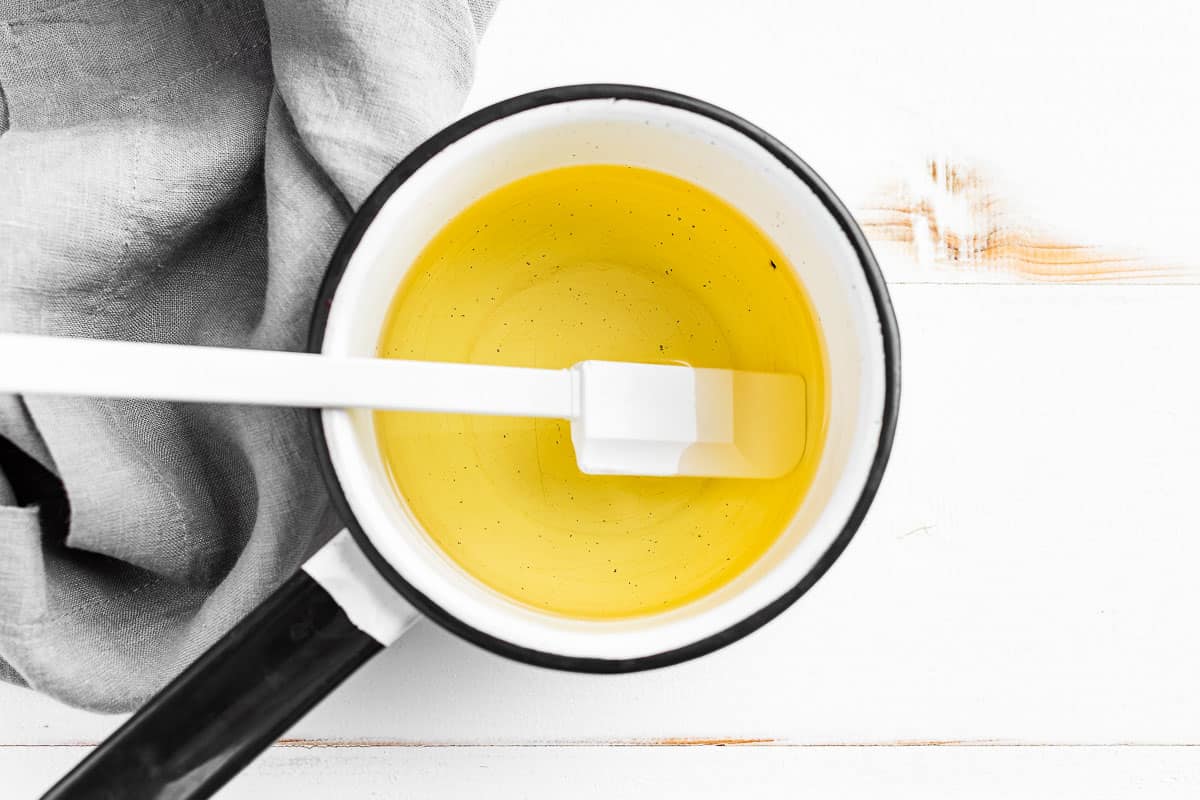 Step 2: Melt the shea butter and shea oil together until liquified, but not hot.
Remove it from the heat and add the vanilla jojoba oil.
Note: If you'd like to add essential oil, stir in drops until it smells the way you'd like during this step. 20-30 drops usually does the trick!
Step 3: Next chill the body butter mixture stirring constantly over an ice bath. Chill a mixer bowl in the fridge at the same time.
You will see the body butter begin to thicken as you stir it over the ice. Be careful not to chill it too much or it will begin to harden into lumps.
The safest and easiest option is to let it cool to room temperature naturally. But if you're in a hurry like me, just stir it constantly until it becomes opaque.
If for any reason the shea butter becomes grainy, simply remelt it and let it cool to room temperature before trying to whip it.
Step 4: Next transfer the chilled body butter into the chilled mixer bowl.
Chilling the mixing bowl really helps the body butter fluff up when you whip it.
Step 5: Whip the body butter until light and fluffy, about 2-3 minutes with the whisk attachment.
Important Note: if the body butter isn't getting fluffy, chill it in the refrigerator for another 15 minutes, then try mixing it again. Repeat as necessary until it fluffs up!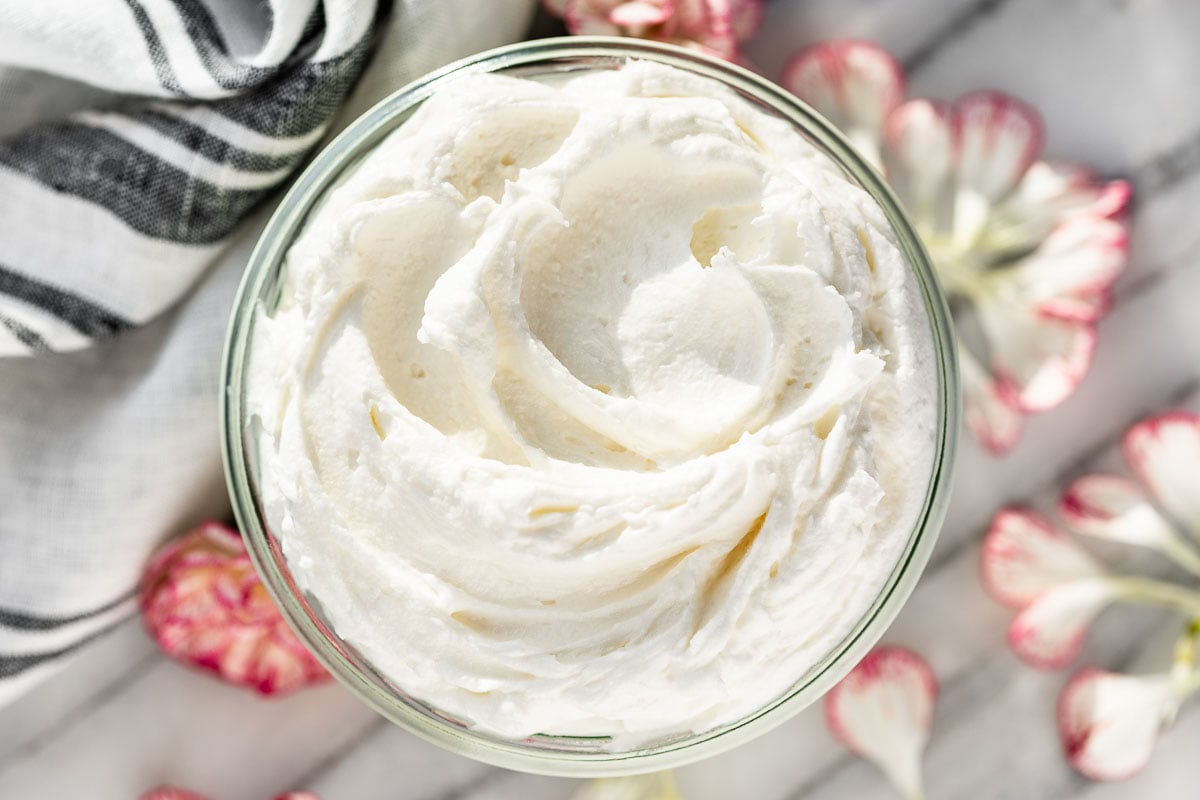 Step 6: Transfer the finished body butter to a clean container and store in a dark place. Use within 3 months.
FAQ's
How do I get fluffy body butter?
You want to use the exact ingredients in the recipe for the fluffiest texture, and beat it with the whisk attachment of an electric mixer. If it's not fluffing up, it needs to be refrigerated a bit more.
How to avoid grainy shea butter?
Combing the shea butter with shea oil keeps it from getting grainy. Also allow the body butter to chill on its own to room temperature for the best stability.
Can I use this body butter on my face?
Yes but do be careful about adding any essential oils, and what type of skin you have. To be on the safe side I wouldn't add any kind of essential oils at all, and steer clear of citrus essential oils which can be irritating to some. Also this is very moisturizing. I have oily skin, but still love to use this on my face in the evening. I've found it to be perfect for wrinkle prone areas of skin!
Why is my body butter greasy?
This body butter is very fluffy at room temperature but will melt into pure oil on your skin. You want to apply it lightly and give it time to sink in. If your room temperature gets too high the body butter may melt.
Tips & Tricks
I don't use preservatives and this lasts for at least 3 months. One way to keep homemade body products from spoiling is to keep you hands out of them. Try spooning out some body butter rather than scooping it out with your fingers.
Try making a bigger batch and give jars of this body butter away as a gift.
Add essential oil just until it smells good to you! For some oils like citrus, 20-30 drops works well. For stronger oils, less is better. Try adding some drops lavender essential oil just until it smells right to you. Peppermint essential oil is another one where a little goes a long ways!
More DIY recipes to make
I really hope you enjoy this Whipped Body Butter! It's my go-to to keep my skin smooth all year round, but especially in the winter months. If you do get a chance to make it, I'd love to hear from you in the comments below.
INGREDIENTS
6

tablespoons

shea butter

6

tablespoons

shea nut oil

1

tablespoon

jojoba oil

-

see notes, I use vanilla jojoba oil

Optional: 20-30 drops essential oil of your choosing
INSTRUCTIONS
Melt the shea butter and shea nut oil in a small pot over low heat until the mixture is liquid oil, but not hot.

Remove the pan from the heat and stir in the jojoba oil and drops of essential oil if desired.

Allow the liquid body butter to cool to room temperature. Or you can place it over an ice bath and stir constantly until it turns opaque.

Be careful not to over-chill it or you will get lumps. If this happens just let it sit at room temperature for a couple hours.

When the body butter is no longer clear and has begun to set, refrigerate a mixing bowl for 10 minutes. Then place the body butter into the mixing bowl and using a stand mixer or hand mixer, beat until fluffy.

If the body butter mixture isn't getting fluffy enough, it should have the consistency of buttercream frosting, chill it in the fridge again for 15 minutes. Then beat again until it's white and fluffy. 

Transfer the finished body butter to a glass storage container, and use within 3 months. The shelf life of this body butter is best when it's stored in a cool dark place like on a shelf in a cupboard, or in a drawer.
Bonus Step
If you made this recipe, please leave a rating/comment. Ratings really help us continue to bring you high-quality free recipes. Rate This Recipe!
NOTES
I like to use vanilla jojoba oil which is vanilla essential oil in jojoba as a carrier oil. It adds a wonderful scent to this body butter much like a buttercream cake frosting.
You can also omit the jojoba oil, and use sweet almond oil, avocado oil, olive oil, or 1 additional tablespoon of shea nut oil making this recipe just 2 ingredients!
You can use any essential oil you'd like to scent this Whipped Body Butter. I use 20-30 drops, but customize to the amount of scent you'd like. Citrus oils are nice if you don't use this one your face, like lemon, lime, and wild orange or bergamot as well. Lavender essential oil or even a small amount of peppermint are all great along with blends like pumpkin spice.
This body butter is even easier to whip in a stand mixer if you double the recipe.
This recipe was originally published in 2022, but has been updated with more tips and information as well as new photos in 2023.