Cobalt Ridge and Cobalt Lake in Bugaboo Provincial Park is often overlooked, but the scenery is absolutely incredible, and not to be missed!
Day 1 of our trip hiking in the Canadian Rockies, I took you along on our adventure to the aptly named, Lake of Hanging Glaciers. And now today we're heading into Bugaboo Provincial Park to hike Cobalt Ridge and Cobalt Lake. It was definitely an eventful day, and the whole story is below. But first let's talk about the pertinent details.
First up, the Bugaboo's fondly referred to by the locals as the 'Bugs' are primarily a climber's destination. But there are at least 2 hikes we know of, and I'm going to take you along today on the first one we did. Cobalt Lake is an often overlooked destination since most people making the drive in there, are headed for some world class climbing.
However since I knew the road was terrible to get into the Bugaboo's, I wanted to do more than 1 hike while we were there. We already had reservations for the Conrad Kain hut, (which will come as days 3 & 4 of this trip).
So while looking around online for things to do in the area, I stumbled across a photo of Cobalt Lake that made me think there had been some mistake in the tagging since it looked like you stepped straight into Patagonia. When Tyler got home that day, I showed him the picture, and it was immediately clear we were both super excited to add this one to our list.
Sadly I don't have any of those dramatic photos to show for our hike into Cobalt Lake. The clouds were mistily hanging over the tops of those Patagonia-like peaks, and they never came into view. But even so, I have to say the views were still dramatic, and I do have hopes of coming back, (more on that in the story below).
Everything you need to know about Cobalt Ridge and Cobalt Lake in Bugaboo Provincial Park:
Elevation gain: sources vary on the specs of this hike but to the best of our knowledge, it's about 3,200'.
Mileage: again sources vary, but it seems as though 10 miles is the common consensus.
Trailhead: Cobalt Lake trailhead is located about 1.6 km from the end of Bugaboo Forest Service Road. If you reach the lodge, you've gone too far. Turn back and look for what now will be a left hand turn as the road gains elevation up towards the parking lot for the Conrad Kain Hut. The pulloff for Cobalt Lake isn't far up this road, but it's very rough and it will take a bit. The parking is very limited, with room for 3-4 vehicles in what amounts to the ditch. There wasn't enough chicken wire for our vehicle by the time we got there, so we went without. From what I understand this is more of a precaution during daylight hours as the porcupines you're trying to keep away from your vehicle are mostly nocturnal.
Basic Facts and Tips:
Off the grid! You're going to be way out of cell phone reception, and all that means! Basically, you need to be prepared to be completely self sufficient. The Bugaboo's have more traffic than what I described in the Lake of Hanging Glaciers. We saw a few people on the trail to Cobalt Lake, but we were definitely the last ones out. It was pretty quiet overall, and you want to be prepared to be self sufficient should anything happen until someone else might happen along. We carry basic first aid, what we need to start a fire, a bivy sack for overnight survival, extra food, and a purifier for additional water if necessary. This is by no means a complete list, just inspiration to get ready if you're new to being 'off the grid'.
Bathrooms: once you turn onto the Forest Service Road, there aren't any facilities anymore that I know of until the end of the road. There is a pit toilet at the Conrad Kain parking lot, but trust me when I say you don't want to bump up that road just for a bathroom! I'm sure the lodge has facilities for their customers, but that's also out of the way, so it's really just the great outdoors for this hike.
Road Condition: We heard the conditions of the road vary greatly! Much of the road is logging truck territory, and make sure to give them the right away. This also explains why the conditions change so much. From our experiences with logging roads in Montana, they like to come in and nicely grade the roads they're using in the early summer. However over even a few months, the conditions can deteriorate quickly. We drove in the 3rd week of September and the road wasn't too bad. Also it should be noted that high clearance vehicles are highly recommended! We do have a truck, but it's not as high clearance as we'd like it to be. There's also the factor of wheel base, the longer your wheel base, the more you're really going to feel it on this road. And like I mentioned, you're on your own out here! Also there are a lot of sharp rocks, and we had read before going of several people who said they blew out a tire on these rocks. So just one more thing to be prepared for. Overall we found the Bugaboo Forest Service Road to be in good condition, especially compared to our experience creeping into the Lake of Hanging Glaciers. However we talked to the custodian of the hut and he said it really varies. In fact he had to leave his car just before a massive mud pit that his car wouldn't make it through, and walk the remaining miles in. We made it through just fine in 4WD. But later we found out that night a couple drove in and made it through with a Prius. But he said it's not something he'd like to do again!
Air Pressure: We had quite a bit of trouble with our tires getting low on these rough backroads. So something we'd like to do moving forward, is to get something small we can carry to manually air up our tires for future adventures like this.
And now… onto story time:
When we left off with the story of the Lake of Hanging Glaciers, we just discovered there wasn't a single gas station open. I mean so old school you can't even run a credit card at the pumps. So resigned to the fact we were going to have to wait until morning, we found a pull off and parked.
We were on a bit of a slope, so all night I kept dreaming I was falling, and then waking with a start. Needless to say, it was a rough, but thankfully short night. The next morning we headed into town to fill up our tank before heading into the backcountry for a few days.
Once we had filled up and made a cup of coffee on the tailgate, we started up the forest service road in high spirits. About 20 minutes up the road, the air pressure light popped up on the dash. And when we checked, sure enough, we had a very low tire. But we figured it was not a huge deal, after all we were only 20 minutes from town.
So we headed back only to discover there was no air up option at any of the gas stations. I mean what in the world? When we asked inside, the lady told us the closest gas station with an air option was back in Radium. I nearly groaned out loud because that meant over an hour's drive back through construction – one way.
But since that was the only option, off we went. A full 90 minutes later from when we discovered we had a low tire, we reached Radium. We pulled into a gas station only to discover they charged to use their air hose. I pulled out our Canadian cash and handed Tyler a $5 bill and put the rest back. But he noticed another gas station across the road and decided to see if it was free, (something about never paying for air and not starting today if he didn't have to).
So we drove across the street, and it was indeed free of charge. I took the $5 back and went to put it in the envelope with the remaining $495 only to discover it was gone! I tried not to panic, and started looking for where it might have slipped down the seat, or something along those lines.
We had a lot of camera equipment out and charging, so I figured it was somewhere in the mess. However I had a fairly distinct memory of putting back in the glove compartment. But I was second guessing myself from several days of very little sleep.
After tearing everything apart several times, I concluded I must have dropped it on the parking lot across the street. So I ran back over, and of course it was gone. Knowing it was gone for good at this point, I just couldn't shake the sick feeling in my stomach. Tyler kept telling me not to worry about it and let's just forget about it. But I just couldn't shake it off even though he was being so good about it. I mean it's not every day you loose so much money by a silly mistake!
We finally got back on the road for our 90 minute return trip to where we started. We knew we'd now be over 4 hours later than we thought for getting on the trail. So we made a deal that if we got to the trailhead by a certain time, we'd go, and if not we'd have to forfeit.
As we were heading back, we were talking about how tearing apart the truck reminded us of that time in Iceland when my phone went missing. Only after tearing apart that van for hours did we finally find my phone had rattled out of it's holder and fell down behind the glove compartment.
This of course made me immediately open our glove compartment, and see if I couldn't wiggle my hand in behind it. And wouldn't you know… there was the envelope of cash, safe and sound the whole time! Feeling a whole lot lighter, off we went.
Luckily for us, the road into the Bugaboo's was quite a bit better than the Lake of Hanging Glaciers. We made decent time for most of the 50km, with the road consistently getting worse as we went. Not long before the turnoff that takes you to Cobalt Lake and Conrad Kain, there was a huge mud pit.
And by huge, I mean huge! This is the kind of mud not to be entered into without knowing your vehicle well, and preferably not without 4WD. As I mentioned above, a Prius did make it in there, however I have nothing but admiration for his driving skills.
We went through the mud bog in 4WD and it was no big deal. I guess it does occasionally dry out. But from what we were told, it can be way worse than when we saw it. I just thought I'd mention it because it would be a huge bummer to not be able to make it when you're only a couple of miles from your destination.
The road wasn't nearly as bad as we expected, (although I would still recommend high clearance since the conditions vary). So we actually made it to the trailhead in time to still go for our hike.
However with the limited daylight, we knew we'd have to set a grueling pace to make it. But no big deal right? We'd only hiked 10 miles with 3,100' of elevation gain the day before, and we had a crazy hike into the Conrad Kain hut the very next day. But since we just didn't want to forfeit this hike, we decided super sore muscles weren't going to hold us back.
There's not much to see on the way to the top of Cobalt Ridge, and we did powerhoused up in just under 1 hour. There's lots of larches the higher you go, so this hike is particularly stunning in the fall. Once you crest the hill, you get your first glimpse of the lake.
But the real view lies an additional kilometer up the ridge, so definitely keep going. Don't get distracted by the side trails, and stay as close to the ridge as you can for the real trail. The further you go, the more spectacular the view gets.
It was also on our itinerary to scramble the off trail route to stand at the foot of this stunning lake. But since we lost 4 hours of our day to getting some air in our tire, that definitely wasn't happening with the amount of daylight we had left.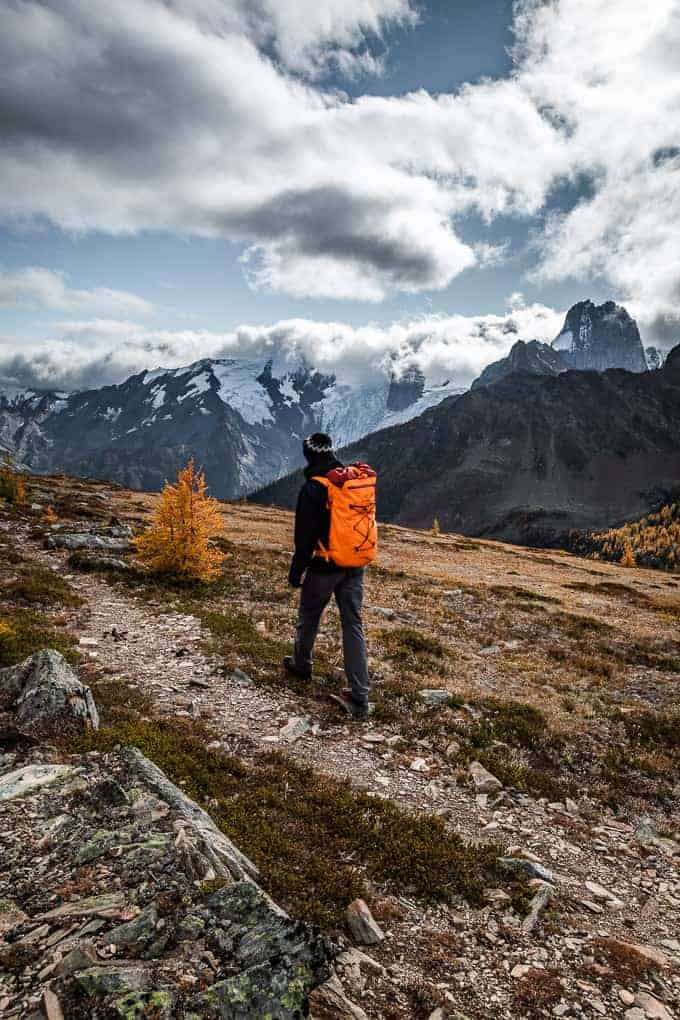 As I mentioned above, the Patagonia-like stunning peaks never appeared that day with the clouds hanging low. But the views were still stunning, and we were happy to have even made it with all the running around that day!
This place does get under your skin though, because both of us really want to go back. Both for the views, and to do the scramble in to the base of the lake. We spent as much time as we could before heading back out.
We knew we still had 20-30 minutes left to drive the remaining 1.6km of rough road to the Conrad Kain parking lot to stay overnight. Also we were really wanting some real food at this point. And I was hoping to cook us some dinner just before dark.
So we power-housed down the trai,l and back to the truck for the bumpy ride to the Conrad Kain parking lot. I just want to mention that technically staying overnight in a parking lot of a Provincial Park is illegal. But we saw many other people doing this as well since it just doesn't make sense to drive all the way back out, and then drive back the next day.
Some people even set up a tent to stay overnight, and I know all of us would have gladly paid to have a legal place to park should it have been available! (Just had to put a little disclaimer in there!) So finally at our parking spot for the night, we started packing our big backpacks to pack into the Conrad Kain hut bright and early the next day.
Tyler did quite a bit of the packing while I simultaneously off loaded images from our SD cards on an external hard drive, and cooked dinner. I had done a bit of prep before we left home that would make meals easier for the first few days of our trip. So with my pre-grilled and frozen chicken I made our favorite Indian inspired camping dish.
Butter Chicken Rice Noodles: rice vermicelli, butter chicken sauce, grilled chicken, and sautéed spinach. The packages of rice noodles makes 4 good sized servings, and we ate 3 ½ since we were seriously hungry. I packed up the rest for lunch the next day, and flattened out the bag to slip in next to the block of ice in our cooler.
(Another disclaimer: be very careful with putting hot food into a cold cooler as you can raise the overall temperature. It was very cold out and our food was cold before we were done eating it. So it went into the cooler cold.)
Finally feeling full for the first time in days, we finished up packing as much as we could before wrapping up to sleep. While we were putting things away, a very large army looking vehicle and a truck following behind arrived. Once they settled their camp, they came over to talk and turns out they were photographers and old climbing friends reuniting for some time in the 'Bugs'. It's always fun meeting different people when we're out on an adventure!
They could see we were running behind and helped us out getting the chicken wire wrapped around our truck and secured. This is supposed to be 'in case' any porcupines come along. It's reported they have a taste for brake line fluid and love to chew on tires. It seems like most people think this is a myth. But having grown up in Montana where wild creatures can wreak havoc on anything left out for them, I was all too ready to believe these 'so called' rumors.
Finally we crawled into the back of the truck for what was about to be one of the longest nights of my life! As you might expect from all the intense hiking and with full stomachs, we fell asleep hard and fast. But not long later, (read 30 minutes) I was awakened by scampering across the roof of the truck. I sighed out loud knowing that the mice partying on the roof of our truck were only getting started. What I didn't know was it was about to get a lot worse.
I kept drifting in and out of sleep until I started to hear the chicken wire scraping against the truck. I tried to see what was trying to get in, but our windows were tinted too dark to see what was happening. The sound of wire screeching and scraping against the paint job had me definitely cringing.
But since Tyler was still sound asleep, I gave myself a stern talking too and tried to go back to sleep. However the mice that were partying on the roof were about to turn up the heat into a full blown rave! Pretty soon, I realized they had gotten into the back of the truck where we were sleeping, and were running around in the sliding drawers underneath our bed.
I had no idea what to do since we'd never had mice get in the truck before, so I just kept trying to sleep. But things weren't going well, I kept looking at the clock every time I woke up only to realize I wasn't sleeping more than 10 minutes at a time before being woke up again. Somehow the night wore on with me reaching out every 15 minutes or so to hit the side of the truck and give them a scare.
But I didn't get any sleep after the last time I was awoken to a mouse chewing on our bed right next to my head! This was just too much, and so I stayed awake after that to make sure they didn't come up from below again. Tyler is a good sleeper, and even he said the next morning it kept waking him up. I didn't know it had woken him up, so I figured I'd just try and keep them at bay so at least one of us would get some sleep!
The next morning finally dawned, (not nearly fast enough for me) and the first thing I remember him saying is 'what's going on in here with all the noise?'. (To be continued with the next adventure into the Conrad Kain hut.)
Canadian Road Trip Series:
Cobalt Lake in Bugaboo Provincial Park