We had a fantastic fall day Hiking Mount Fairview in Banff National Park. The larches were in full color and as we climbed upwards we ran into some snow dusting that made the views even better.
Mount Fairview is aptly named as you're most definitely going to see some really 'fair views'. We had previously done Mount St. Piran, (twice actually) which is the mountain across on the other side of Lake Louise. But it looked like the views from Fairview would be quite a bit different. So we decided to give it a go since it would be overlooking a lot of The Plain of 6 Glaciers area.
It also has spectacular views of Mount Temple which is also on our list. But Mount Temple is a serious undertaking with climbing involved, and we were looking for something a bit more moderate.
The trailhead for this one also connects up with some other options I've listed out below. So if you're looking for a little less elevation, you can hike to the shorter Saddleback Mountain next to it. Although I do have to say the views on this one are more than worth the elevation.
This hike is also great to do in the fall when the larches are turning. There's hillsides of orange everywhere. And certain parts of the trail look like gold as you hike through the stunning fall color.
Everything you need to know about hiking Mount Fairview in Banff National Park:
Mileage: 6 miles
Elevation gain: 3,300′
Trailhead: The trail begins at the lakeshore of the famous Lake Louise. As you face the lake, it's on the left over by the boathouse.
Bathrooms: Since the trailhead is at Lake Louise, the bathroom options are endless. Take your pick of any that are closest to you in the parking lot.
Tips for the Lake Louise area: Bring your patience!!! Lake Louise is extremely crowded, and you'll need to be there early to even get a parking spot. If you plan on photographing the lake, be prepared to share it with hundreds, and maybe even what seems like thousands of other people!
As you approach Saddleback Pass, you'll find yourself surrounded by larches. This is why going in the fall is so stunning. In fact you even walk through areas that are pure golden orange all around.
We had a dark and stormy day when we hiked this on on September 25th. But the sun popped out a few times, and the the views were even more incredible. There had been a couple dustings of snow already, but it had already melted off the trail.
As the season progresses, the snow doesn't melt as fast and the trail can be a bit icy like it was for us at the very top. Our main problem was the mud on the trail near the top that was from melting snow. It was extremely slick, and even though we both had hiking poles, Tyler went down in one spot.
Luckily he didn't hurt himself, but we did have a gigantic mud mess to clean up. The whole back of his backpack, side of his coat, and mittens were coated in sticky mud. Fortunately there was plenty of snow in the shady spots to help with cleanup.
Tip: This is something I learned from my mom, but you can clean things pretty well with snow if it's not a porous surface. I made snow balls with my bare hands so I didn't get my gloves muddy and gently rubbed the snow over the mud.

As the snow gets dirty, you need to remove it to use the white snow underneath to clean with. It only took about 20 minutes to clean up a pretty serious mud mess. (And I'll tell you what I wish I had a photo of him covered in mud because you'd be shocked that just snow cleaned it all away!)
But back to the story, we had only had a power bar for breakfast. So by the time we had hit the top, we were beyond hungry. But lunch always waits for us to finish up photos and videos first!
After our fingers were so numb we could barely feel them from the howling wind, we decided that was enough photos, and the gloves needed to go back on.
There's lots of large rocks at the top, so we found a wind break to hunker down and eat a few bites. Crackers, cheese, and meat for a sort of homemade 'lunchable' has become our new standard hiking lunch.
It's also pretty much always our lunch when we're on a road trip because it's so easy! Our combo for this day was turkey, havarti cheese, and Blue Diamond almond rice crackers.
We pretty much tore into our lunch, with all the gusto that comes from a 'hiking appetite'. But one bite into my first 'lunchable' and I knew something wasn't normal.
Turns out I bought unsalted turkey which is seriously unpalatable when you're hiking 3,000′ a day. But we broke out our emergency salt stores, and lunch was rescued.
We didn't linger very long after a few bites of lunch because we were getting really cold sitting around. But before we left, we took some photos for a girl who had just made it to the top. She had forgot her phone, and wanted photos to prove it to her friends who had stopped below at the pass.
She didn't speak much English but we managed to work out her email address so I could just email her the photos from my phone later. And I just thought it was so cool we were able to send her photos so easily with technology these days. Even though we'll never meet up again, and she was headed back to Hong Kong, she still has her photos!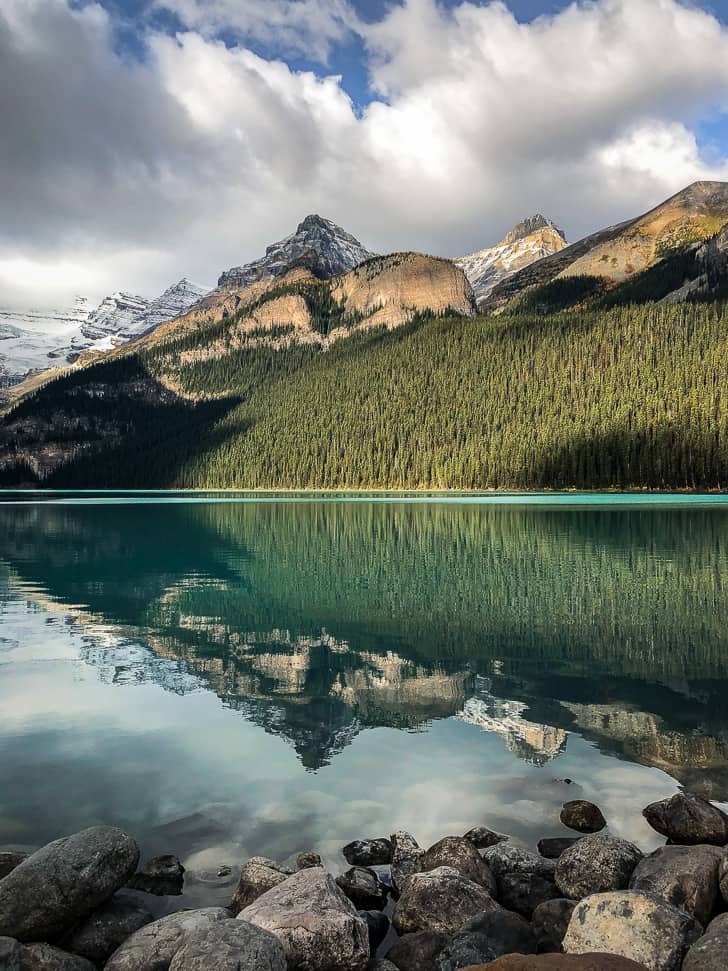 From there we just booked it back down the mountain to the truck. We had heard there was a giant record breaking snow storm moving in. And we knew we needed to check the weather. We still had our summer tires on, and they were on their last leg. So we definitely didn't want to be in this area with a few feet of snow possibly coming.
So after checking the forecast it looked like if we headed north we could get some decent weather. And maybe we'd have 1 more adventure before needing to head south. So we put together some snacks knowing we'd have a several hour drive ahead of us, and wouldn't have time for dinner.
From here we'll see you for the next day in the Athabasca Glacier area, and another adventure to Iceberg Lake in Banff National Park.
Canadian Road Trip Series:
Hiking Mount Fairview in Banff National Park