We had a blast hiking into the Conrad Kain Hut part 1, stayed overnight, did some extra hiking. And then headed back out with part 2 coming soon!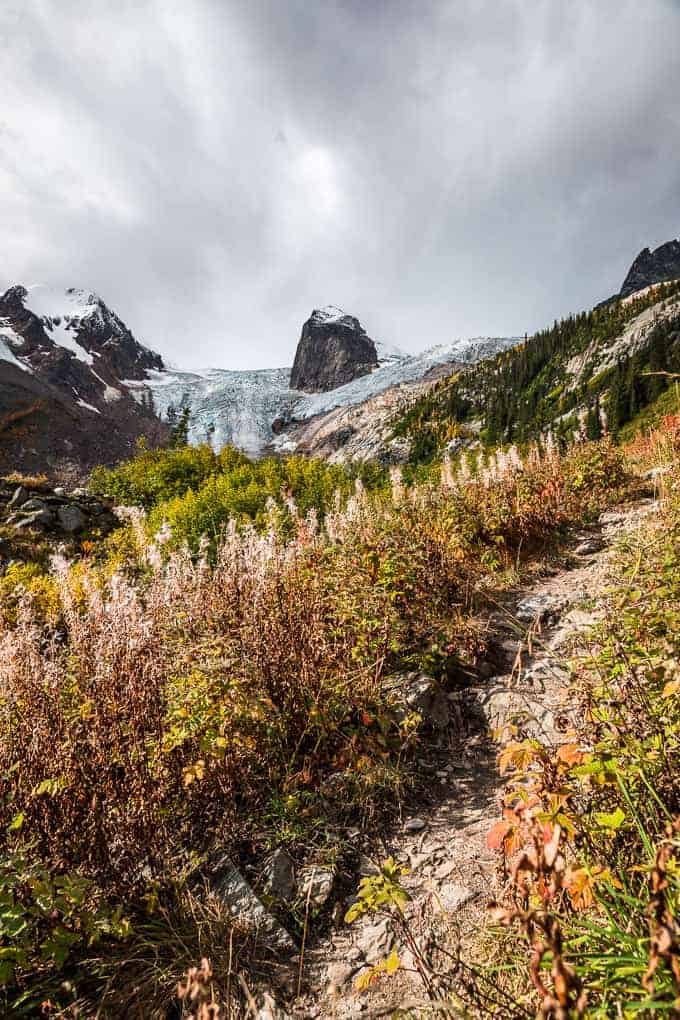 The Conrad Kain hut has to be one of the most picturesque places to stay I've ever seen. It's nestled up in the mountains, not far from the very glaciers pictured above. In fact the beds where we slept look right out onto the glaciers.
This hike can be done as a day hike, but since we wanted to pack a lot of our camera gear, we knew we wanted to stay overnight. We went in in late September just days before they closed the hut for the winter. But even in the shoulder season, the only reason we got the reservation was because we were there during the week.
I guess it's pretty common the weekends are always booked solid in this gorgeous locations – go figure! We were pretty happy to have gotten a reservation at all, but I thought I'd mention it in case it helps you with your next travel plans.
Our packs were pretty heavy – read 90 pounds between the 2 of us, so you'll have excuse some iPhone photos of our hike in! I couldn't wrangle my big camera along with my heavy pack on this very steep trail. So it's a mix of phone and DSLR photos for this trip.
Also the closer you get to the hut, the more you're going to have to navigate different sections with chains in place to help you through the scrambling. With all of that in mind, we only got the camera out a few times before we got to the actual hut.
Needless to say, while I love looking back on our photos, I've never seen so many composition issues before. I guess you're not thinking as clearly after not sleeping much the night before, and with a crazy heavy pack on! But we are looking forward to going back, and photographing even more in this magical place.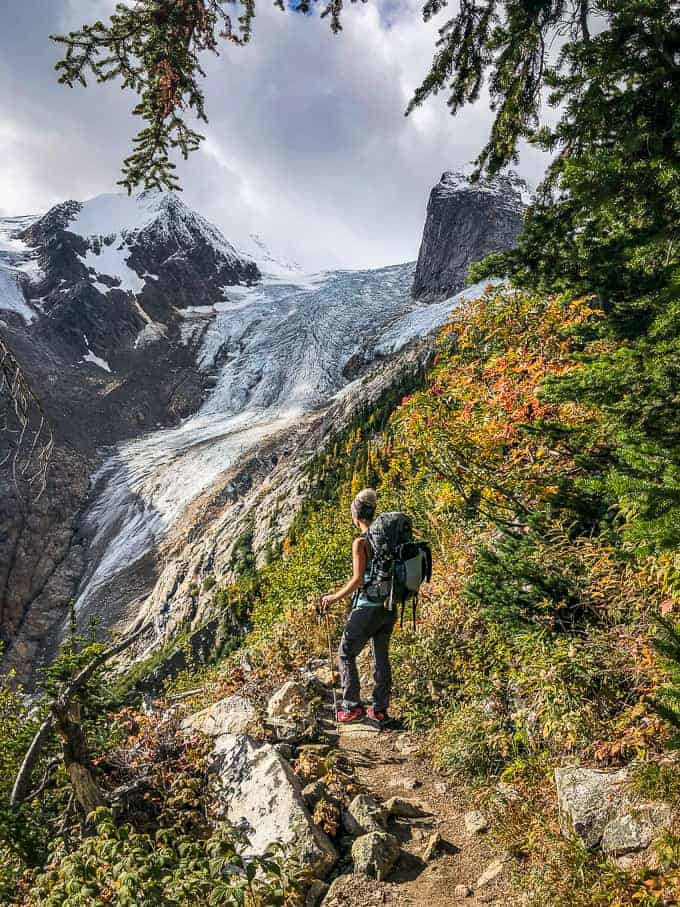 Everything you need to know about the Conrad Kain hut hike:
Elevation Gain: 2,300′
Mileage: 2.8 miles one way
Applebee Dome Campground: This is located about 1 mile and an additional 1,000′ of elevation gain past the Conrad Kain hut.
Trailhead: The Conrad Kain hut trailhead is located 50 km up the Bugaboo Forest Service Road.
Reservations: The Alpine Club of Canada handles all reservations for both the hut and for tenting spots on Applebee Dome. They also have everything you need to know about your stay, in a well laid out manner, in the link above. They also have driving instructions as well.
Steepness/exposure: The hike is a leg burner for 2 reasons, first up you wander on a mostly flat trail for almost a mile through the woods. Once you leave the forest, the trail begins to climb steadily where you're experiencing over 1,000′ of elevation per mile. The exposure is fairly mild, but caution should be taken, especially with children or anyone with a fear of heights. In fact if you have a severe fear of heights this might not be a good option at all. You can check out the photo below of the ladder you need to climb up, as well as a few photos of the areas with chains.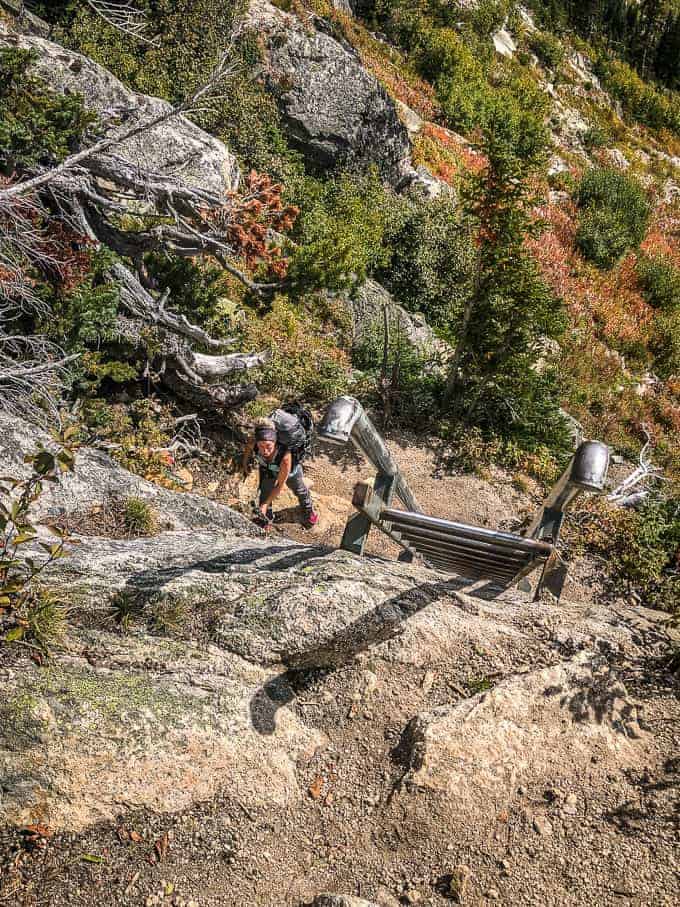 Basic Facts and Tips:
Off the grid! You're going to be way out of cell phone reception, and all that means! Basically, you need to be prepared to be completely self sufficient. The Bugaboo's do have more traffic than what I described in the Lake of Hanging Glaciers. The Conrad Kain hut hike is moderately trafficked but you are a long ways from civilization! We carry basic first aid, what we need to start a fire, a bivy sack for overnight survival, extra food, and a purifier for additional water if necessary. This is by no means a complete list, just inspiration to get ready if you're new to being 'off the grid'. If you're staying in the hut, they have most amenities for you. In fact they even used to have power! It was taken out by an avalanche when we were there, but we still found the hut pretty cushy.
Bathrooms: once you turn onto the Forest Service Road, there aren't any facilities anymore that I know of until the Conrad Kain parking lot. I'm sure the lodge has facilities for their customers, but that's also out of the way.
Road Condition: We heard the conditions of the road vary greatly! Much of the road is logging truck territory, and make sure to give them the right away. This also explains why the conditions change so much. From our experiences with logging roads in Montana, they like to come in and nicely grade the roads they're using in the early summer. However over even a few months, the conditions can deteriorate quickly. We drove in the 3rd week of September and the road wasn't too bad. Also it should be noted that high clearance vehicles are highly recommended! We do have a truck, but it's not as high clearance as we'd like it to be. There's also the factor of wheel base, the longer your wheel base, the more you're really going to feel it on this road. And like I mentioned, you're on your own out here! Also there are a lot of sharp rocks, and we had read before going of several people who said they blew out a tire on these rocks. So just one more thing to be prepared for. Overall we found the Bugaboo Forest Service Road to be in good condition, especially compared to our experience creeping into the Lake of Hanging Glaciers. However we talked to the custodian of the hut and he said it really varies. In fact he had to leave his car just before a massive mud pit that his car wouldn't make it through, and walk the remaining miles in. We made it through just fine in 4WD. But later we found out that night a couple drove in, and made it through with a Prius. But he said it's not something he'd like to do again!
Air Pressure: We had quite a bit of trouble with our tires getting low on these rough backroads. So something we'd like to do moving forward, is to get something small we can carry to manually air up our tires for future adventures like this.
And now… onto story time:
When we left off just before dawn on our Cobalt Lake adventure, I had just had one of the longest nights of my life! We had been full scale invaded by mice throwing a massive party, first on our truck, and then in it. It even woke up Tyler a few times who would sleep through a freight train driving by.
He woke up asking what on earth was going on. And when I filled him in, we decided to get up and just get going. We made a cup of much needed coffee and began packing up the last of what we'd need for an overnight trip at the Conrad Kain hut.
We decided to investigate the back end of the truck before we took off to see what was attracting all the mice. Of course we found the bag of granola I mentioned in the Lake of Hanging Glaciers adventure. I had thrown it in the back on our way out of town days before, and completely forgot about it. We cleaned up the best we could, making sure to put everything in the cab of the truck, knowing we wouldn't be there that night to defend our territory.
Tyler kept asking me why I didn't wake him up, and I just said at least one of us should get some sleep. I mean what on earth would we have done in the middle of the night, 3 hours from anywhere? Well the answer to that question would come 2 days later because our mouse problem was far from over.
I can't stress enough how careful you need to be about not leaving things/food laying about when you're in the wilderness.
Even after we thought we had the back of the truck pretty well emptied, when we came back, we discovered they found a small roll of toilet paper that had been wedged down and out of sight.
They had a hay day with that roll of toilet paper, and the mess we came back to was epic to say the least!
After breakfast, (and I was so sleep deprived by this point I can't remember what we ate) we headed out on the trail. We wanted to get a very early start because we had really heavy packs. Between the 2 of us, we packed about 90 pounds of mostly camera gear into the Conrad Kain hut. Also the last weather forecast we had seen said rain would be moving in as the day progressed.
So we were the first ones up the trail. And not very many steps in, we started seeing very large bear tracks walking right up the trail. We had been making noise already, but I'll tell you what… the noise level quickly doubled as we moved onwards.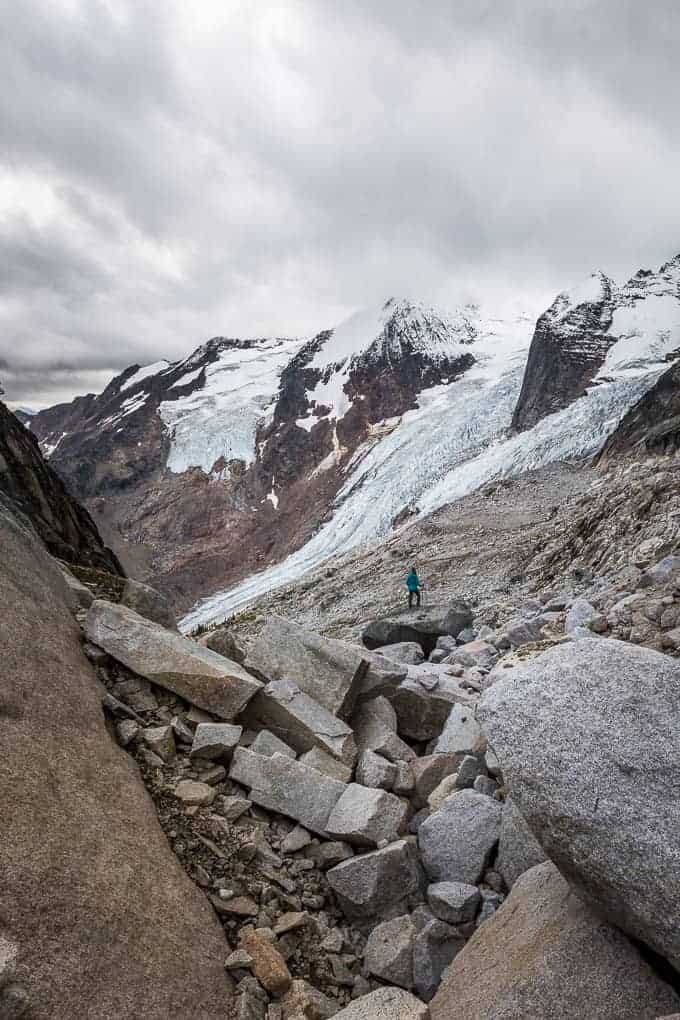 We also knew it would take us a while to get up to the hut with our heavy packs. And keep in mind this was our 3rd day in a row hiking over 3,000' of elevation gain. It's about 2,300′ to the hut, then another 1,000′ to the Applebee Dome.
Also the lack of sleep was starting to get to me. I mean… after a certain age, you're just not made to be up most of the night. Even if the greater mice population of British Columbia is throwing a rave in your sleeping quarters.
The trail continued to meander through the forest for about a mile almost completely flat. I couldn't help but think that meant the couple thousand feet of elevation gain would come in less than 2 miles. And sure enough things started to get a bit steeper, and continued that trend all the way to the hut.
There are several sections with chains, and one ladder to climb that's maybe 20′. This might be a problem if you have a severe fear of heights. But with proper caution and attention, there's no real challenges other than a heavy backpack.
We also saw a large group heading out with over 20 kids that had booked the hut the night before. They had several adults supervising the chained parts, but even the smaller children, (age 8-10 or so) didn't have any trouble with this hike.
Just before you get to the hut, you come across a stream with a metal bridge. We stopped here as well because the views were just incredible. There's nothing like sweeping valley views, with glaciers spilling out everywhere.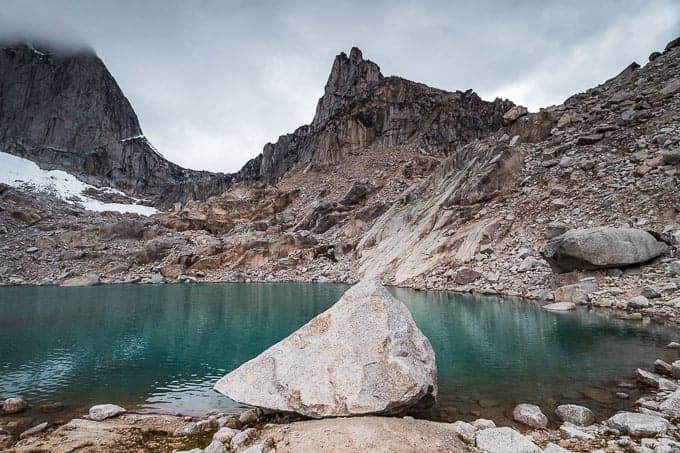 Once we reached the hut, we unloaded our packs. That way we could take a lighter load the additional 1,000′ up to Applebee Dome. We'd heard the views were not to be missed, but there's no doubt we were exhausted.
So we ate the rest of the Butter Chicken Noodles we had made the night before after hiking to Cobalt Lake. Then we tucked a bunch of our gear under our beds, and crossed our fingers that none of it would go missing.
We we pretty sure no one would touch our stuff, as you meet the coolest people in the backcountry. But still there's no telling what would happen. However we were so wiped out, the thought of carrying all of that any further didn't seem like the right option.
We wanted to climb right up to look down on the lake you see in the photo below. But night was coming fast, and the rain drops were already falling. Figuring we'd rather not have to wring ourselves out when we got back, we beelined it back to the hut. And just in time too for a deluge of a storm all night long.
Let's talk about some delicious back country camp cooking!
Once we got back to the hut, we got busy making dinner. As promised, I'm back to talk about some more backcountry cooking. But this is also a great easy dinner to make at home too! Pictured below is boxed mac and cheese with some parmesan, sage, and prosciutto added in, along with a large lump of butter for good measure.
I think I've mentioned before that when we're hiking long days with lots of elevation, we're usually looking for ways to add a lot of calories. Also we often miss meals running around photographing like crazy.
You could make this same meal from scratch by using my One Pot Mac and Cheese recipe from the food section of this blog. Or you can use your favorite brand of boxed mac and cheese. We use Annie's brand with the gluten free rice shells when we're traveling. (We took a lot of it to Iceland, and it saved our meals many times.)
Knowing we'd be heading into the backcountry, I picked ingredients I knew would last without refrigeration for the day. We had pre-grated parmesan, sage leaves from my garden rolled up and stuffed into a back packing container. And of course the lump of butter, (around 6 tablespoons for 2 boxes mac and cheese).
The prosciutto was in a vacuum sealed package that I knew would be fine without refrigeration for the day. This was also in the fall, so the weather was nice and cool as well. If the temperatures were higher, I might have thought twice about putting butter into my backpack, (seems a bit dicey if it melted you know?).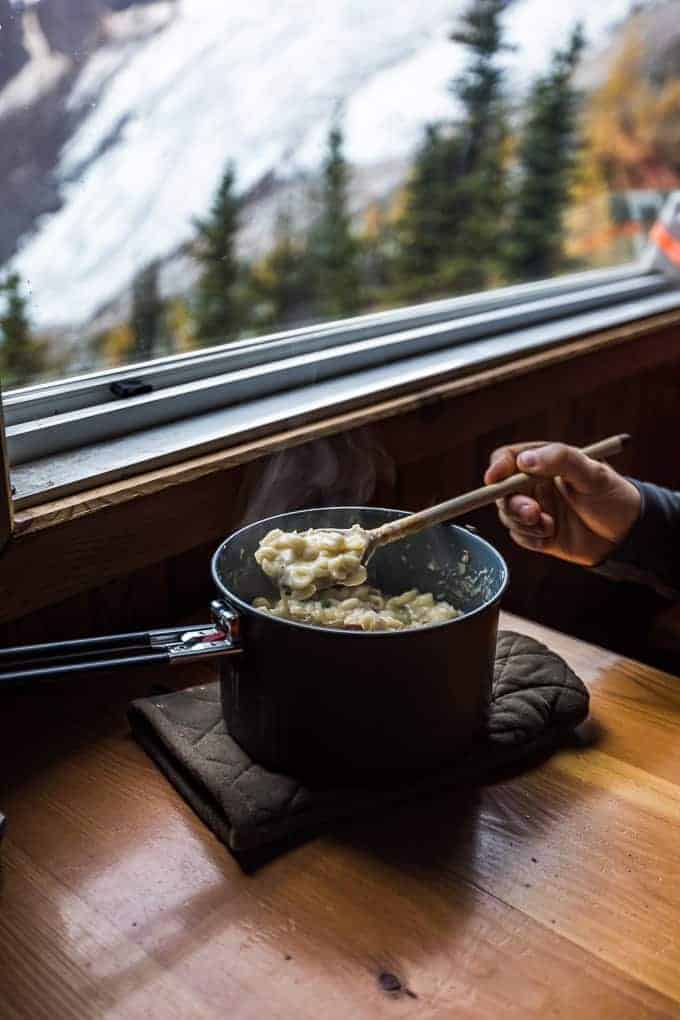 I've never eaten dinner with a view this grand before!
This meal was a huge hit with both of us after days of just pounding the trails. And now it's become a regular 'treat/date night type of meal' in our house. So I hope you find some inspiration if you're planning on backpacking. Or if you just need a really indulgent option for entertaining and 'at home' date nights!
After dinner, we were beyond beat. So we called it an early night, and went to sleep with the rain pounding down! To be continued with Hiking into the Conrad Kain Hut Part 2 the next day.
Canadian Road Trip Series:
Hiking in the Conrad Kain Hut Part 1