Have you ever made a fresh tomato sauce? Well… they're just about my favorite thing in the summertime! It's a simple as throwing a few ingredients into the blender, and you're done in just minutes. I love making a simple fresh tomato sauce for everything from Eggplant Parmesan to Zucchini Fritters, but if I'm going for plain ole noodles I love checca sauce.
So what is checca sauce anyways? It's a traditional fresh tomato sauce used in the Italian preparation Pasta alla Checca, and it's sort of like a beefed up tomato sauce. If you're like me and love things that taste both fresh and rich at the same time with a little addition of cheese, well then… you've just planned dinner for many wonderful summer nights to come!
Fresh tomatoes get tossed into the blender with basil, minced garlic, olive oil, and freshly grated parmesan. Then they're seasoned to taste with salt and pepper before blending into a chunky sauce. Then little cubes of fresh mozzarella are stirred in before tossing it with freshly cooked pasta or sautéed zucchini noodles!
Here we are with everything but the mozzarella in the blender….
…and we're done!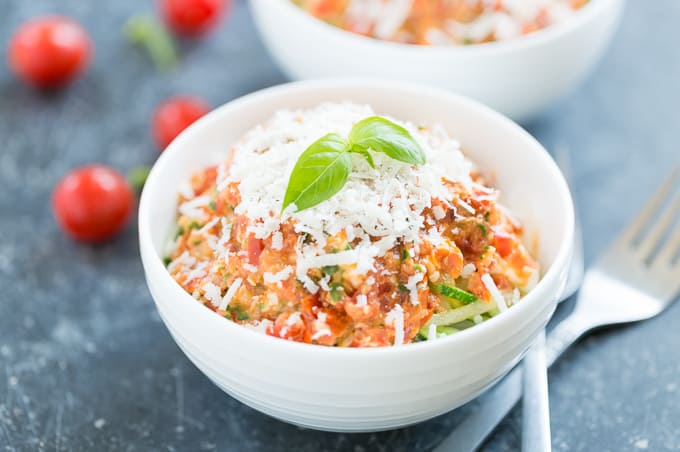 This sauce is so fast that you can have it made and still have to wait for your pasta water to come to a boil! And, for a pasta update – we're still eating either DeLallo or Jovial 100% brown rice pasta because they're the best gluten free pastas I've tried yet. We go back and forth between the 2 brands mostly depending on what store I've been to recently – both of them are excellent.
Since it's the height of summer and we're completely swamped with zucchini, we've been eating zucchini noodles several times a week. There will always be a special place in my carb loving heart for pasta, but surprisingly zucchini noodles are quite addicting – try them and you'll see what I mean!
Print
Blender Fresh Tomato Checca Sauce
---
Total Time:

10 mins

Yield:

1 1/2 cups

of checca sauce

1

x
Blender Fresh Tomato Checca Sauce:
3

cups

cherry tomatoes,

12

ounces

3

green onions, the white part only, chopped

3

cloves of garlic, minced

1/2

cup

freshly grated parmesan,

1

ounce

1/4

cup

basil leaves, roughly chopped, 1/2

ounce

1/2 Teaspoon

sea salt, more or less to taste
Freshly ground black pepper to taste

2

Tabelspoons extra virgin olive oil

1

small ball of fresh mozzarella, cut or torn into

1/2

" pieces, 4 ounces
Serve with:
Zucchini Noodles – 2 1/2 pounds spiralized zucchini (from 5-6 medium zucchini)
olive oil and sea salt for cooking
or

1

–

12

ounce package freshly cooked pasta
Freshly grated parmesan for serving
---
Instructions
For the tomato sauce, place all the ingredients for the sauce except the fresh mozzarella into a blender and blend until you have a chunky sauce. Adjust the texture to your liking by blending it smoother. Taste the sauce and adjust the sea salt and pepper accordingly.
Stir in the fresh mozzarella and set the sauce aside until you're ready to serve.
To serve it with zucchini noodles, heat a very large skillet over medium high heat until the pan is almost smoking. Add a small drizzle over olive oil to the pan along with the spiralized zucchini. Sprinkle with a small amount of sea salt and toss the zucchini noodles with a pair of tongs, just until they start to soften – this only takes about 1 minute. It's important to take the zucchini noodles out of the pan still partly crunchy because they continue to cook afterwards.
Place the zucchini noodles in a serving bowl and top with the fresh checca sauce.
You can also toss the checca sauce with 12 ounces freshly cooked pasta.
Serve immediately with freshly grated parmesan if you'd like!
Notes
The time for this recipe is for the sauce, it only takes an additional few minutes to prepare the zucchini noodles or pasta.
This recipe makes 1 1/2 cups of sauce which is enough for 4-6 servings.