These Zucchini Fritters with Avocado Crema are a healthy remake of a childhood classic my mom used to make growing up. They're packed with veggies, gluten free, and paleo as well.
My mom used to make zucchini pancakes often in the summer for us growing up. They're a great way to add some extra veggies to dinner, and use up the abundance of zucchini in mid-summer. We used to eat them for dinner with savory toppings, and sometimes with homemade sausage too.
Somewhere along the line, I forgot about this simple recipe for a quick and easy dinner. But I came across it again and knew I had to remake it. From that time forward, these have been a new summertime favorite!
Replacing the all purpose flour with almond flour turned out to be the best thing that's happened to zucchini pancakes. They turned out so much crispier, I re-named them zucchini fritters.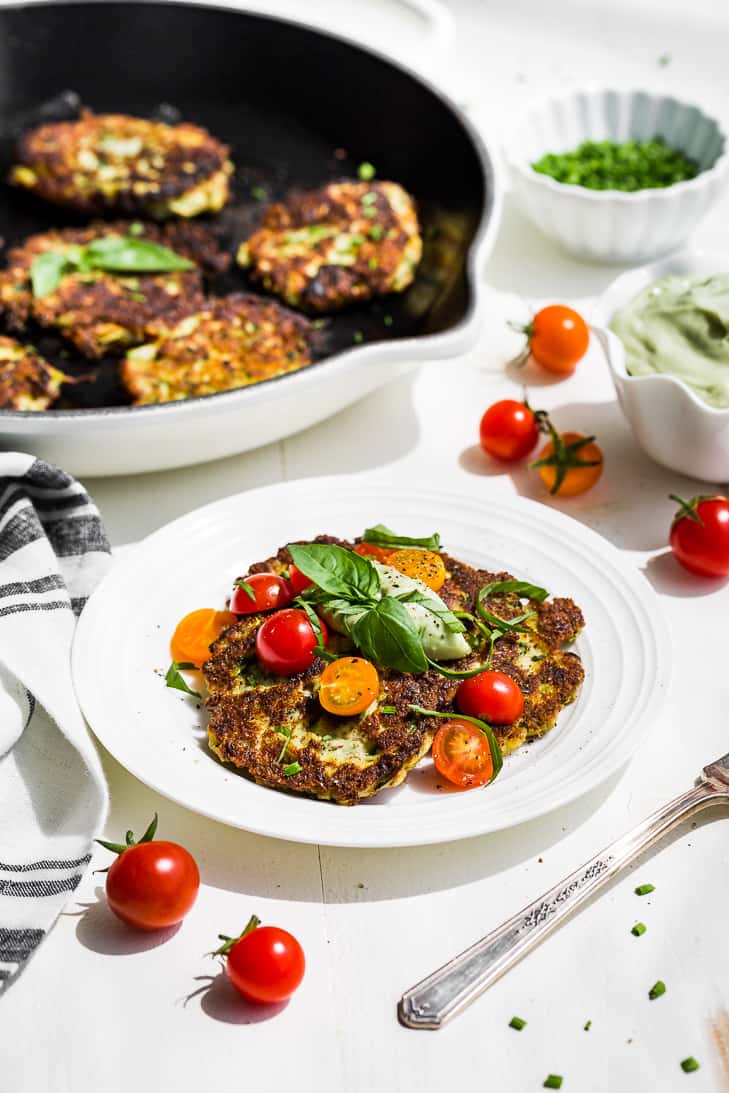 I also added a small amount of flax meal to soak up the excess moisture you always get with zucchini, and it really improved the overall texture. It often seems to be the case when you substitute in the name of 'healthier', the flavor and/or texture suffers, but this is not one of those times.
Zucchini Fritter Ingredients:
Zucchini – this is the main ingredient and it's a great way to add more veggies to any dinner because these fritters work well as a side dish or main dish. Zucchini varies in moisture, and because of this, the texture of your fritters may vary. By doing the salting step you'll read about below, this ensures the most even result each time.
Almond Flour – this helps all that zucchini come together, and also adds a nice nutty flavor to those crispy edges.
Flax Meal – is your second ingredient to help keep all that zucchini from falling apart. It also adds a good dose of fiber to the mix as well.
Egg – this is essential in combination with the almond flour and flax meal to make a fritter that holds together.
Sea Salt and Pepper – the salt and pepper are of course for flavor, but the salt does double duty by extracting moisture from the zucchini.
Garlic – just a touch of minced garlic makes a world of difference in the addictive savory flavor of these fritters.
Now let's jump in and make these Zucchini Fritters with Avocado Crema!
First up you want to grate your zucchini with a box grater or food processor.
From here you have 2 options:
You can mix the freshly grated zucchini right into a batter. You will have a zucchini pancake texture with crispy fritter edges.
Or you can place the grated zucchini into a colander. Place that colander in the sink and sprinkle with sea salt. Let the zucchini sit and the excess water drain out of it for 20 minutes. Then just firmly press the zucchini with your hands to remove anymore excess water and proceed with the batter.
The fresh tomatoes are an optional topping, but I rather like them. And in the height of summer, there's no better way to eat these.
The avocado crema has been the classic way we've been serving these for the last 6 years. But our new favorite sauce for these is my Basil Aioli. So definitely check that recipe out because it's a truly transformative combination!
Now that all that is out of the way… it's time to mix together the batter.
As you can see in this photo, the batter is on the thick side with lots and lots of zucchini.
And now for cooking tips:
I pan-fried mine in a cast iron skillet because you get the best crispy edges that way. It's best to keep them small, about 4″ in diameter. These are on the delicate side, so it's much easier to flip small fritters.
I have tried cooking these in my enameled cast iron. It's a little more finicky, and you need to make sure the pan is properly hot first. The batter should sizzle when it goes in. Otherwise you'll find it sticks. This is true with regular cast iron too, but much less so, and overall I found it much easier to work with!
Cooking these Zucchini Fritters with Avocado Crema for a family:
To speed things up, you can cook these in 2 cast iron pans. Then just serve them as fast as you can cook them!
Or you can cook all the fritters with 1 or 2 pans, and keep them warm in a 200ºF oven until you have all the batter cooked.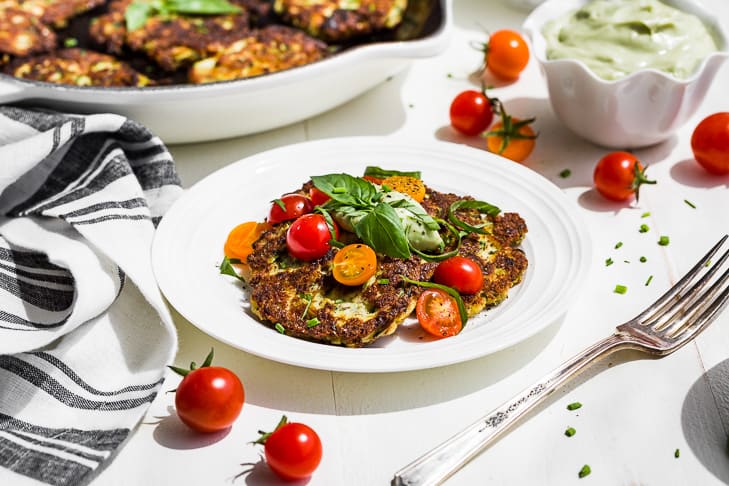 What to serve with these Zucchini Fritters:
As written we love these with the cherry tomatoes and Avocado Crema or the Basil Aioli as a vegetarian meal.
These are also delicious with pretty much any kind of meat off the grill. Andouille, Bratwurst, grilled chicken, steak, or pork chops are all good. It seems impossible to think of something that wouldn't go with these fritters!
My mom used to serve these with sour cream, but I'm partial to avocado in almost everything. So I've included an adapted version of avocado crema from my Fish Taco Lettuce Wraps to go along with.
For more zucchini inspiration check out my latest recipe for Easy Chicken Zucchini Stir Fry, it uses up loads of zucchini! Also there's my 35 Healthy Zucchini Recipes, and 5 Ways to use up large amounts of Zucchini.
I hope you enjoy this taste of summer! And if you do get a chance to make these, I hope you'll leave me a comment/rating below. I always love hearing from you here in the comments. And also over on Instagram where you can tag me at #getinspiredeveryday with your photos of what you make.
Print
Zucchini Fritters with Avocado Crema
---
Author:

Get Inspired Everyday!

Total Time:

35 mins

Yield:

2

for dinner – 4 as a side dish

1

x

Diet:

Gluten Free
Description
These fritters are so tasty, you'll find you want to make them weekly during zucchini season!
---
Fritters:
1 pound zucchini, ends cut off and grated, 1 large or 2 small
1/2 Teaspoon sea salt, plus more to taste if desired
1 large egg
1/2 cup fine almond flour
2 Tablespoons golden flax meal
1/4 Teaspoon ground black pepper
1 clove garlic, minced
Avocado Crema:
1 avocado, pitted and peeled
1/2 cup coconut milk, from the can
1 Tablespoon fresh lemon juice
1/2 Teaspoon sea salt, or to taste
Optional Toppings:
1 cup quartered cherry tomatoes
Thinly sliced basil, or any other herb you love
Thinly sliced green onions
---
Instructions
Place the grated zucchini in a colander, and place the colander into the sink. Or you can place something underneath it to catch the liquid. Sprinkle the zucchini with the salt and let it sit for 20 minutes to shed the excess water. After the 20 minutes, press the zucchini with your hands to remove any additional water.
Then mix together all the ingredients for the fritters in a medium size mixing bowl.
Preheat a cast iron pan over medium heat. I used a 9″ pan, but you can use a bigger one if you have it.
While the pan heats, make the avocado crema by blending the avocado, coconut milk, lemon juice, and sea salt in a blender until smooth. Transfer the crema to a serving dish and set aside.
Prepare any of the optional fritter toppings and place them in serving dishes as well.
Pour a small amount of avocado oil into your preheated pan, just enough to lightly coat the bottom.
Place small dollops of fritter batter into the pan – about 4″ in diameter. Lightly flatten/spread them out if necessary. You will be able to cook 3 fritters at a time in a 9″ skillet.
Cook for about 3-5 minutes, or until the fritters begin to set up and the bottom is golden brown. Turn the fritters over carefully, and cook another 3-5 minutes or until golden.
Repeat this process, adding oil when necessary until all the batter is gone.
Serve the fritters immediately as soon as they come out of the pan for crispiest results.
It really speeds up the cooking process to have 2 pans going on the stove, especially if you're making this for more than 2 people. Or you can keep the fritters warm in a 200ºF oven until they're all cooked before serving.
Notes
This recipe can be easily multiplied to feed more, and it's a great way to use up your extra zucchini.
The nutritional facts are calculated with the cherry tomatoes.
Prep Time:

20 mins

Cook Time:

15 mins

Category:

Dinner

Method:

Pan Frying

Cuisine:

American
Keywords: Zucchini Fritters, Zucchini Fritters Recipe, Recipe for Zucchini Fritters, Zucchini Fritters Recipes