This easy Chicken Stir Fry recipe comes with 5 sauce variations so you'll never be bored again. It's family friendly, and you can mix up the veggies, and even try different meats to keep this basic recipe tasting brand new. Everyone needs some good basics, and this chicken stir fry is simple yet so flavorful you'll want to make it every single week. It's better than takeout, gluten free, dairy free, paleo, and there are some Whole30 options too.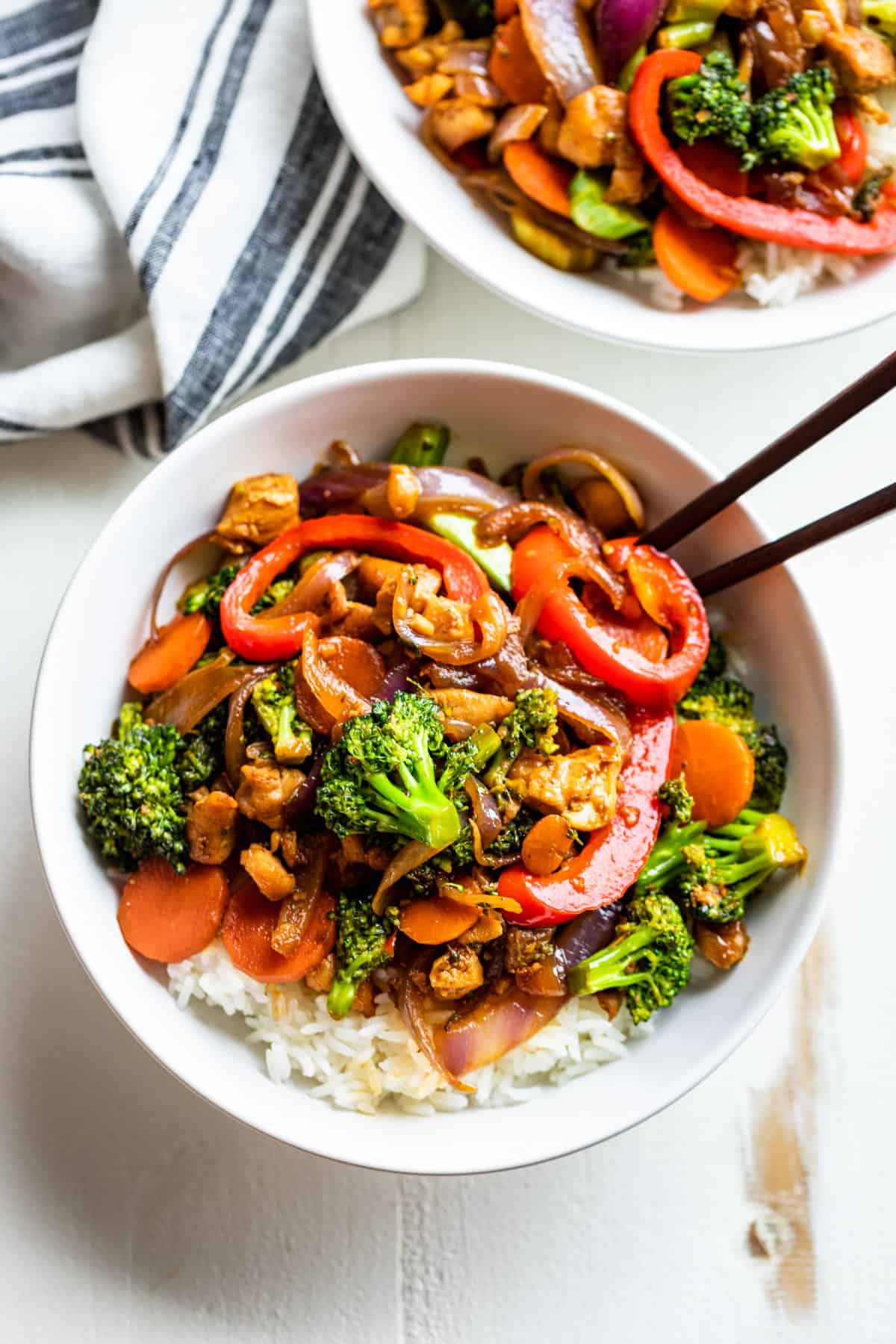 Often a recipe starts forming in my head as a 'what if' question. And that's definitely the case here where one day I thought 'what if I could get my basic chicken stir fry recipe written down with all the variations I love to make… BUT… it also has to be really simple?'.
So here it is after much testing – a chicken stir fry you never get tired of because there's plenty of easy options to mix things up!⁠ My 5 flavor variations are the different ways we eat chicken stir fry by changing up a couple of ingredients. You'll find my Orange Chinese 5-spice, Ethiopian Berbere, Sweet Chili, and more in the recipe notes.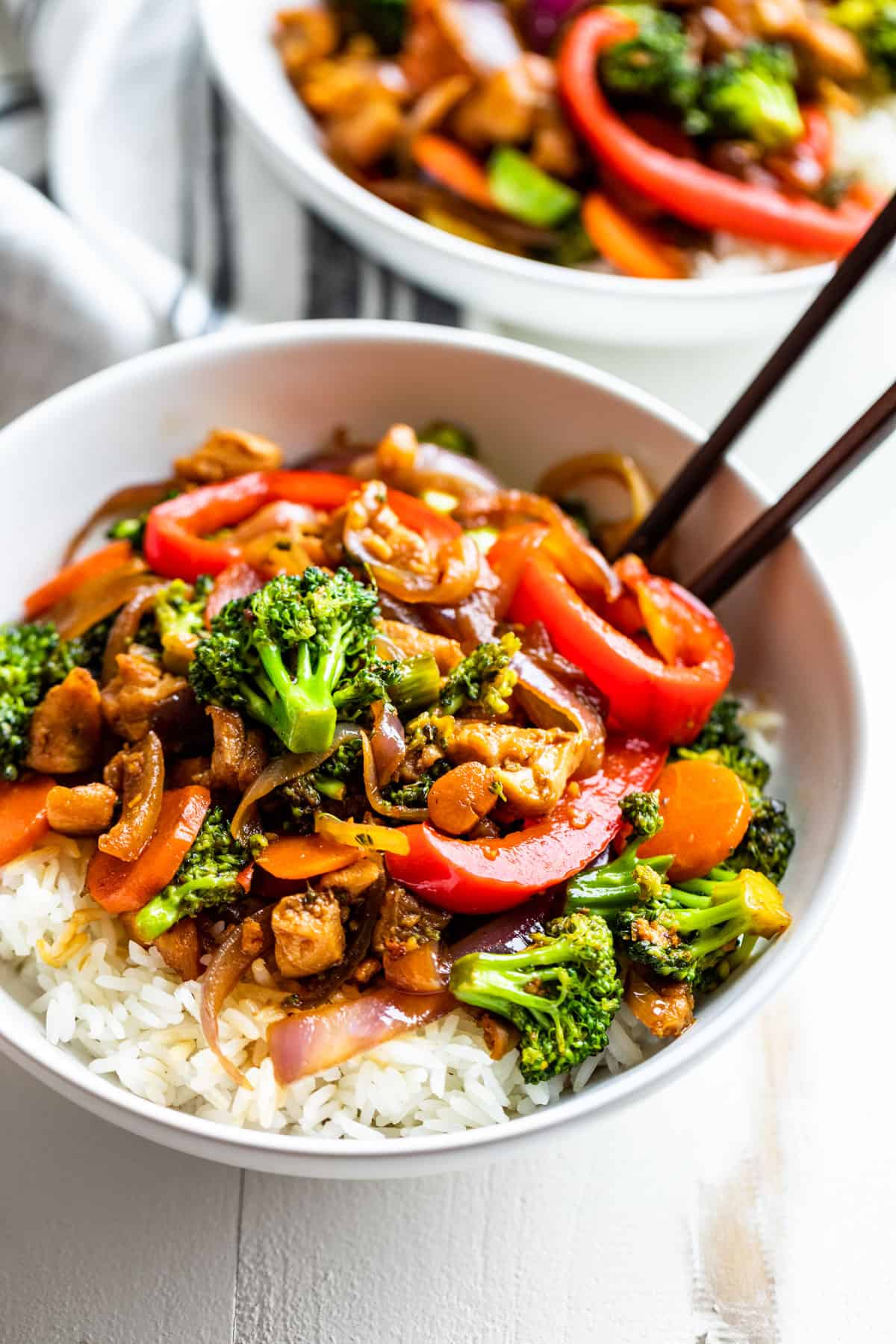 Ingredients & Substitutions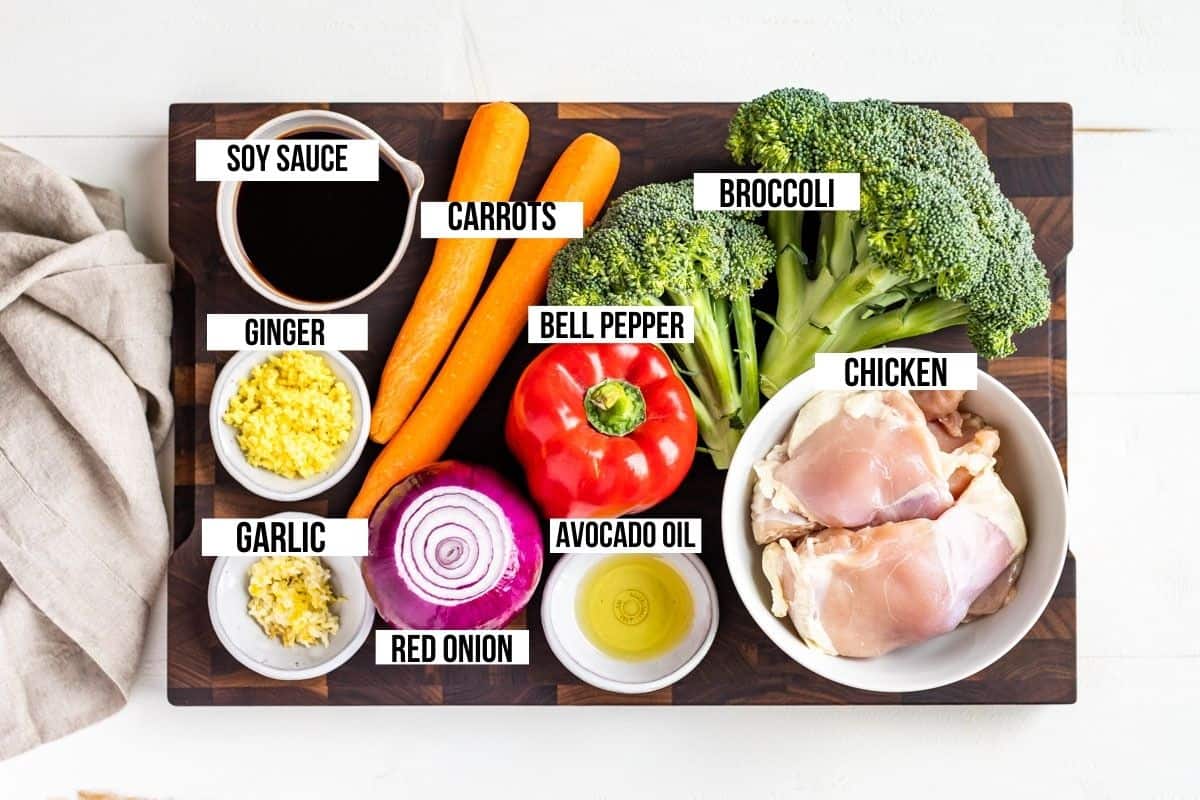 Chicken thighs – are the easiest to use in a stir fry, but you can use chicken breasts as well. I also like to use either ground beef or ground pork for a change and because there's no prep.
Avocado oil – is my preferred stir frying oil because it has a very high smoke point. You don't want to use olive oil here, but any stir frying oil you like to use works too.
Garlic & Ginger – freshly minced will give you the best flavor here. But for a shortcut try buying the already peeled garlic and use a garlic press, then use ginger from the tube, (never dried ginger!).
Veggies – use any combination you'd like to make up 2.5-3 pounds. I used a mix of onion, bell pepper, carrots, and broccoli here. But you can also use asparagus, snow peas, sugar snap peas, cabbage, or anything you and your family love in stir fry. If you use delicate veggies like snow peas add them in when the carrots are almost done because they cook quickly.
Soy Sauce – low-sodium soy sauce, tamari, or coconut aminos all work here. Soy sauce has the most umami flavor, but be sure to check the labels for gluten-free if needed. Coconut aminos will give you a natural sweetness, but you'll need to add a touch more salt.
Extra sauce tip: If you love a saucy stir fry, mix 1/2 cup chicken broth or stock together with 2 teaspoons cornstarch or tapioca starch to add to the pan along with the soy sauce or coconut aminos.
How to make this recipe step by step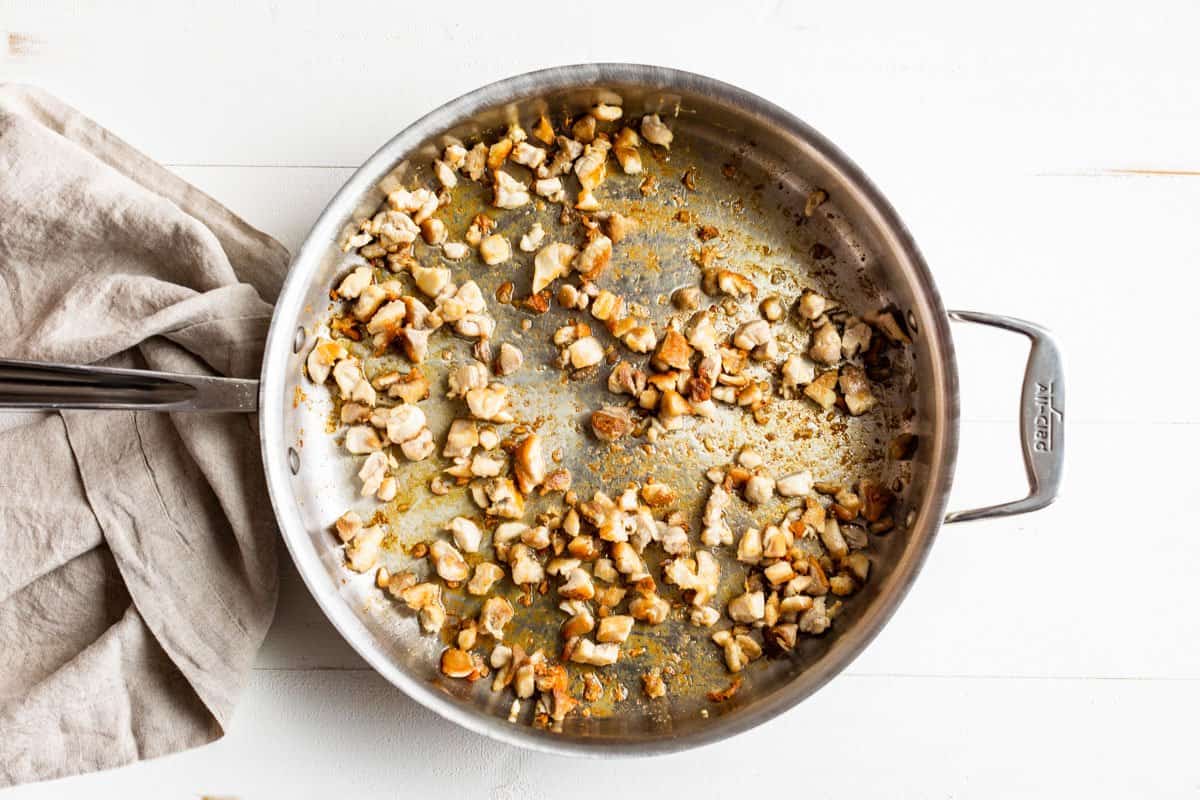 Step 2: Then sauté the cubed up chicken until just done before removing it from the pan to set aside.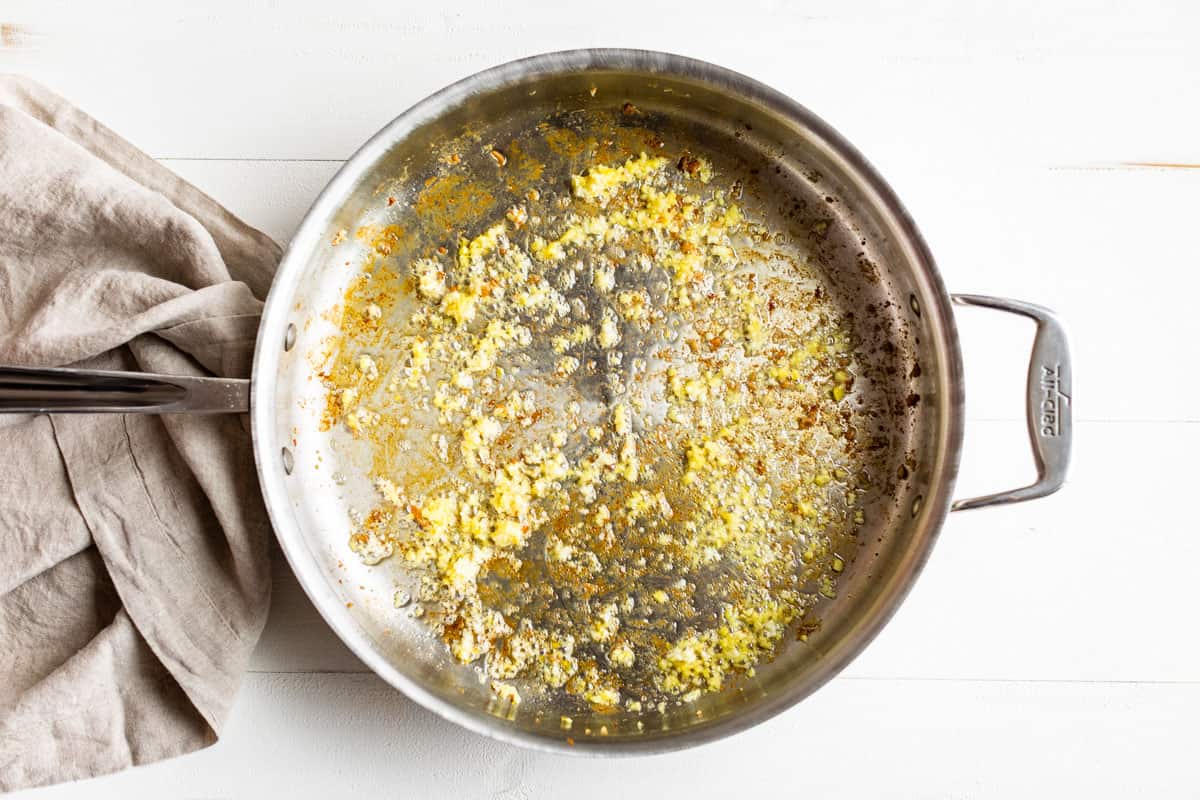 Step 3: Add the remaining oil to the pan and sauté the garlic and ginger until just fragrant in a large skillet, about 30 seconds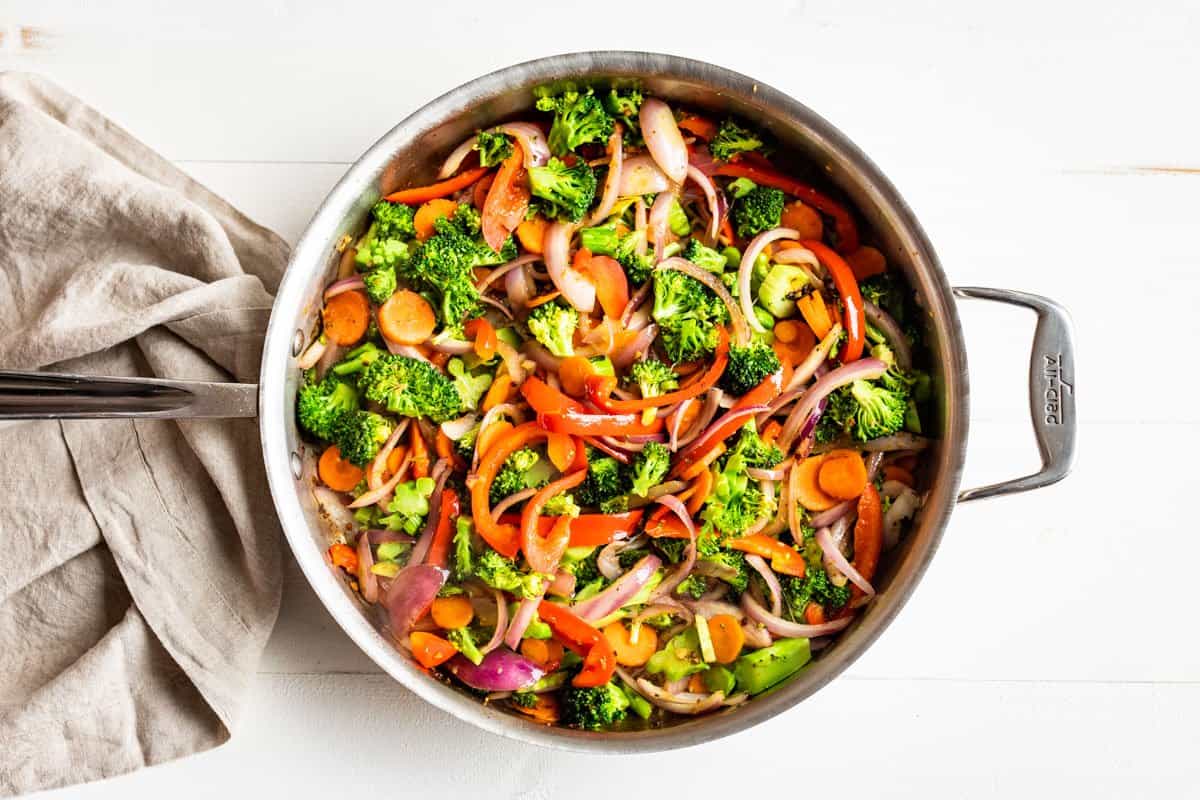 Step 4: Then add the prepped veggies to the skillet and cook over medium high heat stirring as the veggies brown. Increase or decrease the heat so that the veggies brown well and cook to crisp tender without burning.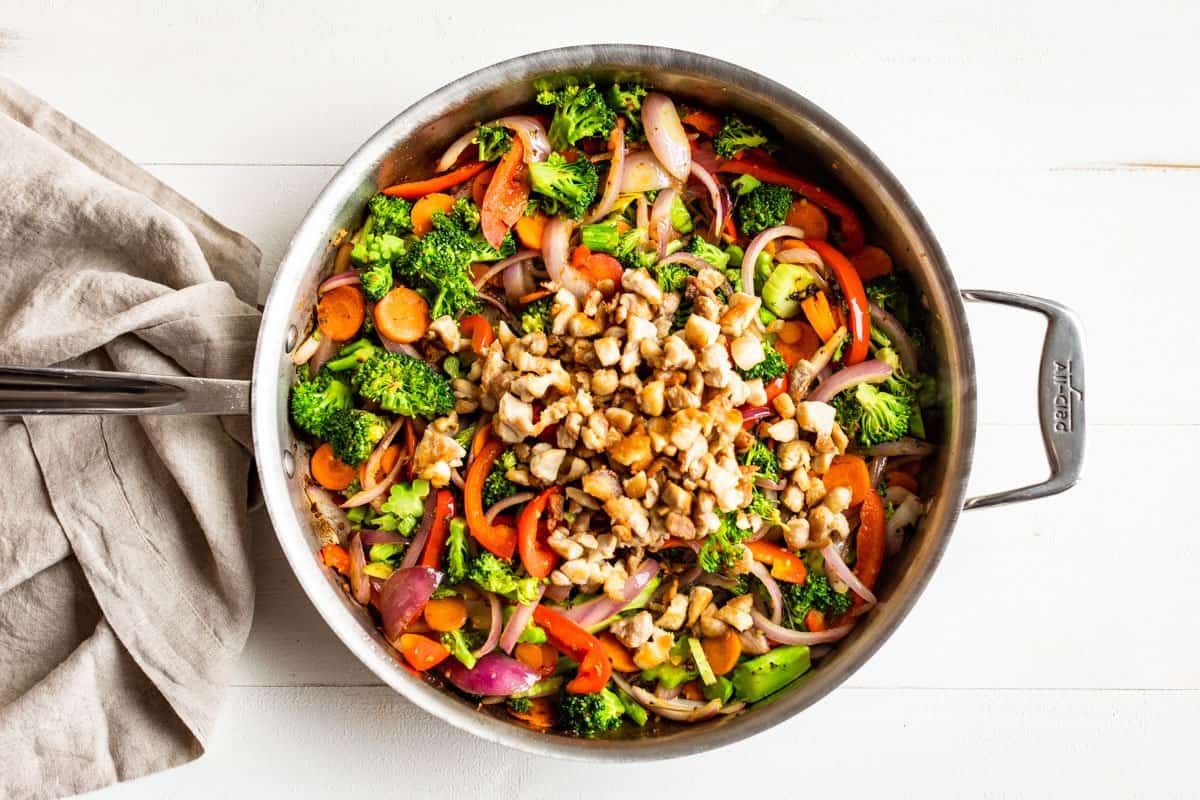 Step 5: Add the chicken back to the pan when the veggies are crisp tender.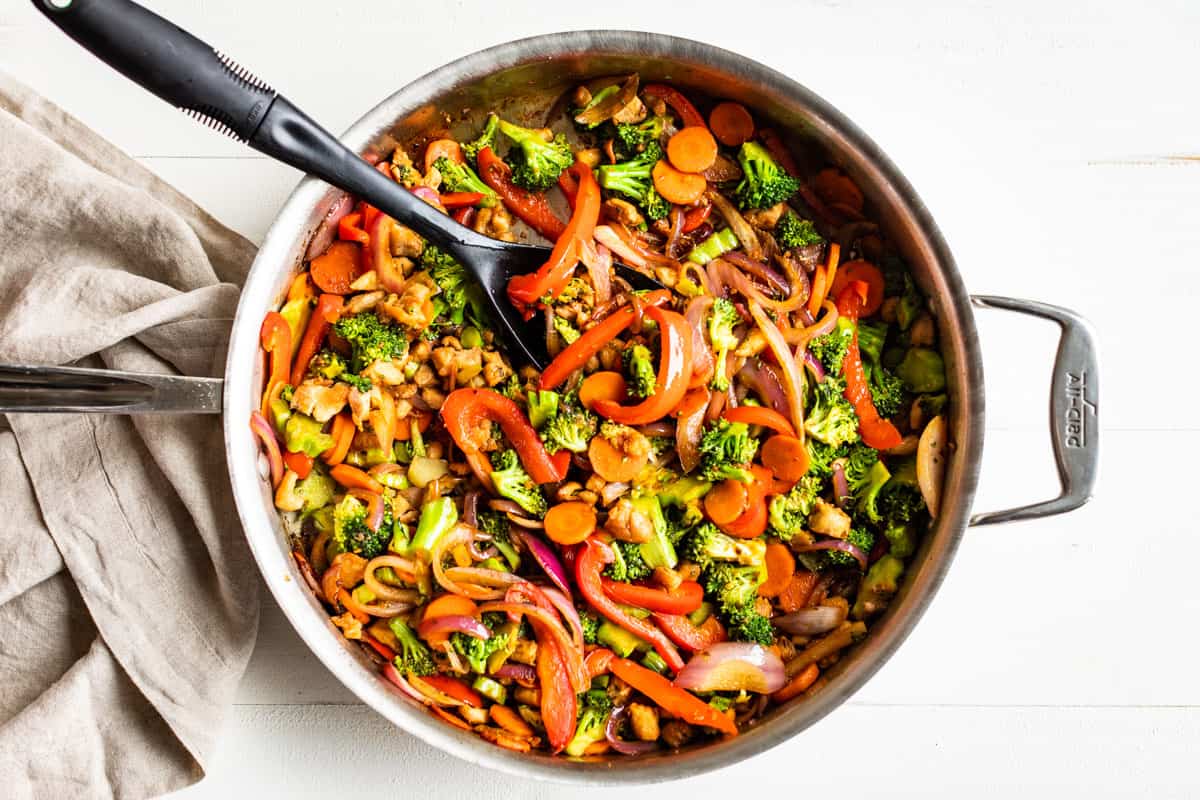 Step 6: Finally add the stir fry sauce and cook stirring just to combine and serve.
Clean skillet tip! After you've removed the stir fry from the pan, add water to cover the bottom and let it sit while you eat. Then pour out the water, add about 1/4 cup baking soda and give it a good scrub and watch it come clean! If you've burnt the bottom of the pan you'll need to bring white vinegar to a boil in the pan, turn off the heat and add baking soda. Let the pan cool down, pour the smelly mixture out, then scrub with baking soda.
Try all 5 flavors
Lemon Ginger
Curry
Ethiopian Berbere
Sweet Chili
Orange Chinese 5-spice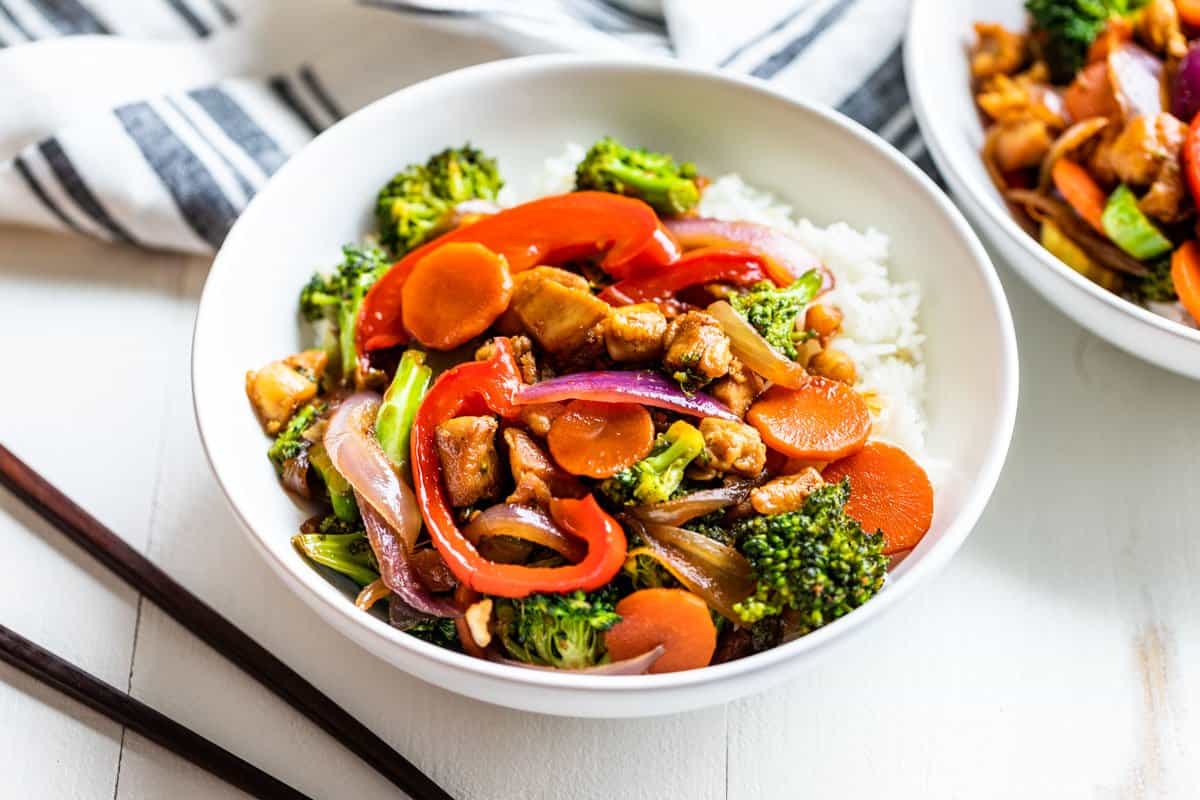 Ways to serve this
Over freshly steamed jasmine rice, basmati, or any long grain rice. Both white and brown rice work well here.
Add some crunch with toasted cashews or peanuts, and add some thinly sliced green onions in right at the end. Or you can even add 1 teaspoon toasted sesame oil in with the soy sauce for extra nutty flavor.
You can also serve this stir fry tossed together with freshly cooked rice noodles, or gluten free ramen noodles.
For something different, try my Roasted Sweet Potatoes, Cauliflower Rice, or Spaghetti Squash for a paleo option.
FAQ's
What's the secret to a good stir fry?
Quality ingredients are everything for great flavor! For instance dried powdered ginger cannot even compare to fresh ginger. Using fresh ingredients is everything, then don't overcook it and you're good to go. Also I have 5 variations that add a lot of flavor from Berbere spice to Chinese 5 spice combined with orange.
How do you make stir fry taste like a restaurant?
High heat is the secret to a great stir fry that tastes like what you'd get in a restaurant. Also use a large pan so there's no overcrowding, and only stir once the bottom layer has browned – this is what gives you the restaurant 'seared' flavor.
Can I use chicken breasts instead of chicken thighs?
Yes but be careful not to overcook them, you want juicy chicken. Chicken breasts go from tender and juicy to sawdust dry quickly without a lot of wiggle room which is why I love to stir fry with chicken thighs.
Storing leftovers
To store – place any leftovers into an airtight sealed container and stored in the refrigerator for up to 4 days. Veggies like broccoli or cabbage do get more 'flavor' over time, but they are still good to eat.
Reheat – place the amount you want to reheat into a small skillet along with a tablespoon or 2 of water and reheat stirring constantly over medium heat until warmed through. I sometimes add any leftover rice right to the pan to heat up with the stir fry to re-soften it. You can also microwave the leftovers.
To freeze – I don't recommend freezing any kind of stir fry because the veggies are soft and on the mushy side when thawed.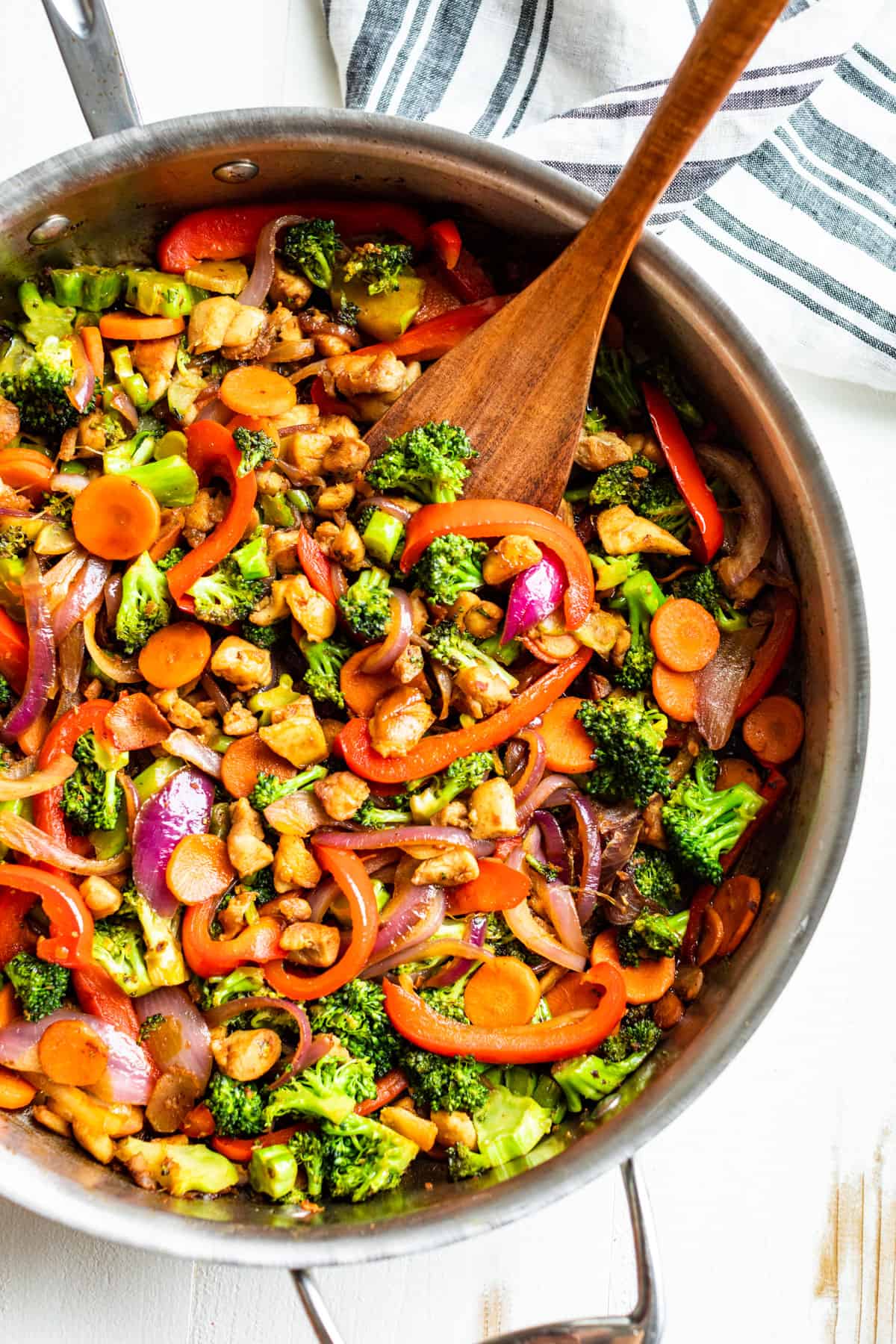 Tips & Tricks
Use different veggies depending on what's in season or whatever is most liked in your family. Onions, broccoli, carrots, and cabbage are all generally available and budget friendly.
Try different meats here as well like ground pork, ground beef, or shrimp. I love using ground meats because you get to skip cutting up the chicken thighs which saves time and mess! Just sauté it first like you would for the chicken, breaking it up in small bits like you would for tacos. Then remove it from the pan to add back in at the end.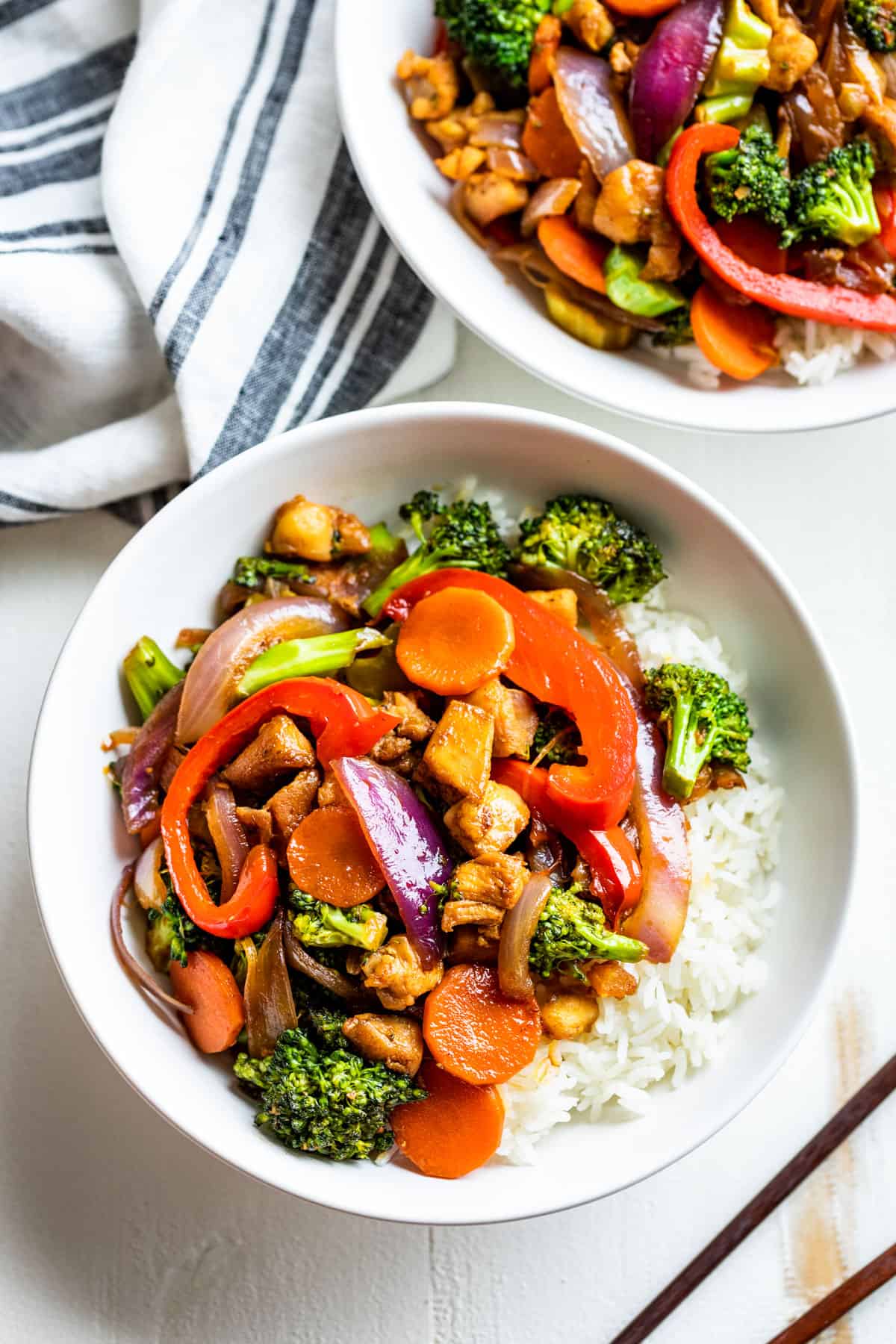 I really hope you enjoy this Chicken Stir Fry + 5 Sauces! If you do get a chance to make this recipe, please leave a rating, I'd love to hear from you in the comments.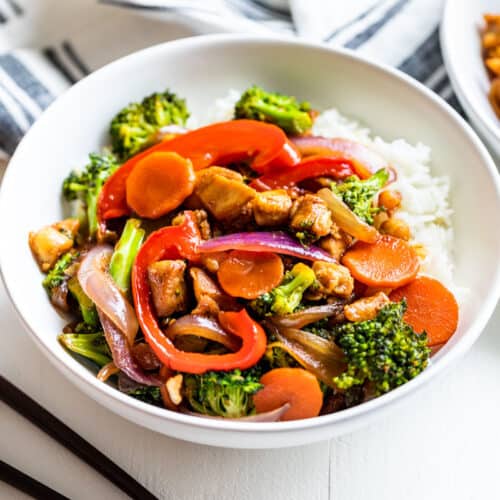 INGREDIENTS
1/4

cup

avocado oil

-

or other stir frying oil

1.5

pounds

boneless skinless chicken thighs

-

cut into 1" pieces

1

large

red onion

4

carrots, 8 ounces

-

peeled

1

red bell pepper, 8 ounces

1

pound

broccoli

1

tablespoon

minced ginger

2

cloves

garlic

-

minced

1/4

cup

soy sauce or coconut aminos
INSTRUCTIONS
Start by prepping all the ingredients before you begin to cook. Cut both ends off the onion, then cut in half from top to bottom. Place each half flat side down and slice into 1/4" thick half moon slices.

Thinly slice the carrots, then remove the stem and slice the bell pepper into 1/2" thick strips. Cut the broccoli into small bite-sized pieces. Peel away the tough outer layer of the stem, then thinly slice it.

Heat a large 15" skillet over medium high heat. When the pan is hot, add 1 tablespoon of the avocado oil along with the cubed chicken and sauté until just done. Remove the chicken from the pan and set it aside.

Add the remaining avocado oil to the pan, and add the ginger and garlic. Sauté until fragrant, about 30 seconds, then add the veggies. Stir well to combine the garlic and ginger with the veggies.

Cook the veggies stirring only as they brown until they're crisp tender, about 8 minutes. Turn the heat up or down as needed to make sure they brown well but don't burn.

When the veggies are just done, add the chicken back to the pan along with the soy sauce or coconut aminos. If you're using any of the variations, you'll want to add those ingredients along with the soy sauce.

Stir to combine, then serve immediately.
Bonus Step
If you made this recipe, please leave a rating/comment. Ratings really help us continue to bring you high-quality free recipes. Rate This Recipe!
NOTES
5 Flavor variations:
Lemon Ginger – 1 additional tablespoon ginger + Zest from 1 lemon + 2 tablespoons lemon juice + 1-2 tablespoons maple syrup (Add the extra ginger for this variation in the recipe step that adds the garlic and ginger to the pan.)
Curry – add 1-2 teaspoons curry powder of choice or curry paste of choice
Ethiopian Berbere – add 1-2 teaspoons Ethiopian Berbere spice mix to taste, (some mixes are spicy).
Orange Chinese 5-spice – 1 teaspoon Chinese 5-spice powder + orange zest & juice of 1 orange.
Sweet Chili – 1 teaspoon red pepper flakes along with 2-4 tablespoons of honey to taste.
Extra sauce tip: If you love a saucy stir fry, mix 1/2 cup chicken broth or stock together with 2 teaspoons cornstarch or tapioca starch to add to the pan along with the soy sauce or coconut aminos.
nutrition facts
Calories:
417
kcal
|
Carbohydrates:
19
g
|
Protein:
39
g
|
Fat:
21
g
|
Saturated Fat:
4
g
|
Polyunsaturated Fat:
4
g
|
Monounsaturated Fat:
12
g
|
Trans Fat:
1
g
|
Cholesterol:
162
mg
|
Sodium:
1044
mg
|
Potassium:
1117
mg
|
Fiber:
6
g
|
Sugar:
8
g
|
Vitamin A:
11870
IU
|
Vitamin C:
145
mg
|
Calcium:
103
mg
|
Iron:
3
mg