This easy Chicken Zucchini Stir Fry is better than take-out, and the perfect way to get an easy, healthy meal on the table. It also uses lots of zucchini which is perfect for this time of year. But you can also use a mix of whatever veggies you have on hand. It's made with real food ingredients with no added sugar! It's the perfect dish to make when you are craving takeout flavors, but want to keep it healthy.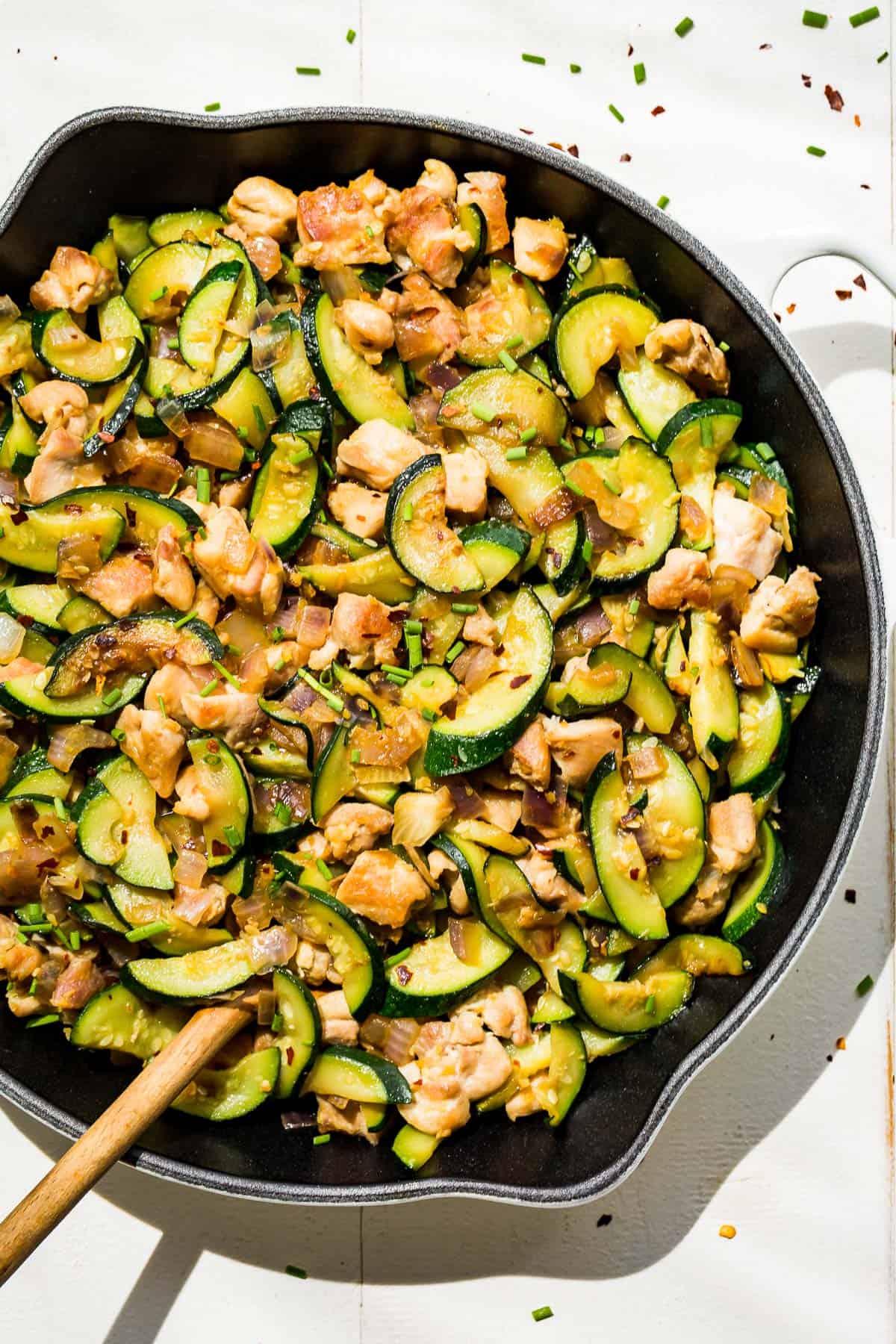 My inspiration behind this recipe was to use up lots and lots of zucchini! I usually love to add a mix of veggies to my stir-fries. But since it's the height of summer, this recipe is a simple zucchini stir fry – no extra veggies.
Ginger, garlic, and onion make up the aromatics in this stir fry. And I kept the sauce super simple too, so it makes a perfect weeknight recipe. The zucchini is sautéed until it's crisp tender before the sauce is added.
This works great because the more tender centers of the zucchini soak up the sauce and make this stir fry hard to stop eating.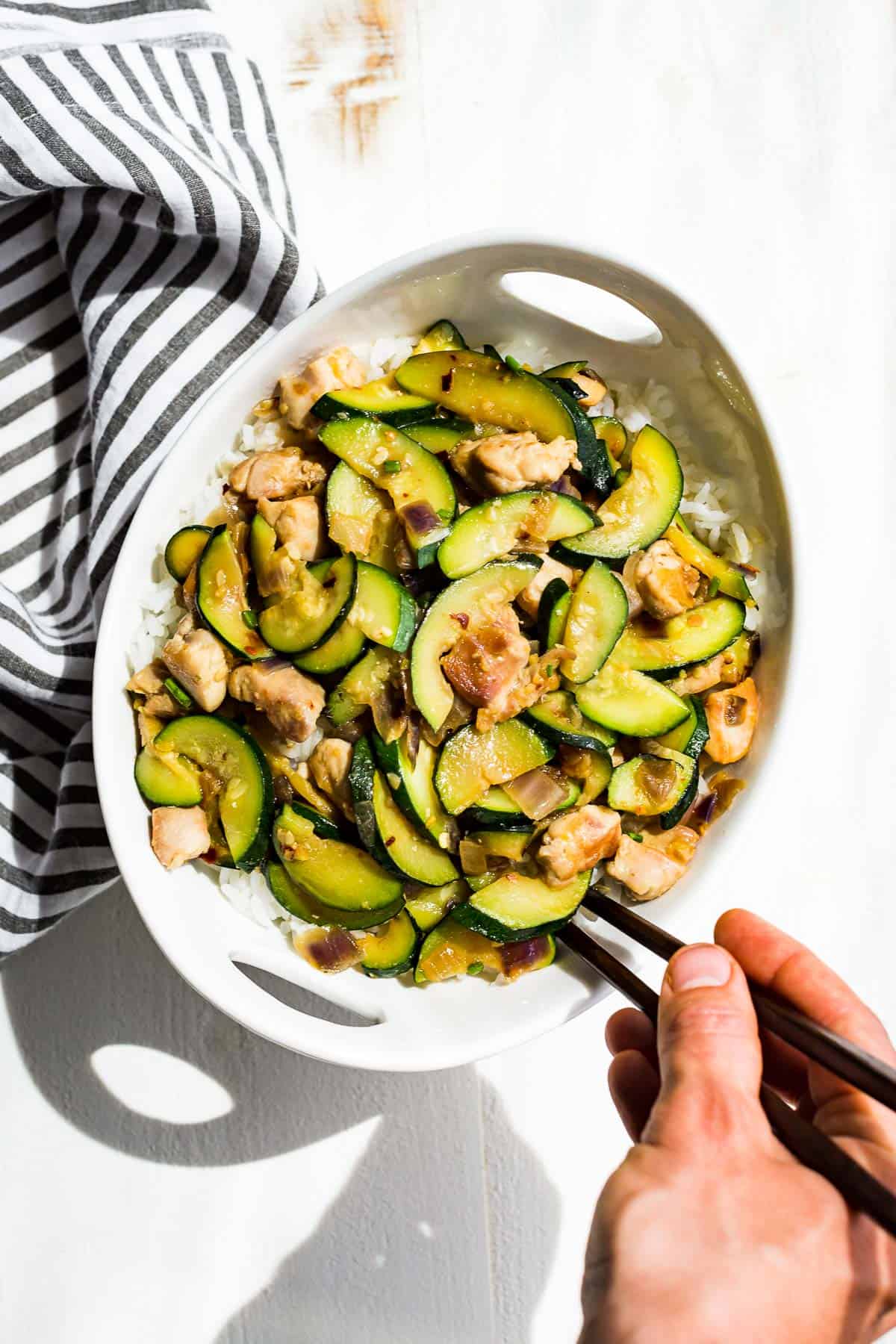 So if you're swimming in zucchini, this recipe is for you. And in case you need more inspiration, my 35 Healthy Zucchini Recipes should help you use up all that summer bounty.
We have 3 zucchini plants + a CSA from a local farmer, so we definitely have 'just a bit' of zucchini right now!
Ingredients & Substitutions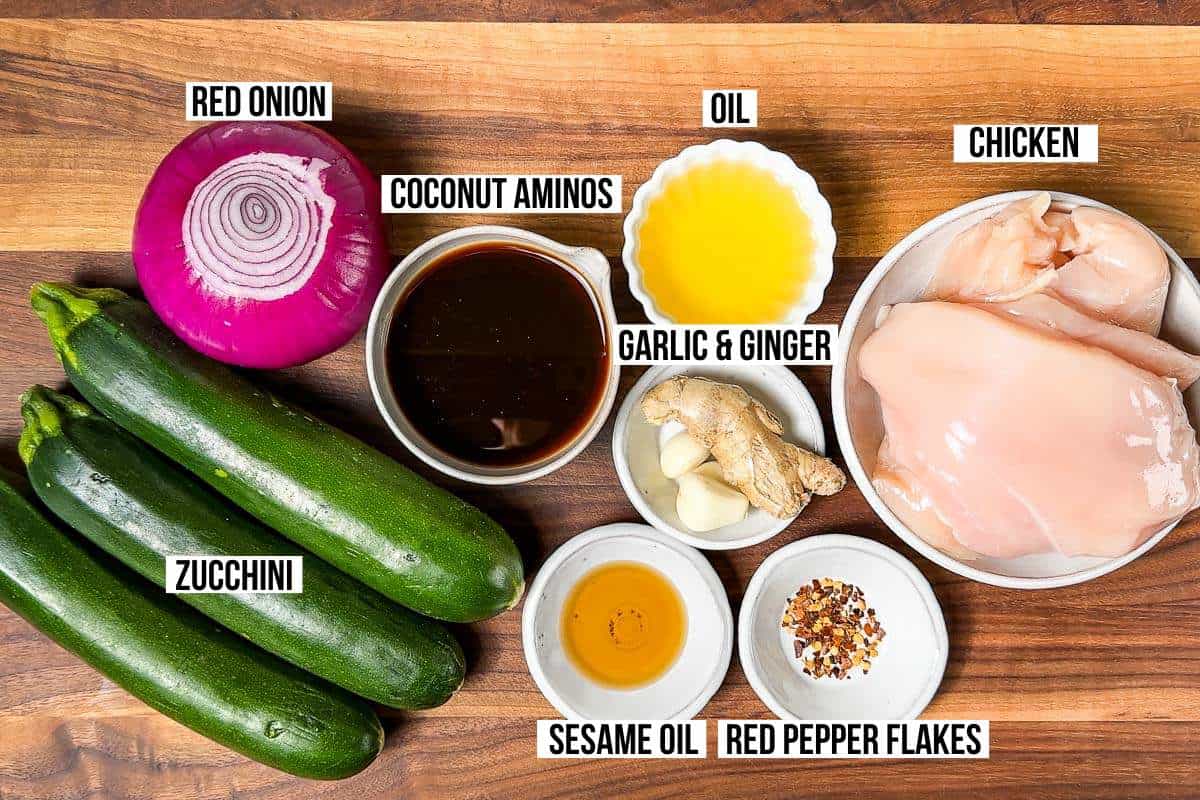 Chicken – you can also use pork, ground beef, sliced steak, or shrimp here because the flavors go well with pretty much anything, including vegetarian options. Chicken thighs are my favorite for stir-fries because they don't dry out as easily as chicken breasts. But you can use whatever you have on hand.
Garlic & Ginger – Fresh is definitely best here in this super simple stir fry. But in a pinch, you can use the tube ginger.
Onion – I used red onion and love the flavor, but I've also used green onion which was really good too. Just slice up the green and white parts separately and add the green parts right at the end of the cooking time. Really any onion will work perfectly here.
Coconut Aminos or Soy Sauce – we love using coconut aminos here to keep things soy free, but soy sauce works perfectly too. If you use coconut aminos, you may need to add salt to make it tasty.
Sesame oil & red pepper flakes – add depth of flavor and a hint of heat. My latest addition to this stir fry isn't pictured, but a hint of rice vinegar balances the flavors and brings it home.
How to make this recipe step by step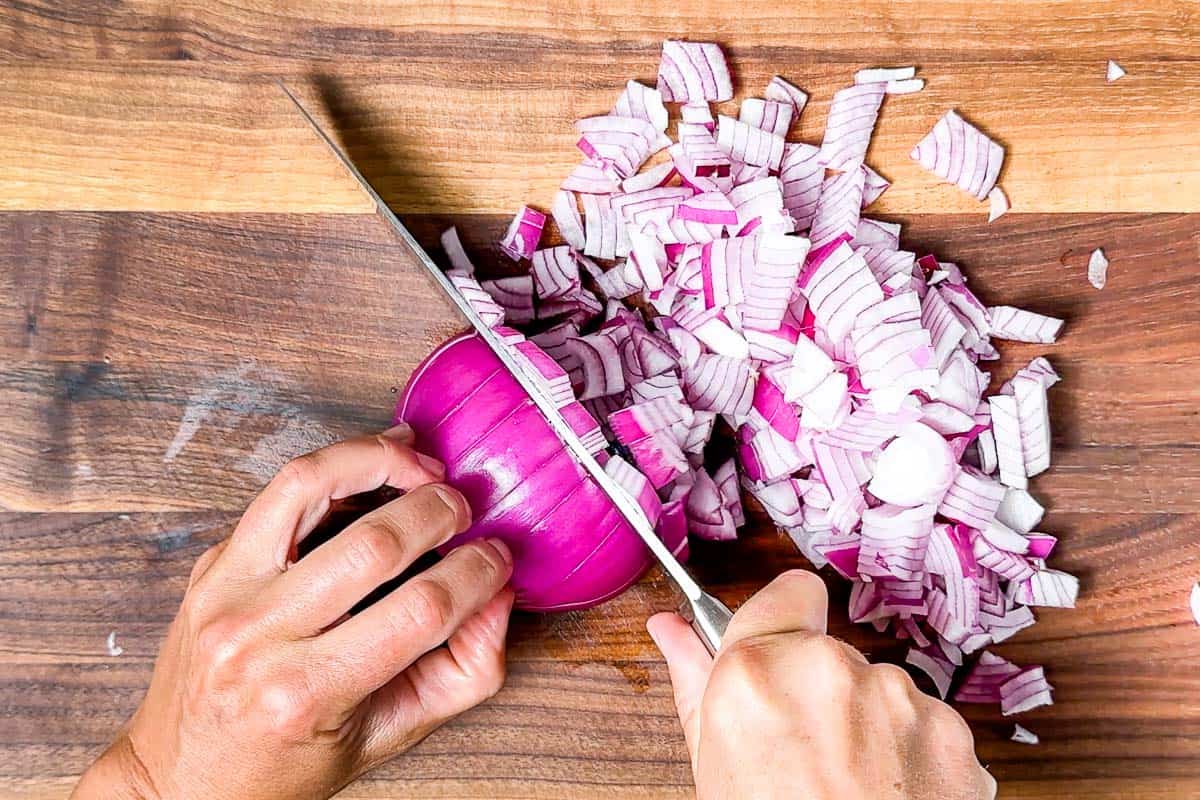 Step 1: Start by prepping everything before you begin to cook. Stir fries come together quickly, so it's best to be ready to go.
Dice up the red onion and set it aside.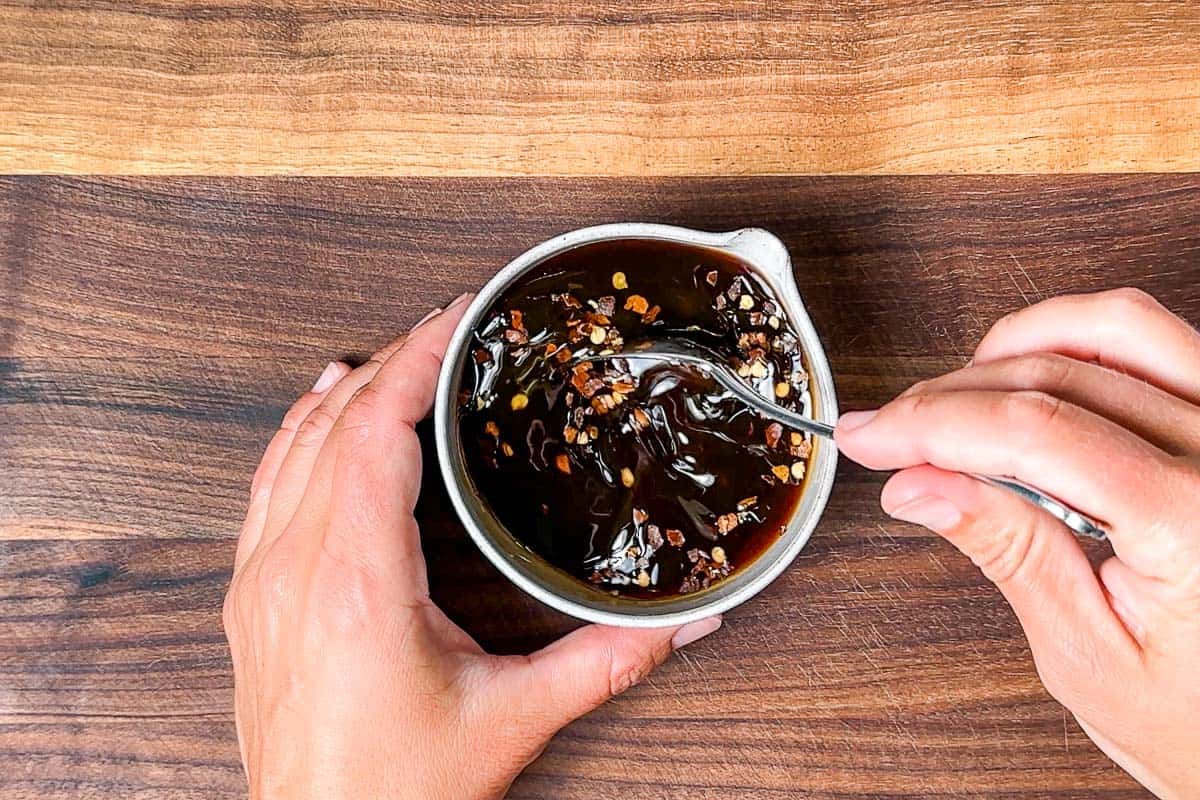 Step 3: Stir together the coconut aminos (soy sauce/tamari) with sesame oil and red pepper flakes in a small bowl.
Set the sauce aside while you begin to cook.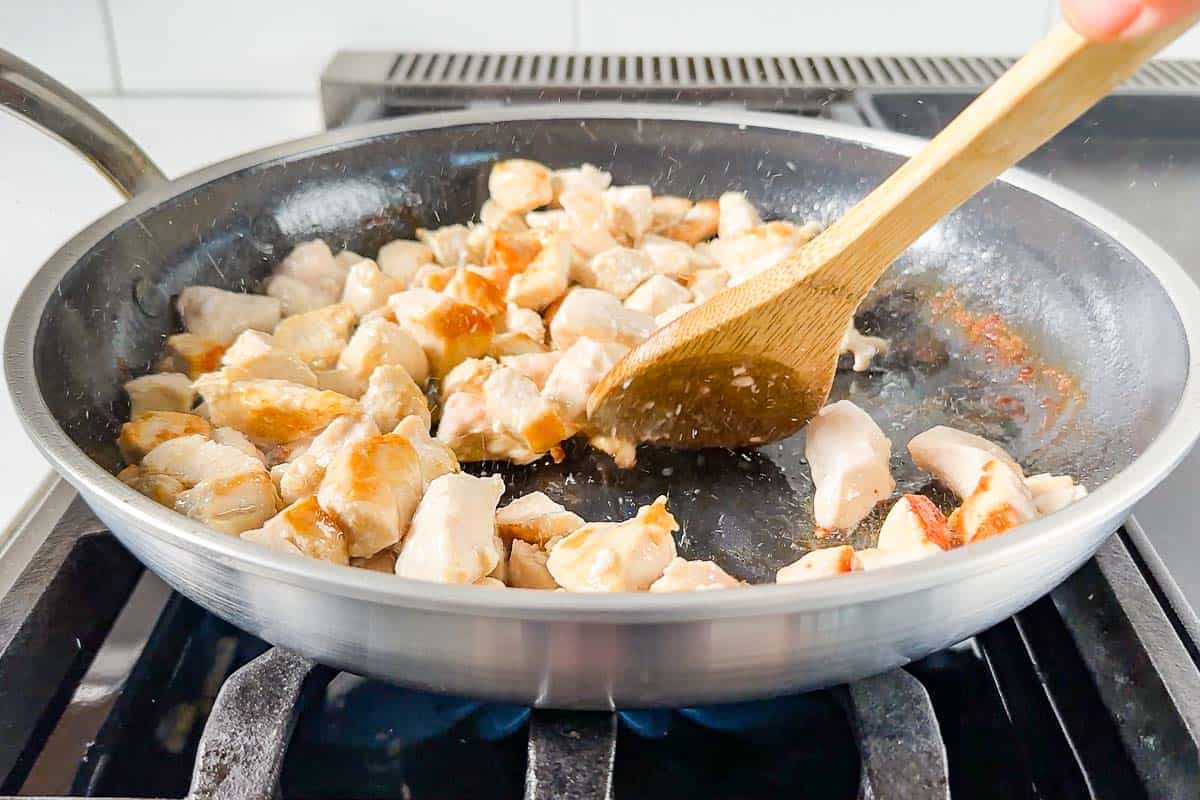 Step 4: Begin by sautéing the chicken in a large skillet. Remove it from the pan and set it aside while you cook the veggies.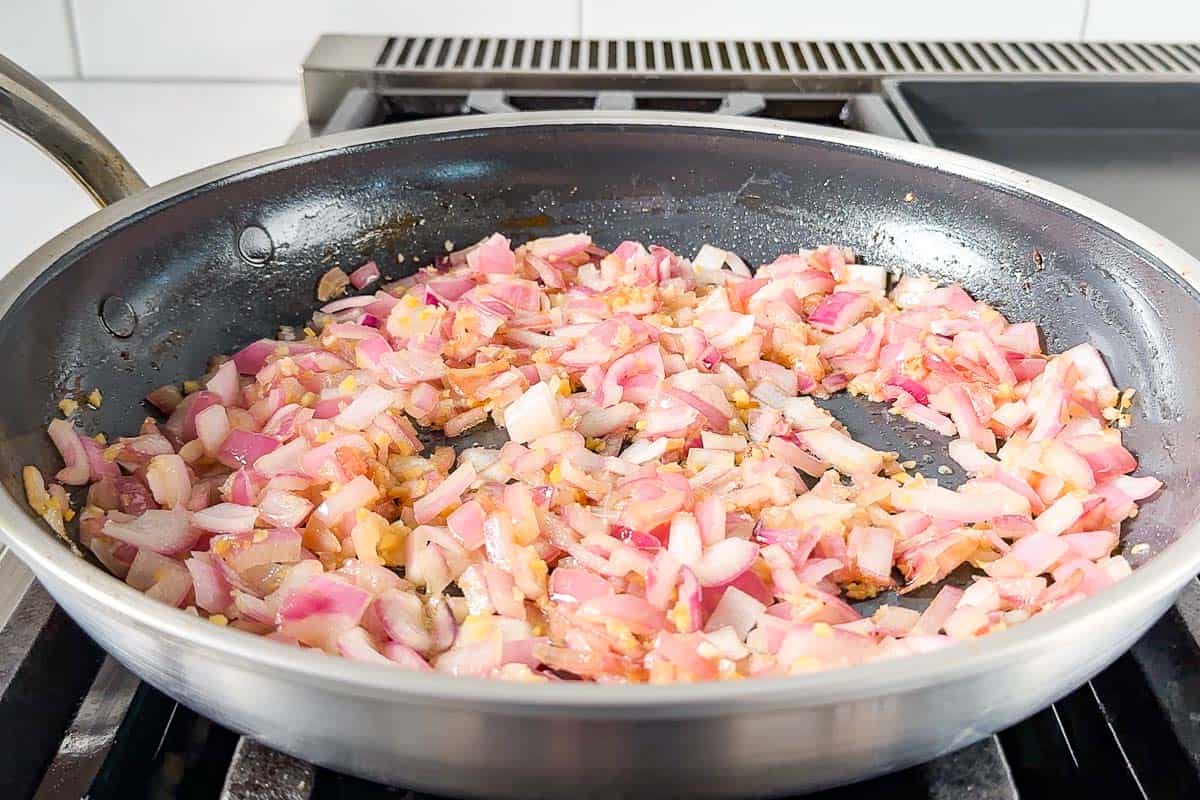 Step 5: Then cook the red onion, garlic and ginger together until softened.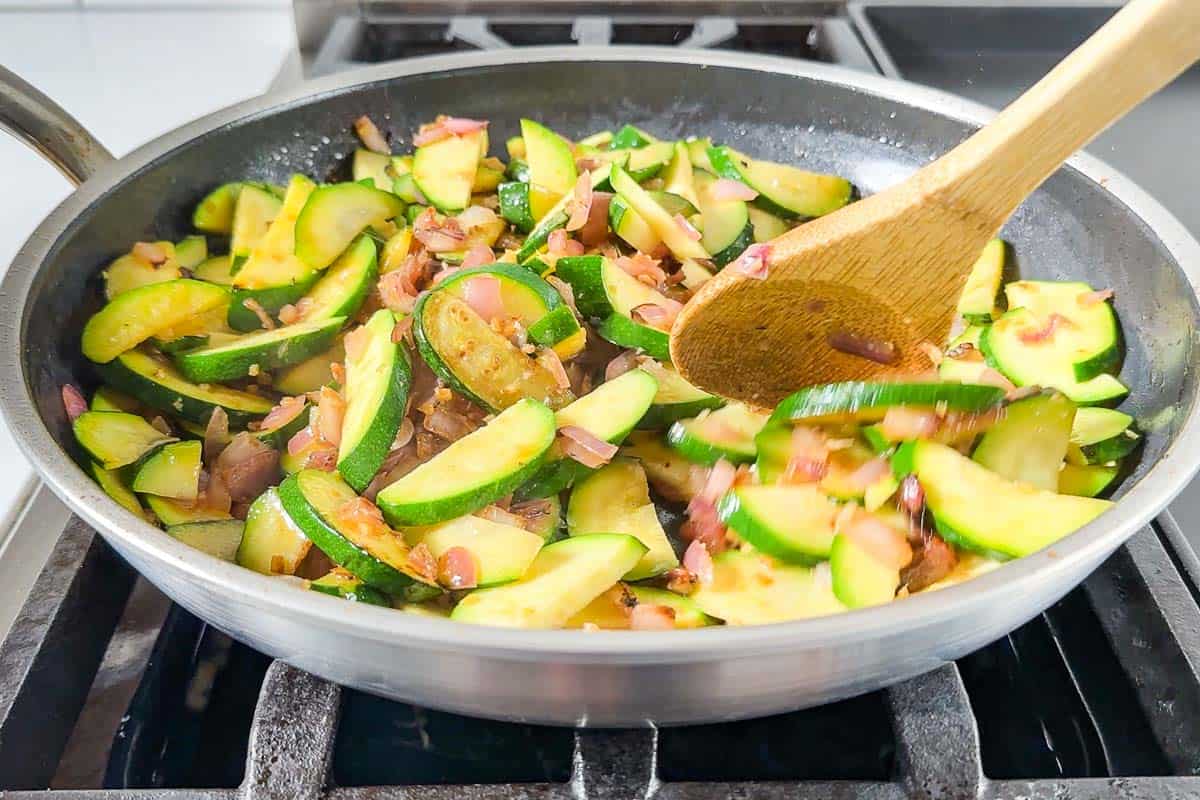 Step 6: Increase the heat to high and add the zucchini.
Stir fry stirring only as the zucchini browns. High heat helps you achieve nice seared edges without the zucchini turning into mush while it cooks.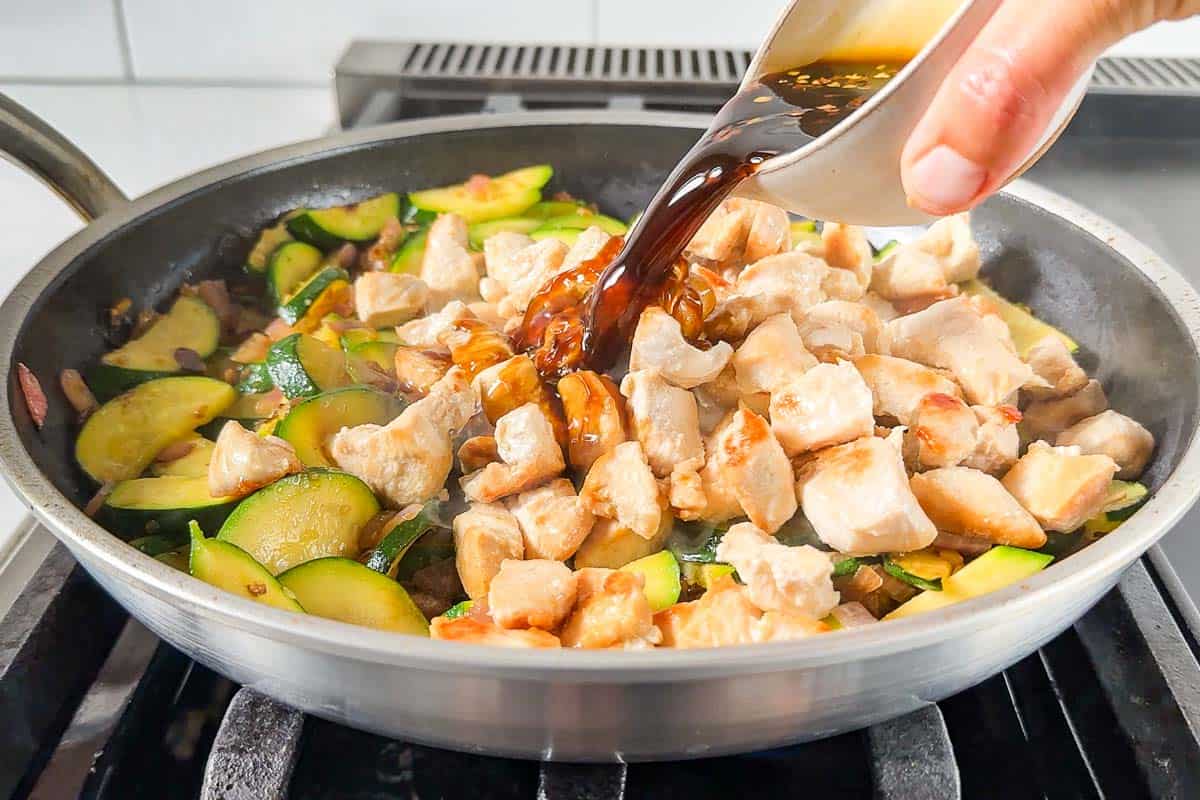 Step 6: Add the chicken and sauce to the pan when the zucchini is crisp-tender.
Stir to combine, then season to taste with sea salt and rice vinegar.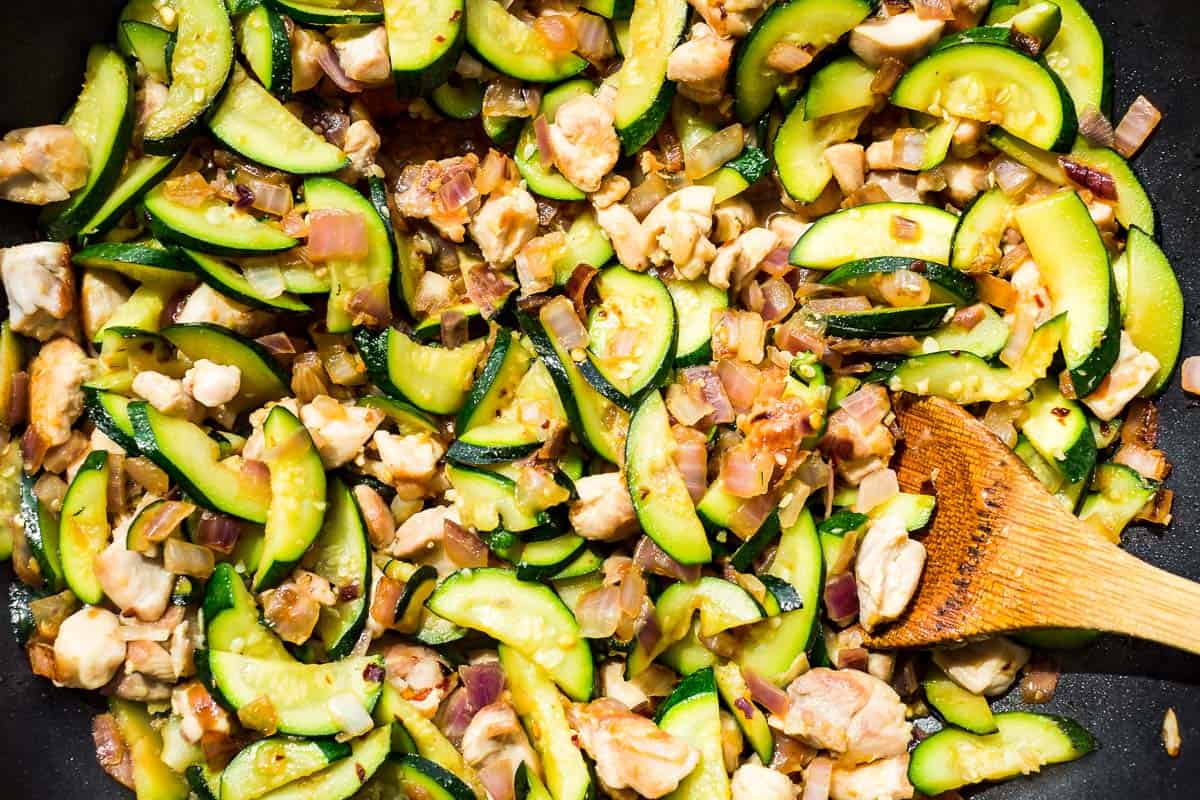 Ways to serve this
This zucchini stir fry is perfect served over freshly steamed long-grain rice like Jasmine. It's also tasty served with cauliflower rice, and I even like to eat this stir fry on its own without any side dishes.
piled over rice noodles or rice ramen noodles is really good!
try something different and serve this stir fry over my roasted sweet potatoes or spaghetti squash.
FAQ's
How do you cut chicken for a stir fry?
Try cutting up the chicken slightly frozen, this makes the process much easier. Also, I cut my chicken thighs into strips, then cut across the grain which makes the chicken more tender.
How do you keep zucchini from getting watery and soft?
Don't overcook it! Zucchini cooks quickly, so you want to stir fry until just tender. When stir-frying zucchini, high heat is very important to brown the zucchini before it breaks down and becomes watery and mushy.
Can I use chicken breasts instead of thighs?
Yes but be careful not to overcook them. Chicken breast meat dries out more easily than thighs in a stir fry. Use boneless skinless chicken breasts so they're easy to cut up.
Can I use other vegetables in place of zucchini?
Yes but be mindful of cooking times. Veggies like sliced mushrooms cook at the same rate as zucchini. But veggies like carrots and broccoli need more time to stir fry.
Storing leftovers
Store – place any leftovers into an airtight container and refrigerate for up to 5 days. The broccoli will continue to smell stronger as time goes on. I find stir fries are definitely their best right away, but we enjoy the leftovers for lunches for the next 2 days or so.
Make ahead – I like to prep the garlic and ginger ahead of time and freeze them in small containers. That way I'm always that much closer to making a quick stir fry.
Reheat – add your leftovers to a skillet, and cook over medium heat stirring constantly until the stir fry is hot. We like to add some leftover rice to the pan along with the stir fry. Rice becomes hard in the refrigerator but reheats well with the stir fry. Add a tablespoon or two of water as necessary to keep it from sticking.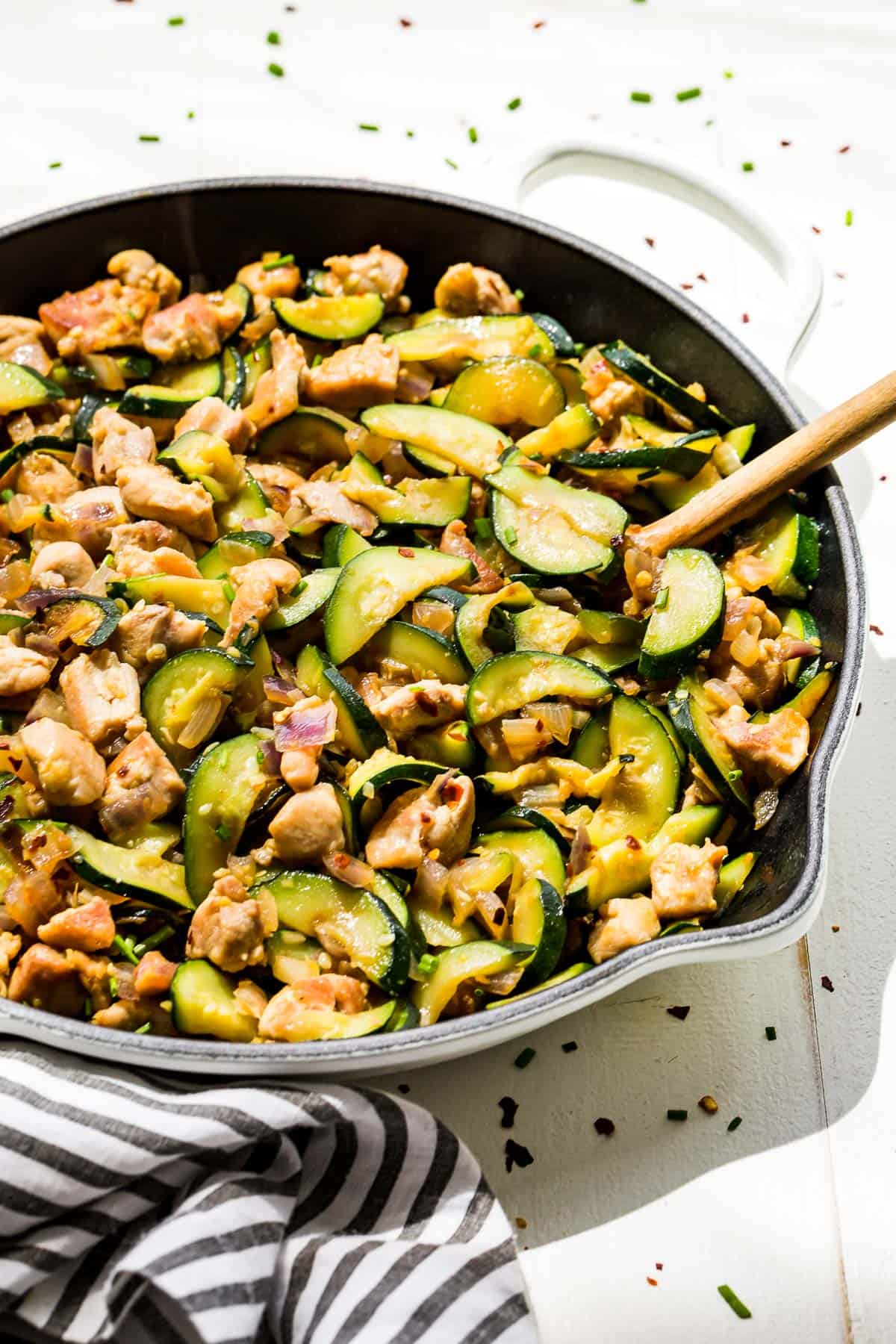 Tips & Tricks
Cook the zucchini over high heat for the best-seared flavor. Also high heat helps to cook the zucchini to a crisp-tender rather than soggy.
This recipe is all about the zucchini, but if you're looking to mix up the veggies, check out my Chicken Stir Fry recipe.
Fresh minced ginger and garlic make all the difference in stir-fries. I like to prep them ahead and freeze them in 1/4 cup mason jars. That way I can pull 1 out of the freeze and defrost in the fridge whenever I want to make a stir fry. It's a small thing, but having the garlic and ginger already prepped is a huge time saver on busy weeknights.
I really hope you enjoy this Chicken Zucchini Stir Fry! If you do get a chance to make this recipe, I'd love to hear from you in the comments. And if you're looking for more fresh meals, try my 70 Light Summer Dinner Ideas.
Chicken Zucchini Stir Fry
---
INGREDIENTS
2

tbsp

avocado oil

-

or neutral cooking oil

1

pound

boneless skinless chicken thighs

-

cut into 1/2" cubes

2

cloves

garlic

-

minced

1

tbsp

ginger

-

minced

1

red onion

-

diced into 1/4″ dice, 3 cups

4

zucchini

-

1 1/2 pounds, cut into half moon slices, 6 cups
Sauce:
1/4

cup

coconut aminos

1

tsp

toasted sesame oil

1/2

tsp

red pepper flakes

Sea salt and freshly ground black pepper to taste

Rice vinegar to taste

Sesame seeds for garnish if desired
INSTRUCTIONS
Start by prepping all the ingredients before beginning to cook. Whisk the sauce ingredients together in a small bowl and set them aside.

Preheat a large non-stick frying pan, (15″) over medium high heat until hot, but not smoking. Add 1 tablespoon oil to the pan along with the chicken. Turn the heat to high, and cook stirring only as the chicken browns. When the chicken is done, remove it from the pan and set it aside.

Add the second tablespoon of oil to the pan to fry the garlic, ginger, and red onion together. Cook over medium-high heat stirring often for 3-4 minutes. Lower the heat if necessary to keep the mixture from browning.

Add the zucchini to the pan, and cook over high heat, stirring as they brown for 3-5 minutes, or until crisp tender.

Add the chicken and stir fry sauce to the pan, toss to combine. Cook stirring constantly for a few seconds, and most of the sauce will be absorbed. 

Remove the pan from the heat, season to taste with sea salt and rice vinegar, and sprinkle with sesame seeds. Serve immediately.
Bonus Step
If you made this recipe, please leave a rating/comment. Ratings really help us continue to bring you high-quality free recipes. Rate This Recipe!
NOTES
The nutrition information is calculated with 2 tablespoons avocado oil.
There shouldn't be excess sauce when the stir fry is done, but there can be if the zucchini gets overcooked. You can mix together 1-2 tsp tapioca or cornstarch with 2 tsp water and add it to the hot stir fry to thicken.
nutrition facts
Calories:
269
kcal
|
Carbohydrates:
13
g
|
Protein:
25
g
|
Fat:
13
g
|
Saturated Fat:
2
g
|
Polyunsaturated Fat:
3
g
|
Monounsaturated Fat:
7
g
|
Trans Fat:
0.02
g
|
Cholesterol:
108
mg
|
Sodium:
461
mg
|
Potassium:
848
mg
|
Fiber:
3
g
|
Sugar:
6
g
|
Vitamin A:
494
IU
|
Vitamin C:
38
mg
|
Calcium:
52
mg
|
Iron:
2
mg
This recipe was originally published in 2020 and updated with more prep photos, tips and information in 2023.