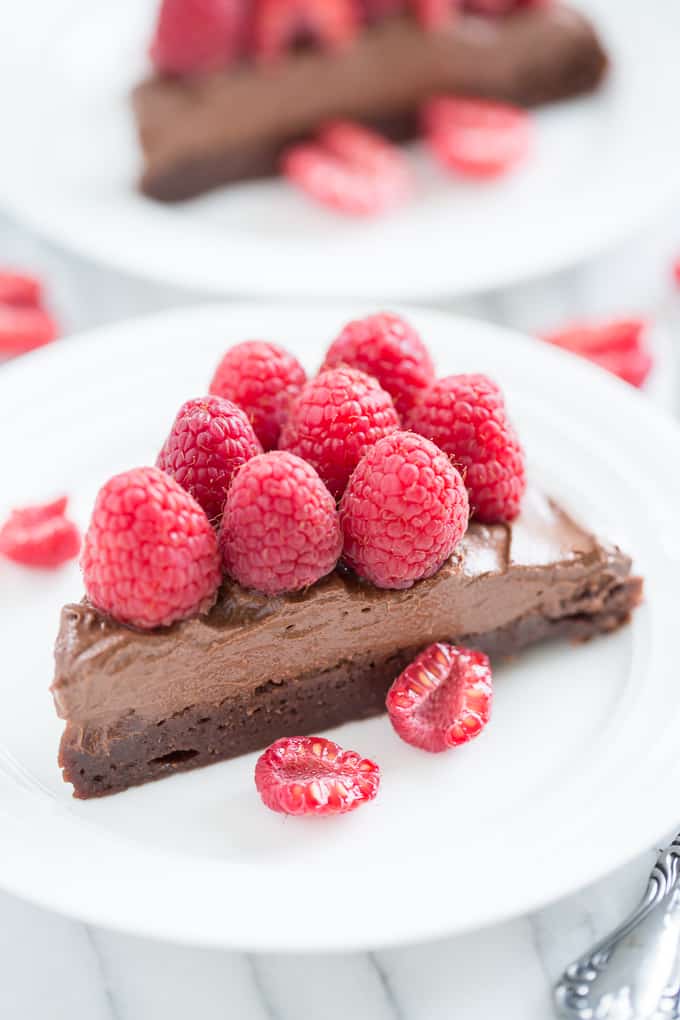 Chocolate and Raspberry is my husband's favorite dessert combination – so it's no surprise this recipe is dedicated to him! I had it all dreamed up for his birthday a month ago, but before I told him what I had in mind, he requested my Chocolate Tart. So I figured the Chocolate Mousse Brownies could wait for February when there's both Valentine's Day and our anniversary to celebrate! And… speaking of Valentine's Day, I just realized that it's coming up this Saturday, so it looks like I'm a bit late in getting you this dessert recipe.
See here's the thing… I'm completely hopeless at holidays and special events – hopeless in that they completely slip my mind. For instance, one of my best friends and I are trying to figure out a night to get together this week to have dinner. And… I go and suggest that we meet up on Saturday night totally forgetting it's a holiday, (for the record we're both married so maybe girl's night out could wait?)! The worst part is, it took me several days to figure out my slip-up and get back to her – seriously what's wrong with me! But in all seriousness I'm not a huge fan of some of the general hoopla surrounding Valentine's Day, but I am a fan of spending time with the ones you love – so bring on the brownies!
The brownie base for this recipe is slightly tweaked from my original brownie recipe, and I baked it in a tart pan for that beautiful fluted edge. I also love to under-bake these brownies because as they cool, they sink into a layer of fudge!
While the brownie base is cooking and cooling, you can make the filling in just a few minutes with a food processor. Another great thing about these brownies is they can be assembled ahead of time by topping them with the chocolate mousse and refrigerating overnight. The next day you can serve them with whichever berry topping you decide to go with!
Please don't feel like you need to use fresh berries for this dessert, because a sauce made out of frozen berries works really great as well! I've gotten a great deal on organic raspberries 2 weeks in a row now, so I couldn't resist a little out-of-season produce. I'm including a couple links for sauce recipes in case berry prices happen to be sky high!
Strawberry Sauce – this recipe has rhubarb in it, so if you're making it for these brownies omit the rhubarb and halve the arrowroot, honey, and orange zest.
To serve the brownies I un-molded them from the tart pan, and placed the brownies (still on the tart pan base) on a cake stand.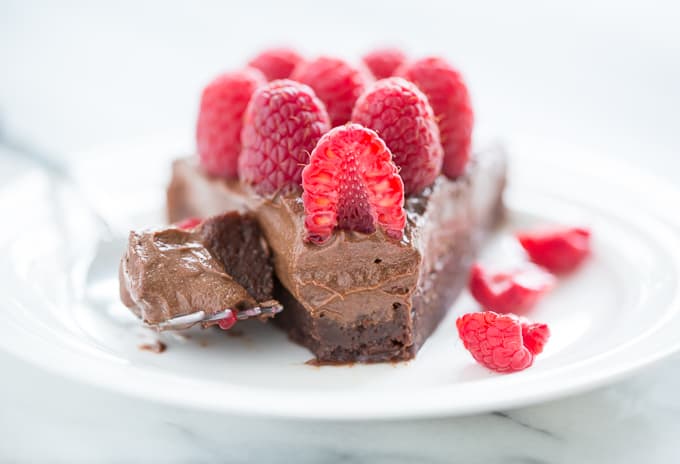 I hope you enjoy every last luscious bite of these beauties!
Print
Chocolate Mousse Brownies
---
Brownie Base:
1 cup

cashew butter, not raw but made from toasted cashews

6 Tablespoons

cocoa powder

1/2 cup

maple syrup, Grade A for lightest flavor

2 Tablespoons

coconut oil, melted

1

egg

1 Teaspoon

vanilla extract
Chocolate Mousse:
1

–

15.5

ounce can of coconut milk chilled at least 24 hours

1

avocado, just ripe not super soft

1/2 cup

cocoa powder

2/3 cup

maple syrup, Grade A

2 Tablespoons

coconut oil, melted

1 Tablespoon

vanilla extract
Toppings:
Fresh Berries
Anything you love paired with chocolate!
---
Instructions
Preheat the oven to 325ºF, and grease a 9-inch fluted tart pan with coconut oil. You can line the removable bottom in the tart pan with a circle of parchment paper to make the brownies slightly easier to serve, (I've done it both ways and I think the parchment paper does make it a bit easier).
Thoroughly combine all the ingredients for the brownie base in a medium sized mixing bowl. You don't need to worry about over mixing with these brownies because there isn't any flour in them!
Bake the brownie base for 15-20 minutes or until slightly puffed with a fudgy center. The way I figure out whether or not they're done is to poke them in the center, once the mousse topping is on top no one will see the little indent, and that way I don't overcook them.
Let the brownie base cool completely before topping with the chocolate mousse.
While the brownies are baking make the chocolate mousse.
Start by scooping off the hardened coconut cream from the top of the can, reserving the liquid for another use (smoothies are a great option).
Add the scooped coconut cream to a food processor with the rest of the ingredients for the chocolate mousse. Process the filling just until smooth, stopping to scrape the sides at least twice to make sure all the avocado is thoroughly processed into the filling.
Frost the brownies when they're cooled with the chocolate mousse, spreading the filling evenly over the surface, (a slight swirl pattern inwards toward the center looks nice).
Cover and refrigerate 8 hours or overnight. This helps the brownies firm up and the chocolate flavor deepens with a good chilling.
When you're ready to serve, un-mold the brownies from the tart pan by removing the base and placing it on a serving plate or cake stand.
Top the Chocolate Mousse Brownies with whatever topping you'd like!
Prep Time:

30 mins

Cook Time:

20 mins