This Ethiopian Inspired Berbere Chicken Curry was my first experience with berbere spice. I was instantly hooked on the incredible flavors! Ethiopian Berbere is an incredibly flavorful spice mix that makes a wonder tomato coconut curry packed with chicken and veggies. This recipe is gluten free, dairy free, and a wonderful to mix things up in the kitchen.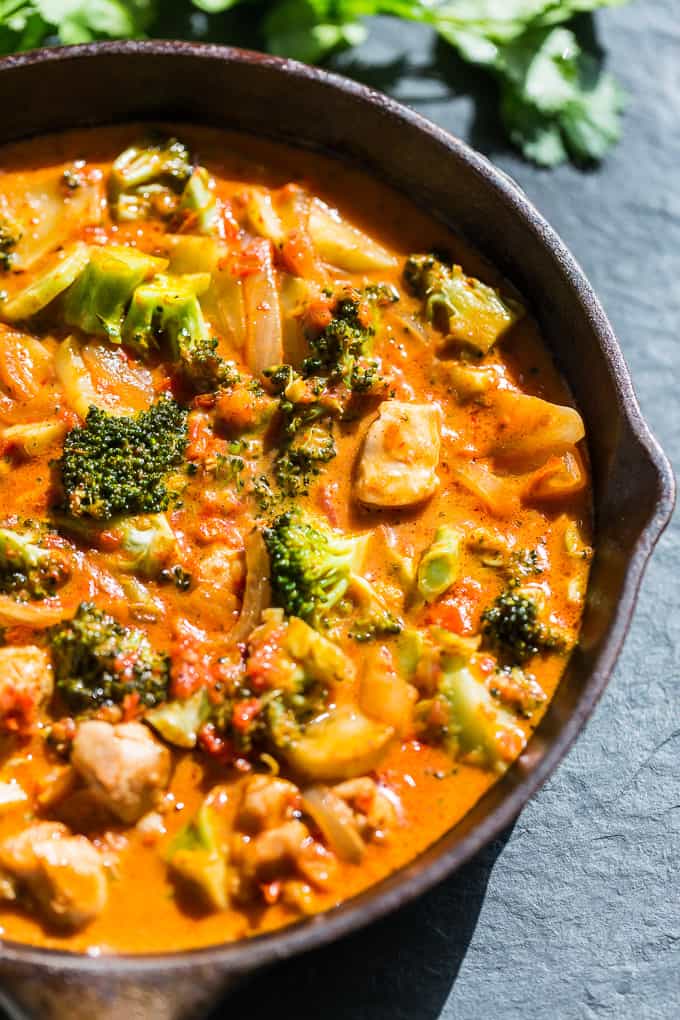 I've been way outside my comfort zone lately. First with these Samosa Style Twice Baked Potatoes, and now this Ethiopian-inspired dish! But one of the things that keeps me inspired and excited about life is trying new things. I promise this recipe is super easy just like my usual style, it's just got a little exotic touch.
If you've made Thai curry with curry paste from the store, you'll find this to be the same principle. (I also have a super easy recipe for Veggie Thai Curry you might like as well.)
The only thing that might take a bit of effort is finding a Berbere spice mix. But with online shopping, (and the help of Amazon Prime) you'll have a little spice tin of goodness in no time! I bought mine from a little spice shop called The Silk Road in Missoula, Montana. They handcraft all their own spice mixes, and you can order right from them online.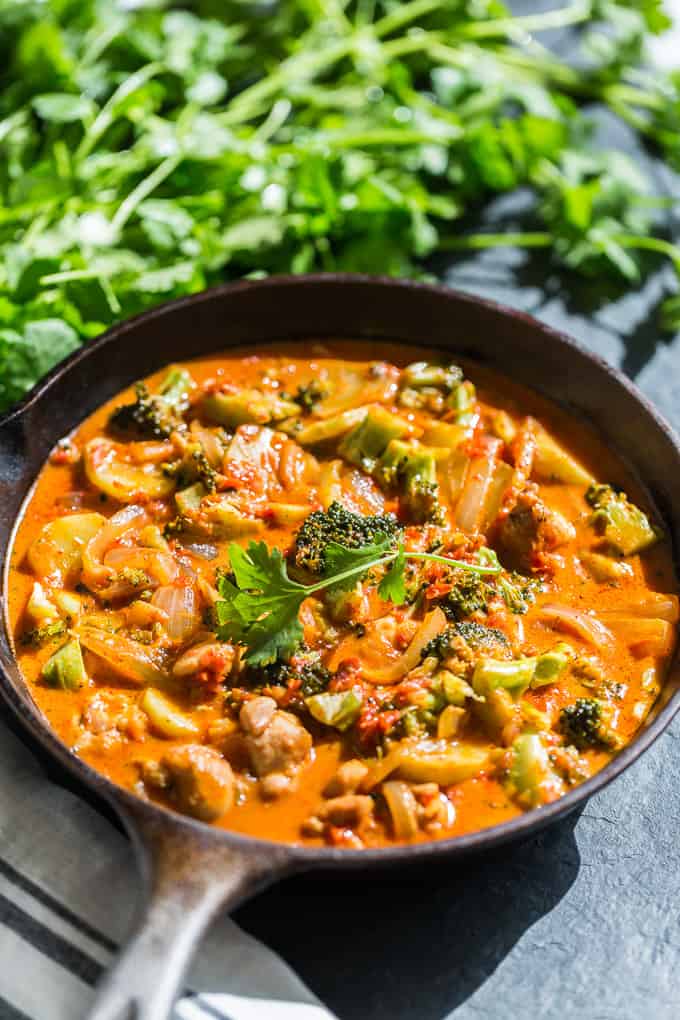 You can use any veggies that you normally like in curry. For this particular recipe, I used broccoli as my primary veggie. But zucchini, carrots, and snap peas are all great options too. I also promise that once you taste the flavor of berbere, you'll be hooked and want to put it on everything. (Try rubbing it on meats before grilling them, and you can thank me later!)
So what is Ethiopian Berbere anyways
If you're anything like me, you've probably never heard of it before. It's a mix of spices usually including chili, paprika, fenugreek, ginger, coriander, black pepper, cumin, cardamom, allspice, turmeric, and a few others as well.
It's hard to describe what it tastes like, but here are a few flavors: earthy, light fruitiness from the chili, and ends on a spicy note. Also, different mixes vary a lot, so be careful how much you use. The spice mix I've been telling you about is nice and balanced and the heat isn't overpowering.
As the guy from the spice shop where I bought mine told me, 'It's basically an Ethiopian chili and spice mix, and be sure to get 2 because you're going to be needing it'.
And you know what… he was right, this stuff is so good! Some people are even going as far as to call it 'the spice for everything' and I'm inclined to think they're right.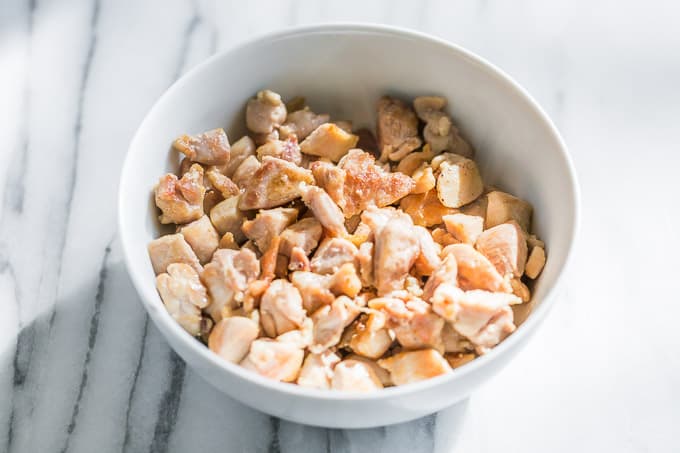 How to make this Ethiopian Inspired Berbere Chicken Curry
For this curry, I started by browning the chicken and removing it from the pan so that it can be added in towards the end to avoid tough dry chicken.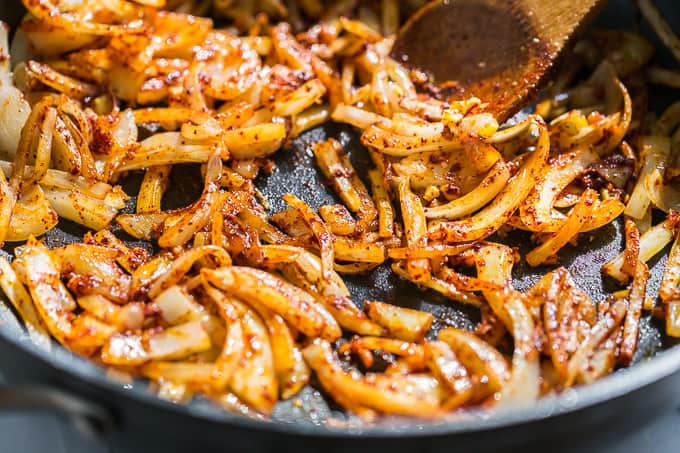 Once the onions start to become tender, I like to add the berbere spice mix to the pan and sauté briefly to help bring out the flavors of the spices.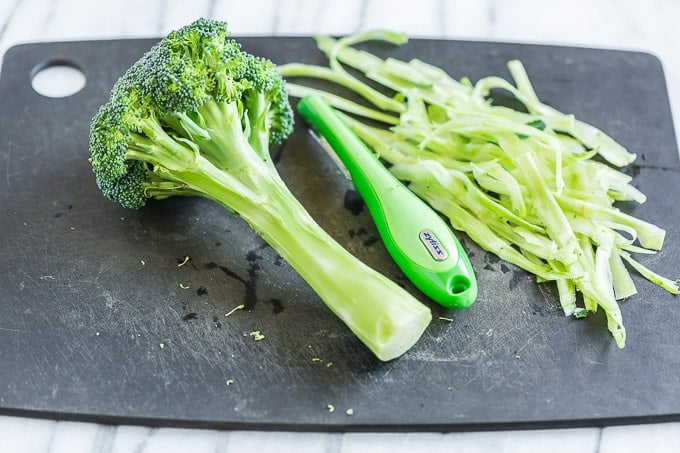 If you do choose to use broccoli in this curry, the stems are really nice thinly sliced. I peel away the tough outer layer before slicing them, and once they're cooked, the stems have a sweetness and nice texture to them.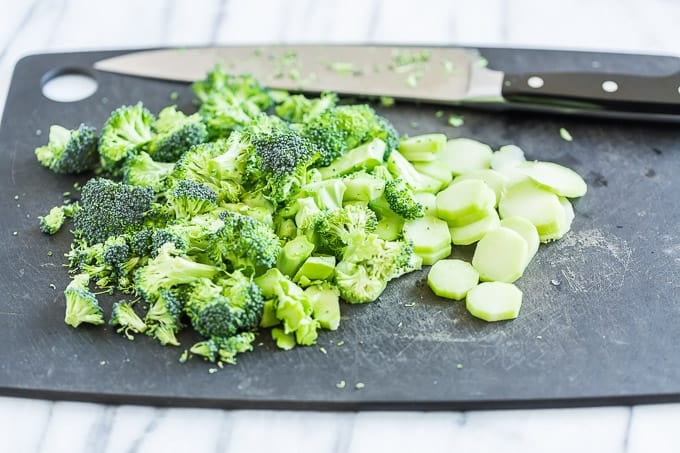 Once the stems are peeled, chop the whole crown of broccoli or whatever veggie you use into bite sized pieces.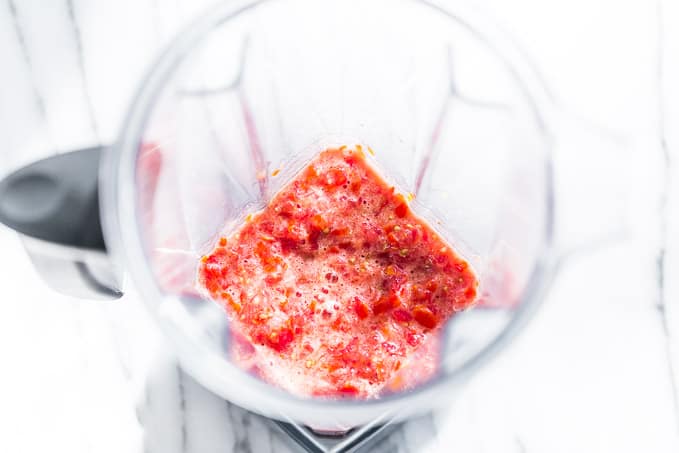 I used fresh tomatoes blended into a chunky sauce for this recipe because I have an abundance of them right now. But to make this in the winter, just use a can of chopped tomatoes. Or whole tomatoes also work, blended in place of the fresh tomatoes.
After a short simmer, this curry is ready to be enjoyed with plenty of rice, (or cauliflower rice). Also a little chopped fresh cilantro if you want to go for a little extra pizazz.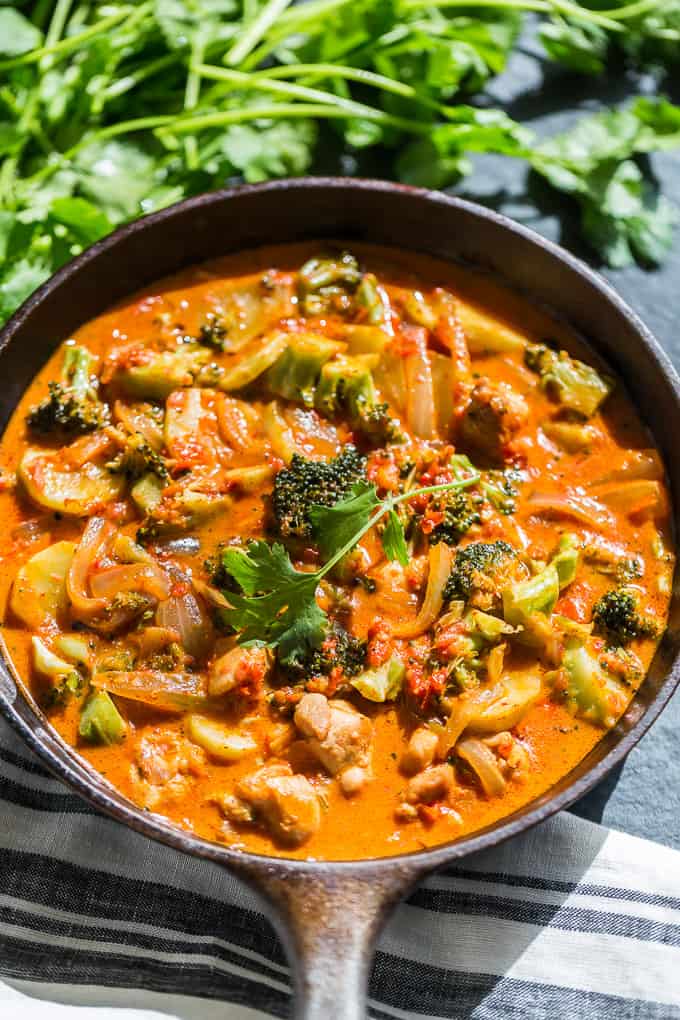 Coconut Curry Recipe inspiration
I hope you've enjoyed coming along with me outside my comfort zone. And I know you'll absolutely love Ethiopian Berbere spice if you love chilis! If you do make it, I hope you'll leave me a comment/rating below. And I always love hearing from you here. Or over on Instagram where you can tag me at #getinspiredeveryday with your photos.
Print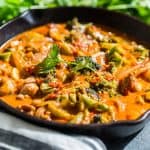 Ethiopian Inspired Berbere Chicken Curry
---
Author:

Kari Peters

Total Time:

30 mins

Yield:

4

servings

1

x

Diet:

Gluten Free
Description
This Ethiopian curry is a favorite because of the addicting flavor of the berbere spice mix!
---
1

package boneless skinless chicken thighs, about

4

or

1

pound, cut into

1/2

" pieces

3 Tablespoons

butter, or avocado oil for dairy free

1

medium onion, diced, 12 ounces

1

clove garlic, minced

2 Tablespoons

berbere spice mix, or to taste, see notes

2

crowns broccoli, 1 pound 6 ounces, see notes

3

cups

cherry tomatoes, 14 ounces, or 1-14 ounce can chopped tomatoes

1

can coconut milk

1 Teaspoon

sea salt, or to your taste

1/4

cup

chopped fresh cilantro
---
Instructions
If you're using fresh tomatoes, place them in a blender and blend into a chunky sauce, set aside. If you're using chopped canned tomatoes, they're all ready to go.
To prepare the broccoli, trim the end of the stems and peel away the tough outer layer. Then thinly slice the stems, and cut the florets into small bite sized pieces, set the prepared broccoli aside.
Preheat a large skillet, 15″ over medium heat. When the pan is hot, add 1 Tablespoon of the butter or avocado oil to the pan along with the cut up chicken thighs. Turn the heat to high and sauté until browned and mostly done, don't worry if there's a little pink in the chicken because it's going to finish cooking later. Remove the chicken pieces from the pan, and set them aside.
Lower the heat to medium high, and add the remaining 2 Tablespoons of butter or avocado oil to the pan along with the diced onion. Sauté until the onion is browned and beginning to soften, about 3-4 minutes. Add the minced garlic and berbere spice mix and cook for about 1 minute or until the garlic is fragrant but not browned.
Then add the prepped broccoli, blended tomatoes/canned chopped tomatoes, and the can of coconut milk. Bring the mixture to a simmer. Then lower the heat to low, add the chicken back into the pan, and simmer for 5-6 minutes or until the broccoli is just tender and the chicken is fully cooked.
Season to taste with sea salt, and stir in the chopped cilantro.
Serve immediately with rice or cauliflower rice.
Notes
I bought my berbere spice mix from The Silk Road in Missoula Montana where they handcraft all their mixes. All spice mixes vary in heat, so add to taste!
You can use any mix of veggie you'd like in this curry, zucchini, snap peas, and carrots are all great as well. Just be sure to adjust the cooking time if you're using snap peas as they cook faster than everything else.
Prep Time:

15 mins

Cook Time:

15 mins

Category:

Curry

Method:

Stove Top

Cuisine:

Ethiopian
Keywords: Ethiopian Berbere, Chicken, Chicken Curry, Whole30, Paleo, Gluten Free, Dairy Free