The sauce for this Mango Chicken Curry is extra luscious thanks to some of the mango being blended right in! It's that wonderful combo of sweet and spicy that will have this recipe on your menu weekly. It's also loaded with veggies as well as naturally gluten-free and dairy free. This curry has Thai flavors, but it's really easy to make my version with Indian spices as well depending on what you're craving.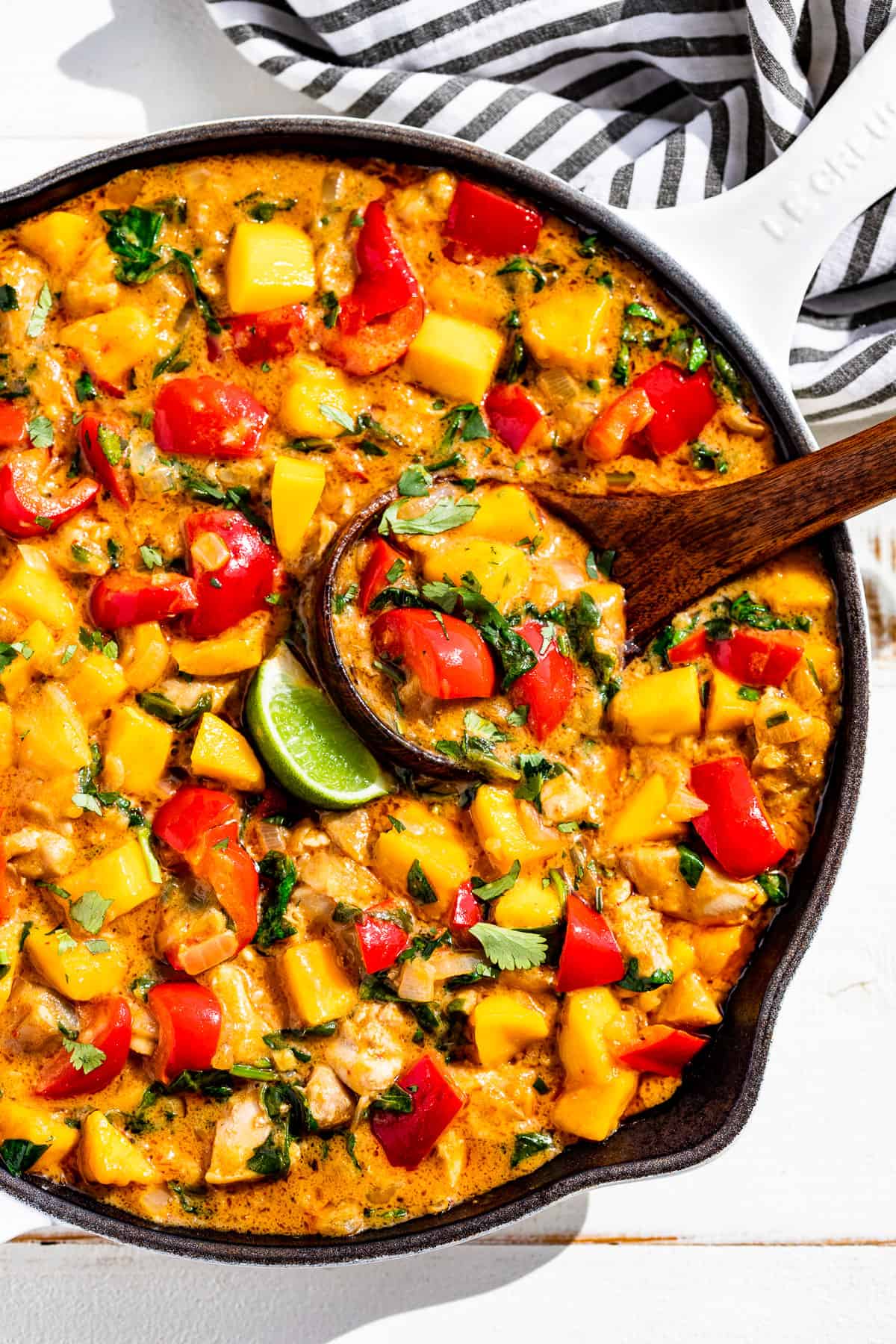 This might just be the most mouthwatering curry I've ever had! And really I don't say that lightly. My recipe for My Favorite Yellow Thai Curry has long been my favorite, and no other curry has ever come close. Don't get me wrong, I love curry of all sorts, but that yellow curry is something else.
However, this mango chicken curry is a new contender for first place alongside it. One bite of the sweet-spicy combo with savory flavors and you'll wonder where this curry has been all your life. It may sound like I'm slightly exaggerating, but I promise you I'm not – it's just that good!
I've made this curry in many different ways ranging from an Indian-inspired version to Thai. And in the end, my Thai version won out for sheer ease. And I'm always on board for an easy recipe.
After all, it's easier to measure out a bit of curry paste than to take out half your spice jars for the Indian-inspired version. But don't worry, I've included my other variation in the recipe if you want to give that a whirl too!
Ingredients & Substitutions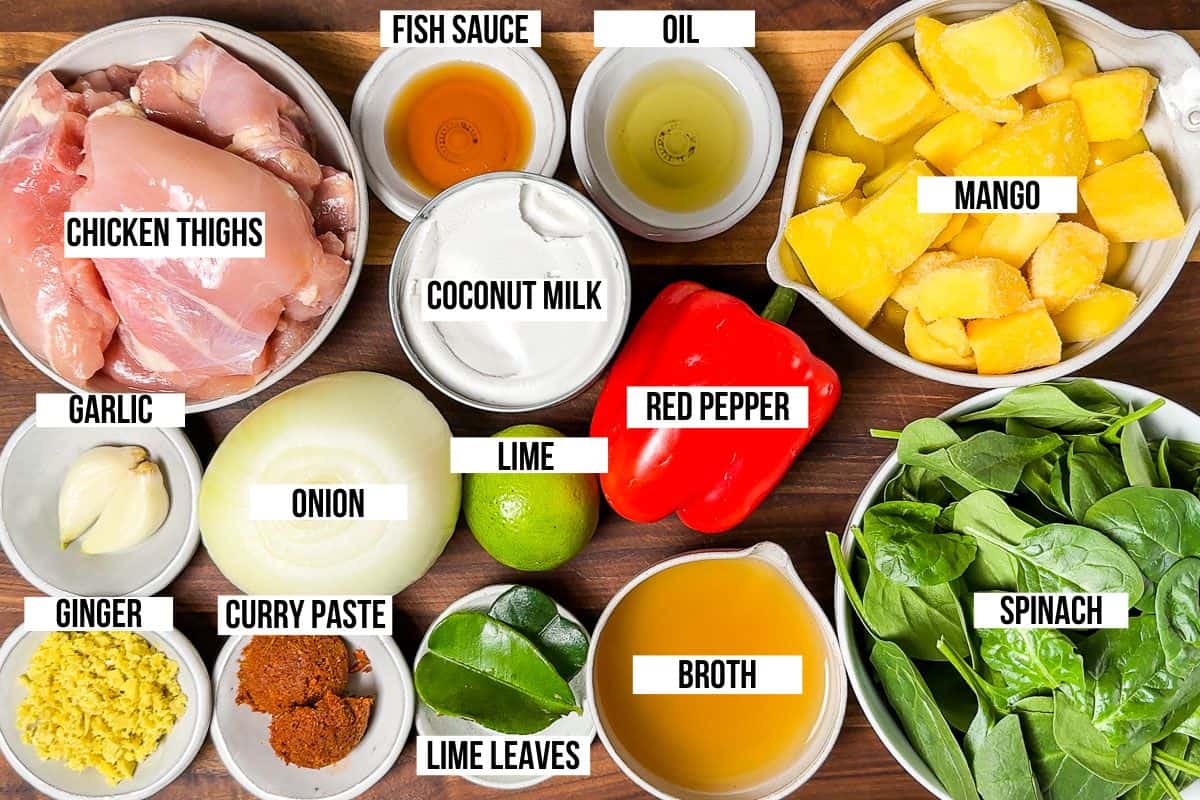 Chicken – I prefer chicken thighs in curry recipes because they're more forgiving than chicken breasts. Chicken breasts dry out more easily, but you can use them here just fine if you keep a close eye on them.
Onion, garlic, & ginger – these 3 make up the perfect flavor backdrop and add a lot of depth to this curry.
Curry paste – As mentioned above I do have several variations to this recipe. But my favorite so far is how it's written in the recipe below using red Thai curry paste. And speaking of curry paste, the Mae Ploy brand is my absolute favorite. It has the perfect flavor that makes your at-home curry taste as good or even better than a restaurant. I've also used Panaang curry paste with this recipe which is a touch spicier, but so good!
Bell pepper – adds a bright pop of color along with lots of flavors. But feel free to use whatever veggies you like/have on hand.
Spinach – combined with the bell pepper adds loads of veggies to the mix! You can also use kale, but it will need a slightly longer cooking time.
Coconut milk – makes up the creamy sauce for most types of Thai curries. This recipe blends creamy coconut milk with some mangoes for a slightly sweet and super silky sauce. You want to be sure you use full-fat coconut milk. Low-fat coconut milk or light coconut milk won't give you good flavor in a curry.
Chicken stock – or chicken broth is just to thin out the sauce while it's simmering if needed. I've found through lots of recipe testing that the sauce will vary in thickness because of the moisture content of the mangos. Also if you use frozen mangos, you may need to add a touch more chicken stock.
Mango – fresh ripe mangos are the best in this recipe if you can get good ones. They're really hit or miss here, so I've also tested this using thawed frozen mango, and it worked perfectly.
Fresh lime juice & lime leaves – a touch of fresh lime juice at the end of the cooking time rounds out the sweetness of the mango. And the lime leaves add incredible flavor simmered in the sauce. However if you can't find them, you can add the lime zest listed in the recipe.
Tip: Lime leaves are another ingredient that are hit or miss where I live. So my best tip is when you do see them at the store, stock up with a couple of packages. They freeze really well, and then you can add them to your curries over the months to come.
Now let's make this Mango Chicken Curry step by step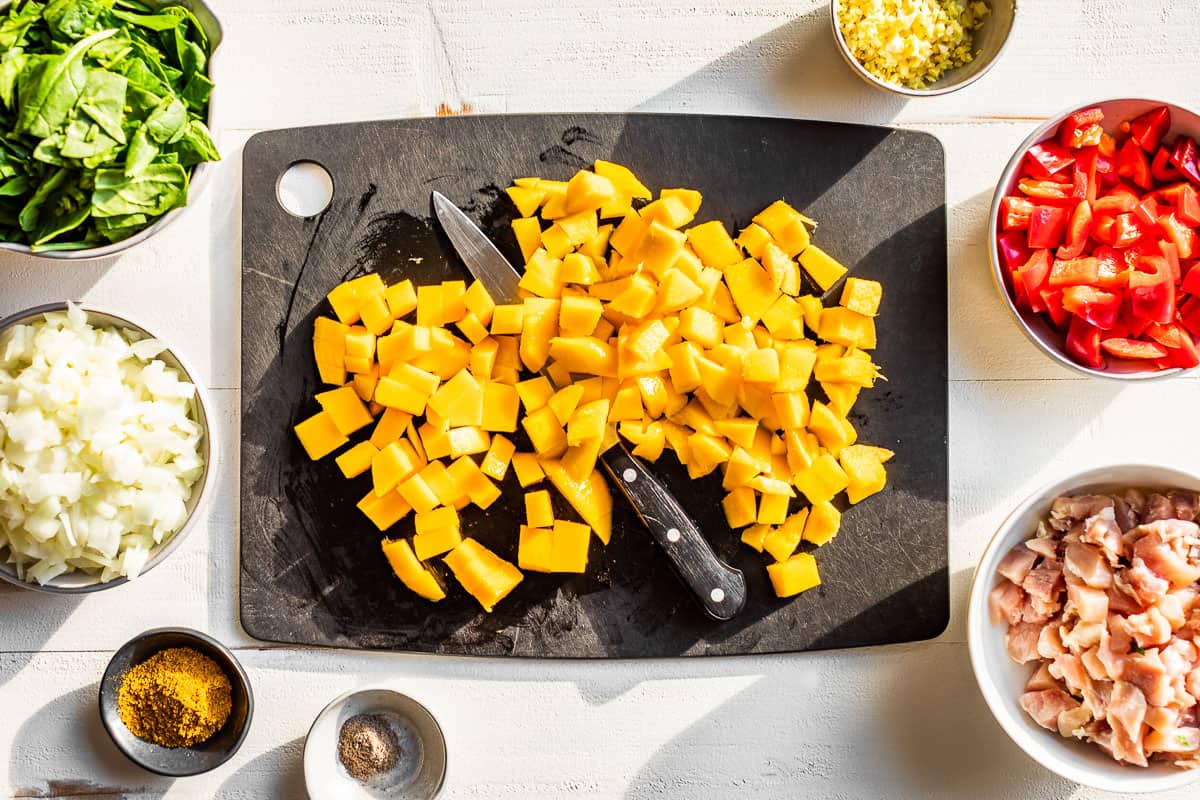 Step 1 Prep all the ingredients before you begin to cook. This recipe requires a few minutes of hands-on cooking, then it simmers on its own. And since it comes together fairly fast you don't want to scramble to get your ingredients ready.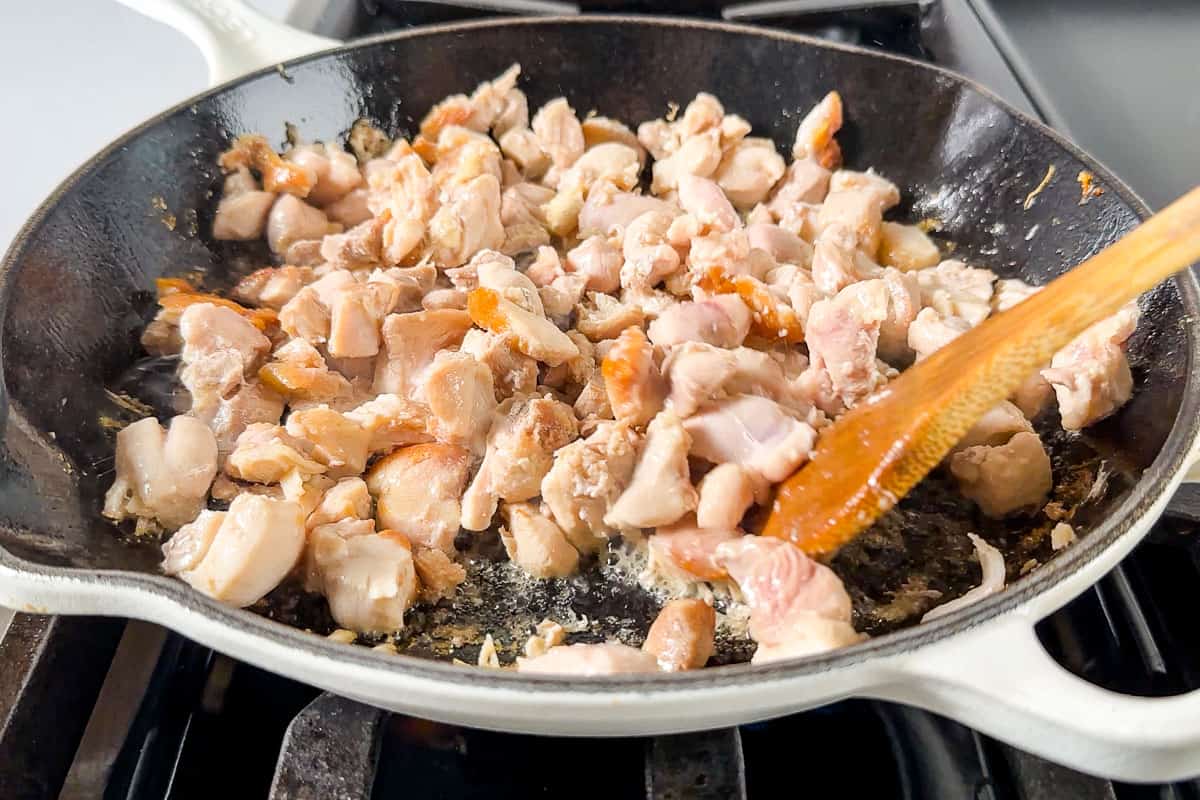 Step 2: Next we'll sauté the chicken before removing it from the pan.
This step is so the chicken doesn't overcook while the curry simmers.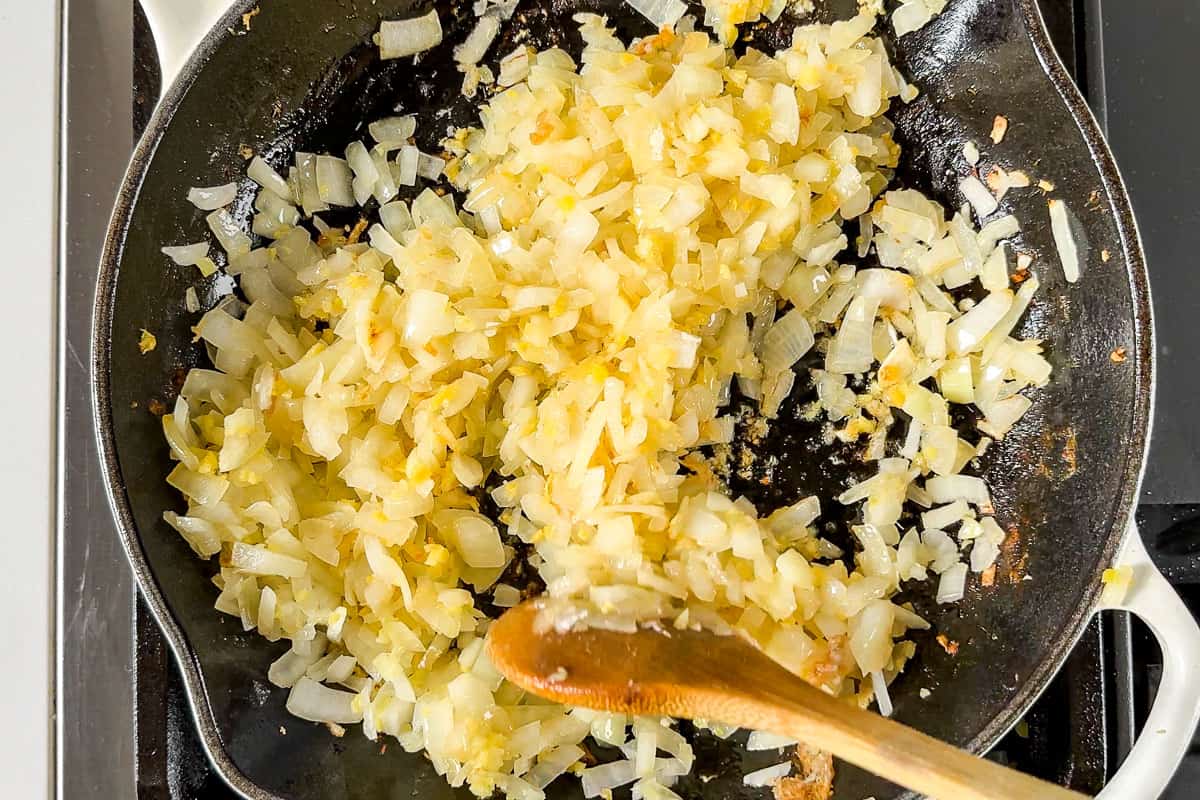 Step 3: After the chicken is done, sauté the onions, garlic, and ginger together until softened. At this stage, you also add the curry paste and stir it into the finished onion mixture. This allows the flavors to develop in the curry paste.
Note: Also you'll find in the recipe notes below the measurements for the Indian inspired version.
Step 4: Then add some of the chopped mangoes with the coconut milk into a blender and blend until a smooth creamy sauce forms. You can also use a food processor for this step.
You can use thawed frozen mango for this curry which works great, but fresh mango definitely has the edge when you can get it.
Step 5: Next pour the mango-coconut sauce over the top of the onion curry paste mixture.
Step 6: Then add the bell pepper and simmer until the curry sauce is reduced, and the bell pepper is softened.
If the sauce gets too thick at any point or starts to stick, add a bit of chicken stock. Sometimes the sauce is thicker because there's more or less moisture in the mangos.
Step 7: When the sauce is done, it's time to add the spinach. Simmer while mixing in the spinach, cooking just to wilt it.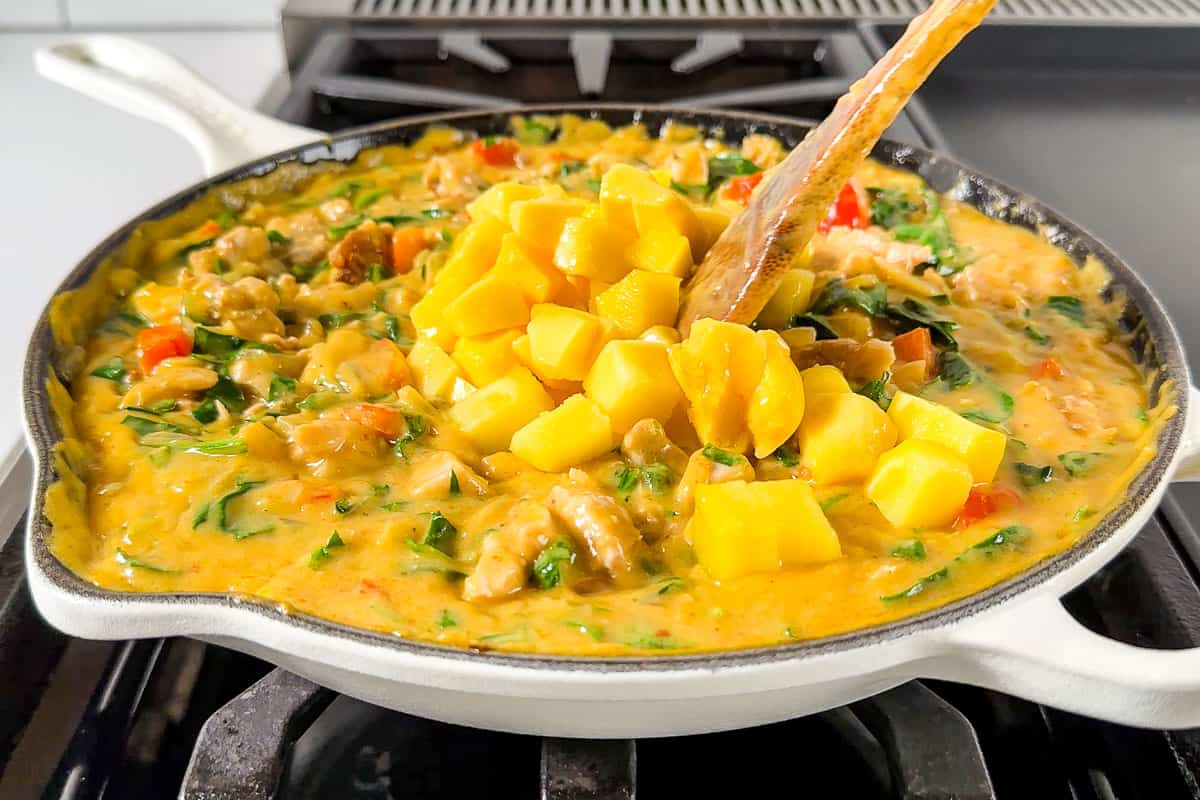 Step 8: Remove the lime leaves, and add the final touches of fresh lime juice, fish sauce, and diced mango. Season to taste and serve.
Ways to serve this
Make this a complete meal with freshly steamed Jasmine rice, Basmati rice, or cauliflower rice
Piled over roasted sweet potatoes, or tossed with my Simple Sweet Potato Noodles, (I love this one!)
Pair this curry with my Asian Sweet and Sour Cucumber Salad for a fresh-tasting veggie side dish.
FAQ's
Do you need fresh mango for mango curry?
No, you can use thawed frozen mango in this Mango Chicken Curry. Fresh mangoes are a bit better overall, but I make this curry with frozen mango all the time and it always gets rave reviews. It's better to use frozen mangoes if you can't get good ripe mangoes. But fresh fruit will give you the best results when you can find it.
Do you need to use red curry paste in this curry?
No, you can also use Panang curry paste and you'll also find my Indian-inspired version with Indian spices listed in the recipe notes as well.
Where does mango curry originate?
It seems the original mango curry originated in India, however, I have ordered it in Thai restaurants made with Thai flavors as well. You'll find my Indian-inspired version below as well if you're craving those flavors. Mango and coconut combine together to be irresistible with either Indian or Thai flavors.
Can I use chicken breasts in place of chicken thighs?
Yes, cube them up the same way as for the chicken thighs, just be careful not to overcook them as they dry out much easier.
Storing leftovers
To store – place any leftovers into an airtight sealed container and refrigerate for up to 4 days.
Make ahead – this curry reheats really well so you can make it ahead and reheat it when you're ready to serve it. Just remember the leftovers don't keep as well. Also if you make this ahead, you want to be sure to cool it quickly for food safety.
Reheating – add any leftovers to a small saucepan and heat over medium heat stirring constantly to prevent sticking until heated through.
To freeze – this curry freezes ok, but the veggies will be a bit mushy when thawed. To freeze place the leftovers into an airtight container and freeze for up to 3 months. Defrost in the refrigerator overnight before reheating as directed above.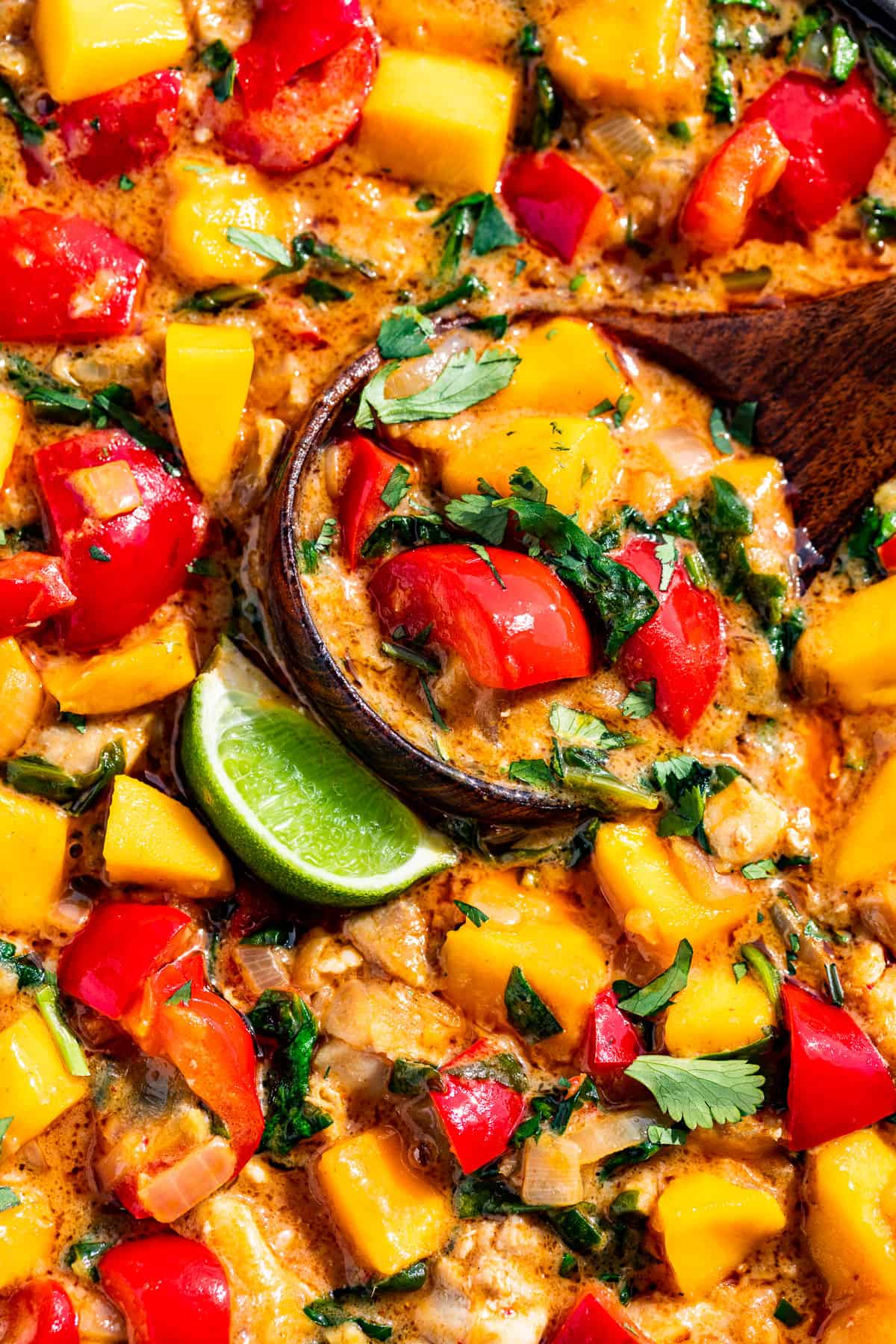 Tips & Tricks
The recipe calls for red Thai curry paste, but Panang Curry Paste is really good in this curry as well.
It's definitely worth tracking down the Mae Ploy brand of curry paste because it's really that much better. I just ordered mine online because we can't get it locally.
If you know you won't use up the large jar of curry paste fast enough for the expiration date, try freezing it in ice cube trays to portion it out. Just be sure to use trays you don't expect to be making ice in or your ice cubes will likely taste like curry.
If you do choose to use a different curry paste, be aware it might be hotter than the Mae Ploy brand. I have used Thai Kitchen on a number of occasions and it's significantly hotter.
Dietary Options & Substitutions
Dairy-free & Paleo – this recipe is gluten-free, dairy-free, and paleo as written.
Vegan or Vegetarian – Use a can of well-rinsed garbanzo beans and omit the fish sauce. You'll also want to make sure the curry paste you use is vegan. You could also use sautéed tofu here in place of the chicken.
Coconut Curry Recipe inspiration
I sure hope you enjoy this Thai Mango Chicken Curry recipe. It's been a huge hit in our house, and I know you'll love it too! And if you enjoyed this recipe, I hope you'll leave me a comment/rating below. I absolutely love hearing from you here.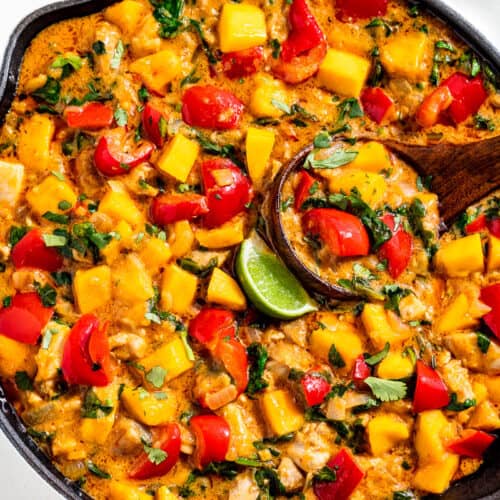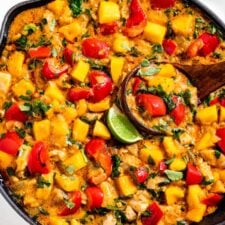 INGREDIENTS
2

tbsp

avocado oil

-

coconut oil, or cooking oil of choice

1

pound

boneless chicken thighs

-

cut into 1/2″ cubes

2

cups

finely diced yellow onion

-

1 medium

2

cloves

fresh garlic

-

minced

2

tbsp

minced fresh ginger

1-2

tbsp

red Thai curry paste

-

I use 2, see notes

2

small Kaffir lime leaves

-

or 1 teaspoon lime zest

1

red bell pepper

-

1/2″ dice, 1 1/2 cups

13.5

ounces

full fat coconut milk

-

1 can

3

cups

diced mango

-

2 cups for the sauce, 1 cup to add at the end, see notes

1/2

cup

chicken stock

-

optional to thin out the sauce

4

cups

roughly chopped spinach

-

4 ounces

1-2

tablespoons

freshly squeezed lime juice

1

tablespoon

fish sauce

sea salt to taste
Serve with:
steamed jasmine or basmati rice

Freshly chopped cilantro to sprinkle over the top

lime wedges for squeezing over the top
INSTRUCTIONS
Start by prepping all the ingredients. Then preheat a large sauté pan, (10"-12") over medium high heat. When the pan is hot but not smoking, add 1 tablespoon of the oil and swirl to coat the bottom.

Add the cubed chicken thighs to the pan and sauté until browned and done in the center. Remove the chicken from the pan and set it aside.

Next add the remaining tablespoon of oil to the pan long with the onion, garlic, and ginger. Lower the heat to medium-low and cook until lightly browned and softened, 4-5 minutes.

Add the curry paste to the onion mixture and stir to combine, cooking briefly to allow the curry paste flavors to deepen.

Blend the coconut milk and 2 cups of the mango together until smooth, then pour it into the pan. Then add the lime leaves and diced bell pepper. Bring the curry to a boil over medium high heat, then lower the heat to maintain a simmer.

Simmer stirring occasionally to keep the sauce from sticking. Add the optional chicken stock if the curry becomes too thick and starts to stick to the bottom.

When the bell pepper is tender and the flavors have melded, about 8-10 minutes, add the spinach in an even layer across the top. Let the spinach wilt for about 1 minute before beginning to mix it in.

When the spinach has wilted, 1-2 minutes, stir in the chicken, lime juice to taste, fish sauce, and the remaining 1 cup cubed mango. Season to taste with sea salt if necessary and serve!
Bonus Step
If you made this recipe, please leave a rating/comment. Ratings really help us continue to bring you high-quality free recipes. Rate This Recipe!
NOTES
For the curry paste, I love the Mae Ploy brand for the best flavor. I also use the full 2 tablespoons of curry paste for what I would call a 'warm' but not too spicy curry. However curry pastes vary a lot in spice, so add to your taste!
I love the yellow mangos called Atulfo mangos. They're less fibrous and incredibly sweet and juicy.
Indian Inspired Version: Omit the curry paste, lime leaves, and fish sauce. Instead add 1 teaspoon of ground turmeric, 1 1/2 teaspoon of ground cumin, 1 teaspoon of ground coriander, and 1/2 teaspoon of ground cardamon. Then at the end when you add the lime juice, add an additional 1/2 teaspoon of ground cardamom.
nutrition facts
Calories:
529
kcal
|
Carbohydrates:
35
g
|
Protein:
28
g
|
Fat:
33
g
|
Saturated Fat:
20
g
|
Polyunsaturated Fat:
3
g
|
Monounsaturated Fat:
8
g
|
Trans Fat:
0.02
g
|
Cholesterol:
109
mg
|
Sodium:
540
mg
|
Potassium:
1113
mg
|
Fiber:
5
g
|
Sugar:
23
g
|
Vitamin A:
5706
IU
|
Vitamin C:
101
mg
|
Calcium:
103
mg
|
Iron:
6
mg