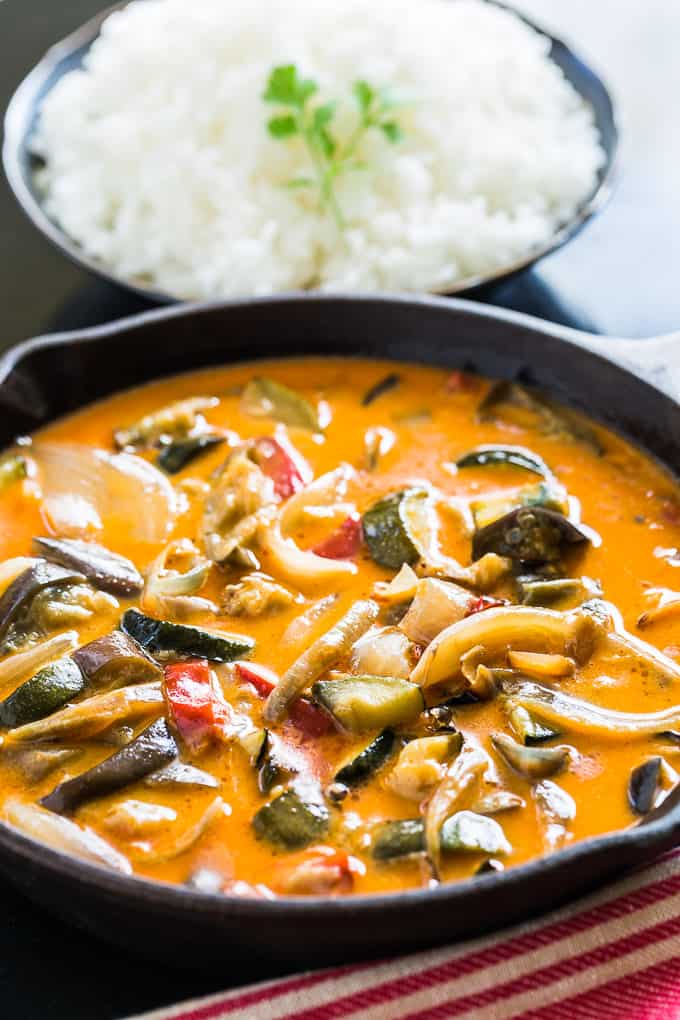 This is truly the easiest Thai Curry I've ever made, you may even have to wait for the rice to finish cooking it's so fast!
It's recipes like this one that help me get dinner on the table even on the busiest of nights. So last week I gave you the recipe for Roasted Market Veggies with Over Easy Eggs and Basil Aioli, where you make two sheet pans of roasted veggies. Today, we're using the second pan of roasted veggies in this curry which is why it's so quick to make!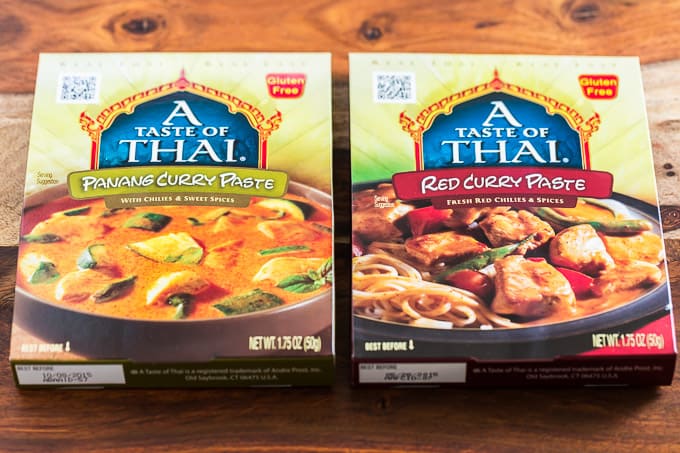 I've made this recipe with both the Panang Curry Paste and the Red Curry Paste pictured above and I like both, but the Panang does have some sugar in it just so you're forewarned!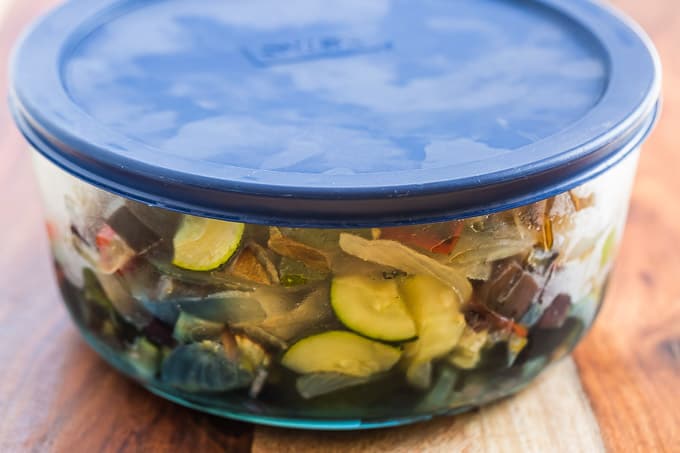 I love using Pyrex to keep all sorts of things in my fridge, from cut up fruits and veggies, to meal-prep items like these roasted veggies! This curry is super simple, just briefly sauté the curry paste in some avocado oil, add your coconut milk and veggies – simmer a bit & done!!!
To make this meal even faster you can
1. make zucchini or rice noodles as your side (they cook faster than rice)
2. make cauliflower rice which is also quick cooking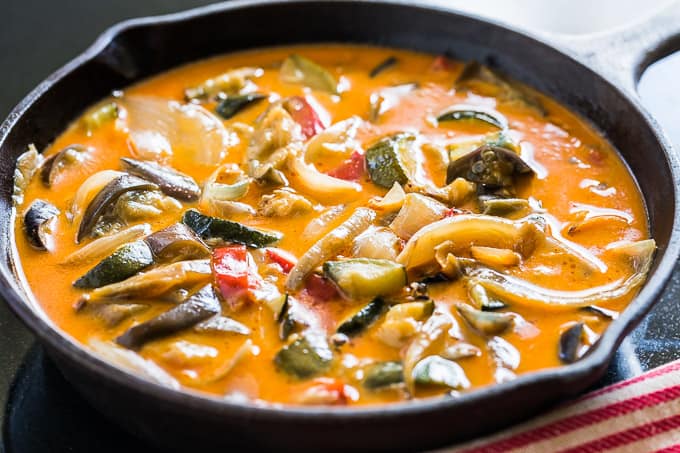 What to do if you don't have time to roast veggies?
Use a bag of mixed frozen veggies that you like – the roasted veggies make around 6 cups of cooked veggies just to give you a measurement. Be sure to sauté them for a few minutes after you've sautéed the curry paste, then add the coconut milk.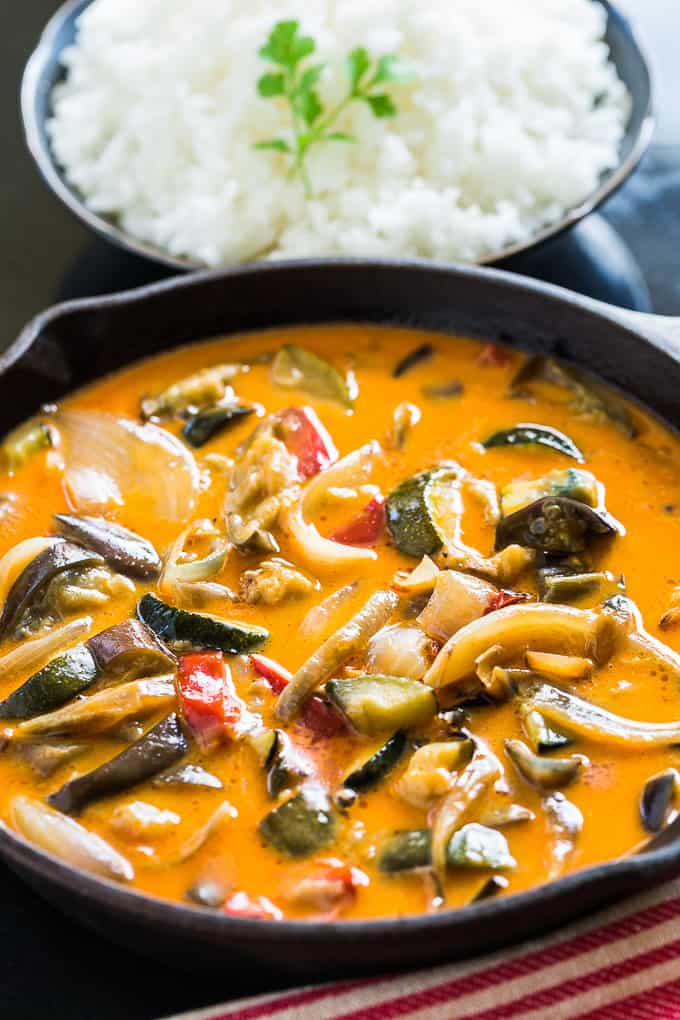 Coconut Curry Recipe inspiration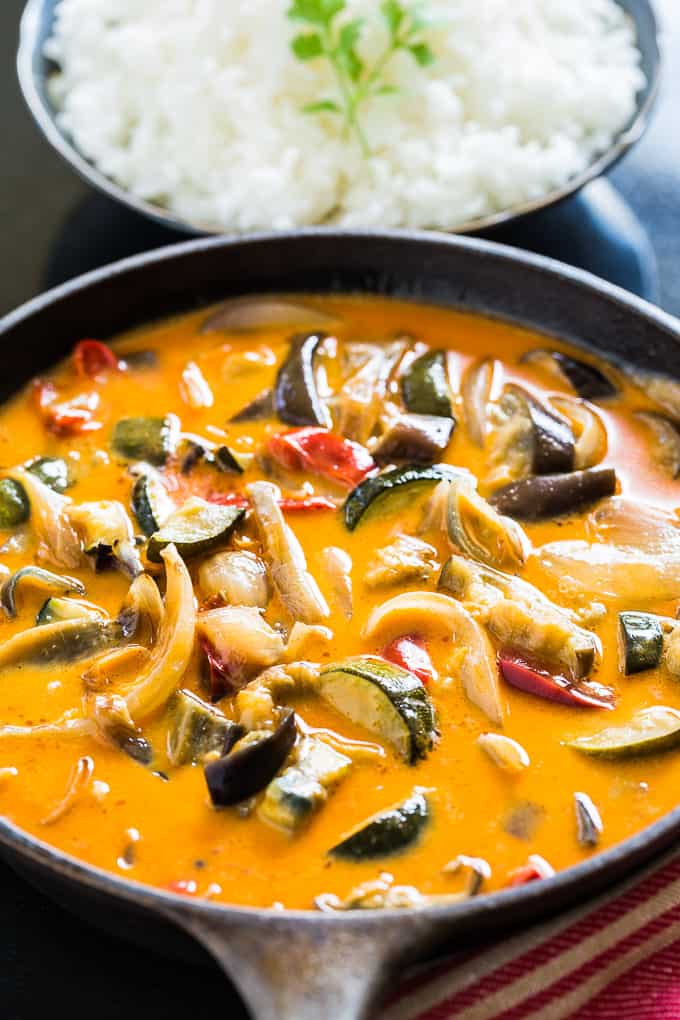 Don't panic when you open up your container of pre-roasted veggies and the eggplant has turned the onions a weird grayish/purple – it doesn't affect the flavor or the color of the final product! Since we're changing seasons, I should also tell you that I make this curry with a recipe of these Fall/Winter Roasted Veggies when eggplant and zucchini are no longer in season!
Print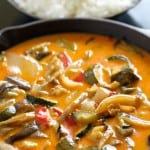 Easiest Roasted Veggie Thai Curry
---
Description
Roasted flavorful veggies bathed in a creamy red curry sauce, this is one of our all time flavor meatless meals!
---
1 Sheet Pan of Roasted Veggies from Roasted Market Veggies
or
1 pound sweet onions, cut into halves then sliced into 1/4" half moons
1/2 of a red bell pepper, seeded, sliced into strips then cut into 1" rectangles
3/4 pound of zucchini, cut into quarters lengthwise and sliced crosswise into 1/2" triangles
3/4 pound Japanese eggplant, cut into quarters lengthwise and sliced crosswise into 1/2" triangles
3 tablespoons olive oil
1/2 teaspoon sea salt
Curry:
2 tablespoons Curry paste*, I've used both red & Panang curry paste for this recipe
2 tablespoons avocado oil
2 cans – 13.5 ounces each, full fat coconut milk
1/2 teaspoon sea salt + additional to taste at the end of the cooking time
Serve with rice, cauliflower rice, rice noodles, or zucchini noodles
---
Instructions
If you don't have roasted veggies already made from my market veggie recipe, prepare the veggies listed here in the recipe, and spread them in an even layer on a parchment lined baking sheet.
Drizzle with olive oil, sea salt, and roast at 425ºF for 20-30 minutes, stirring the vegetables twice during the cooking time.
Once you have your veggies, you're ready to begin!
Heat a large skillet (12″ or bigger) over medium high heat. Add the curry paste and the avocado oil to the pan and sauté the curry paste for 1-2 minutes, or until it's very fragrant. This step really helps bring out the flavor of the curry paste.
Add both cans of coconut milk to the pan and bring the curry back to a boil, stirring to incorporate the curry paste. Lower the heat to medium and simmer the curry for 5-10 minutes – or until the liquid is reduced by 1/2. Add the roasted veggies to the pan, and simmer for a few minutes to heat up the veggies. Taste the curry and add more salt if necessary.
Serve piping hot!
Notes
*The heat level really varies depending on what curry paste you use. So when in doubt, add less than what's called for because you can always add more later if you'd like. Also check the ingredients to make sure they're vegetarian or vegan if you're avoiding animal products because some curry pastes have fish sauce/shrimp paste.
Prep Time:

5 mins

Cook Time:

15 mins

Category:

Dinner

Method:

Stove Top

Cuisine:

Asian
Keywords: Vegetarian Red Thai Curry, Vegetarian Thai Curry Recipe, Thai Red Curry Recipe