We drink green smoothies pretty much every day – but even so, I tend to stick with a couple of my favorite recipes! So… lately I've been working on branching out a bit. I find it can be extra hard to try new combinations when it comes to green smoothies because I've really bombed it on a few occasions! I mean there's been a few in the totally not drinkable department – i.e. what was I thinking – such a bad combo!?!
A couple of summer's ago I stumbled across the Peach Ginger combination, and I drank that smoothie for months on end! But peaches are a fickle thing, they're not around for very long and they're seldom good in our area. That's where pears come in, they're perfect for the colder months, and it's not critical if they ripen perfectly because this smoothie still tastes great!
Don't be scared off by the intensely green color of this smoothie, it comes from the lacinato kale, (also known as black or Tuscan kale). The flavor is all pear-ginger fruity goodness, and the the fact that this smoothie is packed with greens is just a great side benefit.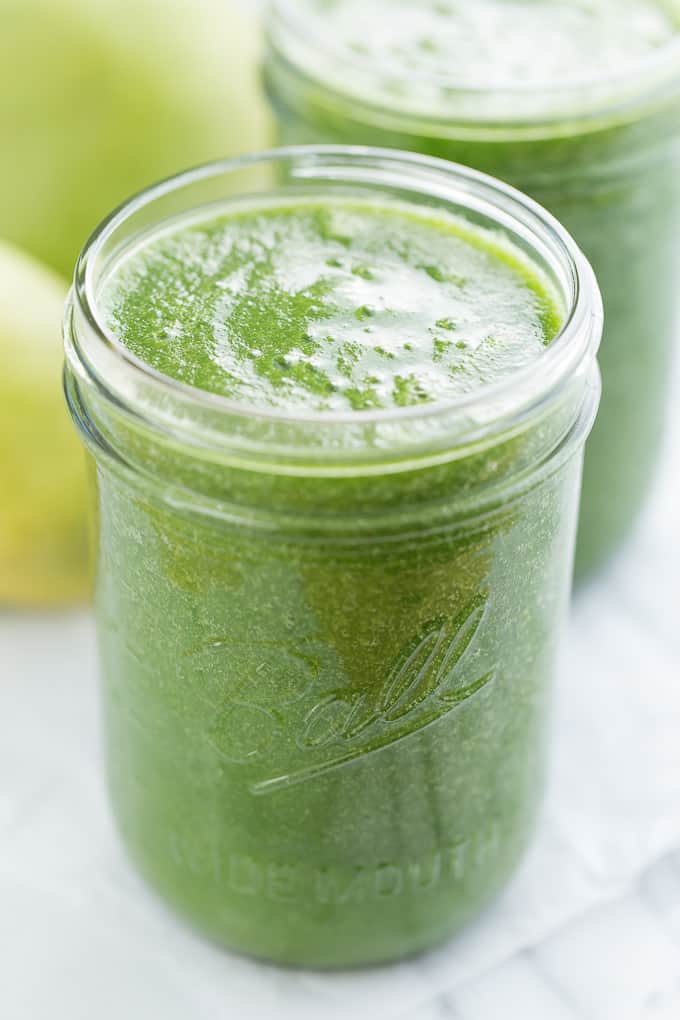 Green smoothies are my favorite way to supercharge my nutritional intake – they're so good and it's an easy way to get several servings of fruits and veggies in before lunch!
And… here's even more green smoothie inspiration (you know… in case you get in a smoothie rut like I do)!
Print
Ginger Pear Green Smoothie
---
2

large ripe pears, weighing about

1

pound

2

ripe bananas

8

stalks lacinato kale, (also known as black or Tuscan kale) weighing 4 ounces

1

small piece of ginger, about

1

" x 1″ weighing 1/2 ounce

1

–

16

ounce bottle of kombucha, citrus flavor
Optional: 1/2 – 1 cup water to thin the smoothie after blending
---
Instructions
Quarter and core the pears before adding them to a blender. Peel the bananas and break them into quarters as you add them to the blender.
Next remove the stems from the kale, and add them along with the ginger and the kombucha to the blender as well.
Blend starting on a low speed and working up to high, blend until completely smooth. This takes about 1 minute in my Vitamix.
After blending, you may want to add a bit of water depending on how thick you like your smoothies.
Pour into containers and enjoy!
If you'd like to keep the smoothie for a few hours, place it in the refrigerator, but be sure to drink it relatively quickly (within the day) because green smoothies don't taste as good the longer they sit.