The easiest spring dinner ever, this Sheet Pan Salmon and Asparagus comes together quickly and cooks in under 10 minutes! It's gluten-free, dairy-free, paleo, and flavor-packed thanks to the honey Dijon combination. So the next time you're looking for a real stunner, this recipe is perfect for everything from entertaining to a weeknight dinner. This salmon dinner makes a great healthy and light meal, but it's filling enough you won't go hungry either.
Almost by accident I came to a point where I completely stopped making seafood at home. Tyler isn't crazy about seafood, so it just seems easier to make chicken or beef. However, I love seafood so much that I might be rubbing off on him after 12 years! He's definitely trying my seafood dishes now, and even enjoying them.
I guess it's pretty hard not to like salmon when it comes with an addictive honey-mustard glaze. And so this one has been a keeper for over 6 years now. I make it a lot every springtime when asparagus is in season.
Spring is the perfect time for wild-caught salmon, and I love pairing it with asparagus for two reasons. The first is that asparagus is amazing, and I try to add it to every meal this time of year. The second reason is that it cooks at the same rate as the salmon so it makes this meal even easier! But you can always omit the asparagus and just make the glazed salmon as well, with another veggie on the side.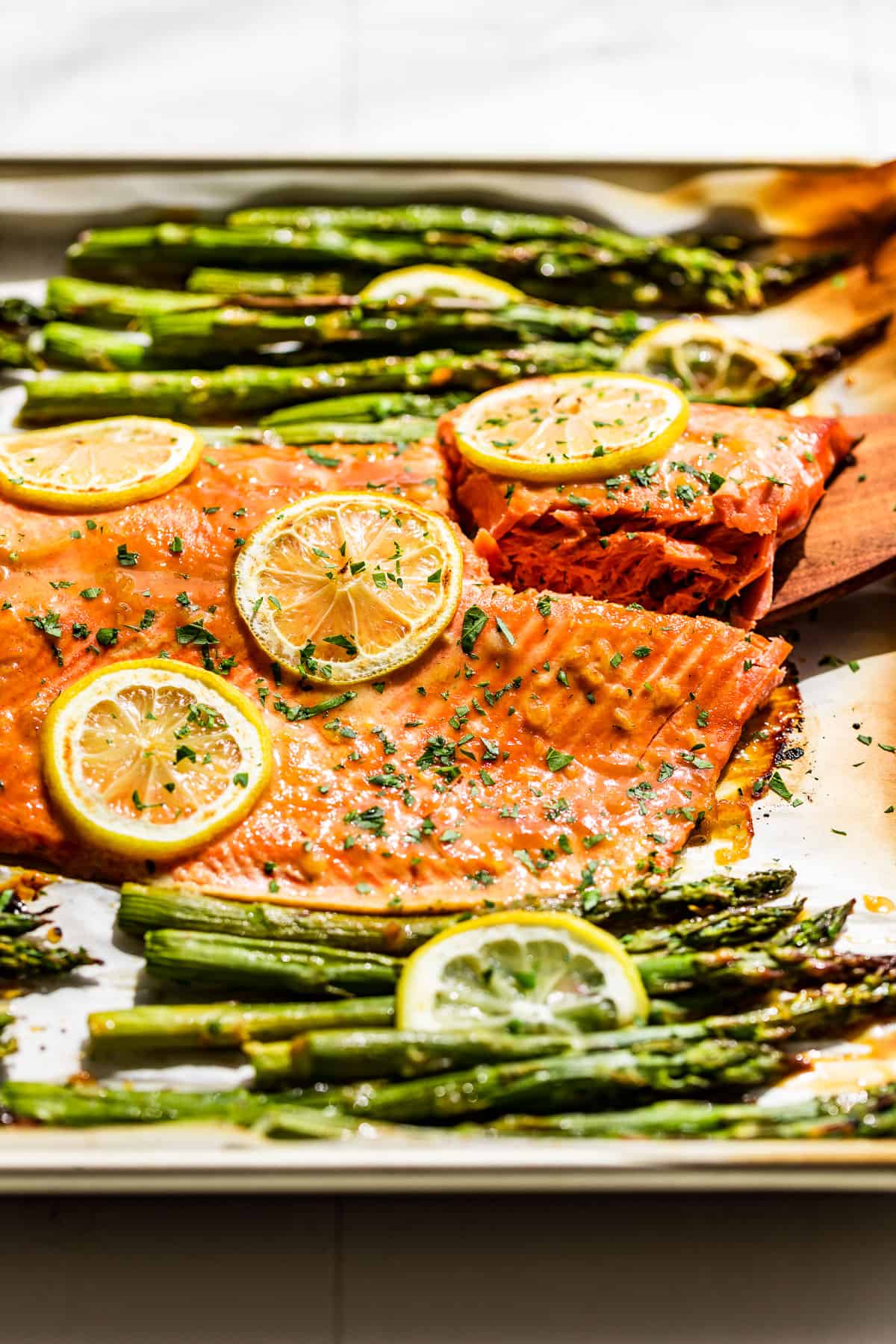 Ingredients & Substitutions
Salmon – wild-caught fresh or frozen salmon tastes the best here. And depending on where you live, frozen might be the freshest option. Better to buy frozen, than 'not so fresh' from the cooler section! King salmon, sockeye, or coho are all great options.
Honey – or maple syrup works well for the glaze here, but we really like the flavor combo of honey and mustard.
Dijon mustard – pairs perfectly with the honey in this recipe. You could also use whole-grain mustard, but I wouldn't recommend regular yellow mustard in this case.
Coconut aminos – adds just a touch of savory to the honey mustard combo and rounds out the flavors. You can also use your choice of soy sauce/ tamari as well.
Garlic – also adds a touch of savory flavor that's perfect with the honey mustard.
Asparagus – is my choice of veggie here because it pairs well with salmon and because it cooks in the same amount of time. However when it's not in season, just omit it and cook your choice of veggie on the side.
Lemon – sliced and placed over the salmon filet. It adds the perfect bright note of flavor to the honey mustard mix.
Fresh herbs – I use either chopped chives in the glaze, or a sprinkling of fresh parsley over the top. You can also omit them, but they are tasty if you have some on hand. I have also used a touch of Italian seasoning in the glaze which is tasty too.
Now let's make this recipe step by step
Step 1: Start by preheating the oven, then measure and prep all the ingredients. Snap or cut off the ends from the bunch of asparagus.
Tips for asparagus
Most store-bought asparagus needs to be trimmed because it's been cut when it was harvested. This means there are almost always extra tough woody ends that need to be cut or snapped off. If you can, try and find some asparagus at Farmer's Market. They usually harvest their asparagus by snapping it off at the breaking point, so you won't need to trim it.
The difference in the 2 methods of harvesting is important because when asparagus has been cut, once you trim it, you could lose up to 1/3 the weight of what you bought. Asparagus at our farmers market is usually the same price as the store, but I get to use 100% of what I bought without having to throw any out.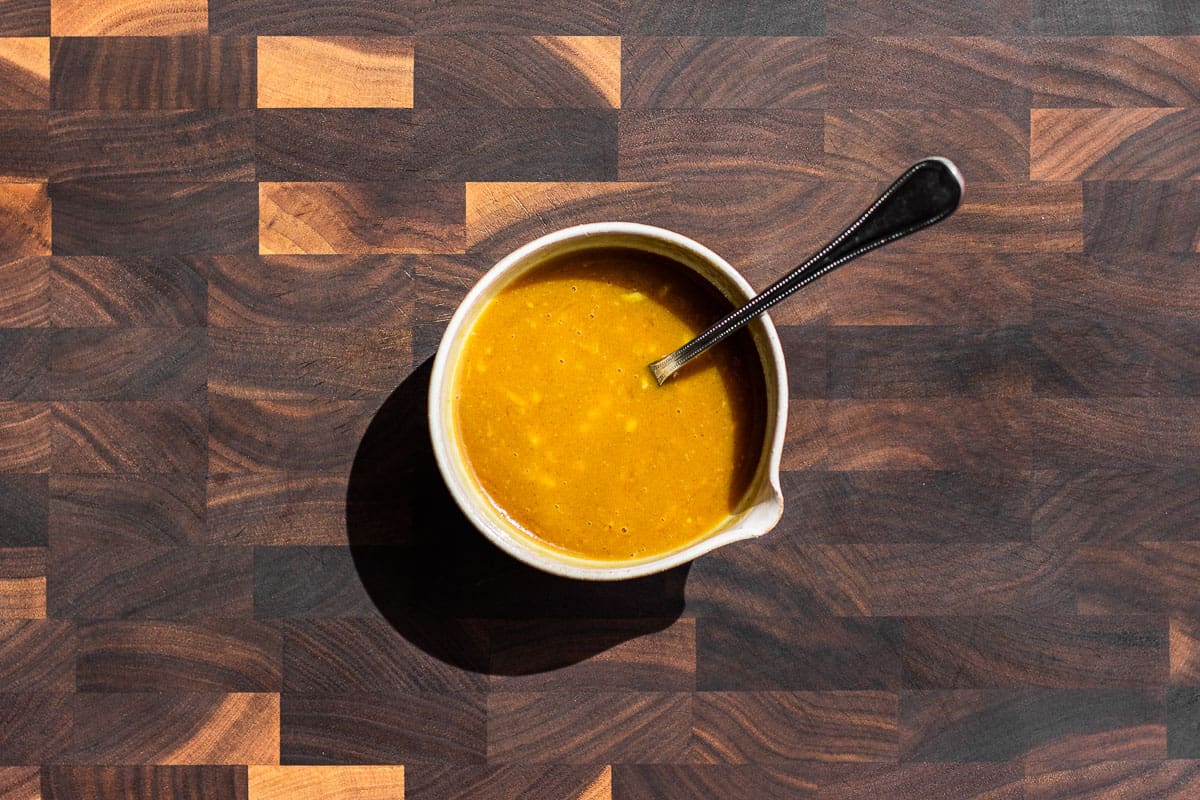 Step 2: Mix together all the ingredients for the honey mustard glaze in a small bowl.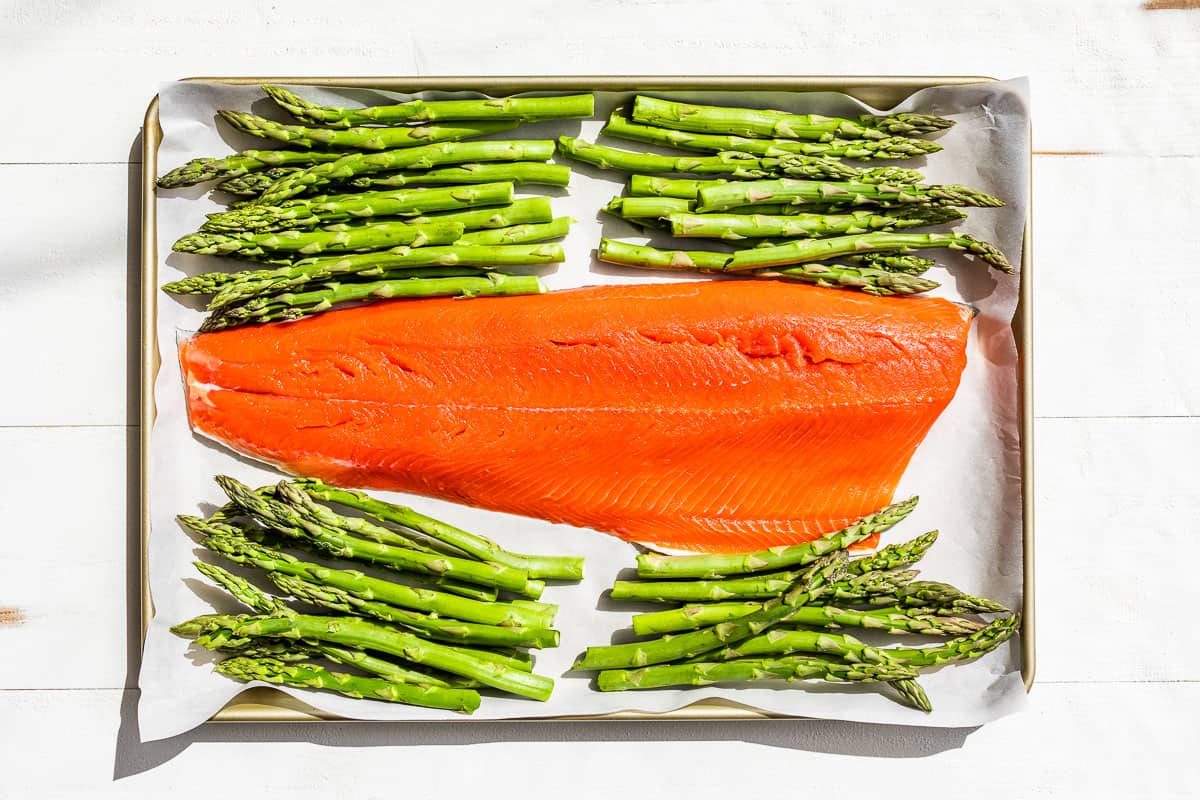 Step 3: Lay the salmon filet out on a baking sheet and surround it with the asparagus spears. Pat the salmon fillet dry with paper towels so the glaze adheres better.
Note: If you're using parchment paper, aim for the least amount showing. This recipe is broiled and you'll see the edges of my paper turned very brown. But I love extra easy clean up! You can also bake the salmon and asparagus directly on the cookie sheet and not use the parchment paper at all.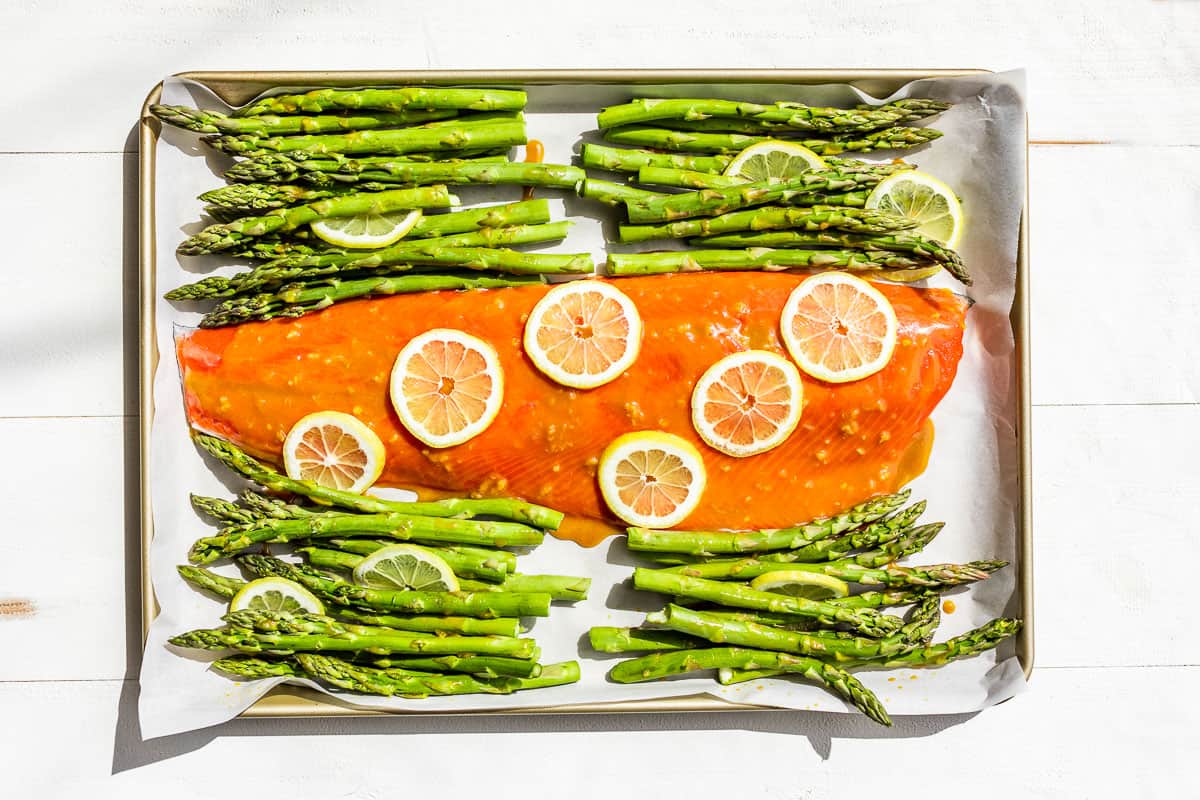 Step 4: Spread the glaze evenly over the salmon and drizzle about 1/3 of it over the asparagus.
Lay the lemon slices evenly over the top. As the salmon bakes, the lemon juice seeps in and adds so much flavor.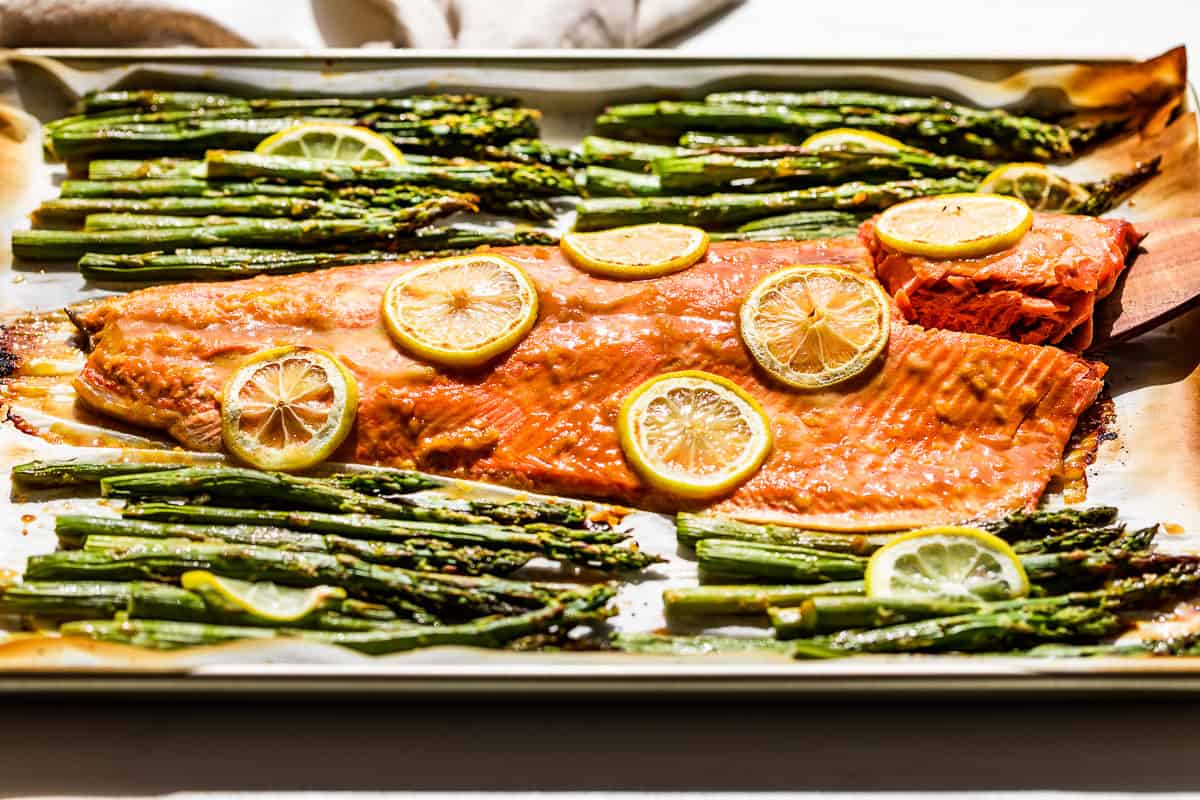 Step 5: Broil until the salmon is just done in the center at the thickest part, about 8 minutes. Sprinkle with a bit of fresh chopped parsley if using and serve immediately.
Ways to serve this
Add a side of my Best Mashed Potatoes or Mashed Sweet Potatoes.
Or add a lovely spring-inspired side salad like my Strawberry Spinach Salad.
Freshly cooked pasta or steamed rice work really well to soak up any extra sauce.
Another favorite we love is to boil small potatoes, then toss them together with melted butter and chopped fresh chives. They're the perfect spring side dish to this salmon.
FAQ's
What is the best kind of salmon to buy?
Wild-caught salmon is generally considered to be the healthiest option, but farmed salmon is a bit moister than the lean wild-caught. Sockeye, Coho, Chinook, and King Salmon are all great options. I don't worry about buying previously frozen because it will still be good with this honey mustard glaze.
How do you bake salmon so it is not dry?
Use an instant-read thermometer to make sure you don't overcook the salmon. Overcooked salmon is dry and there's no fix, so a thermometer will save the day. Wild salmon will be perfectly moist and cooked to 130ºF.
What temperature should salmon be cooked?
The USDA recommends 145ºF which will be very firm and a tad dry, Cook's Illustrated recommends 125ºF. We personally find 130ºF to be the sweet spot with a firm but still juicy salmon filet.
Storing leftovers
To store – store the salmon and asparagus separately for 3-4 days in an airtight container in the fridge.
Reheating – it's best to use up the salmon cold flaked into a salad rather than reheating it. But you can microwave or gently reheat the salmon and asparagus in a small pan covered with a touch of water. Be prepared for the salmon to be overcooked.
To freeze – the salmon can be frozen in an airtight container for up to 1 month. Defrost in the fridge overnight to thaw.
Tips & Tricks
The FDA says salmon is considered cooked when the thickest part reaches 145 degrees F. This will give you a dry finished salmon fillet.
According to Cook's Illustrated, 125 degrees F which is considered medium-rare and is the preferred temperature for farmed salmon if you like your salmon firm and very moist. But the times and temperatures do vary a bit depending on the types of salmon.
Wild salmon like Chinook or Coho can be cooked to 120ºF because it is leaner to prevent it from drying out. I've found anywhere from 125ºF-135ºF to be a nice sweet spot without having to endure dry salmon.
Medium-Rare Salmon: 125 degrees F to 130 degrees F, Medium Salmon: 135 degrees F to 140 degrees F using an instant-read thermometer.
When the salmon begins to flake easily, I like to pull it out of the oven (around 130ºF). This can ruin your presentation a bit, so use a thermometer to avoid messing up the beautiful salmon filet.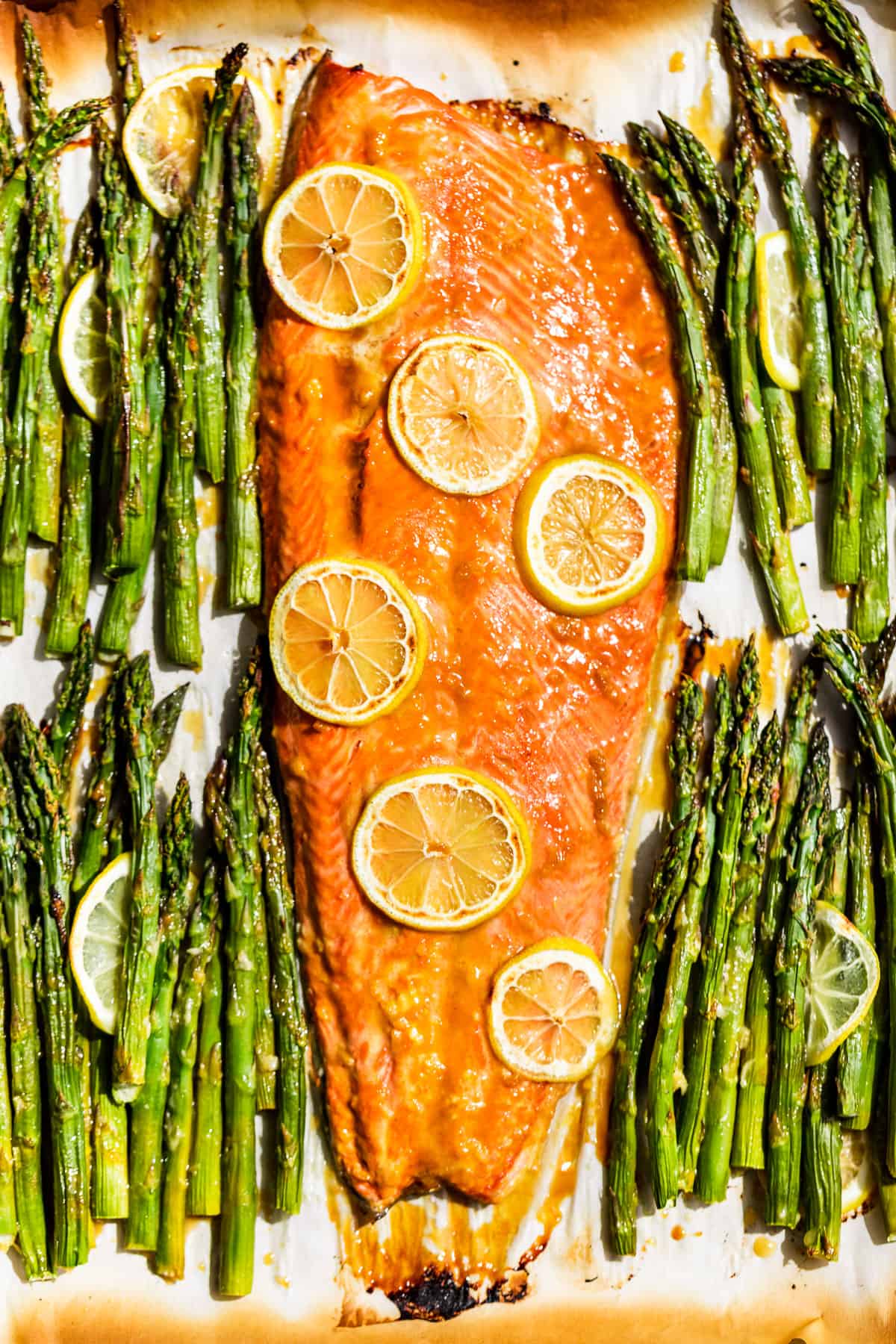 More delicious salmon recipes
I really hope you enjoy this simple Sheet Pan Salmon and Asparagus! And if you do get a chance to make it, I hope you'll leave me a comment/rating below. I always love hearing from you here! Also for lots more easy dinners, head over to the recipe index.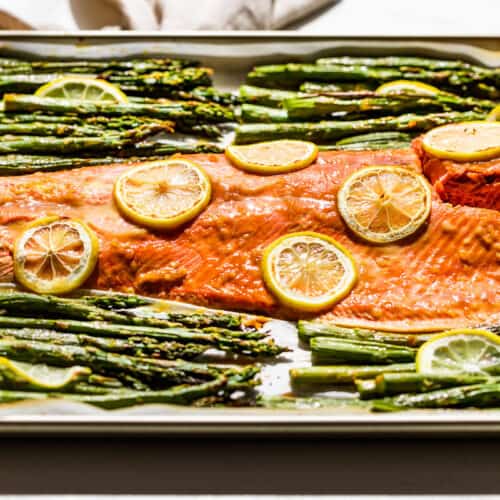 Sheet Pan Salmon and Asparagus
---
INGREDIENTS
Honey Dijon Glaze:
2

tbsp

honey

2

tbsp

Dijon mustard

1

tbsp

coconut aminos

-

or gluten free soy sauce

1

clove

garlic

-

minced
Salmon and Asparagus:
1 1/2

pounds

salmon fillet

-

about 1″ thick

1

pound

asparagus

-

trimmed

1

small

lemon

-

thinly sliced

1

tbsp

chopped fresh parsley to sprinkle over top

-

optional, see notes

salt and black pepper
INSTRUCTIONS
Preheat the oven to the broiler setting.

Mix together all the ingredients for the glaze, and set it aside.

Line a baking sheet with parchment paper, or use a non-stick cookie sheet. Lay the salmon out and pat it dry. Arrange the asparagus around it being sure to cover up as much parchment paper as possible if using.

Spoon about 2/3 of the glaze over the salmon, and drizzle the rest over the asparagus. Lay the lemon slices evenly spaced over the top of the salmon, and tuck a few slices in and around the asparagus. Sprinkle the salmon and asparagus with sea salt and pepper.

Broil the salmon on the middle oven rack for about 8 minutes or until the salmon is just done.

The easiest way to tell if it's done is to poke it apart and see if it's no longer raw, but some tell tale signs are a small amount of cracking appearing in the surface of the salmon.

It's better to pull it out too soon and have to return it to the oven than to overcook it. Over time with practice, you can learn to lightly press meat with your pointer finger and know whether or not it's done by the feel.

Serve the salmon and asparagus immediately with a sprinkle of optional parsley or other herbs.
Bonus Step
If you made this recipe, please leave a rating/comment. Ratings really help us continue to bring you high-quality free recipes. Rate This Recipe!
NOTES
Parchment paper isn't rated for the broiler, but I like to use it to help with cleanup. I haven't had a problem with it other than the edges turning buts. But to be safe, you can place the salmon and asparagus on a non-stick cookie sheet as well.
You can also use 1 tablespoon chopped fresh chives and add them to the glaze, or 1/2 teaspoon Italian seasoning.
nutrition facts
Calories:
314
kcal
|
Carbohydrates:
17
g
|
Protein:
37
g
|
Fat:
11
g
|
Saturated Fat:
2
g
|
Polyunsaturated Fat:
4
g
|
Monounsaturated Fat:
4
g
|
Cholesterol:
94
mg
|
Sodium:
246
mg
|
Potassium:
1125
mg
|
Fiber:
4
g
|
Sugar:
12
g
|
Vitamin A:
1021
IU
|
Vitamin C:
22
mg
|
Calcium:
63
mg
|
Iron:
4
mg
This post was originally published in 2016 but has been updated with new photos and prep photos along with more information, tips, and nutritional facts.