Enjoy the best Mashed Potatoes of your life thanks to one simple trick! These mashed potatoes are simple to make, fluffy, and ultra creamy. They're perfect for everything from Thanksgiving dinner or paired with your next family meal alongside my Easy Roast Chicken. No matter how you serve them, they're sure to be a hit. And you'll also find my best dairy free tips below as well.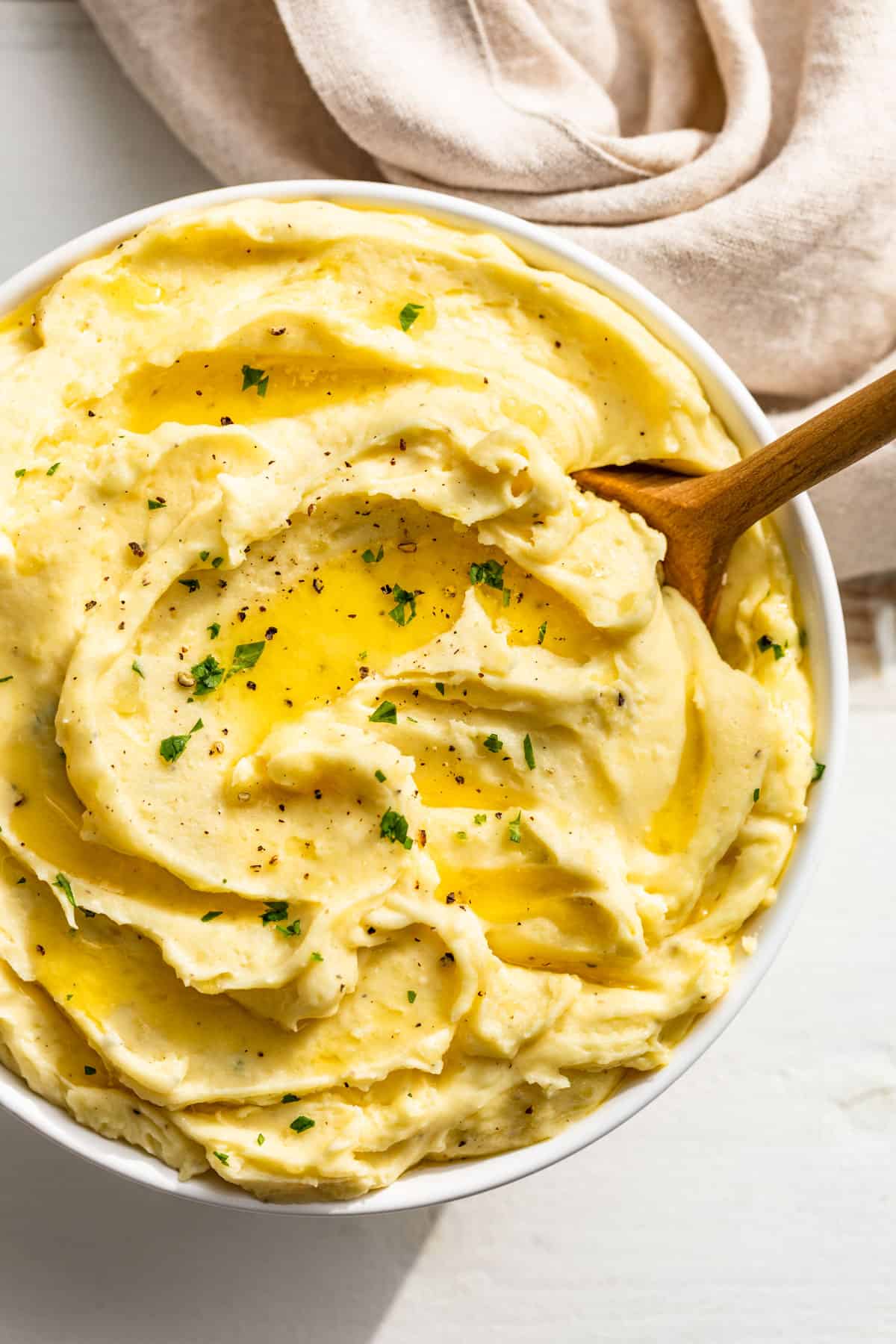 The trick to the fluffiest mashed potatoes is to beat them together with the melted butter before adding anything else to the mix. This is a trick I learned from Cook's Illustrated, and there's no doubt it makes for the best mashed potatoes.
They explain that there's a little science that goes into this trick. The fat from the melted butter coats the starch molecules and keeps them from absorbing too much liquid.
This means goodbye to gluey and stodgy mashed potatoes. Only fluffy and rich tasting mashed potatoes around here!
Ingredients & Substitutions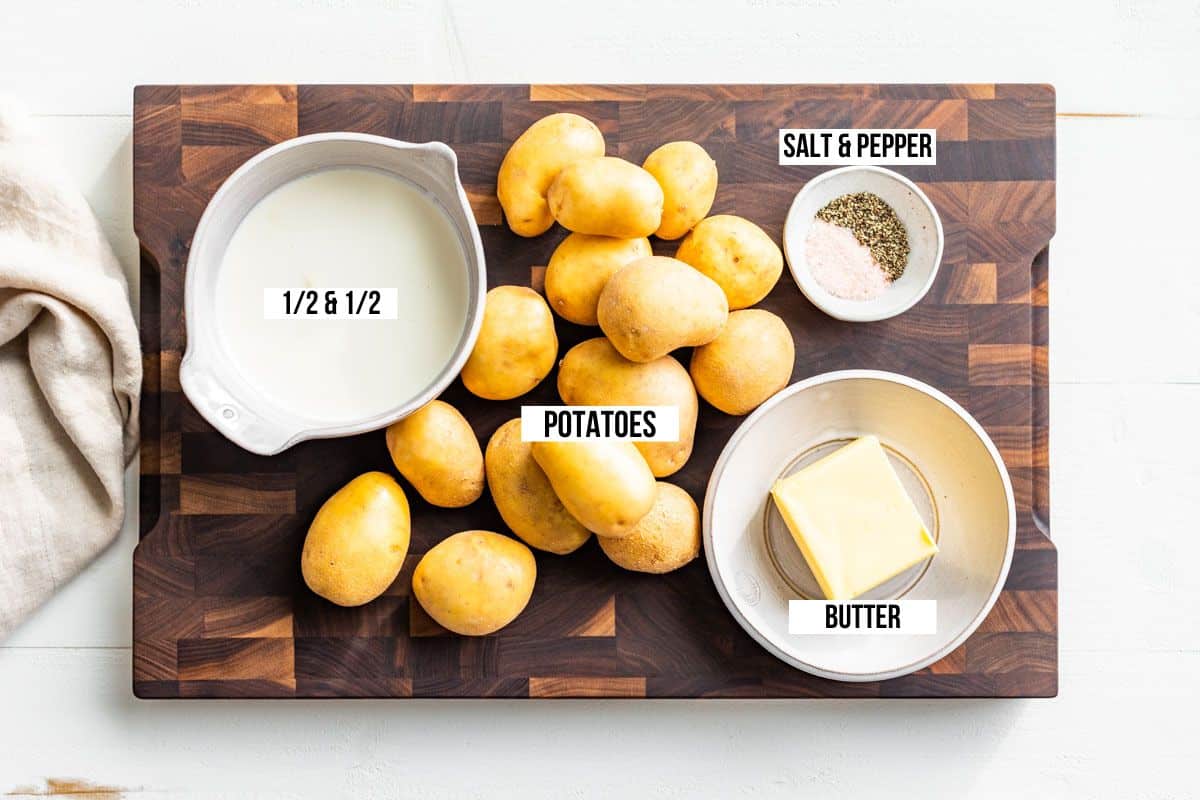 Potatoes – Russets or Yukon Golds are my go-to's for mashed potatoes. You can truly use any potato you'd like but some varieties like red potatoes produce heavier results. If you've ever had Huckleberry Golds, they're wonderful here. They're like a Yukon gold but fluffier.
Butter – or ghee, vegan butter, or olive oil all work really well here. The recipe calls for a lot, but I promise these mashed potatoes taste incredible.
Half & Half – whole milk, almond milk, or broth all work here. Heavy cream gives you super rich mashed potatoes, but overall we prefer half & half. Broth is my absolutely favorite liquid to use for dairy free mashed potatoes because I think it adds great flavor. Try using chicken broth for any meal with chicken and beef broth for beef etc. And it's quite a bit better than almond milk in my opinion.
Sea salt & pepper – you want to season to taste really well to bring out the flavor of the potatoes.
How to make this recipe step by step
Step 1: Start by peeling the potatoes, (optional) and cutting them into evenly sized pieced. Remember you want larger chunks of potatoes to boil. The smaller the chunks the more watery the final mashed potatoes are.
Step 2: Next place the potatoes into a large pot and cover with water 2-3″ over the tops of the potatoes. Bring the potatoes to a boil, then lower the heat to maintain a simmer until the potatoes are tender.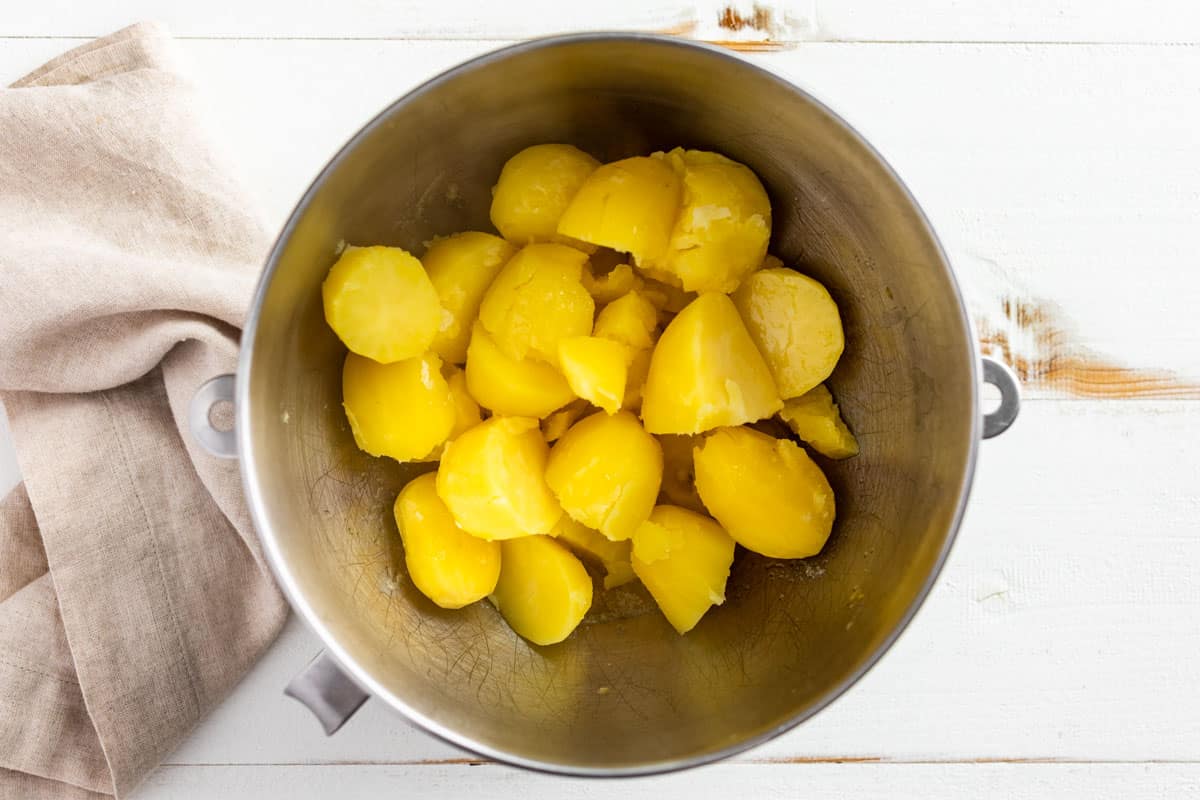 Step 3: When the potatoes are tender, drain them very well in a colander before transferring to a mixing bowl.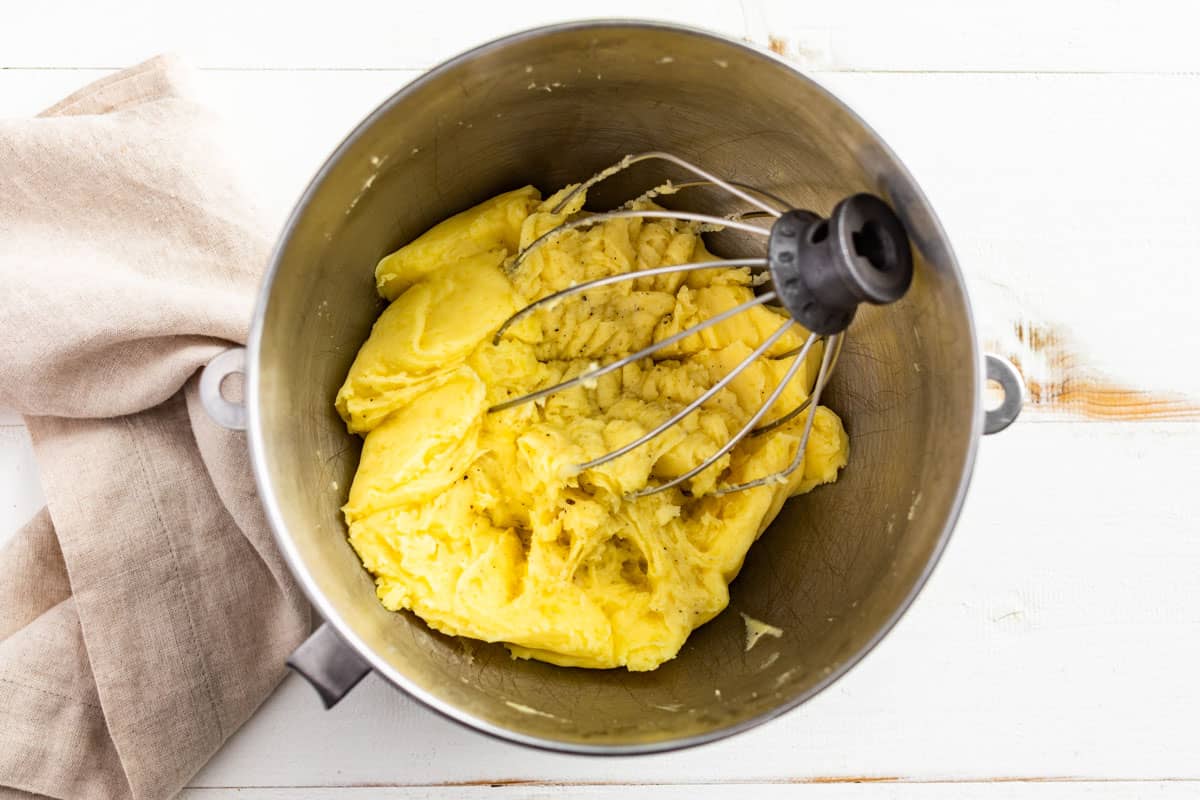 Step 4: Beat the potatoes until mostly smooth, then add the melted butter and beat again until combined.
Step 5: Add the sea salt and pepper and add the heated half and half until your desired texture is reached. Once you add the liquid, don't over mix. Serve immediately!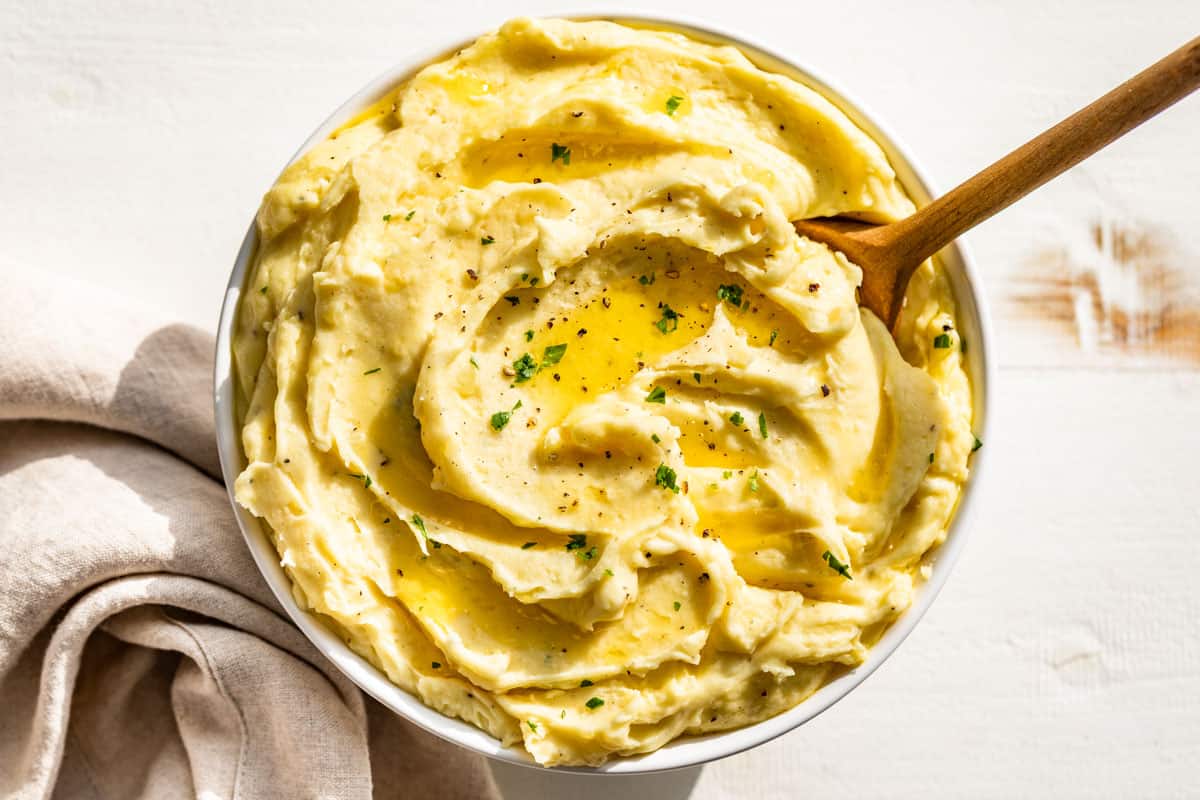 FAQ's
What is the trick to good mashed potatoes?
#1 add the butter to the mashed potatoes before the liquid for the fluffiest results. #2 don't skimp on the butter or dairy free option. # use Russets or Yukon golds for the best textured mashed potatoes of your life!
Do you cut potatoes before boiling them for mashed?
Either way, I cut large potatoes in half to cut down on the boiling time a bit. You don't want to cut them into small pieces because they will make a watered down mash.
Storing leftovers
To store – place any leftovers into an airtight sealed container and refrigerate for 3-5 days.
Reheat – add any leftovers to a pan and mix in a bit of your liquid of choice, cover tightly with foil and reheat in the oven at 300ºF until heated through, stirring occasionally. I sometimes reheat small portions in a non-stick skillet spread out thin and covered with a lid until heated through.
To freeze – place any leftovers into an airtight sealed container like a plastic or reusable silicone freezer bags. Squeeze all the air out and flatten. Freeze for up to 6 months, thaw in the refrigerator overnight before reheating as directed above.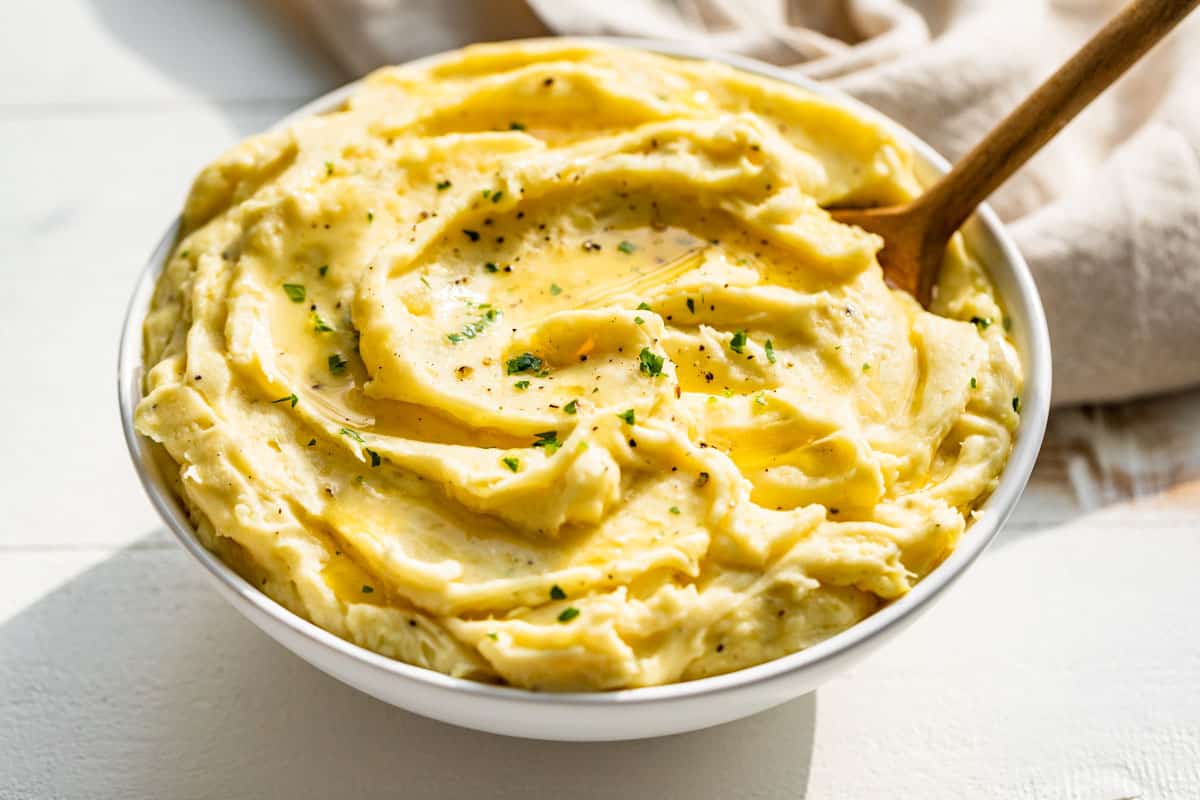 Tips & Tricks
Mix up your flavors with these basic mashed potatoes. Try adding a clove of garlic to the butter while you're melting it, or add roasted garlic. You can add cheese, sour cream, or cream cheese for different variations.
Don't over-mix the mashed potatoes once you add the liquid, it causes the starch molecules to balloon up and become increasingly gluey.
Use a hand masher to be completely sure you don't over-mix them!
Dietary Options & Substitutions
Dairy free – use vegan butter or olive oil along with chicken broth for the best dairy free mashed potatoes.
Paleo – use ghee or olive oil along with chicken broth in place of the half and half.
Vegan or Vegetarian – use vegan butter or olive oil along with vegetable broth or your favorite dairy free milk.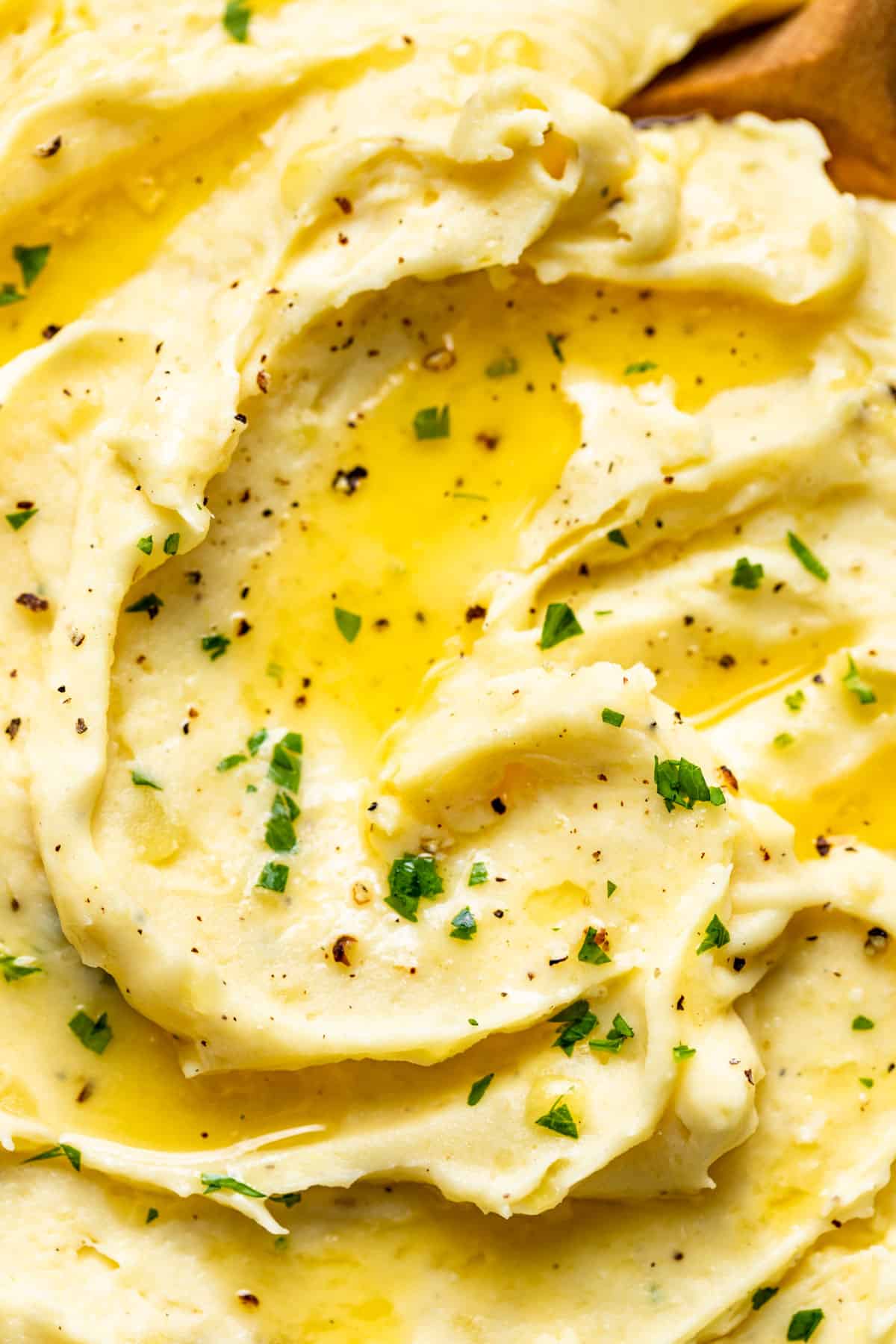 More Potato Recipe Inspiration
I really hope you enjoy these best ever Mashed Potatoes! If you do get a chance to make this recipe, I'd love to hear from you in the comments.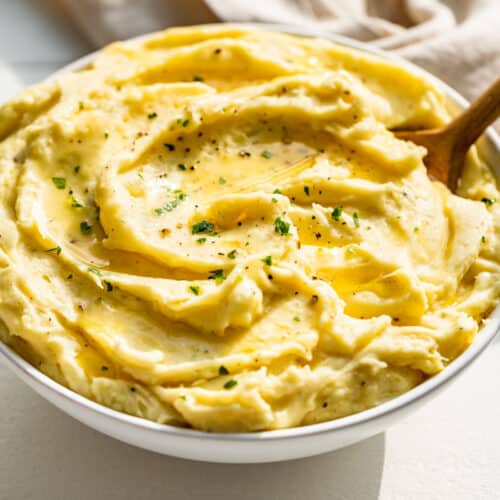 INGREDIENTS
2

pounds

Russet or Yukon Gold potatoes

-

about 4 medium sized potatoes

8

tbsp

salted butter

-

melted, 1 stick or 4 ounces, or 1/2 cup extra virgin olive oil, ghee, or vegan butter

1

tsp

sea salt

1/2

tsp

freshly ground black pepper

1/2

cup

half and half

-

heated until hot, add more as needed, see notes for dairy free.

For dairy free: use any dairy free milk of choice

-

or my favorite which is chicken stock
INSTRUCTIONS
Peel the potatoes if desired. Then place the potatoes in a large pot and fill with water until the potatoes are covered by at least 1" of water.

Bring the potatoes to a boil, cover with a lid, and then reduce the heat to maintain a simmer. Simmer the potatoes until tender, about 20-30 minutes. 

When the potatoes are done, drain off the water

. Place the drained potatoes into a mixer bowl or large bowl with room for mashing them by hand.

Mash the potatoes until most of the lumps are gone with the melted butter. Scrape down the sides several times to help eliminate lumps.

Season to taste with sea salt and black pepper.

Then add the heated half and half or broth until the desired texture is reached. Keep in mind that mashed potatoes thicken a bit as they sit.
Bonus Step
If you made this recipe, please leave a rating/comment. Ratings really help us continue to bring you high-quality free recipes. Rate This Recipe!
NOTES
I've found the amount of liquid I add varies every single time I make these. Just add milk/half and half until your desired texture is reaches since the amount of moisture present in the potatoes will never be the same twice.
For dairy free: use any dairy free milk of choice or my favorite which is chicken stock
The nutritional information was calculated with 1/2 cup half and half.
This recipe was adapted from Cook's Illustrated.
nutrition facts
Calories:
416
kcal
|
Carbohydrates:
41
g
|
Protein:
6
g
|
Fat:
26
g
|
Saturated Fat:
17
g
|
Polyunsaturated Fat:
1
g
|
Monounsaturated Fat:
7
g
|
Trans Fat:
1
g
|
Cholesterol:
71
mg
|
Sodium:
794
mg
|
Potassium:
1005
mg
|
Fiber:
5
g
|
Sugar:
3
g
|
Vitamin A:
813
IU
|
Vitamin C:
45
mg
|
Calcium:
68
mg
|
Iron:
2
mg
This recipe was originally published in 2019, but has been updated in 2022 with new photos, tips, and information.