First of all, why are these the 'best' mashed potatoes? Well it comes down to the method which I learned from Cook's Illustrated. The trick is to mash the potatoes with the butter, then add the liquid at the end.
This completely changed the way I made mashed potatoes, and I always get rave reviews for these potatoes. So the fun science behind it is the butter somehow cuts the starch molecules, and makes them fluffier.
If you add the milk/cream first, or with the butter, the starch molecules absorb the liquid. And this is what makes for a gluey/stodgy texture. Once you know that, you're golden, no pun intended since these are so beautifully golden.
FAQ's for Mashed Potatoes:
What are the best potatoes to use?
Either Russet or Yukon Golds are my go-to's. Russets I think are slightly fluffier. But I do love using Yukon Golds for their flavor, although you'll find they need less liquid than Russets generally.
Can you make these ahead?
The short answer is yes! Mashed potatoes can be made ahead, but I always think they're a bit better made right before you eat. It's a slight difference, but I feel they're a bit heavier when made ahead.
How do you reheat mashed potatoes?
To reheat mashed potatoes, place them in a covered pan on the stove over low heat. Add a bit of milk/half and half or any dairy free milk of your choice and reheat slowly, stirring occasionally.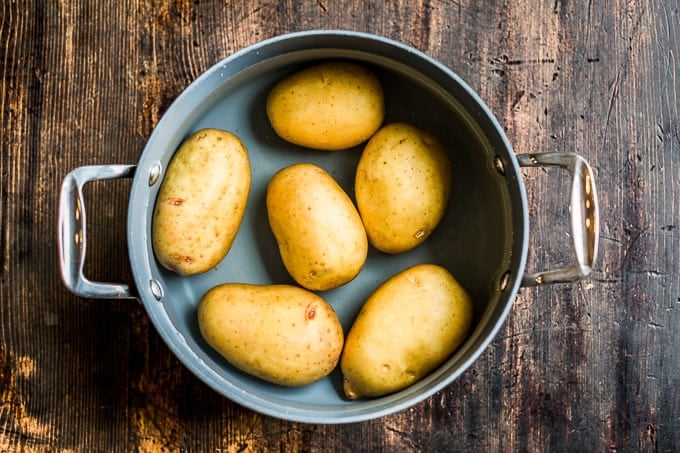 How many potatoes do you need per person?
The easiest answer is 1 medium potato per person? For a more concrete solution, you need 1/2 pound per person which should help you when you're at the store!
How much can you fit in a Kitchen Aid Mixer bowl?
This was my biggest question when I went to test out the way I make mashed potatoes. I usually just hold my breath and hope it all works out! But the answer is a 6-qt mixing bowl will just hold 4 pounds of potatoes, which is double this recipe, and enough to serve 8.
There's been a couple of times I've made a mountain of mashed potatoes. And in that case, I just did 2 batches in the mixer. Also if you can snag someone to help you in the kitchen with a good amount of muscle, they can hand mash big batches. We both actually prefer the texture of hand mashed because they always seem fluffier.
So that's it, the only thing you really need to know to make the best mashed potatoes is to add the butter first! This simple trick will most definitely turn your mashed potato world around.
If you do make these, I hope you'll leave me a comment/rating below. And I always love hearing from you here and over on Instagram where you can tag me at #getinspiredeveryday with your photos.
Print
How to make the Best Mashed Potatoes
---
Total Time:

30 minutes

Yield:

4

servings

1

x

Diet:

Gluten Free
Description
These mashed potatoes will win hearts, well… that might be an exaggeration, but it's worked for me!
---
2 pounds Russet or Yukon Gold potatoes, about 4 medium sized potatoes
1 stick salted butter, melted, 8 tablespoons or 4 ounces, or 1/2 cup extra virgin olive oil
1 Teaspoon sea salt
1/2 Teaspoon freshly ground black pepper
1/2–1 cup half and half or whole milk, heated until hot, see notes
For dairy free: use any dairy free milk of choice, or my favorite which is chicken stock
---
Instructions
Peel the potatoes if desired. Then place the potatoes in a large pot and fill with water until the potatoes are covered by at least 1″ of water. Bring the potatoes to a boil, cover with a lid, and then reduce the heat to maintain a simmer.
Simmer the potatoes until tender, about 20-30 minutes. 
When the potatoes are done, drain off the water reserving some for making gravy if desired. Place the drained potatoes into a mixer bowl or large bowl with room for mashing them by hand.
Mash the potatoes until most of the lumps are gone with the melted butter. Scrape down the sides several times to help eliminate lumps.
Season to taste with sea salt and black pepper.
Then add the heated half and half or whole milk until the desired texture is reached. Keep in mind that mashed potatoes thicken a bit as they sit.
Serve immediately. For make ahead tips refer to the post!
Notes
I've found the amount of liquid I add varies every single time I make these. Just add milk/half and half until your desired texture is reaches since the amount of moisture present in the potatoes will never be the same twice.
The nutritional information was calculated with 1/2 cup half and half.
Prep Time:

10

Cook Time:

20

Category:

Side Dish

Method:

Stove top

Cuisine:

American
Keywords: Mashed Potato Recipe, How to Make Mashed Potatoes, Mashed Potatoes Best, Mashed Potatoes How to Make