I'm pretty much the last person to jump in on whatever's trending. For starters there was the zucchini noodle trend, (which I'm now happy to say, looks like it's here to stay) and I just couldn't get on board for a number of reasons, (most of which were in my own mind). First of all there was pasta, I mean how can zucchini be subbed in for pasta – it's a travesty! And second of all, who wants yet another kitchen appliance?
Well… as you know, I'm completely head over heals for zucchini noodles because they're so delicious. And of course I have a spiralizer which barely ever gets put away because we're always using it! Then there was the avocado baked eggs trend where I finally caved, tried them out, and made this Mexican Avocado Baked Eggs with Salsa version, which is still a brunch favorite.
So please tell me I'm not the only one who hasn't jumped aboard the golden milk train!?! If you're like me and you have no idea what golden milk is, get ready to jump aboard yet another trend, because this one is so delicious.
Golden Milk aka 'Turmeric Tea' is a blend of spices, milk, and a touch of sweetener. The spices (which are very similar to chai) are gently simmered, and their flavor steeps into the milk. From there it's just a choice between serving it hot or cold! Since it's been between 80º and 90ºF here, making this into an iced latte was pretty much mandatory.
There's a couple things I love about golden milk:
It's deliciously creamy with a touch of sweetness and spice which is awesome during the baking hot afternoons.
It's an alternative to coffee that I actually like – major bonus!
It's made ahead and kept in the refrigerator, so you're only moments away from a yummy glass!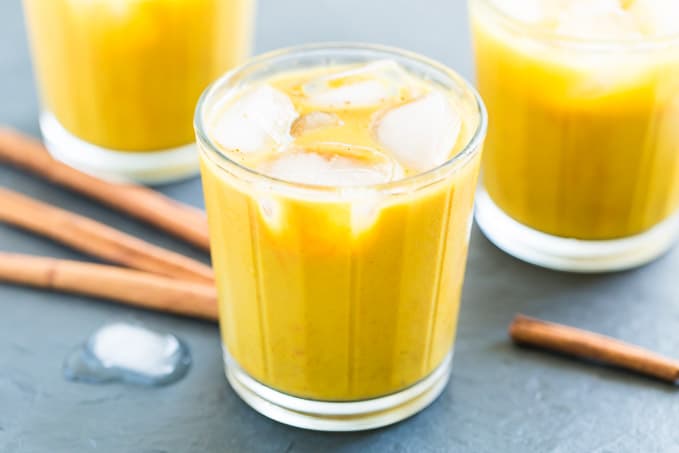 More refreshing drinks:
Turmeric Tea or Golden Milk's main claim to fame is that it's made with turmeric. Turmeric has become a buzzword because it's been proven to be an anti-inflammatory. It's primarily used to give color to curries, but they've used it to treat all sorts of things in India for thousands of years.
It's related to ginger, and it contains a compound called curcumin, which is an antioxident that has a powerful anti-inflammatory effect. They're doing all kinds of studies using this compound from turmeric, and it's been shown to help with everything from heart disease and brain disease, to cancer.
What I love about this drink is that you're putting something good in your body that tastes great! I call it the 'sweet spot' when you can line up taste with health because how else are we going to stick to a healthy diet and lifestyle?
Print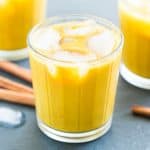 Golden Milk Iced Latte
---
2 cups

milk of choice, I used an almond milk/coconut milk blend which is my favorite

1 1/2 Teaspoons

turmeric powder

1/2

+

1/4 Teaspoons

Vietnamese cinnamon, ground

1/4 Teaspoon

ginger, ground
pinch of black pepper

2

–

4

Tablespoons pure maple syrup, or honey

1 Tablespoon

vanilla extract
Ice cubes if serving cold
---
Instructions
Set a medium sized saucepan over medium-high heat. Whisk together the milk, turmeric, cinnamon, ginger, and black pepper in the saucepan. Increase the heat to high, and bring the mixture to a boil, whisking frequently to keep the mixture from scorching on the bottom.
When the turmeric tea/golden milk has reached a boil, lower the the heat to low, and keep it at a bare simmer for 3-5 minutes. Remove the pan from the heat, and whisk in your choice of sweetener to taste, along with the vanilla extract.
Serve the tea immediately for a hot version, or cool it completely in the fridge, and serve as desired over ice within 1 week.
Prep Time:

10 mins

Cook Time:

5 mins