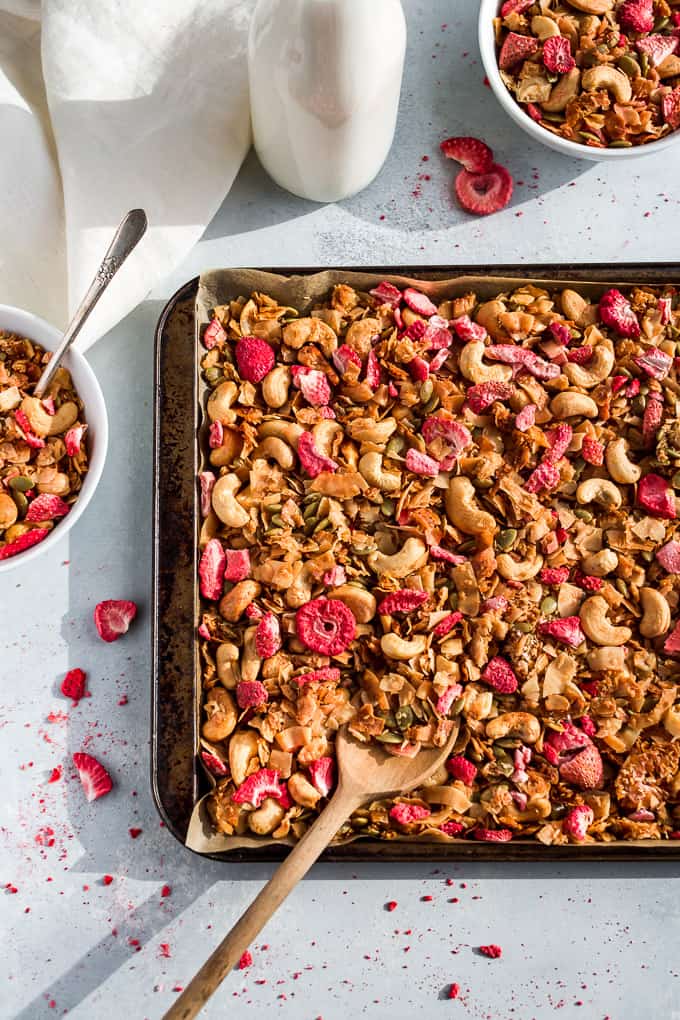 I have been on such a kick with freeze dried fruit lately. It started with our trip to Iceland where I took along some freeze dried berries to put into our pancake mix. (This is the photo of Tyler with those pancakes and freshly brewed coffee.)
And ever since I've been finding ways to adding these little flavor gems into my recipes. Today's recipe actually started out just being freeze dried berries added to my Maple Cinnamon Granola.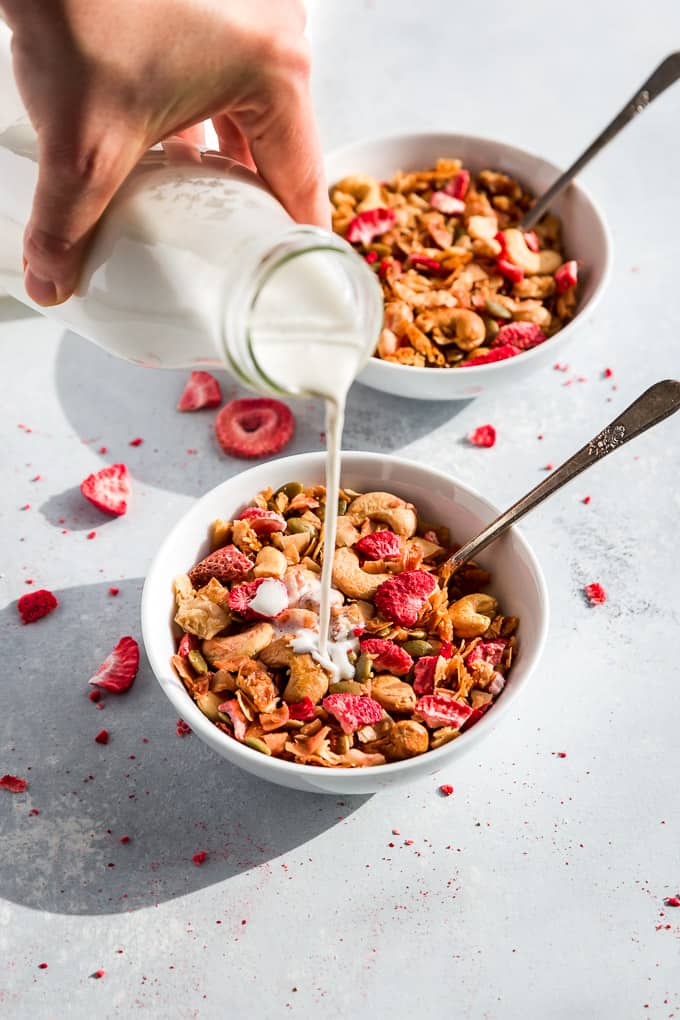 But then I tweaked it just slightly to make the berry flavor really pop with a hint of lemon and almond extract. So even though this recipe isn't exactly re-inventing the wheel or anything, it's addictive enough to deserve it's own little spot here on the blog.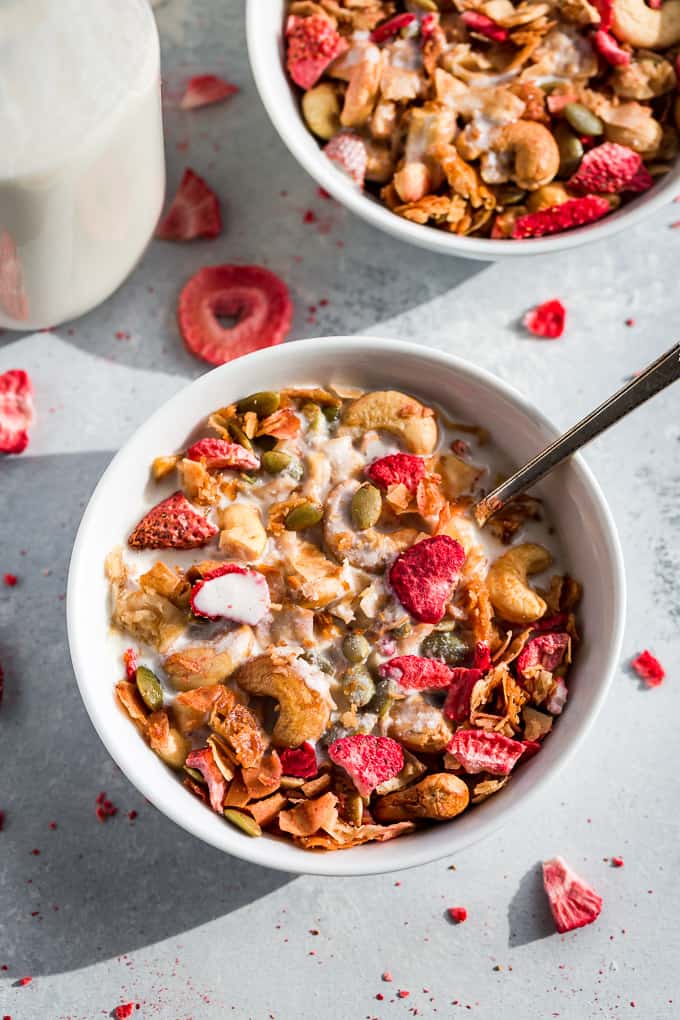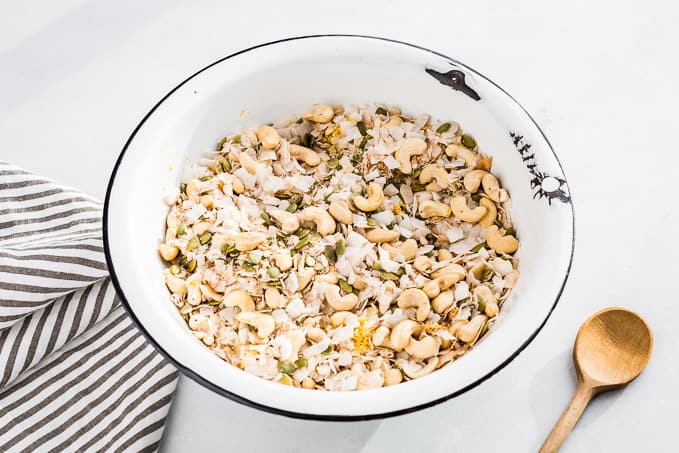 How to make this granola:
Mix together all the dry ingredients together until the spices and lemon zest are well combined.
Add the liquid and stir again until combined, (see photo below).
Spread the granola evenly over a parchment lined baking sheet.
Bake until golden, then let the granola get crispy by cooling down with the oven.
Cool completely on a rack before stirring in the strawberries.
Store in an airtight container, and use within 2-3 weeks.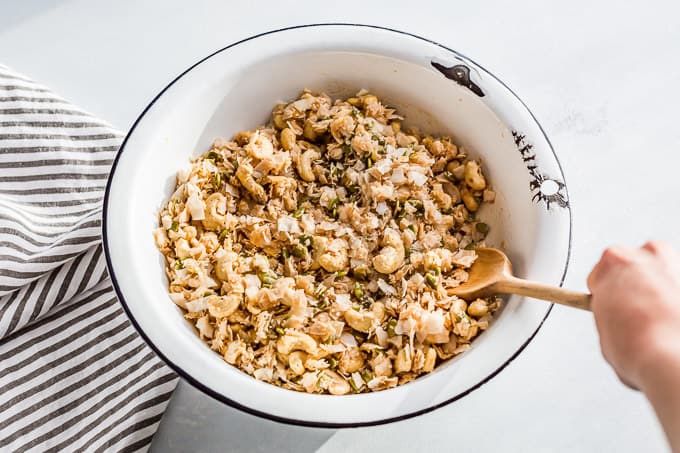 Tips:
1. Grate the lemon zest with a microplane grater for very fine zest that blends in perfectly to the granola.

2. Don't skip the step of letting the granola cool with the oven after it's turned off. This step is essential to crunchy granola that doesn't get soggy later when it's stored.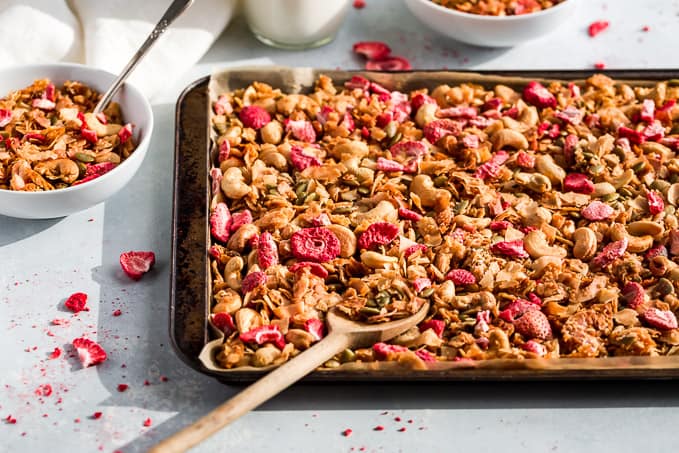 What to serve this with:
Any milk of your choice for the classic combo, cashew milk has been my latest favorite.
Any yogurt of your choice, my go-to is any Icelandic style yogurt I can find here locally, along with sliced bananas and/or berries.
As a topping for any smoothie bowl, this Strawberry Banana one in particular.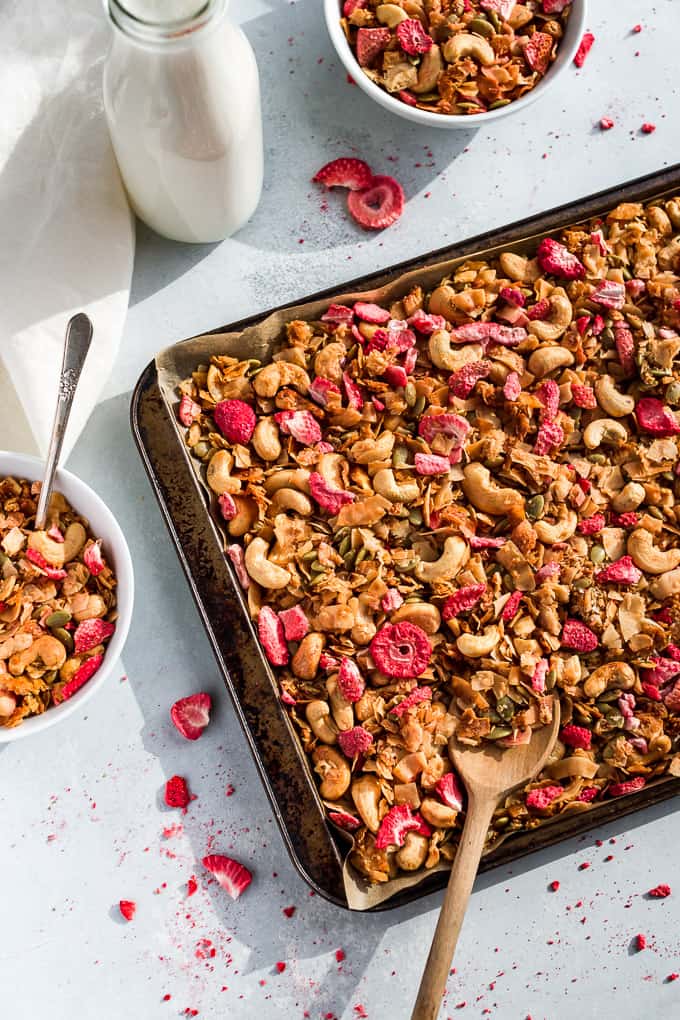 More granola recipes you might enjoy: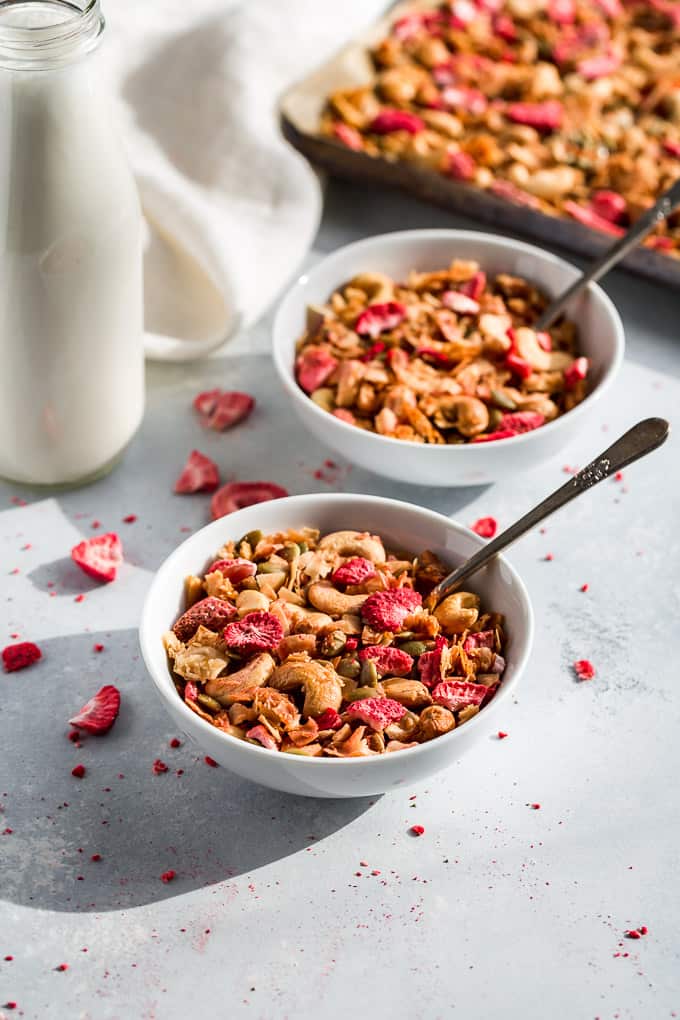 This recipe is so bright and fresh tasting for a baked recipe that I can already guarantee it's going to be a staple on our summer adventuring weekends. I hope you enjoy this one too, and if you do make it, I would love it if you tagged me on Instagram, or left me a comment down below. It always makes my day hearing from you and seeing what you've made!
Also just one last note: if you haven't had freeze dried berries before, be forewarned they're quite addictive. While I was typing up this recipe, I left my desk to check and see how many ounces were in a package.
What ended up happening was me standing in front of the pantry eating a handful of strawberries before heading back to my desk, where I promptly forgot what I was even doing in the first place. Once I figured it out again, I had to head back to the pantry to actually check for the ounces on the package instead of just eating berries!
Print
Grain Free Strawberry Granola
---
Author:

Kari

Total Time:

2 hours 30 minutes

Yield:

about

8 cups

1

x
Description
This granola is loaded with strawberry flavor with a hint of cinnamon, perfect summery flavors any time of the year!
---
3 cups big flake coconut, unsweetened
1 cup shredded coconut, unsweetened
2 cups cashew halves
1 cup pumpkin seeds
1 1/2 Teaspoons ground cinnamon
1 Teaspoon sea salt
1 Tablespoon lemon zest, grated with a microplane
1/2 cup maple syrup, I used Grade A amber
1 Tablespoon freshly squeezed lemon juice
1 Tablespoon vanilla extract
2 Tablespoons avocado oil
1/2 Teaspoon almond extract
1 package – 1.2 ounces freeze dried strawberries
---
Instructions
Preheat the oven to 300ºF and line a baking sheet with parchment paper.
In a medium sized bowl, mix together both types of coconut, cashews, pumpkin seeds, cinnamon, sea salt, and lemon zest until well combined.
Add the maple syrup, lemon juice, vanilla extract, avocado oil, and almond extract. Mix again to completely combine.
Spread the granola in an even layer and bake for 20 minutes, stirring once at the halfway point. When the baking time is done, turn off the oven. Then stir the granola thoroughly with the oven door open to let out some of the heat, and leave it in the oven to cool down and get crispy for at least 2 hours. I usually make this at night when I'm already making dinner, and then just leave it to cool down in the oven overnight where it's ready for the next morning.
After the 2 hours has passed, completely cool the granola on a wire cooling rack until it's room temperature. Then stir in the freeze dried strawberries, and store it in an airtight container. For the best freshness, use the granola within 2-3 weeks.
Prep Time:

10

Cook Time:

2 hours 20 minutes