Simple to make and the perfect side dish to anything off the grill, these Grilled Potatoes are my go-to recipe! They're great served straight off the grill, or tossed with the optional butter and green onions. We make these both ways several times per week to go along with protein and veggies on the grill. This side dish is naturally gluten-free and dairy-free if you choose dairy-free butter, or the plain version. Either way you go, I know you're going to love these potatoes as much as we do.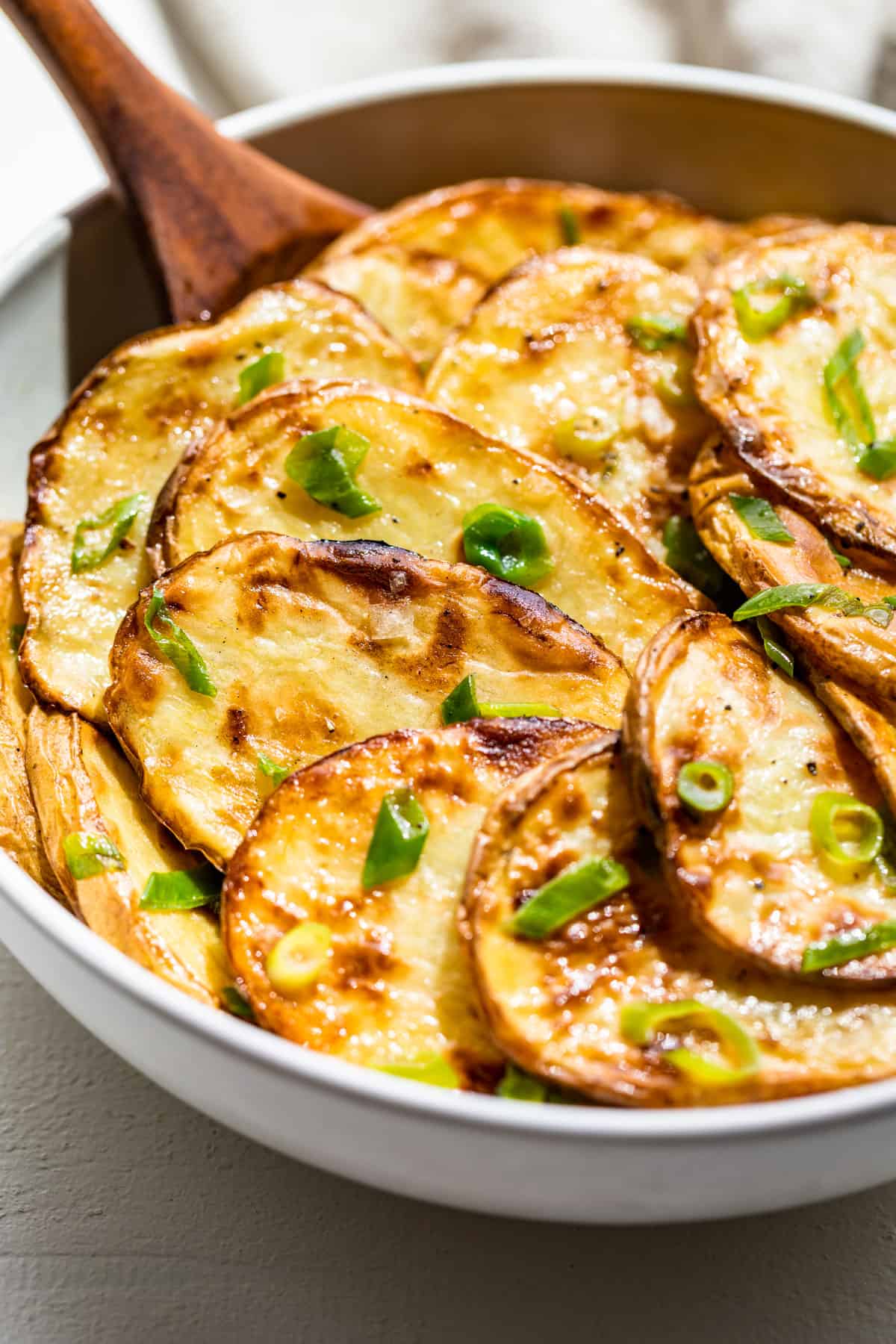 These Grilled Potatoes are another of my super simple recipes that get requested all the time. They're so simple in fact that they're barely a recipe! But every single time I make them for company, I always get asked for the recipe.
So I finally wrote it down to share with you as well. These potatoes are so flavorful and easily turn into the star of the show. Pair them simply with grilled meat like Italian sausages, chicken, steak, or pork chops. From there you can add a couple of veggies to the grill, and dinner is done.
Ingredients & Substitutions
Potatoes – Yukon golds are my favorite to grill by far and away. They stay perfectly moist and get nice browned grill marks as well. Russets also work but they tend to be dryer. Any red potato will work here but they don't brown as well. We make these so often I use any potato I have, but Yukon gold will give you the best result. Sweet potatoes also work here, but they cook a bit faster.
Avocado oil – a small amount to toss together with the sliced potatoes to keep them from sticking to the grill. You can also use any cooking oil you'd like with a high heat rating.
Sea salt & pepper – a light sprinkling before and after cooking perfectly seasons these potatoes and brings out their flavor.
Green onions – are optional here to toss with the cooked potatoes along with some butter. It's a variation we make a lot and it's super tasty. Thinly sliced chives also work in place of the green onions. I use chives from my herb garden in the early summer and green onions the rest of the year.
Butter – is also optional but delicious. Use the best quality butter you can find for the best flavor. You can also use dairy-free butter if desired.
How to make this recipe step by step
Step 1: Start by preheating the grill, then clean the potatoes and slice them into 1/4″-1/2″ slices.
Step 2: Next place the potatoes into a large bowl and toss them with the avocado oil, large pinch of sea salt, and a sprinkling of pepper.
Toss the potato slices to combine and evenly season.
Step 3: Place the potatoes directly on the grill slats and cook until grill marks form and the potatoes begin to soften.
Step 4: Next turn the potato slices to grill on the other side until just tender.
The potatoes will loosen from the grill when they're ready to turn as long as the grill is properly seasoned and cleaned.
Step 5: If you making the butter green onion variation, thinly slice the dark green part of the green onions.
Step 6: Then melt the butter in a small saucepan and add the green onions. I do this in a metal serving bowl placed next to the grill so I don't have to get another dish dirty. Add a sprinkling of sea salt and freshly ground pepper.
Step 7: When the potatoes are just tender, serve them as is or toss them together with the green onion butter and serve!
Ways to serve these
These are perfect served with any protein on the grill plus 2-3 Grilled Vegetables.
Serve them plain with my Basil Aioli for dipping.
We love them alongside my In and Out Burger Wraps!
Basically, with any recipe you'd normally serve potatoes with, these are my go-to options, especially in the summer months!
FAQ's
Should I boil potatoes before grilling them?
No not for this recipe because they're sliced thinly the cook quickly. It's important to slice the potatoes between 1/4″-1/2″ so they cook quickly and evenly. Boiling potatoes is only necessary if you're cooking larger potatoes on the grill that aren't sliced.
Can I place potatoes directly on the grill?
Only if they're sliced thin enough and lightly coated with oil. If you follow the recipe they'll turn out great, But you can't place whole or thickly cut potatoes directly on the grill because they will burn on the outside and be hard in the center.
How do you grill potatoes without foil?
You'll have great success as long as you slice the potatoes between 1/4″-1/2″ thick. They will cook fast enough and be perfectly browned on the outside and moist in the centers. If you want to cook larger pieces or whole potatoes you must use foil or par-boil them.
Storing leftovers
To store – place any leftovers into an airtight sealed container and refrigerate for up to 1 week.
Reheat – place the leftovers into a small skillet and reheat over low to medium heat until just heated through. I like to add 1 tablespoon of water to the pan because the potatoes tend to dry out in the refrigerator. Simmer until the water has evaporated and the potatoes are heated through.
Repurpose – these potatoes don't freeze well but they do reheat well. You can reheat them as directed above and serve them with over-easy eggs on top for a super tasty breakfast. Or dice them up and heat them in a pan before adding eggs and making a breakfast scramble. You can also reheat them and add them on top of any lunch salad you might be eating. I don't recommend eating them cold because they have a dry texture straight out of the fridge.
Tips & Tricks
Be wary of hot spots in your grill when you cook potatoes. Know your hot spots and keep the sliced potatoes away from them so they don't burn!
Choose larger potatoes when shopping and slice the potatoes lengthwise to create the largest amount of surface area. This is super helpful so they don't fall through the grill slats. Little potatoes really don't work well here and are best saved for other recipes.
Be extra careful when placing the potatoes on the grill if you have single grill slats so they don't fall in. My new grill has cross-hatched slats that has made grilling potatoes even easier, but it's still easy enough on single slats if you take care of how you put them on!
Serve these potatoes with these easy grilled recipes
I really hope you enjoy these Grilled Potatoes! If you do get a chance to make this recipe, please leave a rating, I'd love to hear from you in the comments.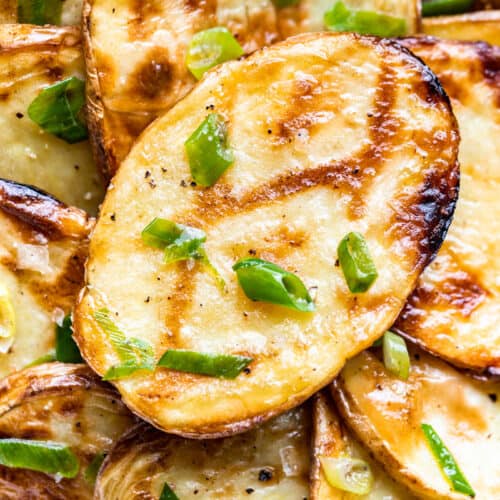 INGREDIENTS
4

Yukon gold potatoes

-

2 pounds, sliced lengthwise into 1/4"-1/2" thick slices

1

tbsp

olive oil

-

or avocado oil

pinch

sea salt

2

tbsp

salted butter

-

optional, see notes

1/4

cup

green onions

-

thinly sliced, optional see notes

Sea salt and freshly ground black pepper to taste
INSTRUCTIONS
Preheat the grill over medium to medium high heat until the grill reaches a steady temperature of 350ºF-400ºF. Make sure the grill is well cleaned so the potatoes don't stick.

In a medium sized bowl, toss the sliced potatoes together with the oil and pinch of sea salt to evenly coat the side.

Place the potato slices directly on the preheated grill, taking care to place them so they don't fall through the slats.

Grill the sliced potatoes until they're ready to turn, have browned grill marks, and release easily from the grill, about 7-8 minutes. I like to use metal tongs to turn the slices.

Turn the potatoes and cook until tender, about 7-8 more minutes. The cooking time will vary depending on your grill and how windy it is outside. Use a pairing knife to see if they potatoes are soft in the centers.

Remove the potatoes from the grill and serve, or toss them together with the butter and green onion mixture. Either way you serve them, be sure to season to taste with sea salt and freshly ground black pepper.
Bonus Step
If you made this recipe, please leave a rating/comment. Ratings really help us continue to bring you high-quality free recipes. Rate This Recipe!
NOTES
You can serve these potatoes plain straight from the grill, or toss them together with the optional butter and green onions for one of our favorite variations. Use dairy free butter for dairy free, or omit the butter altogether.
Be careful to avoid placing the potatoes over any hot spots in your grill because they will burn.
The nutrition facts were calculated without the sea salt and pepper to taste at the end of the cooking time.
nutrition facts
Calories:
172
kcal
|
Carbohydrates:
27
g
|
Protein:
3
g
|
Fat:
6
g
|
Saturated Fat:
3
g
|
Polyunsaturated Fat:
1
g
|
Monounsaturated Fat:
3
g
|
Trans Fat:
0.2
g
|
Cholesterol:
10
mg
|
Sodium:
40
mg
|
Potassium:
649
mg
|
Fiber:
3
g
|
Sugar:
1
g
|
Vitamin A:
161
IU
|
Vitamin C:
31
mg
|
Calcium:
22
mg
|
Iron:
1
mg