Simply the best way to enjoy your veggies in the summer, these Grilled Vegetables are so easy to make! You can make a large platter filled with mixed grilled veggies, or grill 1-3 kinds for a simple family dinner. They're perfect served on their own lightly scented with garlic and seasoned with sea salt. But they're also incredible with my Basil Aioli and all the other sauces linked down below. This guide for grilling veggies will give you everything you need to confidently grill veggies from the first asparagus right through corn on the cob season.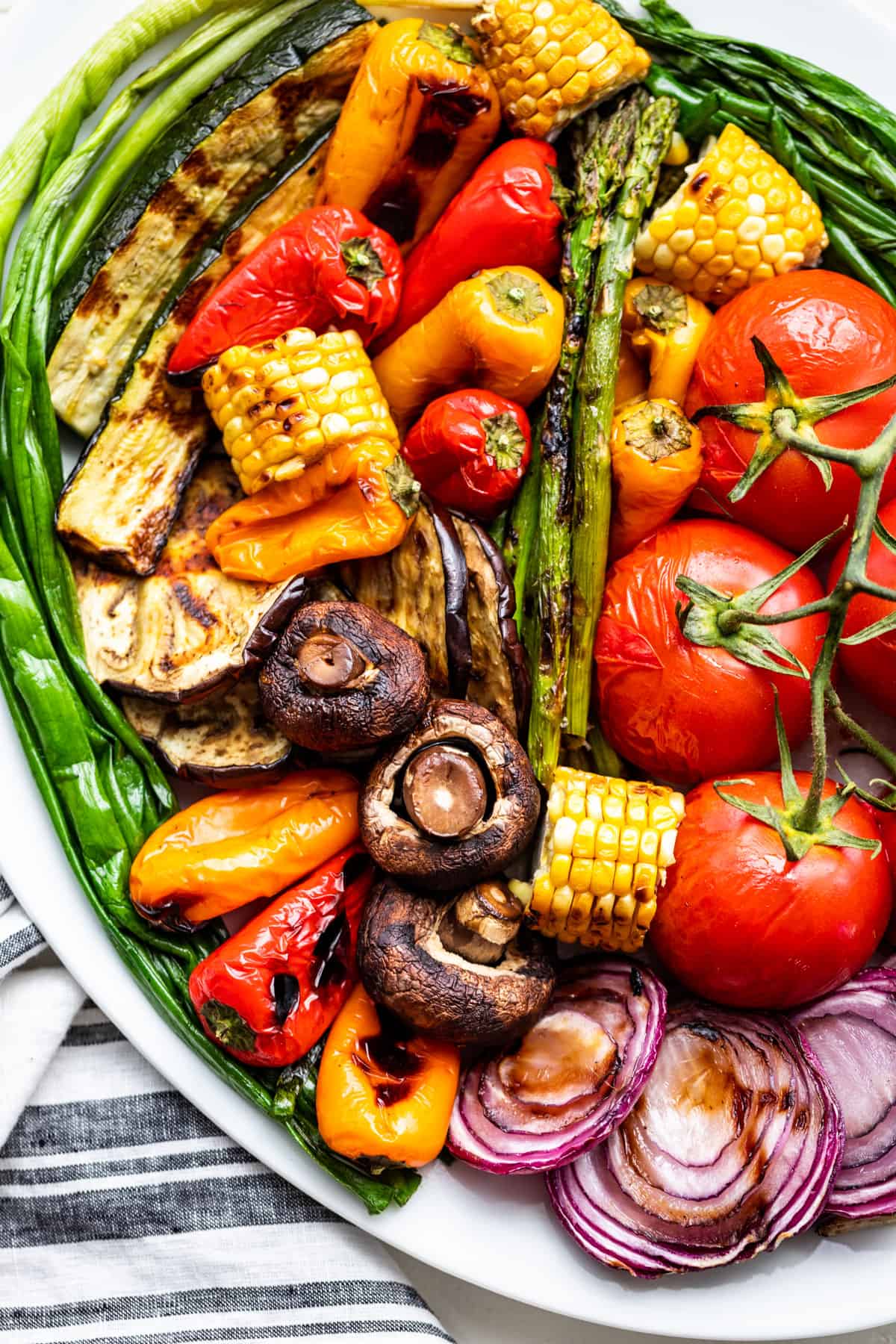 Grilled veggies are more of a how-to guide rather than an actual 'recipe'. In fact they're something we make at least 2-3 times per week all summer long. But I've never written it down before because it's barely a recipe!
However this year I'm on a mission to share even our simplest of 'recipes' in the hopes that you find as much enjoyment in them as we do. After all we all need super simple ways to eat healthy and love how it tastes as well. You can make a giant platter as pictured here, or you can grill 1-2 veggies for an easy family dinner.
This guide is also great if you get a CSA or a share from a local farmer because you'll get all sorts of veggies every week. From there you can just brush them with my garlic olive oil mixture and grill into perfection. Serve them as it with a grilled protein, or add a sauce to the mix.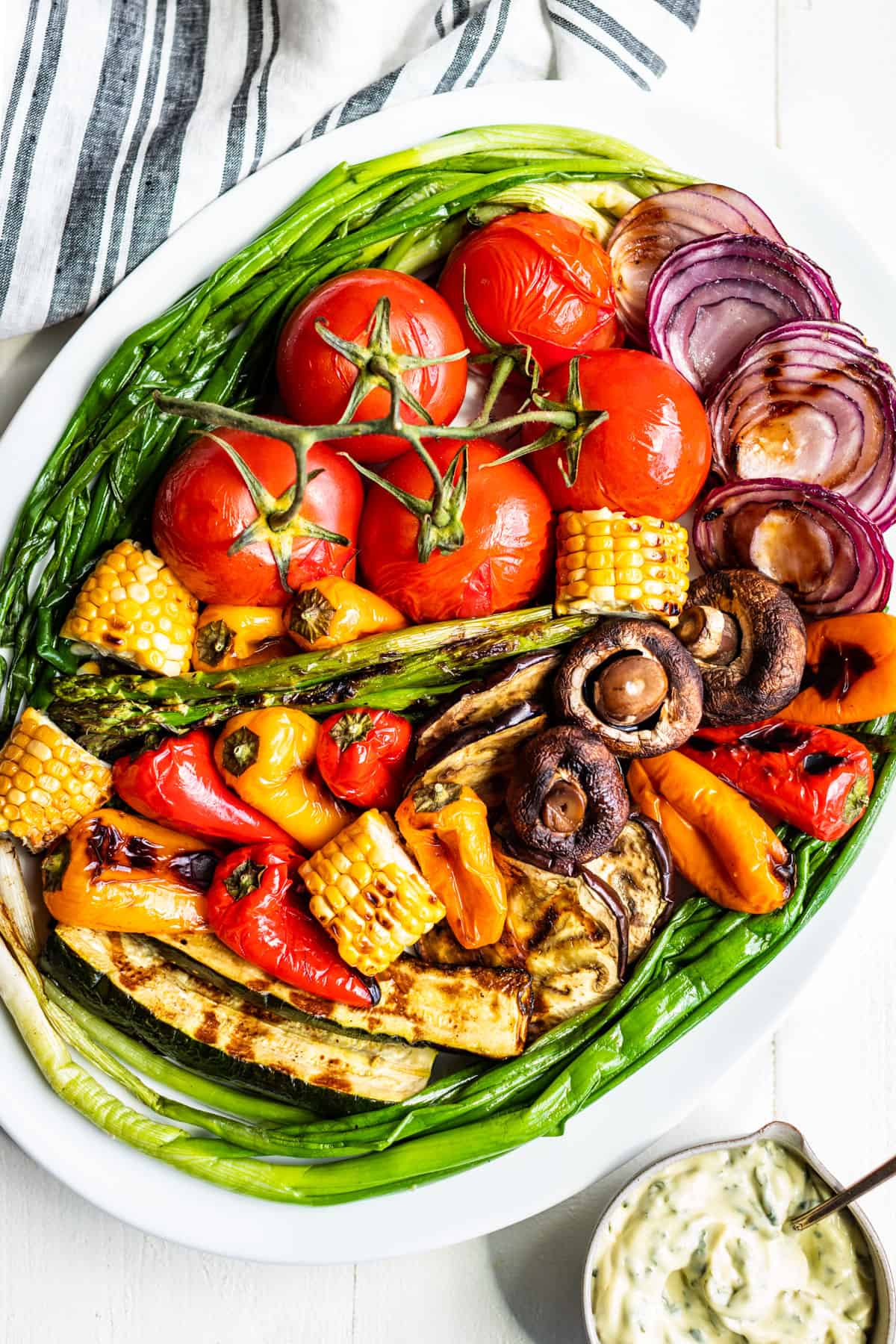 Easy Summer Meal Formula: Grilled Vegetables + Grilled Protein + Sauce = super yummy dinner!
Ingredients & Substitutions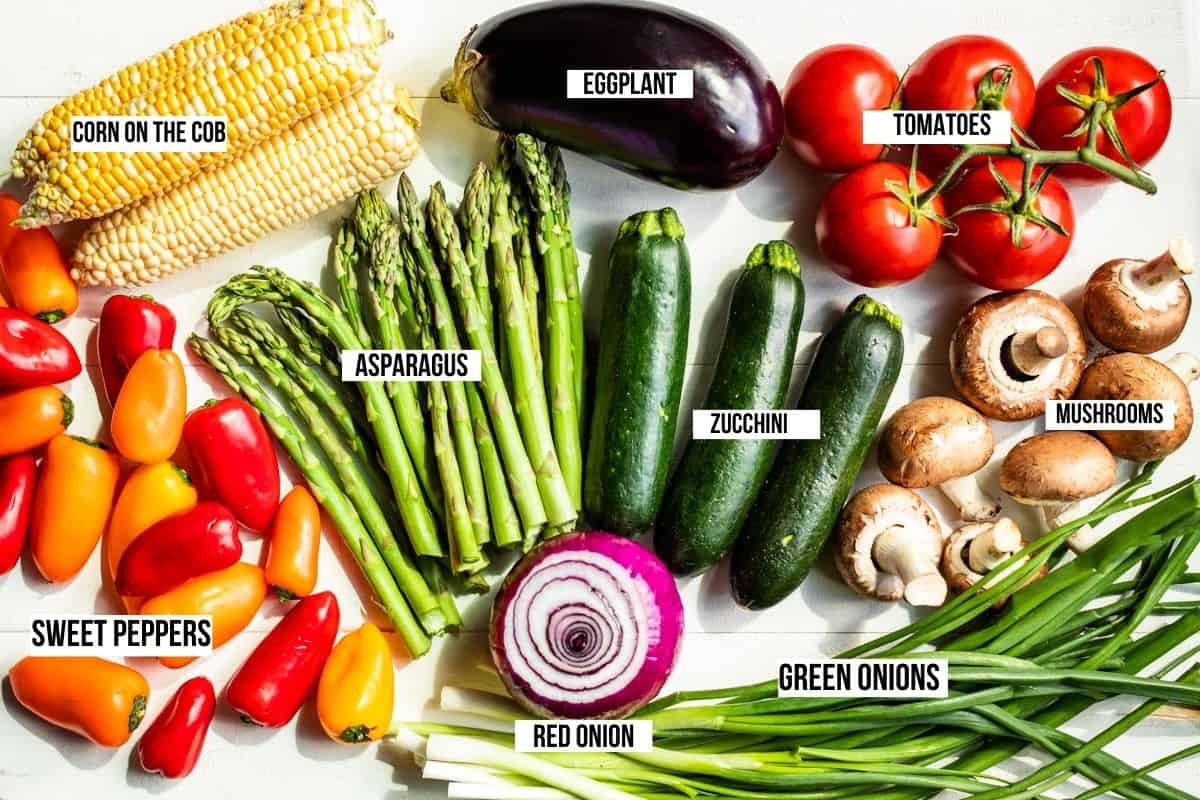 Vegetables – pictured above are all our favorite veggies to grill. They're also the easiest to cook on a grill, however you can grill harder veggies like broccolini and carrots over a lower heat for longer. Asparagus is wonderful in spring and early summer, and zucchini on the grill never gets old as the summer abundance comes. Mushrooms, onions or green onions, and peppers are widely available for most of the year. While corn, eggplant, and tomatoes are best for the height of summer.
Olive oil – just a touch helps to keep the veggies moist while grilling. However if you're in a rush, you can always grill the veggies without any oil so long as your grill is well seasoned so they don't stick.
Garlic – again just a hint together with the olive oil makes for truly the best grilled vegetables.
Sea salt – adds a lot of flavor and really is worth adding in with the garlic olive oil mixture.
How to make this recipe step by step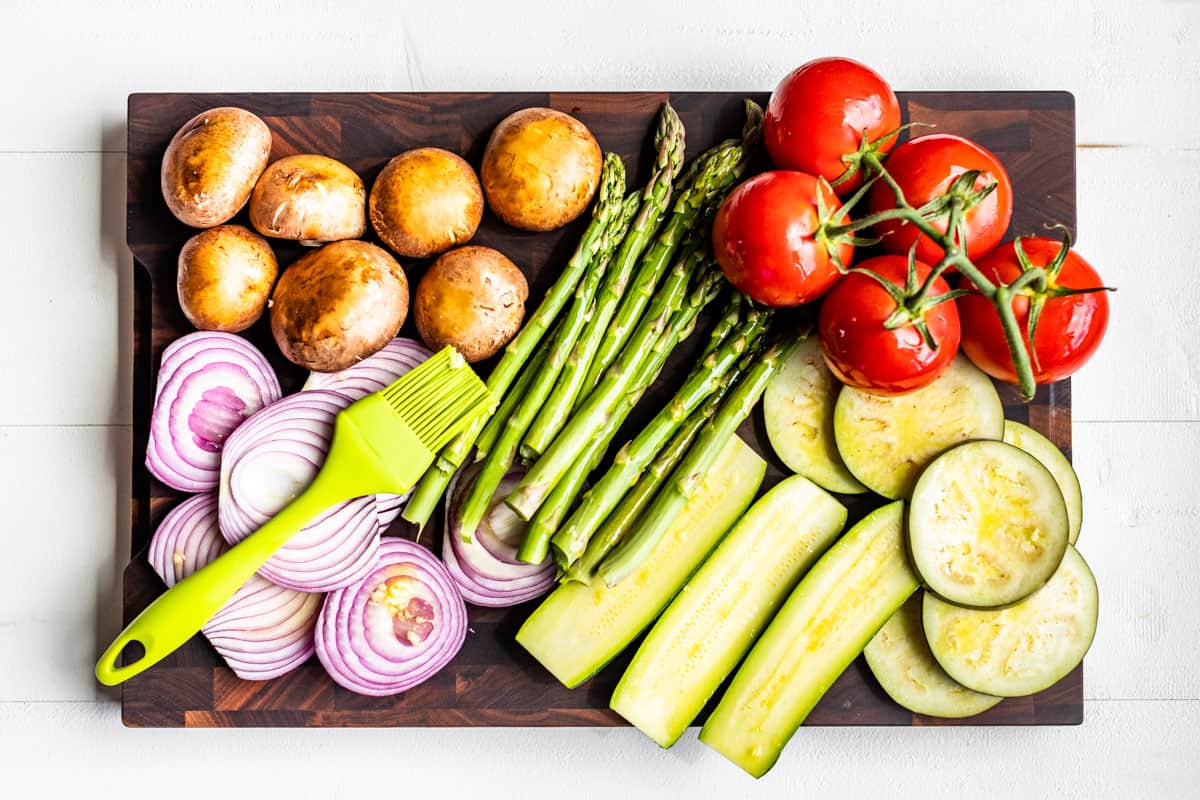 Step 2: Mix together the olive oil, garlic, and sea salt and brush the veggies with the mixture. Grill the veggies until just tender over medium-high heat, about 400ºF.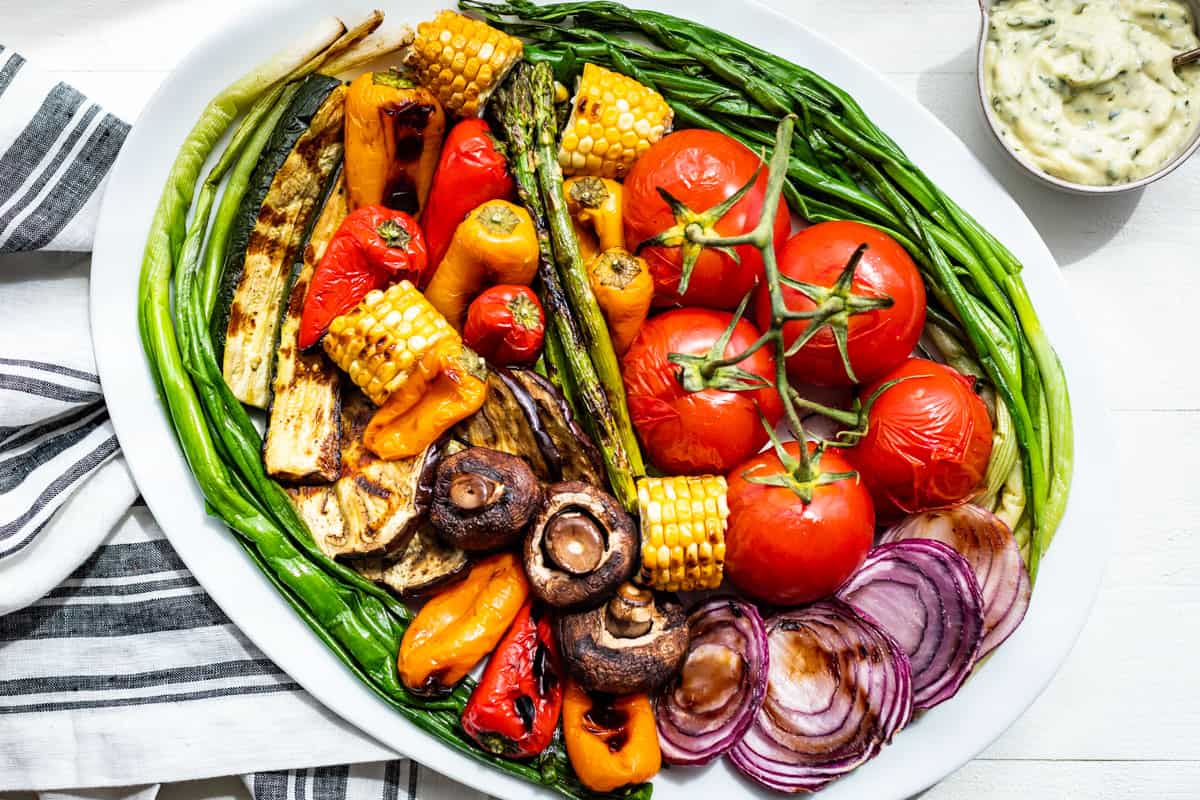 Step 3: Serve piled onto a platter with your choice of a main dish and sauce if desired.
Grilled Vegetable Cooking Times
Bell peppers – 8-10 minutes whole or 6-8 minutes for halved
Onions – 6-8 minutes for 1/2″ thick slices
Green onions, tomatoes, & mushrooms – about 4 minutes. Cook just until the green onions wilt and when the skins begin to split on the tomatoes. Mushrooms will shrivel a bit and be tender. I don't recommend grilling cherry tomatoes because they cook too fast. But if you have them on the vine, try 1-2 minutes to barely soften. Larger tomatoes over 4″ in diameter can take 6-8 minutes.
Corn on the cob – I grill mine without the husk for some browning on the corn, about 8 minutes.
Small peppers & gypsy peppers – take 6-8 minutes on average. Continue to turn them as they brown. Shishitos are best done in a cast iron skillet on the grill to properly sear them, but a grill basket works as well.
Asparagus – 5-6 minutes for thin spears or as much as 8-10 minutes for thick asparagus.
Hard veggies – carrots, potatoes, sweet potatoes, broccolini etc. take longer on the grill than everything mention above. I start the grill at medium heat around 350º and add them 4-6 minutes before everything else. Then turn the heat up to 400º-450º to add the rest of your veggies. I have a recipe coming for you for the best grilled potatoes!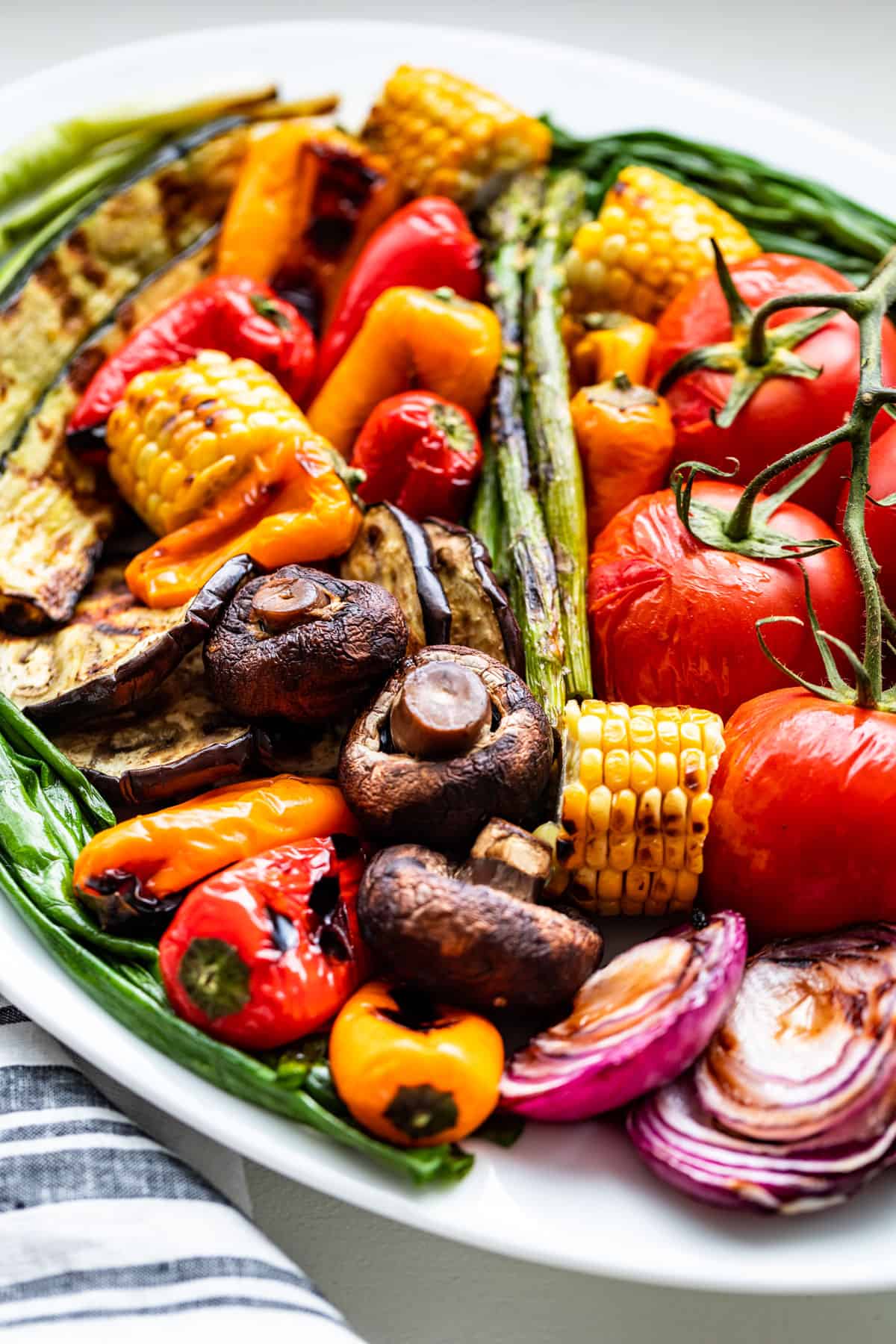 Ways to serve these Grilled Vegetables
FAQ's
Should vegetables be marinated before grilling?
Any kind of marinade is best after you've grilled your veggies. The best texture for veggies is to brush them with olive oil and garlic, then grill them. Marinades contain salt which will cause the veggies to shed their water as they marinate and the texture isn't good in my opinion.
Do you put oil on vegetables before grilling?
You don't have to put oil on vegetables before grilling, but it is best for texture and flavor. A light brushing of olive oil helps to keep the veggies moist and from sticking to the grill.
Storing leftovers
To store – place any leftovers into a sealed container and refrigerate for up to 1 week. The more delicate veggies like tomatoes do not keep well, but anything firmer does.
Reheat – I like to reheat extra grilled veggies in a small covered skillet with a touch of water over medium heat until warmed through. Or you can also microwave to reheat these veggies.
Repurpose – since grilled vegetables don't freeze, let's talk about how to repurpose them instead! First you can reheat them as directed above. Or you can chop them up into bite sized pieces and pile them into scrambled eggs or an omelet. I also like them over mixed greens with protein and salad dressing for lunch. And finally you can also use the leftover chopped grilled veggies to make a pasta salad. Check out my Grilled Veggie Pesto Pasta Salad to get an idea of how to do this.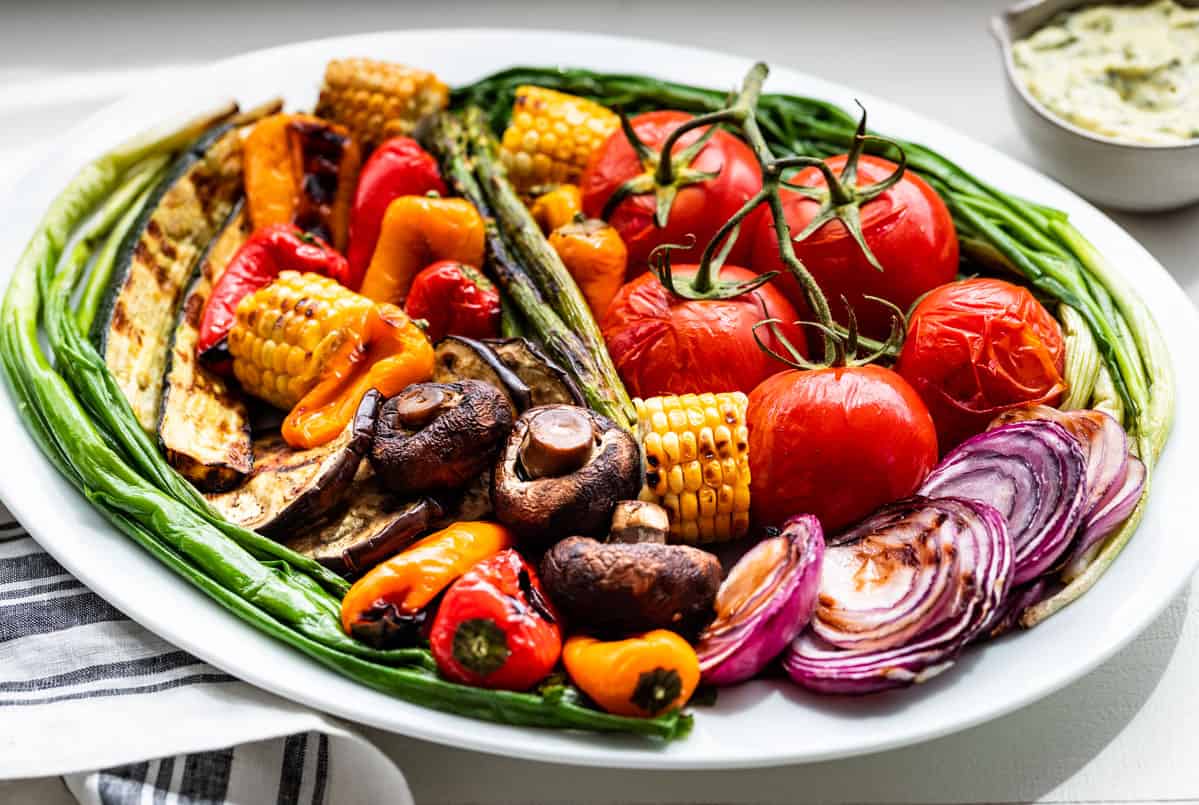 Tips & Tricks
Bring a paring knife with you out to the grill, if it slides in easily to the veggies, they're done. This is a great way to get the hang of grilling veggies if you're unsure about their doneness.
Don't worry about serving all your grilled veggies piping hot, they're perfect at room temperature and that really take the pressure off. Most grilled veggies take between 8-10 minutes, but just keep adding them to the platter as they finish, then serve.
Try grilling just 2-3 veggies at a time until you get the hang of it, again it really takes the pressure off! We often grill just 2-3 veggies with protein and a sauce for dinner. You can see and example of this with my Grilled Italian Sausage Platter.
Don't be afraid of the medium high heat, grilling veggies at 400ºF – 450º is what gives you the great grill marks and all the flavor.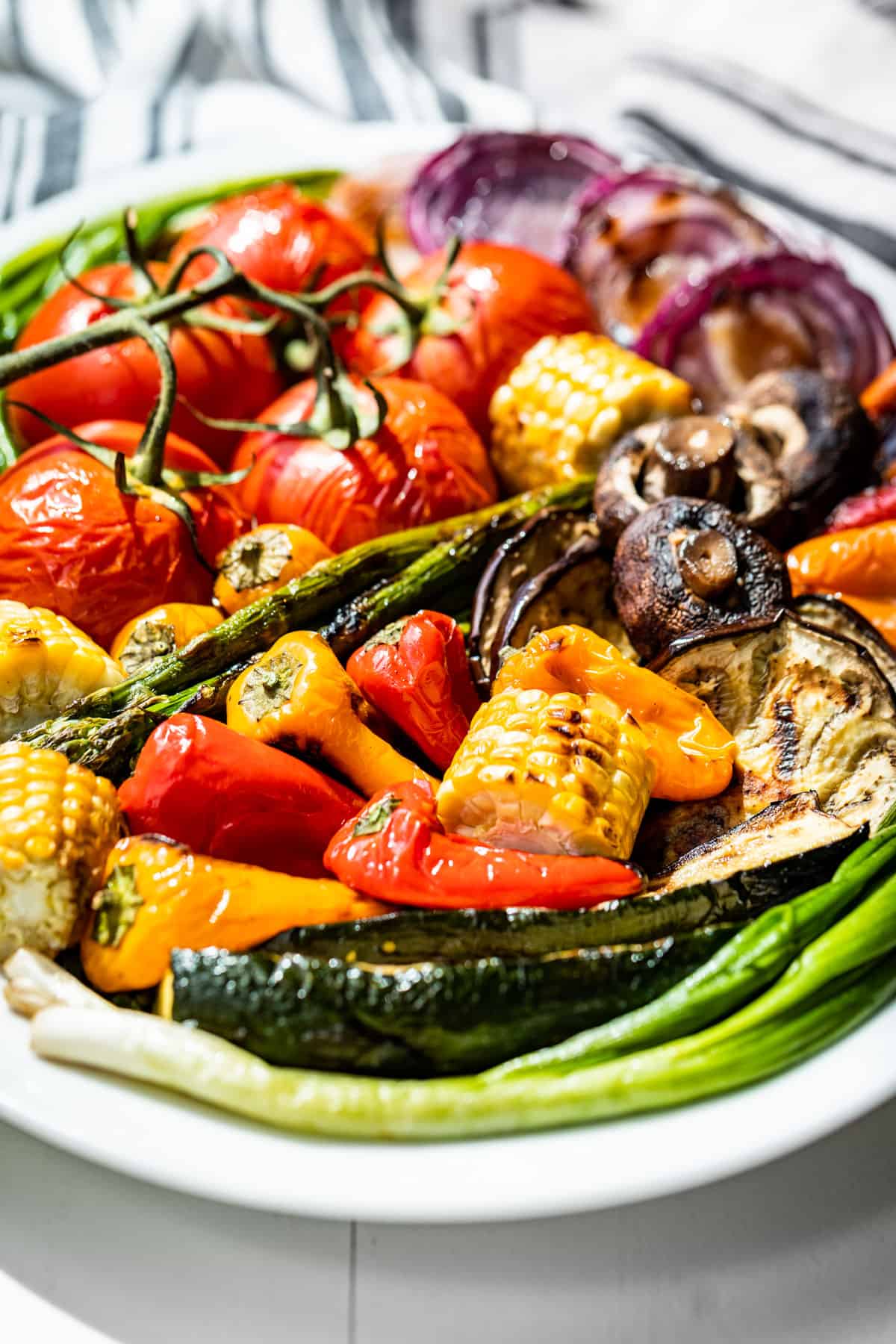 Recipe inspiration for more sauces perfect for Grilled Vegetables
I really hope you enjoy these Grilled Vegetables! If you do get a chance to make this recipe, please leave a rating, I'd love to hear from you in the comments.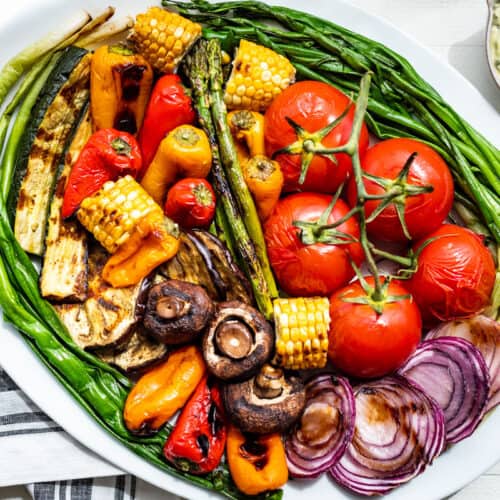 INGREDIENTS
2

zucchini

-

cut in half lengthwise, 1.5 pounds

2

red bell peppers

-

halved & seeded, or 1 pound sweet gypsy peppers

1

large

red onion

-

peeled and sliced 1/2" thick

4

ears

corn on the cob

-

shucked, cut into thirds after cooking for 12 pieces

1

bunch green onions

-

washed

1

eggplant

-

stem removed and sliced 1/2" thick

12

Crimini mushrooms

-

cleaned

1

bunch

asparagus

-

woody ends snapped off, 1 pound

5

medium

tomatoes

1/4

cup

olive oil

-

extra virgin

2

cloves

garlic

-

minced

1/2

tsp

sea salt
INSTRUCTIONS
Start by preheating the grill over medium high heat until a steady temperature between 400ºF-450ºF is reached.

Meanwhile prep the veggies you'll be using, there's no need to make this entire recipe, just pick and choose what you'll need.

Mix together the olive oil, minced garlic, and sea salt together in a bowl. Then using a silicone brush, lightly coat the veggies with the olive oil mixture.

Place the veggies on the preheated grill and cook until crisp tender. Zucchini, peppers, and onions take about 8-10 minutes. Mushrooms take about 4 minutes. The medium sized tomatoes and sliced eggplant take 4-6 minutes. Corn on the cob takes about 8 minutes turning every time it begins to brown. Green onions take just 3-4 minutes, or until barely wilted. And gypsy peppers take about 6 minutes, turn after one side begins to brown.

As your veggies finish cooking, add them to a serving platter. When they're all done, serve them with your favorite sauce and a grilled protein of choice.
Bonus Step
If you made this recipe, please leave a rating/comment. Ratings really help us continue to bring you high-quality free recipes. Rate This Recipe!
NOTES
The ingredients listed here are for a giant grilled veggie platter that will serve 12! I like to figure on 8 ounces or 1/2 pound of veggies per person.
So it's easy enough to downsize for a family dinner. For 4 servings I recommend 2 pounds of veggies tossed together with 1 tablespoon olive oil, 1/2 clove minced garlic, and a sprinkle of sea salt.
And just remember the measurements don't need to be too exact for grilling veggies. The only thing to keep in mind, is not to get too crazy with the garlic and overwhelm the subtle veggie flavors.
nutrition facts
Calories:
112
kcal
|
Carbohydrates:
15
g
|
Protein:
4
g
|
Fat:
5
g
|
Saturated Fat:
1
g
|
Polyunsaturated Fat:
1
g
|
Monounsaturated Fat:
3
g
|
Trans Fat:
0.003
g
|
Sodium:
111
mg
|
Potassium:
601
mg
|
Fiber:
4
g
|
Sugar:
8
g
|
Vitamin A:
1472
IU
|
Vitamin C:
44
mg
|
Calcium:
32
mg
|
Iron:
2
mg