This Healthy Orange Chicken is quick and easy to make, and there's no added sugar of any kind! Tender chicken coated with a sticky orange sauce is a weeknight dinner the whole family will love. It's naturally sweet thanks to fresh orange juice and full of savory flavor. There's no deep frying involved, just a simple-to-make recipe that's even better than takeout. It's also gluten-free, Whole30, paleo, and dairy free as well. So the next time you're craving takeout from Panda Express, this Healthy Orange Chicken is your easy answer!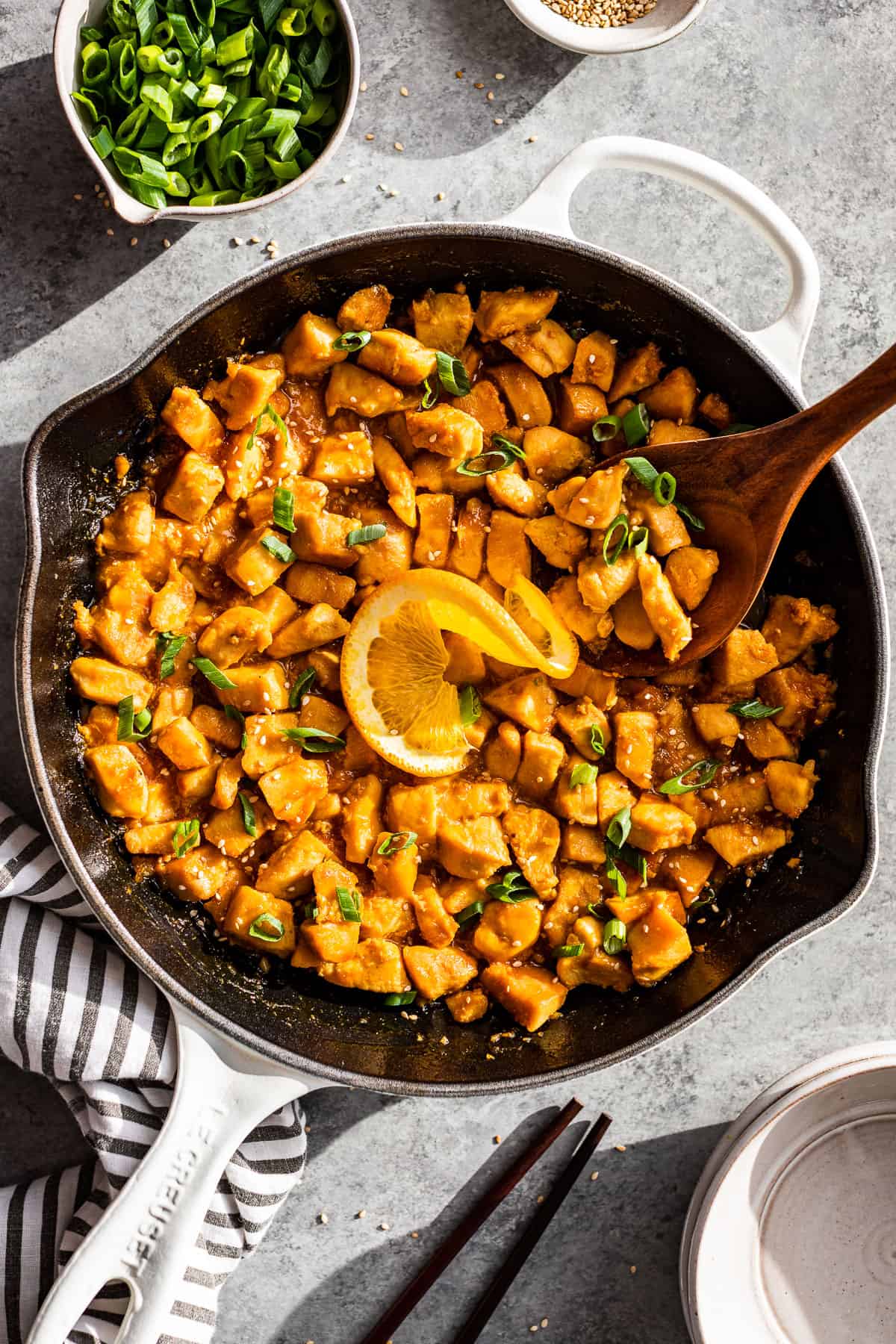 Does anyone else just love those breaded, deep-fried chicken cubes all coated in a sweet sauce? Well… I can definitely say I always have! But as time has gone on, I find myself craving more flavor and less of the stomachache I always get with those types of foods. So I've come up with a simple homemade version of orange chicken that's quick and easy to make!
Orange chicken is yet another tasty dish that is deep-fried and coated in a sauce that has more sugar than your average dessert! But the good news is, it tastes incredible when you make it with no added sugar at all. It's all about the depth of flavor in the sauce which is super easy to make.
So if you're like me and crave those Chinese takeout flavors, this one's for you! And because we make super easy recipes around here, there's no deep frying involved either. This is a lighter skinny orange chicken but not because we're counting calories. It's much lighter because there's no deep fried chicken like traditional orange chicken.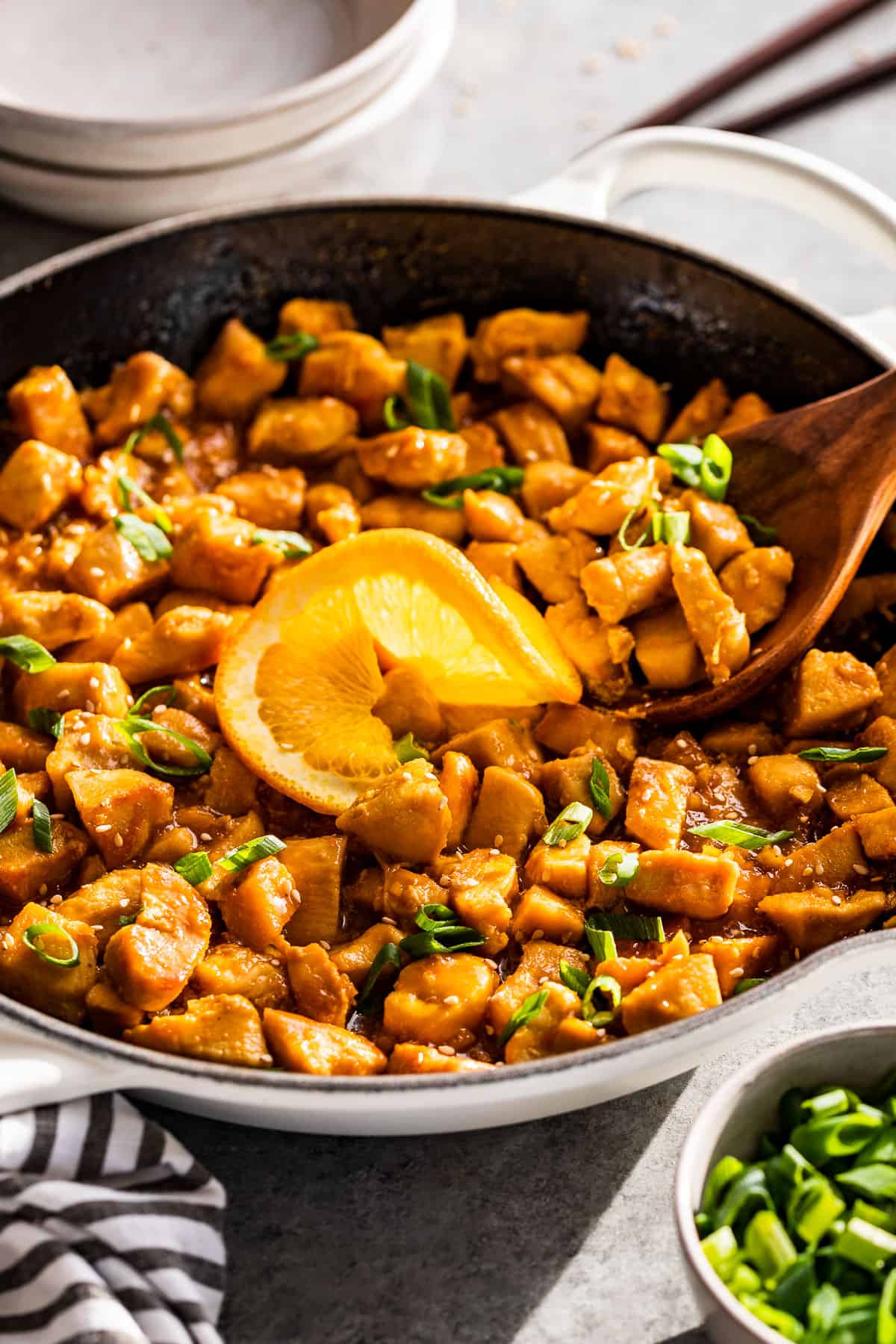 Ingredients & Substitutions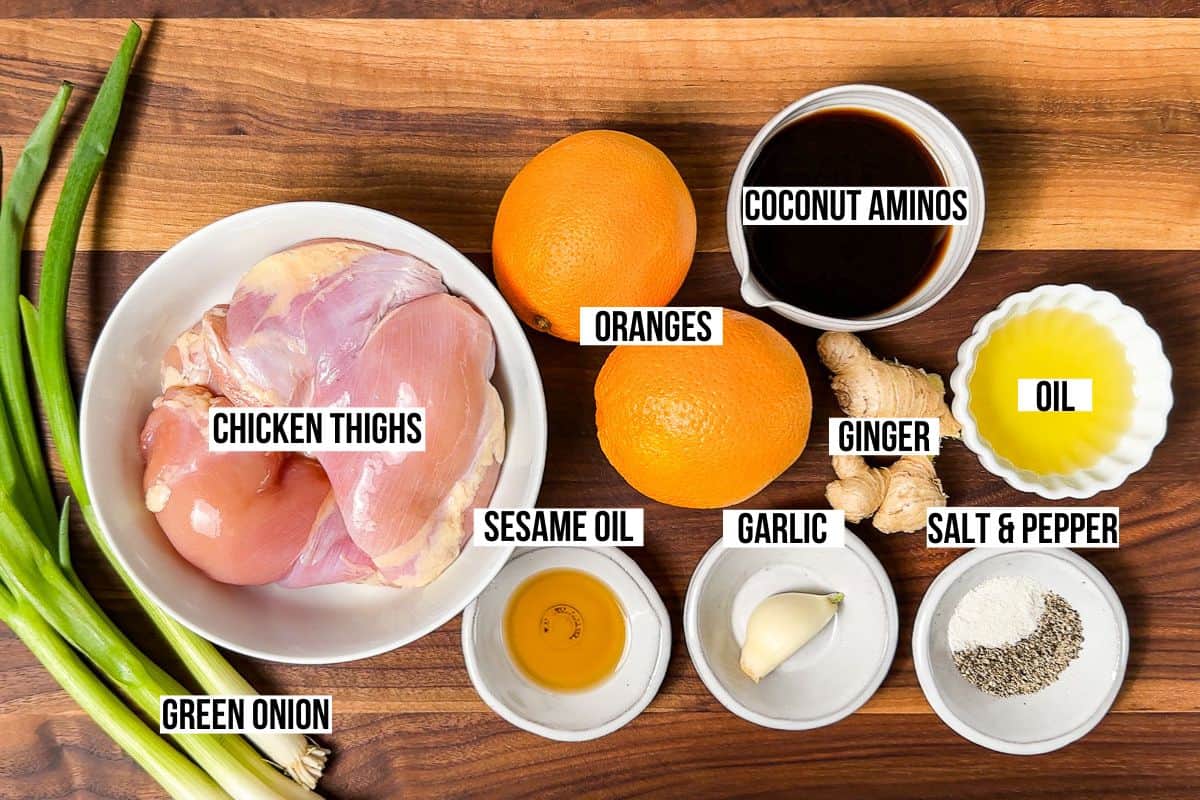 Chicken – You can use either boneless skinless chicken breasts or thighs. I lean toward using chicken thighs because they're much more forgiving in a stir fry. Chicken breasts can go from barely done to 'sawdust' pretty fast, but chicken thighs aren't as touchy. But if you're careful with your cooking time on the chicken, you'll be fine. I've made this recipe both ways, and they're both good!
Avocado oil – is my favorite oil to stir fry with because it has a high heat tolerance, but you can use olive oil too.
Garlic & Ginger – Freshly minced garlic and fresh ginger are key for the best-tasting stir fry of any kind. But any shortcut you like to use like the squeezable ginger etc can be substituted, although I can't vouch for the outcome. Once I got used to mincing up ginger and garlic, I got faster at it, and it only takes me a couple of minutes now! And please don't substitute dried ground ginger, people will tell you it's fine, but it's really not very tasty! This recipe only has a few ingredients, so they must be fresh. And I don't want you to be disappointed in the results you'll get from dried ginger.
Orange Juice & Zest – Again fresh is best here, but you can substitute orange juice (unsweetened) from the carton. But since you're zesting an orange here, it only takes a couple of minutes to squeeze the orange juice fresh.
Coconut Aminos – you can sub in Tamari or gluten-free soy sauce, but start with less because they're both saltier. I think coconut aminos (which is a soy-free substitute) is a perfect balance here because of its natural sweetness that makes the sauce extra tasty without added sugar.
Tapioca – this is optional to slightly thicken the sauce, but I prefer to let the sauce get thick on its own because the flavor is more concentrated.
Green Onions & Sesame Seeds – these are mostly for garnish, but the green onions provide a welcome savory flavor that's nice with the sweetness.
Make this recipe step by step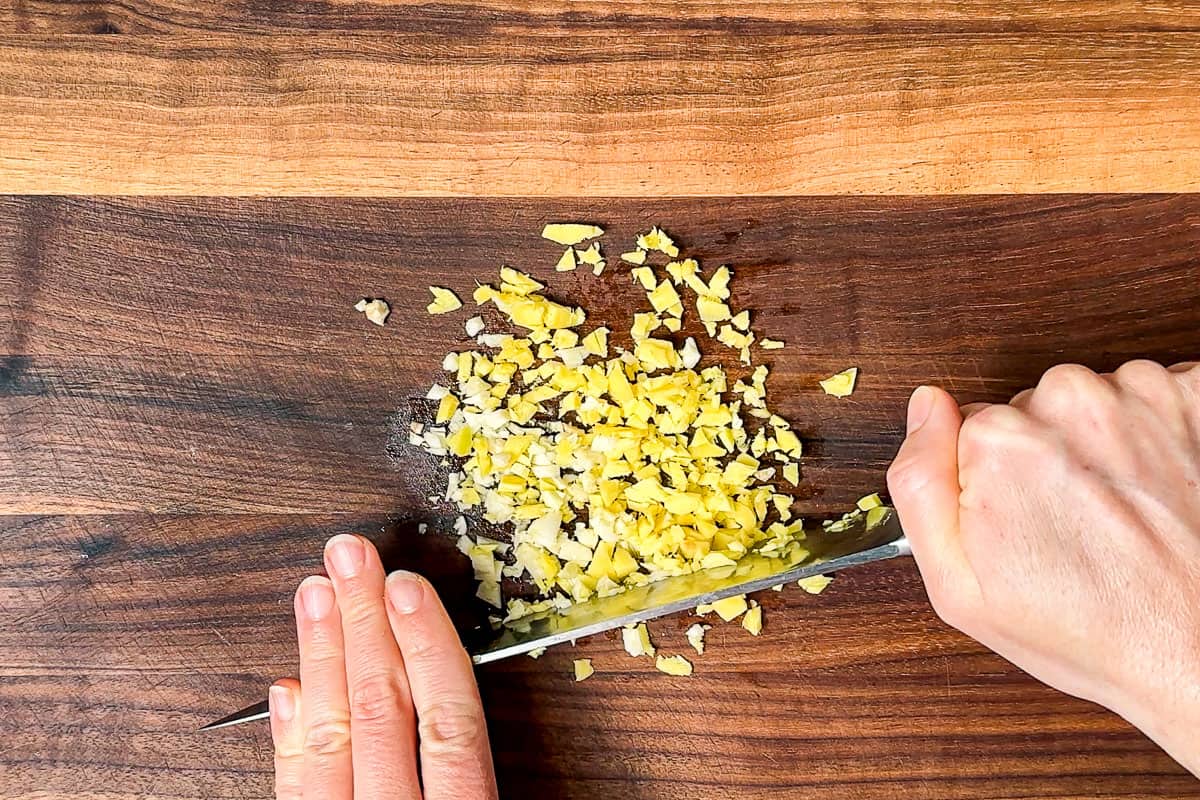 Step 1: If you're making rice or any veggie side dishes, get those started first because this orange chicken comes together fast! Begin this recipe by mincing the garlic and ginger.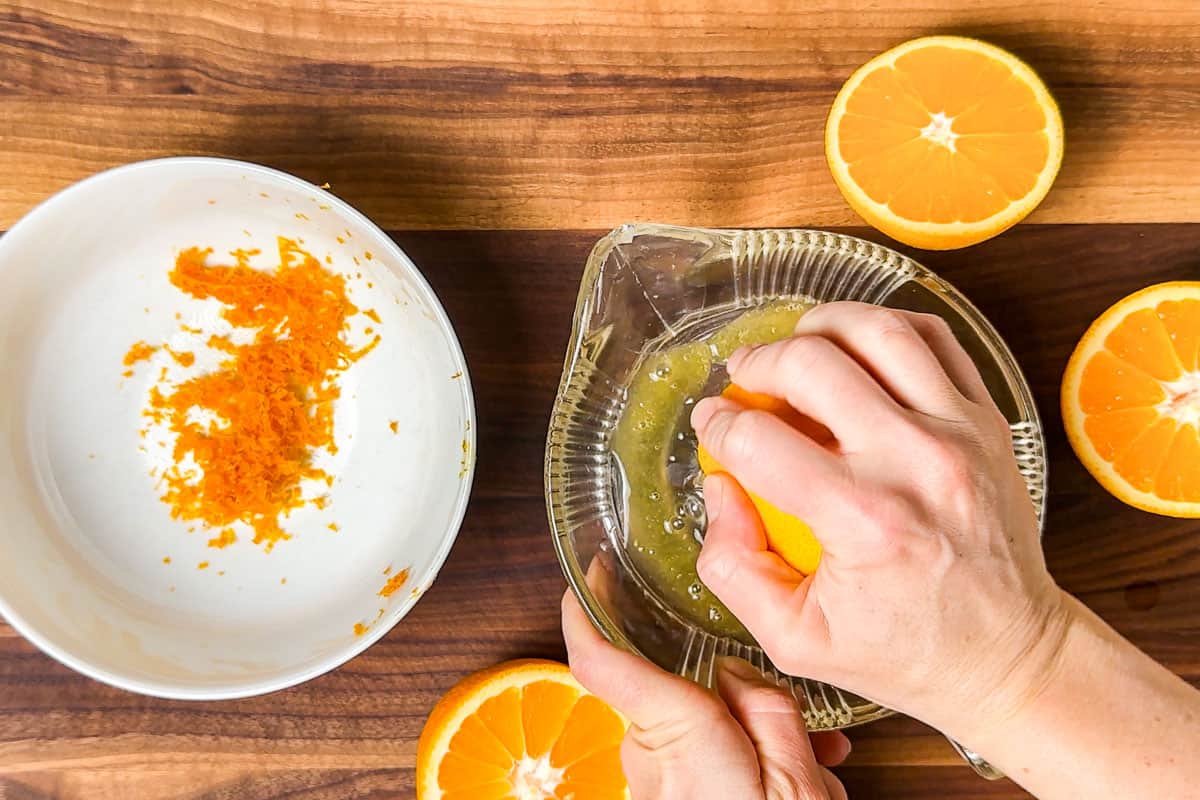 Step 2: Then zest and juice the oranges.
I like to use a microplane grater because it gives you the finest texture of zest that fairly melts into the sauce.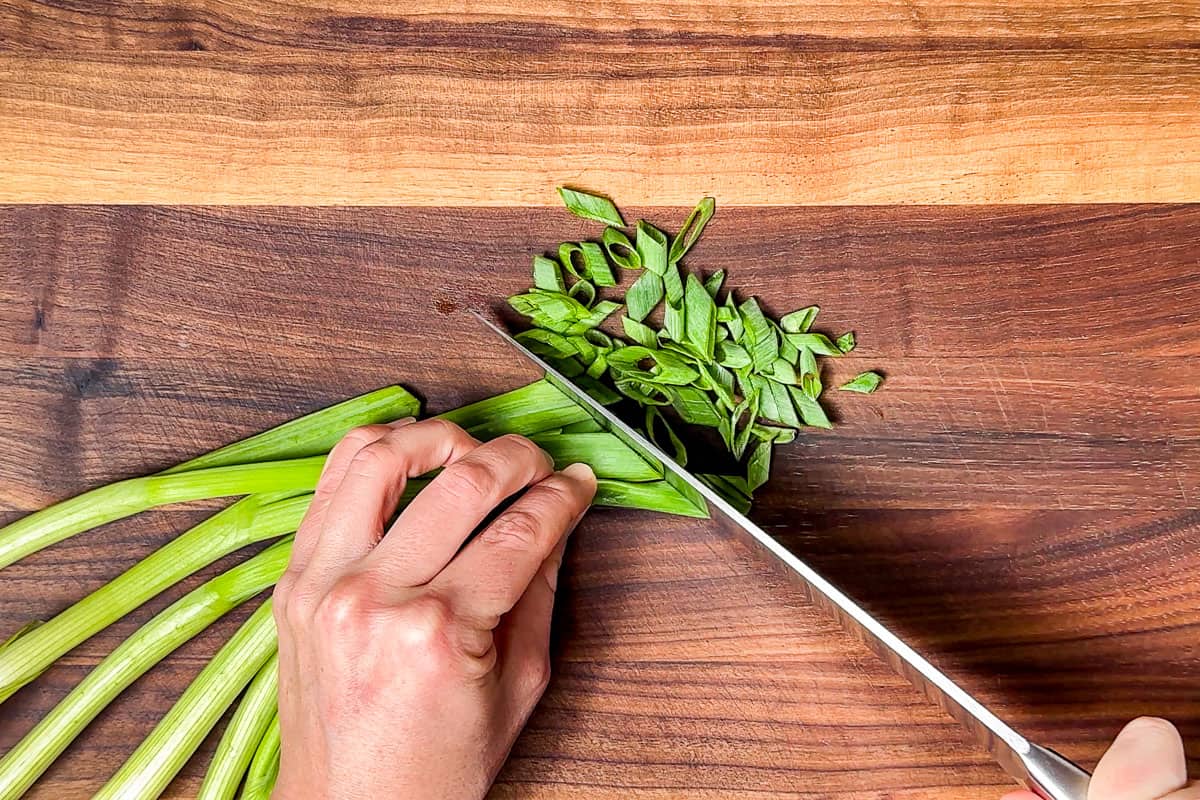 Step 3: Then finely slice the green onions and cube up the chicken into bite-sized pieces.
Tip: To make chicken easier to cut up, try cutting it up when it's still partially frozen. I get my packages of chicken out of the freezer the night before and place them in a bowl in the refrigerator. Then when it comes time for dinner, the chicken is still partially frozen, and so much easier to cut up!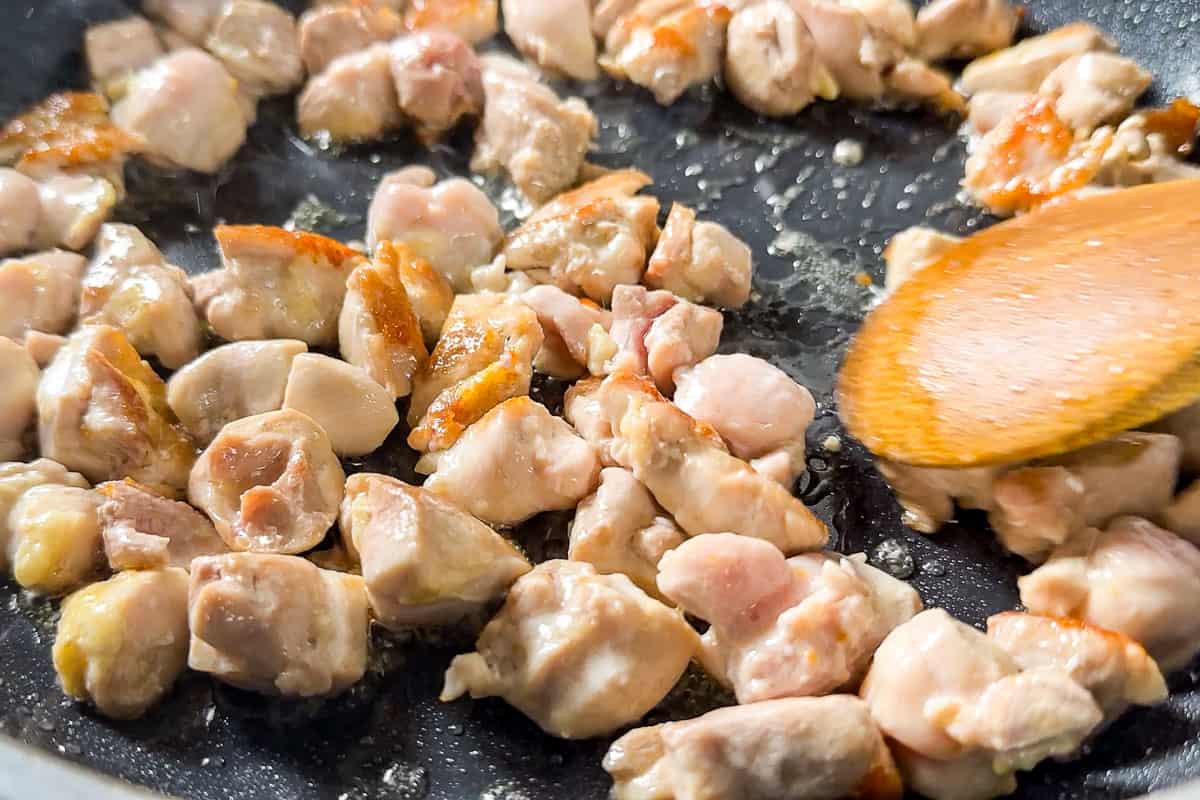 Step 4: Now that everything is prepped, heat a large skillet over high heat.
Then add the oil and sauté the chicken over high heat until browned and just cooked in the center.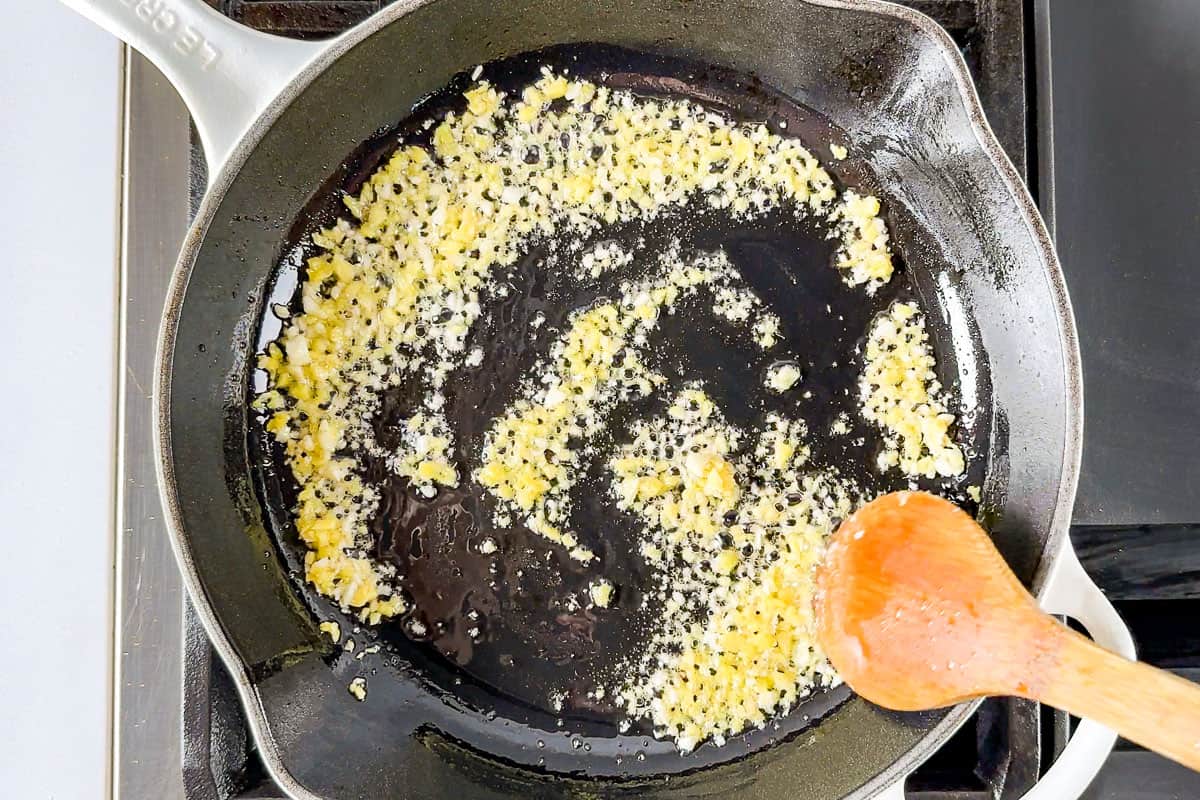 Step 5: Next remove the cooked chicken from the pan and set it aside.
In the remaining oil, sauté the garlic and ginger over medium heat until fragrant, 45-60 seconds.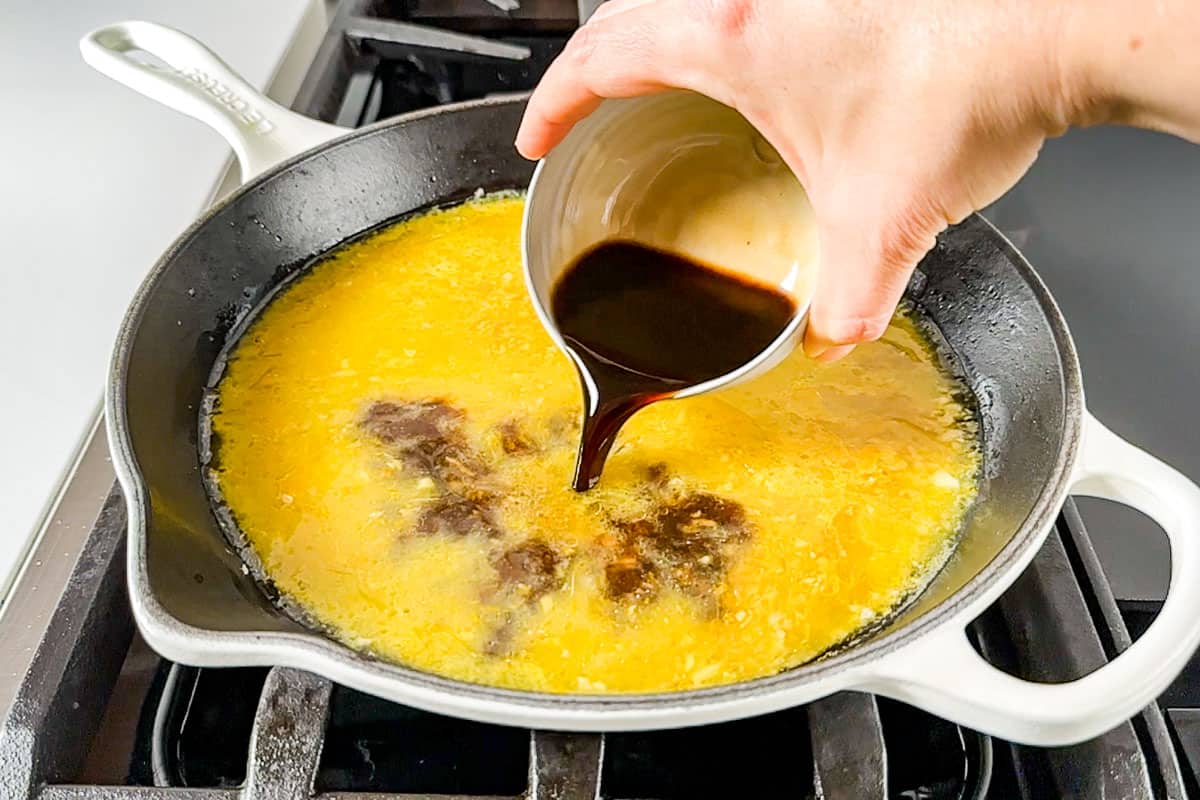 Step 6: Then add the orange juice and zest along with the coconut aminos and briskly simmer until it begins to thicken, 8-10 minutes.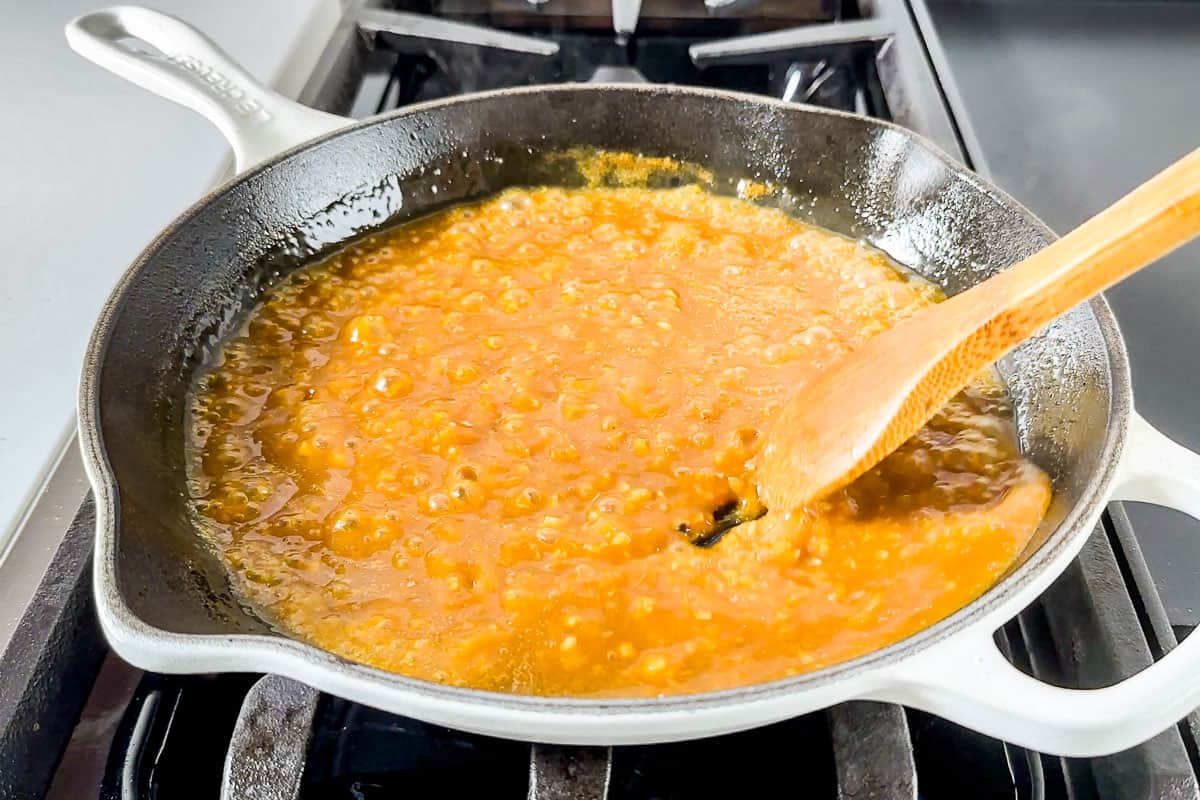 Step 7: When the sauce has been reduced by at least half, you can thicken it with a touch of cornstarch mixed with water.
Or you can reduce it down further by 75%.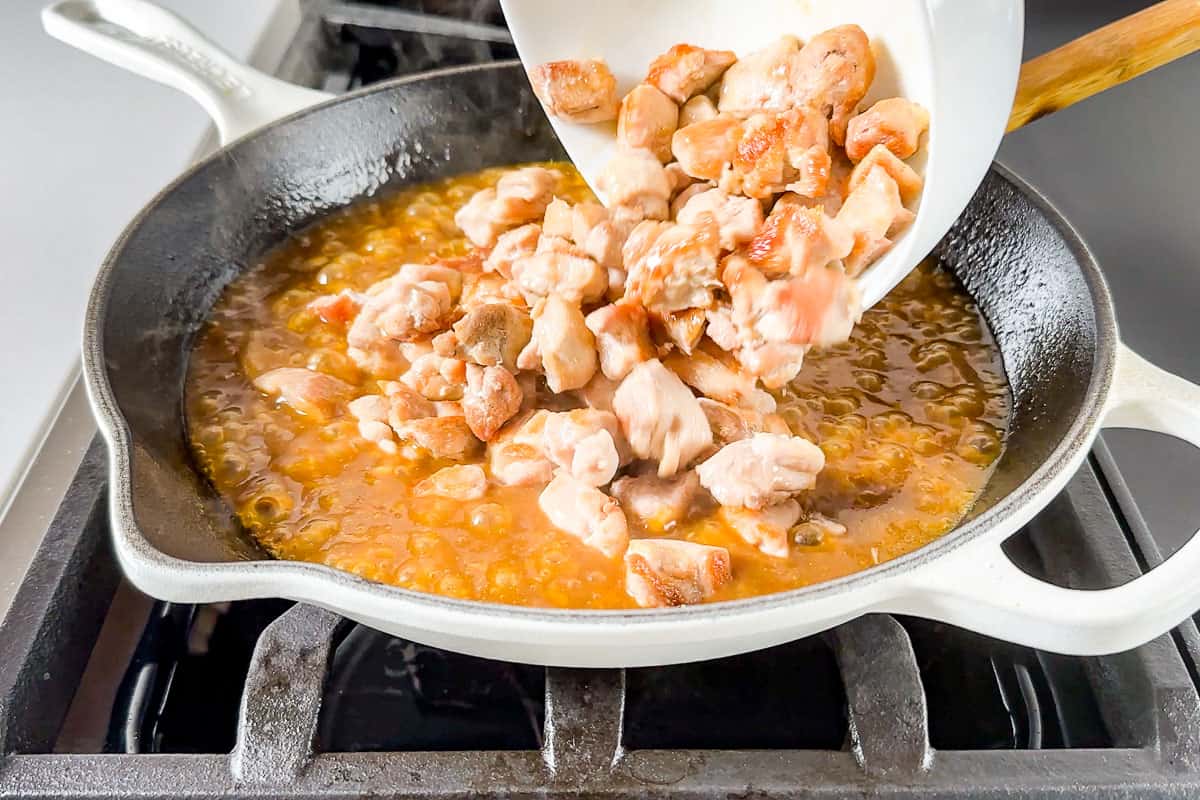 Step 8: When the sauce is the thickness you desire, add the chicken back to the pan.
Simmer just to heat the chicken and make sure it's cooked in the center.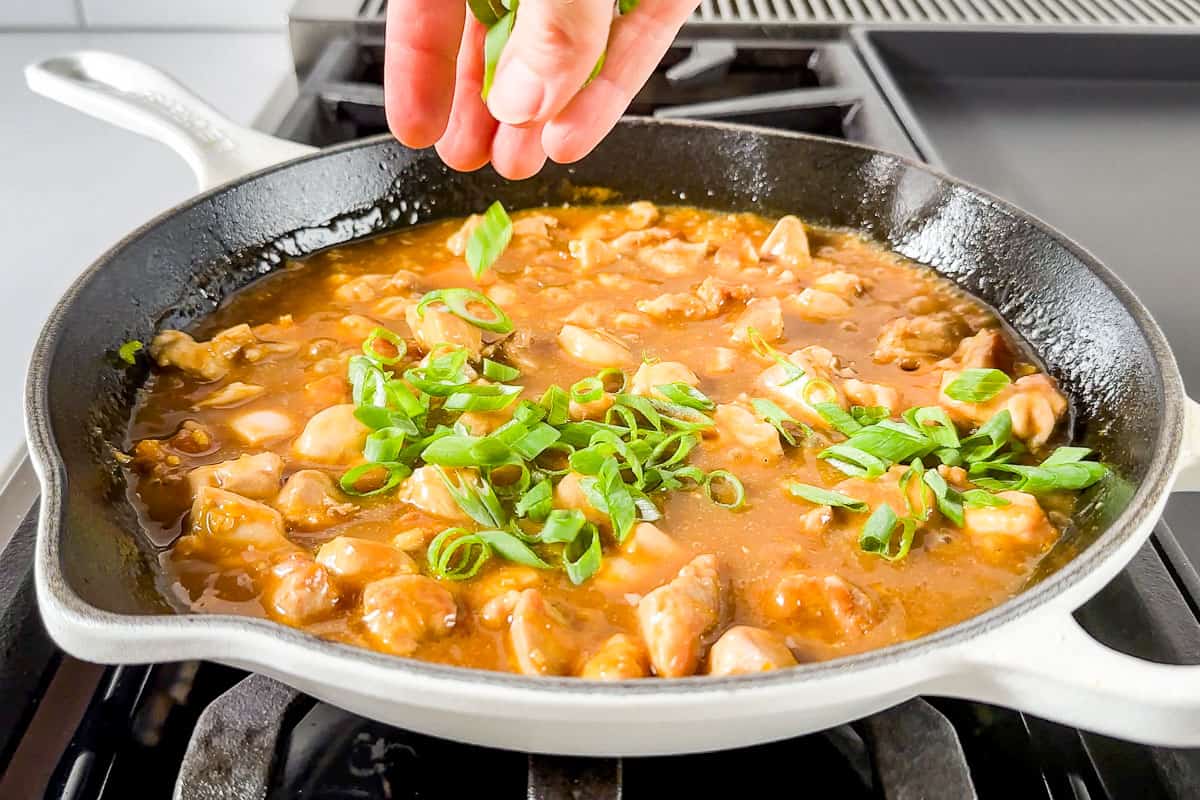 Step 9: Then just sprinkle the green onions and sesame seeds over the top.
Serve immediately with your choice of side dishes!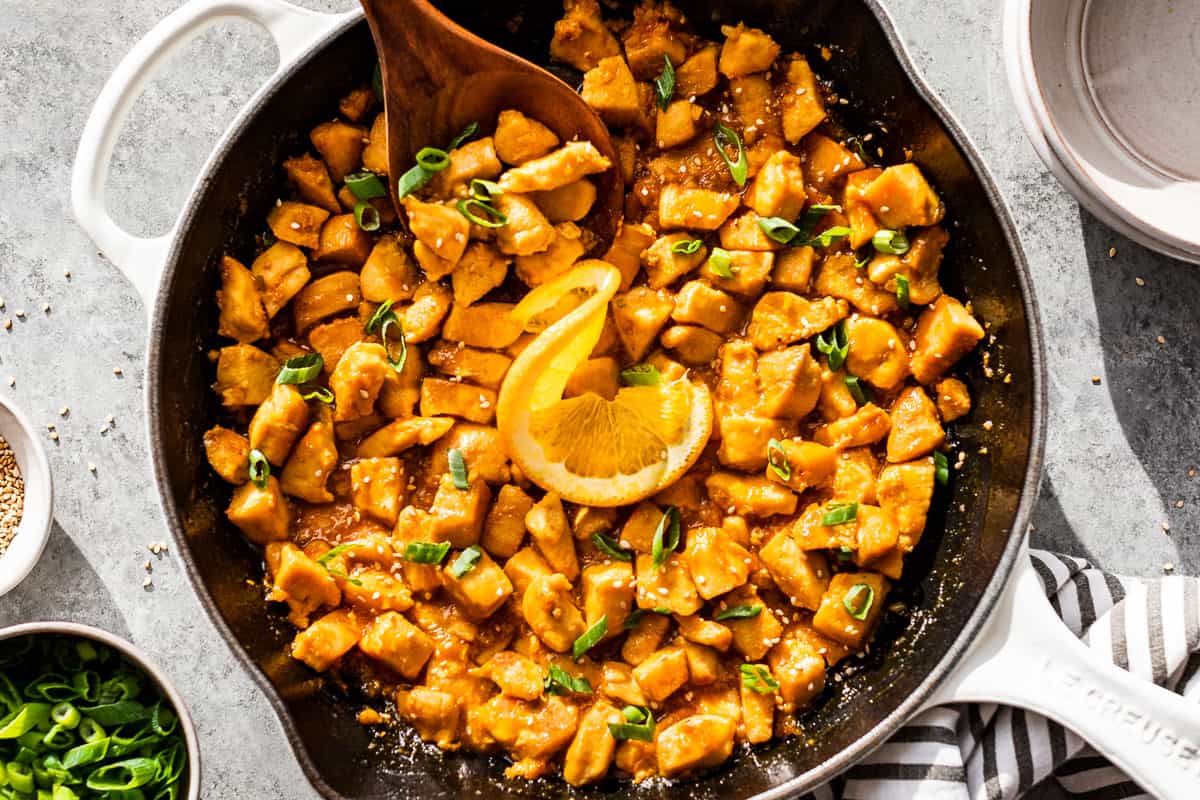 Ways to serve this
Freshly steamed rice or cauliflower rice would both be great with this orange chicken. You can also serve this with steamed rice noodles or rice vermicelli which are thinner than regular rice noodles. Gluten-free ramen or regular ramen noodles also are tasty. Both brown rice and white rice work perfectly here.
Try my Oven Roasted Broccoli, Roasted Green Beans, or Roasted Asparagus for a veggie. For a stovetop veggie, try my Sautéed Green Beans.
With a touch of red pepper flakes or sriracha sauce for spice!
FAQ's
Is Orange Chicken healthy for you?
Takeout orange chicken is not very healthy because it's loaded with sugar and deep-fried as well. But this homemade version is a healthier alternative made from whole food ingredients with no added sugar and no deep frying involved. When you pair it with some veggies it is a healthy option!
What is the sauce of Orange Chicken made of?
You'll find garlic, ginger, orange juice, and usually a lot of sugar. However, my version is all fresh orange flavor and plenty sweet without any sugar!
What nutrients does orange chicken have?
This orange chicken has a good amount of Vitamin C in it thanks to the fresh orange juice. It's also high in niacin and Vitamin B6 from the chicken.
Storing leftovers
To store –

place any leftovers into an airtight container and refrigerate for up to 4 days.

Make ahead – this recipe is best made fresh, but you can meal prep it and gently reheat it as directed below.
Reheating – gently reheat on the stovetop over medium heat stirring often until warmed through, or microwave.
To freeze – leftovers can be frozen in an airtight container in the freezer for up to 1 month. Defrost in the refrigerator overnight before reheating.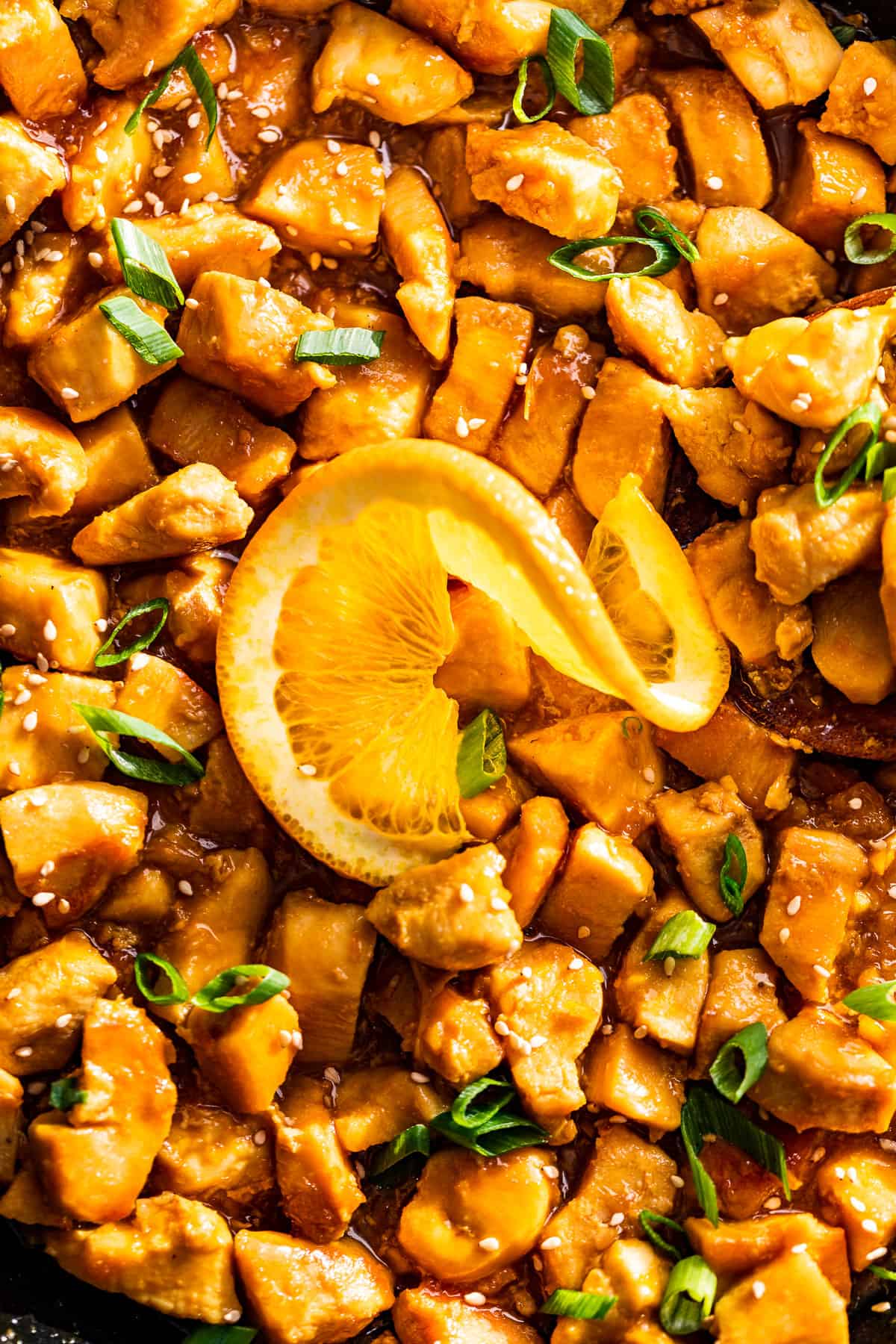 Tips & Tricks
Taste test right before serving and decide if you might want to add a touch of honey or maple syrup. This dish is quite sweet without any added sugar or any kind, but if you're used to takeout dishes you might want to add a bit of sweetener.
Another sweetener option is to add a touch of orange marmalade which also adds even more orange flavor. Some orange marmalades are fruit juice sweetened as well without any refined sugar.
Be careful not to overcook the chicken and you'll have a nice and juicy orange chicken. It's extra important with chicken breasts, but if you're worried about it, try this with chicken thighs first. Chicken thighs are much more forgiving and don't dry out as easily.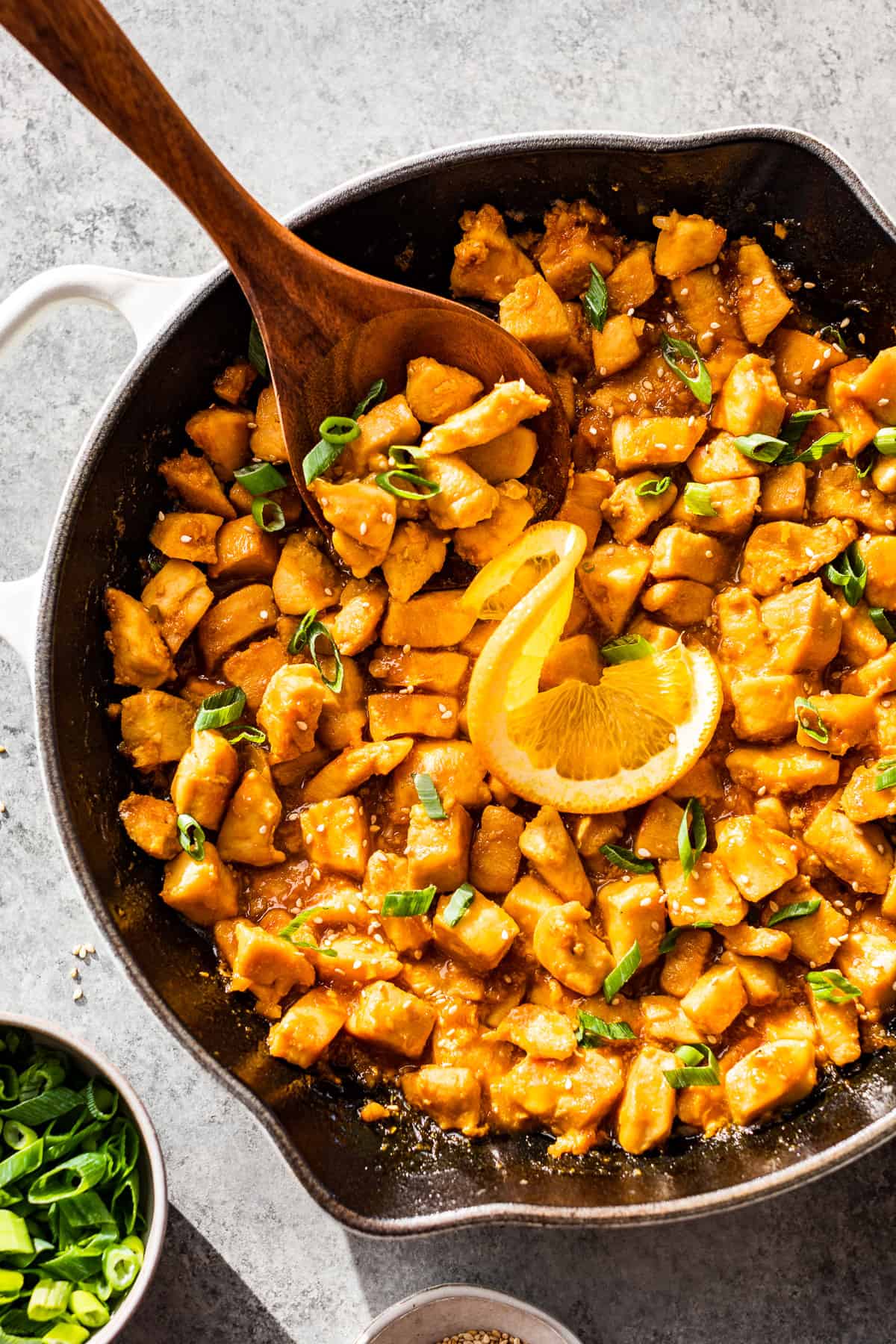 I hope you enjoy this better than takeout Healthy Orange Chicken! Once you get a chance to make this recipe, or if you have any questions, I'd love to hear from you in the comments.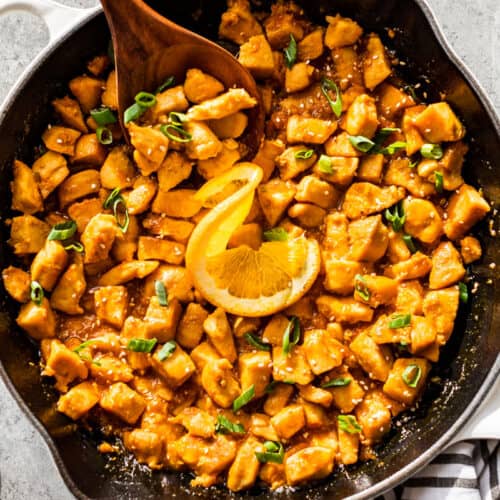 INGREDIENTS
1

pound

boneless skinless chicken thighs

-

or chicken breasts, cut into 1/2″ cubes

2

tbsp

avocado oil

1

tsp

toasted sesame oil

1

tbsp

minced ginger

1

clove

minced garlic

1

tbsp

orange zest

-

from a microplane grater

1

cup

freshly squeezed orange juice

-

about 2 oranges

1/4

cup

coconut aminos

-

or tamari/soy sauce to taste

Optional: 1 teaspoon tapioca starch or cornstarch mixed with 1 tablespoon water

Sea salt and pepper to taste

1/4

cup

thinly sliced green onions

Sesame seeds to sprinkle over the top
INSTRUCTIONS
Start by prepping all the ingredients before you begin to cook.

Place a large 9-10" cast iron or non-stick skillet over medium-high heat. When the pan is hot, add 1 tablespoon of avocado oil and the cut-up chicken.

Sauté stirring only as the chicken browns for 3-4 minutes, or until just done. Remove the chicken from the pan and set it aside.

Lower the heat to medium-low and add the remaining tablespoon of avocado oil, toasted sesame oil, ginger, and garlic. Cook stirring constantly to prevent browning until fragrant, about 1 minute.

Then add the orange zest, orange juice, and coconut aminos to the pan. Bring to a boil then lower the heat to maintain a brisk boil. The goal of this step is to reduce the sauce.

When the sauce is thickened, for 8-10 minutes, add the chicken back to the pan. Or if you like a bit more sauce you can add the optional thickener before the sauce thickens on its own, at about the 5-minute mark in the cooking time.

Cook to warm the chicken and combine it with the sauce. Season to taste with salt and pepper. Then sprinkle with the green onions and sesame seeds before serving.
Bonus Step
If you made this recipe, please leave a rating/comment. Ratings really help us continue to bring you high-quality free recipes. Rate This Recipe!
NOTES
Depending on how much rice and veggies you serve on the side this recipe can feed just 2 large appetites.
nutrition facts
Calories:
255
kcal
|
Carbohydrates:
11
g
|
Protein:
22
g
|
Fat:
13
g
|
Saturated Fat:
2
g
|
Polyunsaturated Fat:
2
g
|
Monounsaturated Fat:
7
g
|
Trans Fat:
0.02
g
|
Cholesterol:
108
mg
|
Sodium:
442
mg
|
Potassium:
429
mg
|
Fiber:
0.3
g
|
Sugar:
5
g
|
Vitamin A:
214
IU
|
Vitamin C:
32
mg
|
Calcium:
23
mg
|
Iron:
1
mg
This recipe was originally published in 2021 but has been updated in 2023 with new prep photos, more tips and information, and nutrition facts.