Incredibly easy to make and so versatile, these Sautéed Green Beans are perfect with any meal you can think of from Italian to Indian cuisine. They're simply flavored with just the right amount of garlic, and that's why they go with absolutely anything. These come together quickly with fresh green beans and no blanching. There's also a version for how to make these with frozen green beans as well so you can make these year-round and be budget friendly too.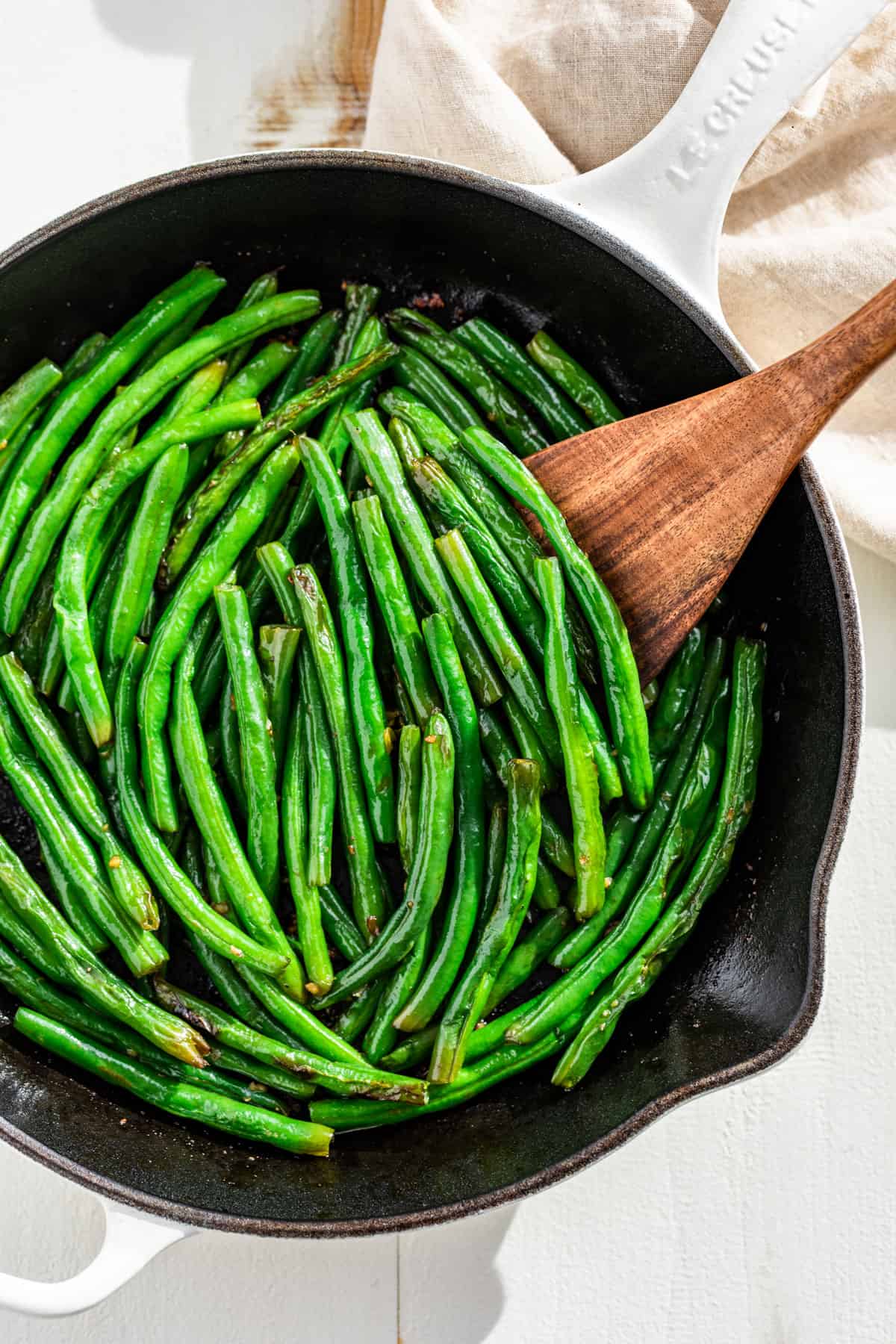 This recipe is one of those super simple side dishes I make all the time, but I've never written down an actual recipe before. But here's the magic with these green beans – you don't need to blanch them first!
Instead of the extra step of blanching the green beans before sautéing, you're cooking these all in 1 pan. Simply add a touch of water and cover to simmer a few minutes.
When the water is evaporated, you'll add the butter and garlic. From there, its all high heat seared magic to create that lovely sautéed flavor.
Ingredients & Substitutions
Green Beans – you can make this recipe with fresh green beans or frozen with my extra instructions in the recipe. Frozen green beans are always a bit softer in texture. But they're still very good and much more affordable during the winter months.
Butter – ghee, dairy free / vegan butter, or olive oil all work here to sauté the green beans.
Garlic – fresh minced garlic will give you the best flavor, and you can use a garlic press to speed up the prep work. You can also use granulated garlic which has a wonderfully toasty flavor.
Sea salt & pepper – season the green beans and bring out all the garlic butter flavor.
How to make this recipe step by step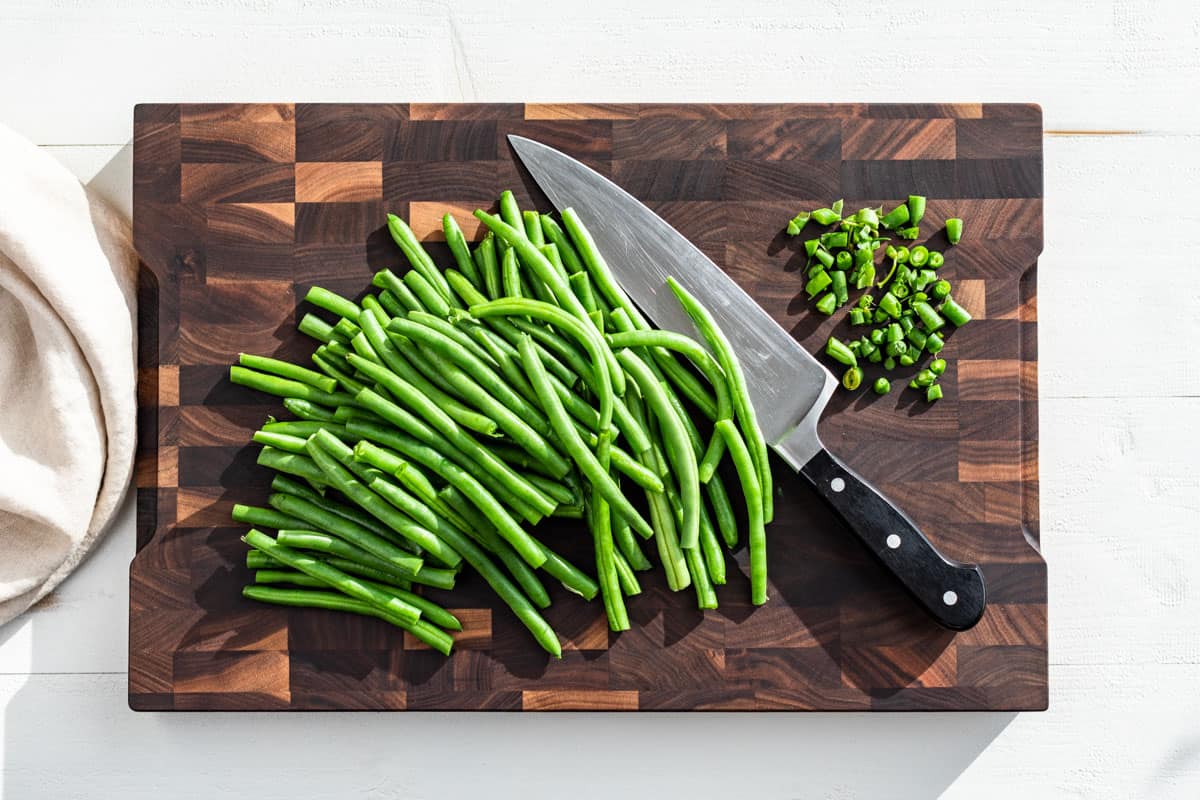 Step 1: Start by trimming the stem ends from the green beans and cut away any bad spots. Sometimes your green beans will come already trimmed.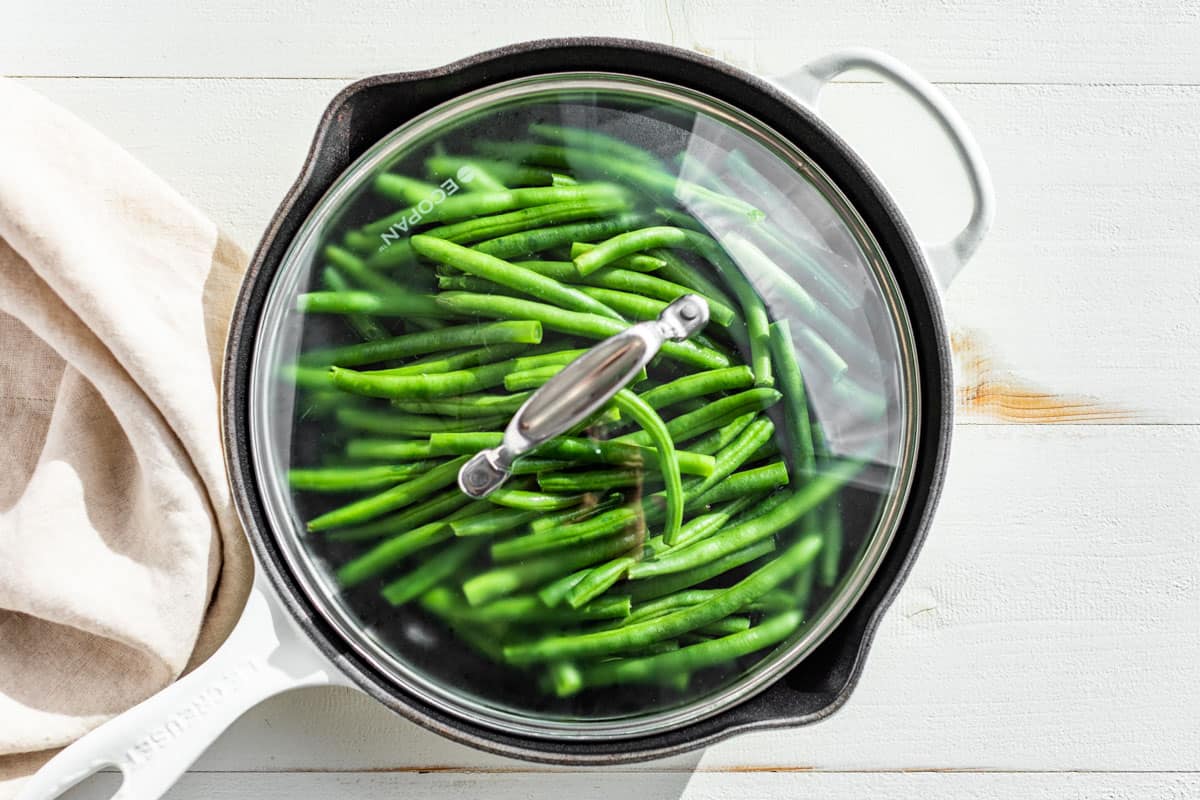 Step 2: Next place the green beans into a large skillet, add the water, and steam covered until barely tender and bright green.
You won't need to steam frozen green beans, you'll want to go straight to the sauté step with thawed green beans.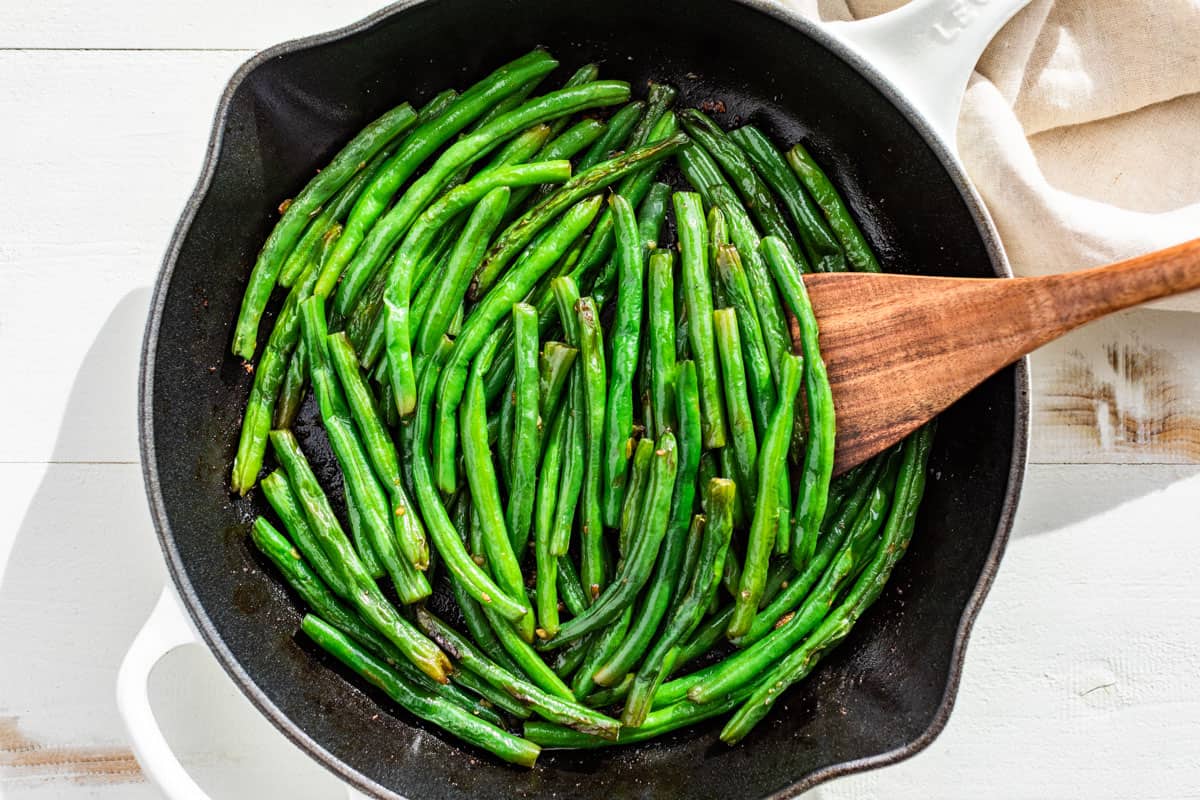 Step 3: When the water is just evaporated, add the butter or olive oil, garlic, sea salt and pepper. Sauté on high just long enough to lightly brown the green beans and they're just tender.
FAQ's
Do you have to boil or blanch green beans before sautéing them?
No, not for this recipe! We're skipping the boiling step and briefly simmering them covered in the same pan you sauté them in. This makes these Sautéed Green Beans incredibly easy!
Why are my sautéed green beans tough?
They would only be tough if they were undercooked. By briefly simmering them, then sautéing the green beans, they're perfectly crisp tender, and flavorful.
What can I add to make my beans more flavorful?
It's more about the technique to make flavorful green beans. By sautéing at a high heat you'll have plenty of flavor from the butter and garlic along with caramelized edges. Another reason green beans may be bland is a lack of salt. Salt is critical to bring out all the yummy flavor.
Storing leftovers
To store – place any leftovers into an airtight container and refrigerate for up to 4 days.
Make ahead – these are really best made fresh, but you could make them ahead and gently reheat them. They will be softer.
Reheating – place the leftovers into a skillet with a touch of water, cover, and reheat over medium until heated through and the water is gone. Or you can also microwave the leftovers.
To freeze – you can freeze these green beans in an airtight sealed container for up to 3 months. Defrost in the fridge overnight before reheating. They will definitely be quite a bit softer after they've been frozen.
Tips & Tricks
Pay close attention while you're cooking these green beans. It only takes a couple of minutes for the water to evaporate and from there you're sautéing on high heat! You don't want to walk away or they're burned.
If you don't want to cook green beans on the stovetop, try my Easiest Garlic Roasted Green Beans. That recipe is specific for frozen green beans as well.
The high heat is necessary to create that wonderfully caramelized seared flavor. But you can certainly cook on a lower heat that won't brown for a more 'garlic butter' type of flavor without the caramelization.
Don't be afraid to try frozen green beans, I've found they are one of the veggies that hold up the best frozen. They're not soggy like frozen broccoli but have to be handled more carefully to be tasty!
For flavored green beans, try my Sesame Ginger Glazed Green Beans, Lemon Dill Green Beans, or Red Pepper Balsamic Green Beans. Or my crowd-pleasing Bacon Mushroom Green Beans.
Dietary Options & Substitutions
Dairy-free – use dairy-free / vegan butter or olive oil.
Paleo – use ghee or olive oil.
Vegan or Vegetarian – try vegan butter or olive oil
More Side Dish Recipe Inspiration
I really hope you enjoy these Sautéed Green Beans! If you do get a chance to make this recipe, I'd love to hear from you in the comments.
INGREDIENTS
1

pound

fresh green beans

-

see notes

1/4

cup

water

-

more if needed

1

tbsp

butter

-

ghee or olive oil

2

cloves

garlic

-

minced, I used small cloves

sea salt and pepper to taste
INSTRUCTIONS
Start by trimming the stem ends from the green beans, then place them in a skillet with the water.

Cover the pan and steam the green beans over medium hight heat for 3-4 minutes until they turn bright green and are still quite firm.

Remove the lid from the pan and let any remaining water evaporate.

Add the butter or olive oil along with the minced garlic and sauté over medium-high or high heat until the green beans are lightly browned and crisp tender.
Bonus Step
If you made this recipe, please leave a rating/comment. Ratings really help us continue to bring you high-quality free recipes. Rate This Recipe!
NOTES
To use frozen green beans in this recipe, add 1 pound to the pan and sauté on high stirring as they brown, don't add water for frozen green beans. Then add the garlic near the end of the cooking time so it doesn't burn.
nutrition facts
Calories:
62
kcal
|
Carbohydrates:
8
g
|
Protein:
2
g
|
Fat:
3
g
|
Saturated Fat:
2
g
|
Polyunsaturated Fat:
0.2
g
|
Monounsaturated Fat:
1
g
|
Trans Fat:
0.1
g
|
Cholesterol:
8
mg
|
Sodium:
30
mg
|
Potassium:
246
mg
|
Fiber:
3
g
|
Sugar:
4
g
|
Vitamin A:
870
IU
|
Vitamin C:
14
mg
|
Calcium:
46
mg
|
Iron:
1
mg