Oven Roasted Broccoli is a super easy side dish and healthy too! It's easy to make and goes with just about any dinner you can think of. The secret to tasty broccoli is a combination of the right amount of heat in the oven, along with a few ingredients for flavor that will keep you coming back for more.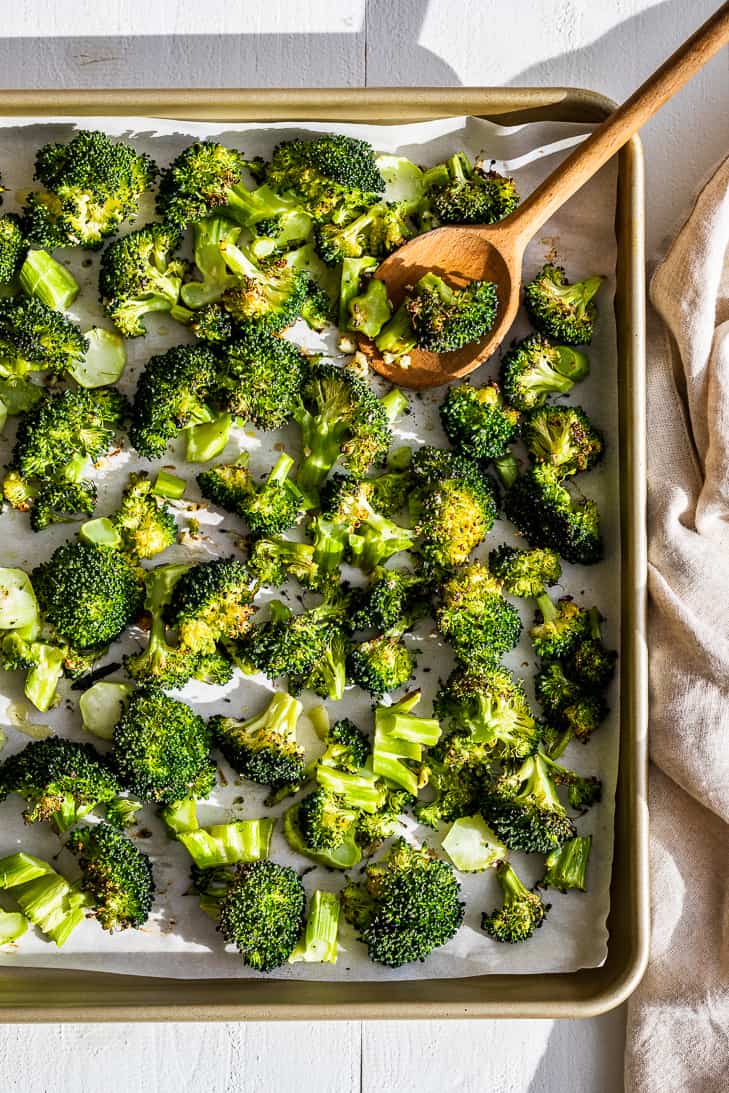 How do you eat more veggies? This is a question I've been working on solving in our house for years now. And we have quite a number of recipes now to help with that. From tasty salads to roasted veggies, it's all about making veggies super flavorful.
This simple roasted broccoli is one of our favorites that we make over and over again because it's just so yummy. It's really so simple it's hardly a recipe, more of a technique.
You just toss a few ingredients together on a cookie sheet and roast to golden-browned perfection. And that's what makes this broccoli taste so good – it's all about getting the roasting process right!
This recipe makes use of fresh broccoli, but if you're looking for how to roast frozen, check out my Lemon Herb Roasted Broccoli. It has a different temperature and tips that will help you get a better result from frozen.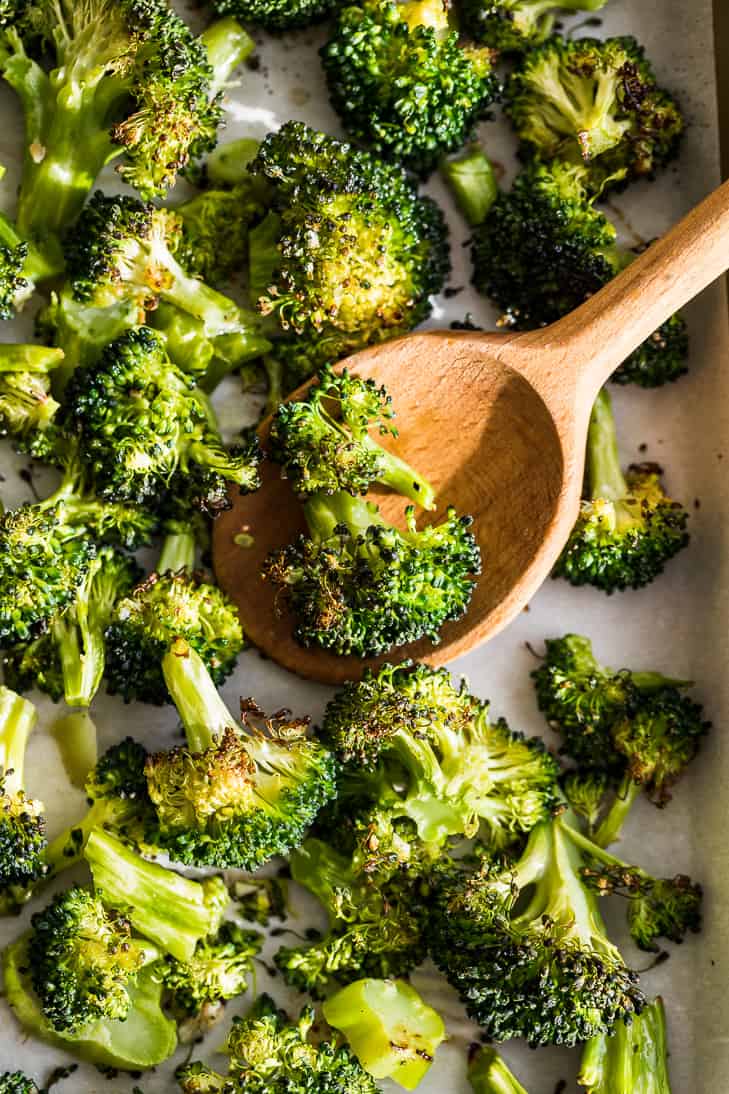 Ingredients for this Oven Roasted Broccoli
Broccoli – This recipe is for fresh broccoli as I mentioned above, but you can use frozen in my Lemon Herb Broccoli recipe. Tip: make sure your broccoli has dried after you wash it. It's hard for veggies to properly caramelize while roasting if they start wet. It also really helps to keep your broccoli florets as even as possible. Evenly-sized pieces roast perfectly, while a combination of large and small florets with leave you with overcooked and crunchy broccoli at the same time!
Olive oil – provides a nice flavor, but I've also used avocado oil as well when I do the Asian version from the variations listed below.
Garlic – just a touch of fresh minced garlic cloves goes a long way towards making this broccoli a side dish you'll make weekly. If you're not a fan of mincing up garlic, try using a garlic press. It really speeds things up, and it has an unbeatable flavor compared to a jarred garlic, (which I really don't recommend). If fresh garlic is completely out of the question, try using 1/2-1 teaspoon of garlic granules to your taste.
Sea salt & pepper – are key to bringing out the wonderful roasted broccoli flavor.
Let's make this recipe step by step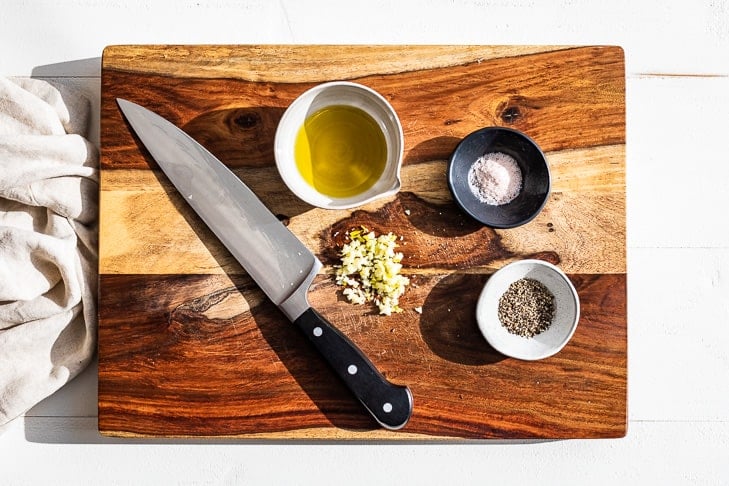 Step 1: Start by prepping the ingredients you'll be tossing together with the broccoli.
Step 2: Cut up the heads of broccoli into even-sized florets. You want to make sure everything is bite-sized pieces.
For the stems, use a vegetable peeler to remove the tough outer layer. Then thinly slice the broccoli stems about 1/4″ thick.
Step 3: Place the broccoli onto a parchment-lined baking sheet, and toss it together with the extra virgin olive oil, garlic, sea salt, and pepper.
Step 4: Roast the broccoli until crisp tender (or fork tender) and browning around the edges, 15-20 minutes. Finally, serve with anything you'd like! Or check out the variations below for more fun flavors to add to the mix.
Ways to serve this
Serve this broccoli with your favorite Italian-inspired dinners like Creamy Tuscan Sausage Pasta, Garlic Parmesan Pasta, Tuscan Chicken, Gluten Free Lasagna, or Gluten Free Chicken Parmesan.
It's also great with Asian or Indian-inspired meals like Easy Chicken Curry (Indian), Instant Pot Butter Chicken, Thai Yellow Chicken Curry, Healthy Orange Chicken, or Coconut Lime Chicken.
Try it with any comfort food dinner like Creamy Garlic Chicken, Pizza Chicken, Gluten Free Mac and Cheese, or Ground Beef Stroganoff.
FAQ's
Why is my broccoli soggy in the oven?
The 2 main reasons broccoli would be soggy in the oven is you're using too low of an oven temperature. Broccoli roasts really well at a hot oven temperature, 425ºF, which makes for a crispy tender texture and perfect browning. The second reason your broccoli might be soggy is if you use frozen broccoli, it's much softer and needs to be roasted at an even higher oven temperature.
How do you cook broccoli so it's not mushy?
Don't overcook broccoli and it won't be mushy. The best way to have crispy tender broccoli is to roast it at a high oven temperature. Boiling and steaming make a much softer broccoli.
What temperature do you roast frozen broccoli?
I roast frozen broccoli at 500ºF because it's already cooked, you want to add a nice roasted flavor without cooking it very long. For more details, check out my Lemon Herb Broccoli recipe which uses frozen broccoli.
Storing leftovers
To store – place any leftovers in an airtight container and refrigerate for up to 3-5 days.
Make ahead – you can prep the broccoli 2-3 days ahead of time by cutting it up into florets and storing them in the fridge until you're ready to make this recipe.
Reheating – place the leftovers into a skillet with a small amount of water and partially cover with a lid. Steam until heated through, the broccoli will be softer. Or you can reheat it in the microwave.
To freeze – freeze any leftovers in an airtight container in the freezer for up to 3 months. Defrost in the fridge overnight before reheating and be aware the broccoli will be way softer after it's been frozen.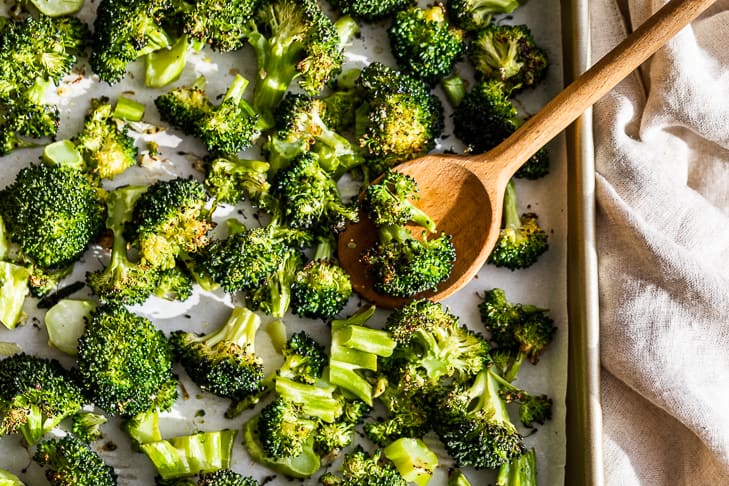 Roasted Broccoli Variations
Italian version: After the broccoli is done, sprinkle with 1/4 cup grated parmesan cheese and squeeze a touch of lemon or drizzle of balsamic glaze or balsamic vinegar over the top. This is Tyler's favorite variation, and I always make it whenever I'm making something Italian-inspired. In all seriousness though, he always eats 2 large bowlfuls when I make this parmesan broccoli. Add 1/2-1 tsp of red pepper flakes for a hint of spice. If you use fresh lemon juice, try grating 1 tsp lemon zest over the broccoli as well.
Asian inspired: Before you roast the broccoli add 1 teaspoon minced ginger and 2 tablespoons coconut aminos or soy sauce to the pan. You will need to reduce or omit the sea salt for this one. Toss together and roast. You can also use sesame oil in place of olive oil if you have it. If you're using toasted sesame oil, try using half the amount called for and then use avocado oil to make up the rest. Sprinkle the finished broccoli with sesame seeds as a garnish if desired.
Mexican variation: Add 1/2 teaspoon ground cumin and 1 teaspoon chipotle powder or ancho chili powder when you're tossing the broccoli together with the other ingredients. I also like to substitute avocado oil for olive oil for this one. When the broccoli is done roasting serve with lime wedges to squeeze over the top.
Use this recipe to make roasted cauliflower, it cooks at the same rate and tastes just as yummy with all the above-mentioned variations. You can also roast a mix of broccoli and cauliflower.
Try different herbs like 1 tsp rosemary or thyme added in with the garlic before you roast the broccoli.
More Simple Side Dish Recipe Inspiration
I really hope you enjoy this super easy Roasted Broccoli recipe! If you have any requests for what you'd like to see next, let me know with a comment below. And if you do get a chance to make this, I hope you'll leave me a comment/rating below. I always love hearing from you here!
INGREDIENTS
1.5

pounds

broccoli

-

2 heads

3

tbsp

olive oil

1

clove

garlic

-

minced

1/2

tsp

sea salt

-

or to taste

1/4

tsp

freshly ground black pepper
INSTRUCTIONS
Preheat the oven to 425ºF and line a baking sheet with parchment paper.

Cut the broccoli heads into even sized florets. For the broccoli stems, peel away the tough outer layer and thinly slice them 1/4″ thick.

Place the broccoli on the lined baking sheet and toss together with the olive oil, garlic, sea salt, and pepper.

Roast the broccoli until it is crisp-tender with golden browned edges, 15-20 minutes.

Serve immediately.
Bonus Step
If you made this recipe, please leave a rating/comment. Ratings really help us continue to bring you high-quality free recipes. Rate This Recipe!
NOTES
Variations: for an Italian version sprinkle 1/4 cup parmesan over the roasted broccoli and a touch of freshly squeezed lemon juice. For Asian inspired add 1 teaspoon minced fresh ginger and 2 tablespoons coconut aminos or soy sauce, (omit the sea salt) along with the garlic before roasting. You can also sub in some sesame oil for part of the olive oil. And finally for the Mexican version, toss the broccoli with 1/2 teaspoon ground cumin and 1 teaspoon chipotle or ancho chili powder and serve the roasted broccoli with lime wedges.
nutrition facts
Calories:
152
kcal
|
Carbohydrates:
12
g
|
Protein:
5
g
|
Fat:
11
g
|
Saturated Fat:
2
g
|
Polyunsaturated Fat:
1
g
|
Monounsaturated Fat:
8
g
|
Sodium:
347
mg
|
Potassium:
542
mg
|
Fiber:
4
g
|
Sugar:
3
g
|
Vitamin A:
1060
IU
|
Vitamin C:
152
mg
|
Calcium:
82
mg
|
Iron:
1
mg