Quick and easy to make, this Ground Pork Stir Fry is all sweet and savory flavor. It's better than takeout, but it's also a healthier option full of protein and veggies. It's naturally gluten free, dairy free, and kid friendly with the sweet juicy pineapple chunks in there.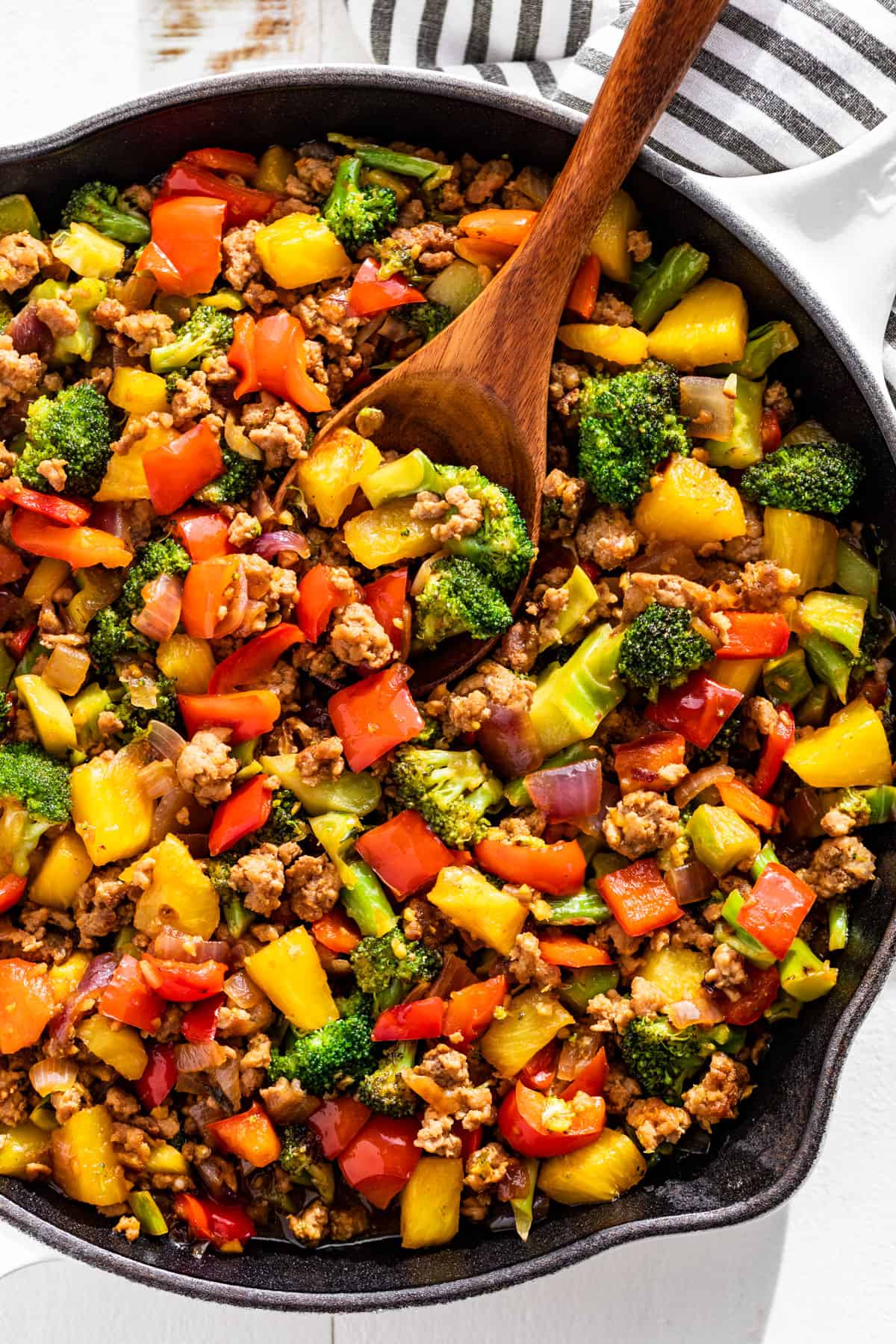 Ground meat makes the easiest stir fries you've ever made! No need to cut up raw meat because it's already in small bite sized pieces just ready to be cooked.
We got hooked on ground meat stir fries while camping because the cleanup is easier as well. And we've been making them for years now. I finally got my Ground Beef Stir Fry written down.
And now today I'm sharing my Ground Pork Stir Fry which is based loosely off my Sweet and Sour Chicken. I know you'll love the sweet and savory flavors of this stir fry too. Plus pork and pineapple is such a great flavor pairing as well!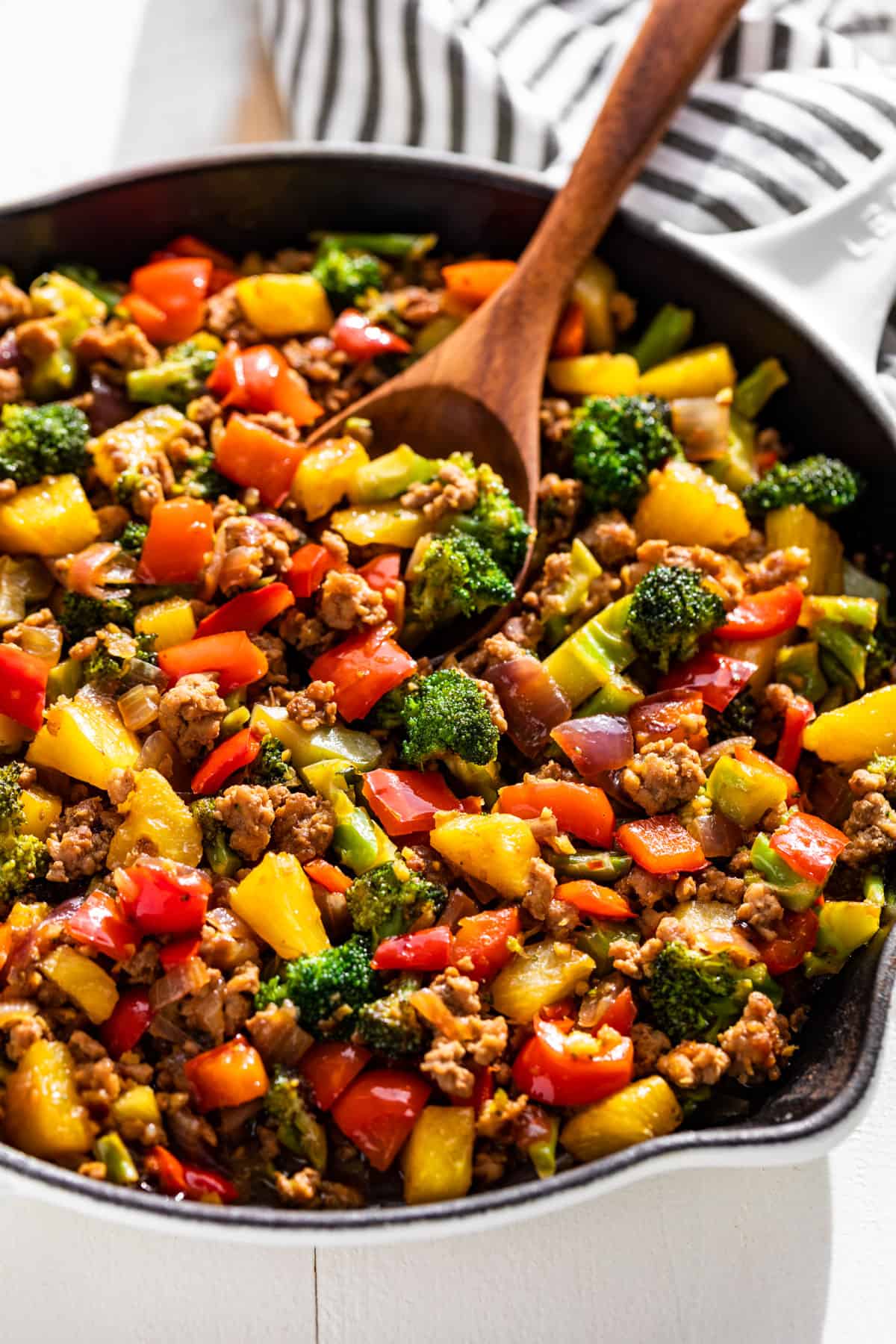 Ingredients & Substitutions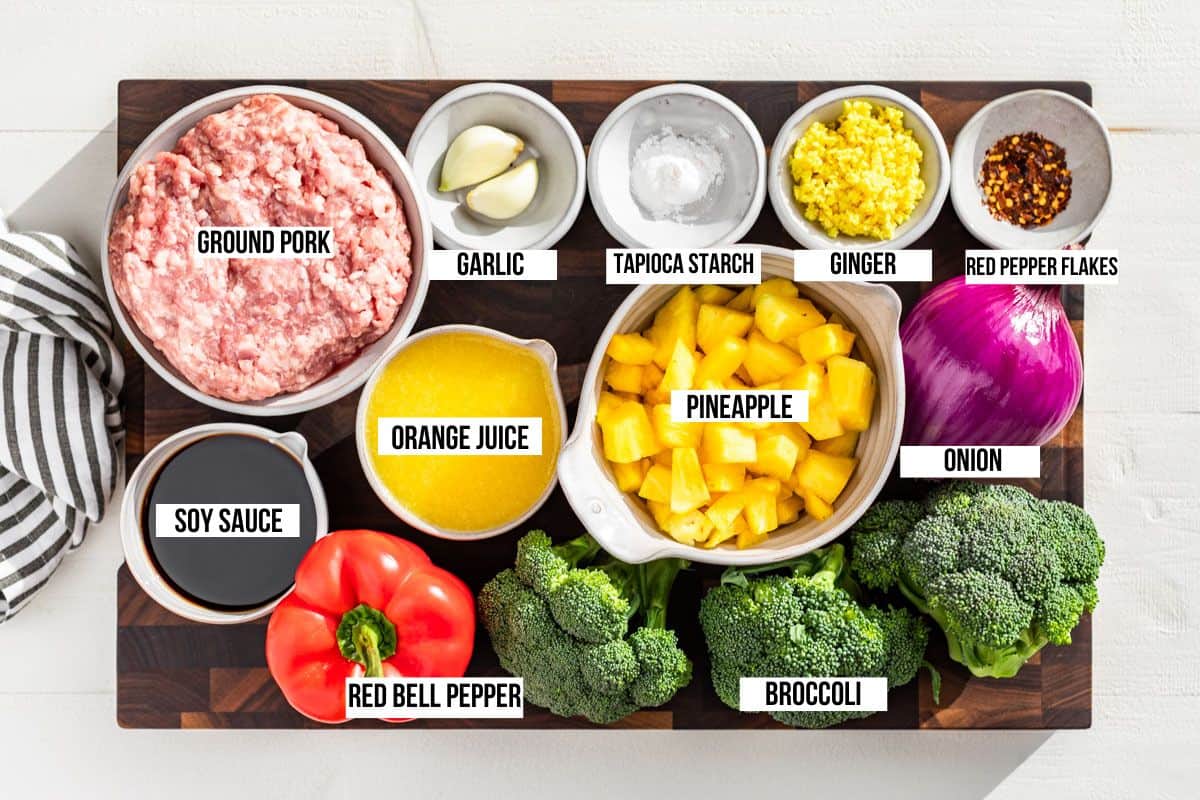 Ground pork – makes the perfect flavor pairing here, but you can use ground beef or ground turkey as well. If you use ground turkey you may need a bit more oil for sautéing.
Garlic & ginger – are the backbone of flavor for any stir fry and add a lot of flavor. You can use a garlic press to speed up the prep work and ginger from the tube as well.
Veggies – I'm using onion, bell pepper, and broccoli here. I don't recommend subbing in the onion, but you can use other vegetables in place of the pepper or broccoli. Thinly sliced carrots, cabbage, snow peas, green beans are just a few suggestions that work well in stir fries.
Pineapple – I like to use fresh pineapple in this stir fry for a bright pop of flavor, but you can use drained canned tidbits. If you use canned pineapple, reserve the juice and use that in the sauce.
Sauce – a mixture of soy sauce and orange juice with a touch of tapioca for thickening makes up the stir fry sauce. You can also use tamari or coconut aminos. In place of the orange juice you can use drained pineapple juice as mentioned above or chicken stock. You can also use cornstarch in place of the tapioca starch.
Red pepper flakes – add a touch of warmth, but you can omit them if desired. Or add more to taste if you like a bit of spice.
How to make this recipe step by step
Step 1: First prep your veggies by dicing the onion, bell pepper, and cutting the broccoli up into small bite sized florets.
Tip: Don't throw away the broccoli stem! Instead peel away the tough outer layer with a peeler then thinly slice it up into bite sized pieces.
Step 2: Next whisk together the ingredients for the stir fry sauce until the tapioca or cornstarch is dissolved. Set it aside as you begin to cook.
Step 3: First sauté the ground pork breaking it up into small pieces. When the pork is just done but still juicy, spoon it out of the pan into bowl to set aside.
Step 4: Add the oil to the pan if needed and sauté the garlic and ginger for 30-60 seconds before adding the veggies. Sauté the veggies over medium high heat stirring only as they brown until crisp tender.
Step 5: Add the pineapple back to the pan and stir just to combine.
Step 6: Then add the ground pork back to the pan along with the stir fry sauce and stir to combine.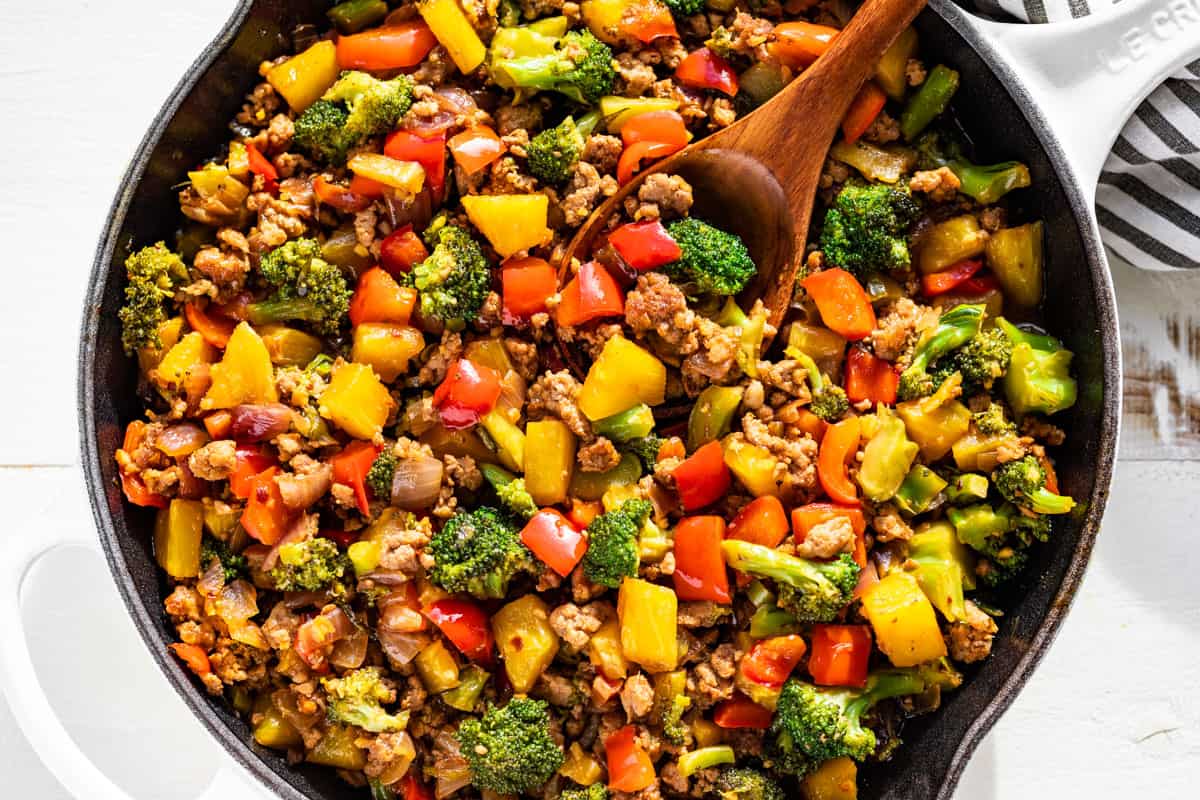 Step 7: Remove the stir fry from the heat and serve with your favorite sides.
FAQ's
Do you need oil to fry ground pork?
No, ground pork usually has enough fat to sauté well without adding anything else to the pan.
How do I make ground pork soft?
Cook it over a lower heat just until done. Overdone ground pork tends to get hard and tough just like ground beef. I personally like to sauté ground pork over high heat so it browns a bit and is still soft with those crispy brown edges.
Can you overcook ground pork?
Yes, it will become drier the longer it's cooked and tougher with a harder texture as well. You want to cook it until the pink is gone and the pork is just done but still juicy for the best results. Don't worry about 'browning' it, it's better that you cook it just right than worry about browning it. If you cook it over high, the ground pork will have some browned bits without being overcooked.
How can I make my stir fry soy free?
Try using the paleo & Whole30 option with coconut aminos, then season to taste with additional sea salt at the end of the cooking time if needed.
Storing leftovers
Store – place any leftovers into an airtight container and refrigerate for up to 5 days. The broccoli will continue to smell stronger as time goes on. I find stir fries are definitely their best right away, but we enjoy the leftovers for lunches for the next 2 days or so.
Freeze – you can freeze stir fries, but I don't recommended it because the veggies go all mushy.
Reheat – add your leftovers to a skillet, and cook over medium heat stirring constantly until the stir fry is hot. We like to add some leftover rice to the pan along with the stir fry. Rice becomes hard in the refrigerator, but reheats well with the stir fry. Add a tablespoon or two of water as necessary to keep it from sticking.
Tips & Tricks
Try this stir fry with your favorite combination of veggies for stir fries. Cabbage works really well here, and I love adding zucchini during the summer months. Just be sure to add the zucchini when the other veggies are half cooked because it cooks so fast.
Use a different ground meats here, ground bison, ground beef, ground turkey etc. are all good. You can use ground chicken as well. But be careful because it sticks easily to steel pans and dries out easily. You definitely need more oil with ground poultry.
Dietary Options & Substitutions
Gluten free – be sure to use a gluten free soy sauce option like tamari or coconut aminos
Dairy free – this recipe is naturally dairy free
Paleo – – use coconut aminos, season to taste with sea salt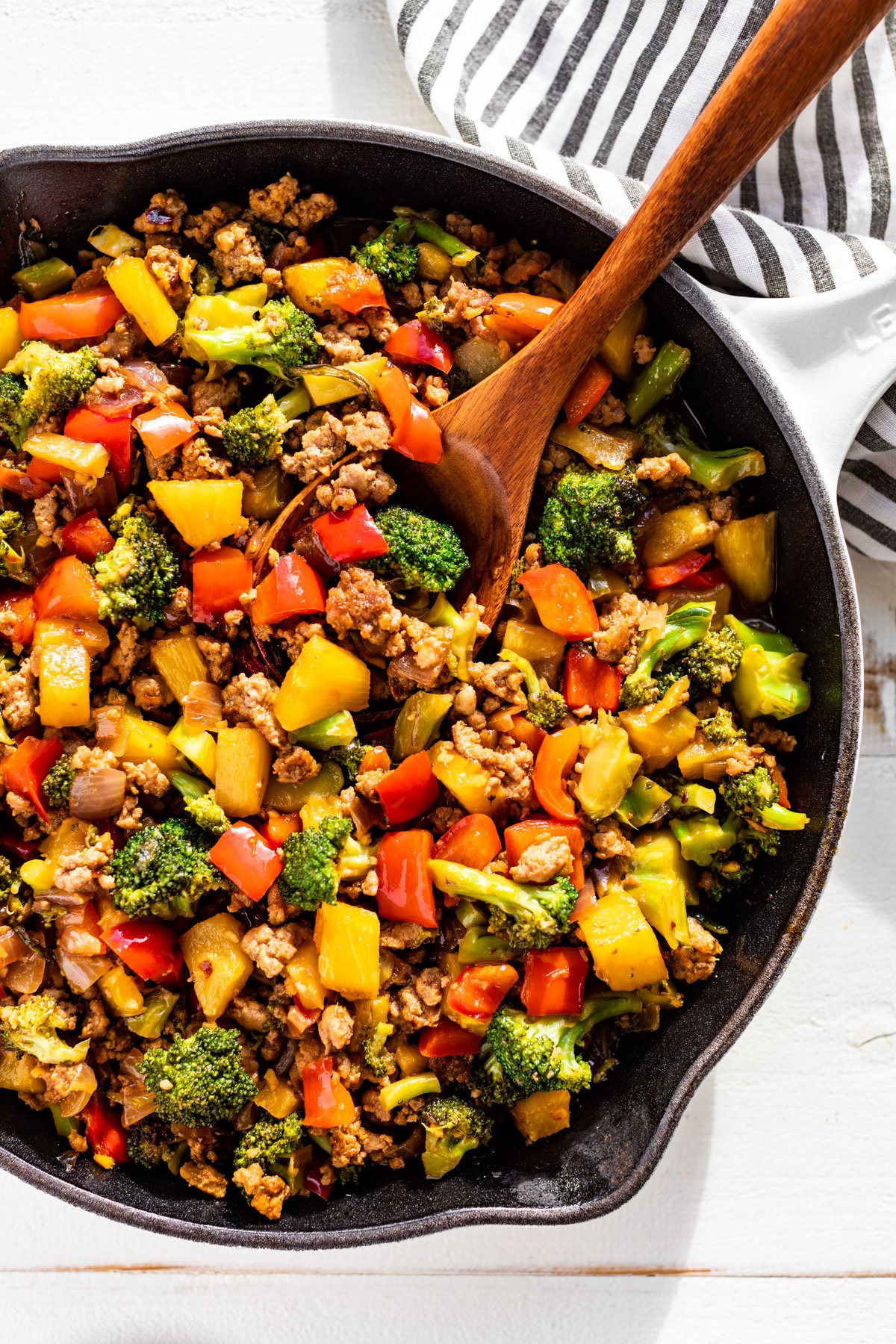 I really hope you enjoy this easy Ground Pork Stir Fry recipe! If you do get a chance to make this recipe, I'd love to hear from you in the comments.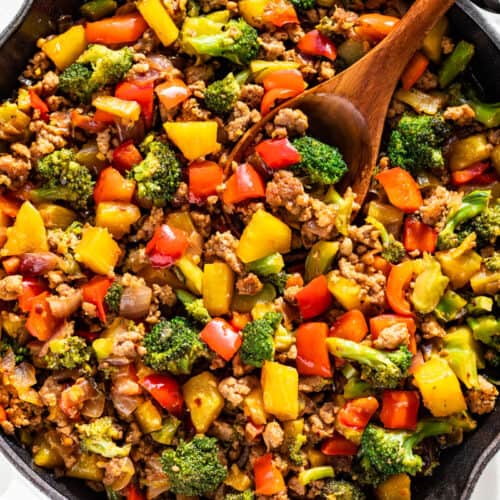 INGREDIENTS
1

pound

ground pork

1

tbsp

avocado oil

-

add more if needed

2

cloves

garlic

-

minced

2

tbsp

minced ginger

1

large

red onion

-

1/2" dice

1

large

red bell pepper

-

1/2" dice

6

cups

broccoli florets

-

1 pound

2

cups

fresh pineapple

-

small bite sized pieces, see notes
Stir Fry Sauce
1

tsp

tapioca starch

-

or cornstarch

1/4

cup

soy sauce

-

tamari, or coconut aminos

1/2

tsp

red pepper flakes

-

more or less to taste

1/2

cup

orange juice

-

pineapple juice, or chicken stock
INSTRUCTIONS
Prep all the veggies before you start cooking. For the stir fry sauce whisk the tapioca starch, soy sauce, red pepper flakes, and orange juice together until smooth and set aside.

Heat a large skillet, (12") over high heat. Add the ground pork and break up the pork into small bite sized pieces stirring as it browns. Cook just until the pork is done, but still juicy before removing it from the pan and set it aside.

There will be a bit of oil in the pan from the pork, about 1 tbsp, add the avocado oil along with the garlic and ginger.

Sauté 30-60 seconds until fragrant, then add the onion, red bell pepper, and broccoli. Cook the veggies until crisp tender, stirring only as they brown.

When the veggies are just done, add the pineapple and stir to combine. Then add the cooked ground pork along with the stir fry sauce. Cook briefly stirring just to combine.

Season the stir fry with sea salt to taste if using the coconut aminos and serve with freshly steamed rice.
Bonus Step
If you made this recipe, please leave a rating/comment. Ratings really help us continue to bring you high-quality free recipes. Rate This Recipe!
NOTES
Fresh pineapple tastes incredible here, but unsweetened canned pineapple tidbits work as well. Reserve the juice and use it in place of the orange juice.
There should be about 1 tbsp oil leftover from sautéing the pork and you need 2 tbsp to stir fry with. If there's more than 2 tbsp fat leftover, drain away what you won't need.
nutrition facts
Calories:
469
kcal
|
Carbohydrates:
31
g
|
Protein:
26
g
|
Fat:
28
g
|
Saturated Fat:
10
g
|
Polyunsaturated Fat:
3
g
|
Monounsaturated Fat:
13
g
|
Cholesterol:
82
mg
|
Sodium:
691
mg
|
Potassium:
1117
mg
|
Fiber:
6
g
|
Sugar:
16
g
|
Vitamin A:
2327
IU
|
Vitamin C:
233
mg
|
Calcium:
112
mg
|
Iron:
3
mg