Rawnola aka raw/unbaked granola is definitely a game changer, you might even say life changing! And as you know, I love to save those sweeping overly dramatic statements for super easy recipes that really do change the way you eat.
While I'll never loose my obsession for this Maple Cinnamon Granola, I don't always have time to whip up a batch, (and then wait for it to cool). So when I saw the idea in a raw vegan cookbook to just blend up the ingredients for granola and eat it straight up, I knew the concept was going to be magic!
Typically granola and rawnola is made with oats, but in keeping with all things grain free, I've made you a Paleo version. It's chock full of mixed nuts, coconut, hemp seeds, and scented with cinnamon. And just to make this even more awesome… this granola is completely sweetened with dates, so no added sugar!
You can store this (raw)granola in the refrigerator, or you can freeze it and use it over the course of the next month. I love making huge batches, and then having it on hand for breakfast emergencies. Plus when you make lots, you only have to clean the food processor once which = major win in my book.
This recipes is really just 2 steps:
Place all the ingredients into a food processor, (photo above).
Pulse until the desired texture is reached, (photo below).
From there you can refrigerate and use it within 4-5 days, or freeze it for granola all month long.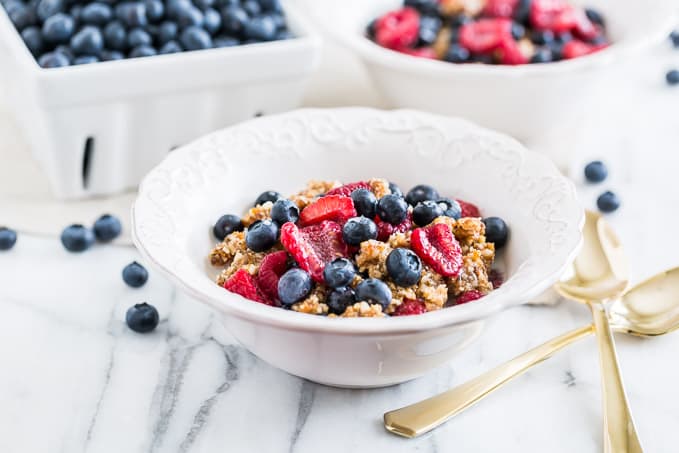 There are so many great ways to enjoy this rawnola. My favorite way is to eat it just like regular cereal. I just pour some milk over the it, and top with some fresh fruit. I've been using a coconut almond milk blend which I love so much more than straight coconut or almond milk.
And another great way to eat this cereal, is to add it on top of a smoothie bowl in place of a regular cooked granola, (see options below).
Print
Homemade Grain Free Rawnola Cereal
---
1 cup

unsweetened shredded coconut, 2.5 ounces

1/2 cup

cashew pieces, 2.5 ounces, see notes

1/2 cup

macadamia nuts, 2.5 ounces

1/2 cup

almonds, 3 ounces

1/4 cup

hemp hearts

10

large medjool dates, 12 ounces, pitted and quartered

1 Teaspoon

ground cinnamon

1/4 Teaspoon

sea salt, or to taste
---
Instructions
Place all the ingredients into a food processor, and process until the dates are combined and the desired texture is reached.
Store the rawnola in an airtight container in the refrigerator for 4-5 days, or freeze for up to one month.
Serve either with milk like traditional cereal, or use it like granola to top smoothie bowls.
Notes
Nuts that are sold in pieces are cheaper than halves or whole. All the nuts in this recipe are un-toasted, but you can use unsalted toasted nuts as well if desired.