Easy to make at home, Acai Bowls are packed with nutrients and antioxidants but they taste like a treat. Acai bowls come together quickly with frozen acai purée and then you can customize the toppings to what's in season and your favorite fruits. These acai bowls are gluten-free with dairy-free and vegan options as well. We love topping ours with seasonal fresh fruit, yogurt, and granola.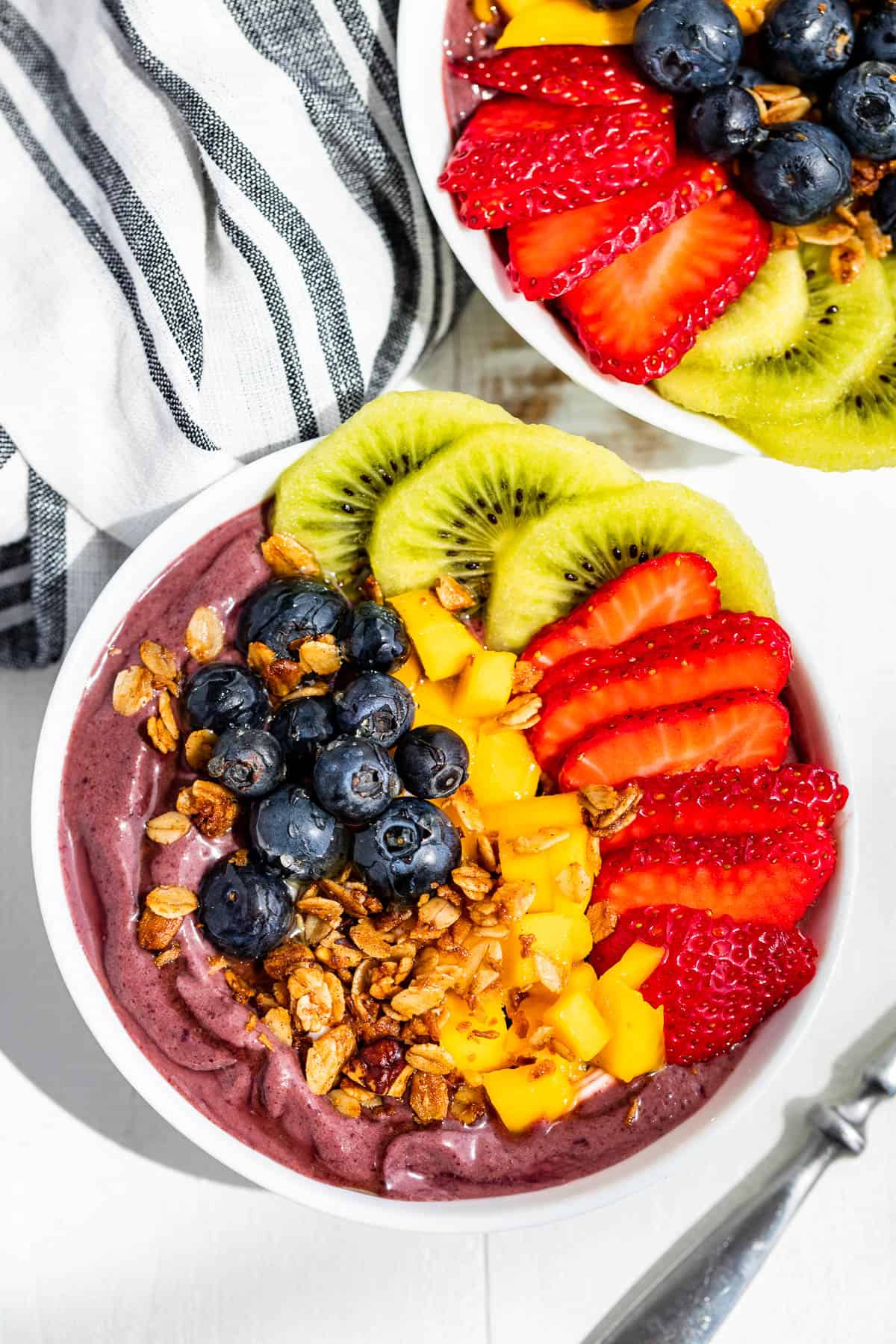 Acai bowls are so tasty and fun to eat and they taste good enough to be a fresh dessert. A food truck where we live serves something similar and it is always a yummy treat. However, they're not cheap to order out so making your own at home is way more budget-friendly.
Luckily these acai bowls are very easy to make at home and I'm sharing all my tips and variations with you today. You can customize these bowls with endless combinations. And you'll find all my other acai bowls and smoothie bowls listed below for even more inspiration.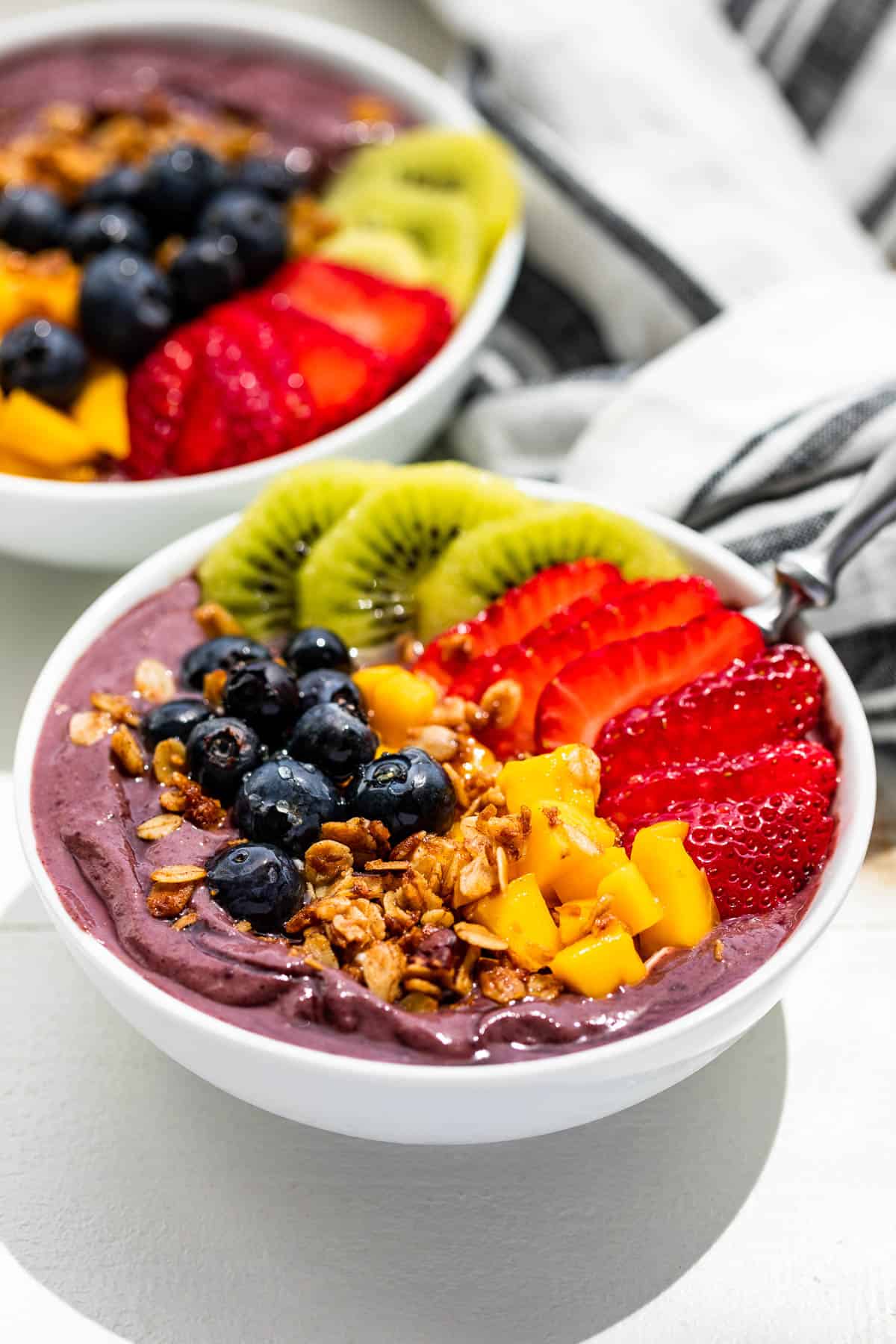 Ingredients & Substitutions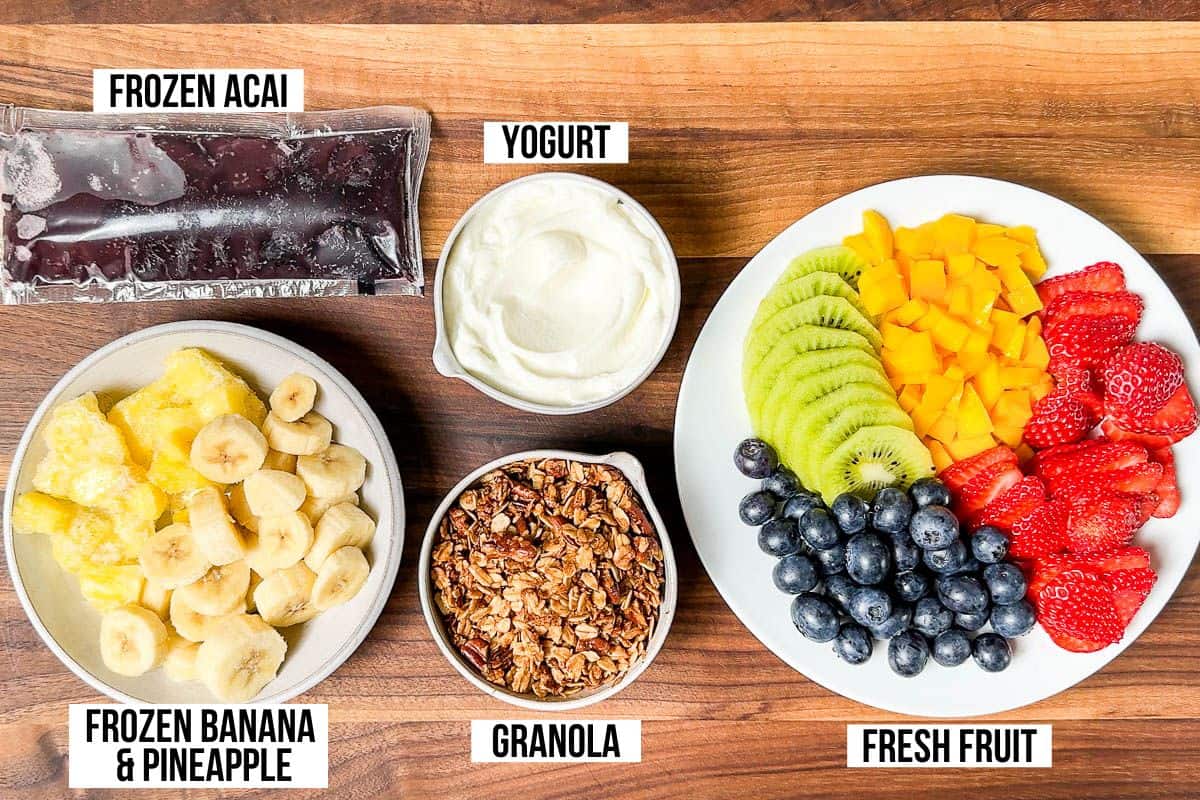 Frozen acai purée – the brand Sambazon is the most widely available where we live and I've found it in the freezer section of a number of stores. This makes up part of the acai bowl base and the frozen fruit below. Be sure to get unsweetened frozen acai because there's plenty of sweetness with the added fruit.
Frozen banana & pineapple – these both add sweetness and depth of flavor to the frozen acai purée and creates the smoothie base for your toppings. You can use one or the other, but this bowl definitely tastes best with both. Luckily frozen bananas and pineapple are great to have on hand for different smoothies as well.
Yogurt – is optional, but we love the creamy element it adds to acai bowls. You can use any yogurt you like here, we love Greek yogurt and dairy-free coconut yogurt.
Granola – again you can use whatever granola you love. I use either my Homemade Granola or my Paleo Cinnamon Granola for these bowls.
Fresh fruit – you can use any fresh fruit you have on hand. Try this bowl with just one kind of fruit or a mixture if you have more. Berries are really nice with these bowls when they're in season. But kiwi, mango, pineapple, and sliced banana all work here as well as peaches and nectarines.
How to make this recipe step by step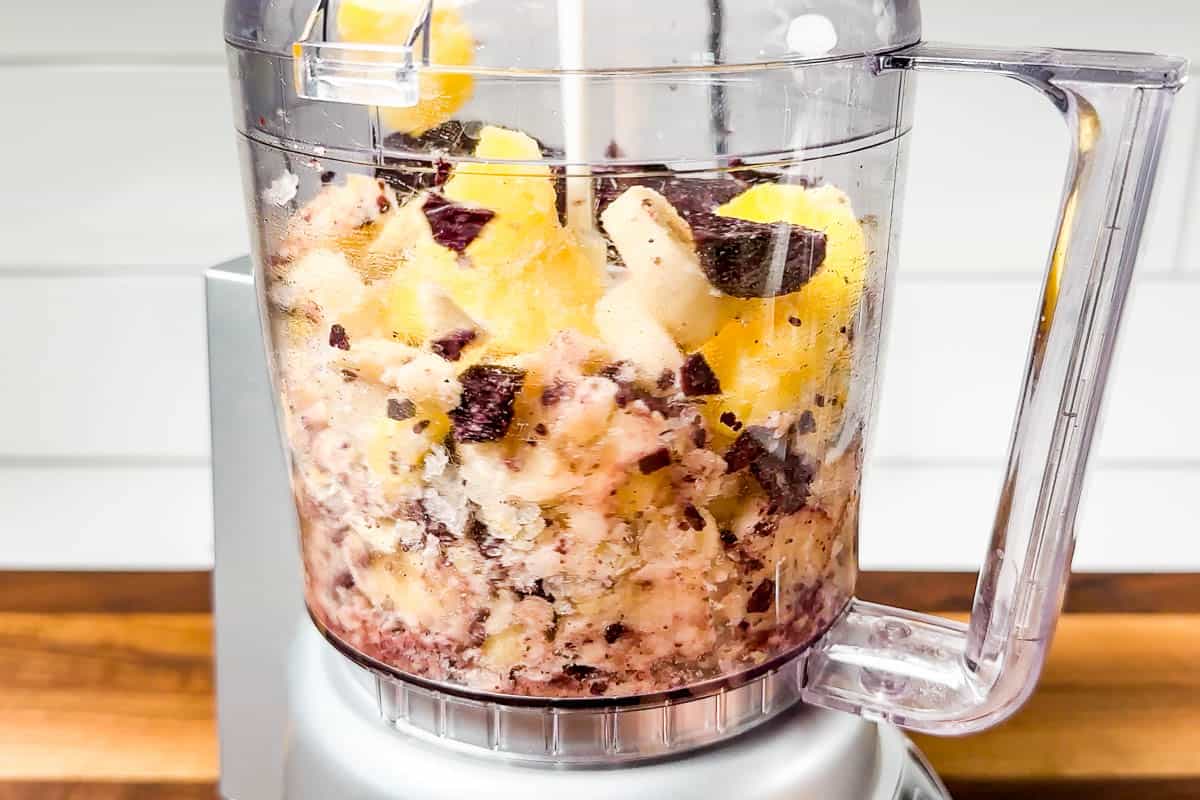 Step 1: Start by making the frozen acai smoothie base. I like to add all the frozen ingredients to a small food processor because it's easier to blend small amounts.
You can also make this in a blender, but you may need to add a bit more liquid like milk or orange juice to get the mixture to blend. Also, be sure to use the tamper to keep the mixture moving in the blender container.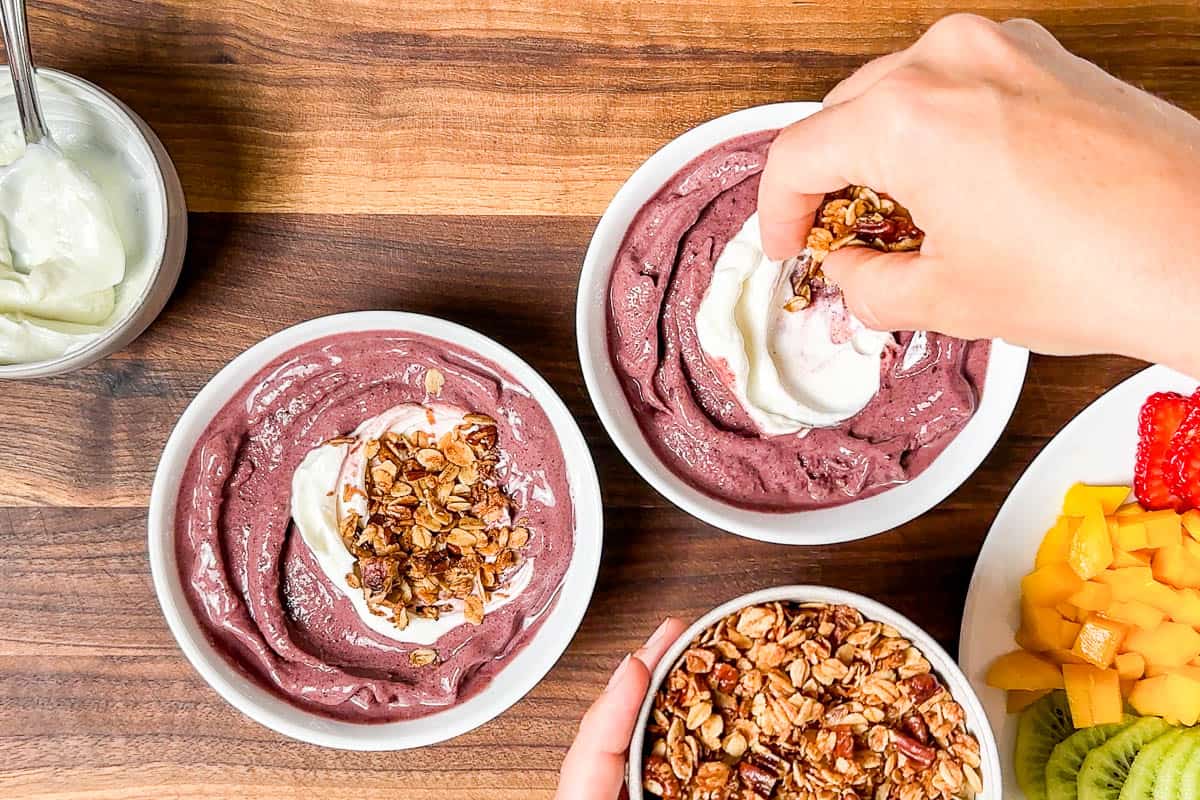 Step 2: When the acai smoothie base is smooth, portion it into 2 bowls. From there, add the toppings as desired. I like to start with a dollop of yogurt followed by a sprinkling of granola.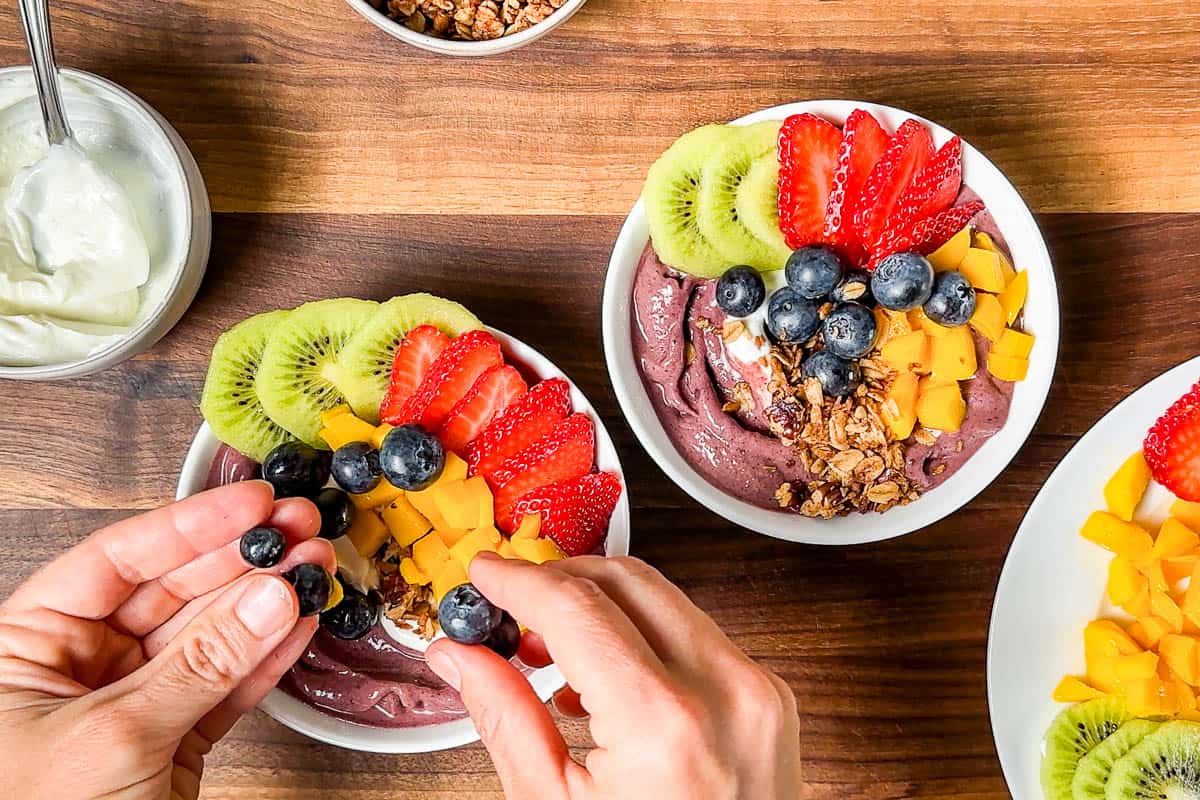 Step 3: Next add the fresh fruit of your choice followed by another sprinkle of granola.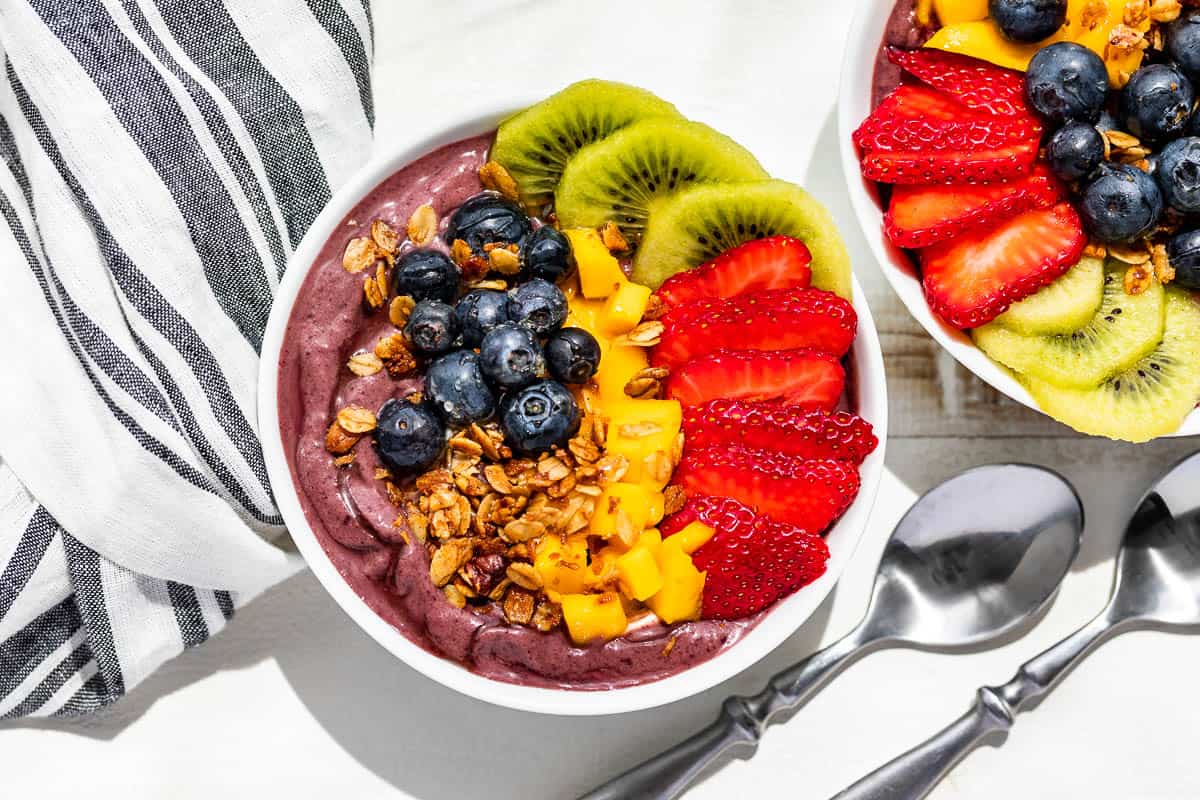 Step 4: I like to finish off these acai bowls with a drizzle of honey or maple syrup because I use unsweetened yogurt. Just customize it to your taste depending on what ingredients you use.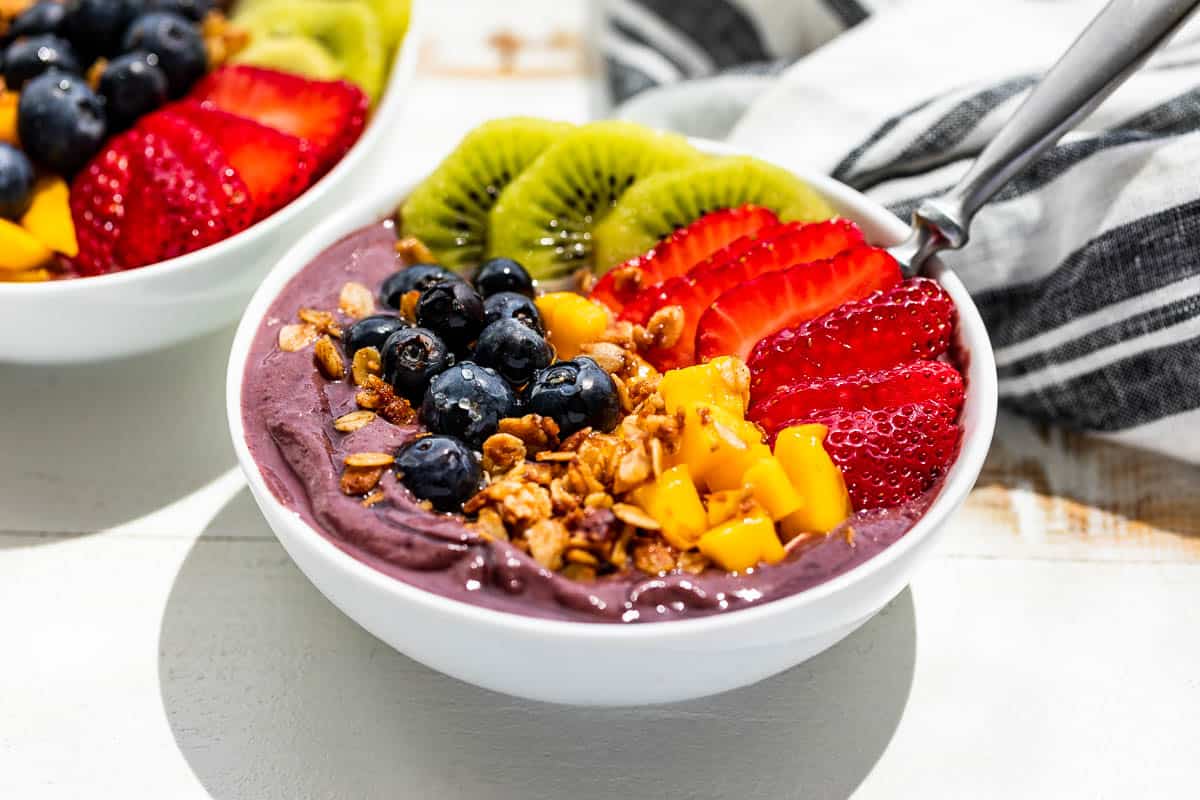 Ways to serve this
Try this acai bowl as a fun afternoon snack rather than a full breakfast. We love eating these before or after a hike because they're so refreshing. And when the heat of the summer is too much for our appetite, I sometimes make these for dinner.
If you do serve these for breakfast be sure to have plenty of yogurt and granola to make sure you're getting enough to eat! I also like to serve these with some protein like scrambled eggs, Air Fryer Sausage Links, or bacon.
Try adding a sprinkling of bee pollen, chia seeds, or ground flax for some extra superfood benefits.
FAQ's
What is Acai?
Acai is a berry that comes from the Acai palm tree native to Central and South America. It's very high in antioxidants, polyphenols, and nutrients and most people consider it a superfood.
How do you say acai bowls?
Acai is pronounced ah-sah-EE with a long e on the end. It starts with an ah like a-ha, then the 2nd syllable 'sah' is very much like the word 'saw'. Then the 3rd syllable is a long e like the word 'monkey'.
What does Acai taste like?
Acai is a very low-sugar berry that has an earthy flavor. It's a bit tart with some astringency. It's not all that tasty in my opinion on its own, but its flavors really shine and are so good when combined with something else a bit sweeter like banana or pineapple.
What is an Acai bowl?
Originating in Brazil, an Acai bowl is made up of a smoothie base containing acai berries topped with granola, fresh fruit, and sometimes yogurt and/or nut butter as well. They're usually topped with guaraná syrup, but I top mine with the readily available local honey or maple syrup.
Storing leftovers
To store – this acai bowl is best made fresh because of the banana in the smoothie base.
Make ahead – you can prep some fruit ahead of time like pineapple or washing your berries. You can also make the granola ahead of time and store it for up to 3 months if you're using homemade.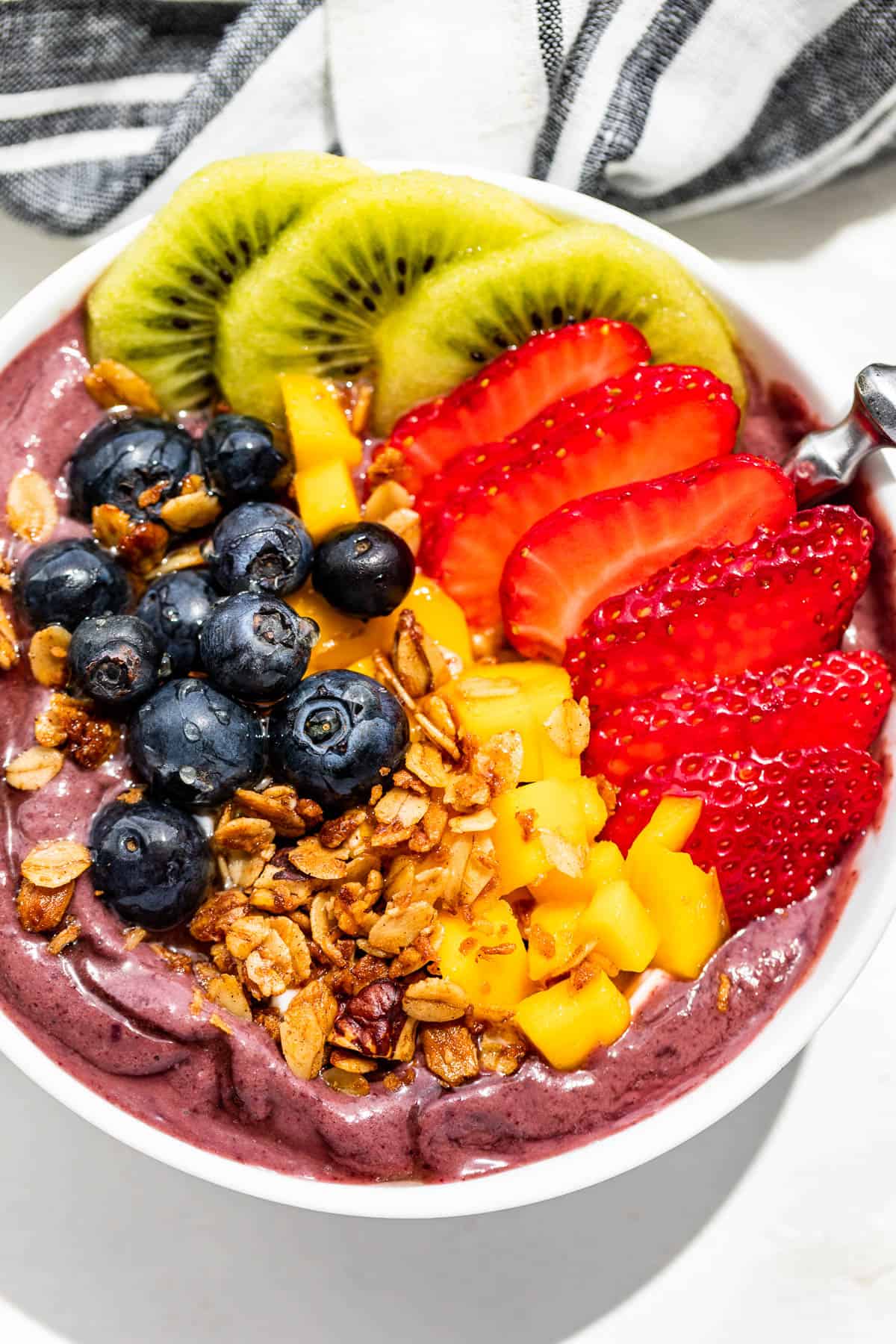 Tips & Tricks
The acai smoothie base takes a little time to become smooth in the food processor, don't rush it. Just be patient and scrapes down the sides breaking up any chunks as necessary. It will eventually get nice and smooth. You can also add a touch of liquid to make it easier, but you will lose some of the nice frosty texture. If you use a blender you will need to add liquid and the acai smoothie base won't be as frosty, but it's still good.
Try mixing it up by adding a bit of yogurt to the acai smoothie base or a touch of almond butter or cashew butter. Drizzling nut butter over the top is tasty as well. There really are endless combinations for this acai bowl.
Top this bowl with tropical fruit in the winter months like pineapple, mango, or oranges/Mandarins. In the warmer months, try berries, cherries, peaches, or nectarines. The simplest topping is to just use sliced bananas over the top since they're pretty common to have around. Frozen berries can also be used as a topping, frozen wild blueberries or our local huckleberries are so good.
Dietary Options & Substitutions
Dairy-free – use dairy-free yogurt, coconut yogurt is our favorite with these acai bowls.
Paleo – use my Paleo Cinnamon Granola along with dairy-free yogurt.
Vegan or Vegetarian – be sure that the yogurt and granola you use are both vegan. Also if you choose to drizzle extra sweetener over the top try the maple syrup or even agave nectar.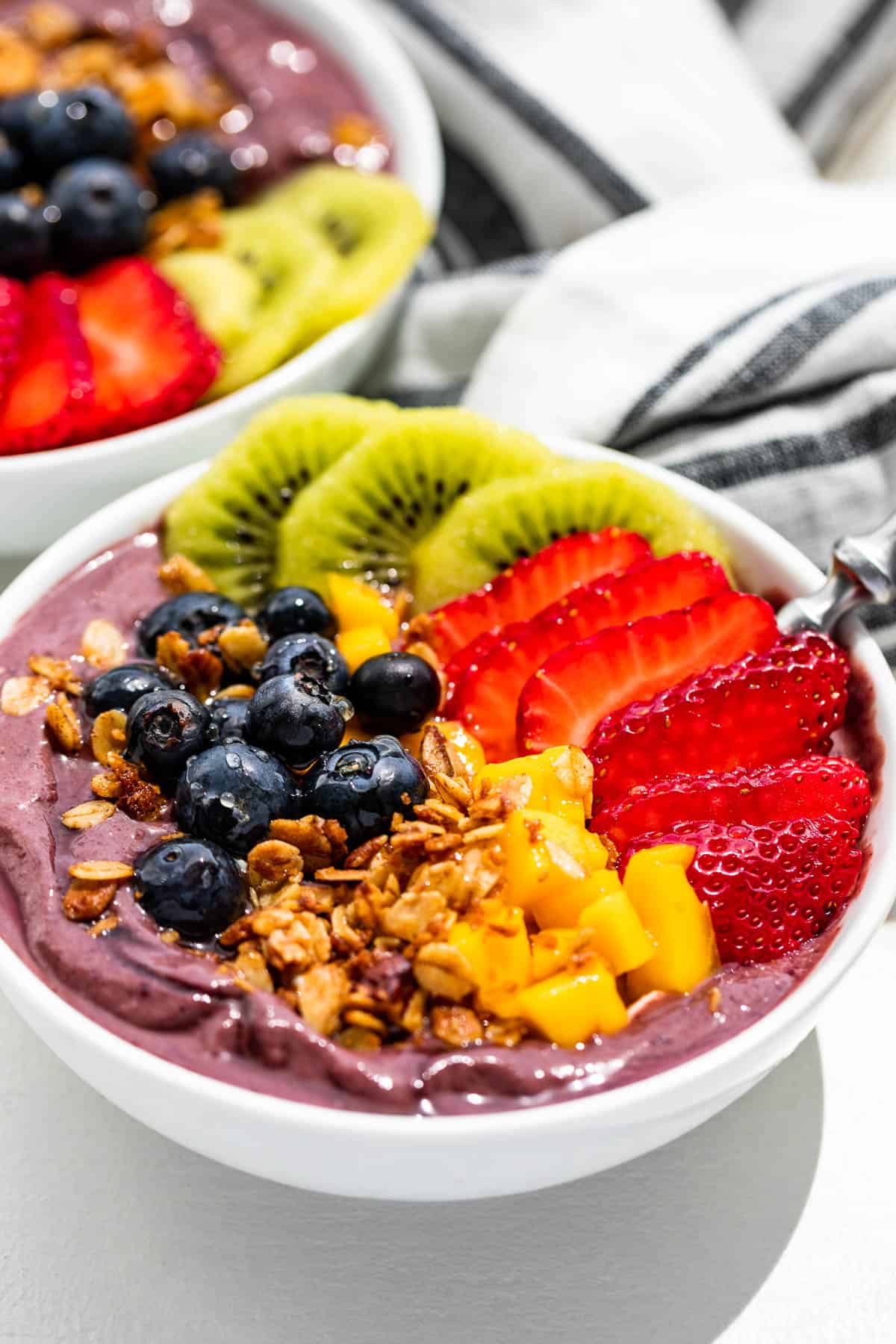 I really hope you enjoy these Acai Bowls! If you make this recipe, I'd love to hear from you in the comments, and be sure to let me know if you have any questions.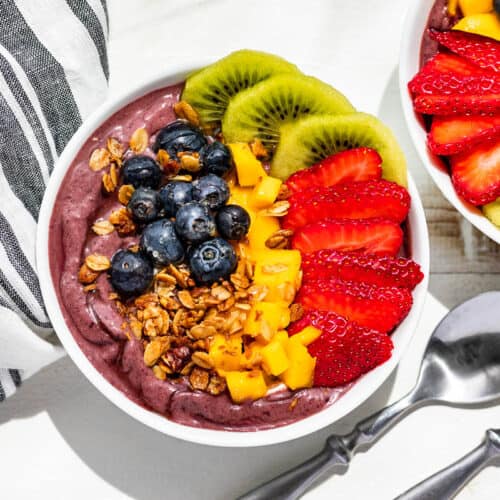 INGREDIENTS
Acai Smoothie Base:
1

cup

frozen pineapple

1

banana

-

sliced and frozen, see notes

3.5

ounces

frozen acai purée

-

1 package, you can use 2 for even more acai flavor.
Toppings:
1

cup

fresh fruit of choice

-

berries, pineapple, kiwi, and mango are all yummy.

1/2

cup

yogurt

-

Greek yogurt or coconut yogurt are both great

1/2

cup

granola
INSTRUCTIONS
Place the acai smoothie base ingredients into a small food processor or large food processor fitted with the small bowl insert. You can also make this with a blender using a bit of milk or orange juice plus the tamper to keep the mixture moving.

For the food processor process scraping down the sides and breaking up chunks as necessary until smooth. If you use a blender, add liquid as necessary and blend at low speeds until the mixture becomes smooth. Don't increase the speeds before it's blending smoothly so you don't hurt the motor.

Portion the acai smoothie base into 2 bowls, and divide the toppings evenly. Serve immediately.

These smoothie bowls are infinitely customizable. Vary the toppings according to your preferences and what's in season!
Bonus Step
If you made this recipe, please leave a rating/comment. Ratings really help us continue to bring you high-quality free recipes. Rate This Recipe!
NOTES
You can use fresh bananas but the smoothie base will be less frosty. For the thickest acai smoothie base, frozen fruit is essential, but it does take a bit of time and patience in a food processor. For a blender, I recommend either fresh banana or pineapple along with a bit of liquid like milk or orange juice to get the mixture moving in the blender container.
These nutrition facts are a best estimate, values will vary depending on what you use in your acai bowl.
nutrition facts
Calories:
333
kcal
|
Carbohydrates:
55
g
|
Protein:
8
g
|
Fat:
10
g
|
Saturated Fat:
3
g
|
Polyunsaturated Fat:
3
g
|
Monounsaturated Fat:
4
g
|
Cholesterol:
8
mg
|
Sodium:
40
mg
|
Potassium:
686
mg
|
Fiber:
7
g
|
Sugar:
33
g
|
Vitamin A:
224
IU
|
Vitamin C:
88
mg
|
Calcium:
135
mg
|
Iron:
2
mg
This recipe was originally published in 2014 but has been updated in 2023 with new photos, and more tips and information.