It's super quick and easy to make your own Homemade Granola. And it's so much better than store bought, there's simply no comparison between the two. This granola recipe is also much healthier because you get to use better quality ingredients, including natural sweeteners instead of refined sugar. It's gluten free, dairy free, vegan, and the perfect healthy breakfast or snack.
If there's one thing you'll always find in my pantry, it would be homemade granola! It's by far and away my favorite convenience food to meal prep ahead. You can simply pour your favorite milk over it for a quick breakfast, or make my fruit and yogurt parfaits.
Whatever you sprinkle it over, it's going to be all kinds of crunchy and delicious. You'll find lots of paleo granola recipes here on the blog, and my Maple Cinnamon one is what you'll always see us eating over on Insta Stories when we travel.
However it is coconut and nut based, so I wanted to make a traditional oat based granola that can be made nut free if needed. And we ended up loving this one so much it's hard to know which recipe to make these days. But I can't complain because now I have both versions in the pantry all the time!
So maybe the main question might be, is it worth making your own granola? My answer is 100% yes! The taste is unbeatable, it's so much cheaper to make your own, and it's healthier when you get to choose your own ingredients.
Any 'healthy' granola I've seen at the grocery store costs quite a bit, so this recipe is a great way to save money. Granola only takes a few minutes to whip together, so it's one of those things that's definitely worth making all things considered.
Healthy Granola Ingredients & Substitutions
Rolled Oats – regular rolled oats work perfectly here. I don't tend to use the extra thick rolled oats because they don't toast quite as well, and I don't recommend instant oatmeal either. If you're gluten free or feeding someone who needs to be gluten free, make sure you buy certified gluten free oats. Bob's Red Milll makes great gluten free rolled oats that are available in most grocery stores.
Nuts – I like to use pecans here because they pair so well with maple and cinnamon, but you can use any nut you'd like. You can also leave them out for nut free, and replace them with a bit more pumpkin seeds and/or oats.
Pumpkin seeds – not toasted and un-salted pumpkin seeds are what you want to get for this recipe. They're usually available in the refrigerated bulk section at natural food stores. These can also be left out if you need to be seed free, you'll find notes for how to use just oats instead in the recipe.
Shredded coconut – unsweetened shredded coconut is perfect here, but again it can be left out if you don't like coconut. Simply omit the coconut and replace it with equal parts rolled oats.
Cinnamon – adds so much yummy 'baked good' flavor to this granola and pairs well with the maple syrup, or honey if you choose to use that instead.
Avocado oil – is key to the crunchiest best textured granola. Oil free granolas tend to be on the cardboard side of texture, or have a lot more sugar in them. I promise the oil is necessary in balance with the sweetener for a granola that is crispy and flavorful.
Maple syrup – or honey both work here. I love the maple cinnamon combo, but it's hard to beat honey either. If you use honey, you'll probably want to warm up the honey lightly to liquify it, making it easier to mix into the granola.
Vanilla – definitely don't skimp on the vanilla extract, it adds a lot of flavor to the mix.
Sea salt – is absolutely crucial in making this granola perfectly flavorful, and the kind of thing you want to keep eating. A touch of sea salt is what brings it all together and keeps this granola from being bland.
Optional Mix-in's – try different spices, or citrus zest before baking. You can stir in freeze dried berries, chopped dried fruit, or even chocolate chips to the completely cooled finished granola.
How to make this recipe step by step
Step 1: Start by preheating the oven and line a large baking sheet with parchment paper. Then mix the rolled oats, nuts, pumpkin seeds, coconut, cinnamon, and sea salt together in a medium sized mixing bowl.
Step 2: Then add the avocado oil, maple syrup, and vanilla extract to the bowl and mix to completely combine.
Step 3: Spread the granola mixture evenly over the parchment lined baking sheet. Then bake for 20 minutes before stirring and rotating the pan in the oven so it bakes evenly.
At this point firmly pat the granola down with the back of the spoon, this will create better granola clusters.
Step 4: Bake another 20 minutes, then turn the oven off, prop the door open about 1′ and allow the granola to finish cooking in the residual heat for another 20 minutes. Finally cool completely on a wire cooling rack.
Tip – Make sure to allow the granola to cool completely before storing it so it doesn't get soggy. This also allows the granola to set up so you'll have nice big clumps.
Ways to serve this Homemade Granola
With your choice of milk for breakfast, and maybe topped with sliced bananas and/or fresh berries as well.
Make a fruit and yogurt parfait, these are great for meal prep make ahead breakfasts. Or simply add yogurt to a breakfast bowl topped with your favorite fruit and granola to taste. Sweeten if desired with a drizzle of honey or maple syrup.
Sprinkle over a bowl of ice cream for some added crunch.
Put together an easy breakfast/brunch by serving a large bowl of berries, Strawberry Rhubarb Sauce, or diced peaches along with Greek yogurt and this granola. Then pair it with my Sausage Breakfast Casserole or my Western Omelet Waffles.
FAQ's
Why isn't my granola crunchy?
You want to bake granola low and slow for the best crunch. If you try to bake it at a higher temperature it won't cook through properly and can get soggy as it sits. Also my recipe has extra crunch because the granola dries out and gets even crunchier as it cools with the oven. This step ensures the crispiest and crunchiest granola.
Also low fat granola recipes often call for wet ingredients like pumpkin or applesauce which can cause a soggy or cardboard like granola. Stick to the perfect ratio listed in the recipe and your granola will be crispy!
Why is granola unhealthy?
Granola is either healthy or unhealthy depending on the ingredients used. That's why homemade granola is so great, it's much healthier because you control the amount of sweetener, and can use natural sweeteners like maple syrup or honey. Also commercially produced granolas often use low quality oils, so when you make your own, you can use a healthy fat like coconut oil or avocado oil
Can I use quick oats or 1 minute oats in place of rolled oats in granola?
I don't recommend it because quick cooking oats cook faster in granola and have a much softer texture. This recipe is formulated for rolled oats and will work best that way.
Storing leftovers
To store – once the granola is completely cooled, transfer it to an airtight sealed container. Store in a cool dark place (like your pantry) and use within 1 month for best results. I have kept granola for up to 3 months, but it can get a bit stale if left that long.
Tips & Tricks
For the best and biggest clusters, be sure to pat the granola down firmly with the back of the spoon after stirring as directed in the recipe. Also allow it to cool completely so it has time to set up together. This will give you perfect large and crispy clusters of granola!
Try adding in different mix-in's listed in the recipe. We both love freeze dried raspberries or strawberries and sometime even mini chocolate chips as well.
Don't skip the cool down in the oven, this is what makes the granola perfectly crispy!
If you can't have oats, try my Paleo Maple Cinnamon Granola.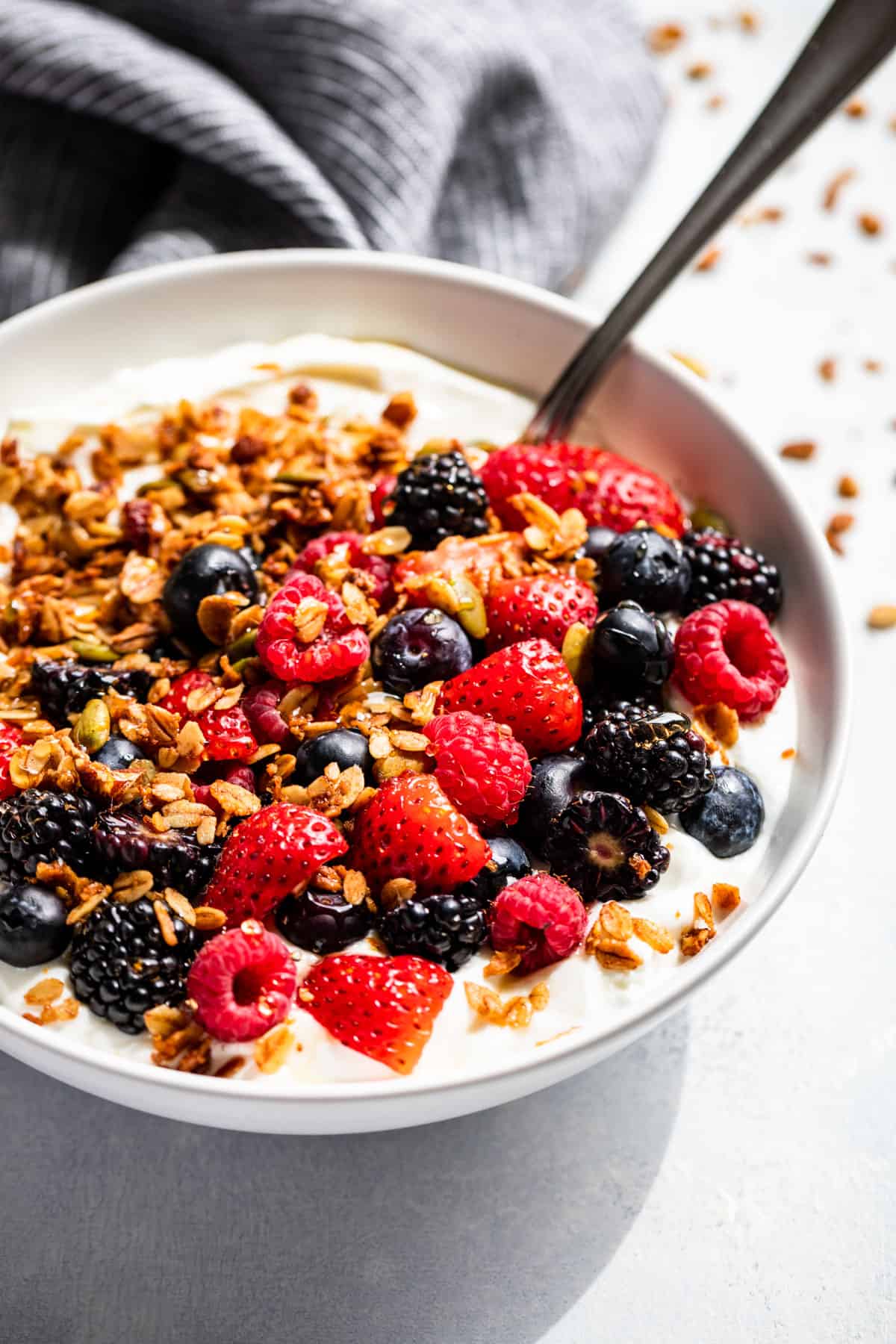 More breakfast recipe inspiration
I really hope you enjoy this Homemade Granola! If you do get a chance to make this recipe, please leave a rating, I'd love to hear from you in the comments.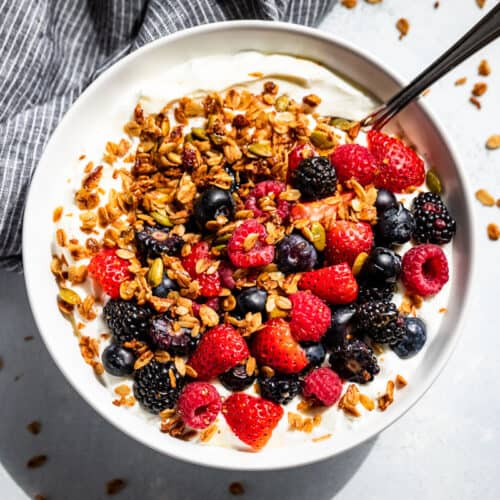 INGREDIENTS
3

cups

rolled oats

1

cup

chopped pecans

-

or any nut of choice

1

cup

pumpkin seeds

-

raw, not toasted or salted

1/2

cup

fine shredded coconut

-

unsweetened

1

tbsp

ground cinnamon

1

tsp

sea salt

1/2

cup

pure maple syrup

-

or honey

1/2

cup

avocado oil

-

or melted coconut oil or unsalted butter

1

tbsp

vanilla extract
INSTRUCTIONS
Preheat the oven to 325ºF and line a large baking sheet with parchment paper.

In a medium sized bowl, combine the rolled oats, chopped nuts, pumpkin seeds, coconut, cinnamon, and sea salt.

Mix in the maple syrup, avocado oil, and vanilla until completely combined.

Spread the mixture evenly onto the prepared baking sheet and bake for 20 minutes.

After the 20 minutes are up, stir the granola and rotate the pan in the oven. Bake for another 20 minutes.

After the baking time is up, turn off the oven and with the door open, stir the granola 1 more time. Then firmly pat it down well with the back of the spoon. This is what helps large clusters to form.

Allow the granola to cool in the oven with the door propped open 1' for another 20 minutes. Then remove the granola from the oven and allow to cool completely on a cooling rack.

When the granola is completely cooled, add any optional mix-in's from the notes and store in an airtight container for 1 month.
Bonus Step
If you made this recipe, please leave a rating/comment. Ratings really help us continue to bring you high-quality free recipes. Rate This Recipe!
NOTES
You can also add chopped dried fruit to the finished completely cooled granola. Freeze dried berries like strawberries or raspberries are both great here, or even mini chocolate chips as well.
To keep this nut free, omit the 1 cup of nuts and sub in 1/2 cup extra pumpkin seeds and coconut.
You can also omit the nuts, pumpkin seeds, and coconut, and instead add an additional 2 cups rolled oats for a completely nut free seed free granola.
This recipe makes 8 cups of finished granola, amounts vary a bit depending on how much you break up the clusters.
nutrition facts
Serving:
0.5
cup
|
Calories:
237
kcal
|
Carbohydrates:
20
g
|
Protein:
4
g
|
Fat:
17
g
|
Saturated Fat:
3
g
|
Polyunsaturated Fat:
4
g
|
Monounsaturated Fat:
9
g
|
Trans Fat:
0.003
g
|
Sodium:
149
mg
|
Potassium:
157
mg
|
Fiber:
3
g
|
Sugar:
7
g
|
Vitamin A:
6
IU
|
Vitamin C:
0.2
mg
|
Calcium:
31
mg
|
Iron:
1
mg