A true showstopper, this Beef Tenderloin roast is the perfect holiday or special occasion main dish. It's very easy to cook with just a few minutes of prep work, and you'll be rewarded with incredible flavor. It's perfect served with my Mushroom Cream Sauce, and your favorite vegetable side dishes like Mashed Potatoes and Garlic Roasted Carrots. It's naturally gluten free with a dairy free option listed in the recipe as well.
This recipe is perfect for the next time you really want to make an impression! This roast Beef Tenderloin couldn't be easier to make, or more stunning all laid out on a serving platter.
Beef tenderloin is a pricey cut of meat, so you really want to make sure it's done right! You'll find my tips below for how to make sure it cooks evenly, and you get the most out of this recipe. (For a budget-friendly option, try my Pork Tenderloin.)
Once you see how easy this recipe is to make, it's sure to become a new go-to for special occasions. We mostly make this for Christmas dinner or New Years. But it's great for other special occasions like birthdays as well.
Watch how to make this Beef Tenderloin
Ingredients & Substitutions
Beef Tenderloin – is the cut of beef where fillet mignon comes from. Think of it as fillet mignon steaks all lined up together in a lovely tender roast. You'll see in the video how to tie the roast with twine so it cooks evenly. But you can ask a butcher at the meat counter to do it for you and save time. There isn't a substitute for a beef tenderloin that cooks the same way, but you can use this garlic herb butter on any other cut of pork or beef you'd like.
Butter – or olive oil for dairy-free keeps this very lean cut of meat moist while it's roasting.
Herbs – I like to use a mix of fresh rosemary and thyme. Normally I'd give dried herb options, but this is no time for dried herbs. Beef tenderloin is expensive, and fresh herbs really are worth it in this case.
Garlic – again you want to go all out and mince fresh garlic for this recipe. Minced garlic from the jar just doesn't have the same magic. Try using a garlic press to speed up the prep work.
Sea salt & pepper – are very important to season the roast and the garlic herb butter. This way the flavor seeps in while it roasts.
How to make this recipe step by step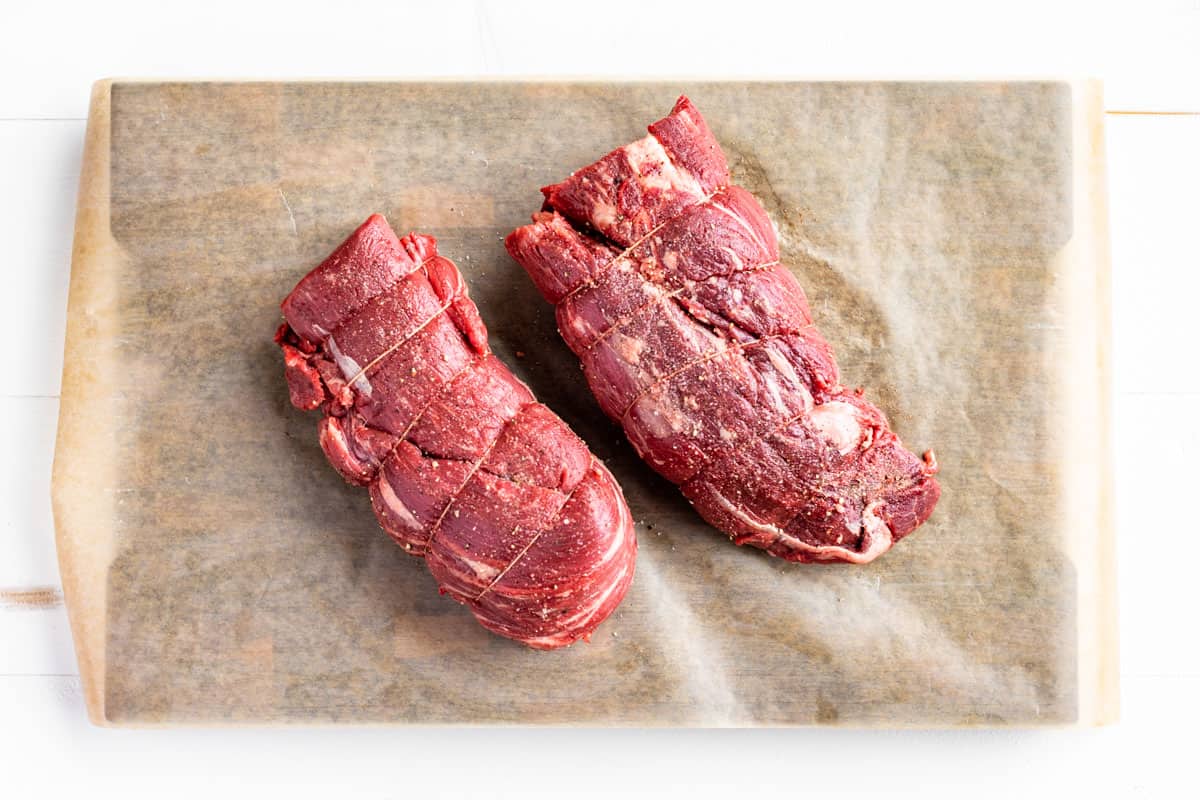 Step 2: Next using kitchen twine, tie the roast. Again you can refer to the video to see this happening. Season well with sea salt and pepper on both sides.
Tip: Save yourself some time and ask the butcher at the meat counter to tie the roasts for you!
Tying a roast isn't too hard to do once you get the hang of it. But if it's your first time, give yourself extra time to get it done and avoid the feeling of frustration. Also if you're entertaining, tie the roast long before anyone gets there so you don't have any extra pressure!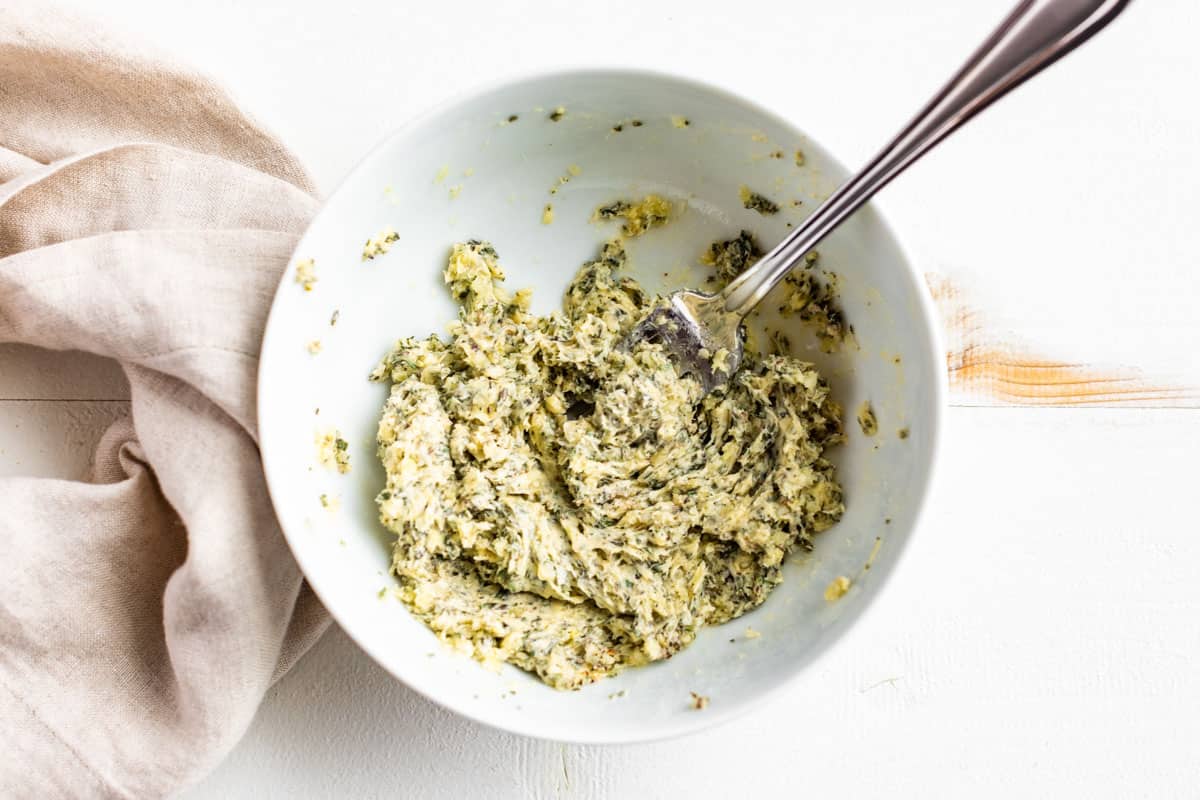 Step 3: In a small bowl mash the minced garlic and herbs into the butter until smooth. Stir in the salt and pepper until combined.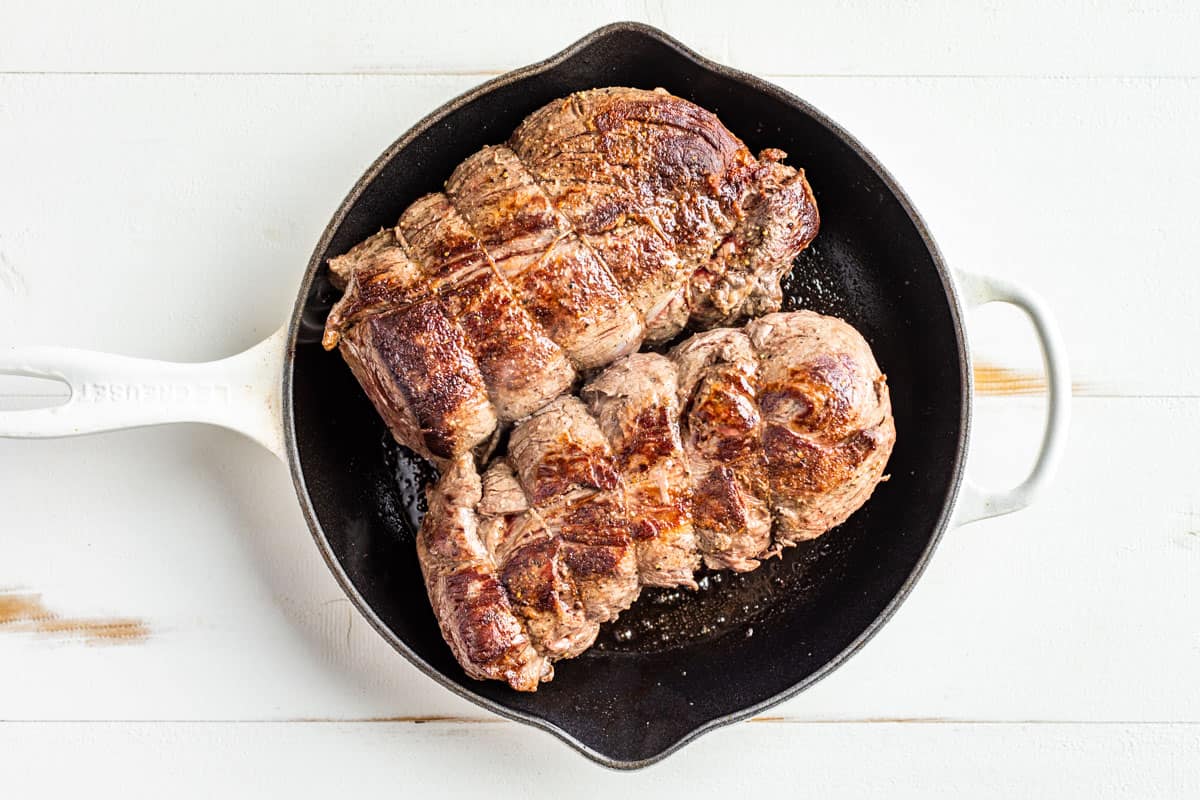 Step 4: Next heat a large cast iron skillet over medium-high heat until hot but not smoking. Add the oil and sear the roasts well on each side until browned, 4-5 minutes per side.
Step 5: Spread the garlic herb butter over the tops of both roasts. As the beef roasts, the butter melts and helps to keep it nice and juicy.
If you have a meat probe, this is a great recipe to use it so you can see the temperature in real time. Otherwise, use an instant-read thermometer to make sure it's cooked to your liking.
Each oven is different and cooks at different rates, so the only way to be sure it comes out perfectly is to use a meat thermometer!
Step 6: Place the skillet in the oven and roast until your desired internal temperature is reached, about 20 minutes for medium rare. Remove the roasts from the cast iron skillet and let the meat rest on a plate covered with foil. This step keeps the juices better in the meat for a very juicy roast.
Important tip: your beef tenderloin roast will continue to rise in temperature while it rests. You want to factor in an extra 5-10ºF to your preferred doneness level listed below. Remember if it's a bit too rare for your taste after the final resting, you can always sear the slices quickly in a skillet. If it's overcooked it will be dry because this is a lean cut of meat!
Beef Temperature Guide
Rare – 125ºF most of the meat will be red with a little pink around the edges.
Medium rare – 135ºF looks like the beef tenderloin pictured here with a good amount of red in the center, turning to pink, then brown near the edges.
Medium – 145ºF has just a bit of red in the center but is mostly light pink with brown edges.
Medium well – 150ºF barely a hint of pink in the center and mostly brown throughout. I don't recommend medium well here because you're getting too close to drying out this lean cut. But I've included it just in case medium isn't your thing.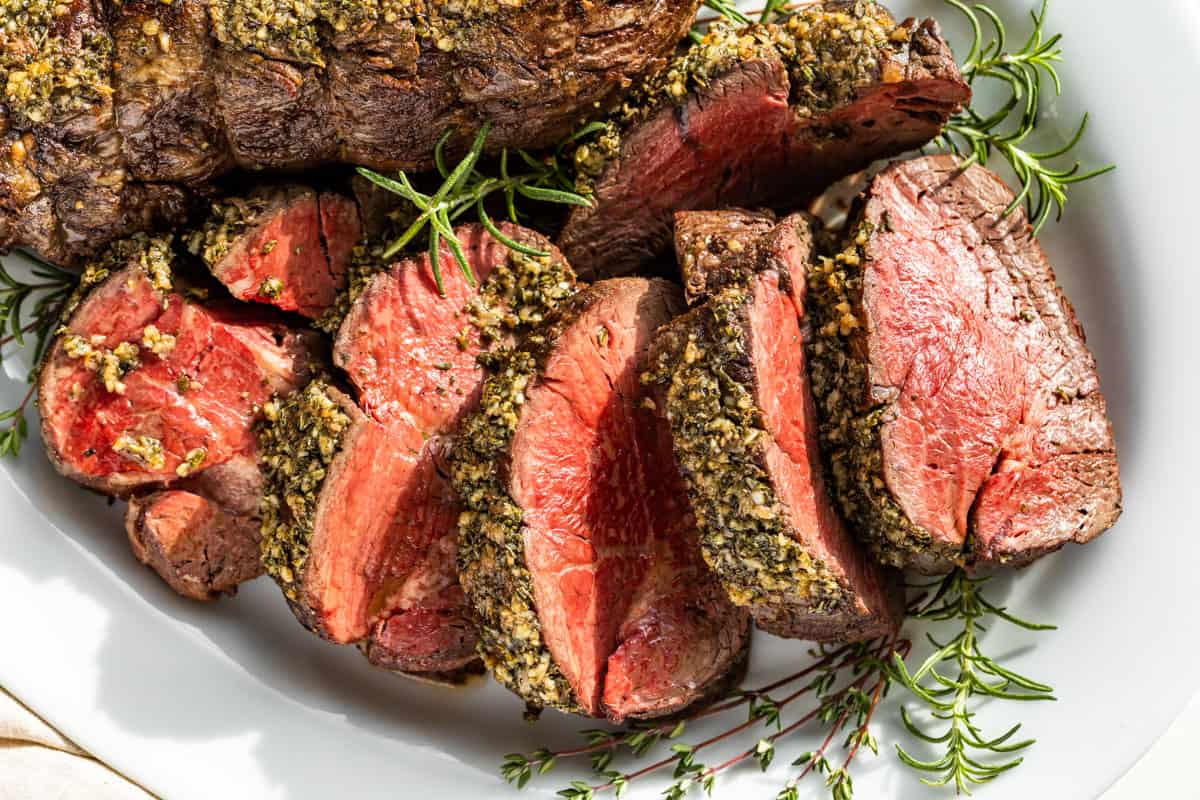 FAQ's
What can I use in place of the beef tenderloin?
There isn't a good substitute for beef tenderloin in this recipe. However, you could use the dairy-free option for the garlic herb mixture to marinate steaks and cook to your desired doneness. For a more affordable beef dinner option, try my Slow Cooker Pot Roast. It's all down-home flavor, but it doesn't have quite the same celebration flair. You could also try my Roast Pork Loin which is much more affordable than beef.
Is beef tenderloin the same as filet mignon?
They are from the same part of the animal. Filet mignon is a steak cut from the beef tenderloin. Think of the beef tenderloin as filet mignon steaks all line up in a row as a 4-5 pound roast.
How do you not overcook beef tenderloin?
Two key tips: first up use a meat thermometer so you know exactly when it's done. Secondly don't forget the temperature will continue to rise about 5-10ºF as the meat rests, so you want to factor that into your doneness level.
Is it better to cook beef tenderloin low or high?
Cooking beef tenderloin at a higher temperature gives you a beautifully seared and oh-so-tasty outer layer in the roast. Cooking it at a low temperature will produce a more even cooking through the middle of the roast. We prefer the flavor of roasting at a higher temperature producing a browned outer crust and a medium-rare center.
Storing leftovers
To store – place any of the sliced leftovers into an airtight sealed container and refrigerate for 4-5 days.
Make ahead – you can make the garlic herb butter up to 1 day ahead and refrigerate it. Remove it from the refrigerator 2 hours before using so it spreads easier.
Reheating – using a cast iron or non-stick skillet sear the leftover slices in a bit of butter or oil, cooking briefly on each side to re-warm.
To freeze – place any leftovers into an airtight sealed container, and freeze for up to 1 month.
Tips & Tricks
I don't personally recommend going over the doneness level of medium because this is a lean cut of meat. But I have included medium well just in case medium isn't your thing. Just be very careful because you don't want to dry out your roast.
As mentioned above, don't worry if your roast is a little underdone for your taste. You can always pan-sear it slice by slice in a skillet if it's too rare. There's no fix for dried-out overdone meat!
When choosing your meat doneness level, keep in mind the temperature will rise an additional 5-10 degrees or so while the meat is resting covered.
Use a thermometer to make sure this turns out just how you want. Beef tenderloin costs too much to wing it! You can use an instant read thermometer. Or better yet use a meat probe that will go in the oven, and you can see your temperature in real time on the countertop.
Dietary Options & Substitutions
Dairy free – use dairy free butter, or omit the butter and mix in just enough olive oil to the garlic and herbs to create a loose paste to spread over the roast.
Paleo – use ghee in place of the butter or the olive oil option above.
Extra Tip: Don't want to cook a whole beef tenderloin roast? Try my super easy Tuscan Style Steak!
What to do with any leftovers
Try this seared in a skillet with some over-easy eggs for a super fancy 'steak & eggs' breakfast.
Cube some up (1/2″) and toss together with any cream sauce pasta. Try it in recipes like my Tuscan Sausage Pasta and omit the sausage if you have a lot of beef. If you have just a bit of beef tenderloin make the recipe as directed and add the cubed beef in at the end.
Toss it together with freshly cooked pasta and my Mushroom Cream Sauce for a seriously decadent meal!
More Holiday Main Dish Recipe Inspiration
I really hope you enjoy this Roast Beef Tenderloin! If you do get a chance to make this recipe, I'd love to hear from you in the comments.
INGREDIENTS
4.5

pound

beef tenderloin roast

-

cut in half & tied, see notes

6

tbsp

salted butter

-

room temperature

4

cloves

garlic

-

minced

2

tbsp

fresh rosemary

-

finely chopped

1

tbsp

fresh thyme leaves

-

finely chopped

2

tsp

sea salt

1

tsp

ground black pepper

1

tbsp

avocado oil

-

or olive oil to sear the roast
INSTRUCTIONS
Remove your tied roasts from the refrigerator to come up to room temperature for 1-2 hours before cooking, this helps it to cook evenly.

Preheat the oven to 425ºF. Then place the butter, garlic, rosemary, thyme, and 1/2 of the salt and pepper into a small bowl and mash to combine.

Sprinkle the tied roasts with the remaining salt and pepper. Then preheat a large 10" cast iron skillet over medium-high heat until hot but not smoking.

Add your choice of cooking oil to the skillet and swirl to coat the bottom of the pan. Then place both roasts side by side into the skillet.

Sear until well browned, about 4-5 minutes, then turn and brown the other side of the roasts, 4-5 more minutes.

Remove the skillet from the heat source and pat / spread the herb butter as evenly as possible over the tops of the roasts and down the sides as much as you can.

Place the cast iron skillet into the oven and cook until your desired internal temperature is reached. Insert a meat probe if you have one before the roasts go into the oven, otherwise use an instant read thermometer.

My 4.5 pound roast registered 125ºF after 20 minutes of cooking, and 135ºF after resting. But use an instant read thermometer to make sure your temperature is correct. You also want to factor for 5-10ºF extra as the roast rests before slicing.

When your roast reaches your desired temperature, (remember the temperature will continue to rise as it rests) remove it from the oven.

Transfer the roasts from the skillet to a plate and cover with foil to rest for 10-15 minutes.

Cut away the butcher twine, then slice the finished roast into 1" thick pieces.

Serve with your favorite sauce and side dishes!
Bonus Step
If you made this recipe, please leave a rating/comment. Ratings really help us continue to bring you high-quality free recipes. Rate This Recipe!
NOTES
You want the roast to be cut in half and tied, you can ask at the meat counter of your store for the butcher to do this for you. Or you can refer to the video and photos in the blog post to see how to tie a roast.
Most beef tenderloin roasts come between 4-5 pounds. If your roast is smaller, cook for less time, or more time if it's larger. Refer to the temperature guide below, and use an instant read thermometer to get the perfect results every single time.
For example if you want your roast to be medium – remove it from the oven at 135ºF-140ºF, then cover and rest before slicing and it will rise to 145ºF.
Beef Tenderloin Temperature Guide:
Rare – 125ºF most of the meat will be red with a little pink around the edges.
Medium rare – 135ºF looks like the beef tenderloin pictured here with a good amount of red in the center, turning to pink, then brown near the edges.
Medium – 145ºF has just a bit of red in the center but is mostly light pink with brown edges.
Medium well – 150ºF
nutrition facts
Calories:
794
kcal
|
Carbohydrates:
1
g
|
Protein:
47
g
|
Fat:
66
g
|
Saturated Fat:
28
g
|
Polyunsaturated Fat:
3
g
|
Monounsaturated Fat:
27
g
|
Trans Fat:
0.3
g
|
Cholesterol:
201
mg
|
Sodium:
774
mg
|
Potassium:
796
mg
|
Fiber:
0.3
g
|
Sugar:
0.02
g
|
Vitamin A:
320
IU
|
Vitamin C:
2
mg
|
Calcium:
30
mg
|
Iron:
6
mg